Are you in search of a tool capable of blending photos together? If you are, this very post is a must-read for you. It includes only the best apps to combine photos. Your only task is to choose the one you like the most and install it by following the links below. The apps we have reviewed are available on both Google Play and the App Store. So feel free to install the apps and enjoy the result.
1. Shapical X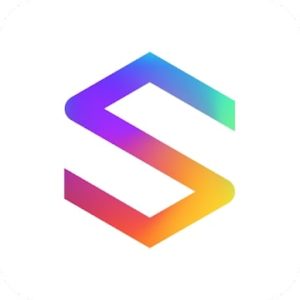 This app is to process photos and various images. You can add various visual effects and graphics to your photos. The app does not require registration or login, you can start working immediately.
At the bottom there is a photo search, you can also open your own gallery and select an image from there. Pictures can be taken from the extensive library of the service.
The app allows you to manage any object in the photo. There is quick access to adjust the effect settings of the object. Drag & Drop editing is supported.
The color of photos can be distorted and pixelated, and there is also the possibility to apply other interesting effects. You can use the classic color correction tools or include "curves".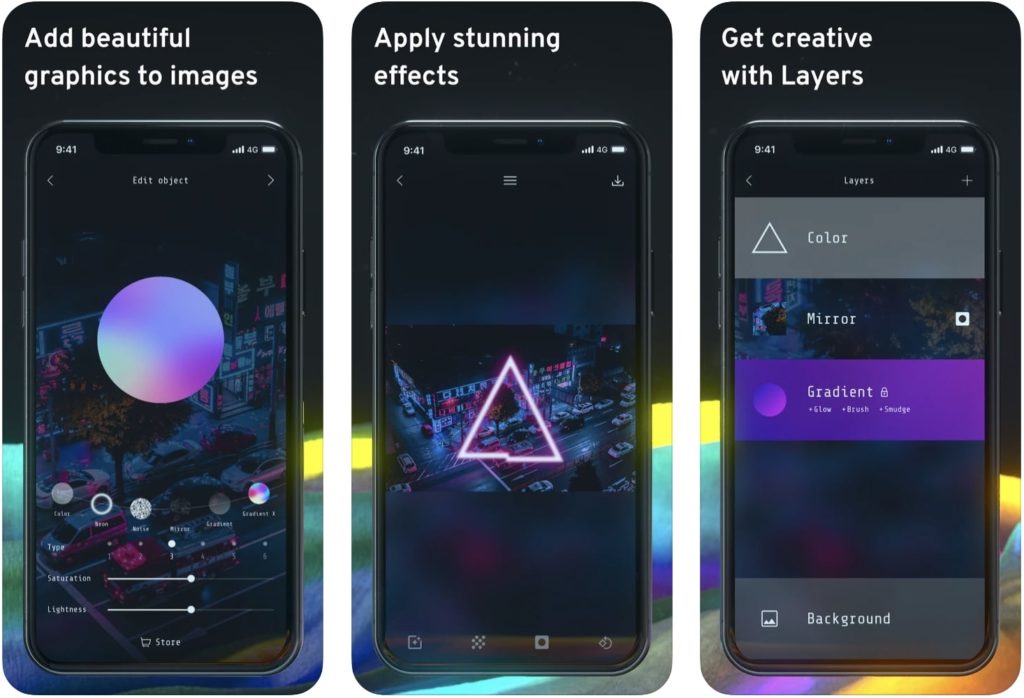 2. Ultimate Photo Blender / Mixer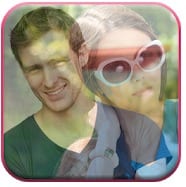 The next tool that worth being installed on your gadget is Ultimate Photo Blender / Mixer. With it, it will be so easy to combine two photos.
To begin with, the app has quite many features to benefit from when editing a photo. However, let's start with the capabilities you are interested in the most.
First of all, the app comes with a bunch of effects to combine photos. To be more precise, it will be exposure, multi-exposure, blending, mixing, effects, overlays, and other tools that will let you combine two photos. Your only task is to upload these photos to the app.
Apart from this, the app includes a set of other advanced tools to edit a photo, enhance its quality, add some elements (like text and frame), and so on.
Finally, after you finish editing a photo, you can share your masterpiece on social media directly from the app. As for an alternative, saving a photo on your device will also be possible.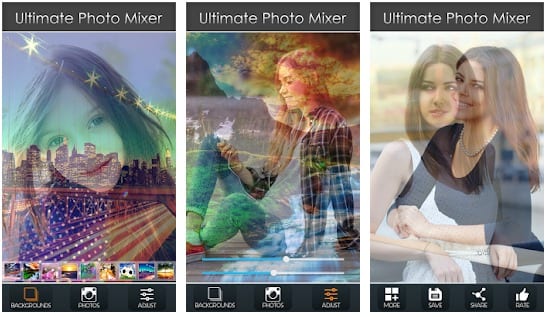 3. PicCollage – Grid, Greeting & Photo Collage Maker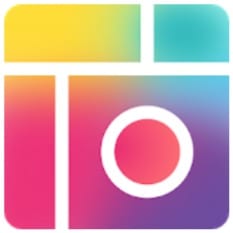 The next efficient way to combine two photos is by installing PicCollage. What are its distinguishing features?
In this case, you will be able to bled photos by cutting out an object on a photo and applying it on another that will substitute a background. Though it seems a little bit difficult, in fact, you will do it with no effort. Also, the app will do its best to help you with this task. So if you find this kind of photo blending appealing, we highly recommend you install this tool.
By the way, the app already has a nice choice of pre-loaded backgrounds. In case you find them appropriate, it will be a nice idea to use them while blending photos.
Apart from this, you will be welcomed to make use of other features of this app. It can be a collection of cool stickers, templates for your Instagram stories, templates, doodles, and so on.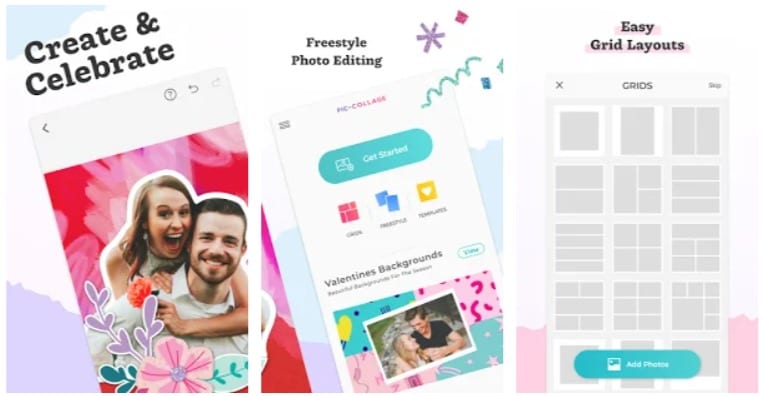 4. piZap Photo Editor, MEME Maker, Design & Collages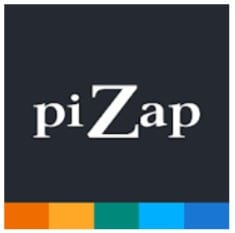 Here is the last but not least photo blending tool available on both platforms at once. Its name is piZap Photo Editor.
There will be two options for combining the photos here. The first one is to use the cut-out tool. Again, you will need to cut out any object from a photo and paste it on another that will be a background. Alternatively, you will be also offered to use the app's collection of backgrounds. There will be 1,6 million stock images, so you will definitely find something to your taste.
The second way is a more automatic one. You will need just to choose a layout and upload two photos you need to have blended. In a moment, the app will combine them, allowing you to make some adjustments. As for the layouts, the choice of them will be so great here.
As a bonus, you will also have quite many amazing features at your fingertips. Thus, you will be able to add texts to your photo choosing among 367 pre-loaded fonts. Plus, using bright stickers will also be possible with this tool.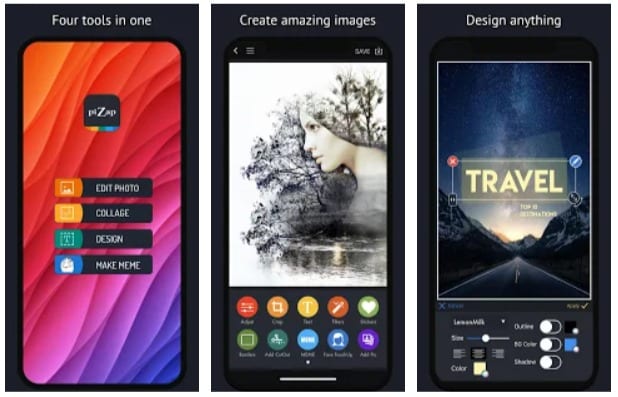 Would you like to blend your face on a photo with an animal's muzzle? As it is so trendy at the moment, it will be a good idea to install one of the best animal face photo apps for Android & iOS.
5. Photo Overlays – Blender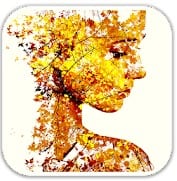 Now let's consider some apps available only on Google Play or App Store. Here is an amazing tool suitable for all Android devices.
With Photo Overlays, it will be so easy to blend two photos together. The app will apply one photo to another, making them both more transparent. The result will be so brilliant.
In addition, the app comes with other features that will be so useful when you edit a photo. Thus, you will be able to crop and rotate a photo blended. But there is more to come. The app will also provide you with access to its stickers, photo effects, texts, frames, and so on. Trust us that they worth being tried.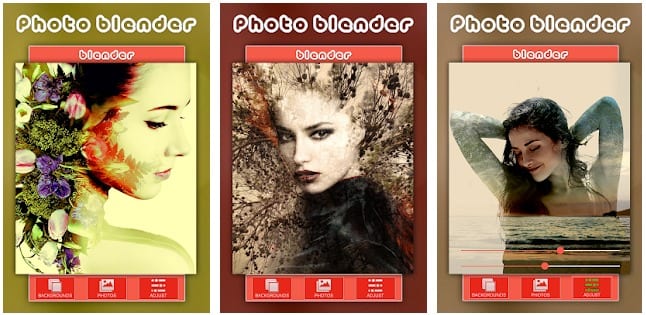 6. Image Blende‪r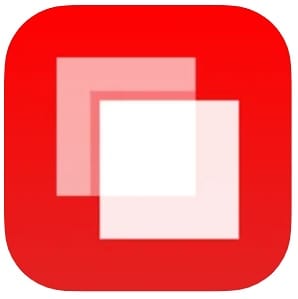 As for an alternative for IOS gadget users, right now we are going to review an app called Image Blende‪r. As it is clear from its name, this very tool will be so efficient in combining two photos.
The way the app works is by applying Multi-Exposure on photos. But it will be up to you to decide where and how much to apply a filter. That's why the blending is considered adjustable here.
Apart from this, the app allows its users to add and replace objects, add textures, apply any of dozens of filters, add watermarks or logos, and so on. It seems that there is nothing impossible with this very tool.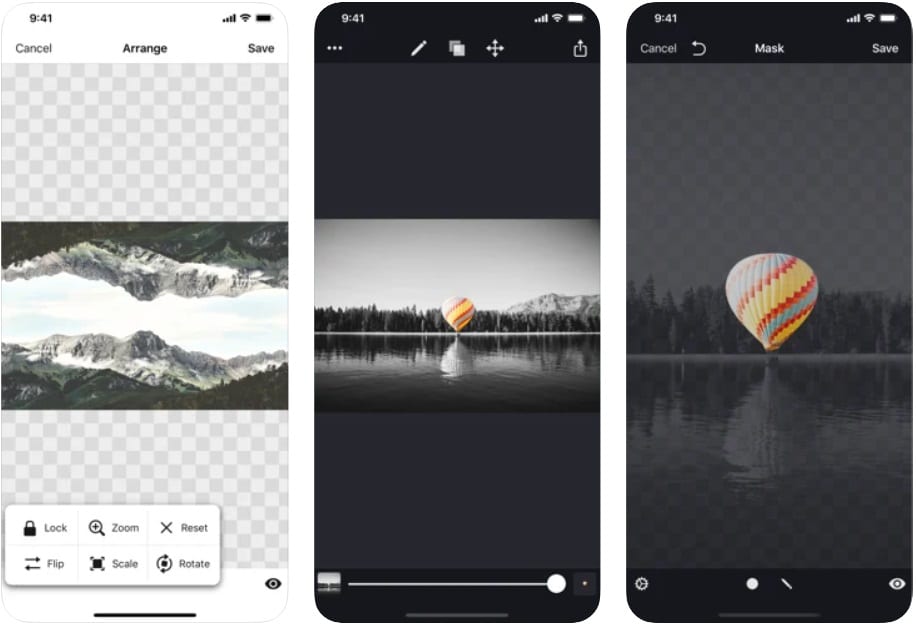 7. Photo blender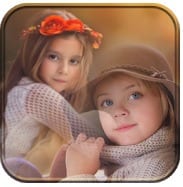 Going back to the tools from Google Play, we can't help advising to install one more tool. It is called simply Photo blender.
Well, in this case, you will be provided with more than 300 collages to combine photos as you wish. At the same time, blending will be adjustable, so you will like the result for sure.
Also, the app contains all the necessary features required for editing photos. Thus, it will allow you to crop and resize photos, apply numerous filters, blur a background, add stickers and emojis to an image, turn a photo into a 3D format, and do many other operations.
After all, sharing a photo or posting it on social media will be available instantly. Just choose the platform needed (Facebook, Twitter, Instagram, mail, etc.) and make the world know about your masterpiece. Alternatively, you can also save it on your device. By the way, the photo blended will be downloaded in HD.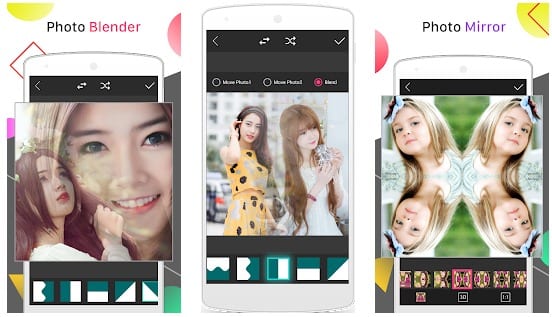 8. Blend Editor – Double Exposur‪e‬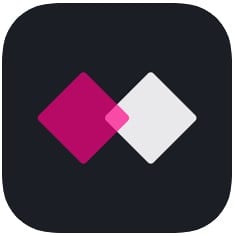 Talking about the apps for iOS, here is one excellent option for you. With Blend Editor, you will have an opportunity to combine photos in a few seconds.
‬All you will need to do is to upload two photos you need, then choose the most suitable blending mode (the choice of them is great here), and that's it! It will remain to save a photo blended on your gadget or share it directly from the app on social media you prefer.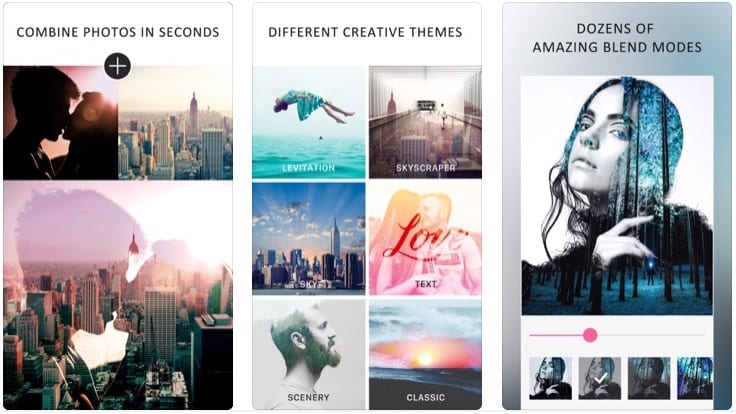 9. Photo blender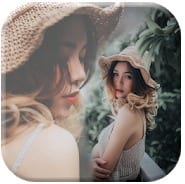 The last powerful tool for Android is Photo blender. Again, it will be so efficient in combining photos.
Again, you will be able to combine the photos by using various templates to create collages. This way of blending is considered to be so convenient. By the way, the number of templates here is almost endless.
Finally, if you need to edit a photo as well, there is no need to install other apps to do it. This very app will be enough. Being so multifunctional, it will let you crop and resize images, apply any of dozens of filters, add pre-loaded stickers, use 3D effects, and so on.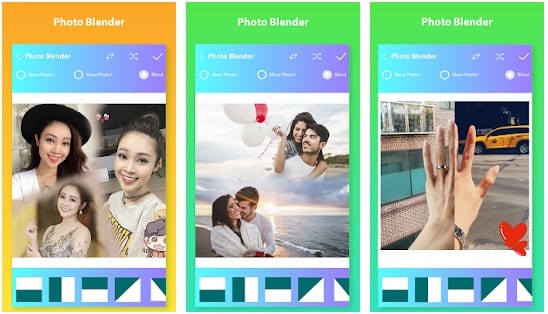 10. Overlay Image & Pic Blende‪r‬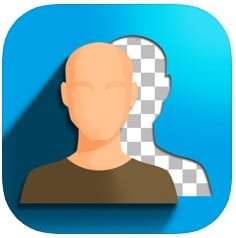 If you are interested in the tools available on the App Store only, here is one more option for you.
In Overlay Image & Pic Blende‪r‬, you will be required to upload two photos – background and foreground. You can erase any unwanted parts of a photo to apply a foreground to the background. At the same time, mixing photos will also be possible. In this case, you will be able to adjust the transparency or choose one of the ready-to-use blend modes.
Then, it will be high time to save a photo on your device or share it with your friend and relatives by sending in any messenger or social media.
Lastly, the app also has a premium mode. It means that you will have a chance to unlock all the features and use them limitlessly after you purchase a subscription.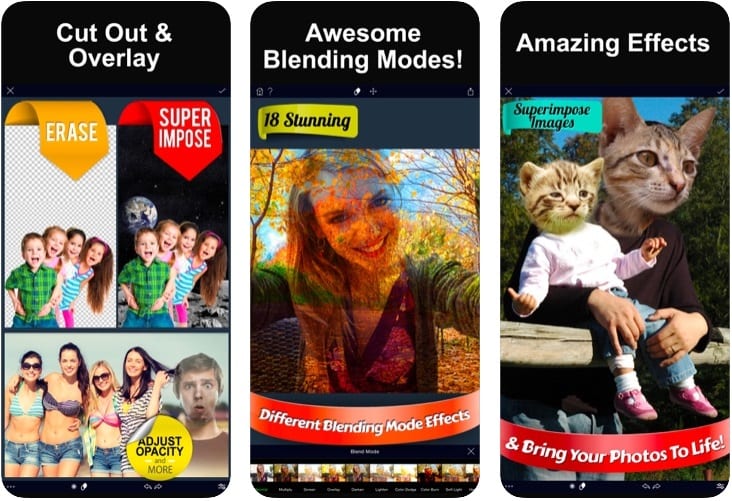 You may also like: 10 No crop apps for Instagram to upload full picture