Every smartphone is not only a helper but is also a reflection of its owner. Do you remember the days when we had to download wallpapers and pay for them if we wanted to install some beautiful ones? Fortunately, time flies and new technologies come with new opportunities.
Now we can download any pictures to our phones directly from the Internet, but it is still difficult to select the one that will be suitable for the particular model of your device. That's why different wallpaper maker applications have been created to help us make smartphones unique and pretty to look at.
We like changing our smartphone covers as they give us a feeling that we have got a new device. So do new wallpapers.
1. Walli – 4 k Wallpapers
This app will provide you with a unique collection of wallpapers because all of them are created by talented artists who can earn money by collaborating with the developers of this app. It means that all Walli wallpapers are manually selected and have an artistic vibe.
On the home page of this application, you can see three main categories: favorites, popular, and recent. The "Favorites" category contains the best images, which were selected for you by the Walli app team. The "Popular" ones are sorted according to the users' opinion.
As for the "Recent", in this category, you can find the latest examples of the world of wallpaper. All the apps' wallpapers are of HD quality. You don't have to download wallpapers to share them with your friends.
If you like some wallpapers, you can add them to your personal profile and set them on the home screen of your smartphone later right from the app.
You will definitely like Walli as it has numerous themes, can set a background for WhatsApp, is constantly being updated and the wallpapers you choose can be installed directly from the app.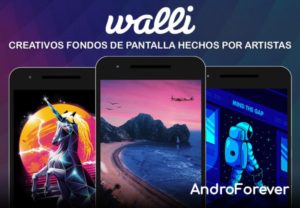 You may also like: 7 Best Photo Frame Apps for Android & iOS
2.
Patternator Pattern Maker Backgrounds & Wallpapers
If you are fond of funny and cute wallpapers and backgrounds you will adore this app. It will give you the chance to create various unique wallpapers, screensavers, and animated patterns. Besides, you can save them as videos.
The picture size and the space between the patterns can be easily adjusted, which becomes really convenient. You may select different designs from dozens of thousands of amazing stickers, which you can get from this app.
But if you'd like to get something special, Patternator will help you create your own sticker. To do this you need to cut it from your photos.
For example, you are planning to make a sticker of your friend's face. Just select a background from a great variety of automatically suggested colors and selected palettes, then add your friend's picture as a sticker.
Thus, you will get a wonderful wallpaper that can make you happy as you are going to look at it and enjoy it daily. Besides, with this app, you can send it to your friend by sharing it on Instagram, TikTok, and other networks.
This app is very popular. It has been downloaded more than 1 million times! With Patternator you will not only get the coolest backgrounds but will also have fun!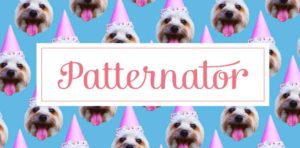 3. Resplash
With this application, you are able to download wallpapers from Unsplash.com. You can select from more than 800,000 wallpapers, that Resplash contains, but don't worry – you will not get lost in this huge amount of various images.
On the contrary, you will not experience a single problem with it as all the wallpapers are parted into different collections such as "Desktop and Tech", "Good Doggos of Unsplash", "Sienna and Cyan" etc. Besides, Resplash has an amazing user interface.
This is due to the AMOLED theme, which makes it look really great.
With Resplesh you can view the images in high resolution, get new ones daily, and install them directly via this app. Besides, it can provide the automatic update of the wallpapers and the opportunity to see other users' profiles, image statistics, and EXIF data.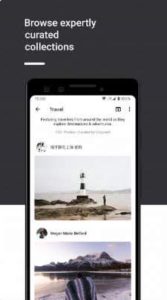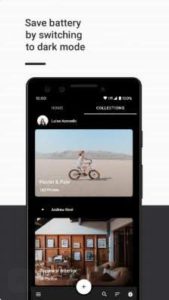 4. Wallpapers & Backgrounds X
This application will provide you with 100000 wallpapers, that will fit every taste, besides, it will give total support for iOS smartphones, iPads, and Apple watches. It can totally change your device. You can choose from a large number of wallpapers contained in a huge gallery of various images.
The good news is that you can get this app absolutely free, so you can view the best images in high resolution and set fresh wallpapers daily. Wallpapers & Backgrounds X will allow you to share the wallpapers with friends and manually set the ones to create your personal playlists.
The advantage of Wallpapers & Backgrounds X is that it can give you access to some special iOS subscriptions for thematic updates.
Just imagine, a week before the New Year, you will be able to watch Santa Claus in all available poses and with different backgrounds, and for St. Patrick's Day, all possible attributes, including the famous clover leaf.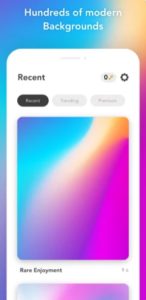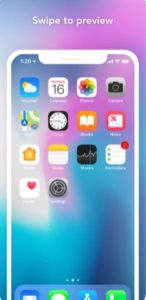 You may also like: 10 Best Split Pic Apps for iPhone
5. Wallpapers from Google
Yes, we can not call it the best of the Google apps, but its mesmerizing backgrounds and the latest features will definitely decorate your device. It's a perfect choice for those users, who want to have a great variety of wallpaper options.
With this application, you can select an image from the Gallery, Google Earth collection, scenic landscapes from Google+, or other images. And if you are bored with your phone and want something new, you just need to change the wallpaper!
Google Wallpapers have a lot of categories such as Cityscapes, Landscapes, Geometry, and Textures.
Once you have selected the category you like, use the option that will automatically change your wallpaper to a new one taken from the exact category daily.
This application will make you happy as its collection is constantly growing, you will be able to get access to images from Google Earth, Google+, and others, it will provide you with the different images for the lock and home screen (this function is available on devices running Android ™ 7.0 Nougat and above).
There is one potential disadvantage of this app, which occurs when you're trying to look for a specific image and element as Google Wallpapers has no search function. However, it's a good choice, besides, it is absolutely free of cost.
With Google Wallpapers your smartphone will start reflecting your own unique style.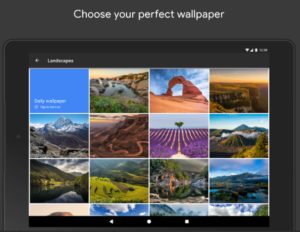 6. 
Gradient Wallpaper Maker & Gradient Backgrounds
Some people like installing wallpapers with celebrities, nature, or animals on their phones, while others prefer them to be simple, especially if they try to be professional. If you belong to the latter group, then this app is designed for you.
Gradient Wallpapers app will let you create unique gradient wallpapers by choosing your favorite color. But if you are lazy to do it or don't have much time, you can select the wallpaper you like from the collection of the app.
This wallpaper maker app can be used for all types of smartphones. Besides, it has the following advantages:
all the wallpapers are of HD quality,
it contains a large gradient wallpaper collection,
it is  easy both to install images from the collection and to create your own ones,
you can download this application free,
you are able to save your created wallpapers in order to use them many times,
you don't have to go to your phone's gallery every time as you can view these wallpapers through the app,
it isn't compulsory to be constantly connected to the internet as the app can work offline,
with this wallpaper maker app, you can easily share your creation with anyone by clicking on the share button and selecting the social network you would like to use.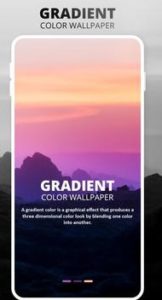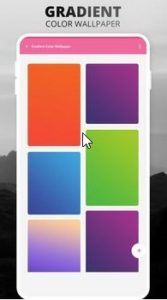 You may also like: 7 Best Clone Yourself Video Apps for Android & iOS
7. 7Fon
This is one of the best wallpaper apps for filtering by a huge number of different options. You can click on the information button of any individual image to bring up a color palette from it. Otherwise, you can click the palette icon in the upper right corner of the app's home screen.
7Fon also has several robust automatic image resizing tools that allow you to control various parameters, for example, the frequency of image changes.
When you launch it for the first time, the application selects the appropriate resolution of the image for its installation on the desktop. With 7Fon app the user will be able to :
choose where to download your pictures,
 choose the pictures resolution and quality,
select what to do when adding your images to "Favorites" (you can choose "Download", "Download only when the wireless connection is on", or "Do not download"),
enable or disable the scroll bar,
clear the cache,
choose the installation location for the download button,
enable or disable the notifications when the best themes of the day or week appear,
select the language of the interface (English, Spanish, Russian, Italian, Chinese, German, French, etc.),
share your images (this function is available only for registered users).
The main disadvantage of this app is that it contains ads and its deactivation is chargeable: you need to pay for a monthly subscription.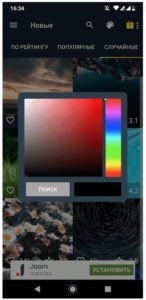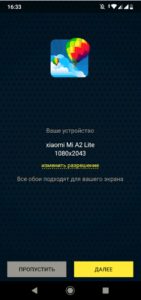 8. Muzei
The app is slightly different from many other similar wallpaper makers due to its approach to images and navigation, as it prioritizes your own wallpapers on the device. If you have many pictures on your smartphone, you can interchange them.
If you'd like to use the images from the "My Pictures" folder, you should go to Settings to set how often these images should change.
Unlike any other app on this list, Muzei doesn't leave the selected image unchanged, which is quite reasonable: the thing is that one potential drawback of using a real photo as a background is that it can make it difficult to read the text and recognize the icons.
To fix this, Muzei applies blur to every picture. When you double-tap on an empty space of the home screen, it will toggle the blurred and original image for a few seconds. And if you prefer to go into settings to control the amount of blur and darkening, you will be able to do it through the main menu of Muzei.
After the 1st launch,  click on the "Activate" button, and you will see the first picture called "Starry Night" appear on your desktop.
Every day you will get a new picture and a small explanation about the author and his work, which will be displayed in the menu. More detailed information is shown on an external resource after clicking on the name of the picture.
The development of this wonderful application was carried out by  Roman Nurik, who has already become famous thanks to his creation of a "smart" watch called DashClock.
Like the watch, the new program is completely free and open source, which makes it possible for third-party application designers to improve the Muzei app.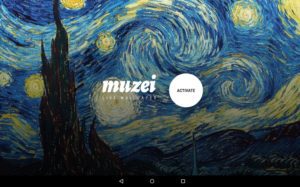 You may also like: 11 Best stop motion apps for Android & iOS
9. Everpix
Everpix is useful both for people who like changing their wallpapers daily and for those who usually select a new picture only when the software of the device is updated.
Everpix can help the first group find a great number of new pictures according to their preferences, and as the second one, it will make their smartphone individual.
Everpix is quite simple: press the button in the lower left corner of the screen, choose the category you are interested in, find a suitable image, and press the big round Save button. Then you should go to Settings, then to Wallpaper, and choose a new image.
Everpix has a great number of various categories, such as nature, sports, animals, cities, food, and others. So you will definitely find an image to fit your taste.
One of the main benefits of Everpix is its versatility. You can start it on your iPhone, iPad, or iPod Touch – Everpix will provide you with the wallpapers, that will ideally suit the resolution of your gadget.
The effect of the home screen saver update will really surprise you as after you get used to one picture, the new image, that will replace it, will make you feel as you are using a new phone.
Besides, Everpix is free of annoying ads, notifications, chargeable subscriptions, and various bugs.