Scanning documents actually is not the best activity in the world. Are there many people out there who hate it too? Well, the success of scanning always depends on the type of document. If you just scan plain paper docs that's alright. But if for some reason you need to scan a book – it is going to be a challenge.
Back in the days, scanning always required going to a copy shop, waiting in the line and then paying money for scanning or copying your documents. Then home scanning became possible. But still, scanning documents remained an uncomfortable and boring thing. That was until recently when the document scanning apps have entered the market and change the way of scanning forever.
Now any essential paper can be scanned wherever you need and at any lighting. You don't need big machines anymore – just use your phone camera and then adjust the setting of the scan yourself. Don't you already use an app like this? Getting it is vital.
1. Adobe Scan
If there is anything concerning the design, graphical images or videos – Adobe is always there. We can only give a bow to the developers for making so many useful apps to help people solving elaborate graphical issues in an easy way. This time we are observing their scanning app which allows you to rapidly scan any paper and then turn it into PDF (or any other format available).
First things first, and let's look at the most useful features here. Adobe Scan can automatically recognize the text on docs. Your receipts, notes, documents, photos, business cards, whiteboards – you can literally scan anything with this software and convert it into PDF format.
All you need to do is to open the app and then focus the camera on the document that you want to scan. And don't worry if the scan and borders are not perfect – in fact, you can even make a simple photo of a paper lying on your desk. Later the app will automatically crop the image or you can adjust the borders of a document manually, thanks to advanced technologies.
You can also import the photos and scans from your gallery to the app. Whether it's a PDF or photo scan, you can preview, reorder, crop, rotate and adjust color. Here you also got a possibility to make final polishes on the ultimate version – remove and edit imperfections, erase stains, marks, creases, even handwriting.
If you, for example, need to transfer the info from the business card or phone card to your mobile phone it is easy to do with Adobe Scanner. Just scan what you need, and then the app will recognize addresses, names, phone numbers and automatically add it to your contact list. The only disadvantage is that if you would like to get access to more functions of the app you will have to get a $9.99 monthly subscription.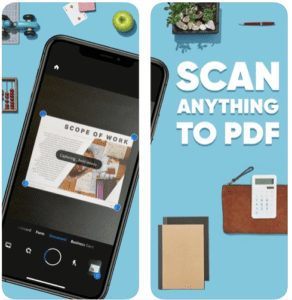 You may also like: 9 Best naked scanner apps for Android & iOS
2. Microsoft Office Lens
An app from another giant in the software industry  – Microsoft. This is rather an old school app which was one of the best apps on the market in 2015. It has proven itself as powerful and reliable software for scanning documents and immediately turning them into PDF format.
Microsoft Office Lens is also convenient since it is one program from the whole Microsoft family, and logically, it synchronized with the rest of them. And here you can later transfer scanned files right to the Microsoft Word and PowerPoint and save them in One Note and One Drive.
The functionality of this app is quite similar to Adobe – it is basically your pocket scanner, where you can take a picture of documents, then the app will automatically recognize the text on it and make the necessary cropping of file; it can also transfer the information form business cards to your phone. The app can even recognize the hand-written text.
After you have scanned a document you can copy the text itself right from it which is extremely convenient. There are several modes that you can use for scanning. The "board" mode crops the photos and removes the glitches. In the "document" mode the app makes the photos with enhanced precision and enhances their colors.
What else to add here? If you are old-school dude, you will probably like this scanning app by our favorite Microsoft.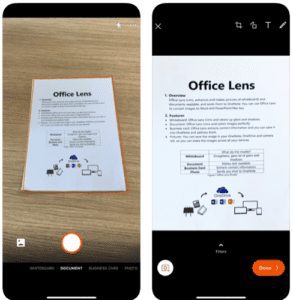 3. Scanbot
Now let's move on to something that is not produced by the giant companies but still has to offer us a high-class quality. By the way, sometimes apps like this tend to bring more functions to users and, what is more important, they tend to be cheaper.
Scanbot can scan literally everything. It is actually a very useful app since it can be used for scanning QR-codes as well. All the scans that you will make with this app are promised to be the high quality and can be saved in PDF or JPG format. Later you can send those files via email or even fax (a little bit obsolete). And of course, you can upload them to iCloud Drive, Box, Dropbox, Evernote, and other cloud services.
The scans made here have 200 dpi and higher quality. If you see a phone number, contact or a QR code from which you need to transfer the data to your phone – just do it in a single click by scanning it. When you scan, Scanbot will detect the borders automatically and will crop the image.
Then, you can scan single and multi-page documents. In the second case, they all will be saved as a united file so you won't even have to use any additional editors to compile them together. You can enhance your scans by applying color, grayscaling or layering black and white filters with automatic optimization.
Among the additional functions, you get a possibility to rotate and scale scanned documents and also edit them. The interface of the app is easy to use and it looks quite pleasantly for an eye. By the way, if you want, you can customize the theme of it by changing the colors.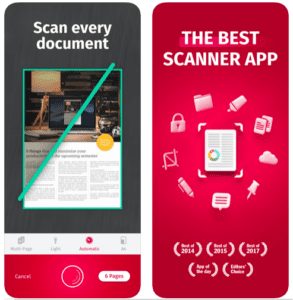 4. CamScanner
Honestly, what you notice here immediately is that the icon of the app is decorated according to the season of the major holiday. Well, that's a sign that developers actually haven't forgotten about this app. Besides, the attention to details is always a plus.
So, now about CamScammer itself. The app claims to be the intellectual system for private document controlling. Wow, sounds impressive. But what does that bring to us in fact?
Well, first of all, the app would be beneficial for governmental organizations, such as schools, colleges, and small business units. In other words, for all people who have to scan, sort. synchronize and share the documents on a regular basis.
It should be noted that the free version of this app includes ads and watermarks. But at least you still can utilize all the functions provided here. You can also store scanned documents in cloud storage, such as Evernote, SkyDrive up to 7 days.
As for the scanning, here the app serves perfectly its main goal – scan documents fast. The algorithm is the same as in cases with previous apps. The same intellectual system of text recognition, the same picture cropping. Scan your receipts, IDs, notes and so on.
And have you ever faced such a problem that you got too many scanned documents in storage and it is literally impossible to find anything in there? The remarkable feature of this app is that it gives you a chance to sort your scans. You can sort your documents according to groups, names, dates, themes, importance, and also alter the way of viewing them. By the way, for the crucially important (or maybe secret) documents, there is an option to establish a separate password.
The monthly payment is $4.99 a month. For businesses or other production organizations, this is pretty much fair price to keep all the scans in order and, what is more important, under protection.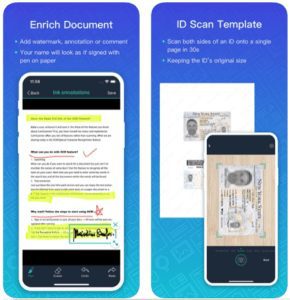 5. Tiny Scanner
Another popular app for scanning documents is loved by hundreds of thousands of users. It became so demanded, first of all, because of its simplicity. Well, maybe it doesn't include that many functions as previous apps, such as Microsoft or CamScanner, but let's think what do we want when we are thinking of scanning papers?
For sure, most people would like to do that fast and without any extra hassle. The thing is, apps from giant corporations or multi-functional apps can be too confusing and time-consuming or occupy too much space of the phone memory for an ordinary user.
TinyScanner simply serves its function – as you open the app, it is immediately ready to scan any document. Or, you can click on the icon in the lower corner of the screen and upload a file to the app. TinyScanner also has a function of automatic cropping the files, though the final decision and fittings left for the user.
After you have scanned a document, you will be suggested to adjust the coloring. There are several shades of black-and-white tones, and each document requires a different pallette if you want it to look more precise and qualitative. You can save an image in black and white or in a colorful version. And there are two options of formats: PDF and JPG. Also, you can share immediately the scans via social media or send them to the cloud storage.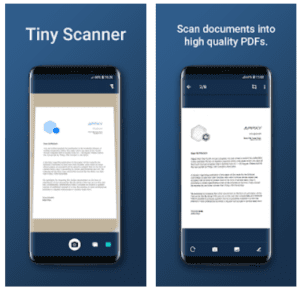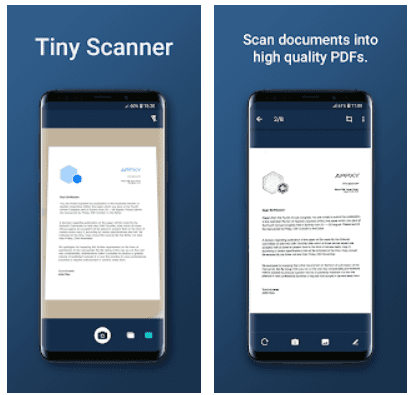 6. Tiny Scanner Plus
Another scanner app, this time for iOS. Actually, Tiny Scanner Plus is also quite popular on the market and one of the best apps as well. It's been released more than 7 years ago, but unlike many apps, it could maintain its success and keep up improving together with the time.
So for those who are tired of trying to scan the papers trying to look the eventual results like normal pictures Tiny Scanner Plus will become a great help. The quality of scans is at the highest level here. Millions of users have already installed this app and appreciated all the benefits it brings.
Just like in previous cases, this is a pocket scanner that enables you to make scans of documents, books, receipts, notes, photos, IDs, passports, whiteboards, posters, cards, letters, newspapers, screens, and many, many more things. A multi-document type of scanning is also supported. You can choose a photo from your photo gallery and scan it as a document.
When you export files the size of the documents is customizable. The essential part is that the app includes all the necessary filters which will help to improve the quality and clarity of a scanned picture and you can make adjustments after you scanned a document. All the scans are made rapidly and have crispy clear quality even if your hand was shaking during the scan.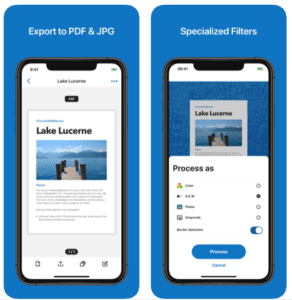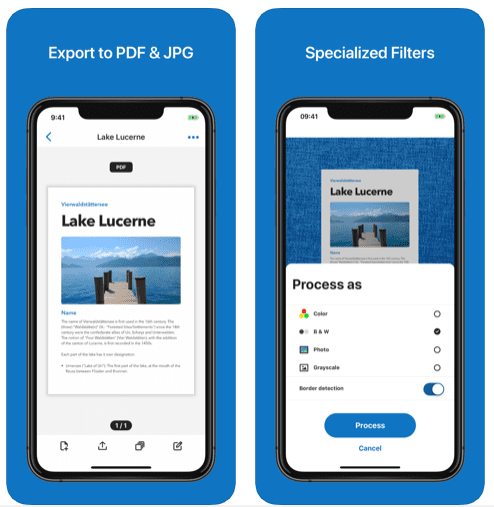 7. Simple Scan
Seriously, in the era where we can take instant photos of everything we see, especially documents, it would be weird if there were no decent scanner apps. Good thing, nowadays we got plenty of choices. Here we pay our attention to a more simple, though still productive app for scanning documents.
Simple Scan is popular on the market and let's see why. First of all, the interface. It is maybe not the most authentic interface on the planet, but it doesn't distract your attention from more important business and allows doing what you came here to do – scan documents and papers.
But the most interesting part starts when you actually have already scanned a doc. Then you can apply the power settings to improve the quality of the image. The app removes unnecessary background images automatically and recognizes documents with the text on them. You can adjust the settings of scanning manually.
Then, you can apply various filters to the app. You will get a scale of grey and black color and will be able to increase or decrease it. You can experiment with the shades until you are satisfied with the quality of a document. Don't forget to set the size of the page (letter, A4). Put the password to the most important scans.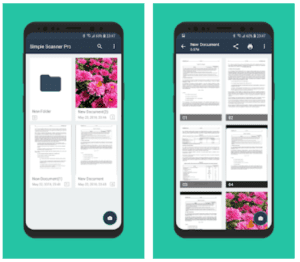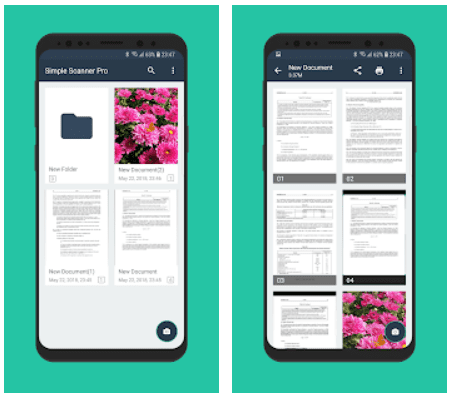 8. Easy Scanner PDF Document Scan
The name of this app expresses the right idea – the scanning should be easy and fast. Well, this software promises to turn your gadget into a powerful pocket scanner that you can use everywhere. You can scan the documents or pictures on the go, saving them in a single-page or in multi-page mode, as PDF or JPEG files.
The edges of a document being scanner will be recognized automatically. After that, all you have to do is to check if everything's correct and cut the image across the borders of a paper. Forget about the usual mess that you used to have in your scanning apps. Here you can sort all the scanned files according to the name, date and so on.
Another cool and extremely useful function here is that you can instantly add your signature to a scanned document. For sure, everyone was in a situation, when you need to make a copy of, for example, contract and then put your signature on it and them send it back. Yes, many apps allow you can, but very few of them actually give you a chance to put your signature on scanned documents.
Among other standard options, you can choose the type and size of the page, lock essential documents with a password, upload them to the cloud storage and share via email and messengers. Moreover, the app is constantly updated and improved, so it involves all the latest inventions of scanning technologies. The only thing that Easy Scanner requires you to make a paid subscription, which is $4 a month.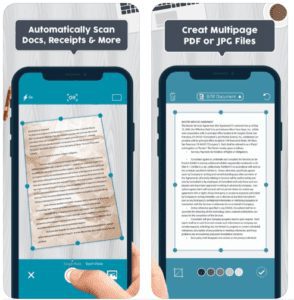 9. Fast Scanner
This is a cool app, but, basically, it doesn't differ much from the previous ones in our list. As always, it allows you to make scans of documents by simply using the camera of your gadget. If you need to rapidly scan a paper and then send it via email, this Fast Scanner might be your choice.
And yes, once again you can save files as PDF or JPG. If you need, save the files right on your phone and open them in other apps or programs. And don't worry if you suddenly realize that you have forgotten to scan the several pages of a book. It will still be possible to add pages to the PDF file even after the first scanning session is over.
The main feature of this app is its speed. If you are the kind of person who gets irritated when gadgets work slowly, then you should go for this one. The editing options for scanned documents also give lots of fo possibilities to improve their quality and make them look as decent as possible.
Using the cloud print you can also instantly print a scan. Moreover, the app synchronizes both with a smartphone and a tablet. So you can scan a document using the phone and then take it as the note with you on the tablet.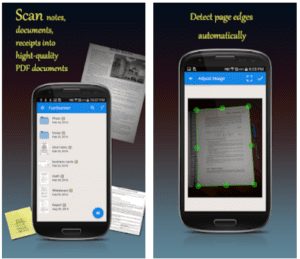 10. Genius Scan
More than 20 million users prove that there is something about this app that makes it be on this list. In fact, it is another great tool for qualitative and fast document scanning without any extra hassle. For single documents scanning, the JPG mode is more suitable and in case you would like to scan several ones – you should go for PDF mode.
As always, the app will identify a document in front of your camera automatically so you don't even have to press focus, then the app will cut the edges automatically as well. As a result, you will get a clear, easy-to-read file. After scanning you can edit a document. A function of deleting the shadows is especially useful since the lighting in the room where a scan is made is not always perfect.
Then you can apply various filters to the image to make it look even better or closer to a certain standard. Why waste time on additional editors, when everything can be done in one app? Moreover, you can import files from your gallery and turn them into high-quality scans.
Genius Scan allows you to put a password on important documents too, but here we have something even more interesting – it allows you to code the access with your fingerprint. That's a real guarantee that only you are going to get access to the file and prove that the app uses the latest technologies for security goals.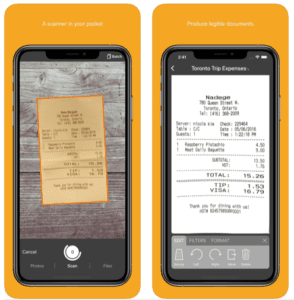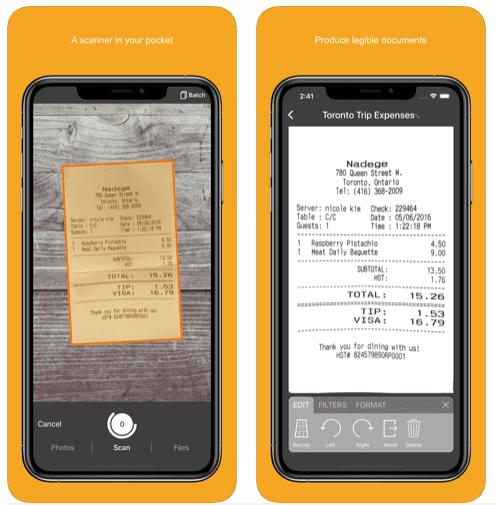 11. Smart Doc Scanner
Want to turn your phone into a smart scanner that takes only several clicks to make a good copy? Smart Doc Scanner makes it possible. If you are in a situation, when you need to make a high-quality scan of a receipt, bill or another doc and send them via messengers quickly, you can get your eye on this software.
The intuitive dynamic interface allows editing scans in a few simple actions. Smart Doc Scanner, just like the other apps in this list, can precisely identify a document on camera and crop the borders in the automatic mode. Here you will also find the extended camera settings and full customizations of ending PDF files.
What is more, the app is capable of recognizing the text on scans and then turning into a regular text that you can copy. Fifteen years ago, all the students would die for an app like this while doing their homework. The distinctive feature of this app is that here you can also save your documents in DOC format. Actually, many formats are supported: JPEG, PNG, BMP, GIFF, and WEBP.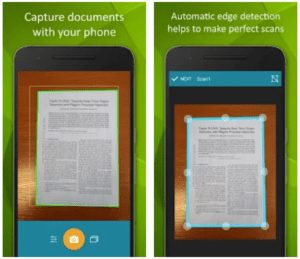 12. Smart Doc Scanner
Now let's take a look at the analog of the previous app but for iOS. Actually, from the first sight, you can say that this can't be bad software. In fact, it simply serves its main function – scan documents in high-quality and nothing more. No extra adjustments and filters that distract you when you only need to get a scan of any quality, no focus. Well, sometimes less is more.
This app has tesseract OCR integrated. Any images scanned here can be converted into PDF files. But don't think it is because this Smart Doc Scanner is super simple, it won't allow you to upload the pictures from your gallery for scanning – you can. The image rectangle is detected automatically. After the scan is made, you can rotate it or share it via email. Yes, the overall system is simple, but maybe someone is looking for a more simple scanning app, and the less weight app.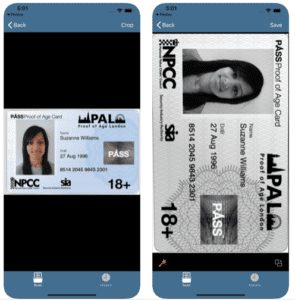 13. Doc Scanner – Phone PDF Creator
And another app that you might want to install on your phone just in case you suddenly need a scanner. It is quite simple and doesn't occupy too much of phone memory, so you can use it once and then forget about it till the next time you suddenly need to scan something. Seriously, not many regular users need to scan something every day, And not each of us needs a multi-functional scanner that only makes us confused.
Here you can scan your documents – the app then will detect the edges of a paper automatically and effect the cropping of a file, then you can change the sizes of pages – A4, letter, album. etc. The file savings can be made in PDF or JPG. And if you need, like most of us, to do everything immediately, you can print and send via email just scanned document right from the app. There is also a fax sending function if someone still uses it.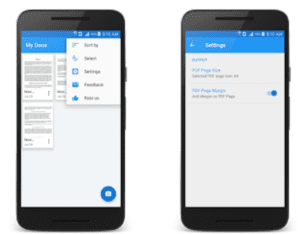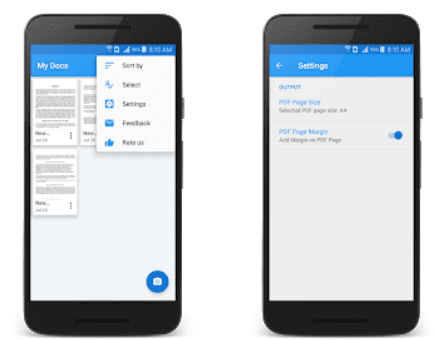 14. Smart Scan
As we are getting closer to the end of our list, you could have probably notice that the apps become more simple and require less description. Well, that's why there are different options on the market and maybe in case of scanning, you don't need something extra powerful. If you do, you can turn to the beginning of our list.
But this one app may not be the most popular here, but it still works. Smart Scan can scan, store, sync and collaborate on various contents across the smartphone. It is a tiny PDF scanner app that you can scan documents, photos, receipts, reports, or others. It can also automatically recognize the edges of a paper and cut it across its borders.
Even those documents that don't look clear in the real-life can be clarified in this app with various filters. Organizing the scanned documents is also easy here – the smart manager will help you to keep everything in order. Scans can be saved to PDF or JPG formats and be sent via email, messengers or social media apps.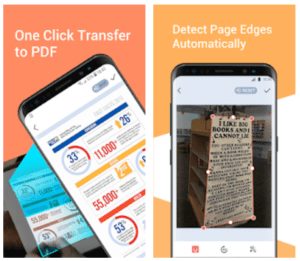 15. Scanner App: PDF Document Scan
We are right now at the end of our list, but let's be honest, there are much more scanning apps on the market that deserve your attention. Like this one – it may be at the end of our list, but it is still very popular on the market and has high rankings by users.
The functions of the app are pretty much the same. You open the app, then scan a document. The app recognizes a document automatically and the system of cutting the edges and recognition, in general, is very precise here. Then you can make adjustments of an image, change the shades of colors for better quality and make a picture colorful or black and white. The interface of the app is remarkable – it is performed in white stylish colors with smooth edges.
Then, this software is capable of recognizing the text in multiple languages and copy it from a picture. And yes, you can also add your e-sign here and protect some files with a password. So for those users who search for the esthetic aspect in everything – this app will justify your hopes for sure.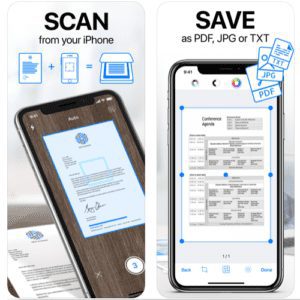 You may also like: 6 Best body swap apps for Android & iOS