Hiking is one of the most popular activities today and this is absolutely a positive trend. In order to make your hiking trails better and more exciting, we recommend you to pay attention to this app that has all the chances to become your next hiking assistant – and it's called HiiKER.
You may also like: 7 Cool apps that make you look skinny
It includes everything to plan your route and even more. The app includes a large collection of pre-planned trails with stunning landscapes. What is more, the database of it is truly impressive – the app includes over 290 multi-day offline maps in 31 countries around the world.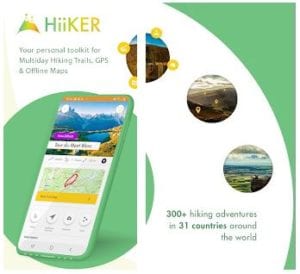 You can search for different kinds of trails depending on your preferences and physical abilities. Just set up the necessary filters in the search bar and you will find several options that will suit you the most. Another interesting feature of HiiKER is that you can see the reviews of other users about different trails so you would know for sure if it's worth choosing or not.
The app will always show you a specific point of where the trail starts so you would know how to get to that place. By the way, all the maps that you will find in HiiKER are of the highest quality – everything is displayed in detail and they have 6 top-quality map-layers. All the breaks and places to stop during the route are displayed on the map as well.
What is more, all the drug stores, pharmacies, cafes, and other essential places are displayed on the maps in the app. Apart from that, all the hikes are planned in time and you will know exactly how long each hiker will take – even if it lasts for several days.
You may also like: 11 Best zombie tower defence games for Android & iOS
If you upgrade to an Ultimate Hiker then you will get unlimited access to all the trails in the app. But in all the modes available HiiKER is a great app to explore new exciting trails and enjoy your time walking by the most beautiful sceneries.