There are almost 2 billion Muslims in the world, which is about 25% of the global population. Though this religion is considered to be comparatively young, Islam gains more and more followers each year. It makes Islam the fastest-growing religion in the world.
Obligatory prayers (five times per day) and the Quran are an integral part of Islam. Since the Holy book of Islam should be always in access, there are quite many Quran apps that were developed. To have the teachings of Allah on your palm, our recommendation is to install such a handy tool.
This post contains the best Quran apps available on both the App Store and Google Play. Because of the numerous additional features described below, installing this tool will be extremely advantageous.
1. Al Quran (Tafsir & by Word)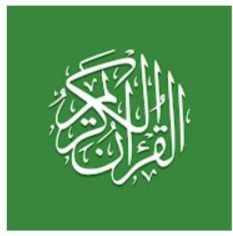 Al Quran is one of the most popular Quran apps. Due to its numerous advantages, it has millions of installs across the globe.
To begin with, this very app will be especially suitable for users speaking other languages but not Arabic. The thing is that this tool comes with a digital Quran translated into more than 35 languages, including Chinese, English, French, Hindi, German, Indonesian, Italian, Urdu, Malay, Russian, Spanish, and so on. What is more, the users speaking particular languages (English, Indonesian, Bangla, German, and Turkish), will also enjoy such features as Word by Word Translation, Word by Word Rendering, Words Origin, Root / Lemma Information, and so on.
Apart from this, the app will also provide English-speaking users with verse-indexed Tafsir Ibn Kathir. The text will be presented in embedded Arabic. That's what makes it possible to study Quran and Tafsirs in both English and Arabic simultaneously.
As for Arabic language speakers, you will have the whole Holy Book at your fingertips. What is more, it will be completed by eight Tafsirs (including Tafseer Ibn Kathir, Tafseer Tabari, etc.).
Regardless of the language you speak, you will be able to create bookmarks, mark this or that verse as Last Read, and keep track of Khatmah. Also, adding particular fragments to Favorites will be available for you as well. Finally, for each Ayah, a user can take notes in the app directly. What makes this very tool especially convenient is that these bookmarks and notes can be synchronized and imported/exported across the devices.
The real proudness of the app is the Quran Majeed Audio feature. It will let you listen to 30 Juz or 114 Surah without having any limitations. What is more, you will have access to audio from over 30 reciters like Sheikh Mishary Al Afasy, Sheikh Husary (Muallim), Shaykh Ayman Suwaid, and many others. As you can see, it is one of the reasons for the app's popularity.
To make the listening more convenient, the app will provide you with access to a built-in powerful audio system. It allows the users to enable repeat and group playback of verses feature, which is beneficial for Quran memorization.
Plus, the recitations are also translated into English and Urdu.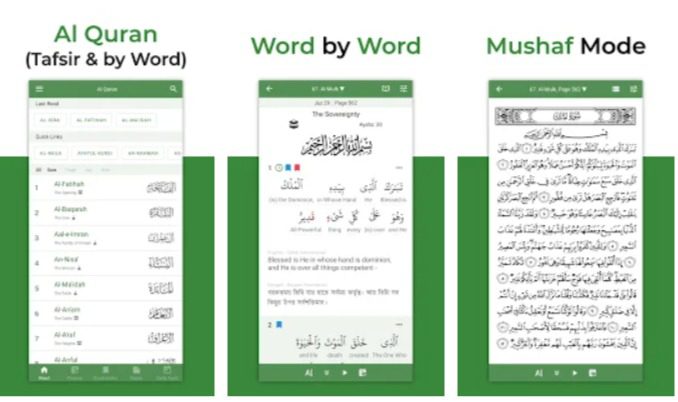 2. Quran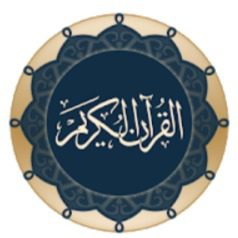 Quran is the app developed by the quran.com website. Here are its distinguishing features.
In this case, the tool reminds us of a reader app with a pre-loaded Quran. However, it is more powerful than it seems.
To begin with, the digital version of the Quran comes with a set of handy tools here. To be more precise, you will need to highlight any fragment only and choose the option required in a toolbar. It can be bookmarking, tagging, sharing, or instant translation. You got it right, the app also supports 20 different languages to translate to the text and even tafsir.
Besides, as you highlight a fragment, you will be able to listen to it instantly or play the whole book gaplessly. The app is also capable of customizable audio repeating. Talking about the recitations, the app will offer you to choose the most suitable option from the 15 available ones. That sounds amazing.
Finally, two minor features that you will like as well are search and night mode.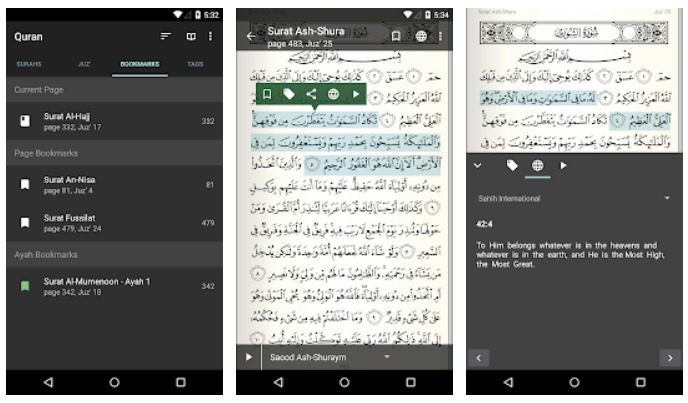 3. Quran Majeed – القران الكريم: Prayer Times & Athan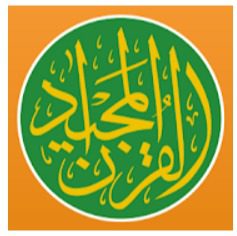 Here is the next worthwhile option for you. It is called Quran Majeed. By the way, this very tool is especially appreciated by Muslims. Also, believe it or not, it has more than 35 million installs.
Since this very application is multifunctional, we are going to start with the feature you are interested in the most. Well, the app offers its users a digital version of the Holy book with numerous opportunities to discover.
Firstly, because of the user-friendly interface, you will enjoy it every time you read Quran here. At the same time, feel free to change the font size and try other themes like Green, Blue, Classic-Green, Night Mode, Light & Brown. As you read, you may bookmark any fragments for having instant access. Alternatively, use the search by a word feature to find a particular ayah.
At the same time, if you prefer listening to Quran, here are the features for you. In this case, the reciters are world-known people like Sheikh Abdul Basit, Sheikh As Sudays & As Shraym, Mishari Rashid, Saad Al Ghamdi, Abu Bakr Shatry, and many others. If you want to memorize something, just choose the options you need (repetition of the ayah and Surah, number of repetitions, interval, and recitation speed), and enjoy the listening. By the way, the words will be highlighted as they are pronounced. Or you can play it just in the background, which is also supported.
But there is more to come. Here are the features that make the app to be a must-have for every Muslim. The fact is that the app will show you the accurate Prayer Times (both Salah and Namaz) depending on your location. What is more, you will be able to set the build-in Athan alarm in order not to miss the time for prayer. Also, when it comes to Ramadan, you will always be notified about the Sehar & Iftar times.
One more brilliant feature here is the in-app Qibla Compass. It will be helping you to find the direction of Mecca for Salah. Talking about additional features that are also extremely appreciated, we can't help mentioning Hijri Calendar, Halal Places & Masjids near you, Quran Majeed tips, Quran Engagement Meter, Quran TV, and Makkah and Medinah live.
If you are interested in reading Quran in other languages, here are the features for you. This very tool includes translations of 46 languages, including many widespread languages. Some of them are rare ones, but since they are spoken by Muslims, they were added here as well (like Tartar and Uyghur). The full list of languages is available on the links below.
Apart from this, any translation can be displayed and, correspondingly, translated along with the original Quran text in Arabic. If you are interested in transliteration, it will be available in English only. As for the audio, the translation comes in English and Urdu.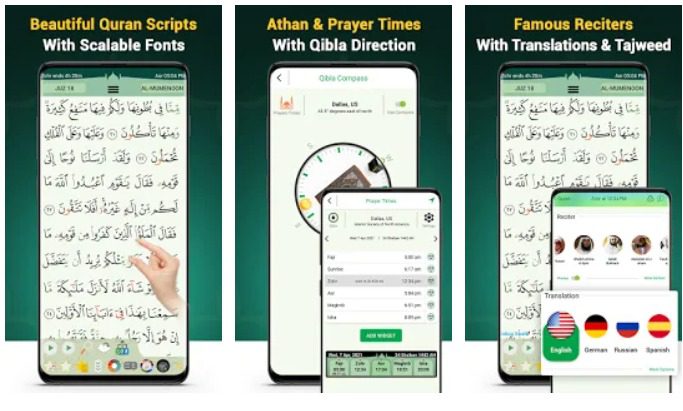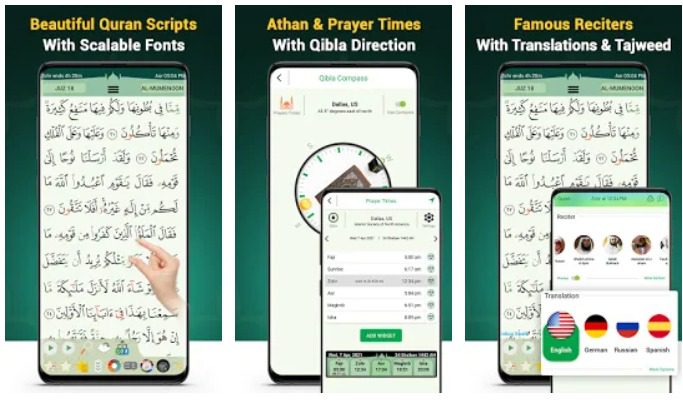 4. Learn Quran Tajwid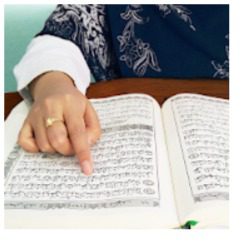 Are you searching for an app that will teach you to read Quran even in Arabic using Tajweed? If you are, the Learn Quran Tajwid application is what you need.
The app will become your virtual teacher and guide you from A to Z. It contains numerous comprehensive lessons for all levels. Basically, the course consists of numerous units, from the alphabet to really difficult things like Thick ر and Thin ر or Waqf and Ibtida'. As you can see, it will help you to master your skills in reading Quran greatly, so you can easily recite the text of the Holy book.
What is more, each unit will be completed by theory, practice, and test, so that you will become an expert.
Other features that will help you to improve your skills are voice narration of the Arabic scripts for repeating, practice tips, transliteration of the text, Quranic examples, and numerous pictures and videos.
To assess your knowledge, from time to time the app will offer you to record yourself reading Quran. As for tracking the learning process, you will be able to study the My result section showing your current and previous achievements. Apart from this, you will need to take 14 tests to measure your skills. So you will have all the chances to start reading Quran fluently.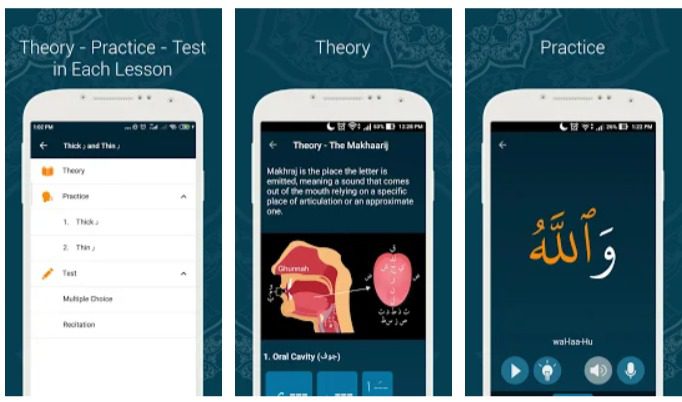 5. iQuran Lite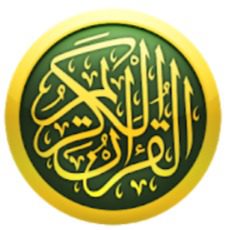 iQuran Lite is the next awesome app to be reviewed. Though it has some limitations, it is still a good tool to read Quran on your phone.
After you launch the app, you will have access to the full text of the Quran as well as to its side-by-side English translation. Other languages are not supported in this case. If you enjoy listening to reading, the app will suggest you audio playback with a repetition feature (even group playback of verses for memorization). The reciter is Sheikh Husary.
The additional details that you may also like are color-coded Tajweed rules for the last Juz / Para, abilities to create 5 bookmarks and 3 tags, search showing 20 most relevant results, and so on. Though some features have limits, they won't prevent you from convenient use of this app.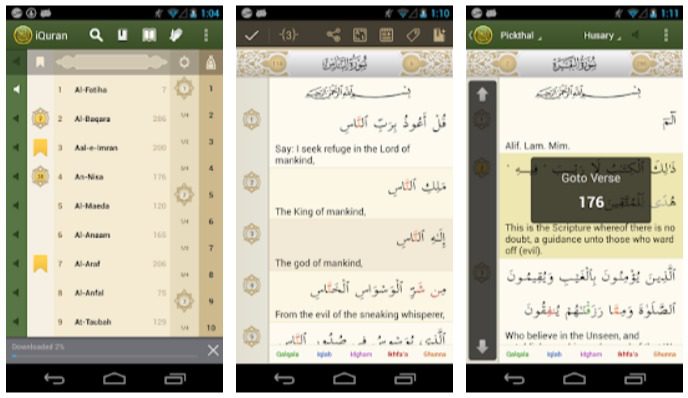 If an app you installed comes without Nigh Mode, it will be a good idea to install one of the best screen dimmer apps for Android & iOS.
6. MP3 Quran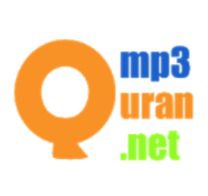 How do you feel about reviewing the app suitable for listening but not reading Quran? If your attitude is positive, here is the tool for you.
In MP3 Quran, you will be able to listen to the text of the Holy Islamic book and enjoy numerous capabilities of the app.
We'll start with the reciters. The app will provide you with a great choice of more than 230 world-known reciters. After you find the one you like the most, you will be able to save this voice as a favorite to have quick access to all the chapters recited by him.
As for the text, you can't imagine how easy it will be to find the fragment you want. You will need just to browse the Quran index in Surah's or part's names. Alternatively, use the quick search and powerful filter to find any verse or word easily in audio format. One more option for having instant access is to add a fragment to favorites.
Apart from this, the app will always keep the history of your recent played recitations (from newest to oldest ones). And you will surely like the newly added section with the latest updates on recitations or narrations.
When it comes to listening, you will definitely find this app perfect. The thing is that you will be able to listen to Surah or just particular verses. What is more, they will be in various narrations (Riwayat": Hafs, Rash, Qaloun, Al Duri) and voices. Apart from this, setting a timing frame to listen to a part you need will be possible as well. Finally, the app will offer you to select the number of repetition times.
Talking about the user interface, it should be said that it is available in 15 languages. Also, you will definitely like the backgrounds for the audio player in 4 different colors. In addition, when particular chapters are played, you will be able to see the Masjid al-Haram or the Prophet's Mosque in the background while listening.
What makes the app so unique is that it suits blind and visually impaired people. Such users can talk to the tool by voice commands and use it with no effort at all.
Plus, the app will provide you with recordings of the Holy Quran radio, so you can also create a list of your favorite stations directly in the app.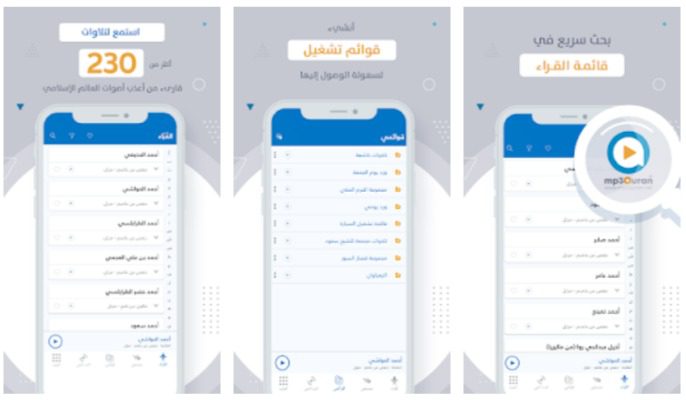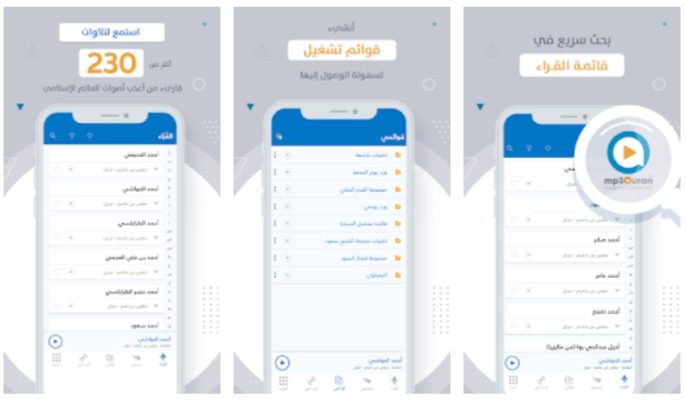 7. The Holy Quran – English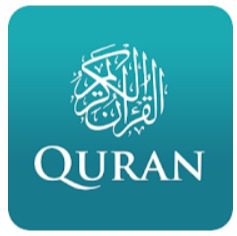 If you want to study the text of the Quran in English, we have found a tool for you as well. Its name is The Holy Quran – English.
The app will provide you with an English Translation of the Islamic Holy Book. Apart from this, you will be able to view the original Arabic text aside. Both variants will be completed by Tafsir from various scholars. What is more, you will have access to Index/Glossary with numerous topics and links to the particular passages.
To find a particular fragment within the text, you will have a quick search at your fingertips. However, for having quicker access, feel free to use the bookmark feature with the note function. By the way, both bookmarks and notes can be synchronized across the gadgets. As for an alternative, you may share the ayats you like the most on social media from the app directly.
When it comes to listening to recitations, you will be able to choose the reciters speaking Arabic (Mishary Alafasy, Maher Al-Muaiqly, Said Al Ghamdi, Abul Basit, Muhammad Ayyoub, etc.), or select the English-speaking Imam Benjamin Bilal. For your convenience, the app will let you control audio via a widget, the screen-lock player. Moreover, the last app version also supports Android Auto. So if you own an Android device, you may find this feature useful.
Talking about the interface, it is also user-friendly in this case. Moreover, the app lets its users choose one of the 10 backgrounds and 4 fonts and sizes (both English and Arabic). Night Mode is also included.
As a bonus, you are welcome to make use of Qibla Compass, Salah Times, and Prayer Alarms.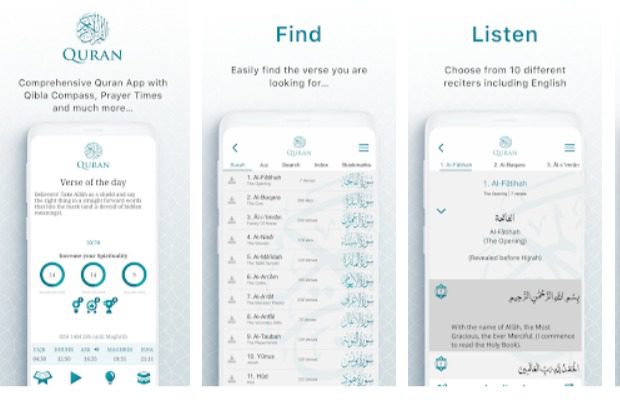 8. Ayat – Al Quran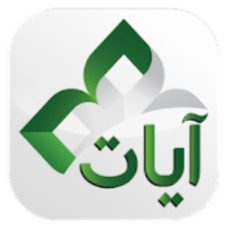 Ayat – Al Quran is one more brilliant app for you. Let's review its features in detail.
As usual, the application will let you read the text of the Quran. In this case, it will also be completed by six Tafsir (Al-Saa'di, Ibn-Katheer, Al-Baghawy, Al-Qortoby, Al-Tabary, and Al-Waseet). For better navigation, you will be able to search through the text by Sura/Aya, Juz, or page number. So you won't face any difficulties in browsing the fragment you need.
When it comes to listening to the text, you will have an opportunity to listen to recitations by many famous people like Rewayat Warsh an-Nafei'. Plus, the corresponding text will be highlighted during the recitation playing. Setting the number of repetitions and intervals will be possible as well.
In addition, directly in the app, you will be able to view a scanned copy of real printed Mosshaf, copy of Mosshaf Al-Madina, Mosshaf Al-Tajweed, and Mosshaf Warsh. That's one of the reasons for installing this tool.
If you don't speak Arabic, here are the features for you. The app includes side-by-side translations of the Quran in more than 20 languages. As for the Tafsir, the once called Tafheem Al-Quran by Al-Maududi is included, only in English.
In case you prefer listening, you will be able to listen to the text in English and Urdu only.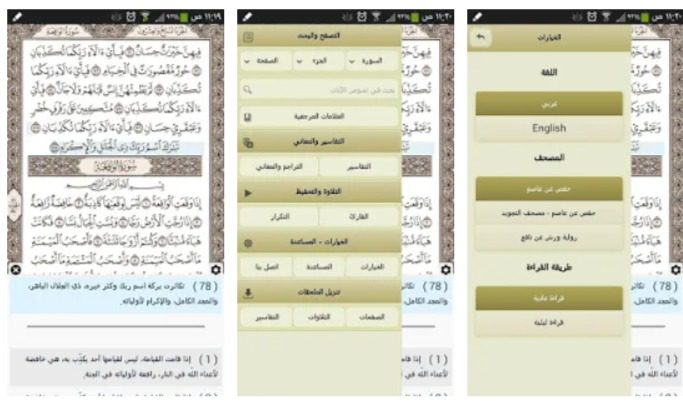 9. Muslim Pro: Athan, Quran, Prayer Times Qibla Islam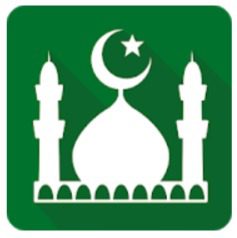 The last app on our review is Muslim Pro. It will be appropriate for those who are searching for a multifunctional tool for Islam followers.
Let's start with the feature connected with Quran. Well, with the help of this app, you will have the digital version of the Quran on your device. So since now, you can read it wherever and whenever you need. What is more, it comes with audio recitations, phonetics (colored Tajweed). As for translations, there are 16 additional languages supported.
Here are the most necessary features for every Muslim. First of all, the app represents an accurate alarm on prayer times according to your location. Every Azan, you will receive notifications for prayer. Also, they can be completed by audio with a big choice of muezzin voices available. During Ramadan, you will also stay aware of Imsak and Iftar times.
Apart from this, the app is capable of counting your dhikr (Tasbih). Besides, you will also like its built-in Qibla compass showing you the direction to Mecca. Plus, it has a Complete Muslim Hijri calendar and 99 names of Allah in it.
As for the additional features, firstly, the app will analyze your location and tell you about Halal restaurants and mosques nearby. Secondly, it has a stunning collection of pre-loaded Islamic greeting cards, does, and supplications. Finally, the app's community is so friendly, why don't you join it?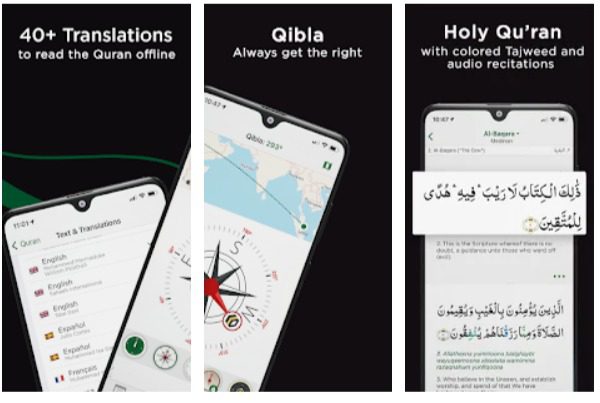 You may also like: 11 Free audiobook apps for iPhone & Android