Are you also someone who gets stressed a lot trying to find time for literally everything in your life? Perhaps, we have never been so free to be willing to choose what to do and so pressed on what we must do at the same time.
The problem is we are overloaded with such an amount of information and opportunities that we are getting exhausted while trying to keep up with everything and be "the best version of ourselves".
And in this eternal race, how many times have you actually forgotten about important tasks that you were supposed to do and significant events? Probably, not once – like most of us. It is very natural for humans to forget something – but here the reminder apps come to help us.
Now you can stay calm that fish in your aquarium are fed, emails are sent, the salt is bought and the birthday of your girlfriend is in two days and you still got time to buy a present. You may say that each smartphone comes with a calendar and reminder app in it.
But in fact, those standard reminders already built in the gadget are not functional and inconvenient to use. In other words, they are just boring and unreliable. So if you want to keep your hand on the pulse of everything that's going on around you without forgetting anything here are the best reminders apps for you.
1. Due
Good looking, effective and easy to use – the key features of a reminder app. This one has it all and you will not regret it if you get it on your smartphone. It is going to remind you of the things to do until you actually get them done. It's lightning-fast to set and postpone reminders, all thanks to a clever time picker and natural date parsing.
Just like an alarm, Due has a postpone option. You can choose between intervals of every 1, 5, 10, 15, 30 and 60 minutes. A time picker has more than 12 presets so you can be sure you will not be able to postpone or forget about something you have planned.
Due can also parse dates and times that you typed or dictate and offer to set the due dates and times for you. This reminder app is extremely precise and you can even measure the time of cooking with it.
The design here is minimalistic but beautifully looking – so even the boring routine of planning will become more pleasant while working with such an aesthetically pleasant app.
All kinds of reminders are included and it doesn't matter if they are happening in two days or in two months – the possibilities to set the time, details and other information are the same. And even for those who like doing everything in their own way, you can set the reminder in the style of second-Sunday-of-a-month mode.
Besides, you can synchronize all the data collected in Due to your cloud storage and access it from various devices. Beneficial for the team and corporative work. The app automatically adjusts text size according to your system setting and offers full VoiceOver support. Due is also localized in 17 languages.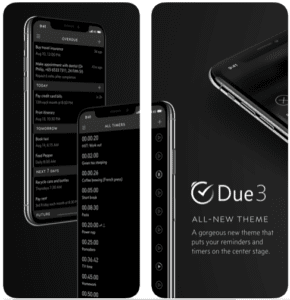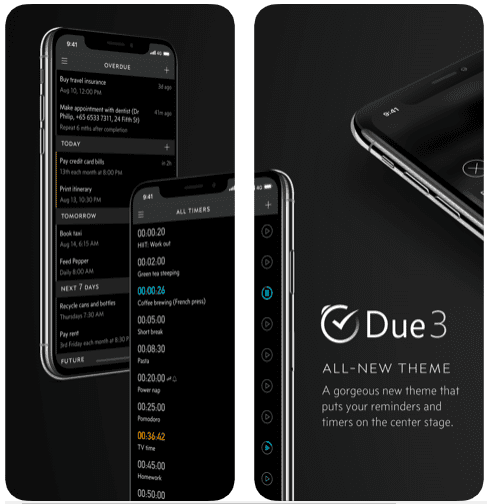 You may also like: 9 Best deep breathing apps for Android & iOS
2. Any.do
One of the most popular apps on the market and it has been like this for several years already. Through hundreds of thousands of users, it has proven to be an easy and effective reminder software. Moreover, it has received numerous awards, including the prize for the best reminder app. Many famous media sources refer to this app as the best one when it comes to getting things organized.
Here you can add tasks to your daily routine and share project with an unlimited number of people. In order to highlight the category of tasks and their priority, you can use different colors.
If your schedule is super full, you can organize the lists of to-dos, creating subtasks under the regular tasks and therefore creative a database of your future plans. Then you can prioritize your tasks on your daily checklist so the first things come first.
Besides, the app is convertible into a widget, so you can always place it on the home screen of your smartphone and constantly see what you have to do. With the ability to tackle recurring tasks, plus timed and location-based reminders, this daily management app serves as an elite to-do solution.
You can set classic reminders on one-time events, you can add recurring reminders to for ongoing activities, meet-ups, and training. Another curious feature of this app is that you can set the location-based reminders – it means the app will send you a notification as soon as you arrive at the location you noted before.
Another useful option is missed calls. Now you won't forget to call everyone back because the app will automatically remind you about it. In general, the app allows effectively manipulating your schedule while synchronizing it with your calendar.
It also works with Alexa, Google Assistant, Siri and can import tasks from Slack. Synchronization with PC is possible as well.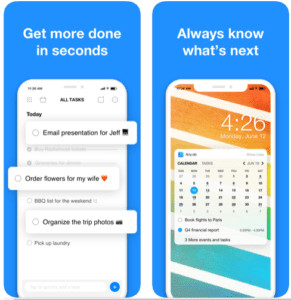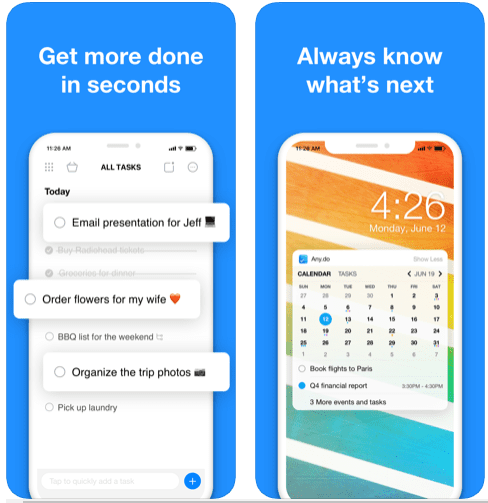 3. Microsoft To Do
If there is an app by a famous and giant company in the software market we simply cannot ignore it. This might be not the most popular app, but it is still efficient. Of course, the main competitive advantage of this reminder app is its ability to synchronize with any Microsoft software and since most of us have Windows it is going to be an extra convenience.
The app works according to the following structure – you create to-do lists and divide them into categories. Each list includes the unlimited number of tasks that you mark with a checkmark as you are accomplishing them. If you want, you can add mini-icons to tasks, and then, if you click on them, you will see a more detailed description of a task.
The app is also possible to be synchronized with your email. The themes of the interface are customizable, so if you, for example, don't like the initial light color you can switch it to the deep dark one and enjoy the usage of the app. Another significant advantage is that the app synchronized with Outlook.
Tag your friends, family, colleagues on the task so you could do the assignment or a project together. Microsoft To Do is convertible to the widget as well. What is more, you can attach up to 25 MB of files to any task.
And lastly, the wider synchronization with the Microsoft 265 is provided – lists and tasks are hosted with the security of Microsoft 365. Great app, convenient to use, the only possible drawback – it is not fully user-friendly (not such big opportunities for customization).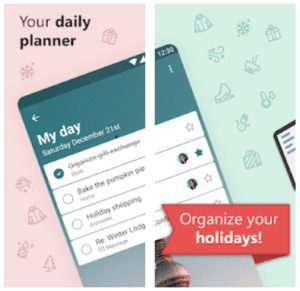 4. Tasks
If you are looking for a fun, easy and productive planner, the Tasks could be a great option. It will keep your life busy and organized every day. It doesn't matter which assignment you got to accomplish – you can rely on Tasks at any time.
If you are that kind of a person who doesn't like to fill long lists of tasks and their details with the information about time, place, and so on then here is your relief – making the tasks for your day with this software is easy as never. You can create something in seconds, via quick add, shortcut or even import data from other apps (if they work with Tasks of course).
And actually the core idea of this app is simplicity in usage. Well, yes, it may be weird when the planning of your schedule takes more time than doing things on the schedule.
With Tasks, you can build powerful lists, color code them and then manage them with intuitive gestures like drag and drop to re-prioritize or swiping to delete. But of course, if you find this kind of a chill a little bit too extreme (especially if you're living in a city) then you can always set reminders and alarms – with a snooze option so the app won't let you forget or skip the task.
You can organize your tasks into multiple lists, add details to them if you want, create home screen widgets, and prioritize tasks with a single swipe.
You can mark your tasks as accomplished by simply tapping on them. The only thing is that the interface could be more interesting and good-looking. But again, if you just need a quick reminder apps then these details don't matter that much.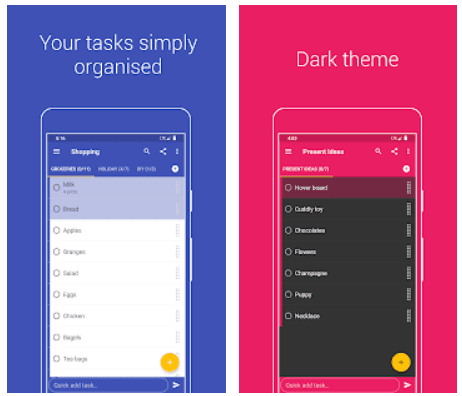 You may also like: Best stargazing apps
5. To do list
And here is the analog for iOS users – the minimalistic reminder app. If you are sticking to minimalistic design and the energy-saving approach in daily routine then this app is for you. A simple software which helps to solve bigger problems.
But even though this reminder works simply it is actually abundant with functions. First of all, here you can create so-called intuitive lists. It means that you can create lists of tasks which will automatically add the subtasks or ask you to fill the necessary gaps if you forgot something.
Here you also can share the project or a task to the unlimited number of people, just copy a link and open it in the Safari browser. When you place new tasks and set it for a certain time, the app will automatically calculate the time before when it should give you a reminder.
The snooze option is also presented. But here you can snooze only 3 times. Another interesting option of this software is Pomodoro Timer – focus with amazing sounds. As always, the app can be placed as a widget to the screen of your smartphone.
The app synchronizes with all cloud storage and works with Siri. What is curious here is that the notification sound is customizable – you can set different versions of them for notifications and you can also alter the look of your font and customize the background in the app.
The app is free, but you can always switch to a Premium account with extended possibilities. In this case, it is rather cheap – only 0.99 cents per month.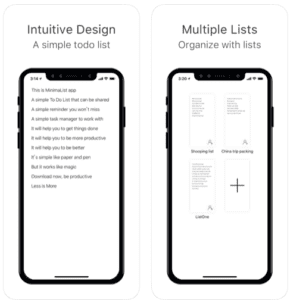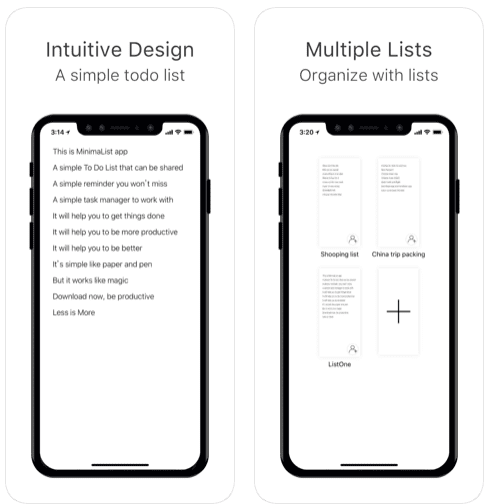 6. Todoist
One of the most popular apps on the market. More than 20 million people have downloaded this app and enjoy the benefit it brings every day. And let's be honest it is all for a reason – this app is really one of the best in terms of productivity, user interface applicability and just the convenience in usage.
The app is significant for that it allows you to create any reminder or note as soon as they pop into your head. It manages to combine the simplicity of the usage and elaborated set of functions. Here you can create standard dues with reminders, you can create cyclical due dates with reminders.
For example, when you need to build a new habit, then you just put the daily tasks in the app and it will take of the rest. It will remind you every time you need to do a certain action.
But what is more significant, Todoist is not just a standard reminder, it is rather an organizer where you can keep all the information about your business calendar. Here you can check your email (by synchronizing it with the app), then see your plans for today, a week or the whole calendar.
You can create a task and then add subtasks and checkpoints for it. What is more, you can mark them with different colors or different icons – it really makes the life of your brain easier, trust us. Add contacts, locations, photos and other files to a task if you need it.
The collaboration of mutual projects is also possible here if you need it. According to the standard scheme, you can invite all the people you want by tagging them in the task. And don't spend time writing down the details – you can write something like "do tomorrow at 8 a.m." and the app will automatically set a reminder for this time for the next day.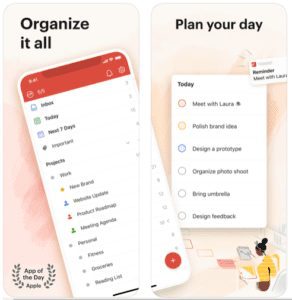 7. Remember The Milk
Well, this app deserves to be included in our lists even because of its name. You can tell immediately that the developers made it a not casual reminder app. Be ready for some fun.
The structure of Remember the Milk is a little different than in the previous apps. It looks rather like a social network or a coworking platform. If you are into this type – go for this app.
However, for those who like to keep things organized this app may seem a little bit chaotic. The thing is, the whole set of tasks is presented as a single list, even though each of them is marked by a separate color. And you can add photos as icons to them as well.
But in terms of easy access, it is rather an advantage – you can just scroll through everything until you find the necessary tasks. And even if you need a reminder why would you go back to your tasks again? Just wait until you are reminded of them.
Remember the Milk supports the extended ability for sharing the tasks. It can be synced with all your devices,  with Gmail, Google Calendar, Twitter, Evernote, and more, and you can share to-do lists with your friends as well.
There are also several ways how you can be reminded of a task – via email, text, IM, Twitter, and mobile notifications. The number of tasks is unlimited, synchronization with Microsoft Outlook and Apple Watch is provided as well. The only thing, this app is a little expensive – in order to use it you need a yearly subscription at a cost of $39.99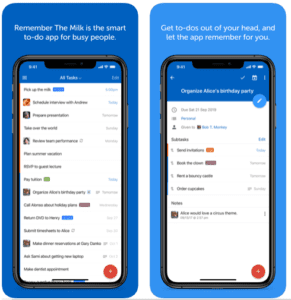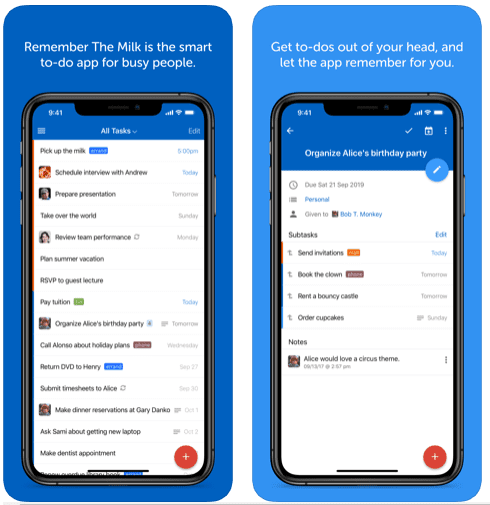 8. WeNote
For those who like colors, intricate-looking things, original designs – this is the reminder app for you, folks. It is really fun to use it – you will never get bored with the way it is designed.
It is also a little different from other reminders. It is structured more like a calendar where you can add tasks and build plans. When you first open the app you can see several markers that you can click on in order to see then in the full page mode.
Mostly comfortable the app is viewed at "all" marker where you can access all the folders, calendars, and tasks on your schedule. You can also create your own markers so you always get quick access to them. The tasks or notes are divided into colorful big squares which make it more convenient to read.
You can open the calendar and see what you got this week or month. All the tasks are marked by color and each gets a reminder. One interesting feature here is that you can lock your notes with a password. Moreover, you can lock notes and to-do lists via PIN, pattern, or fingerprint, to protect confidential information.
For more fun, you can always attach pictures to your tasks. Or, if not only you can view the task the picture will be a good addition for others to better understand the assignment. The app also supports the audio-recording of tasks. But wary of the high prices for the profile updates – for some of them you will have to pay around $22.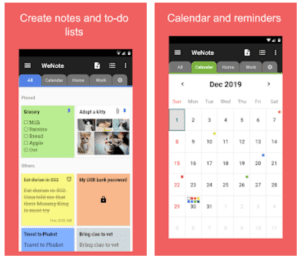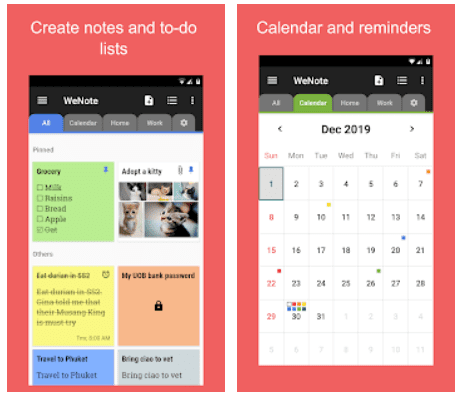 9. Clear Todos
This reminder is more a standard one, but there is nothing bad about it – it perfectly serves its main purpose allowing you to add tasks and notes to the app quickly and be reminded about them in time.
The app claims to have an advantage because of its simplicity and absence of extra fields to fill in. Here you simply write down a task for a certain day and on that day Clear Todos will show you the full list of what you need to do at once.
The tasks will be displayed according to the time when they take place. The app can be converted into the widget and then be displayed on your main home screen. And let's give credits to its simple but stylish interface. Soft, though bright colors mix well with the design of the taskbars.
So this is it – the simplicity of this app can be viewed as its main advantage as well as its main disadvantage. However, more than 2 million users are content with this app. It can synchronize with cloud storage and allows you to create personalized theme lists – a couple of diversifying functions if you crave it.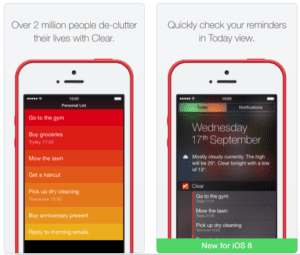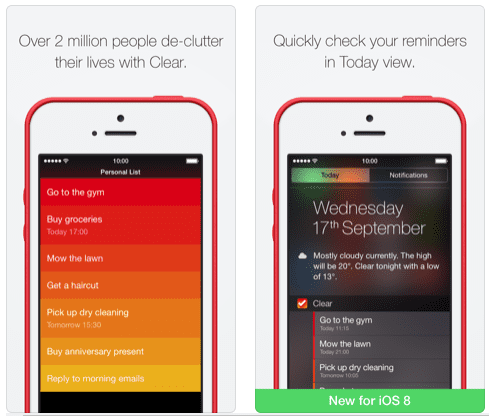 10. TickTick
Unlike the previous app, this one is like a multi-tasking bomb software. Here you can not only create separate tasks with cute icons and to-do lists, but you can also have a statistics of your day with additional graphical representations, built-in exercises, and customizable background.
So generally, it is like your personal manager to organize your life and self-development.
The app claims it is easy to use, but here it rather depends. If you are a type of user that is not afraid of more complex things then yes, it is easy to use. But true minimalistic lovers will probably find this abundance of features too overwhelming.
The main function is, of course, the creation of to-do lists. Here you can quickly create tasks to a certain day, a week and so on. When it's done just put a check-mark on it. You can also create shared lists and projects with colleagues and friends.
It is efficient for tracking habits. It has a reminder and it collects statistics of your actions so later on you will be able to be proud of your progress.
And since the app can be synchronized with almost all existing operating systems it makes it even more versatile. The voice input of the tasks is also supported. The date and time will be detected automatically. For the reminder, you can set multiple notifications in order not to avoid the task.
An interesting feature here is a Pomo Timer. The main goal of it is to help you to stay focused on your work – just set the timer and when the working time is over it will let you know.
Tasks can be sorted according to priority, type, and date. Here you can add media files to them as well. If you want, you can make a task more detailed or keep the description short. And by the way, the interface of the app is also customizable. Here you can choose from a variety of themes, and it's an additional bonus.
The only problem you may face here is that notifications don't always work correctly. Sometimes they just disappear or impossible to cancel.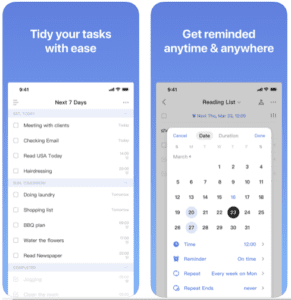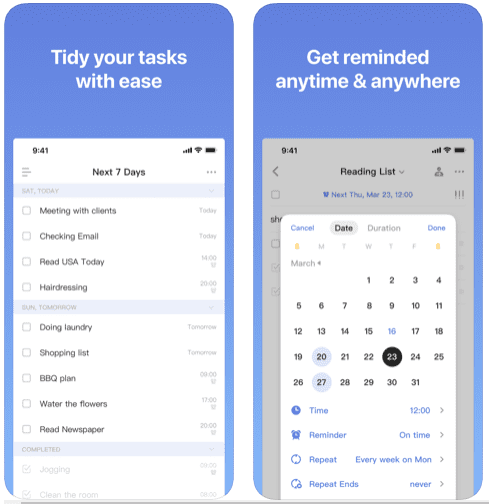 11. GTasks
The previous app may be more multi-functional and more productive in general, but it was lacking one important function – synchronization with Google Calendar. Well, this simple but productive app does have it. Along with all the main features of a reminder, this one is a choice for those who don't like a mixture of everything in their productivity apps.
The app can sync with multiple Google Accounts at the same time and the sync mode is customizable: auto sync, manual sync or sync when open/exit/background sync. As always, here you can add an unlimited number of daily tasks, share tasks with your family, friends, colleagues, sort them by priority, name, date and so on.
Rearranging tasks is very convenient here – you can just drag and drop them. You can create subtasks if you need it. Besides, the voice control is supported by GTasks so you can simply record what you need to do and the app will convert it.
Considering the reminders, here you can set both standard one-time reminders and the repeating ones.
Generally, the app has a standard planner design that looks rather like notepad. The customization if themes are not possible. Moreover, the app is known to have such problems as unplanned rearrangement of tasks and crashing when you enter it.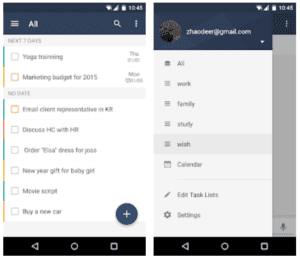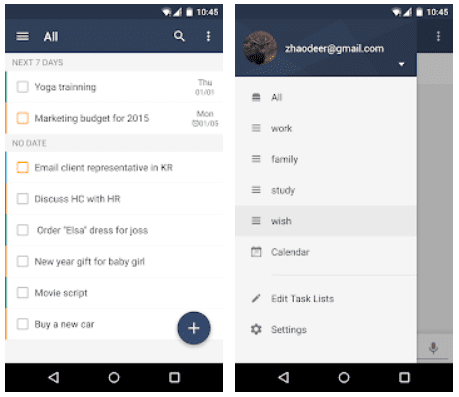 12. Fantastical 2 for iPhone
This app has been on the market for a while now and gained a positive reputation. Moreover, it is recommended by many influential media sources, such as The Loop.
In general, there is nothing extra unusual in this reminder it just serves its main purpose. It looks rather like a calendar where you can switch between days adding new things to your to-do lists. You can set reminders that will not let you forget about important events.
Repeated reminder alarms are also provided. Moreover, here you can add the tasks in the style "remind me on Dec 3 at 1 p.m." and then the app will automatically set the notification. Create reminders by starting your sentence with "reminder", "todo", "task", or "remind me to".
Another useful option here is that you can add the birthdays of your friends and sync this info with this contact When the actual birthday comes you can quickly switch to contact and send them greetings. Especially useful for business partnerships.
The app supports TextExpander. Such types of software as a calendar app, including iCloud, Google Calendar, Exchange are supported as well. The app is presented to work in the following languages: English, French, German, Italian, and Spanish.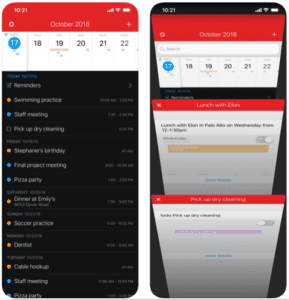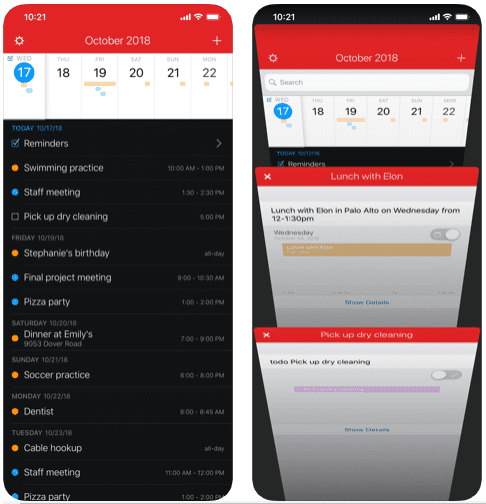 13. Reminders
Millions of people are using this software every day and it successfully helps them to stay productive and be reminded about all the tasks they must accomplish. It is one of the most popular apps on the market.
The app is easy to use and understand. The interface is quite simple and a little bit obsolete, but that doesn't stop you from creating numerous to-do lists that you can divide into categories and create sub-tasks. On the main screen of the app, you will always see which current tasks you got today.
The tasks will be sorted according to the categories they belong and you will be able to see these categories above the tasks themselves. All the projects and lists are sharable. You can also attach media files to your to-dos. Obviously, for each task and project, you can set a reminder that won't let you forget about it.
It has another big advantage – it can synchronize with multiple devices, including tablets, and there it is going to feel completely different. There you can turn the app into a coworking platform. But in this article, we just observe the reminders.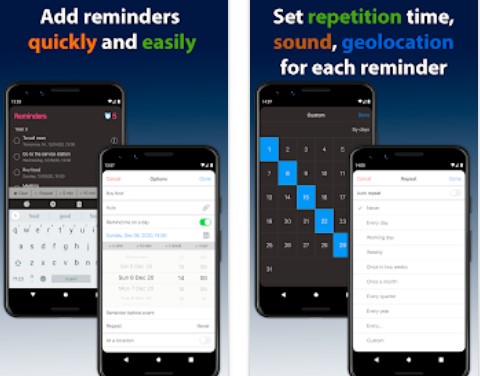 14. Schedule phone calls: Call Reminder + Notes
To make our list a little bit more diverse let's turn to a more specific reminder app. Are you that kind of a person that never calls back? And it is not because you don't want to, you just forget. Well, here is your first help. This is a call reminder so no one will be missed out from your phone list.
In fact, it is a very useful app with organically organized tasks. In order to create a new reminder you just need to set the time, the phone number and add the agenda of the call.
This way you can build a whole call schedule. And also, on each figure with a call reminder, you can see s switch off button which allows you easily to turn the reminder down when you're done. It is quite useful because there are many reminders on the market that are so hard to switch off and it can be annoying for users.
And in this app, the remainder will be recurring and it is only up to you how often they will be. You can set up reminders which repeat every "x" number of minutes, hours, weeks and even years.
There is also a possibility to set up a reminder that repeats on "Months of the year": eg. reminders repeating on 15th of Jan, Jun & Nov of every year. When you got a missed call the app will automatically detect it and will create a separate reminder about it.
And yes, here you can also share call reminders with other people. Maybe, you and your colleague need to make an important corporative call so it's safer to have the exact date in the app and no one misses it.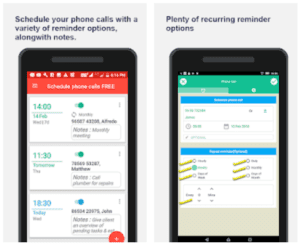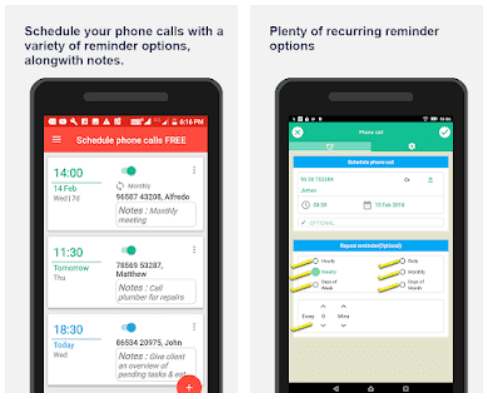 15. Call Reminder – For Call & SMS
In order to be fair, we need to present the analog of the previous app for iOS users.
What is more, the app will help you to create a schedule where you can plan the time for meeting your beloved once and then will remind you about it.
Another interesting aspect of this software is that it collects statistics on how often you connect with your family and friends – later you will be able to see it and make assumptions.
But this app might be helpful not only for personal connection. It may also be useful for business partnerships. Just fix a reminder on a calendar to contact your potential business partner next time so you don't lose him out of sight and maybe you will end up getting a profitable deal.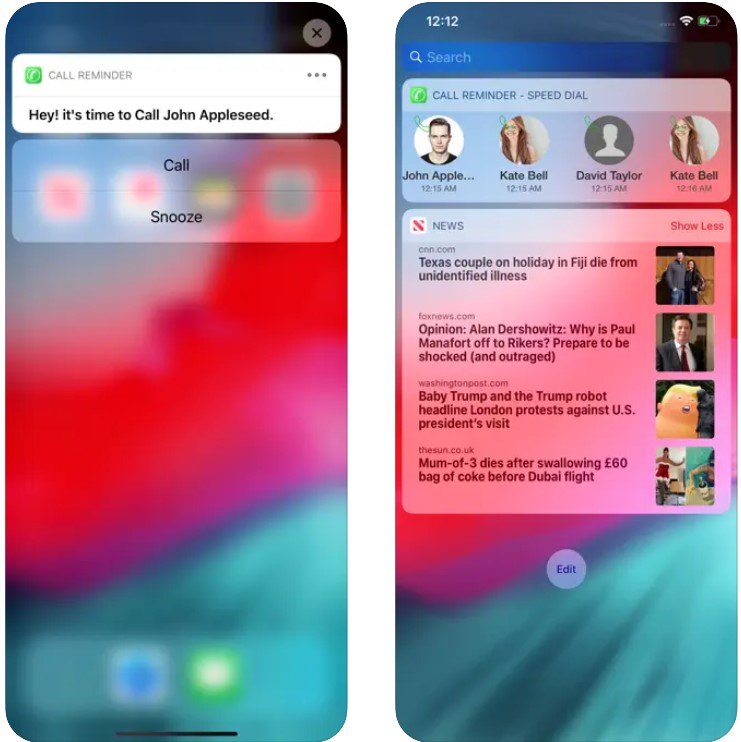 You may also like: 8 Free drink water reminder apps for Android & iOS