To be parents requires the highest level of responsibility, especially when it first happens. At the same time, even if people are getting on to the fact that parenthood is hard work, they are not aware of all the things they should do. In this case, the lack of experience generates great difficulties. What is the best option for first-time parents?
Well, certainly you can ask your experienced relatives or friends for advice. But they can't stay with you 24/7. Alternatively, the Internet is full of recommendations regarding babies. However, you can hardly find reliable ones. The last and best option is installing some apps for new parents. Developed in association with specialists, these apps will become your virtual assistants. What is more, you will have constant access to these priceless recommendations.
Apart from tips, our list includes tools for tracking a newborn's vital parameters, mood, symptoms, and so on. So if you want to be aware of all the details regarding a baby, we highly recommend you to read our review and install some awesome apps at once.
1. BabyTime (Parenting, Track & Analysis)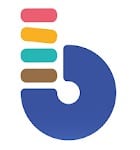 You can't imagine how many positive reviews the BabyTime app has. As we advise you only the best stuff, our review starts with this very tool.
The app will help you to track all the necessary aspects, including the time of feeding (both breast- and bottle- are supported), sleep, diaper changes, doctor visits, and so on. According to these logs, the app will generate colorful charts showing the patterns of these activities. The information can be viewed both daily and weekly.
Apart from this, the app will be perfect for keeping a record of the baby's height and weight. In this case, viewing these measurements in progress will be also possible.
Besides, the app includes a stopwatch. It will be so useful while feeding, pumping, and even sleep. So there is no need to control the time by yourself anymore.
Don't be afraid of forgetting some details. The app will remind you to do this or that thing. One more helpful feature is the Home Screen widget. Due to it, you will always stay aware of the time since the last feed, diaper change, sleep, and so on. What is more, it will count the total amount your baby has eaten. It sounds great, doesn't it?
By the way, you will also have access to a built-on MusicBox feature. Be sure that it will help you to make your baby asleep.
Do you want to share your baby's milestones, too? If you do, the app suggests uploading and sharing the photos with your family or relatives. That's what makes the rating higher.
As for tech details, the app synchronizes and backups the data automatically. Also, it works so well on several devices at once. So your partner or babysitter can always have access to the digital logs. Finally, if you have several children, the app still will be suitable. The thing is that it supports recording information on more than two newborns.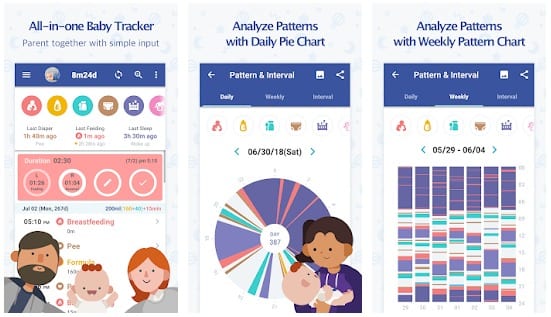 2. Baby Tracker – Newborn Feeding, Diaper, Sleep Log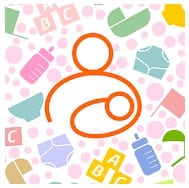 Baby Tracker is a similar app that has dozens of features. We are going to start with similarities, and then consider peculiarities.
The app represents a multifunctional tracker of various parameters. Thus, it will show you the last time you fed the baby, you changed the diaper, and so on. Also, the app provides comprehensive information on baby sleeping patterns. With this feature, you will be able to find out the best time for sleep, understand the reasons for being fussiness, know when to start nighttime feeding sessions, etc.
As for the diaper changing feature, the app's algorithm will be quite competent in identifying if a baby suffers from dehydration, constipation, or diarrhea. We find it so essential.
Apart from logging, the app is also capable of keeping track of time for feeding, pumping, etc. What is more, in case of breastfeeding, the app will track the time per each breast.
There is no doubt that visual information can be perceived much easier. In this case, all the patterns can be transformed into graphs to be tracked. The period shown can be a week as well as a month.
Like the previous app, this one can keep photos with significant milestones. They will be perfectly grouped into albums as well as decorated. Busy parents will like this feature for sure.
Again, with this tool, you will be able to track a baby's progress and growth over weeks, months, and years. In addition, the app will provide you with access to the World Health Organization standards. So you can compare the growth and weight of your newborn with average ones. It is one of the distinguishing features the app includes.
As for additional advantages, the app will also let you log various details regarding health. Thus, you will be able to record medications, vaccine shots, and temperature checks. What is more, tracking allergic responses will be also possible.
Talking about minor disadvantages, the app can't be used on multiple devices. However, all the data can be exported as HTML and sent via email.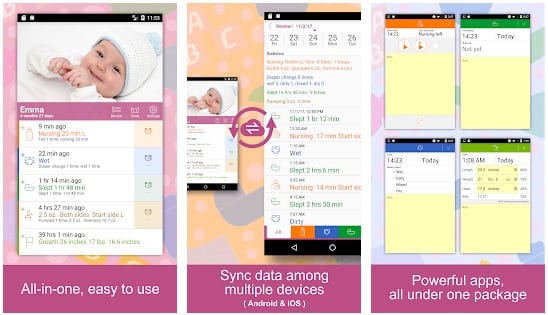 3. GLOW. Baby Tracker & Feeding, Diaper, Sleep Log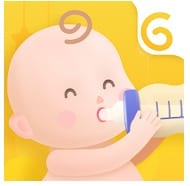 One more amazing baby tracker app we want to review is GLOW. Being so smart and comprehensive, it will surely meet your requirements.
The app is a flawless tracker of all the aspects regarding a baby. You will be able to track every parameter, from sleep, diaper changing, or feeding to outdoor activities, and even first teeth. As a result, you will get an outstanding assistant reminding and notifying you about this or that process. In addition, it also has a timer identifying the time for breastfeeding.
When it comes to tracking your baby progress, the app will also suit you. Thus, you can record a newborn's growth and weight to view them in graphs.
Like the apps below, this one also supports creating a digital album with all the milestones of your baby. What is more, it will be so easy to share any moment with your family.
By the way, all the members of your family can gain access to not only milestones but also to the trackers. This feature will be so convenient especially if they are caregivers.
As usual, all the data can be instantly transformed into cool graphs, which is much easier to perceive. Moreover, you can export them in PDF. It can be useful if you want to provide your pediatrician with this information.
Now let's consider the app's peculiarities. First of all, it is considered to be so educational. The thing is that it includes tones of articles written by pediatricians or professionals in baby care. With them, you will learn so many tips and lifehacks that are so necessary for new parents.
Do you need support? The app's community is what you are searching for. This option will allow you to receive recommendations from other parents, take part in discussions, public polls, and so on. Believe us, having confederates will simplify your parenting a lot.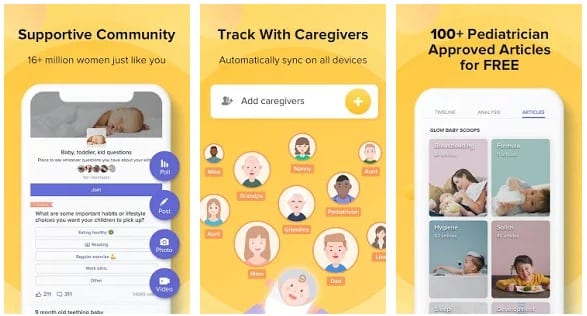 4. The Wonder Weeks vs 9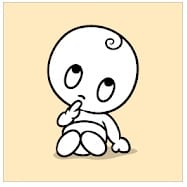 Sooner or later, every parent faces difficulties about a baby's cry, fussiness, lack of sleep, or poor appetite. If don't want to become desperate, The Wonder Weeks vs 9 app is what you need.
The thing is that the app is capable of predicting a baby's fussy phases, leaps, and bounds. Based on numerous studies, the app gives a scientific explanation to all the mental processes of our baby aged from 0 to 20 months. So that you will stay aware of what's going on. This will let you prevent declines by helping a baby to overcome them, and make leaps more beneficial.
One way or another, you will be able to receive reminders telling you about upcoming changes. After opening the application, you will be able to read some scientific articles on this theme (without confusing terms), read some tips to overcome this phase, view the history (both past and future), and so on. Apart from this, with this tool, you can also track sleeping patterns, milestones, etc.
The app also offers a Pro version. In case you purchase it, you will have some more additional tools at your fingertips. For example, a Premium user has access to white noise sounds, e- or audio-books, a collection of classical music, and even a baby monitor. As you can see, this version worth being paid for.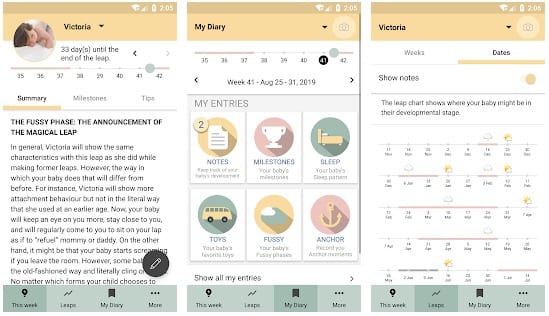 5. Kinedu: Baby Developmental Activities & Milestones

Everybody knows that parents should pay special attention to a child's development activities since hie or her first days. We want to present an expert in this matter called Kinedu.
The app includes almost 2000 options of activities developed in collaboration with professionals in children's development. By introducing the activities suggested by the app, you will help your baby to become familiar with the world much quicker.
Every activity represents a short video with techniques on how to do that. Also, even if you will need to use some items, there is no need to buy anything. You will definitely find it at your home.
Every day you will receive a personal plan with activities that perfectly suit your baby's age and stage. What is more, the plan will be so well-balanced, causing all-around growth.
It must be mentioned that all the activities form 4 most important aspects: cognitive, linguistic, physical, and socioemotional. So every task completed by your baby will be considered by the app. As a result, the tool will track the baby's progress in these aspects, showing where he or she stands at the moment. That sounds really awesome.
One more thing to be tracked is milestones. The app is capable of analyzing them as well. That's why telling about your achievements will let you know if everything alright.
Are you wondering if other caregivers can use this app? They can. Whether it is a family member or babysitter, the app will provide people with access to these outstanding activities. Furthermore, there won't be any restrictions on the number of users.
Finally, one more advantage of the app is a library of comprehensive articles on various themes. There won't be any question without an answer.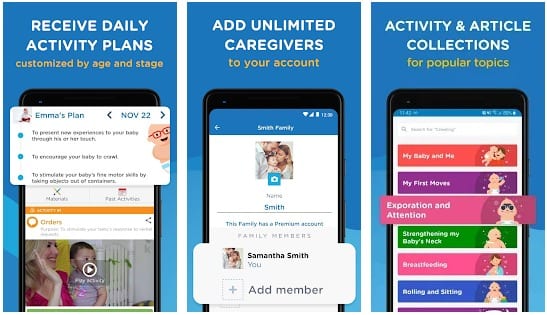 New parents shouldn't neglect themselves, too. To calm down and relax, you could have done with the best yoga at home apps 2020 (Android & iOS).
6. BabySparks – Development Activities and Milestones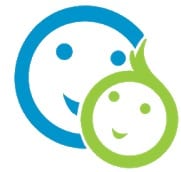 As for an alternative, we highly recommend you to try the BabySparks app. With it, you will surely avoid mistakes in a baby's mental growth.
To put it shortly, the app will be helping you to pay attention to all the aspects of development: cognition, language, social-emotional, sensory, etc. Also, keep in mind, that it will be suitable for babies from 0 to even 3 years. So it is worth being installed for sure.
The way the app functions is so simple. It will suggest individual plans with activities suitable for your newborn. Each activity represents a video guide with instructions on how to perform it. What is more, the tasks will be selected according to a baby's stage of development, age, and needs.
Apart from the generated plan, you will also have access to the full collection of activities available. The thing that makes navigation extremely convenient is a filter. Due to it, you will have an opportunity to sort tasks on categories, milestones, or places to be used (indoors/outdoors).
Of course, like most other baby apps, this one includes dozens of educational articles that will be so informative for new parents. It is one more reason for installing this very app.
Besides, here you can also find some basic tools to control your baby's milestones, progress, and growth. Plus, if you like statistics, the app will be brilliant for you. The thing is that it is capable of generating detailed reports regarding your newborn's achievements.
Lastly, the app is also presented in a Pro version. As for its distinguishing features, a user has access to a larger list of activities, recommendations, tools, and so on. However, the app is great itself, without premium features.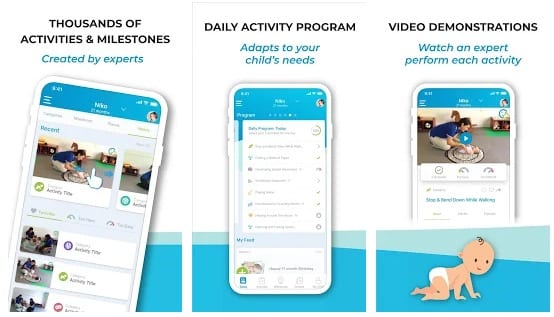 7. Baby + – your baby tracker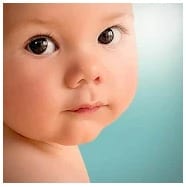 Are you searching for a mix of a baby tracker app and an app aimed at baby activities? If you do, the Baby + tool is what you need. By the way, it also suits you if you have two or more newborns.
Let's start with tracking. The app will become your digital notebook by logging the diaper change, sleep, feeding, and pumping. Also, it can keep all the necessary information regarding weight and height, health, and milestones. Again, regardless of a parameter, data can be transformed into charts.
When it comes to considering activities for a baby's growth, the app will offer you information on stages depending on a newborn's age. Apart from this, the app also includes hundreds of articles with guides, tips, and recommendations that are so priceless for first-time parents.
As a bonus, the app can be used as a yearbook. With this option, you will be able to keep a baby diary, register her or his milestones (including first teeth), take face-a-day photos and even record timelapse videos. As you can see, the capabilities are almost endless.
Plus, the app is a professional in putting a baby asleep. It has a nice collection of relaxing melodies, which is a treasure for each parent.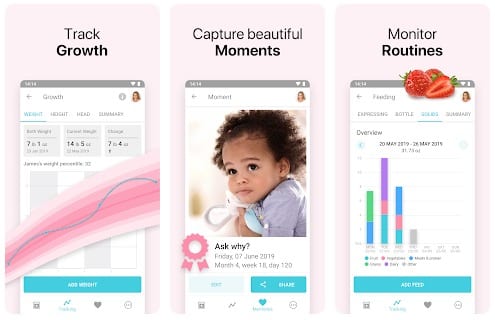 8. Baby Night Light: Instant Sleep Aid & White Noises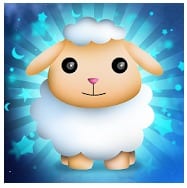 Here is a much more comprehensive tool for soothing a baby to sleep. It is called Baby Night Light.
Well, the app is famous for its wonderful selection of lullabies, white noises, and other comforting sounds such as Hairdryer, Vacuum cleaner, fan, sea, and many others.
Also, the app can be used as a night lamp. Obviously, you will have an opportunity to adjust brightness, customize color, and even choose an animal to accompany your baby while sleeping. Additionally, setting a time for a night light functioning will be also possible.
Besides, the app includes a feature that makes it unique. The thing is that it has a built-in sound recognition system. In case your baby awake, the app will automatically turn the pre-chosen sound on. After this, a newborn will be put asleep again. That's why millions of parents appreciate this tool so much.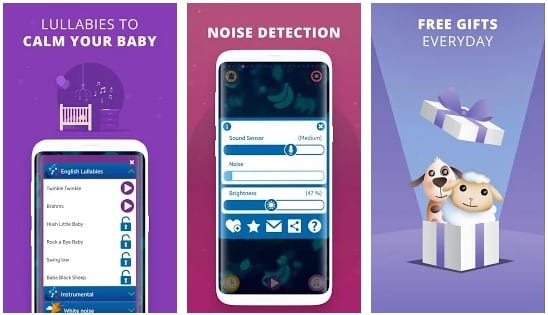 9. Cloud Baby Monitor
Talking about tools, we can't help mentioning one more fantastic instrument – baby monitor. Believe it or not, there is an app that can easily substitute it.
With Cloud Baby Monitor, you will be able to hear as well as see your newborn. No matter where you are, you will feel as if you are near a baby. It means that the sound and video quality will meet your requirements.
Additionally, the app can be used as a night light. Then, it also includes soothing short videos as well as comforting sounds like white noise or lullabies. In all cases, the remote control (volume, playback, and auto-stop timer) will be possible.
If a baby wakes up or crying, you will receive an alert generated by a sound- or motion-recognition system. We find this feature really fantastic.
Talking about tech details, the app works perfectly in the background. However, in this mode, it supports only audio.
Also, it must be mentioned that the app is compatible with multiple baby monitor devices. It will let you stay aware of what's happening with your baby.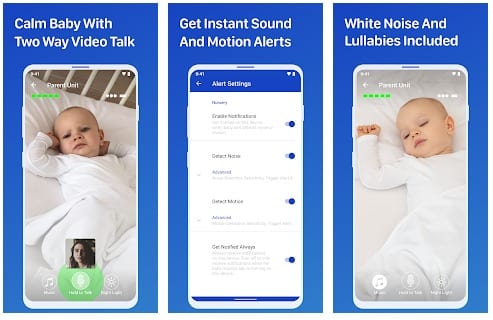 10. Baby and Child First Aid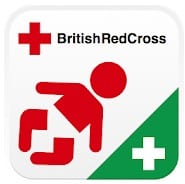 Here is one more app that most parents will find essential. It is called Baby and Child First Aid.
As it is clear from its name, the app will teach you to act efficiently and quickly when your baby or child needs first aid. Whether it will be attacks or emergencies, you will surely help a kid until a qualified specialist comes.
You will be provided with lessons containing step-by-step guides, easy-to-follow videos, and tips from experts. To fix the lessons, you will be able to try yourself in the app's comprehensive tests. After this, you will stay calm and proficient regardless of the situation.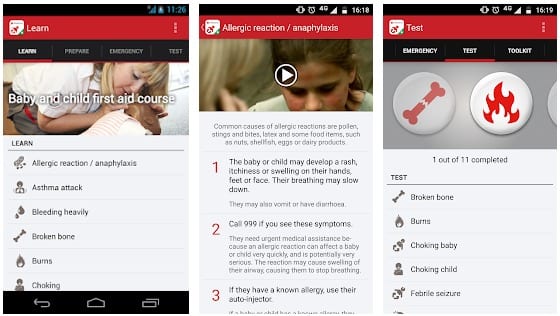 11. Social Mom – the Parenting App for Moms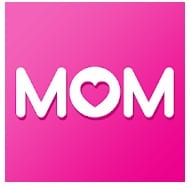 How do you feel about support? If your attitude is positive, here is a must-have app called Social Mom.
The app will connect you with confederates – new moms or expecting ones. You will be able to chat with them, share photos or videos with your baby's milestones, help each other, find activities nearby, meet offline, make friends, and so on. Also, the app will become a good tool in creating your local community of moms. As you can see, it can become a source of support and inspiration.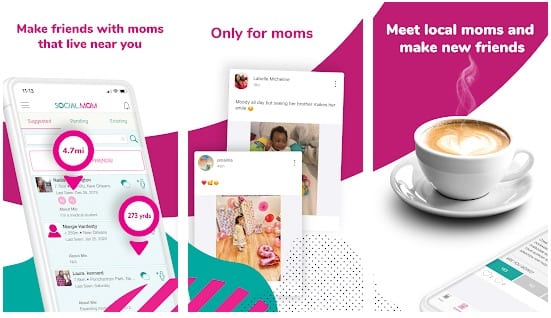 12. Bubble – Find Childcare Now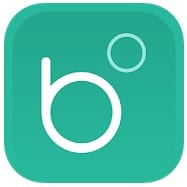 Hiring a sitter is becoming quite common at the moment. That's why we have included the Bubble app on our list.
The app will offer you dozens of reliable and qualified babysitters who adore children. Each profile will be completed by impartial reviews of other parents. What is more, you will be able to check if your friends ever hired this or that candidate. Finally, you can always chat with a sitter you choose to make the right choice.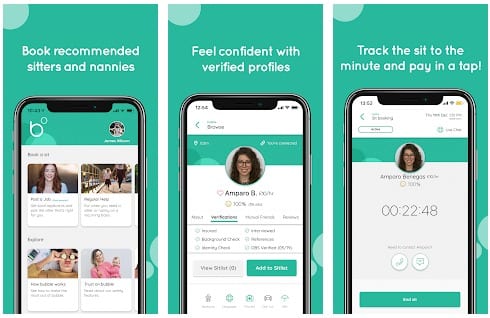 You may also like: 9 Best Fertility Apps 2020 for Android & iOS