Tarot is a powerful tool for predicting the future, revealing solutions to issues, finding solutions to inner problems, and seeing your fears and blocks, your strengths and weaknesses. In general, there are many purposes, however, each of the 78 cards has its meaning and interpretation, which the average person is not always aware of.
So today we have gathered the best apps that can help you uncover the future. Also, we recommend you explore your subconscious through the world of dreams. You can find out more about it in the article Best Dream Meaning Apps.
1. Tarot Card Psychic Reading
The first app on our list is designed to take you deeper into the world of esoterica. It is styled in a minimalistic way and has a pleasant background that is instantly appealing. When you enter the program, you will need to enter your date of birth, as well as your gender.
This platform provides you with tarot readers who can help with your pending questions. There is a rating for each tarot reader. You will be able to pick the person that is more suitable for you. The prices range from $2-3 per minute.
The platform also provides the first 3 minutes for free with 3 different tarot readers for you to find the right one for you. In addition, there are many useful features built into the app. One of them is Astrological Report. You will be able to get information about your life by using your birth chart.
The Tarot Card also gives you the ability to use the tarot instantly and get an answer. And you can find out your card of the day and get a detailed description for each day. Likewise, you can use the Yes or No feature to help you solve an issue that is important to you.
In addition, the app determines your personality type according to your date of birth and gives you a complete insight into what cards your date of birth is related to. All in all, it is a great way to receive monthly predictions according to your zodiac sign from expert astrologers.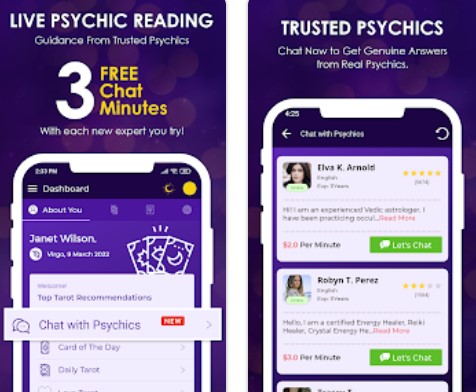 You may also like: 11 Cool Dream Vision Board Apps 2022 for Android & iOS
2. Tarot Divination – Cards Deck
This platform is perfect for beginning practitioners of esotericism. The app provides a huge amount of information on how to use tarot cards and what meaning the cards hold. Also, the app allows you to use cards right in the app. You will be able to do tarot readings on the questions you are interested in and get the full characteristics of each card.
In addition, you can use the cards as you wish. Besides, it is possible to eliminate upside-down cards and leave only the Major Arcana according to your wish. You make a deck that suits best for you. Tarot Divination also gives you lots of cards and full instructions on how to use them.
After making a reading, you can see each card and its meaning in detail in different areas. Besides, this app is for finding out what symbols each card of the tarot has. In addition, you can edit the description of the cards and add your knowledge. If you have a difficult question, you can use Yes or No function.
The app presents you with a card and describes why this option is worth choosing. It is worth noting that the app does not provide a complete guarantee on the performance of the card reading. It advises you to use your inner feelings and use information wisely.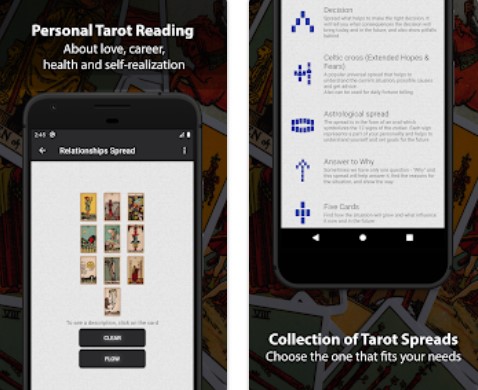 3. Tarot Card Reading & Horoscope
The app invites you to use this service to find a solution to your problems. You do not need to ask someone to do the reading, you can easily perform it yourself. Once you have chosen a deck, you will have to choose a tarot card. After you select a deck you will need to come up with a question and visualize it in your head.
Then you choose the card that attracts you so that you can get a detailed answer to your question. In addition, the app offers you handy features. One of them is the Everyday Horoscope, which gives you a horoscope related to your zodiac sign and a summary of your date of birth.
It welcomes you to connect with your inner and get information using this app. Also, the Yes or No feature will help you with the difficult choices you have to make.
This app was created on general assumptions and developers advise you to refrain from making important decisions based on the readings in the app. This platform is a sort of recommendation and entertainment.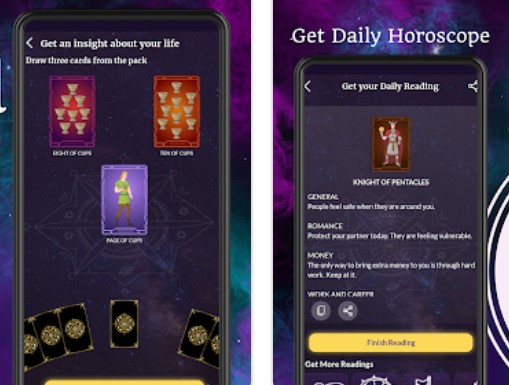 4. Tarot card reading & meanings
It is quite a versatile tool that offers to reveal your inner self. Here you will find accurate fortune-telling, and a personal horoscope for every day, learn your love luck, and discover the world of numerology. As soon as you open the application a short quiz appears in which you have to enter your data such as your name and date of birth.
This is primarily to let you know what they are all regarding. In addition, there are daily predictions. For example, the Card Of The Day will tell you a tendency of the day, and the energy that follows you and it will warn you of possible negative things to happen.
Also, here is divination for the color that symbolizes your condition. In addition, you can find the answer to the question that concerns you. In addition, the program will give out a random number that describes you from a numerological point of view.
On top of that, there is divination for simple yes-or-no questions and fortune cookies. Overall this is an excellent app with pleasant graphics and stable animations that will tell you more about the future.
In addition, there are several tabs. Each of them is a separate section of magic responsible for today's day, tarot, horoscope, and numerology. You can also find out about your love life daily.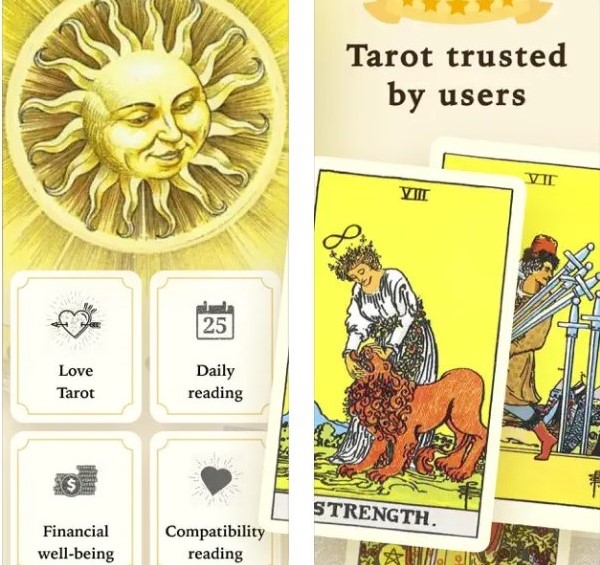 You may also like: 18 Best Apps for Teenage Girls on Android & iOS
5. Labyrinthos Tarot
This is a fairly popular application among people engaged in tarot. First of all, it is suitable for those who have just embarked on the path of studying tarot magic. However, even those who already have a basic knowledge of the meanings of the cards will be able to find a lot of worthwhile information and strengthen their knowledge.
So, the app is a course on individual cards. Moreover, not only can you learn more about the meanings, but you can also take tests that will show how strong your reading skills are. Also, the app divides all cards into minor and major arcana. In the minor arcana section, you will find the cards of wands, swords, cups, and pentacles.
In addition, the app is distinguished by its customization settings. After all, you can not only choose the theme of the application such as light or dark but also pick up your deck of cards. In addition, here you can save your custom meanings and interpretations of the cards.
Also, there are a couple of interesting readings that will answer all possible questions from different spheres of life. Besides all of this, it is worth mentioning the developers' approach to design and navigation. You can easily go through all the important sections.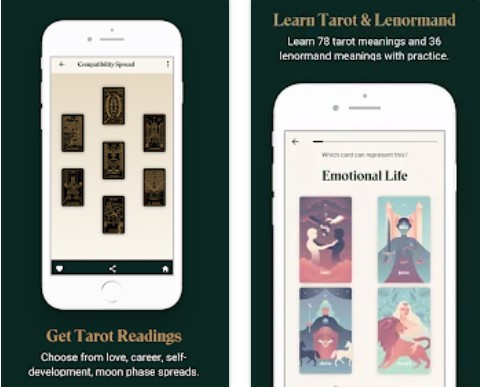 6. Luminous Spirit Tarot
Luminous Spirit Tarot is one of the best tarot apps available. When you enter the app, you are welcomed by a quite pleasant white interface. Thanks to this app, you will be able to learn more about the moon phases as well as their influence on your day-to-day life.
The app will help you set your goals and synchronize your intentions with the Moon phases in real-time. There is also an author's tarot deck in the app. It is created in unusual white and gray colors with pleasant paintings. Here you can get an interpretation of each card, as well as its effect on the Moon in the given moment.
By observing each phase of the moon, the cards will help you analyze each stage of your intention. This platform is free and there are no ads. Besides, it is one of the apps devoted to tarot cards and unlocking your inner self.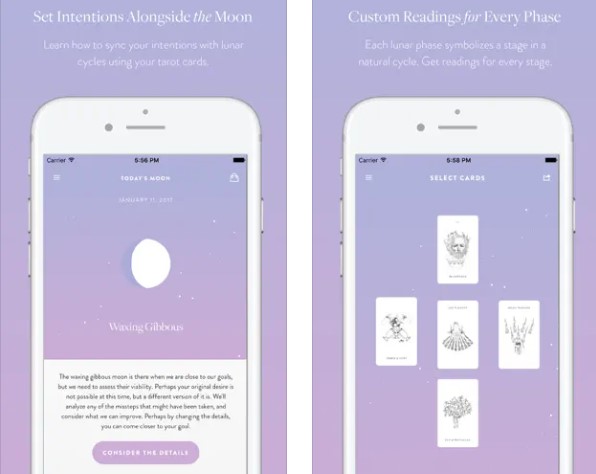 You may also like: 13 Best palm reading apps for Android & iOS
7. Trusted Tarot
Trusted Tarot allows you to study tarot cards more. The application is developed with a gorgeous white interface and custom features. This platform provides you with a full description of each tarot card from experienced tarot readers. Also, you will be able to use the card decks directly in the app.
This will require you to ask a question in your head and pull out the cards that attract you the most. After that, the app will give you a reading and a whole description of each card. It will also present you with information about each area that affects your question. Then you can use the Celtic Cross as long as you wish.
In addition, you can borrow card decks from the app and make them yourself. The app will help you with the interpretation of your question. You can also receive a free daily or weekly horoscope related to your zodiac sign.