Have you ever wondered why you have dreams and whether they mean something? If so, our article is just for you. With the help of the apps, you can find out why you dream about work, mysterious castles, and much more. These apps offer dream books in which you can find interpretations of your dreams. You should continue reading if you need to find out the meaning of a dream.
However, if you are concerned about your restless sleep or are just curious about the nature of your nighttime activity, you will enjoy the article 9 Best sleep talk recorder apps.
1. Dream Meaning & Interpretation
This application is a guide to people's dreams. By downloading it you will get a brief description of your dreams. For example, do you know why you have nightmares or dreamsы about certain objects or events? For example, you dreamt about a job.
The app will tell you the following: "In dreams, the place of work is associated with benefit, prosperity, and the respect of colleagues. A dream in which there is work is considered a good symbol. It portends financial growth, prosperity, and well-deserved success".
In addition, we should note that this application is rich in its interpretations. There is no need for you to look for other sources. You can always use categories or just use the search to find meanings. There are many different groups for all occasions. Even if you have an unusual dream, the app will find the answer to that too. It offers to contact the support team to get the meaning of your dream by email.

You may also like: 9 Best Dating Simulator Games
2. Dream Meanings
You can delve into your unconscious through dreams. You need only a guide for that. This simple app is designed to solve your issues with dreams. Even if its rating is not the highest, it does a wonderful job. You will find a brief description of all your dreams.
Its interface is a simple alphabetical list of possible dreams. You just have to click on the things that occurred in your dream and get the interpretation. In addition, the app will remember your search history so you can always find out what you dreamt about yesterday.
Also, the app's users note that it does not take up space in their phone's memory at all. Therefore, this app is suitable for those who want to quickly find out the meaning of a dream according to a keyword.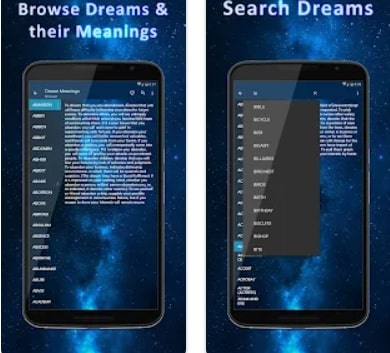 3. Dream App – Interpret Dreams
Dream app is a modern and elegant dream interpretation app. Here you will find a lot of helpful tips for the dream analysis. Also, you will get an individual meaning for every dream you have. All the weirdest things from your dream can be interpreted as soon as you wake up. In addition, the app has an easy and functional interface.
This application analyzes the dream you have had and takes a look at its particular elements, in other words, its symbols. There are more than 500 values in the dream library. Moreover, every month the app adds another 50 new values. Furthermore, you can get a personal interpretation of a confusing dream in the app.
That way you are certain to find all the information you need. For each symbol, it matches the associations and as a result, you will unravel hidden wishes, thoughts, and perhaps even warnings. The app also serves as dream storage. Every morning you will be greeted by an app with a reminder to record a new dream in your diary.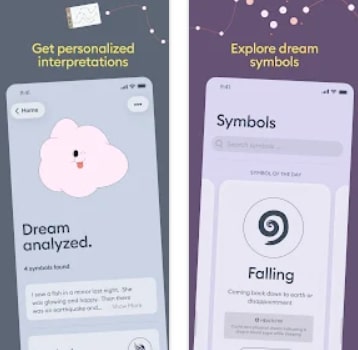 4. Dream Definition Meanings
This app reveals the meaning of your recent dream at any time of the day or night. It offers its users dream interpretations from several dream experts. In addition, the app provides a search by section or alphabetically. You will find nearly 1,000 different dreams to interpret.
Thanks to its user-friendly interface, you may quickly navigate through the sections of the app. It is also great for those who want to get to know themselves better. After all, the app offers an insight into the mental side of your dreams. Moreover, it offers a therapist session, which can tell you even more about the structure of your consciousness.
You can choose a therapist who understands the psychology of dreams. Under the section on therapists, you will find comments and feedback from other users. This will allow you to choose a therapist suitable for you.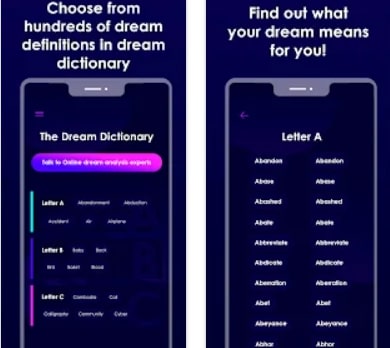 5. Islamic Dream Book
Islamic Dream Book is a highly-rated app with interesting features. This Islamic Dream Book is a dream interpreter. All dream explanations are based on the holy relics of the Quran and the Sunnah of Ibn Sirin.
Besides, this dream book contains interpretations from Muhammad's followers, namely, Imam Muhammad, who was a well-known Eastern scientist at his time.
However, it may be useful and worthwhile not only for faithful Muslims but also for those of other faiths. If you are looking for clues about the past and the future in your dreams and signs about how to behave in certain situations, you should use this app more often. Some dream interpretations are based on science, others on magic and religion.
Each meaning gathered here is unique. Moreover, this app offers you to save your dreams in a note to refer back to them later. Also, you will be able to select the style and size of the font to make your dream analysis easier to read.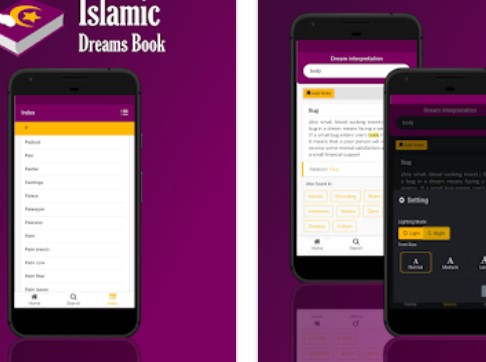 You may also like: 5 Best Magic Piano Apps
6. Dreambook | Dream Interpreter
This app is another diary that will tell you a lot more about your mind. Firstly, you will get an analysis of your dreams within a few seconds. To do this, you need to add hashtags, which will be a description of your dreams. This way, you will be able to interpret the dream yourself or read a suggested interpretation.
Secondly, this app is great as a book or diary in which you can save the details of your amazing dreams. Also, you will be able to view them in your feed. Each dream will be dated. Thirdly, this app will help you to analyze the quality of your dreams based on your recordings. The statistics can be found in the main section of your account.
There is also a special blog so that you can better understand your dreams and how to interpret them. In addition, the app boasts a handy word search. So you can search for meanings or surf through your dreams.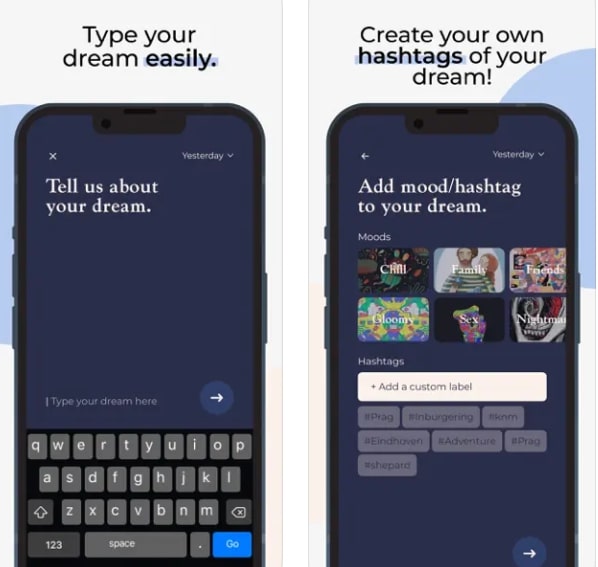 7. Original Dream Dictionary
This is another user-friendly dream book for your iPhone. Its functionality will remind you of the alphabet. All you have to do is tap on a letter and get the answer to your dream.
You will get the alphabetical order of what you saw in your dream (objects, events, actions). In addition, you will receive several meanings for the same dream, depending on its mood. Moreover, you will be able to share the resulting analysis with your friends.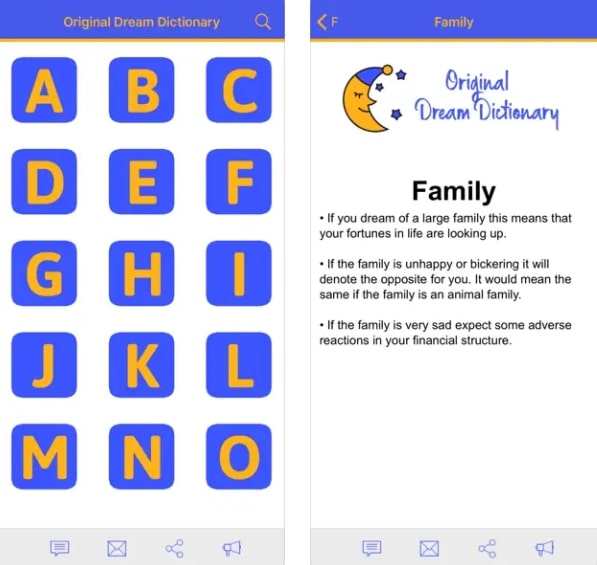 8. Dreams: Dream book
The Dreams app is a cool feature to discover more about your dreams, fears, and desires of your mental and physical self. This dream book for the iPhone has several features and benefits. Firstly, you can read dream books from several influential authors, unlike its equivalent.
It has the most popular and reliable dream book by psychologist Gustav Miller, the psychological dream book by Freud, and the magical dream book by physician and alchemist Nostradamus. Each dream book is unique and has its own unique and interesting interpretation of your dream. Moreover, it is not only a book of dreams but also a lunar calendar and horoscope.
In addition, it will give you a detailed description of the lunar day and phase of the moon, and how it all affects your wellbeing. On top of that, you can get recommendations based on your zodiac sign. All in all, you get a concise application that contains everything you need to interpret your dreams and the general quality of your day.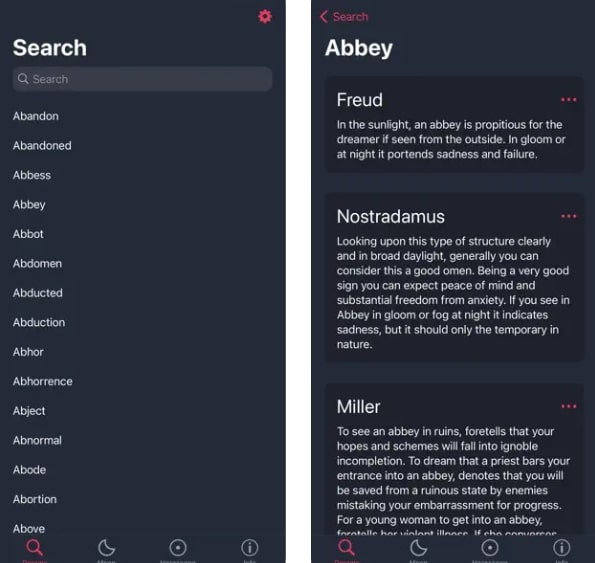 You may also like: 7 Best Clean Time Counter Apps
9. Dream Meanings, Dream Dictionary Interpretation
If you want a quick solution to your dreams, then you need to refer to this last app on the list. You will find a super short explanation of your dreams. The app is searchable by keyword. All of the dream meanings are grouped into categories, such as animals, body parts, holidays, events, and so on.