Is music something you are crazy about that you love to practice playing musical instruments? Are you a beginner who wants to practice? Perhaps you just like the pleasant sound of a piano. In that case, you will definitely be interested in the applications that we will talk about today. Hence, in this article, we are going to break down the most exciting applications for playing the piano.
You will find both professional applications and entertaining ones here. They will help you sharpen your musical skills when you do not have your instrument at hand or you can just have a great time. Another great selection of music applications you can choose from is the Best Rhythm Game. These are all the most popular music games on the market.
1. Magic Piano by Smule
Magic Piano by Smule is a fun way to help you learn notes and play a keyboard musical instrument. This game will appeal to all beginners. After all, here you can choose both simple and difficult tasks compositions. Each of them comes up with its own visual design. You can really note how stylish, original, and unusual made the app is.
This game is a press on the screen according to the running note. Here you will be using all your fingers at once. The game is ideal if you have a device with a large screen. Also, you as a user need to gain experience and get rewards for completing tasks. You can spend local virtual currency to unlock new features, functionality, and songs.
By the way, there is a huge amount of them from the classic to the most popular ones. All of the music will be distributed according to the genre. That way you can really try everything you want.
Also, you will find here the ability to create your own music with a function called Composer. Furthermore, you will try out your singing skills in the currently popular karaoke. This way you will be able to sing a duet with all your favorite singers.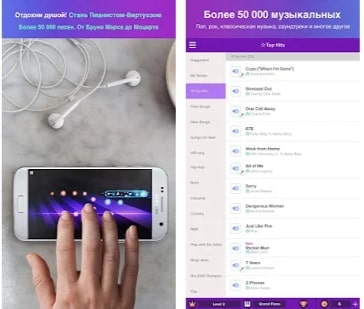 You may also like: 10 Best DJ mixing apps for Android & iOS
2. Simply Piano by JoyTunes
Simply Piano by JoyTunes is probably the most interesting platform for learning to play musical instruments. Its creators were guided by the correct idea that not everyone likes the way music schools teach. And sometimes we can learn the basics on our own. And using Simply Piano allows you to learn how to play the piano.
All you need is the piano itself or a midi keyboard and the app. You can use the virtual tutorial, do exercises, and learn new ways to play. You do not have to worry, the whole learning phase will be gradual, that is, the difficulty will gradually increase. The entire course of learning to play the piano is for two years.
In the beginning, you will learn to play with one hand, and by the end of the course, you will be able to play with both hands. And if you have no keyboard at hand, you can always turn your phone into a magic piano. Play a song of any difficulty on your phone from children's songs to classic tracks.
In addition, you get the first five lessons for free. You will definitely be able to master the musical instrument and have a lot of fun with interesting possibilities.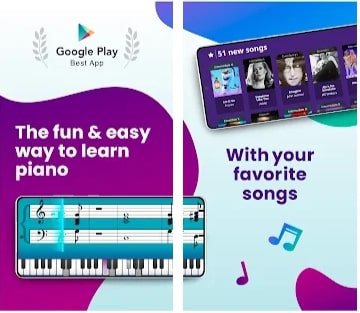 You may also like: 8 Best Lip Syncing Apps in 2021 (Android & iOS)
3. Magic Tiles 3
The essence of the game Magic Tiles 3 seems incredibly simple. You will see black and white tiles moving on the screen, just like on the real one. And you will need to be able to click on the black ones, skipping the white ones. Also, the combination of tiles, their length, and order, varies, depending on the melody chosen by the program.
There are several hundred songs and tunes from different genres in the program right now. You will see both classical compositions and trending popular songs. After all, the media library is constantly being updated.
However, they are not all available at once. In order to get them, you need to beat the competition and earn virtual money, which can be spent to unlock the new songs. So you will always be interested in playing Magic Tiles 3. For sure you will want to unlock new tracks.
In addition, you can turn on the endless mode, so the game will not stop. Only the speed of the elements on the screen will vary. It is interesting that this application does not require an Internet connection. Nevertheless, the network mode allows you to plunge into exciting competitions with other users. By the way, there are quite a lot of them – more than 20 million.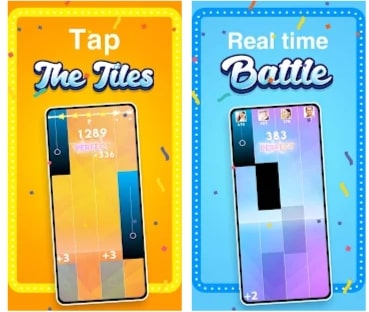 4. Piano by Yousician – Learn to play piano
This app is a good practice for beginners and those who have already played the piano. You will find a way to learn what you have always wanted to do, which is playing the piano. The learning process at Piano by Yousician is easy. You select a song, and then you will see a keyboard and a note stand on the screen.
There are several learning modes: you can train only the left or right hand, or you can play both, but a specific part of the song. You can also slow down playback to make it more comfortable to learn. Moreover, after you will memorize all the keys, you can gradually speed up the tempo. It is convenient that the screen is located not only the piano but also the notes.
While the keys are labeled with the corresponding musical notation. This greatly simplifies the process of learning and memorizing the location of notes. In addition, the app will teach you how to place your fingers correctly. After all, each key must correspond to a specific finger.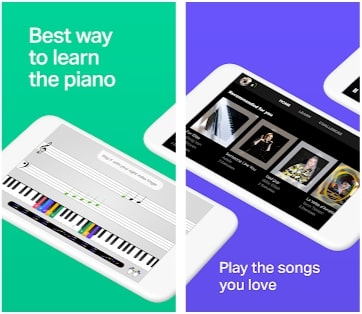 You may also like: 15 Best microphone apps for Android & iOS
5. Piano Solo – Magic Dream tiles game 4
The name of this application should already speak for itself – it is the same classic and very popular game in which you need to press the black rectangles in time to hit the tempo and play the selected tune.
In addition, the developers offered many other interesting features. For example, you have an opportunity to offer Piano Solo your own compositions, which after a while will be in the game. Similar to other applications, there is not only classical music but also arrangements of modern, popular compositions.
You will surely be able to come across your favorite music tracks. After all, the developers are listening to their users, trying to make a quality product.
In addition, you have two modes available: you can try the solo mode or compete with other users in the online mode. If you are playing with other users, remember that the speed of the game adjusts to the most successful player. So you will have to try hard to catch up.
The surprising thing is that you will be able to play in the team with four friends. And all this will be accompanied by quality sound and nice bright graphics.