The handwriting is considered to be the reflection of our character. We are all different, that is why someone writes neatly, someone writes badly. And it is interesting that a handwriting expert can tell a lot about a person when looking at the texts written by him or her.
Nevertheless, there exists special calligraphic writing that is very universal. It doesn't depend on your personality traits at all. It is appropriate when you want to create beautiful lettering for various reasons. For example, it can be lettering for a birthday card, for a diary and even for a photo.
Nowadays there are dozens of apps that can help you to master the art of calligraphy. Though they have been developed for various tasks, you will achieve the goal for sure.
The Appearl team has reviewed the best calligraphy apps in this post. Download them from the App Store or Google Play and enjoy the result!
1. Calligrapher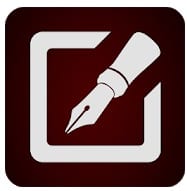 To begin with, we would like to suggest this app. Calligrapher will be suitable when you want to practice in creating your own handwriting lettering.
The app's highly professional tools will help you in this matter. There are 4 of them available (Simple pen, Pen, Thin pencil, Wide pencil). When using various tools your lettering will differ as well.
One more feature is the app's capability to change color, line thickness, and transparency of lettering.
In addition, you can set a slope angle of tools. For the wide pencil, it is from 0 up to 90 degrees. For the thin pencil – up to 360 degrees.
Also, for better visibility, you can choose various backgrounds.
After finishing to create, you can save your lettering or add it to any photo or picture.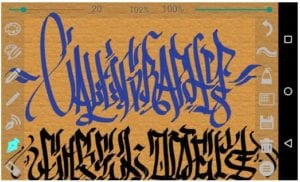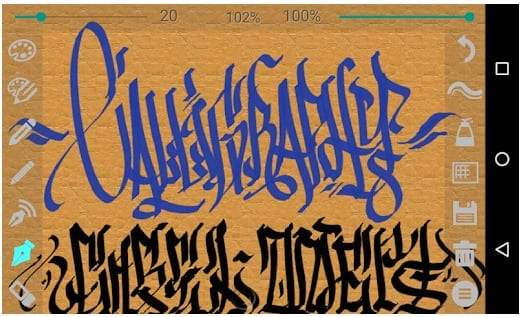 2. Calligraphy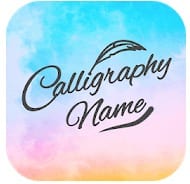 If you are distrustful of your own capabilities, Calligraphy is the most appropriate for you. Here your task is to type any text and choose a font from more than 50 of them. In a moment, your simple text will become perfectly written! By the way, you can choose the color of your text as well.
After that, you can select one of the 100 nice backgrounds. Or alternatively, you can set any photo from your gallery as a background.
An enormous library of cute stickers is also available for you. Choose one of them and make your lettering much more unique.
Finally, you can save your masterpiece to the Phone Galery or share it with your friends via WhatsApp, Facebook, Instagram, etc.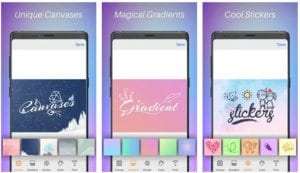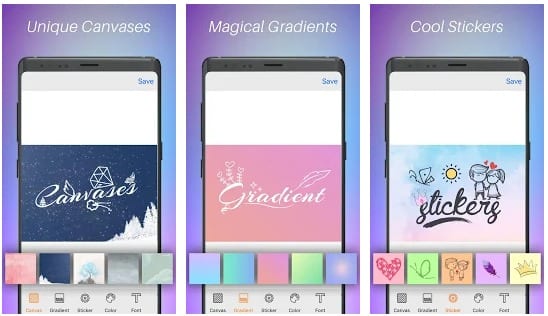 3. LazyDog calligraphy and cursive writing practice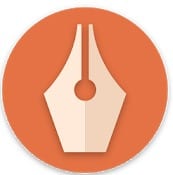 We want you to pay special attention to this very app. LazyDog is a priceless app if you want to learn how to create calligraphic writings correctly.
Practice in writing letters, caps, and words! Write them directly at the app, and it will be quick to grade you.
One more advantage of this app is that you will be able to learn how to write by using various fonts.
By the way, here it is available to read about calligrapher's supplies as well. So there is no need to surf the Internet trying to find tools for the writing.
Unfortunately, the left-hand writing mode is not available at the moment.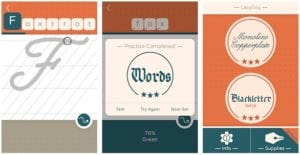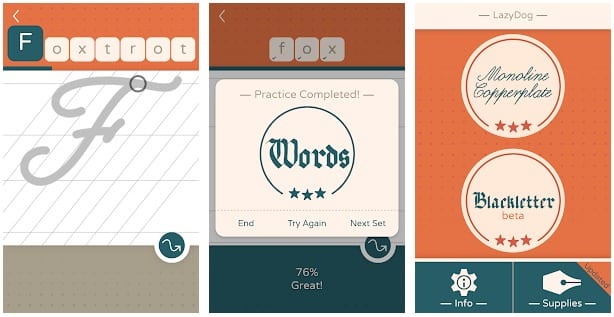 4. Calligraphy Name Art – Stylish Name Maker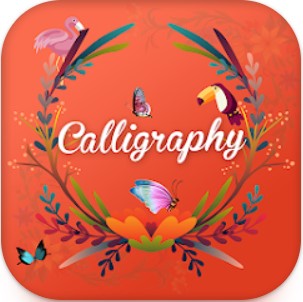 It is one more all-in-one app that is appropriate for users wanting to simplify their lives. As the developers say, the app will be a great tool when making greeting cards, book covers, logos, etc.
Enter a text you want, and it will turn into appealing calligraphic writing. You just have to choose the most suitable font and that's it! After that, you can choose a color of the text, size and rotate the lettering with the help of fingers.
Moreover, you can choose any of the suggested backgrounds or set your own photo or picture. Add some amazing stickers from a huge library making your lettering much more creative.
Then it remains just to save your creation to the phone or share it via Social media.
By the way, you will really like Calligraphy Name Art's user interface. With Redo and Undo options your working process will be much easier.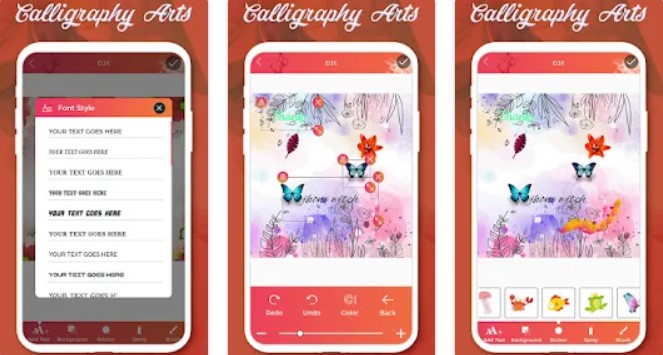 5. Fonty – Draw and Make Fonts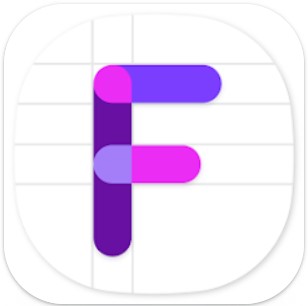 Fonty is the kind of apps that will become your tutor in calligraphy. It is really an artist's workshop on your phone.
Here it is available to practice in calligraphic writings. The main distinguishing feature of this app is that fonts are really unique. By saying this we mean dozens of original styles of writing developed by designers. And we guarantee that you've never seen them before.
So, by using this app you will learn how to write by using various (even the most unusual) fonts. The app's simple-to-use brushes will definitely help you.
What makes the app really unique is that here you will be able to create your own version of the alphabet by developing letter by letter. You may add the app's stickers to your letters, just like a cherry on the cake.
Moreover, such options as Font Preview, Auto-save and Drafts will make your every working session pleasant. And in your hour of need, you can always request Visual guides and Lettering hints for assistance.
Also, there are over 15 languages and alphabets available, so you will be highly tickled at the app, just as we do.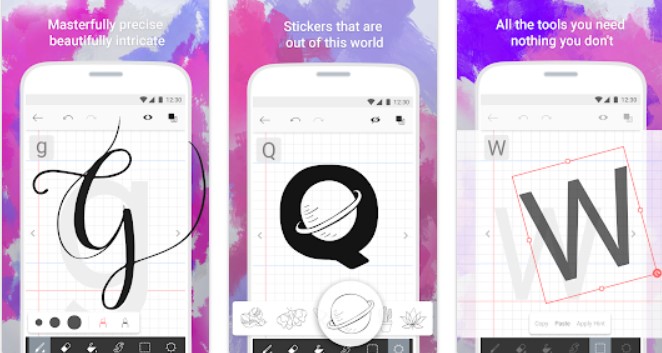 6. Fonts Keyboard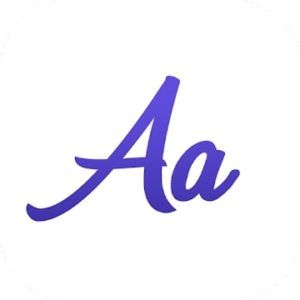 The Fonts Keyboard utility allows you to customize the keyboard style of your mobile device. You can use different fonts in third-party apps and create your own themes.
To be able to customize the font, you need to go to "Settings" and select Fonts Keyboard as the default keyboard. You should then launch the app and customize the appearance of the typing area.
In the main window of the utility, you can select one of the images as the background. Snapshots of natural landscapes and abstract compositions are available. You can also upload your own photo or picture from the gallery.
At the bottom of the screen, you can choose from several types of fonts. Choose between regular letters or icons. It is worth noting that the integration of the new keyboard with all third-party apps is supported.
It is possible to use the new font in browsers, messengers, and other utilities. Users can create their own themes. To do this, click on the appropriate button in the main menu. Then the background and font should be configured.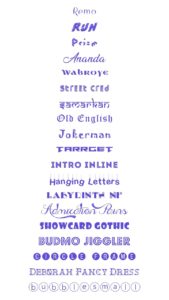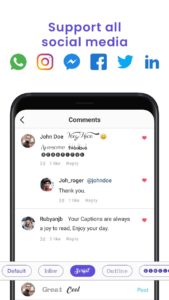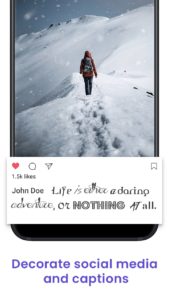 7. Calligraphy Art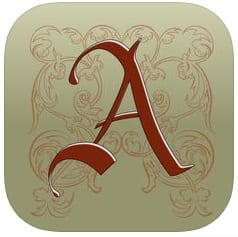 We can't help admiring this app as well. Calligraphy Art is a tutorial in calligraphic writing. Learn all about the most appropriate angle, thickness, and color for different fonts. After that, try it on the paper or directly at the app.
There are  16 ink pens and 4 brushes available for you. Just choose one of the tools of any size and start writing on the screen of your phone. It will replicate the movements of the finger just like in real life.
You can select any color of the text as well as a background. By the way, they are mostly old-style in order to implant aspirations in your mind. Also, it is even available to set a photo you want as a background.
Then you can save to photos gallery with or without background or share via your favorite social media.
Moreover, it will be very suitable for those who are fond of foreign languages such as Arabian, Chinese, etc. That is why you will have Western alphabets exercises and Chinese words exercises at your fingertips. To be more precise, there are 21 Western hands and 3 Chinese writing styles available. So, the app will be a great tool to practice writing hieroglyphs.


8. Calligraphy Handbook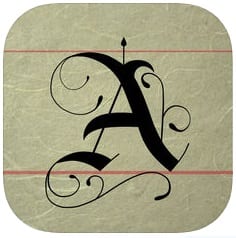 This app will also help you to discover the world of writing. Turn off your mind, turn on your fantasy and start writing.
There is the consecution of action on the pictures, that will become your tips. Follow them by writing letters on the paper or on the screen. The guiding lines will let you cope with every difficulty. To keep up your motivation, there is a special calligraphic game at the app.
Now let's consider Calligraphy Handbook's basic features. There are 19 writing tools that you can use while writing. Also, old-style backgrounds with ready-to-use stroke will be available for you.
But the main distinguishing feature is considered to be the mixing of colors when writing. That is why you can choose the colors you want and create lettering that will fit any background. By the way, there are more than 60 premixed colors. Since now, all depends on your fantasy. Install the app and make sure how creative it looks!

Check also: 15 Best Happy birthday frame apps for Android & iOS