Calculating body fat index is one of the most efficient ways to find out whether you have excess weight or not. To determine it, just measure the required parts of the body (usually it is your waist, hip, and neck measurements). Then, use a proper formula. However, in this case, you will have to calculate it by yourself, then browse the results to understand if the measurements are normal.
We find it more rational to install a body fat calculator app. Such a tool is capable of calculating body fat index, at the same time providing you with explanatory notes about the results. Besides, some of them are also good at tracking your progress.
We have chosen the best body fat calculator apps available on the App Store and Google Play. What is more, each of them can be used for free.
1. Plixi – Fat calculator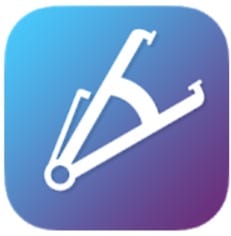 Our post starts with a Plixi app. This simple and convenient tool has all the features required from the application of this category.
The app will ask you to measure biceps, triceps, subscapularis, and suprailiac. If you face difficulties, tap the 'i' sign to receive some explanations about measuring this or that part of a body. In a moment, the app will calculate the body fat index. By the way, it will also take your gender and age into account.
The thing that will explain to you the results is a range table. With it, you will clearly understand at which stage you are.
As for minor advantages, it must be mentioned that the app can track data on several users. Apart from the general information, the measurements can be transformed into easy-to-read charts. That's what the app's users like.
At the same time, some people consider the calculations not so accurate.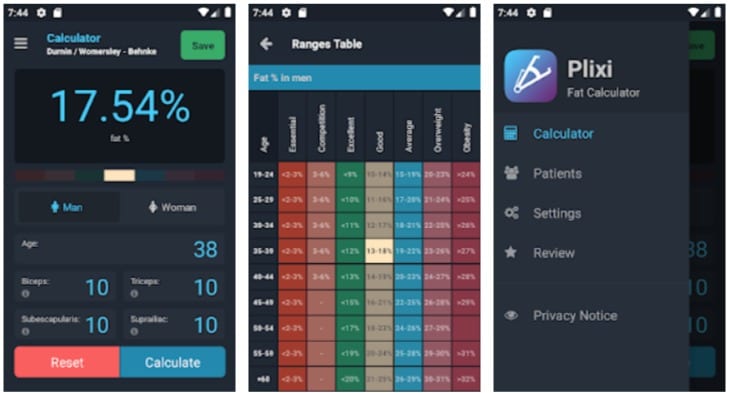 2. Body Measurement, Body Fat and Weight Loss Tracker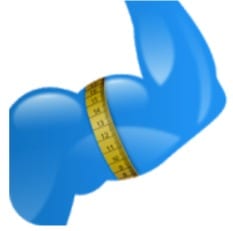 Talking about the apps from Google Play only, we highly recommend you to install a Body Measurement tool. Why do we think so?
Let's start with the feature you are interested in the most. Well, the app will ask you to take measures of your waist, neck, and height or hip measurements (depending on your gender). After that, you will learn your body fat index.
Totally, the app is so multifunctional. It has been designed to keep a user's body measurements in one place. So you will be able to record measurements taken from various parts of the body (weight, waist, hips, thighs, biceps, etc). By the way, adding your own parameters is also possible.
As your measurements change, you will need to update the information. To view it graphically, there will be good charts for each parameter in the app.
What is more, you will be able to use the measurements in various formulae. Thus, the app will calculate the Waist to Hips Ratio, Daily Caloric Needs, and Body Mass Index.
Besides measurements, the app will monitor your weight and allow you to view the progress as a chart by transforming the data. At the same time, it includes a photo gallery where you can keep photos of your body. It also motivates a lot.
If you want the data to be synchronized across devices, just log in to the app. This feature will provide you with access to measurements wherever and whenever you need them.
Finally, the app is compatible with Google Fit. Thus, you will be able to import or export measurements from this service, view calories consumed, calories expended, and net calories plotted against any measurement or calculated value. However, to make use of this feature, purchasing a subscription is required.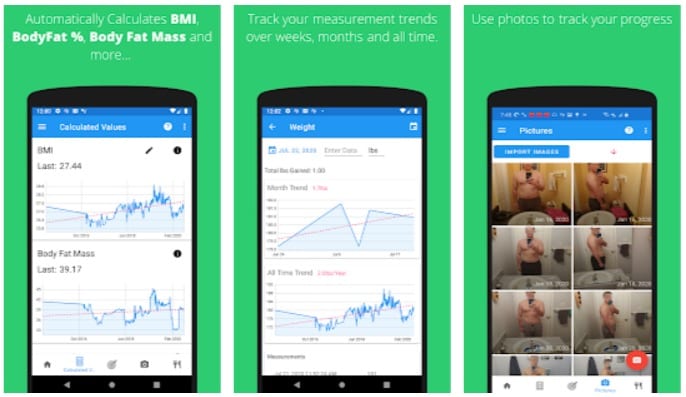 3. Body Fat Calculator By Fittur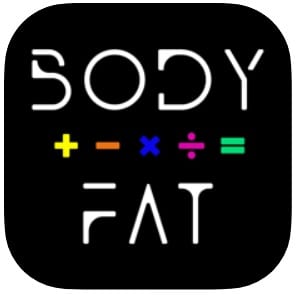 Talking of analog for iOS, Body Fat Calculator By Fittur is considered one of the leaders. It will take you several seconds to learn your body fat index with this app.
Again, after choosing a gender, you will need to enter the measurements of your body. The main distinguishing feature is that the app supports two ways of measuring. Thus, you can take measurements (height, waist, neck) by yourself as well as through image comparison. In both cases, the app will provide you with informative videos on how to do it correctly. After all, the app will generate the result.
In addition, there are some videos about body-fat-related aspects, such as categories and range. There is no doubt that they will increase your awareness of all the processes.
Apart from an advanced calculation system, the app's interface is so user-friendly. It is one more reason for installing this great tool.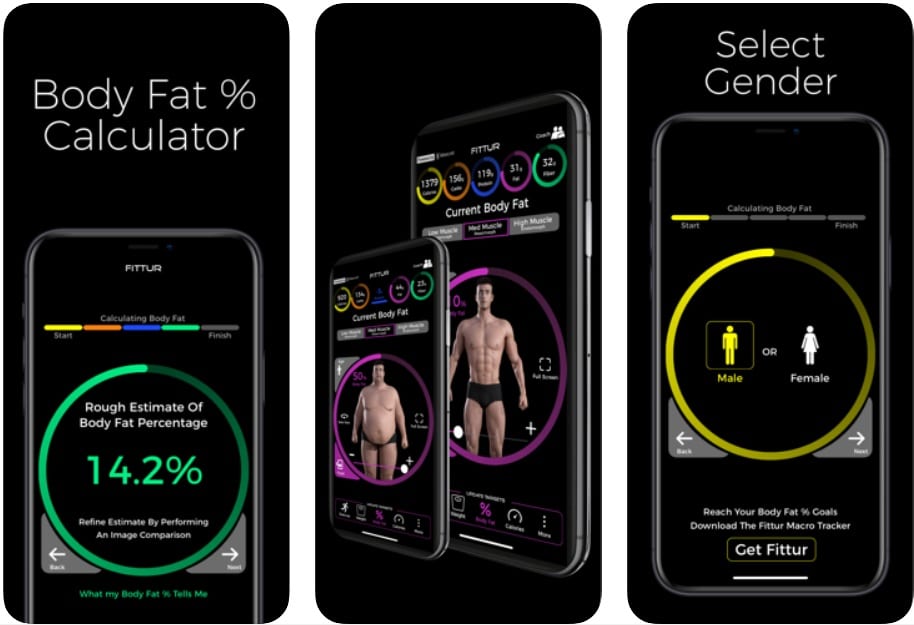 4. BMI Calculator: BMR calculator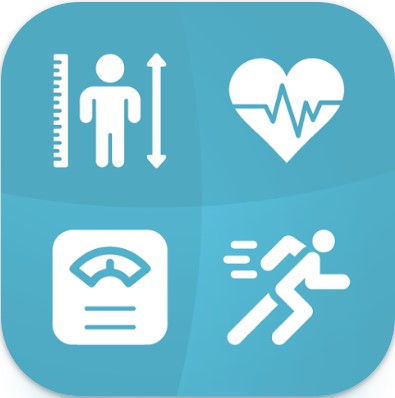 The next app capable of giving an estimate of your body is called BMI Calculator. It definitely should be tried by Android users.
To begin with, the app supports fulfilling several types of calculations. Of course, the body fat index is supported. Apart from this, the app is powerful enough to define body mass index, basal metabolic rate, waist-to-height ratio, ideal weight, and so on.
Whatever the calculation, it will consider not only your measurements but also gender, age, and activity level. These features make the results even more accurate.
Finally, the app will become your motivator in reaching goals. All you need is to set the weight you want to achieve. It will be enough to make your digital assistant keep track of your success.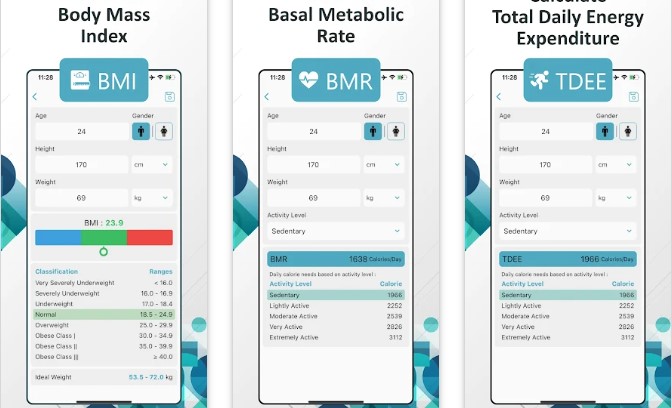 If you are not satisfied with your weight and want to improve your dietary patterns, here is a must-have list of the best intermittent fasting apps for Android & iOS.
5. Progress Body Tracker & Health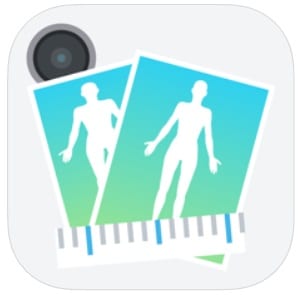 When it comes to considering an alternative from the App Store, a Progress Body Tracker & Health tool is also included on our list of recommendations.
First of all, this very app is capable of tracking up 20 various measurements. Several measurement units are supported. On the basis of entered data, the app will calculate your body fat index. As you update the measurements, the index will also be renewed.
As for other features, the app perfectly substitutes a tracker that deals with weight. Thus, it will let you monitor weight, total measurements, and body fat index. The app will take all the data into account. As a result, you will be provided with access to visual charts showing your progress in losing weight. What is more, these charts can be shared via social media with your friends, family, or even coach. That's what makes the app so convenient.
One more thing allowing users to track their success is progress photos. You will be suggested to upload photos of your body to view the difference more clearly. However, this feature is paid.
If you try to achieve a particular weight, just tell the app about it. Being aware of this information, the tool will show you how far you've come and how far you've got to go. We guess that this feature inspires the app's users a lot.
However, if you are not happy with the motivational aspect, here is one more thing to encourage you. The thing is that the app awards users with badges for perseverance, milestones, and achieving desired weight. You may like it.
Talking about tech details, the app can backup all your data with no difficulty. Apart from this, synchronizing with Apple Health App or Fitbit is also available for those who install this brilliant tool.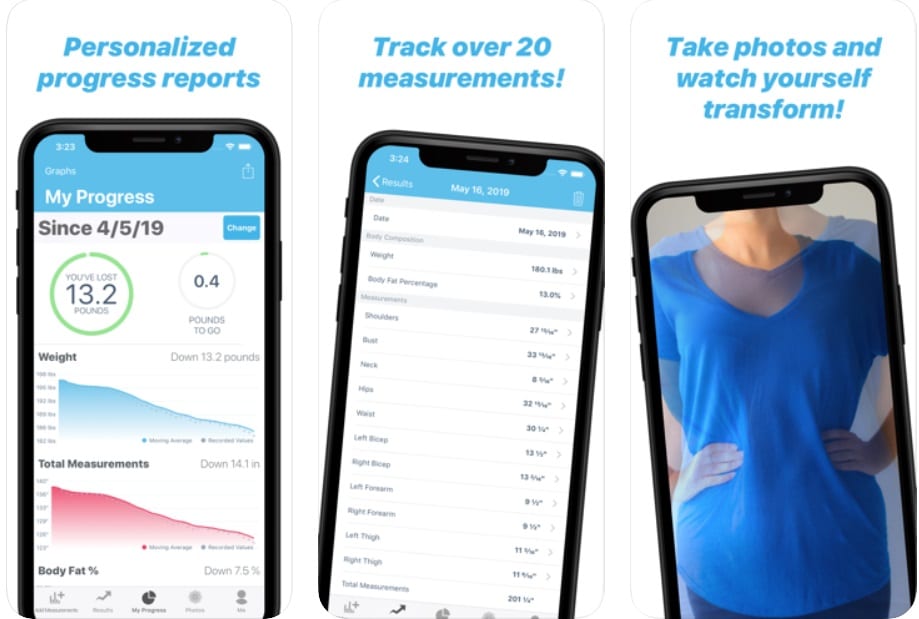 6. Body Fat Calculator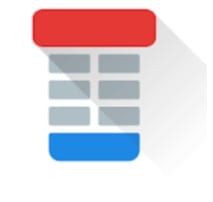 Are you searching for an app with no-frills? If you give an affirmative answer, a Body Fat Calculator app is what you need.
Your task is to fill the blanks with the required measurements as well as to choose your gender and age. After that, the app will offer you 5 body fat index formulae to be used! Just choose the one you like the most and make the calculations fulfilled.
As usual, after calculating, you will have access to comprehensive explanations of the results. Then, the generated data can be transformed into easy-to-read charts to track your progress.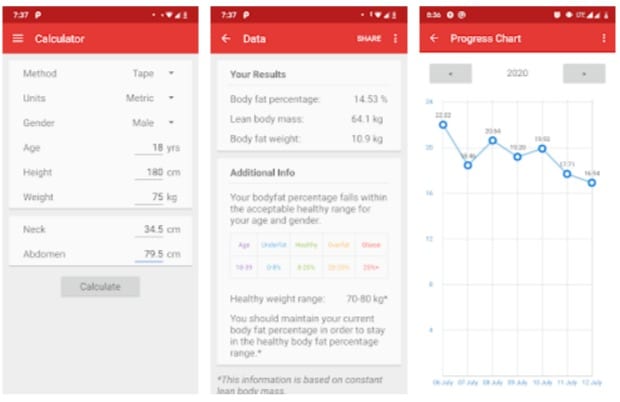 7. BodyBarista Body Measurements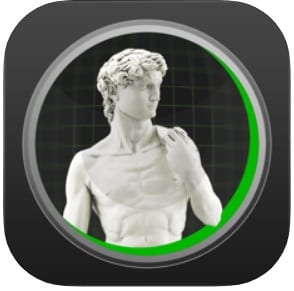 It happens that you don't have any measuring tools at your fingertips. Well, it's not a problem if you have a BodyBarista app installed.
The fact is that its built-in advanced system is capable of calculating your body fat index by analyzing a photo only. It remains to upload an image, pin the particular points to your body parts, and view the results. By the way, the users consider them to be quite accurate.
Like any other app of this category, this one will provide you with results of previous measurements. It will let you track your improvements over time.
In a word, the app is so appealing. However, it must be mentioned that the app is free when using it at a gym. In case you need a tool at home, you will be asked to pay for each measurement or purchase a 3-month subscription (which is more rational).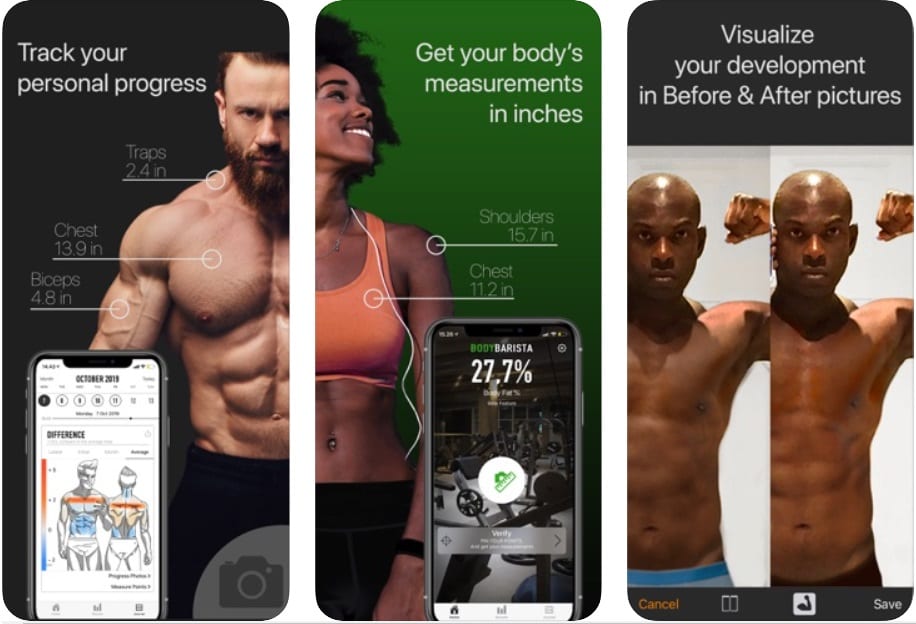 8. BMI, BMR and Fat % Calculator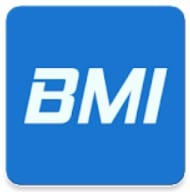 BMI, BMR and Fat % Calculator is an extremely simple tool available on Google Play. What is it famous for?
It all starts with choosing a user's age, height, and gender. Then it comes to entering the measurements of waist, neck, and hip. The next step is to choose the desired type of calculation. In your case, it will be a Body Fat Percentage. However, there will be three others at your access (Waist-to-Height Ratio, Body Mass Index, and Basal Metabolic Rate). Lastly, it remains to study the explanatory note to find out on which stage you are.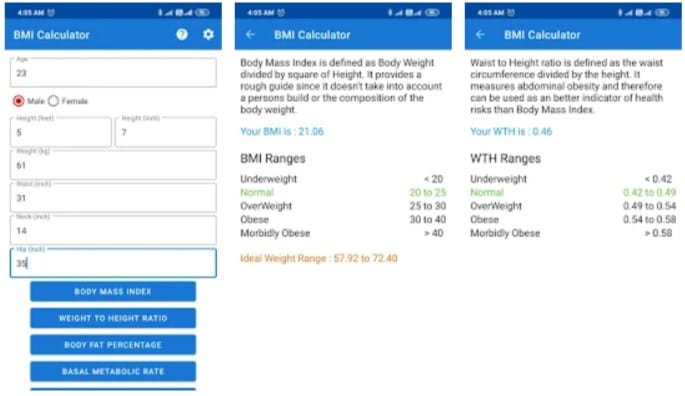 9. Body Tracker – body fat calc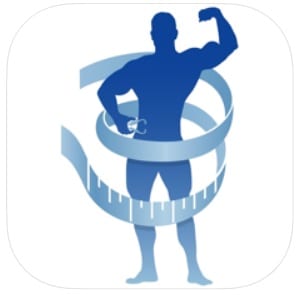 Body Tracker is the next tool that we can't help adding to our list. Though its rating is not so high, the users' reviews are mostly positive.
Well, you will be asked to measure particular parts of a body. To do it correctly, there will be detailed instructions completed by photo- and video-illustrations.
When it comes to calculating your body fat index, you will have six methods at your fingertips. Each of them is said to be so good. Plus, calculating BMI is also possible.
After having the calculations fulfilled, you will have an opportunity to export the results as an email. When the body estimates in the app, you will be able to complete them with up to 6 photos of your body. Thus, the images will be one more indicator of your progress.
At the same time, the app has some additional features. By it, we mean its capability of logging macronutrients, which is essential for those who monitor their weight. What is more, the app also supports calculating BMR. It will let you find out how many calories your body burns per day.
Besides, the app can be useful during a workout. Taking your body fat index into account, it will recommend the number of maximum reps.
To not lose your results of calculations, our advice is to make use of database backup (iCloud). Additionally, users like this tool for its capabilities of integrating with HealthKit.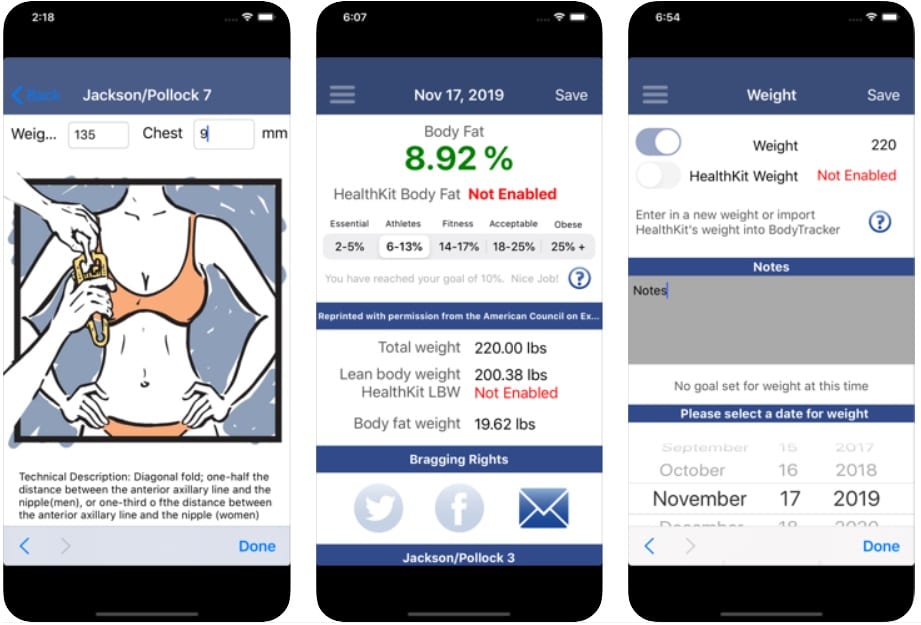 10. Body fat calculator + a four week fat loss plan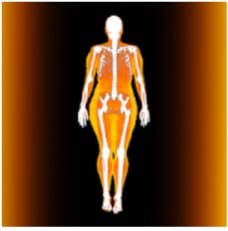 The last but not least app is called Body fat calculator + a four week fat loss plan. As it is clear from its name, the tool is quite multifunctional.
To find out your body fat index, you will need to enter the general parameters (age, gender, height, weight). Then you will be offered to measure your waist and hip. If you face difficulties, the pre-loaded illustrations will help you. After analyzing these data, the app will calculate the waist to hip ratio, BMI, and body fat index at once.
At this stage, self-perfection starts (if desired). The thing is that the app's unique system will generate your personal plan of weight-loss. It includes 4-week instructions on long-distance walking and a daily menu generated on the basis of dietic food. By following the app's recommendations (created in association with specialists), you will definitely gain your dream weight.
You may also like: 13 Best workout timer apps for Android & iOS