Are you exhausted by countless crash diets? If your answer is affirmative, we wholeheartedly recommend the better alternative for you. It is called Intermittent Fasting. It is an eating pattern letting you lose weight, fix health problems, improve your mental and physical performance, keep fit, and so on. The range of advantages is really wide.
The IF is based on eating or fasting during certain periods. So to do this, you will need a very efficient tool to control time. As usual, the Apppearl team has found the best apps meeting your requirements.
In this post, you are going to become familiar with the top Intermittent fasting apps available on the App Store and Google Play. With the help of them, you will reach incredible goals without striking a blow.
1. Zero – Fasting Tracker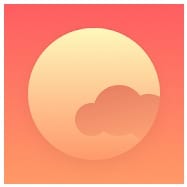 Let's start with one of the most top-rated intermittent fasting apps called Zero. By the way, it has gained the recognition of millions of users from all over the world.
The app represents a universal tracker. First of all, it will control the eating or fasting periods and tell you when to start or to stop. For your convenience, the developers added a full-screen timer to the app. With it, you will always know the time remaining before eating or fasting.
The app offers its users some most wide-spread methods of intermittent fasting. Thus, you will be able to try yourself in 16:8 fas, 18:6 fast, 20:4 fast. What is more, you can also create a custom fasting up to one week long. By doing this, you will kill two birds with one stone: do the intermittent fasting as well as schedule the most appropriate according to your needs.
Apart from this, the app includes the Circadian Rhythm Fast (13:9). Its uniqueness is that the app will be synchronized with the local time according to your location. That's why it will choose the most proper time for you to eat or fast.
As for the other advantages, the app will allow you to track your progress on several parameters. They will be shown through accurate graphs. Moreover, you will always have access to your previous recordings.
For better motivation, you can set your dream weight in the app. So the app will accompany you until you reach your goal. What is more, you will always be able to share your great achievements via social media directly from this digital assistant.
Do you need to be more motivated? If you do, you will have an awesome chance to take part in various events held by the app's developers. As a result, if you succeed, you will be awarded by cool prizes from the world's top specialists in sport and fitness. Alternatively, you can just achieve the goals you set and receive virtual badges.
Finally, the app's developers provide an opportunity to broaden the horizon. By it, we mean dozens of educational articles updated weekly. They are devoted to well-balanced nutrition, fitness, and of course, intermittent fasting.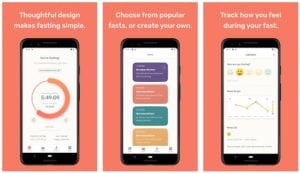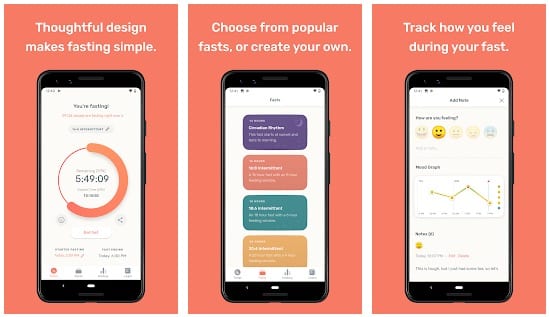 2. MyFast – Intermittent Fasting Tracker Schedule App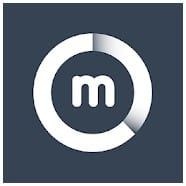 One more similar app is MyFast. Though it has many common features with the previous app, it also includes many distinguishing ones.
With this app, you will be able to plan all your fast and eating cycles for the week. The app's built-in timer will work automatically and tell you the time when to eat or fast. What is more, setting the notifications will be available for you. That's why you will never miss the time when to start eat or fast.
As for the methods of intermittent fasting, you will be able to choose among the most popular eating patterns as well as to use the manual mode. In this case, you can edit all the periods, dates, and goal length in real-time.
Again, your progress will be visualized with the help of colorful graphs. Just open the "Charts" section and enjoy the results achieved by you. After that, you will see various parameters that you work on.
The app includes one more awesome feature. It is represented in a Home Screen widget. Due to it, the whole necessary information will be always at your fingertips.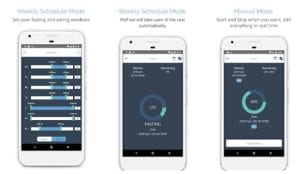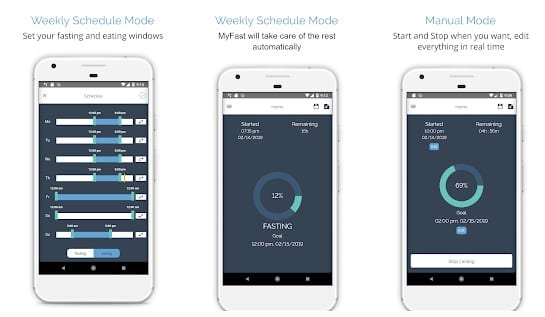 3. Fastient – fasting tracker & journal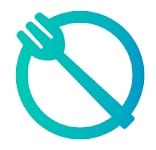 The next app that should be included in our list is Fastient. Install it to make yourself sure how excellent it is.
Believe it or not, the app contains even more unique eating patterns. Thus, by using the app, you will have a great opportunity to become familiar with 16:8, 20:4, or 36-hour fast. But there is more to come. The app will surprise you with many additional methods of IF, such as One Meal a Day (OMAD), Alternate Day Fasting (ADF), and Extended Fasting (EF).
Regardless of which method you choose, the app will control the time and tell you when to stop eating and start fasting, or vice versa.
In this case, a user himself/herself can choose the time when to start fasting. Also, pausing or even canceling the intermittent fasting will be available. By the way, it won't influence the stats. That sounds so appealing.
Your progress will be always highly visual. Thus, the app will track your weight lost, your calories burnt, the total time you fasting, and so on. One more feature that will encourage you is the app's capability to keep your photos uploaded to make you understand your achievements while fasting.
As usual, your progress can be presented via fine graphs. For more details, you can also add your goal. Trust us, it also motivates greatly.
Besides, you will be able to track your mood or even symptoms while doing IF. Further, you can describe your feelings by choosing the emojis suggested only.
As a nice bonus, the app is compatible with several devices at once. Plus, the lovers of Dark Mode will surely appreciate this tool.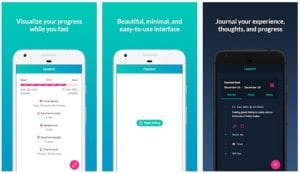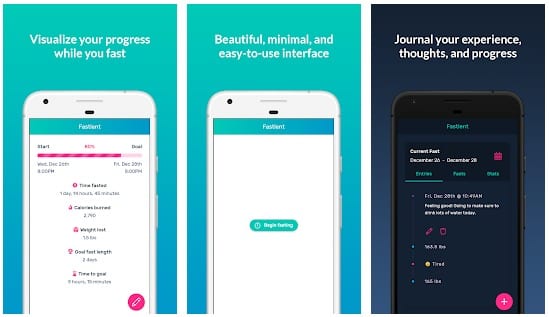 Are you searching for an app capable of tracking water consumption, too? We consider your needs. Here is the post containing the best drink water reminder apps for Androd & iOS.
4. LIFE Fasting Tracker | Social Intermittent Fasting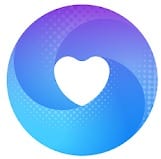 One more charming intermittent fasting app is called LIFE Fasting Tracker. Let's find out why is it so appreciated by users from all over the world.
Just like the previous apps, this one will become your personal digital coach in IF. Forst of all, it will suggest you choose among the most popular IF methods. To be more precise, you will have access to 16:8, 24 hours, OMAD, 5:2, and extended fasts.
Then, the app will notify you about starting or finishing the fast. Of course, everything will be absolutely adjustable. That's why you will be able to customize the fasting details as you wish.
When it comes to considering the tracking, the app won't disappoint you at all. Thus, it will monitor your weight, body measurements, and even the level of glucose and ketones (in case you have the equipment to measure them).
One more thing that you will definitely like is the app's community. You will be able to join Fasting Circles. This will let you find confederates, or compete with other users in your IF achievements.
Do you have friends who also fast? If you do, enjoy the app together and share your results to support them. Alternatively, you can also launch an IF challenge against them.
If you want to improve the knowledge of intermittent fasting and its influence on your health, we highly recommend you to check one more cool feature – informative articles on this theme. They are added weekly, so there will be something interesting anytime.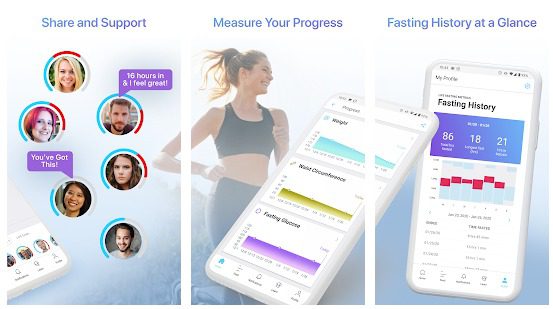 5. DoFasting – Intermittent Fasting & Healthy Diet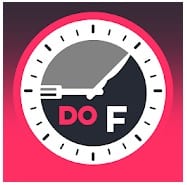 Are you searching for the all-in-one app? If you answer affirmatively, the DoFasting app will be the best choice for you.
Firstly, we will review the fasting feature as you are interested in it the most. As you can see, the app represents an accurate fasting tracker. You will be able to select one of the fasting patterns available (16:8, 20:4, and some much more sparing ones) and adjust it as you wish. After that, it remains just to do IF and control the windows by receive notifications when to start eating or fasting. By the way, the app's built-in calorie planner will make the IF as effective as possible.
Two more trackers available deal with water and weight loss. So the first one will monitor the quantity of water you drink and tell you if it is enough for your body. Obviously, another one will track your weight loss progress.
One more advantage of this app is that it contains even meal recipes that will be beneficial for your weight loss. In case you stuck, the calorie counter mentioned above will help you in choosing the most suitable meals for you. With it, you can stick to your suggested calorie intake.
As for the meals themselves, the choice will be so wide. Because of it, you will be able to manage the recipes as you wish. This feature makes the app more convenient to use.
The app is famous for its fitness challenges, too. Directly in this app, you can manage your workout schedule and get access to dozens of workouts according to your fitness level and target weight. By the way, the app is pretty intuitive, that's why it will do its best in choosing the most appropriate exercises for you.
Typically, the app includes food and nutrition articles with the latest scientific researches. So there is no need to surf the Internet trying to find something worthwhile.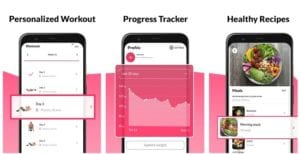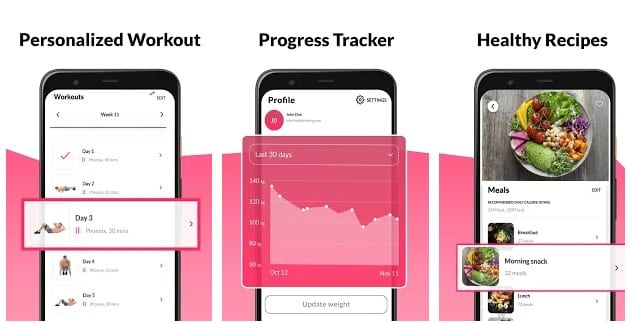 6. FastHabit Intermittent Fasting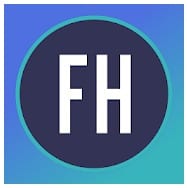 Do you want to set the duration of fasting by yourself? Well, install FastHabit Intermittent Fasting that meets all your requirements.
You got it right. In this case, it's up to you to choose the time for fasting and eating. The app is absolutely flexible, so you will always have an opportunity to edit your IF.
Apart from this, you can manage not only the hours but also the days to fast. To keep up the schedule, the app will send the notifications when to start eating or fasting.
The application is powerful enough in tracking your weight as well. The measurements in Kg, Lb, Stones are supported. The data will be transformed into visual graphs for you to notice your achievements.
Do you need more statistics? Open the 10-day Snapshot section. There you will find 'streaks' showing how many days in a row you've fasted and how many days you've met your goals. So it is also a great motivator.
By the way, if you are a novice in Intermittent Fasting, there are no reasons to worry. The app will completely guide you and help you to explore this cool eating pattern.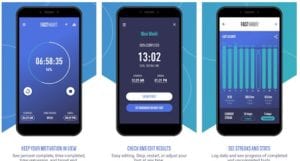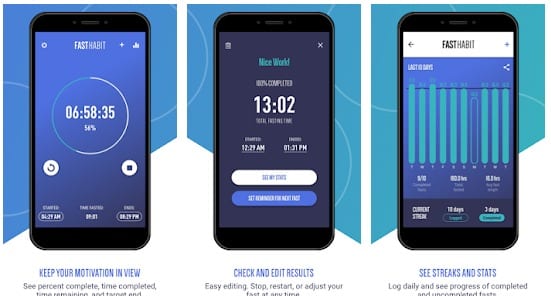 7. Simple: Intermittent fasting and meal tracking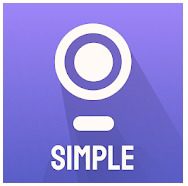 We can't help adding the Simple app to our list. Like the apps above, it will allow you to explore the IF and enjoy its advantages.
In this case, you will have access to 16:8, 5:2, 18:6, 20:4, 14:10 fasts. In addition, OMAD (one meal a day) and Circadian Rhythm Fasting will be also available. As you can see, the range of fastings is so wide. That's why it will suit both beginners and professionals in IF.
There are some other features that make the use so enjoyable. For instance, every user has access to detailed reports on her or his progress. There is no doubt that this feature will let you proud of yourself.
Also, you can set the fasting reminder. Thus, you will surely know about the windows for eating or fasting. In this case, launching the app isn't required.
The app is brilliant because it contains many tips and recommendations from the experts in Intermittent Fasting. We are sure that they will help you significantly.
Finally, with this app, you will be able to keep an awesome meal journal for mindful eating. That's mighty good!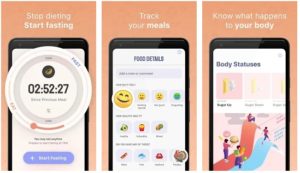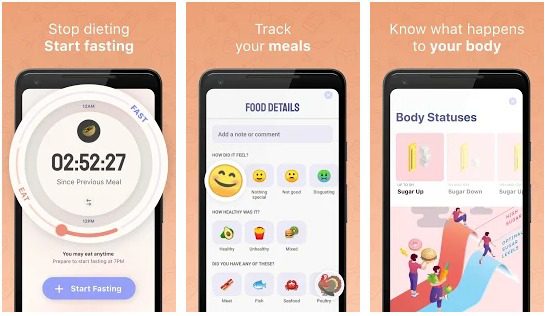 8. BodyFast Intermittent Fasting: Coach, Diet Tracker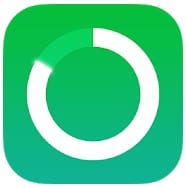 Here is one more app that will guide you to a new lifestyle with healthy habits. It is called BodyFast Intermittent Fasting.
As usual, you will start by choosing the IF method. In this case, more than 10 of them will be available. The app's role is to control the periods of eating or fasting and notify you about it.
Besides, it will become your digital diary to track your weight, body measurements, and water consumption. The outstanding user interface will allow you to view your progress better.
The app can also function as a cool virtual coach, letting you reach your goals faster and more effectively. The way it works is very simple. Every week it will generate your individual fasting plan in accordance with your results and aims. After that, it will suggest you both health and fitness challenges. Every time you win, you will be awarded amazing in-app prizes. By the way, it is said that those who do IF with the app's couch, lose weight 30% faster than other fasters. Since now you have a chance to prove that.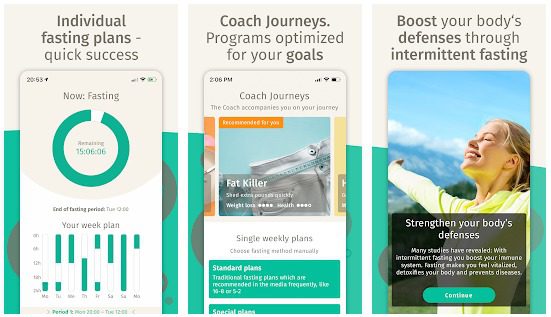 9. Fasting App – Fasting Tracker & Intermittent Fast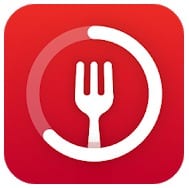 The last praised Intermittent Fasting app on our list is called Fasting App. Probably you've heard about its developers – Leap Fitness Group. Unfortunately, at the moment, the app is available on Google Play only. Nevertheless, we do hope that it will soon appear on iOS gadgets.
Like any other IF app, this one represents a powerful tracker of fasting and eating windows. As for the methods, the app includes many popular patterns to choose. As an alternative, you will be able to create your own one as you wish. In both options, adjusting a method to your needs will be available.
Like in the previous cases, the app is capable of tracking not only the time you fast but also the weight you lose. All the information can be shown graphically, which is extremely convenient to track.
Finally, the app's user can synchronize the data with Google Fit. It is a great advantage for users of this service.
For better results in weight loss, we strongly advise you to install other apps of this developer.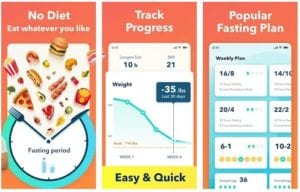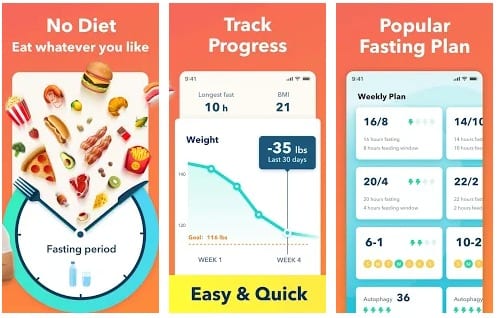 You may also like: 8 Best Gym Companion Apps (Android & iOS)