Well, if you are reading this post, you are very likely to be a regular visitor to a gym. If this fact is true, the content below will be surprisingly priceless for you.
Believe it or not, but you don't need the service of a personal fitness coach anymore. The truth is that there are many cutting-edge apps that are capable of replacing a person in this matter. Thus, they will become so effective virtual assistants in the training process, guiding you, creating a schedule of workouts, finding confederates, and so on.
So here is the list of the best Gym Companion Apps. They will be available both on the App Store and Google Play. It remains to choose the most suitable one, install it, and enjoy every workout being tutored by an amazing app.
1. Strong – Workout Tracker Gym Log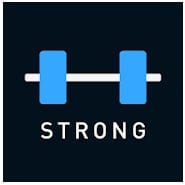 Let's start with one of the most top-rated apps on our list. It is called Strong. As it is clear from its name, it will be so helpful if you want to keep fit.
First of all, it includes a great number of cardio and strength exercises completed by detailed descriptions and animated videos on how to perform an exercise. Instructions of this app can easily replace your coach at the gym.
Furthermore, you will be given an opportunity to fully customize your workouts by choosing between exercises and adding your own ones. That sounds really great.
As for the types of exercises, they vary so much. For example, you will be able to try yourself in Assisted Bodyweight as well as Duration Exercises. Also, you can choose from Supersets or Grouped Exercises. Besides, in the app, you will find even more options.
For your convenience, the app has all the most necessary calculators. Due to them, you will be able to learn your one-rep max, total weight lifted, and many other parameters.
One more thing that you will definitely like is that the app will track your progress automatically. What is more, your success will be represented graphically.
Finally, the app supports adding notes to exercises, sharing training sessions with friends, and even exporting via email in CSV format.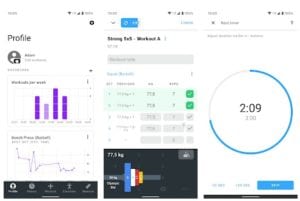 2. Stronglifts 5×5 – Weight Lifting & Gym Workout Log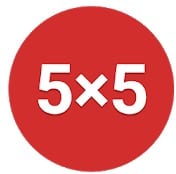 Have you ever heard about the Stronglifts 5×5 app? It is one more extremely popular tool that will become your companion in a gym.
With this brilliant app, you will be able to create a schedule of your workouts in detail. It will show you the exercises and the number of sets, and reps planned by you. So there is no need to use paper anymore. Everything will be at your fingertips at any time and place.
At the same time, the app will provide you with workouts and exercises that are so appropriate for you. The main advantage is that every exercise has a video on how to perform it.
As for the pre-loaded programs, this very app includes the Weight lifting programs. They will be suitable for both novices and professionals in powerlifting. By the way, the app supports kg as well as lb.
The app is considered quite intuitive. By it, we mean the built-in timer showing the time between sets based on the last set. Also, it will take the weight of your barbells into account.
Moreover, in this case, your progress will be also tracked by the app. You will see detailed graphs generated by the app. Undeniably, visual information is better for understanding. Besides, it keeps you motivated a lot.
The feature that is also capable of tracking your workouts is the built-in calendar with weekly and monthly overviews.
One more distinguishing feature is that all your workouts can be synchronized with other devices as well as saves to Cloud.
As a bonus, you will be able to make different notes at the app directly.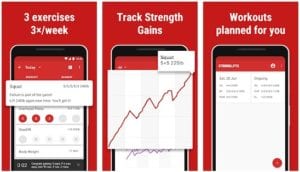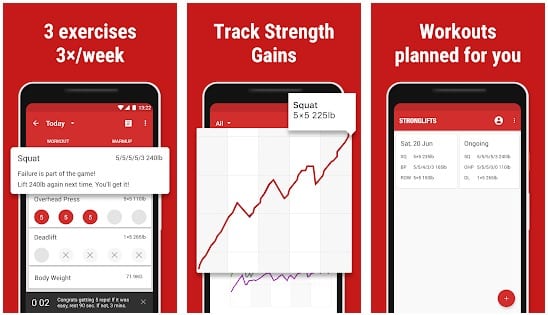 3. JEFIT Workout Tracker, Weight Lifting, Gym Log App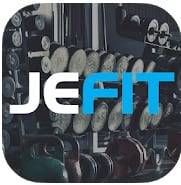 The next app that we can't help admiring is called JEFIT. Now let's find out why is it so admired by users from all over the world.
The thing is that the app includes more than 1300 exercises for various levels, targeted at different muscles, and so on. With the great choice suggested, you will surely find something dear to your taste.
As for the instructions, every exercise will be completed by an informative HD video with tutorial on how to perform. That's why you won't face any difficulty in understanding the technique.
For your convenience, these exercises will be grouped into training programs. So according to your needs and requirements,  you will be able to choose the most suitable program.
One more great advantage of this app is the set of tools available. You will have access to the most necessary ones –  Notes, Rest Timer, Interval Timers, Schedule Planner Body Measurements Log, Supersets, etc. The set is so impressive, isn't it?
In case you are not motivated enough, the app is a must-have for you. It suggests monthly fitness challenges that are so engrossing. Moreover, the system of awards is also supported.
If you don't want to compete with other users, you will have an opportunity just to set goals in the app and achieve them. JEFIT's custom journal is the feature that will help you in this matter.
Finally, the app's community is so amazing. You will be able to find friends there, compete with other users, receive feedback, and so on. The capabilities are limitless.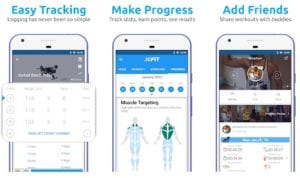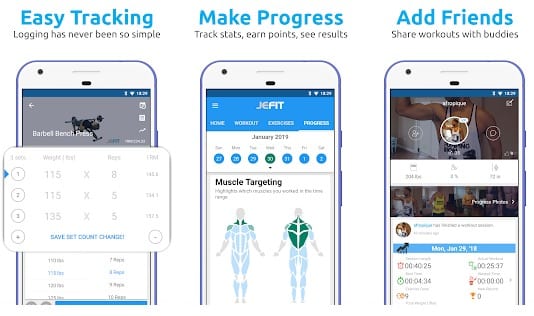 4. Fitify: Workout Routines & Training Plans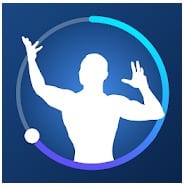 Here is the app that is capable of generating personal plans for every user. That's why being like your personal coach, Fitify will make you be in perfect shape.
Well, your fitness plan will be created in accordance with your skills, goals, time and equipment available. The variety of workouts will be also so wide. The thing is that the app includes almost 1000 exercises. But you will be suggested only those that meet your requirements.
Apart from the custom program, you will have access to more than 20 pre-built workouts. Developed by specialists, they will be great in keeping your body fit.
What is more, the app has 15 recovery sessions, including stretching, yoga, and so on. It will be a nice addition to your workout.
The main distinguishing feature of this app is that you will be guided by a voice coach. So if this option seems you appealing, we highly recommend you to install this awesome app.
However, if you prefer visual information, the app will also suit you. Every exercise contains the HD video with detailed descriptions.
As a bonus, the app works perfectly without the Internet connection.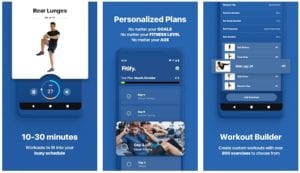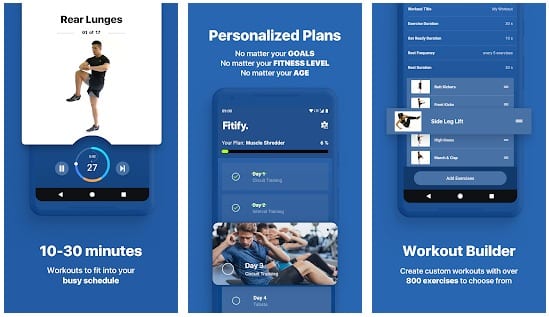 If you want to become a pro in yoga, here is the list of the best yoga at home apps for Android & iOS.
5. Gym : Gym Workout,Weightlifting & Personal Trainer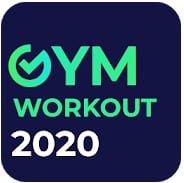 If you are searching for an app with ready-to-use workout plans, this one will be the best choice for you. Let us introduce the Gym app.
As we've already said, with this app, you will have access to the plans suggested. By the way, they were developed by the professionals, which is essential. So it remains to choose the most suitable plan according to your goals, and start a workout.
Every plan will contain various exercises depending on a muscle group you want to work at. It can be abs, back, chest workouts, general fitness, and so on.
As usual, the exercises will be completed by a video or a gif, including the information on a number of sets and weight of equipment, if required.
Apart from workout plans, in the app, you will find awesome meal plans that will be so helpful for those who think that doing exercises is not enough. So there is no need to surf the Internet trying to find the most suitable healthy nutrition plans. What is more, you will also find some cool recipes on healthy meals.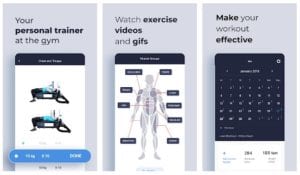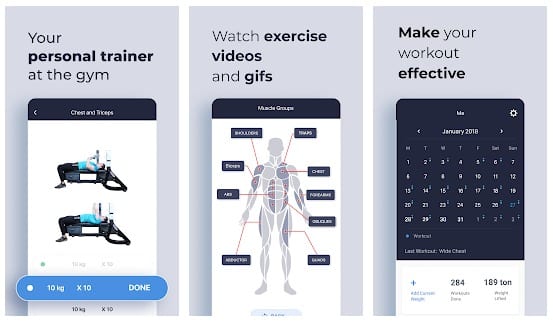 6. Fitness Buddy: Gym Workout, Weight Lifting Tracker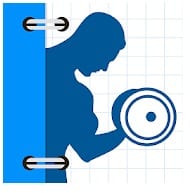 As for the alternative, here is one more app that worth being installed. It is called Fitness Buddy.
Like the previous apps, this one will become an integral part of any visit to a gym. In this case, you will be able to use one of the ready-to-use plans as well as create your own ones. Nevertheless, keep in mind that the workouts were created by the specialists in this sphere. That's why you can fully rely on them.
Ready workouts represent more than 100 plans aimed at various muscules. Select any of them and discover the exercises completed by the descriptions and photos or videos on how to perform them.
In addition, you will be able to try yourself in unique 8-week training plans. They have been developed for those who want to improve your body in all aspects.
One more thing is that the app contains dozens of exercises with special gym equipment – barbells, dumbbells, machines. So that's exactly what we need!
Additionally, we guess it must be mentioned that the app will be very useful not only in the gym but also for exercising at home. So if you are searching for this kind of app, this one is what you need.
Also, the app will be powerful enough to track your calories, body weight, body metrics, heart rate, and so on. One more built-in great tool is a timer. That's why you won't need some special measurement equipment as well as paper and a pen.
What else makes the app outstanding is the workout history. Due to this feature, you will be able to track your progress and stay motivated 24/7.
One more fantastic thing is meal plans. Well, there will be 8 of them, including Muscle Building, Clean Eating, Keto, etc. Apart from these excellent plans, you will have access to more than 100 meals recipes. The main thing is that they will be not only healthy but tasty as well.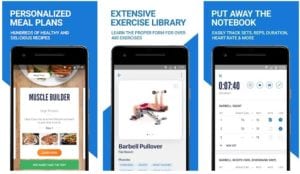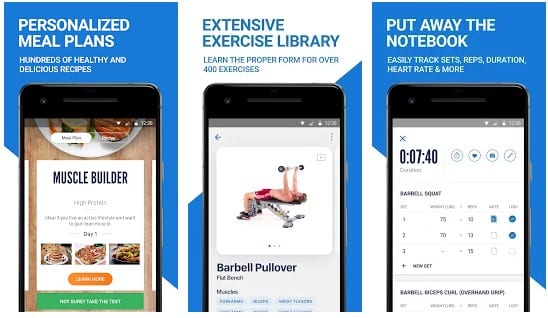 7. Nike Training Club – Workouts & Fitness Guidance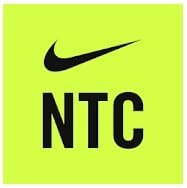 If you are a fan of Nike, here is the app that you will like for sure. Nike Training Club will provide you with the most effective assistance while you are in the gym.
First of all, it contains dozens of workouts targeting various muscle groups. Secondly, it's up to you to choose which abilities you want to develop – endurance, and mobility, strength, and do on. Moreover, you will even find some exercises on yoga.
Thirdly, you will be able to choose the duration and intensity of a workout as well as the level of your skills. So it is a great advantage to adjust your training sessions by yourself.
When it comes to tracking your progress, the app will do its best to record the details of your workouts. That's why a comprehensive history will be always available for you.
Also, we can't help admiring this app because of its intuitivism. Thus, you will receive personal daily tips and recommendations from the experts. It will be one more great opportunity to improve yourself.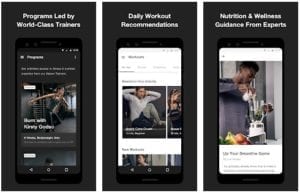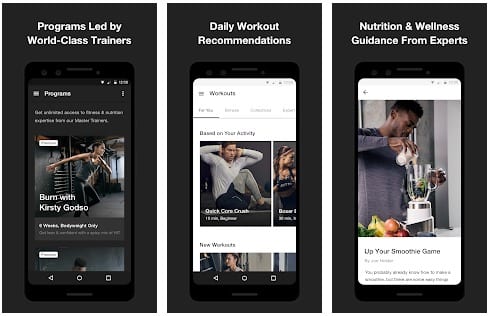 8. Workout Trainer: fitness coach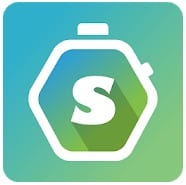 Workout Trainer: fitness coach is the next app to our list. It is famous for its great choice of workouts for every skill level and intensity.
In the app, you will find hundreds of exercises grouped into workouts. As usuals, every exercise will represent the textual and visual description. What is more, the exercises will be performed by the world-famous professionals.
To make your workouts more effective, you will be able to fully customize them. By doing this, your goals will be achieved even quicker.
You will be also offered some similar packs of exercises, personal recommendations, and advice that fit you 100%.
In this case, many more features will become available after purchasing a subscription. Firstly, Pro user will have access to the brilliant workouts uploaded weekly, Secondly, informative forums on fitness will become also available in the Pro version. And finally, the subscription will provide you with a detailed heart rate analysis.
Though these features seem not so important, they will make the process of use much more enjoyable. At the same time, the app is great itself, without a paid subscription.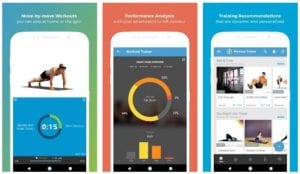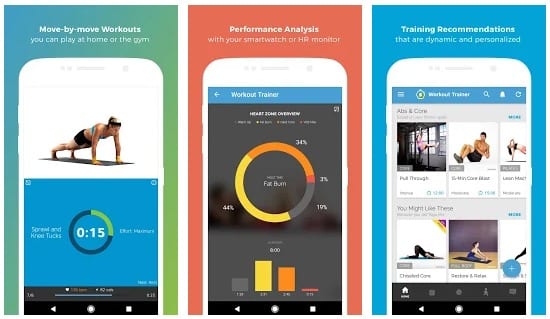 You may also like: 11 Best soccer coaching apps (Android & iOS)