Yoga's influence on human physical and psychological health is overwhelming. It is a great way to strengthen your health, relieve pain, avoid stress or anxiety, be focused on essential matters, and so on. The list of advantages caused by yoga is almost endless.
Unfortunately, due to the press of modern life, people don't have enough time for yoga exercises. Way to the gym seems much longer when you feel exhausted after a hard working day.
Well, your problem has been successfully solved by us. Here is the list of the best yoga at home apps. Available for Android and iOS, they will become your personal yoga trainers with 24/7 access to training sessions.
1. Yoga | Down Dog | Vinyasa Hatha Ashtanga Chair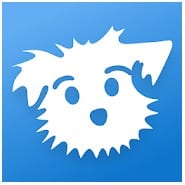 The first word that comes to mind after opening the app is 'treasure'. Let's find out why this app is worth being listed here as a first yoga app.
Down Dog will welcome you with a 3-day introduction to yoga, letting you understand the basic principles of this practice.
After that, you will be able to manage your training sessions as you wish. Your training process will be generated depending on your level, a type of practice, the time you can spare on yoga. Everything will be fully customizable.
Apart from this, even if you choose the same settings all the time, all your training sessions will differ. The thing is that the number of exercises is extremely vast. For this reason, the app has up to 60 000 configurations of yoga exercises on Vinyasa, Hatha, Gentle, Restorative, Yin, Ashtanga, and other practices. So every training session will be unique no matter how long you use this app.
One more peculiarity that you will like is that the app contains many exercises aimed at boosting one particular practice area or all twenty areas at once.
Now let's talk about exercises themselves. You will see a tutorial image n the screen. Besides, you will be able to listen to the voice instructions of the virtual trainer. By the way, selecting among 6 voices will be available for you.
In addition, the app has a nice collection of soundtracks that will be played in accordance with your breathing. This feature will simplify your training session a lot.
Also, there are three more extremely useful features that we can't help mentioning. First of all, the app works great even without an Internet connection. Thus, you can practice yoga when you are on the seashore, for example. Second, the app can be used on several devices at once (auto-sync feature). And finally, it is so popular among people from all over the world. That's why the app supports 6 languages.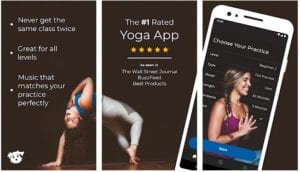 2. Daily Yoga – Yoga Fitness Plans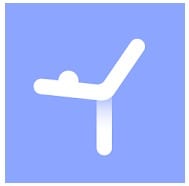 Daily Yoga is one of the few yoga apps that have Editors' choice award. What awesome features it must have.
Right after opening the app for the first time, you will have a chance to choose your aim among suggested ones. It can be losing weight, skill improvement, muscle tone, and so on. Depending on your choice and your level, you will be suggested a personal plan for yoga exercises.
The app includes enough exercises to choose from. Totally, you will have access to more than 500 poses divided into 50 yoga classes. By the way, every user can choose exercise session duration by him-/herself (from 5 min up to 1 hour).
What is more, the app will provide you with over 200 video lessons. To make the content differ, the developers add new materials every month.
One more advantage is that with this great app, you will get access to meditation music that can be played while you practicing yoga. They will become that special key to absolute relaxation.
Like the previous app, this one supports several languages. One more distinguishing feature is the app's friendly community where you can find soulmates.
Finally, with this app, you will have access to online yoga classes given by world-known professionals.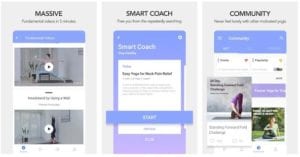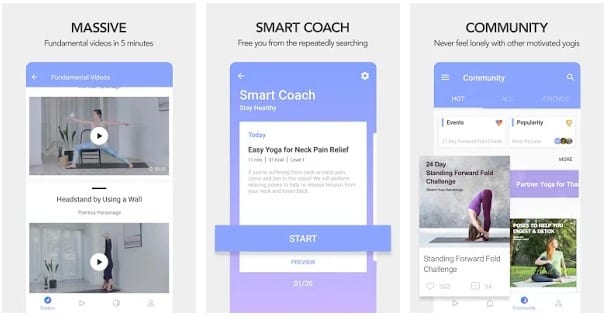 3. Gaia: Stream mindfulness, yoga & astrology videos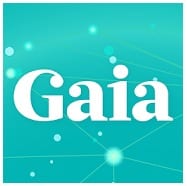 If you want to reach a sense of inner calm, this app is exactly what you've been looking for. Just install Gaia to make yourself sure how brilliant this resource is.
The app's concept is streaming videos. As we are interested in yoga, let's talk about this practice first of all.
Well, due to this app, you will have exclusive videos with yoga classes at your fingertips. You will be able to choose the content in accordance with your skills. Apart from this, the material is regularly updated.
Besides, the app has a great collection of meditation, mythology, and astrology videos. Also, here you will find documentaries on correlated themes.
What makes the app user-friendly is its capability of playing videos even offline. Moreover, every video has Likes and Dislikes. This feature will allow you to make your choice better.
Additionally, the app is quite intuitive. Thus, it will suggest videos that you might be interested in.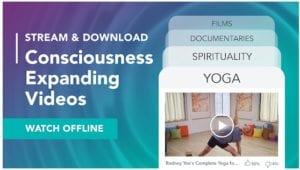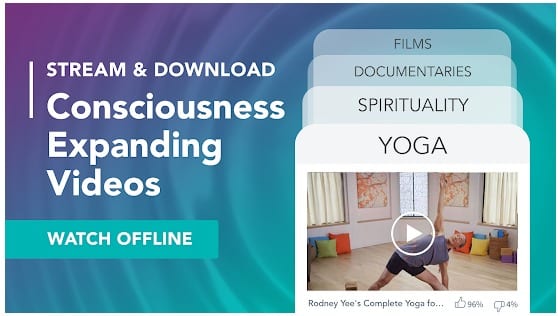 Meditation music will be the best addition to your yoga classes. We highly recommend our post about the best white noise apps if you still haven't any app of this category.
4. Yoga – Poses & Classes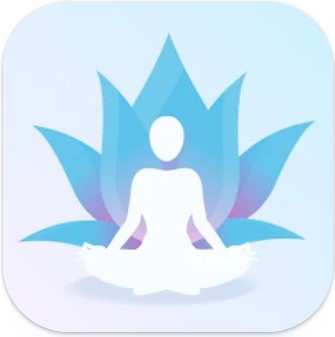 Yoga – Poses & Classes is the next app on our list.
The app will provide you access to yoga session plans. By completing them, you will have a great opportunity to practice up to 100 poses. 
No matter what your aim is, these session plans are considered to be universal. However, they are divided depending on the user's skills. 
While doing yoga exercises, you will be guided by a virtual assistant. It will be he who will show you a video on how to perform it correctly. Plus, voice instructions will be available as well. 
One more feature that you might like is meditation courses. It will take only 15 minutes a day to make you relax and manage your stress. Every meditation session will be completed with voice instructions and relaxing music.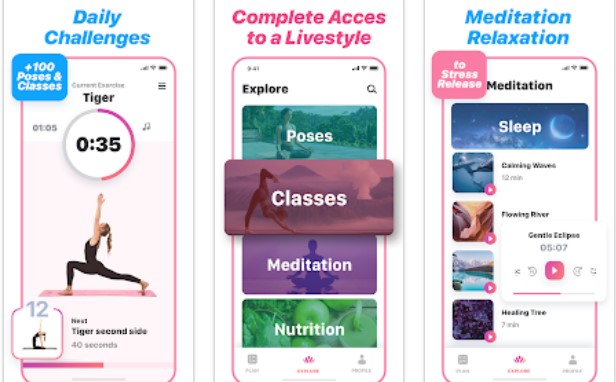 5. Yoga for Beginners | Workouts for the mind & body!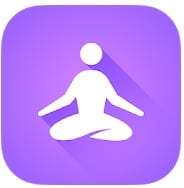 For those who have not the least notion about yoga, we also have one unique app. Yoga for Beginners will become your lifeline.
The app's virtual trainer will give you detailed voice comments on how to succeed in this matter. Also, with video instructions, you will understand the technique of performing this or that yoga exercise.
Moreover, the app includes some more additional sections like Yoga exercises for back. Even exercises of these training sections will be as simple as possible, as easy to understand as possible.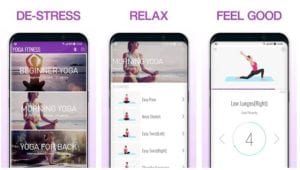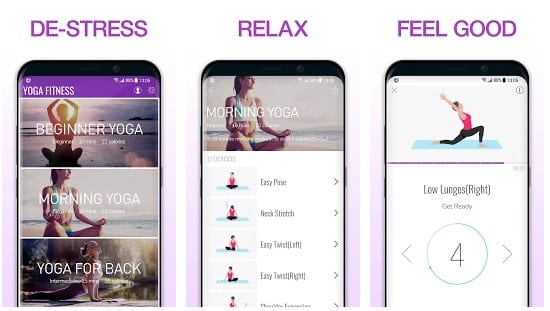 6. 5 Minute Yoga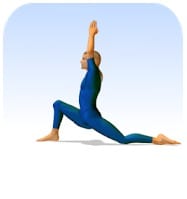 Are you pressed for time? Do you work on a very tight schedule? If you give affirmative answers to these questions, we want you to pay special attention to this very app. We are sure that you won't regret to spare just 5 minutes on your physical and psychological health.
The 5 Minute Yoga app has a good collection of yoga asanas that are used in 5-minute workouts. You won't feel any difficulty when exercising. Video guidance and asana description will answer all your questions. With this fantastic app, you will waste minimum time with maximum benefit.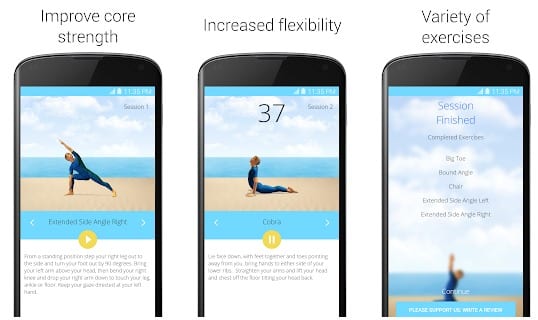 7. Yoga – Track Yoga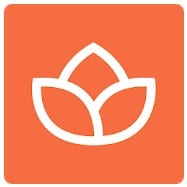 This amazing app has been developed not so long ago. But with absolute confidence, it has become an object of admiration of millions of people.
The Track Yoga app has a wide range of asanas that grouped into programs like Flexibility Series, Full Body Fitness, and so on. You can choose any of them depending on your aims.
As an alternative, you will be able to select from freestyles. There is a great choice of them: Post-Run Yoga, Bedtime Yoga, Energy Booster, Sun Salutation, After Work Yoga, etc. These groups have been generated in collaboration with specialists. That's why asanas perfectly suit to this or that group.
When it comes to motivating, the app is also flawless. Thus, you will be able to set weekly goals to achieve. For not to forget about workouts, the app will send notifications, which is so convenient. What about awards? Well, when you succeed, you will get badges – the app's prizes. Also, after completing each class, you can earn Kriya points that are capable of unlocking some premium content. Good motivation, isn't it?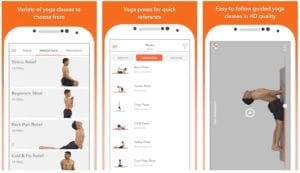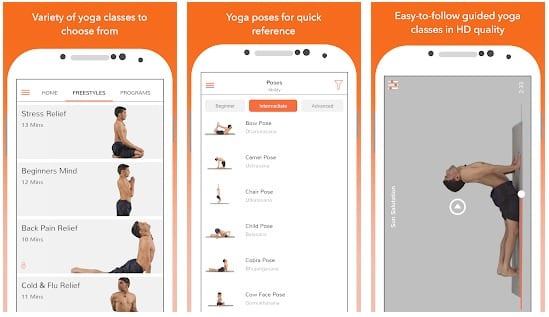 8. Pocket Yoga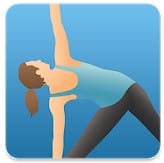 Pocket Yoga is the next app we want to talk to you about. Let's review its features.
The app will provide you with 27 different sessions of varying duration and difficulty. They include more than 200 asanas to explore.
In this case, there are two ways to exercise asanas.
The first one is choosing one of the training sessions suggested by the app. By the way, a Quick session preview will be available for the app's users. While practicing yoga, you will be given voice as well as visual instructions on how to perform the asana correctly.
As an alternative, you will be able to use such an option as a Dictionary of poses. It will contain the descriptions and benefits of each asana. It will be also a great way to discover the world of yoga.
Moreover, the app is capable of tracking your progress in yoga. It will keep you motivated from start to finish.
As for additional features, you will have access to your music library to turn on relaxing sounds directly from the app.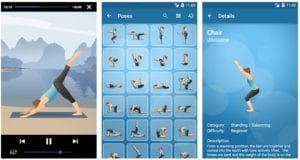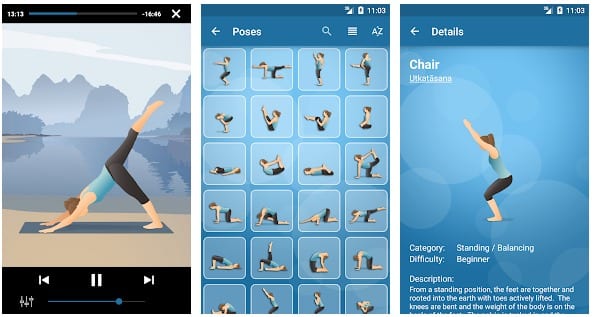 9. Asana Rebel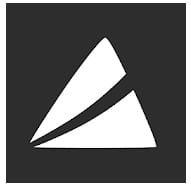 Need something more than keeping your body fit? Do you want to eat healthier food? Can't find relaxing music that can make you asleep? If that right for you, here is an all-in-one app to be reviewed.
Let's start with yoga. Asana Rebel offers training sessions based on asanas. With the app's guidance, you will do your best in this matter.
Apart from this, here you will find many other types of workouts. Everything will be available for you at any time.
Besides, the app's developers have added some cooking recipes. What makes this option convenient is that the recipes will be divided into sections like High-protein, Low-calorie, and so on.
Also, the app will provide you with a great playlist. It will be so appropriate for relaxing.
One more thing that we admire is articles on meditation and productivity. Maybe they will become your key to inner peace and success?
Need something for entertainment? Again, the app will help you. It contains some funny quizzes that will brighten up routine.
Finally, all these features can be added to your daily plan. By saying this, we mean that the app supports even creating a to-do list.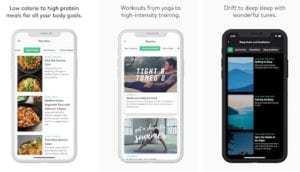 10. Yoga Studio: Mind & Body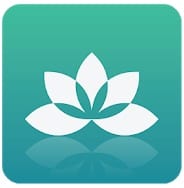 The last but not least app on our list is called Yoga Studio. It will be surprisingly suitable for those who want to create customized yoga classes.
Nevertheless, let's start with the app's basic features. Like many of previous apps, this one will present you hundreds of yoga classes with pre-loaded videos updated regularly. Totally, you will have a chance to try yourself in more than 280 poses. Voice guidance by a professional trainer will help you in performing even the most difficult asanas.
What makes the app stand-out is that its yoga classes differ from each other by several parameters: duration, purpose, skill required, or level of intensity. For your convenience, you will be able to use the app's search with filters.
Apart from this, you will be able to try yourself at any particular asana. Just open the app's library guide, choose any pose you wish, read detailed information with advice and instructions, and start practicing yoga.
Now let's go back to the app's distinguishing feature. Due to the Custom Class, the app will allow you to edit existing classes as well as create your owns. As a base, you will have access to the library mentioned above. Choose any asanas from there and create your unique class.
Also, the app includes 20 blocks of yoga exercises on a particular theme, like Sun Salutation. Usually, they are quite short. Thus, you will be able to add ready-made blocks to your personal classes as well as create your own blocks.
The app is capable of scheduling your workouts. It can be synchronized with your phone calendar with choosing a particular time of a workout. Moreover, you will be able to repeat your favorite yoga classes every month, fortnight, week or day.
As a bonus, the app has a library with soundtracks that will suit perfectly as background music. It will be a great tool to relax and forget about a daily routine. In case you don't like pre-loaded music, you can synchronize the app with any other music app.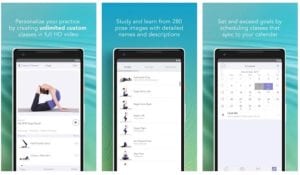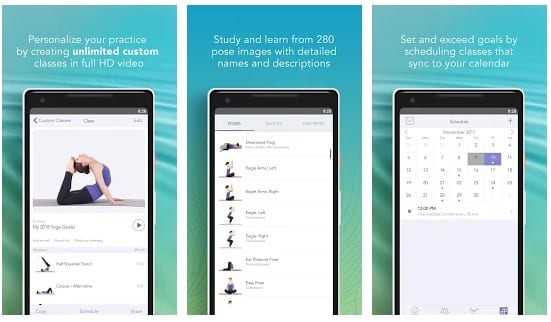 You may also like: 9 Best deep breathing apps for Android & iOS