If you are looking for auto-tuning software for your smartphone, we recommend that you read the selection below:
Voloco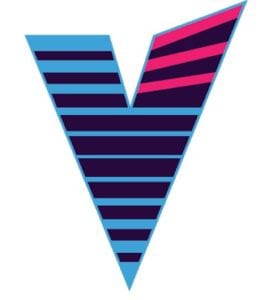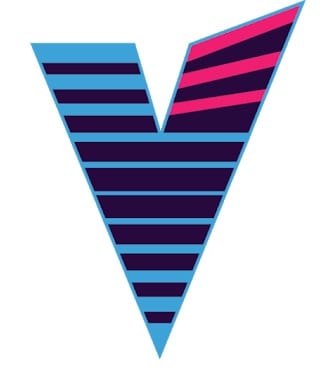 Voloco is a real-time application that 1) processes the user's voice, and 2) models it depending on user-defined settings.
In the Voloco: Auto Tune + Harmony application, you can both have fun and be serious, for example, as a singer! You can autotune your voice like some kind of mediocre rapper and in the same application record a video on which you will sing or say something.
How it works
From your own music collection, you select the song you want to sing;
In karaoke mode, perform a song;
Voloco app corrects the sound of your voice – adapts it to the original key of the song.
Thus, the processed voice of the user is saved in the compressed music file format mp4.
The Voloco application integrates with the phone's camera – this makes it possible for a user to shoot video clips that can be shared directly with the friends on social networks Instagram and Facebook from the application.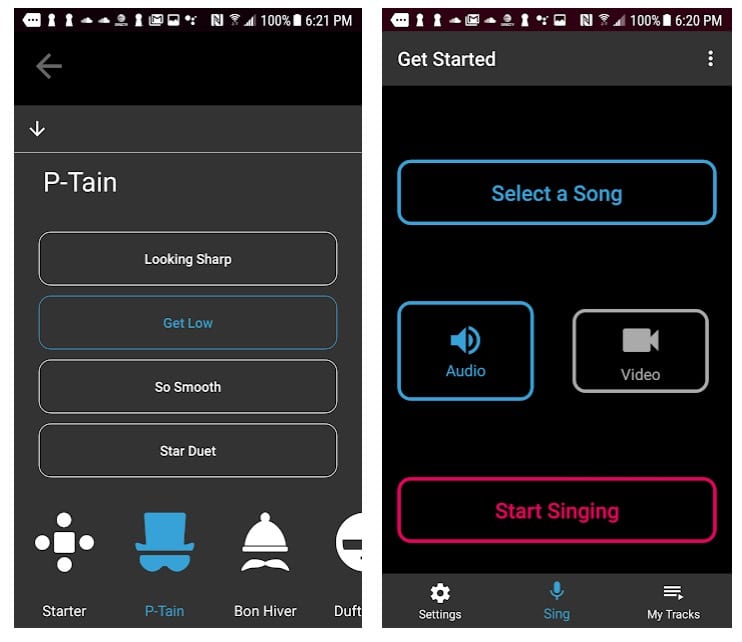 The Voloco app processes a user's voice using different sound effects:
Choral singing – this effect creates a choir of seven voices.
Hard Tune – Rock.
Natural – natural-sounding voice.
Super Vocoder – this tool allows the user to individually customize the sound of the voice. Settings are amenable to 6 voice parameters.
Voloco is a very useful app for all lovers of singing and karaoke. Voloco will help to change the sound of your voice in the direction you need. For example, you can change the tone of your voice, coding, and harmonization, which is very useful if you visit karaoke. Voloco also has built-in effects.
You may also like: 7 Best apps for soundboards (Android & iOS)
StarMaker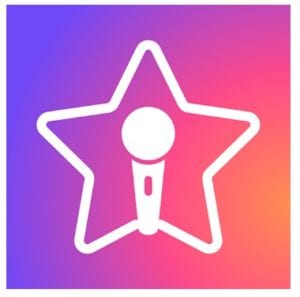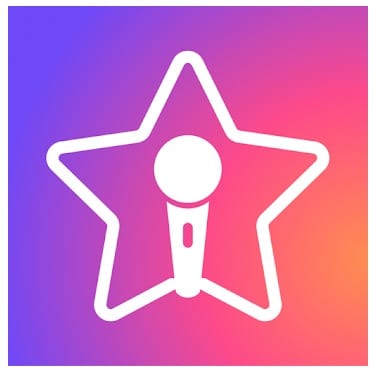 Feel like a star with the StarMaker app! Sing your favorite songs for your pleasure, record your voice in high quality and autotune it, apply all kinds of effects in the editor. Create an awesome track and share it with your friends.
Designed to foster user interaction, StarMaker provides you with an excellent opportunity to meet new friends using your favorite music. In addition, you can sing and enjoy karaoke with your friends, recording performance, editing the result, and publishing it to find new music lovers like you to collaborate on.
Look for your favorite songs in the database and sing them, and the intelligent system will remember your choice and will continue to make individual recommendations for you. In addition, clicking on any of the voice options allows StarMaker to improve your tone and use your abilities to the maximum.
Sing for your pleasure, record, edit, publish. Feel like a real star!
Sing Karaoke by Smule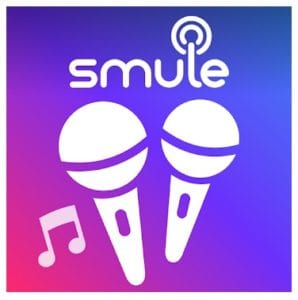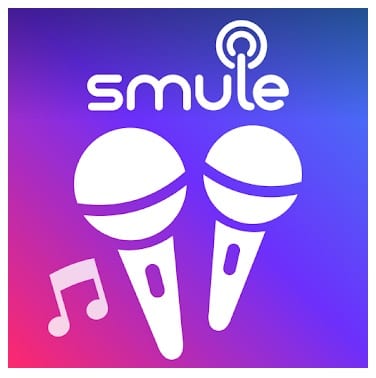 Sing Karaoke by Smule – the program is a full-fledged karaoke club on your phone. Sing alone or with friends at any convenient place.
Sing Karaoke by Smule is a whole musical social network that will allow you to fully reveal your creative potential. Choose the song you want to sing and give free rein to your voice.
The application will record your performance, and you can record video. Listen to the resulting recording, add sound effects, post-processing or voice enhancement. The finished result can be published in the application so that other users can listen to your composition. You can leave comments and like the post.
All tracks are processed and amplify your voice, a feeling of studio recording is created (the microphone of the device, of course, plays a huge role). Don't forget to use filters, not only on video but also on music to make the sound more unusual and attractive.
A large number of celebrities use the application, so you have a real chance to sing along with Linkin Park, Anastacia or Charlie Puth.
Could not find a song to your liking? No problem! You can always add your own.
Karaoke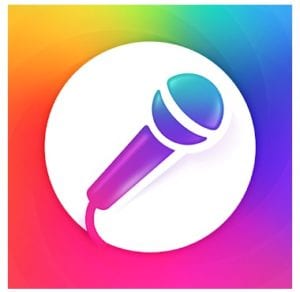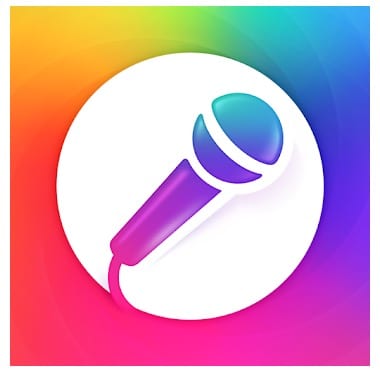 Karaoke – become a real star with the free karaoke app! Sing your favorite songs and find your first fans.
Do you like to sing karaoke? Then join the millions of users who have already tried the app. Browse the huge database of music videos of all genres on YouTube, find your favorite songs and re-record them in your own performance! After choosing a song, you can record an audio track with your voice and add various sound effects to it – echo, reverb and more. Didn't like your performance? Try again and again until you achieve the perfect result.
The sharing system will allow you to share your voice with friends on Facebook, as well as listen to their performance options. Every day, the application is replenished with new songs – developers comb through YouTube in search of modern hits. Download the app and start performing popular songs of modern stars.
Not sure you can sing in tune to the music and lyrics? No worries! This karaoke app will auto-enhance your voice with echo and a little reverb to help you sound just like a star on the radio. You may also choose to enhance your voice with special effects like Stage and Hall.
AutoRap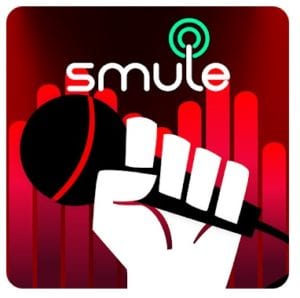 AutoRap by Smule is an unusual application that can convert your regular speech into rap. Become a real rapper in one click.
Now, in order to feel like a rap star, you just need to be able to talk. This application converts your voice into a rhythmic composition, as in a recording studio. You only need to select the beat rhythm and read the text. Want to read as cool as Eminem or Snoop Dogg? AutoRap makes it easy!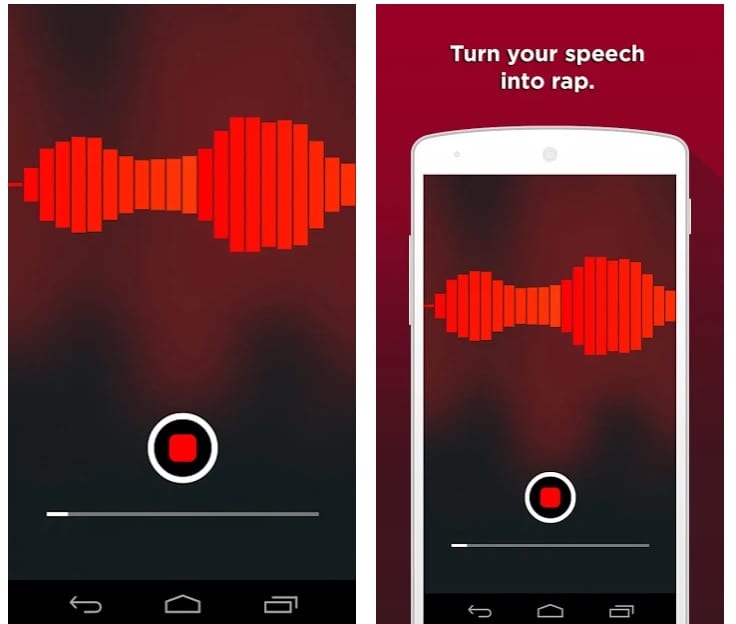 The application has several modes of operation.
In Talk mode, you read text into the microphone of your mobile device, and then the program processes the resulting recording and embeds it into the rhythm of your choice.
In Advanced Rap mode, you can create rhythms in your original style. Create a unique composition and the program will customize your text, thereby creating an absolutely authorial work.
In Remix mode, you can try on the beats and rhythms of different artists. It will help you decide on the style or just have fun.
You can share tracks in social networks. Or send an email to someone whose opinion you want to know.
In truth, this project can be called a pioneer in its genre. Despite its very small size, the auto rap program is a quality recording studio with an expanded arsenal of functions.
Offtop Rap Studio & Song Maker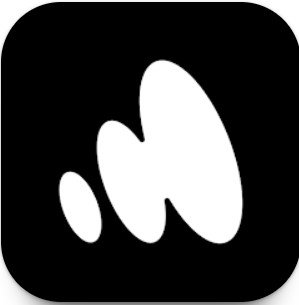 Offtop Rap Studio & Song Maker is a useful tool to auto-pitch correct your voice. With it, you can easily create a perfectly tuned sound.
The application is perfect whether you record a pop, or rap or just change your singing voice. You can apply various effects such as chorus, delay, distortion, reverb, flanger, filters, etc. Also, here you can tune your voice to a different beat so that everything is in harmony.
Although the app is designed for rap, you can also create other music here. It features a modern and, most importantly, user-friendly interface. You can use your own samples, or choose from a list of suggested samples.
Also, there are a lot of free sounds that you can use in your compositions.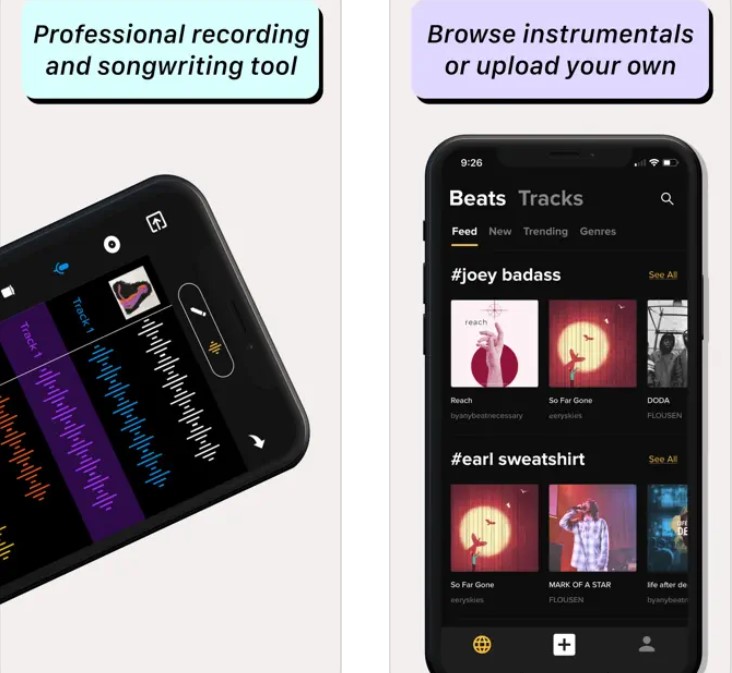 Tune Me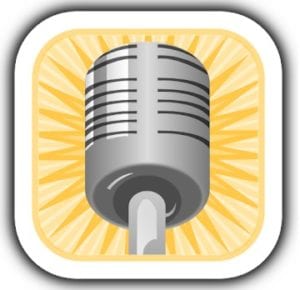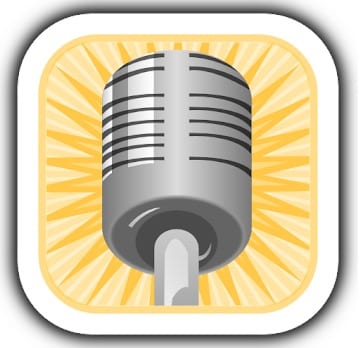 Tune Me is a sound recording application that can do much more than just record audio. You can use a lot of tools for tuning, achieving the desired sound of the voice.
In addition to recording sound with Tune Me, you can add various beats to your recordings. Most of them are provided by well-known authors, and you will have to pay for them, but there are also many free bits. You just need to select the desired beat, set the volume level and start recording.
After completing the recording, you can begin to "fix" the audio. The process is very simple: select the intensity (from 1 to 100) and tonality. After confirming the selected parameters, your recording will be ready in a few seconds.
Tune Me is a powerful audio recording application. Best of all, it has an elegant and simple interface that can be customized by choosing a different color scheme.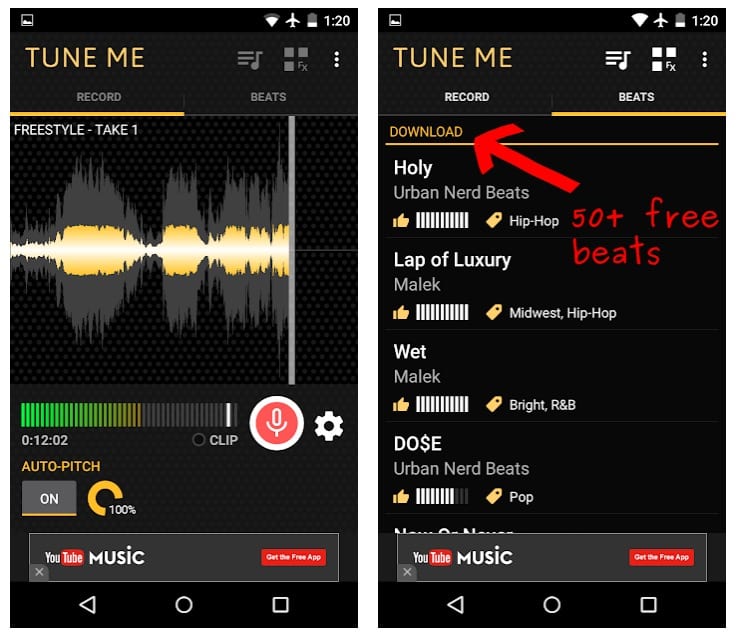 Rap Fame by Battle Me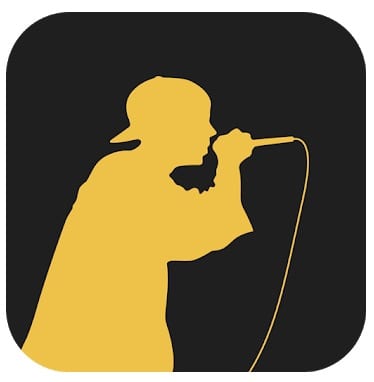 Listen to hip hop, create your tracks and fight for the title of best rapper!
Battle Me is the recording studio and largest hip-hop community on your mobile. Over 1.5 million rappers around the world use Battle Me to record rap and be heard.
Open the application, select a beat and start rap. Publish your tracks in the feed – thousands will hear your rap.
Main functions:
An extensive collection of 300+ beats from top beatmakers with regular updates.
Advanced recording studio. Professional recording, mixing and mastering right on your mobile.
Sound effects. To improve the quality of the recording, take advantage of the effects in the studio: equalizer, auto-tuning, synchronization and reverb.
Rap Profile. Show everyone your musical achievements.
Share tracks or battles with friends on YouTube, Instagram, and other social networks.
Autotune. Auto voice tuning will help make the recording more professional. Your voice will sound like the famous rappers. Become a rap star! Use professional effects in rap studio (available to Premium subscribers).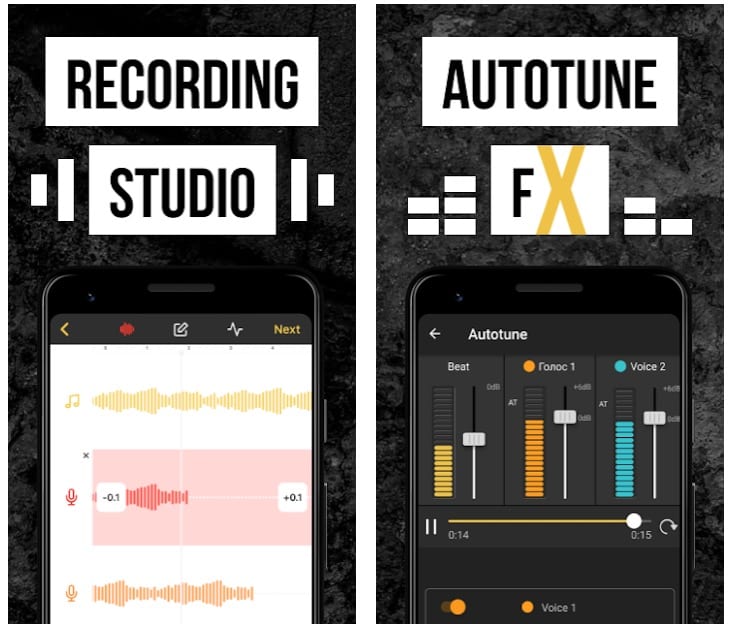 Over 2.5 million songs are recorded by users of the Battle Me app. Join the biggest rap site!
You may also like: Anytune app review
EZ Voice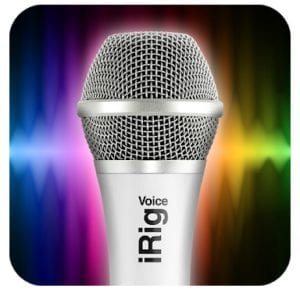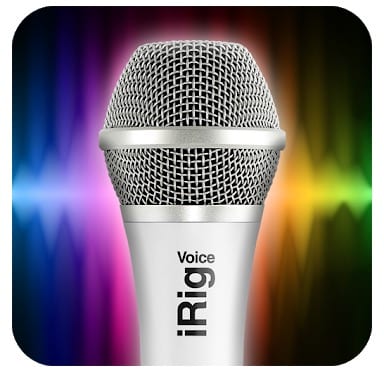 The program for those who like to sing. With its help, you can remove vocals from any song, and record your own and improve it using different filters. And the recorded song can be shared with friends so that they appreciate your talent.
Using the program is very simple, just one click is needed to remove vocals from a song. In the same way, to start recording your voice, you need to press only one button. Having recorded your vocals, you can edit it a little and apply effects in order to improve the quality of the resulting song. The program offers a choice of different effects (Morph, Reverb, Delay, Chorus, EQ, Filter, and Level) that can be used individually or in combination.
EZ Voice lets you manage your recorded songs. You can compare, evaluate and edit previously recorded songs in order to achieve the best result. When the new masterpiece is ready, you can upload it immediately to SoundCloud, or send it by mail to friends.
To work with this program, the microphone built into the smartphone and the most ordinary headphones is enough. Nevertheless, the program provides good sound quality.
Download EZ Voice and record your own songs to your favorite music!