Cattle breeding is a significant branch of agriculture. It is difficult to overestimate the importance of this industry since it provides such valuable and necessary products for people as meat, milk, wool, hides, leather, and much more. Since this is a sphere that is so large, it is not very convenient to keep track of the animals in mind, so various applications come to the rescue.
The cattle industry is also associated with high waste emissions, so you may find the article Best Apps to Prevent Food Waste to be helpful.
1. Ranchr – Cattle Record Keeping
This is a cool app for keeping records and monitoring your herd. Special sections allow you to monitor the growth rate and weight gain of the animals, record medication supplies, and document the treatment process. In addition, this app is cool to help keep track of all cattle.
After all, the most important information for the farmer can be entered here, such as the date of birth, name, number, and sex of the animal. In addition, there is a very handy filter to help you find the right animal. Moreover, you will be able to add a photo to make the list of animals seem even more visual.
Also, this app will help you keep track of the health of sick animals. It will also remind you when cattle have their medications. Moreover, the app has a web version that syncs with your mobile app. That way, you will always have access to your records.
Also, this app is handy for keeping track of a pregnancy. All in all, it has everything the modern farmer needs. This app will be a kind of assistant in record keeping.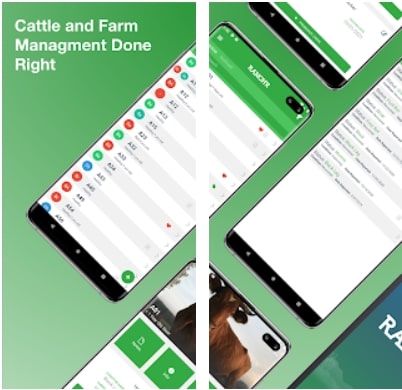 You may also like: 9 Best My Track Cost Calculator Apps (Android & iOS)
2. My Cattle Manager
It is a simple and intuitive application. It has everything the farm owner and veterinarian need. Moreover, it allows you to collect data, assess their dynamics, quickly identify sick animals and warn about the medication intake. Overall, it is designed to manage your dairy or farm.
After all, you can keep track of the number of young and old cattle, and record the events of specific animals. Also, the application provides the collection of important data on the operation of the enterprise. You can quickly generate reports, and even send them to your email. All reports are presented in a handy PDF.
It also does an excellent job of calculating farm performance by global standards. In addition, it is perfect to track changes in the growth of cattle. On top of that, you can calculate your milk profit. My Cattle Manager is also your assistant who reminds you to enter the milk data.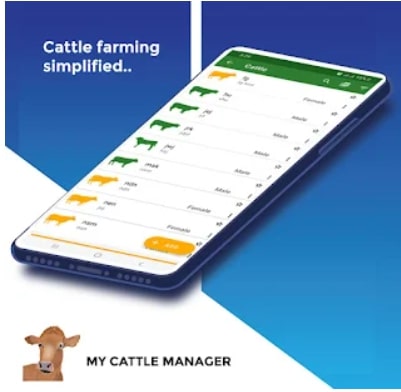 3. Cattle Manager Go
This is another useful application that will help you keep your farm organized. It also works without having access to the Internet. However, when you have access, the app synchronizes with the desktop version. Moreover, this application will help to sort the cattle according to different parameters such as weight, age, name, number, and so on.
The same app also helps keep track of various changes. You can also record data about the parents or births of an animal here. In addition, it is suitable for monitoring the intake of medications.
Besides, the application is free. The developers suggest trying this app along with their other apps that make the farmer's life easier. This way you can connect data from different applications.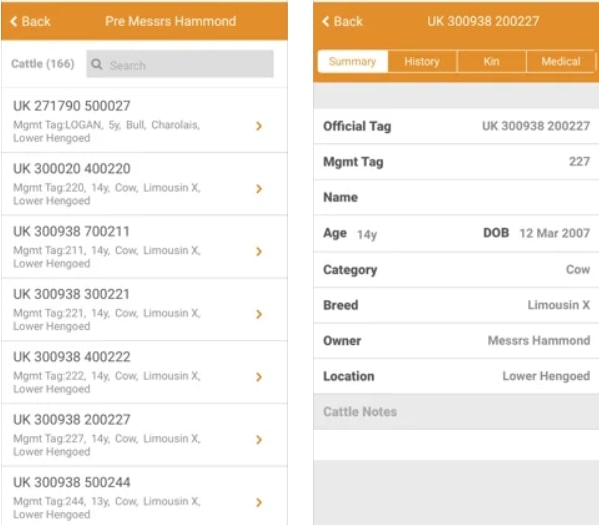 4. iLivestock
iLivestock is a tool designed to control and record livestock. You can create a convenient passport for each animal, including information about the name, number, date of birth, when vaccinations were given, mark diseases, add photos, characterize heredity, and much more. You can also handle groups of animals.
This way, you can keep complete information about the farm on your own smartphone. iLivestock is automatic electronic documentation. The program can create documents necessary for movement or export, such as medical and breeding books, and so on.
It works with commercial businesses and with rare breeds. It also supports integration with the Allflex EID scanner, which allows you to use the full capabilities.
If you already have data about animals in a spreadsheet, you can import them directly into iLivestock, or create animal records manually. If there is an Allflex EID stick reader connected via Bluetooth to the device, you can import session reading data directly, creating animal records is easier.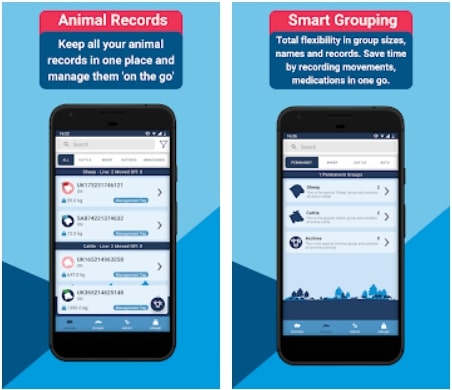 5. FarmWizard
This app allows farmers to record data on breeding, herd health, livestock movements, and field records. In addition, data can be saved to your phone with a voice recorder if you do not have time to write it down by hand. All information here is stored in the cloud, allowing users to view records anywhere and synchronize data if they have Internet access.
Also, the developers have added the ability to scan the animals to make it less work on the farm. Additionally, the app supports various devices that you can connect via Bluetooth, such as scales.

You may also like: 11 Best Credit Building Apps (Android & iOS)
6. COW-Notes
The Cow-Notes app is designed for healthy cow diagnostics and management to evaluate the main risk factors of metabolic disorders in cows. The application takes into account such risk factors as mastitis, lameness, energy deficit, and reproductive and productive disorders.
It takes less than 15 minutes to assess 20 percent of a herd, as the developers of the app point out, allowing for a representative sample. Moreover, COW-Notes is based on common evaluation scales and works by comparing photos available in the app with what the user observes of the animal.
It requires clicking on the photo that most closely resembles what they are observing to get a score for the criterion being studied. Also, this evaluation takes into account the physiological period of dairy cows. There are several special scales for fatness or cleanliness evaluation.
As a result, a summary report is generated with data collection for each criterion, with tables and charts. It is also possible to save everything in Excel so that you can personalize the evaluation of the collected data.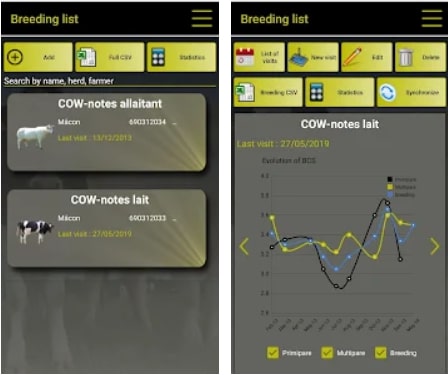 7. InTouch Forage Budgeting
This super easy-to-use app is capable of replacing expensive equipment on your farm. It can determine if the farmer has an appropriate stock of feed or if additional fodder is needed. Your phone will display the entire herd with the full history of each individual. It can synchronize the information with your desktop computer. The app can even be used without the internet.
Moreover, it sorts and filters lists, displays animal life cycles, and provides information on feeding, sales, and herd counts. In addition, the app will suggest the optimal amount of feed and water for transporting animals over long distances.
The InTouch Forage Budgeting application is designed to simplify feed management by calculating the total amount of feed available in both fresh weight and dry matter from bound and mixed stocks. The user enters the dry matter and total bale weight along with the feed required for stacking.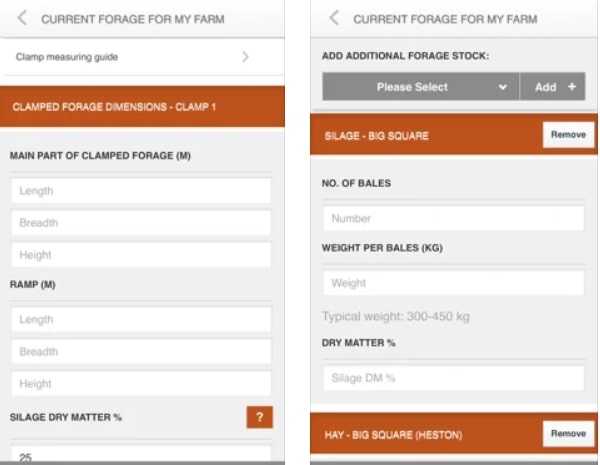 8. Breeding Wheel
This app supports breeding herd management by allowing users to enter livestock data and calculate birth dates, herd events, and trends for the livestock. The app also allows newborns to be recorded, breeding cycle information to be managed, animal movement information to be stored, and individual health records to be kept.
There are many features useful for breeding livestock, such as counting birth dates, feeding times for certain animals, etc. Moreover, it gives you not only the breeding date, but also the date of return, calving, and weaning for the calf. Furthermore, the number of days in different periods can be adjusted to fit each herd better.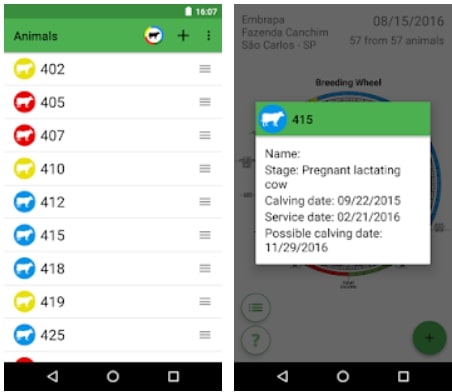 You may also like: 9 Best Label Maker Apps for Android & iOS
9. Foot Looker – claw trimming
Foot Looker is an application to help the modern farmer document hoof trimming and keep track of the current situation. This compact app lets you record every hoof-trimming action. The big advantage of this application is that you are always informed about the shape of the hooves of all your cows.
Foot Looker has a reminder function that colors the cows according to their treatment status. The part of the hoof to be treated will be colored red until it has retreated. The app's database stores all entered information about the hoof care work.
In addition, the application remembers the type of treatments and remarks, and in this form provides an interface for future documentation. You can select the most common hoof diseases from a drop-down menu, which is also customizable. This makes entering information much easier and allows you to personalize the application for each user.
In addition, there is an export function available that allows the necessary reports to be sent by e-mail. The farmers can generate various reports, such as an overview of hoof treatment, sorted by date or by treatment status of the cows.