Most football-lovers have bets on the matches. However, to win it, one should be kind of a professional, capable of considering numerous statistic parameters. Also, experience in this matter is an integral part of success. And even if you meet all these requirements, there won't be any guarantees.
The most elementary and reliable approach is to install a football prediction app. Such a tool will definitely provide you with accurate betting tips to gain dramatic success.
The Apppearl team has chosen the most reputable apps that help their users day by day. You will have a chance to join the lucky ones right after installing one of the tools below.
1. BetMines Free Football Betting Tips & Predictions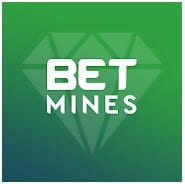 BetMines is an app that we are going to start with. Here are several reasons why it is a leader among other tools.
First of all, the app is extremely popular among users from all over the world. Millions of people trust these predictions.
Talking about forecasts, after installing the app, you will have access to completely free predictions on bettings. With the help of an AI algorithm, the chances to win a bet will be so high. The thing is that the system will consider the previous matches of this or that team, its current line-up, head-2-head matches, home and away performances, the fluctuation of odds, and many other parameters that are also checked by bookmakers. As a result, the app will predict the most probable outcome of a game.
Apart from these recommendations, you will also have access to in-app bets of the day. Thus, there will be Doubling and Risk of the Day, elaborated by the app's team of football betting specialists.
Besides, from the very beginning, you will be given 1000 virtual diamonds. This in-app currency will let you have virtual bets to test your skills. In case you succeed, you will have a chance to rise at the top of the ranking list and become the tipster of the day, week, month, or year. However, keep in mind that it is just trial bets, so in this case, you won't be awarded.
One more thing that will help you to make the right choice is the comprehensive statistics provided by the app. To be more precise, a user can view the last 5 matches in general, the last 5 at home, and the last 5 away games. Besides, becoming familiar with the last 10 matches will be also possible. In this case, one can find out the analytics on goal performances, corners, etc.
The real advantage is that the app can stay focused on a particular league. As a result, you will have statistics on a score, standings, goal performances (including the time of the goals), average number of goals, and red/yellow cards per game. To benefit from this type of betting, please make use of a built-in tool called Betting machine. Considering all these parameters will increase your chances to win.
Talking about the additional feature, we want to mention that every user will be able to receive notifications on published predictions, winning bets, and so on. What is more, the app will allow you to track the matches outcomes of your favorite league (if you have it) and follow the live score of the games. So there is no need to use other apps or browse the websites.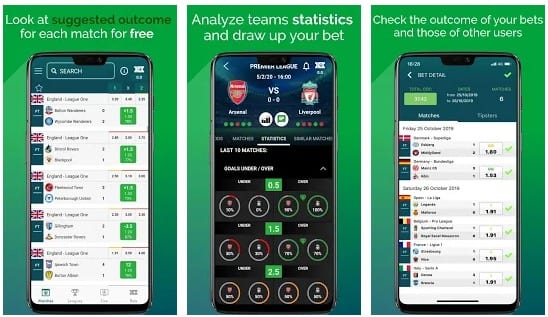 2. BetsWall Free Football Betting Tips & Predictions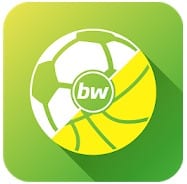 BetsWall is one more app that is capable of predicting matches outcomes to make you win the bet. The developers assure that with this tool, the probability to win is about 84%.
Several hours before the game the forecasts will be published, just turn the notifications on to stay aware of the current predictions. It will remain to study them to increase your chances greatly. Again, the app will take all the available data into account to make the prediction accurate.
Apart from this, if you are a novice in this business or want to check your own strategy, you will have an opportunity to bet without putting your money at risk. Thus, the app will provide you with 1000 bwCoins. In case of dramatic success, you will climb the rank list with the best tipsters of 2 weeks. Again, the prizes will be just virtual.
The thing that can also help you to bet is the capability to monitor other tipsters (or even your competitors) bets. What is more, you will be able to set notifications to receive relevant information about other users' predictions.
Besides, like the previous app, this one will provide you with access to football matches data, including statistics on scores, line-ups, yellow or red cards, and so on. By the way, it will be updated on a real-time basis. Just turn the notifications on or open the app to track it.
As for other distinguishing features, the app deals not only with football but also with basketball games forecasts. So whether it is NBA or UEFA Champions League, you will have access to betting tips for both kinds of sport.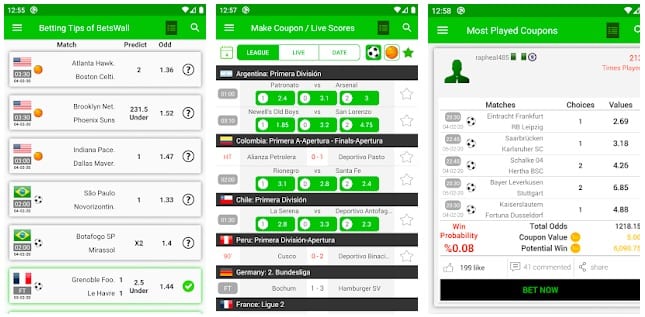 3. Bullet Bet Predictions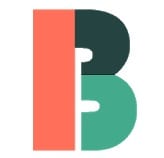 Bullet Bet Predictions is the next app, providing its users with a high probability of success. What is it famous for?
First of all, the app covers more than 200 football leagues, constantly monitoring results, both home and away performance, line-ups, and other factors that influence the outcome. After analyzing this data, the app's artificial intelligence predicts the most probable outcome of this or that match, letting the people win bets.
In addition, all app users like this tool for opportunities to monitor the live score. Apart from this, it also contains the latest news, interviews, highlights, and videos, available in various languages. We are sure that you will like this feature.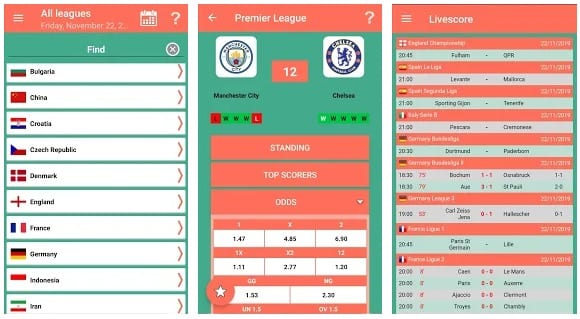 4. Football AI: Bet Picks & Soccer Predictions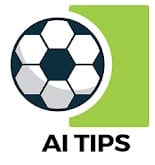 The next amazing tool with football bet predictions is Football AI. It has only the most necessary feature, which makes the app even more powerful.
In this case, the advanced algorithm will consider hundreds of parameters (goals, line-up, injuries, etc.) to identify the most probable outcome. What is more, sometimes the data reviewed goes back up to 5-7 years. As you can see, the app is so powerful in this matter.
Apart from the basic feature, the app has an addition. By it, we mean the Live score section with the data updated in real-time. So in this case, the app is with no-frills, including only the most necessary tools.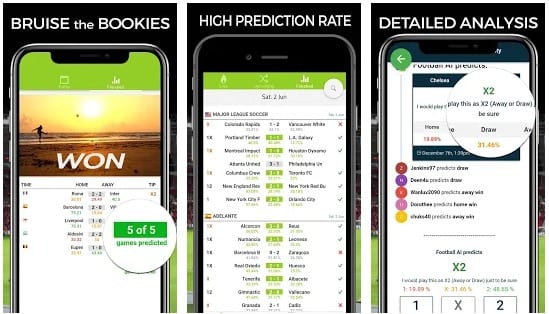 5. Winner Expert – Football Betting Tips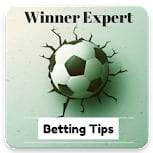 Winner Expert is one more reliable app to predict a bet. Why is it worth being installed?
Again, the forecasts will be generated on the basis of the detailed analysis. That's why the probability of win will be so high. What is more, the app will also provide you with high odds betting tips. Due to these recommendations, you will have a great chance to succeed. By the way, not every app from our list has this bonus.
If you have some hesitations, the bet history is what you need. In this section, you will find the predictions generated by the app. Please study it to make sure that the tool's forecasts are quite true.
To stay aware of the predictions for upcoming matches, you will need to turn the notifications on. Besides, receiving updates on matches will be also available.
In this case, the app will be suitable not only for football-lovers. The fact is that betting tips can be generated for basketball games as well. So if you are fond of these sports, this app is what you've been searching for.
Finally, the app offers its users a Premium version. However, they will be proper mostly for newcomers in betting.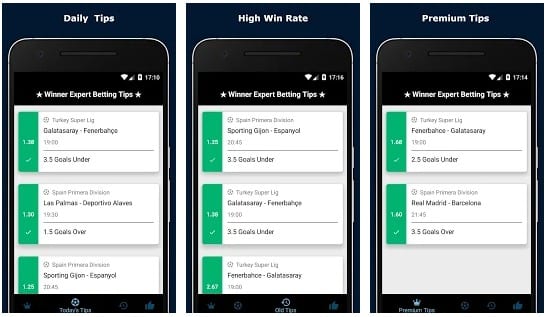 6. Deepscore – Betting Predictions and Tips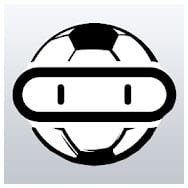 One more simple but powerful app is called Deepscore. As for the predictions, the users assume they are surprisingly accurate.
The app represents an efficient tool with a built-in prediction algorithm. It is capable of forecasting 1×2, Exact Score, Over/Under, BTTS, and other types of predictions.
At the same time, the AI works in collaboration with the app's team of experts. Their key role is to create tips to make your bet succeed.
When it comes to considering some minor disadvantages, we can add that according to the comments, the user interface needs further elaboration. However, we do hope that it won't disturb you.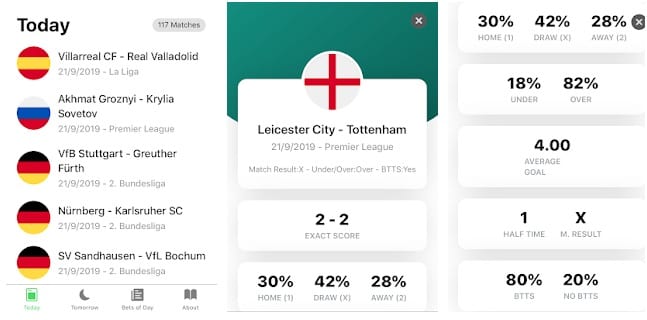 As you are obsessed with football, it will be a nice idea to install one of the best apps to watch NFL games on Android & iOS.
7. Over Load Betting Tips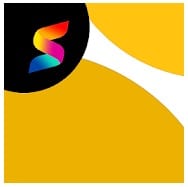 Now let's review the apps available on Google Play or App Store only. Some may find them even more suitable. This section starts with Over Load Betting Tips for Android gadgets.
To begin with, the app's team do their best to make the predictions as accurate as possible. As a result, despite the app is new, it has already had hundreds of admirers. To start to rely on the app, just view its previous betting predictions.
As usual, the app includes a notification system that will inform you of updates on bettings (from 12 to 24 hours before the start).
What is more, the app will be especially helpful for tennis fans as well. Just like football-related predictions, tennis betting tips will be surprisingly accurate.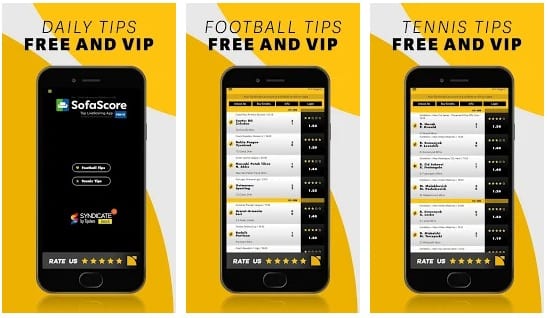 8. Football Betting Tips – PROBET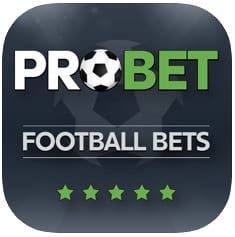 PROBET will be appropriate for every iOS device user. If you belong to this category, we highly recommend you to install this very tool.
The app includes information on every match held by leagues worldwide. Whatever the match, the app will provide you with betting tips as well as match odds. They will be published 1 hour before the start, which is essential.
As you can see, the number of matches tracked is so great. The thing that makes the navigation so convenient is the powerful filter. With it, you will be able to find the betting tips that meet your requirements.
Apart from this, the app contains goals and match highlights. It is a great reward for those who are fond of football.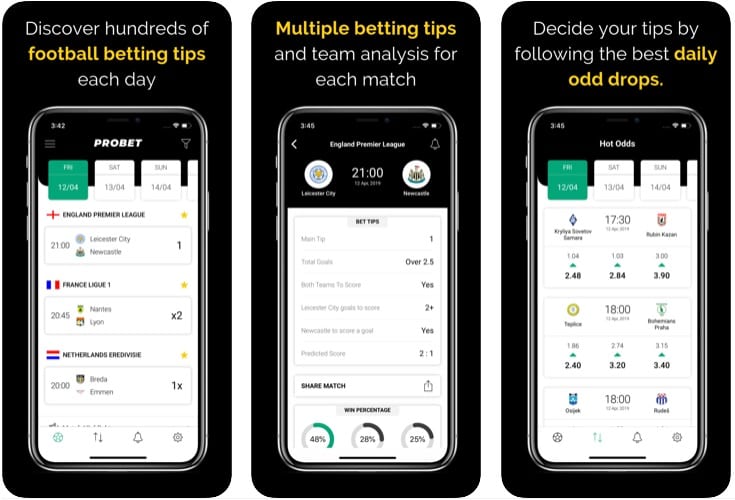 9. Soccer Predictions, statistics, bets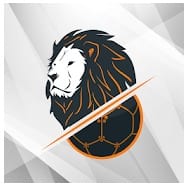 Going back to the apps from Google Play, we can't help mentioning Soccer Predictions, statistics, bets. As usual, the betting tips will bee so accurate, which is proved by users.
Like any other app of this category, this tool analyzes dozens of factors to help you win the bet. It covers such predictions as FT Final result 1X2, HT Result at half-time 1X2, BTS / OTS (both teams score a goal or one team scores a goal), Under / Over goals, and so on. What is more, the choice of leagues monitored by the app will be so wide.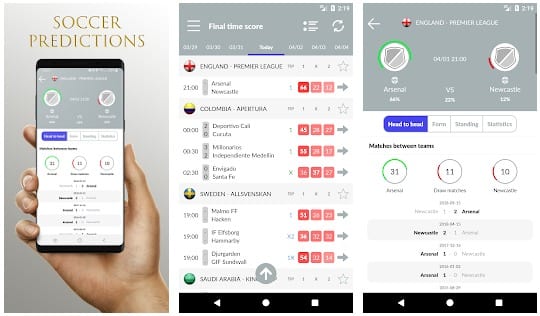 10. Onside Sports:The Betting Edge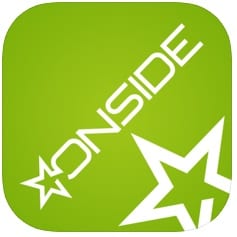 When it comes to considering one more app from the App Store, here is one more tool that we want to tell you about. It is called Onside Sports:The Betting Edge.
It must be mentioned that this app includes betting tips for many kinds of sport. So if you are searching for such a tool, this one worth being tried. It will let you bet on various games and matches of numerous international leagues (NFL, MLB, NBA, NCAAB, NCAAF, NHL, etc).
The data analyzed will be so comprehensive. That's why the app will become your reliable assistant in betting.
In addition, the app will inform you via notifications about changes in line-ups, injuries, goals or scores, and so on. There is no doubt that this feature is priceless for every sport-lover.
Plus, the app's community is amazing. You will have a chance to compete with users across the globe. Besides, who knows, maybe you will find confederates among them.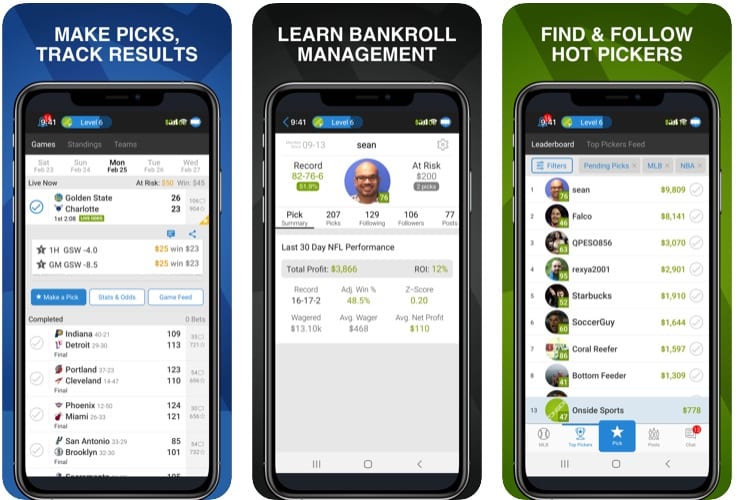 11. Betting Tips Football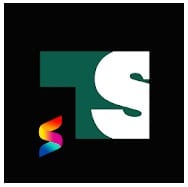 The last but not least app is Betting Tips Football. You can't imagine how many admirers it has.
The reason for it is the well-coordinated work of the app's team. They are real professionals who consider every little detail of a football match. It is done to provide you with the most accurate betting tips on 1×2, double chance, over/under, HT-FT, sure games, big odds games.
To win the bet, you will have 4 sections at your fingertips: Daily Tips, Super Bonus Tips, Free VIP, Premium VIP Gold Chest. By following the link below, you can study their descriptions in detail.
The app also comes with the Star Rating System & Win Rate Percentage. It is in-app indicators, showing the level of the team's confidence in this or that betting tip. That sounds brilliant.
One more way to check the accuracy of predictions is to view the history of betting tips. However, there is no doubt that the team members are specialists.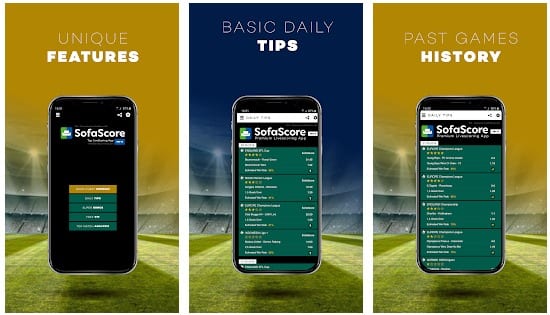 You may also like: 17 Best sports betting apps for Android & iOS 2020