Remember, how we were watching spy movies admiring all these technologies these guys were applying? Were you wishing you had a similar one to yourself? Well, being completely honest, it is not always fun when you dee need some kind of recording devices, because it means someone's treating your unfair.
So you need to catch them and have the steal proof of their words and promises. Or, maybe, you have an important lecture and you would like to hear it once again during the exam preparation but the professor is not happy with you recording him.
But didn't you think that your phone can become an excellent recording device? It has a function of recorder already. Next time, when you will need secretly record an important conversation just pick up one of the following apps in this list and they will get all the job done instead of you. Take your chance to feel like a real spy and make people be responsible for their words – these apps will assist you in that.
1. Smart Recorder
It is hard to count how many voice recordings are used in the court each year to prove someone's fault or innocence. People are turning to the voice recorders all the time – and the popularity of this app confirms it one more time. This is a basic voice recording app that is easy to use and which makes the recordings of high quality.
It has many useful features. One of them is that the app can automatically skip the silent parts during the recording, thus saving the memory space on your phone and also not making the conversation that long as it is in real life. It allows you, for example, to catch night sleep talks or maybe some snoring, whatever comes first.
There is actually a funny story behind how this app was invented. The wife wanted to prove to the developer that he talks during his sleep. Well, the app then proved that he does. In the sense of making the hidden recordings, it is also perfect – you just need to start a record and then just roll down the app so nothing is visible on your screen. You can even block your phone and leave it in your pocket.
Smart Recorder doesn't produce any sounds during the record so you can be sure you will not be revealed. Then you can quickly upload your recordings to the sound cloud. The app also has the wave/PCM encoding with an adjustable sample rate (8-44 kHz). The interface is super simple. All you need to do is simply open the app and you see the record button.
Just one more aspect that we need to mention. Note, that the app does not always record the phone calls. Some manufacturers simply block this function in the gadget itself (for privacy rights' reasons). So in case, you need specifically to record a phone call – go for another app.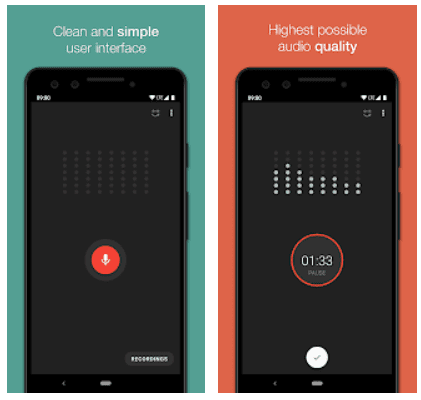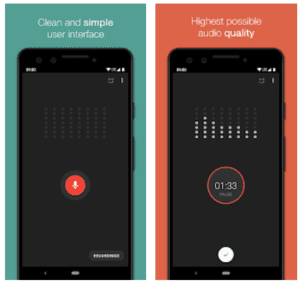 You may also like: 7 Best apps for soundboards (Android & iOS)
2. Smart Recorder and transcriber
There are numerous life situations when we need to secretly record a conversation. The main problem is, that because we have to hide a phone during a recording it may be hard to recognize the conversation on it later and make transcriptions. But this app will save you from that – this is both voice recorder and transcriber.
This software basically includes a bunch of useful features. That's why it was downloaded more than 1000000 times already. It has been actively marketed and updated for seven years. Use it to record meetings, interviews, lectures, classes, todo lists, shopping lists or even your kids' voices.
You just launch the app and then start recording. In the list below the button, you can see the recording you did previously. A cool feature of this app is that it has an automatic intuitive tips system so you won't miss and the app tells you what to do so it is really convenient.
You can always push the app to the playback and it will start making recording latently so the person you are talking to won't notice anything. After you made a recording, you can proceed to it and mark the part that you would like to transcribe into the written form. Then the app will transcribe it into the text. It works with the English language only.
In fact, the app includes far more options than those, it is highly customizable in terms of record settings and even allows you to tag your recording by geolocation. With call recording – the situation is the same, it is not clear if it's going to work.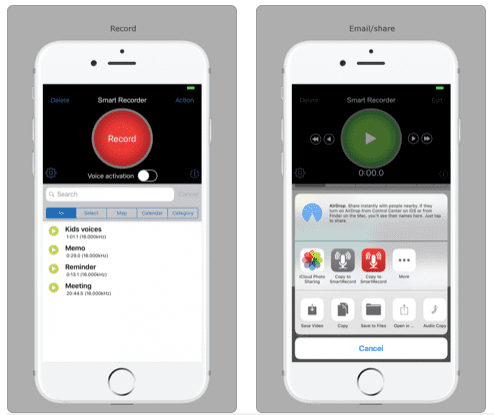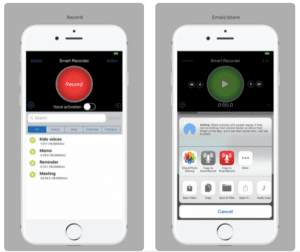 3. Sec-Voice Recorder
Another app for Android to make a secret recording of the voice. Here the main problem is to start recording on time if the important conversation started not in the time that you expected it would start. Then it is useful to just keep the icon of the app on your main screen and access the recorder quickly when you need it.
Here you can start recording immediately since the screen of the app has one single button. The app will provide a high-quality recording. You can lock the screen of your phone and the app will still continue recording. In general, the app is quite multi-tasking. You can even make records while doing something (and it can also be a great camouflage for a hidden record).
Such standard options as save. delete, rename and replay are included. In total, Sec-Voice Recorder is a simple app, but when you need to make a secret recording you basically, don't need more. Plus, it doesn't occupy much of memory space.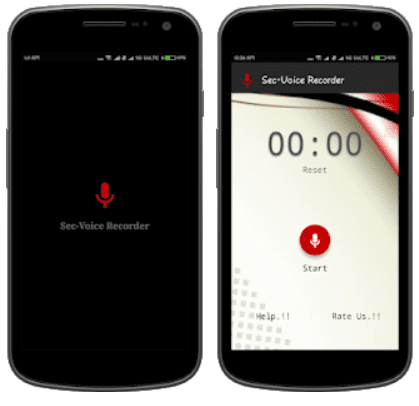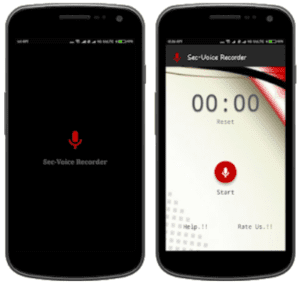 4. Awesome Voice Recorder
Unlike the previous one, this app is much more functional and complicated. It depends on what you are looking for. If you are looking for more possibilities to manipulate the recording process and better quality, then this Awesome Voice recorder is for you.
The app has been number one in more than 35 countries. When you open the app, as usual, you can see the recording button. When the app makes a recording, you can see the diagram of it in order to detect how the process is going. But the record can be hidden as well – just block the screen or roll down the app.
The recordings can be made in MP3, WAV, M4A audio format. Moreover, you can choose the frequency at which you are going to record: 11,025KHz, 22,050KHz, 44,100KHz,48,000KHz. Switch between mono and stereo recording. After having done the record itself you can make several alterations on it.
You can make it sound faster or slower, cut it, share it via messengers on in the iCloud, or simply mark it with a special sign. What is more, the app includes a function of noise reduction thus it is even more convenient to use for hidden recordings since the sound is crisper.



5. Automatic Call Recorder
Now let's talk about recording the calls. It may be an important part of hidden recordings as well. With this app, you can switch its function so it records all your calls automatically. You can easily record phone calls from both sides with a clear voice.
Both incoming and outcoming calls can be recorded in high quality. The problem is that many voice recording apps don't include that function as it is considering spying. Well, if you install this app as an addition you will be fully equipped.
The app supports AMR, 3GP, MPEG4 format to record. You can record your phone calls both manually and set an automatic mode. Another additional feature here that may be useful is that Automatic Call Recorder can identify the unknown and hidden numbers.
What is more, nowadays we have such a big problem with spammers, telemarketers and phone fraudulence which get to know our number from nowhere and then they call us all the time. So, in this case, the app identifies such numbers as well and it gives you an immediate warning.
Important information for  Xiaomi and Huawei devices owners: you need to add the app into the White List on your device, otherwise it will be blocked by the system and your calls are not going to work.

6. Automatic call recorder
Now let's see what iOS has to offer us in terms of recording the phone calls. Speaking roughly, it is an analog of the previous app, but for iOS. Well, maybe the interface is different. It can record your phone calls in the automatic mode as well. Well, maybe here you will find a little bit more possibilities to manipulate the records.
Here you can organize your recorded calls into categories. For example, if you work as a receptionist at a hotel and receive lots of calls every minute it may be hard to write everything down. So why not just record a call, create a separate category for it and then listen to it later?
Editing of recorded audios is also possible. You can cut a file or accelerate its speed. Then, if you want, you can quickly upload recordings to Slack, Google Drive, Dropbox, Onedrive. And, the most curious feature is the fact that the app can transcript the audio into the text – in more than 50 languages! It is extremely useful, not depending on if you are recording calls secretly or not.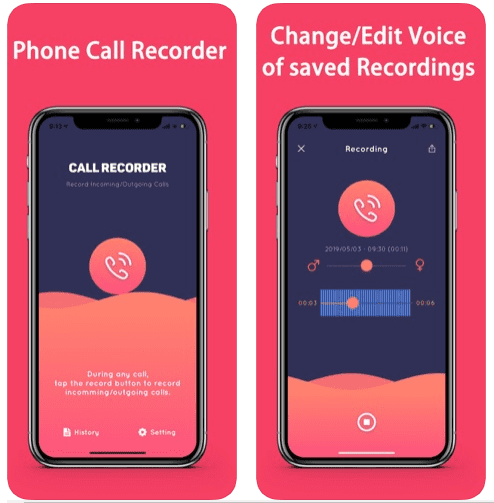 7. Voice Recorder & Audio Editor
This app is probably is a cherry on our list. It combines almost all the functions of the apps we mentioned before. So if you planning a really serious business with your hidden records this might be your universal tool. This Voice Recorder allows you to record unlimited time of conversations, voice and all the stuff you want.
In order to start recording quickly, you can simply place the recording button form the app to your home screen. What is more, this app includes an option of transcribing records into the text as well. But there are two aspects you should keep in mind: this option is not free, so you will have to upgrade your profile and it works only in English.
Also, if you upgrade your profile, you can add notes to the various recordings you made previously. The app allows to record voice in different formats, there are also some possibilities for editing, for example, you can trip or slow down the record.
And finally, we got an app that can record phone calls and make regular records at the same time! The third "caller" is our recording line that will save your phone call. By the way, it is not possible to record phone calls using the built-in microphone on your iPhone.
The interface of the app is also worth mentioning. It differs significantly from the rest of the apps in the best way. If all the voice recorders are simple apps that tend to have a black or white background and nothing else, this one is decorated with small pictures and it is stylized to the old-fashioned recorder which looks really good for ann like this.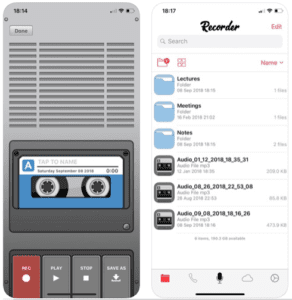 8. Easy Voice Recorder
Originally this app was not made for the secret recordings but you can turn it into software like this since there are all the ways to do that. First of all, it can record in the excellent quality and even form the longer distances. The audio files then can be saved in Mp3 or AMR format which is readable on every device.
Then, there is a function to always start a quick recording by just placing widgets and shortcuts to your home screen, and record in the background. Here you can even record using the Bluetooth microphone, but it is more for those who want just record the voice.
Another convenient feature – you can organize your recordings into folders and mark them. Control the recorder from anywhere using the notifications bar, or through our Tasker and Locale plugins – and this is truly useful for hidden recordings as well. It gives you the possibility to record a conversation from the distance when others are not aware you are recording them.
Among other interesting features that this app has you will find the recording in stereo, importing files, skipping silence, volume boost, customization of bitrates and many more. The only disadvantage here is that it is incapable of phone recording as many voice recording apps. But you can still try – call recording works at some gadgets but very few.

9. Voice Recorder
And the last app on our list is maybe not the best app in terms of functions but for sure a one easy to use. Maybe that's why it gained such huge popularity among more than 60 million users. Anyway, here you can make quick and high-quality recordings at any moment you need to.
The interface of the app also looks stylish and easy to understand – again, in comparison with most of the recording apps. Your records can be made in mp3, m4a, AIFC, wav formats. You can always push the app to the background so no one will notice you are actually recording.
What is more, here you got the possibility to choose the frequency at which you would like to make a recording and even make a recording schedule. It is very useful for hidden recordings since it allows your device to automatically stop a recording without you interacting with the app.
Or, it also allows you to take a pause during the recording according to the schedule and then start recording again. The app supports Siti shortcuts, so you can control it with your voice as well. In terms of managing recordings, this maybe not the best app ever, but renaming and sharing are quite enough for it.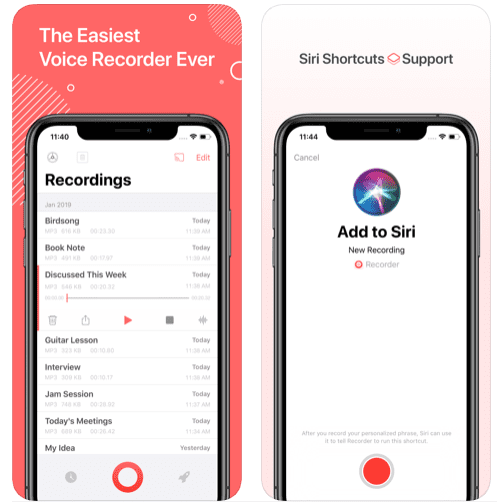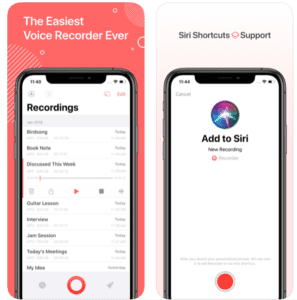 You may also like: 9 Best auto tune apps for Android & iOS