Any driver knows that under current conditions it is not easy to find the right address if you live in a very large city. You always need a handy device to do this. Also, some information on traffic fines at your fingertips will not be out of place. In short, mobile applications for drivers are more relevant than ever. Mobile apps can make travel much easier and even save time and money.
We will talk about the best of them in this selection. This selection will help you to find the right applications for your car dock. And for those who want to keep your car in good condition, we recommend referring to the article Best Car Maintenance Apps.
1. iCarMode: Drive Safely
Thanks to this app, you can launch a navigator, a map, or make a call without taking your eyes off the road. There are special icons on the screen for this purpose. iCarMode: Drive Safely will make the use of your phone more accessible. After all, all icons will be displayed in a larger size than they actually are.
This way you can use various applications, as they will be more comfortable to click on. So you can listen to different tracks, find your destination on the map, and make important calls. This way you can make your trip safer and more comfortable. In addition, the app is also useful for travel at night, because iCarMode: Drive Safely is equipped with a Dark Mode.
By the way, you can also set it so that it appears automatically. The application has a nice interface that not only shows you the most important applications on your trip but also on the main screen you can see the weather outside. Besides, there is a handy parking function. It will help you find the place where you left your car.
It is also convenient that you can use the application by placing the phone horizontally or vertically. So you will be able to see a detailed map of the route or find the desired podcast.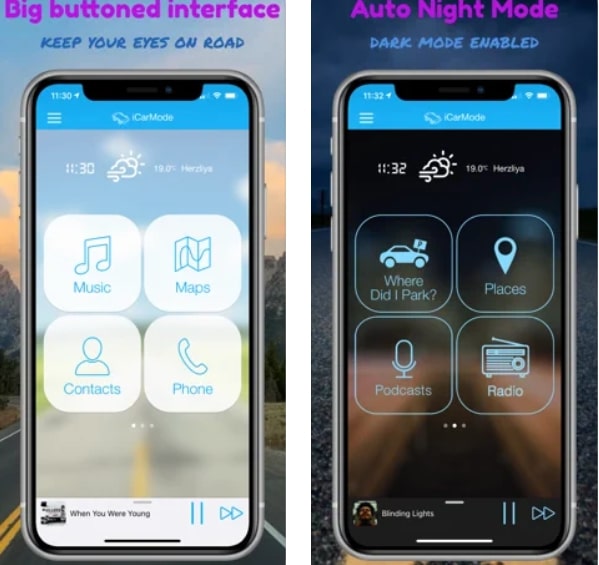 You may also like: 8 Best Car Customize Apps for Android & iOS
2. Custom Car Dock with swipe
Custom Car Dock With Swipe is a tool for your car dock that will help you to arrange the various applications as you like. With this Custom Car Dock With Swipe, you will be able to increase the size of the icons and place them anywhere on the screen. You will find a simple and convenient editor in the application menu.
There you will be able to customize the appearance of the main screen of the car dock. For example, you can enable GPS, Bluetooth buttons, show compass and speed, and other basic settings. Once you have put everything in a comfortable position, you can use the other functions.
For example, the app allows you to search for music using your voice, and quickly go to settings. In addition, the app can start automatically when you are in the car. This app is suitable for those who are not comfortable with the basic settings of the car dock. It can make your trip safer and more convenient.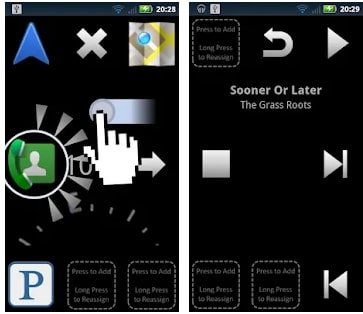 3. Car Home Ultra
Meanwhile, the Car Home Ultra app is for more professional drivers and those who drive all the time. It is more focused on comfortable driving and planning your trips. So, first of all, you need to put your phone in the car dock and launch the app. Otherwise, you can use the app's Bluetooth auto-start feature.
Next, you can use more than 30 different handy buttons located on the screen. You will be able to arrange them in a convenient place for you. It will allow you to use almost all the functions of your smartphone, such as making calls, using voice search, opening the map, listening to music, selecting tracks, and so on.
To locate the desired applications is very simple. All you have to do is to click on the blank buttons and select an application from the list. When you start using an application you will notice that you can easily navigate between applications using the Home Screen button.
Also on the main screen, you will see the basic indicators, such as phone battery charge, time, weather, and atmospheric pressure. In addition, you can customize the Car Home Ultra by choosing the color and theme of the app that you are comfortable with. You can also adjust the brightness and use Day and Night modes.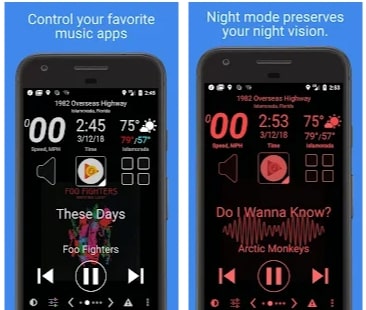 4. Car Widget
Imagine that you are driving and you need to make an urgent call or just turn on a podcast so that you feel not bored. In order to do that, you have to make a lot of action. However, if you use the Car Widget app, it will be quite easy for you. After all, here you can easily click on the desired icon and take action.
Hence, all icons are enlarged and moved to the main screen. You will also be able to configure which applications you want to see while driving. So just go to the settings and click on the desired application icon. The interesting thing is that you can add something specific, for example, display a certain contact on the main screen.
In addition, you can customize the background by selecting the color, theme, and scale of the icons. Just like other applications similar to this one, the Car Widget can start automatically when you are in the car with the help of Bluetooth or the charging cable.
It is convenient that the application works in both horizontal and vertical positions. In addition, you can use the quick search using voice commands.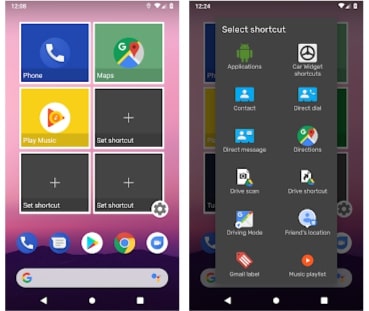 5. Drive Mode Dashboard 2
There are very few apps for the Car Dock for Android owners. Drive Mode Dashboard is one of them. As soon as you launch this application, all apps with the most basic functions like messages, navigation, and music will appear on the screen automatically.
Meanwhile, the interface itself becomes as simple as possible in order not to distract the driver from driving. You can use this app to get information about things like parking your car, using the map to get to a place, calling a friend, or listening to music. In addition, you will even be able to send texts without typing them.
After all, the developers have built-in smart voice input, which will not distract you from driving. Moreover, this app supports not only your iPhone but also your iPad. Also, you can take advantage of Dark Mode to make your eyes less tired at night.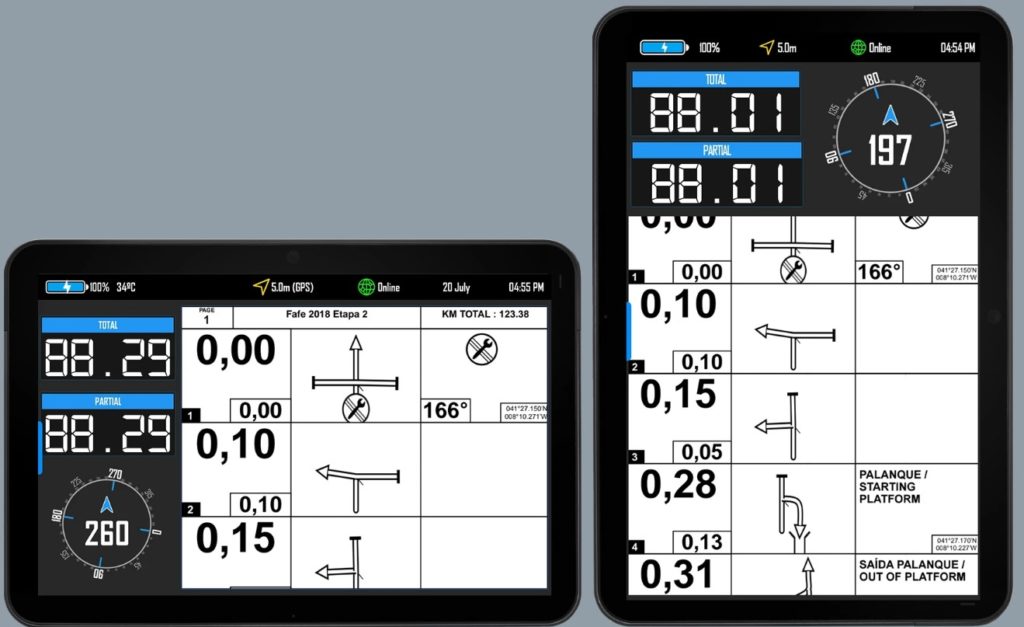 You may also like: 9 Best Apps to Play Music from SD Card (Android & iOS)
6. HUD Widgets
The HUD is an abbreviation for Heads-Up Display. They originally began to appear in fighter aircraft, helping the pilot to see the important flight and target information directly on the cockpit glass. To keep the driver's attention focused on the road, by displaying trip data directly on the windshield, with no view restriction.
This allows you not to be distracted by extraneous factors and maximize your focus on the ride. The most necessary functions are the display of the current speed, the allowed maximum limit on a given section of road, and navigation.
The initial route setting goes in normal mode, and after pressing the start button you can choose how to display the information as standard or mirrored by tapping on the HUD Mode. Additionally, you can rotate the image vertically or horizontally by tapping on the icon.
Moreover, the image rotates completely in a circle, so you can set it in such a way that the charging slot of the smartphone was on the right side. In order to use this application the company also recommends buying a special device, however, for example at night, it is not required at all.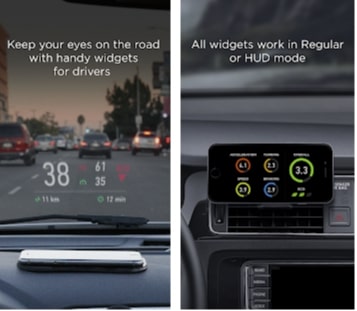 7. Car Launcher Pro
Car Launcher Pro is the most popular and comfortable application. The pleasant feature of the Launcher is the ability to add any number of applications to the quick launch menu. Thanks to this you can use the navigator without distracting from driving. All widgets are customizable by you.
It gives you the possibility to create your own Car Dock space, where you will see the most essential applications and functions while driving. Car Launcher Pro offers the ability to get acquainted with the weather and launch a voice assistant. The app also automatically adjusts the brightness and saves the settings.
In addition, you get a convenient interactive map that will guide you along the entire drive. In addition, it is interesting that the app gives you access to a variety of themes. You will be able to choose exactly what suits you. Moreover, with each update, there are more and more of them.
You will definitely be able to use this app for a long time because it gives you comfortable access to everything you need while driving. Plus, you will be always on the safe side.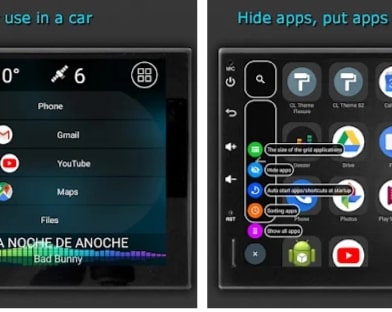 8. Hudway Go: Navigation with HUD
We have already talked about the smart HUD system above. And now we want to tell you about another similar app. Hudway Go: Navigation with HUD is an app that makes driving a lot easier. First of all, it is a cool concept for using online and offline maps.
Secondly, the app is like an additional reality with intuitive 3D roads on which various objects, such as road signs or traffic lights, appear. All you need to do to use this app is to place your device on the dashboard so that the display is reflected on the windshield.
In addition, the app can display not only the characteristics of your route, such as approximate time of arrival, speed, and distance, but also shows alternative routes and fuel consumption. Users suggest purchasing HUDWAY Glass for more correct operation.
This is a device which is a stand for your phone with a special mirror on which the main screen of the phone is displayed. If your car supports CarPlay, the application will run automatically.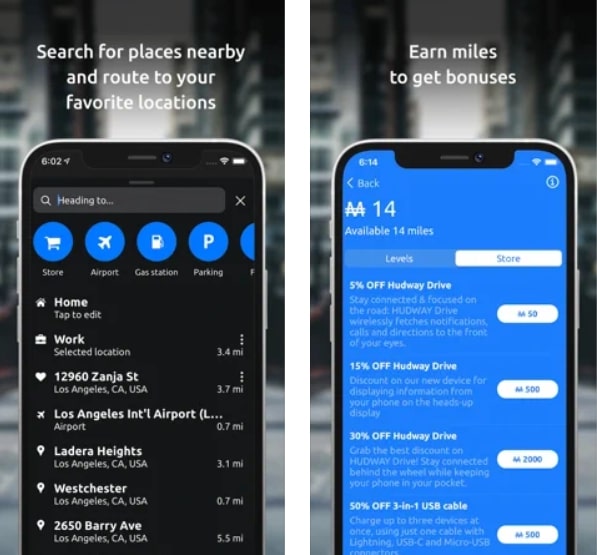 You may also like: 8 Best Used Car Buying Apps in 2021 (Android & iOS)
9. Android Auto
Google Android Auto is a car system through which your information and entertainment system in the car can turn into a kind of light version of your smartphone. It runs under the Android operating system.
In other words, by connecting your phone to the car you will have access to a simplified version of your smartphone, which is shown on the display of the car's central console.
For example, by connecting the Android phone to the car you not only get the opportunity to use the handsfree while driving, but also you will have access to navigation maps of your smartphone, music, phone calls, and other functions. The connection of your phone to Android Auto is performed, as usual, using Bluetooth.
Thanks to the integration of Android Auto and Google maps, you get complete Google navigation maps right on the screen of your car's system. This not only allows you to use a high-quality, constantly updated navigation map but also allows you to see all the traffic information in real-time.
Moreover, it allows you to build real-time traffic-aware navigation routes. Since Android Auto uses Google's data, it allows you to create different routes in advance on your tablet, or phone. Then you can use it as soon as you get in your car.