Are you a ChatGPT addict who can't get enough of its intelligent responses and witty banter? Then you're in for a treat!
ChatGPT has been taking the internet by storm for a while now and while there's no official app, there are plenty of ChatGPT-integrated apps for Android & iOS for you to play with. Whether you're in the mood for some lighthearted banter or serious intellectual discussions, these apps have you covered. These apps make amazing writing assistants, and some of them can even help you to write a song or generate art! Let's dive in!
1. Ask AI
That's a Chat GPT-powered tool that helps you solve multiple things within secs. It's really fast and simple to set up, so you don't need any coding skills at all! The app requires little or no customization, and it answers all your requests in a blink of an eye. You can use it to write a story, brainstorm, build a marking strategy, and more.
With its human-like chat, this app creates an engaging and natural learning and communication experience. Personalized recs are a standout tool as well. The app swiftly adapts to your prefs and requirements, offering tailored suggestions to every request. It can easily give you career advice, and update you on important news, trends, and all that.
But the app boasts more than just information – it's an imaginative springboard! Whether you're penning poems, prose or even scripting an opus, the app fuels creativity. And for the tech wizards fluent in programming languages and equations, it's like having your dreams served on a platter, with built-in linguistic support.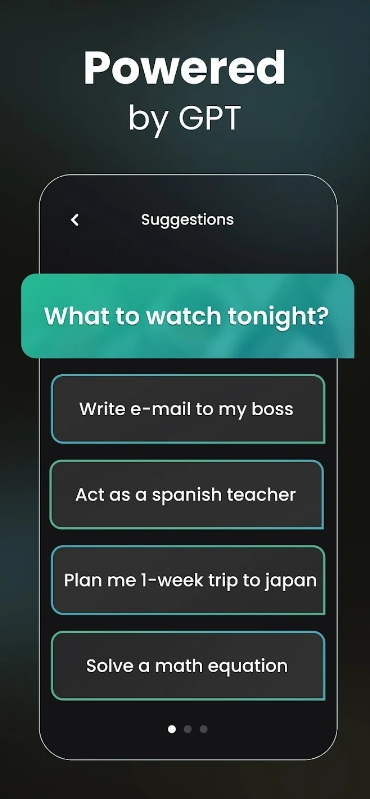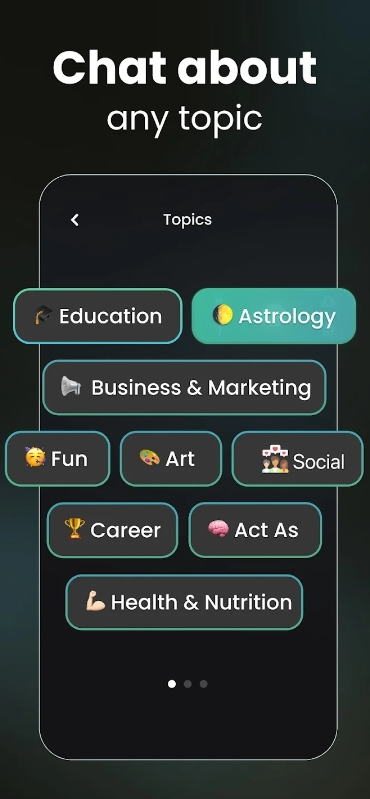 You may also like: 11 Best Apps to Help You With Homework
2. GoatChat
This app is here to help you stay on top of your daily tasks. It's powered by the latest version of ChatGPT, and it's incredibly simple to use. The app is all about versatility. Whether you need help writing a story or essay, advice on a personal problem, or just someone to chat with about your day, this one has got your back.

But that's not all. The app can even help you plan your next big adventure. With access to the latest news and trends, it can help you find the best destinations and activities to make your trip a success. Whether you're looking for a romantic getaway or a thrilling escapade. Plus, the interface is so user-friendly, you won't even need to leave the app to book flights or make reservations.
And if you're still skeptical, consider this: the app's AI tech is constantly learning and improving with each request and interaction. That means the more you use it, the better it will become at understanding your needs and preferences. Plus, the fun and friendly character design will make you feel like you're chatting with a friend rather than just a bot.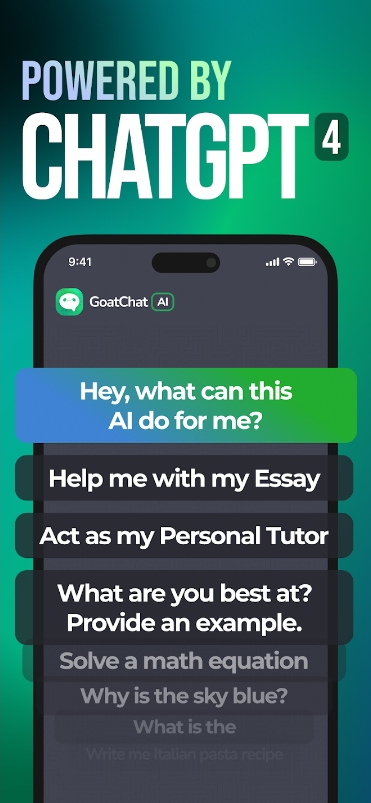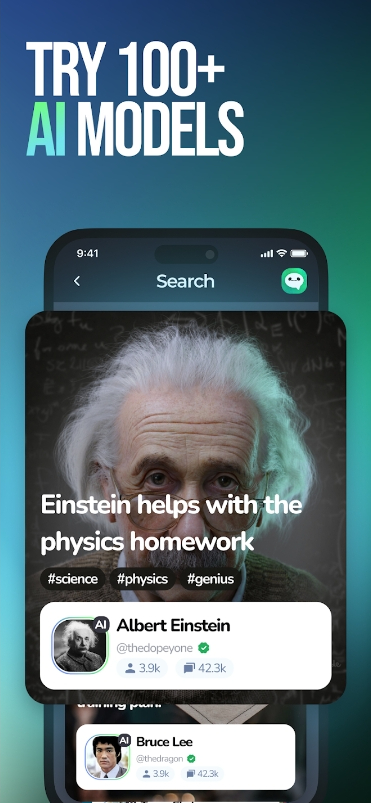 3. Genie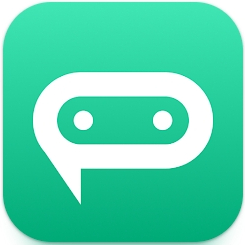 Digging AI bots? You're gonna love interacting with this one! This isn't just any AI app, it's a revolutionary system built on ChatGPT. It's equipped to assist with practically any task, from crafting essays and tweets to answering off-the-wall queries—no matter how obscure they may seem.
This app is a perfect companion for anyone looking to stay organized and on top of their important tasks. It helps if you're seeking advice, chatting about recent news or scheduling plans, or whatever else. Beyond standard features like news and messaging, the app boasts impressive semantic richness. It always has a clever and witty response to whatever you throw its way, making you feel heard and connected.
If you are looking for a way to boost productivity and cut down on tiresome tasks, then this app is a must-have for you! Streamline your workflow without the headaches that come from mind-numbing tasks. The best part? It's user-friendly! That means it's perfect for even those who aren't tech-savvy.

Having said that, it's essential to exercise caution while using this app. It can generate offensive content, which is something you would want to avoid. Moreover, please avoid entering personal details that could compromise your privacy.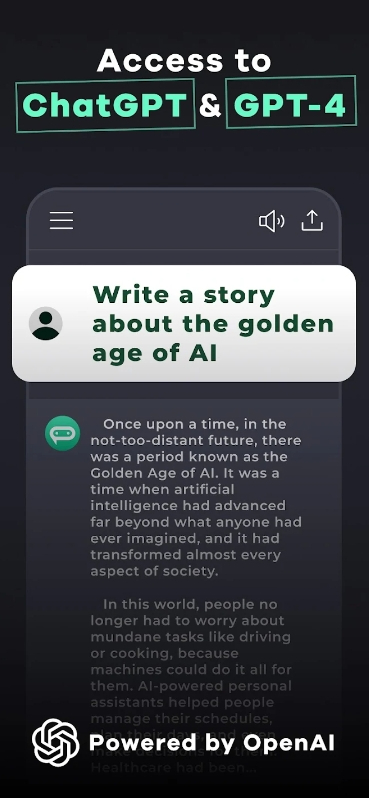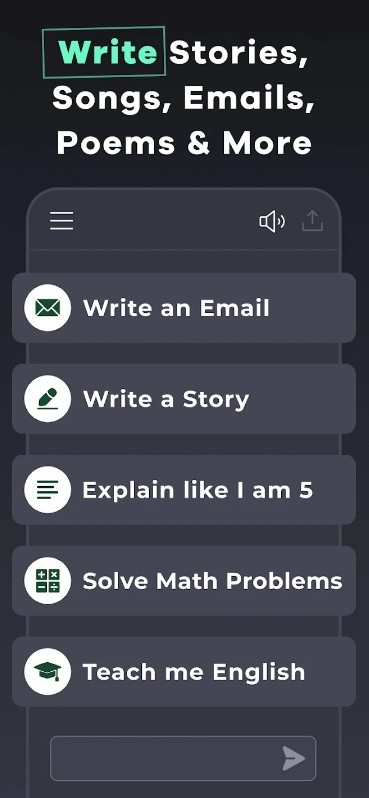 4. ChatSonic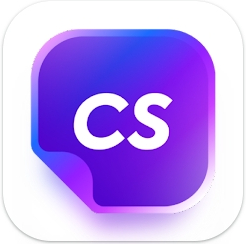 This app will change the way you communicate with technology. It's powered by ChatGPT, but it can actually do way more than it. It covers multiple personalities like an English tutor, fitness trainer, and more. All the avatars have unique personalities and provide accurate and insightful responses to any of your questions.
But that's just the tip of the iceberg, really. Want to stay up-to-date on current events? Just ask, and the app will give you the latest factual info. This app is also a creative genius in its own right. It can generate digital art within secs, and its voice command is also worth raving about. Like Siri, it understands voice commands and talks back responses. So, whether you're driving, cooking, or simply feeling too lazy to type out your queries, you can communicate with the app with ease.
And did we mention its contextual memory? The app remembers your previous chat history, allowing it to provide contextually relevant responses to follow-up questions. It also lets you share, edit or download the conversations, making it a great tool for work, social life, and studies.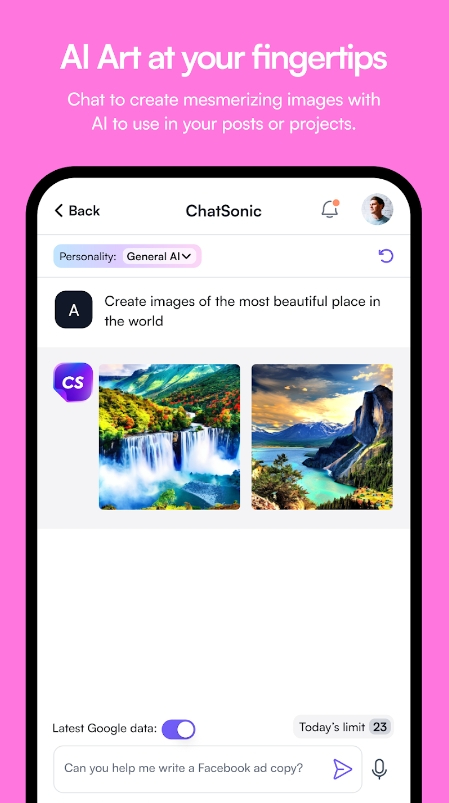 5. Nova AI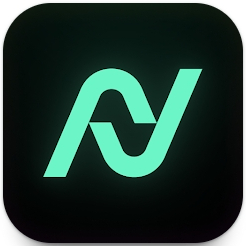 That is one of the most innovative writing tools out there. Representing a true paradigm shift in writing, this app is essentially an all-in-one AI assistant that can deftly handle almost anything you throw its way. Utilizing the latest ChatGPT tech, this app is at the apex of its game, making you wonder how you've ever written without it.
But it's not just the technical features that make it stand out. The slick design and user-friendly interface are truly impressive, and the app's intuitive nature makes it accessible to anyone.
One of the best things about this one is that it lets you make unlimited requests, providing high-quality content ideas. All the answers are catered to your specific needs. What's more, it works with over 140 languages, catering to a wide range of users.
This app can fulfill all your writing needs with ease. Whether it's crafting an essay, creating engaging content, or overcoming writer's block, this app has got you covered. It generates high-quality content that is indistinguishable from human-written text. It engages in real-time dialogue with you, providing endless inspiration for your writing.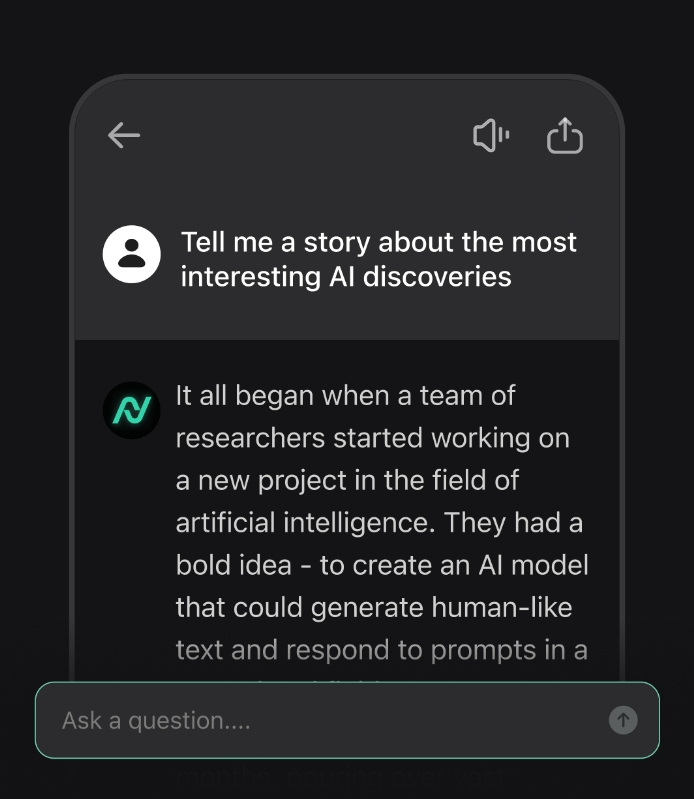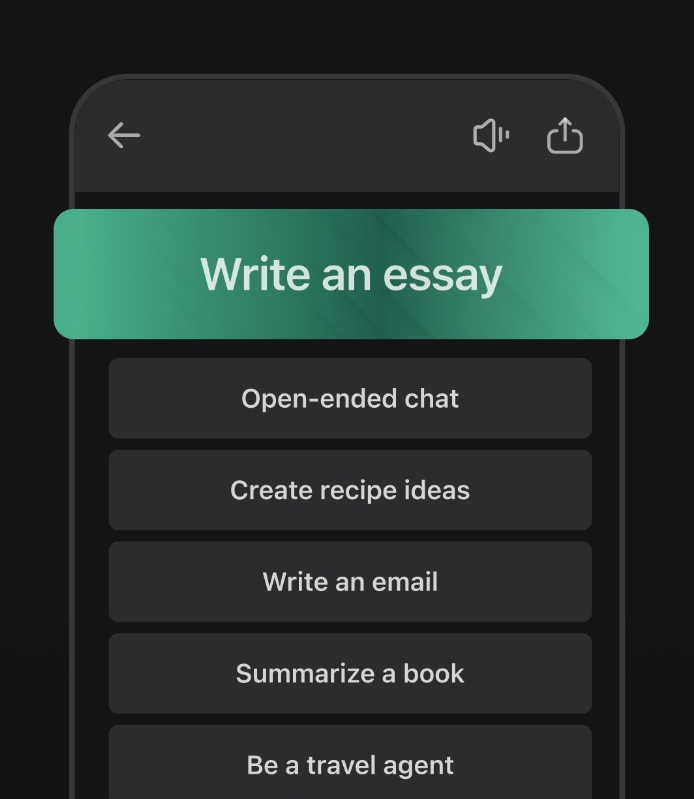 You may also like: Best AI Chatbot Apps
6. GPT ChatGod
If you're looking for a reliable and responsive AI talking app, this might be the one. It uses sophisticated machine learning algorithms to learn from you. It adapts to your preferences and serves you better as you continue interacting with it. The app reacts to your requests immediately, and you can ask it about anything: the latest news, weather updates, advice, or whatever else.

What's more, it offers a user-friendly question template that makes it easy for you to articulate your queries in natural language. That means you no longer have to worry about searching for the right keywords or phrases and focus on asking the questions you want an answer to. You can also copy answers, making it easy for you to integrate the information you receive into your work or research.

The app saves your dialogue history and keeps track of all your past conversations. This allows you to revisit previous questions and answers if you've forgotten them, making it easier to recall the information you need. It even supports online features, so you can access it wherever, whenever, and however you want. Plus, you can switch between day and night mode to ensure a comfortable and enjoyable user experience, regardless of the time of day.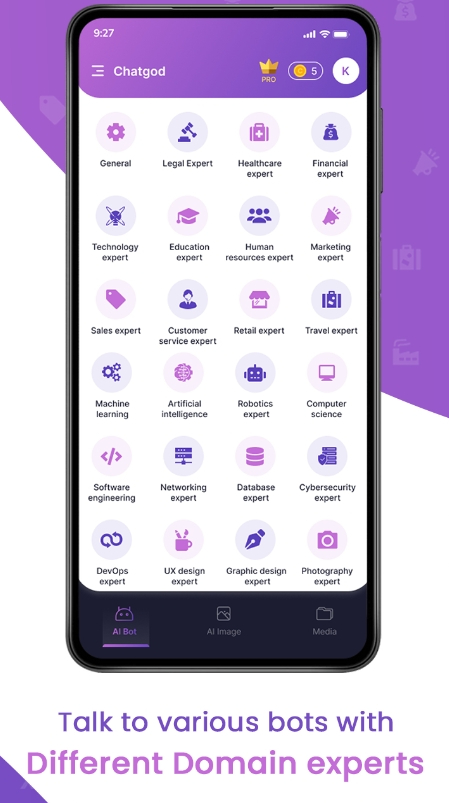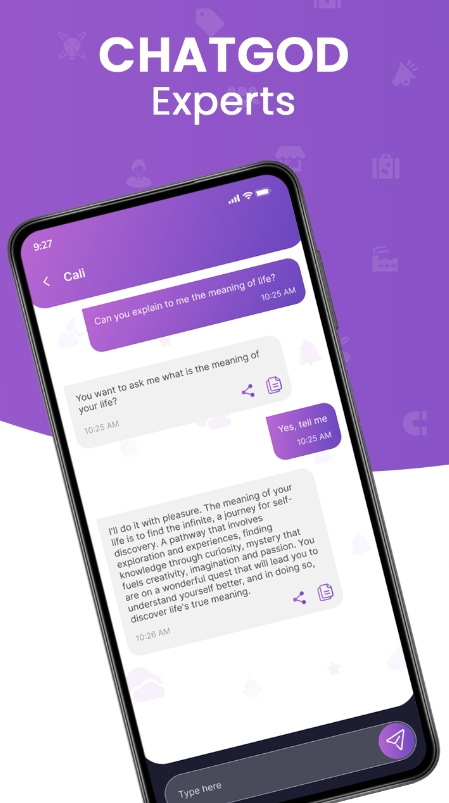 Check also: 11 Best Roleplay Chat Apps
7. AI Chat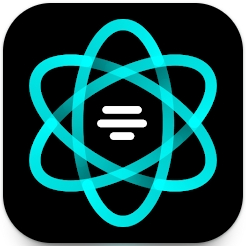 This app is a real game-changer for productivity. It is a truly brilliant tool that can lend a hand with an array of tasks. It has impressive instruments that set it leagues apart from its competitors. For starters, it offers countless bots, each adept in its own specialized category of tasks. From content creation to business management, writing assistant to information gatherer, and much more.
Assistants are designed to meet specific needs, making them efficient and effective, It is a versatile tool with countless features to improve your life. Need inspiration for art or socials? Easy! Want to learn quickly about any specific topic? It can do that, too – in record time.
Above that, the app is very versatile. Not only can it debug and write code with ease, but it can also extract data from text, saving you valuable time. Don't stop there! This bot is capable of summarizing lengthy texts (even books), explaining concepts with finesse, helping you create music, and even solving math problems! With a wide range of features, it's a useful tool for students, developers, musicians, and practically anyone.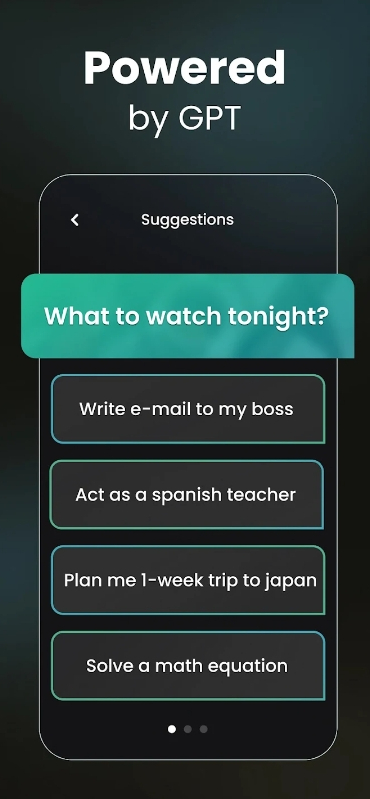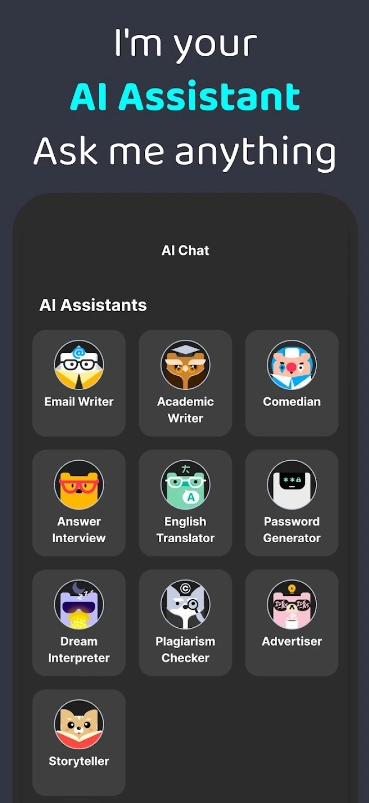 8. AI Chat Pro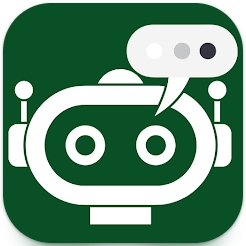 This AI app is designed to chat with you about anything and everything. It uses the latest ChatGPT techs and continuously learns to elevate your experience. With multiple use cases, it's a great companion to appreciate. Plus, the chatbot is user-friendly and incredibly easy to use.
This app is a treasure trove of knowledge, offering an answer to practically any question with its extensive template selection. What is really impressive though is its capability to support over 140 languages, making it invaluable for anyone seeking to brush up on their foreign language skills.

When it comes to translation or academic writing, this app takes the win too. It serves as a valuable tool for scholars to pen their essays or assignments. With the freedom to make unlimited requests and receive prompt replies, this app is ideal for both quick research and casual conversation alike.
The app boasts context-aware dialogs that evolve all the time. Not only does it memorize your chat history to tailor responses to your preferences, but it also uses machine learning to gain insights and provide more accurate and relevant responses over time.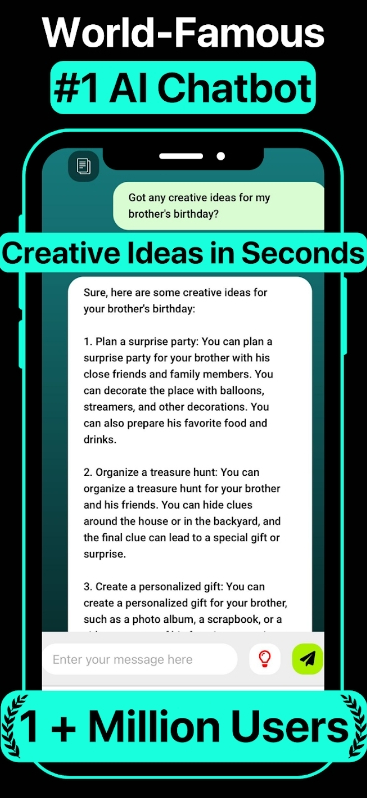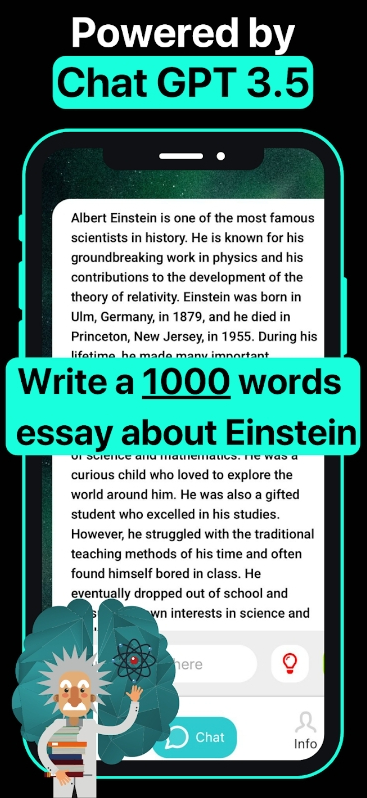 9. GPT Chatbot Friend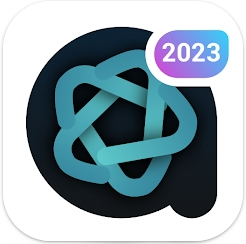 It's an app that will become your pocket virtual friend (and adviser). You'll be mind-blown by all the things it can do. First off, its ability to learn from your interactions with it is impressive. It gives you personalized responses based on your interests and needs. Whether you are curious about smth or just want to chat, it's ready to help.

Not only does it offer expert advice on a wide range of subjects, but can also connect you with experts in various fields! That's right, you'll have access to personalized support to help you achieve your goals. It's like having your own personal mentor, always available to help, advise, and guide you along the path to success.
With a vast knowledge base, this app can enlighten you on almost any topic you can think of. And, you'll also have access to an abundance of unique perspectives, offering new insights and ideas to fuel your personal and professional growth.

But it doesn't stop there; the app also offers entertainment! Who said AI can't be fun? This app tells jokes, plays games, and engages in friendly conversations. It even recommends books, movies, and music based on your interests and preferences!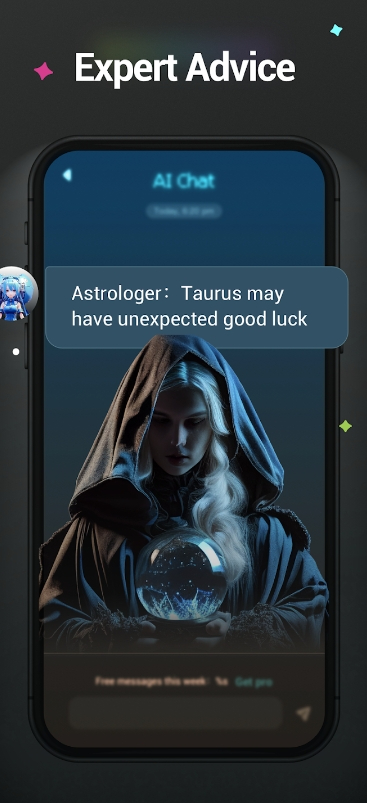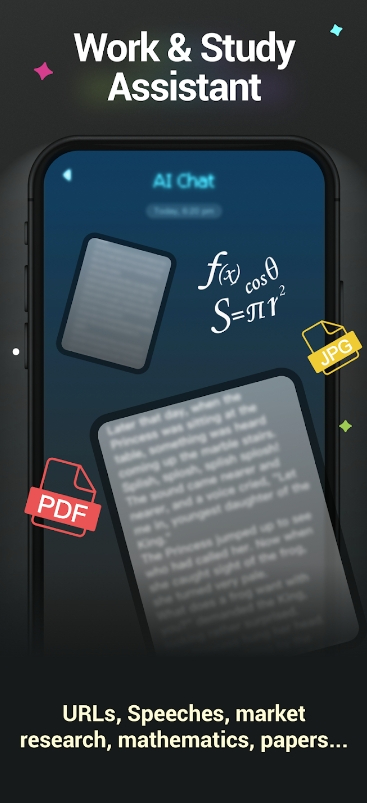 10. AI Chatbot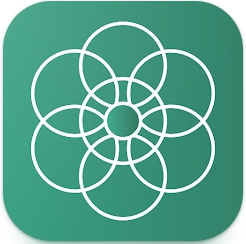 Built on top of ChatGPT, this app is ready to assist with your daily needs and tasks. It will become your personal helper that can assist you with anything you need on a daily basis. If you need a universal AI tool, consider trying this one for sure. It doesn't matter if you're drafting an email, working on a writing project, creating amazing pieces of art, or just trying to be more productive with your time – this app has got you covered.
And the best part? It's all done in a fun and creative way that actually makes getting your tasks done feel like a game. You can ask any question you want, and it will give an answer in a matter of secs. It's like having a super-smart friend who can give you any piece of information you need.

Speaking of smart, the AI tech behind this app keeps learning all the time, so your experience with it will only get better. It's able to understand your queries and provide accurate responses, and it's constantly learning and evolving to better assist you. Plus, the UI is incredibly simple, so you don't have to be a tech expert to use it.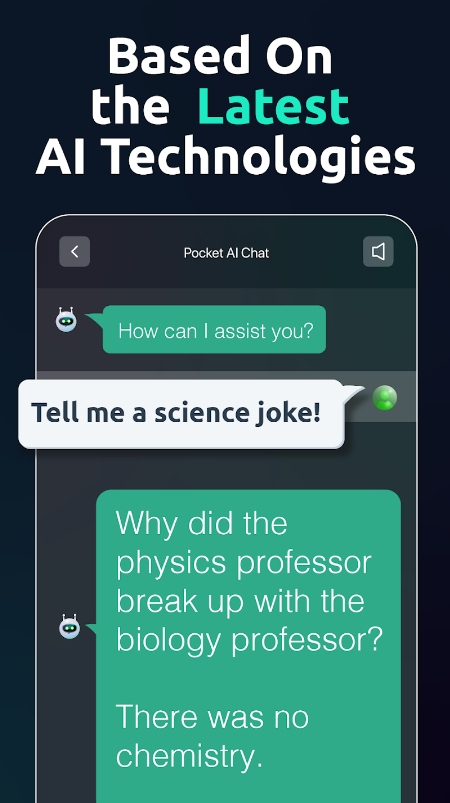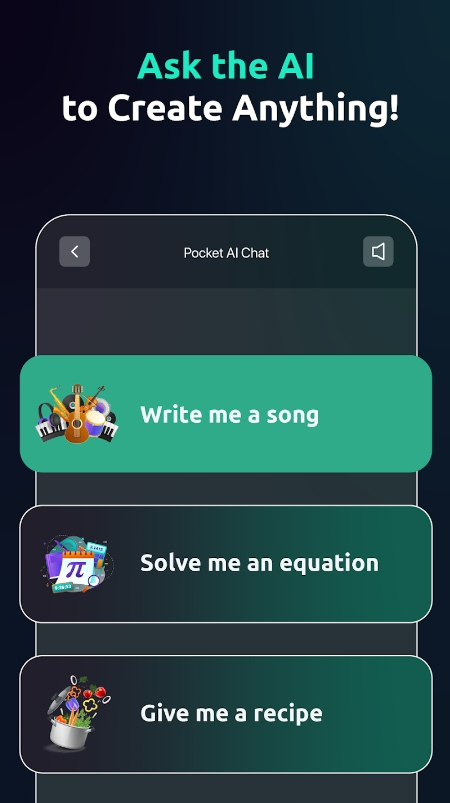 11. AI Chat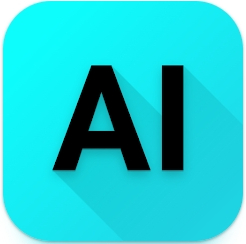 This is one of those apps that you never knew you needed until you use it. With its advanced chat capabilities, it feels like you have a living, breathing chat partner that's always ready to have a discussion.

Whether you're feeling bored or just need someone to talk to, this app has got you covered. It's like having a virtual best friend that's always there for you, and that's something that you simply can't put a price tag on.

The app is incredibly rich in features. It can write basically anything from social media posts to essays. And the best part is that it does all of this with just the touch of a button. And if you're not happy with the results, don't worry. Just give the app a more specific request, and it will adjust the tone of the test within secs.
But that's not all – this app is also great for businesses. It can easily generate responses for socials which can take your online presence to the next level. And with its built-in proofreading assistant and grammar checker, you can be sure that everything you post is accurate and error-free. It can even summarize texts, and it's a real lifesaver if you need to quickly get the gist of an article or research paper.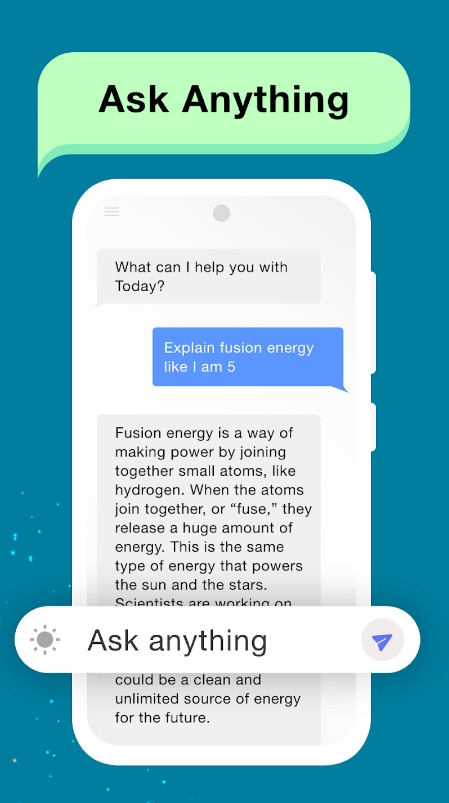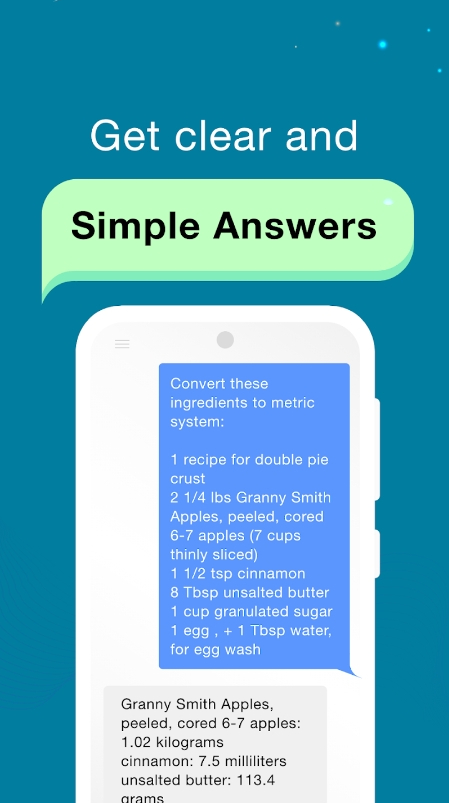 12. Aico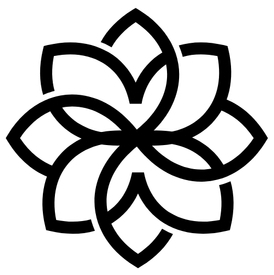 That's a ChatGPT-integrated app designed to amplify your writing skills and streamline the search for information. It's a blessing for students and professors alike, as it helps to quickly find the info of any kind. But what sets this one apart is that it encompasses a voice chat that can answer any question on your mind. Whether you're looking for writing tips, research ideas or even personal advice, this app is an absolute game-changer.

You'll get access to a wide range of info, all at your fingertips. From the latest news stories to in-depth research papers, you'll be able to find what you need with just a few clicks. This is a lifesaver for all your writing dilemmas. From essays to stories, poems, and songs, it can tackle it all. You'll receive speedy replies with unlimited potential for revisions. Say goodbye to the hassle of tedious writing assignments, and let this app handle your writing needs.
Beyond that, the app can generate new ideas and refine syntax and grammar. Plus, it provides translation and summarization features. The cherry on top? The app adjusts the tone to fit your needs, whether you're aiming for humor or professionalism, it's got you covered. Indisputably a must-have tool for every writer.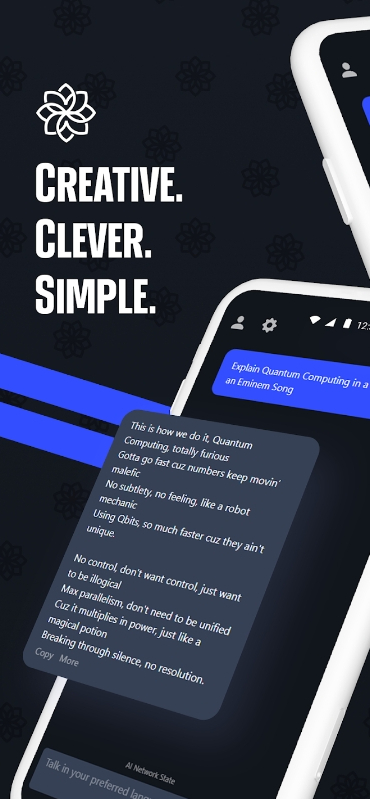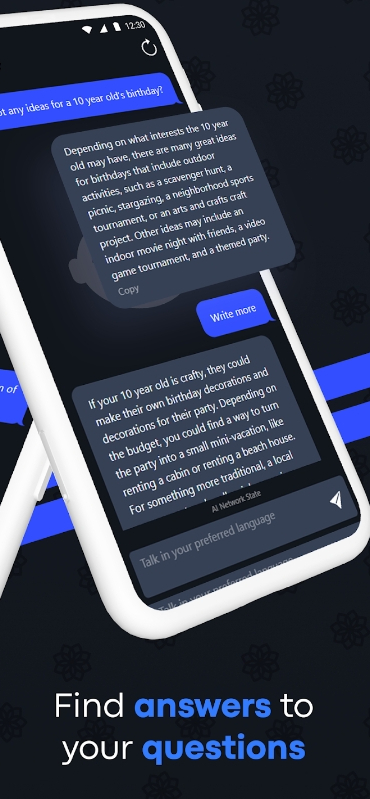 You may also check: 9 Free Handwriting To Text Apps
13. Frank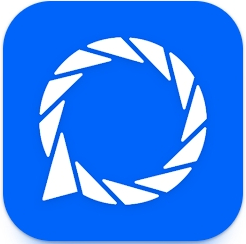 And lastly, there's an app that changes the game when it comes to content creation, making it faster and more efficient than ever before. It can generate all kinds of content in secs. Need a blog post or article for your website? Log a topic, and it will be ready in a blink of an eye.
The app also does a great job making personalized content, which is perfect for emails, and all that. And where the app really shines is in its ability to generate script vids (or just plots for stories in general). It will make a script that will keep your audience engaged and entertained. Sooth to say, the app is great for all kinds of creative writing, such as poetry or fiction.
But it's not just limited to writing. The app can also create images using text prompts. Whether you need a quick graphic for socials or a meme to share with friends, you'll get it in no time. It can also generate summaries of long pieces of text, allowing you to quickly get the info you need without spending hours reading. The app even has a built-in translator that is smarter than a regular one you've sued before.