You may often hear the phrase eyes are the window of the soul. This is the case, but the face, however, is still an essential ingredient. As an organ of our body, it needs comprehensive care, which should be an obligatory daily routine.
This is important to realize that skincare is more than just providing care for our present skin condition: cleaning, nourishing, moisturizing, and firming it. And it also includes a selection of high-quality cosmetic products and particular facial exercises, which have recently gained popularity.
1. Skincare Routine
This application is perfect for those who like to keep everything under control. Do you know almost nothing about skincare and are confused? Then the "Skincare Routine" is well suited for you. Because not only can it help you build a personalized skincare plan, but it can also provide an explanation of different types of products and analyze your skin's transformation.
Also, for those who like to share their achievements — the app has an Instagram sharing option. The basic features of the app are the possibility to make a product routine, to add personal products of different skincare brands, and to formulate the stages of product layering.
To prevent conflict of procedures (for example, one foam might not fit in the type of foundation that you use), each product on your list is analyzed, revealing what's worth avoiding.
You can set up a notification to let you know about your daily routine. More interestingly, unlike its analogs, the app has no monthly fee. Instead, the price is a one-time payment. That will save both money and time.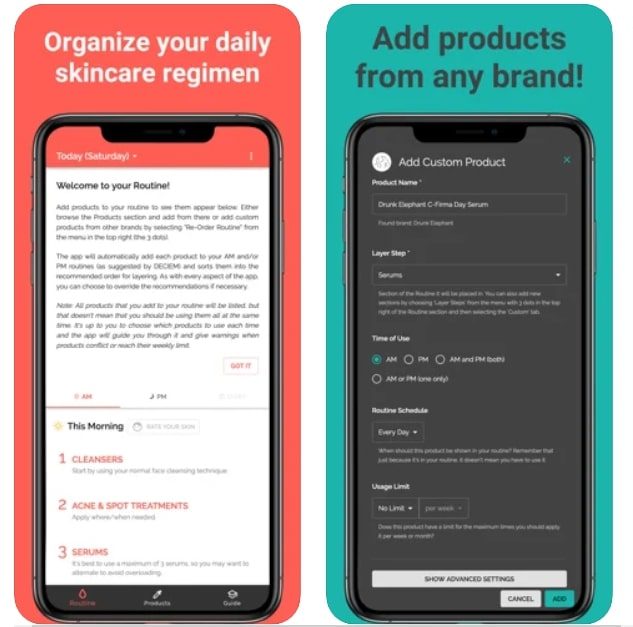 You may also like: 13 Best workout timer apps for Android & iOS
2. Eclair
You have probably noticed that many care apps are designed to take care of both your health and your activity. However, you are yet unsure of their efficacy, since there are so many possible factors that affect exactly your state of health. So check out eclair.
While this is also a care plan app, one of its main features is that it is customized to the environmental conditions of the area in which you are located. According to environmental data including weather, dust, ultraviolet rays, and moisture, eclair provides daily advice, especially for your skin condition.
Also amazing is the fact that, unlike any other app, it also matches your face with up to 48 skin types. With such a combination of features, you can set the condition of your skin more accurately, to find out what will help make your skin feel better.
Besides this, it tells you about your cosmetics and how they affect your face. There is an in-app store in case you want to try out custom cosmetics. It is updated often, depending on feedback, making adjustments, and changing for the better for its users.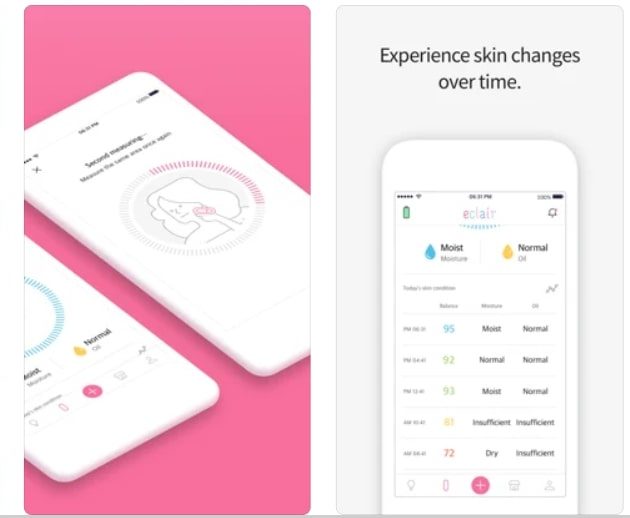 3. AnyDay Face Yoga & Exercises
We have all heard of such an ancient spiritual practice as yoga. Have you ever heard of yoga for wrinkles? To make a long story short, face yoga is all about working muscles, ligaments, and joints in a defined way that can work on age-related changes, sculpt the face, and you can even prevent the appearance of wrinkles.
The app offers personalized workouts to keep facial muscles looking strong, flexible, and agile. You have a chance to relax, tighten and strengthen your face all in HD quality! From the main features of the application, it is possible to note brief individual exercises. What is interesting is that the video not only tells but also shows how to perform a massage.
Workouts are made up of over 90 activities aimed to improve your muscle tone. It is possible to track your progress with selfies made with the help of timing. When it comes to the premium version, you can subscribe to five options. By purchasing it, one can experience all the features listed above to even deeper satisfaction.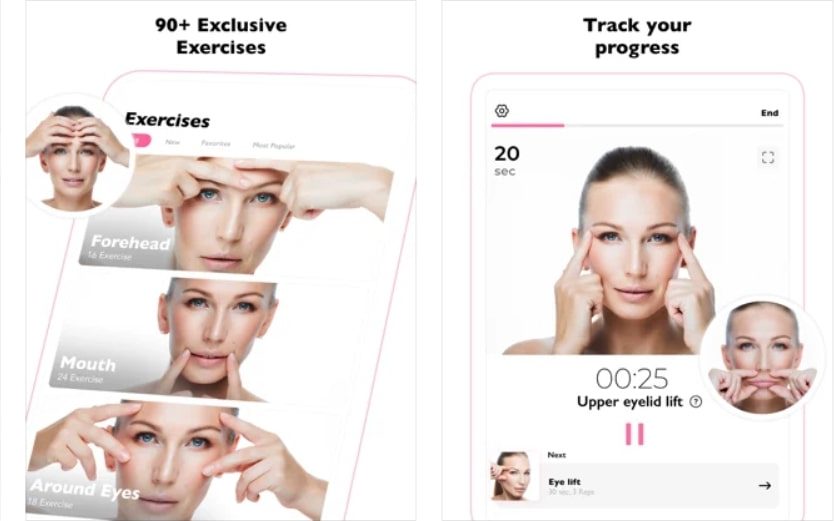 You may also like: 10 Best yoga at home apps 2020 (Android & iOS)
4. Think Dirty
Are you aware that a huge amount of beauty products are toxic? Well, "Think Dirty" knew all about it. As a personal assistant, it's always your best friend when it comes to finding the right facial care products. The database of think dirty contains about 1.6 million beauty products.
After scanning a bar code, the app will briefly describe the product: its components, its concentration of toxic substances, and its equivalents on the market. The app uses a zero to ten rating system to check exactly which are the healthy ingredients, which are doubtful, and which are dangerous. That way you can select a truly high-quality product that will not harm you.
If you truly care about the state of your epidermis, it is essential to monitor the ingredients, keep an eye on the composition and avoid poor-quality products. Furthermore, developers have also considered those who practice a vegan lifestyle and to whom do not want to consume products of animal origin.
The algorithm offers you organic cosmetic goods, not so easy to come across in the market. This app is also suitable for those who are concerned about the environmental friendliness of waste, as you can see the ecological footprint of products that you are getting rid of.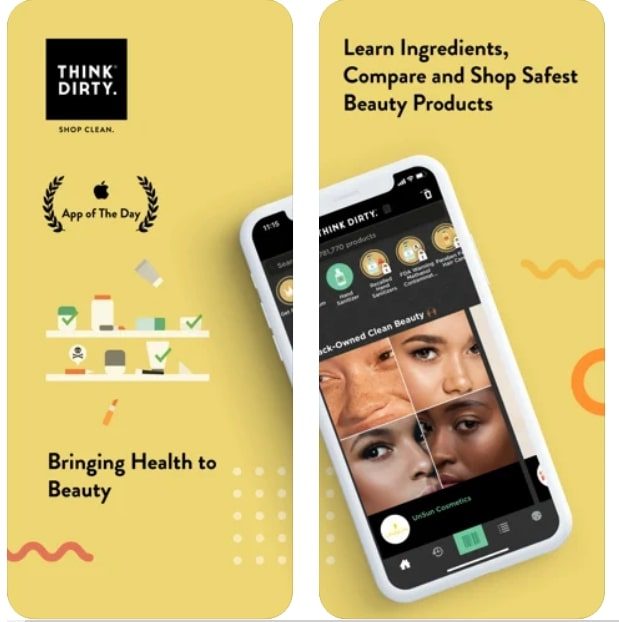 5. MDacne
Long ago, dermatologists began to notice an innovative approach to treating acne. By actively using these technological developments, problematic skin can be treated with greater efficacy. And as will support your doctor appointments, as so the dermatologist would better understand some changes in your skin, track the effect of the drug that is prescribed to you.
For the users suffering from acne, the "MDacne" software algorithm, which was developed based on the data of several thousand patients with this disease, is the perfect solution. That same application has a "selfie tracker" system for monitoring the treatment process. In that case, you need to download this free app.
All you need to do is take a selfie and the app will analyze your skin within a second. And then based on analyses, "MDacne" and will send your personalized kit. You can also consult a dermatologist one-on-one to get advice on what medications and products you should take.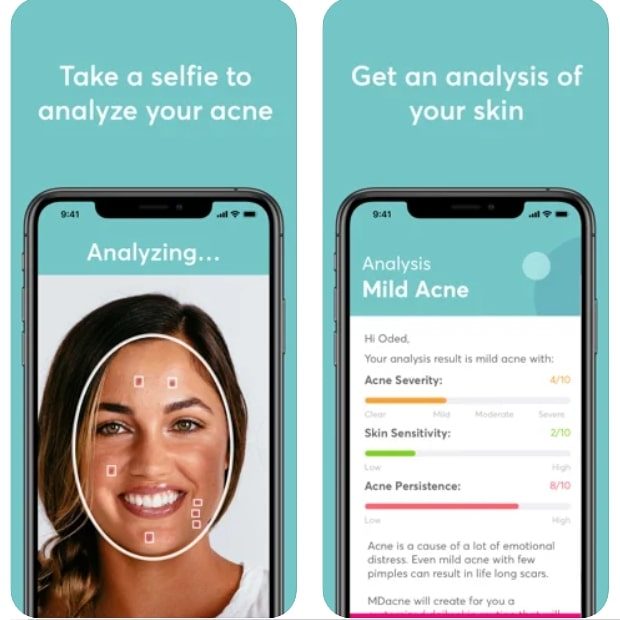 6. WaterMinder
That mobile app is not exactly about facial care, but rather an assistant in maintaining your overall health. The "WaterMinder" is a simple way to stay hydrated. Drinking water is of crucial importance to the human body. A prescribed 8 glasses of water will keep your skin in good condition, boost your energy, and have beneficial effects on the internal processes of your body.
It would be much more convenient to maintain the balance of water with the help of an app. Apps of this kind will monitor the amount of liquid you are drinking, offer helpful tips, remind you when it is time to have a glass of water, and cultivate a healthy habit of maintaining water balance.
There is no doubt that the app will be a huge plus in keeping your face clean and healthy. An incredibly easy-to-use app will calculate how much water you exactly need according to your lifestyle, body weight, as well as your gender.
Those who are not in the habit of drinking the right amount of water should not be upset — in the settings of the program you can set notifications, which will encourage you to develop a new and, more importantly, a good habit.
You may also like: 8 Free drink water reminder apps
7. Sephora: Buy Makeup & Skincare
Beauty aficionados of Sephora can now enjoy a specifically designed app for free. Its creators offer the opportunity to try out their highly advanced Virtual Artist app, which lets you test the latest cosmetics on yourself using Augmented Reality technology.
There are thousands of tons of blushes, highlighters, lipsticks, and more in the app. From now on, you are sure to pick up makeup. You won't spend your money in vain. After all, this app is accompanied by a beloved store, where you can buy the product you are looking for. In addition, Sephora Virtual Artis recognizes every product and finds the most relevant one.
And for those users who like to select a set of cosmetics, for example for a certain look, a kit can be saved in a special section. The program also lets you share information, especially if you want to send a friend a set of cosmetics. All you need to do is take selfies. The app will look at your photo and find the right makeup for you.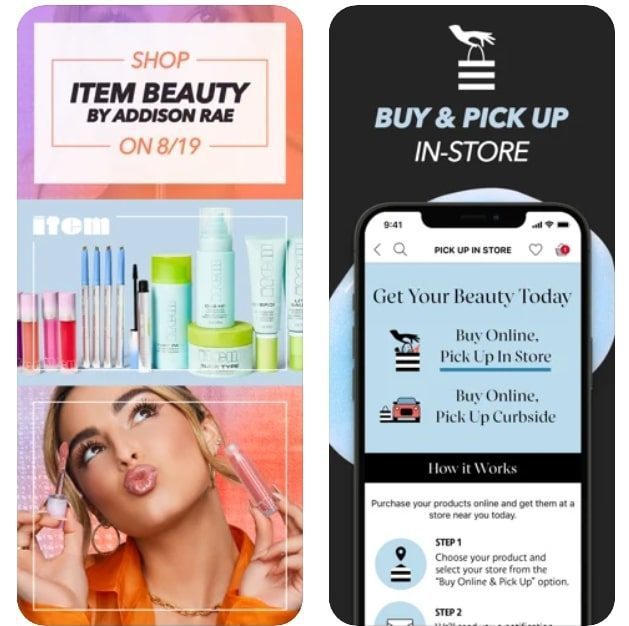 8. UVLens
Ultraviolet rays only reach the epidermis. These rays are what gives our skin its bronze tint. Nevertheless, it can also lead to skin burns and can also stimulate the development of skin cancer.
So the App interface is pretty simple, and yet easy to use. You will see the ultraviolet ray forecast on the main screen. The application will assist you in choosing the right time to be outdoors, monitor your UV rays, and calculate a safe time without sunscreen according to your skin type.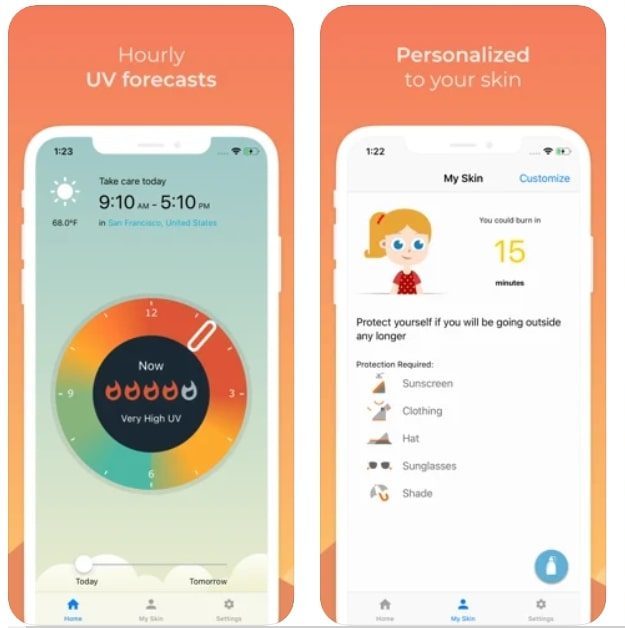 You may also like: eAirQuality App Review
9. Natural Beauty Tips
For you to stay beautiful, feel healthy for a long time and retain your youthfulness, it is necessary to monitor the condition of your body regularly. The pace of the big city makes this not so easy. You have probably seen many helpful tips on the Internet, and still do not understand what is better for you.
After downloading the app, you will come across a pleasant and user-friendly interface, organized into categories for convenience. This app is remarkable for its versatility:
It contains various skincare materials (e.g. how to properly use a body comb, which masks are suitable for a certain skin type, etc.);
a tracker of water consumption (you can set up notifications), a meditation and a yoga program (useful lessons telling you how to meditate, how to do it yourself, etc.);
a daily meditation guide (you can also set up notifications), and a yoga program (which tells you how to do it yourself).
It also includes a water consumption tracker (it is possible to set up notifications), meditation and yoga programs (useful lessons that talk about meditation itself and how to do it).
In its name, the app has the word tips for a reason. Indeed, it contains an incredible number of beauty tips from top beauty bloggers around the world. In the same way, it is possible to share your own experience and tell what works for you personally and positively affects you.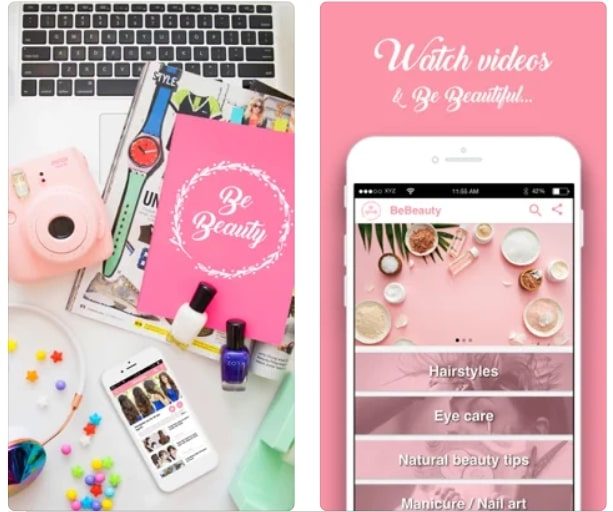 You may also like: 9 Best apps to quit sugar
10. TroveSkin Skincare Tracker
Do you still have concerns about why your skin is not doing well? Have you got expensive skincare products that just don't seem to be working? Simply download the app, sign up and take your first selfies. The app will take a look at your epidermis, and it will tell you if you have any micro-wrinkles or acne.
At first, it will tell you the universal rules explaining how to take care of your skin to keep (or acquire) a shining skin tone, smooth and elastic, clear skin without inflammation, hypersensitivity, and skin rashes for many years to come. Secondly, will check your cosmetics and choose the new quality products. Thirdly, it will assess the regularity and consistency of your skincare routine.
What is more, the app has an easy-to-use interface that is made according to modern standards. The app is also entertaining because you can invite your friends and fill out a special diary, which gives you scores that can be spent on rewards.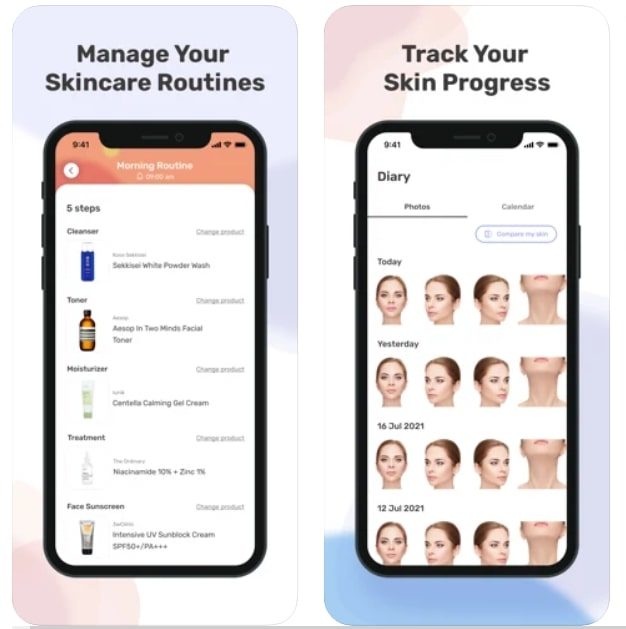 11. Cloe
So what is so necessary in the modern world? It is wonderful when a person is nice to be looked at. When it comes to facial skincare, the "Cloe" app has succeeded tremendously. There is now an opportunity to monitor your skin condition, the qualities of your cosmetics, your nutrition, and your emotional state in the same app.
Observe every area of your skin: upload photos of yourself from several angles. Then you will be able to track your changes in chronological order. And an organized calendar will keep track of your success and give you a personal grade.
The app itself has many features. As well as tracking your skin condition, it also tracks your sleep patterns, the extent of your menstrual cycle, daily stress level, and many other things. All of these things are sure to be fascinating. Use good cosmetics, take care of your skin, and lead a healthy lifestyle with "Cloe".