You have probably wondered how to check your phone for bugs. Sometimes it is necessary when you buy a second-hand phone. Let's take a closer look at how to check Android for bugs in the operating system for sure. This will certainly help you not only check your new phone but also improve its functionality.
In today's review, we will take a look at the best Android smartphone diagnostic apps. They will help you to find out how your device works, check if it is working properly, and evaluate the operation of each function. Besides, you might want your phone to be in a safe condition, and the Best Don't Touch My Phone Apps might make it easier for you to do so.
1. Phone Doctor Plus
This application will definitely help those who own a smartphone for the first time and just want to know if its cameras, speakers, sensors, and other functions and applications are working. However, those who use Android on a regular basis will also find something cool. Indeed, Phone Doctor Plus is one of the most useful apps that contains many features.
Well, among its features are, first of all, fast and accurate testing of 30 items to determine their performance. The developers declare that you will be able to take advantage of an express evaluation of the state of the main components, such as the processor, storage, RAM, battery, and network. Also, you have access to detailed battery diagnostics and battery life prediction.
In addition, there is a diagnosis of network connections, which are sometimes unprotected. In addition, you will be surprised by the information about installed applications with an estimate of their usefulness and the possibility of their removal. And of course, there is the antivirus, updated Dr.Web for Android. If you open the application you will see four main tabs.
The first shows collected information about the current state of the main components of the system, and the results of their testing. The second one contains tiles for running diagnostic tests. The third has a list of applications.
While the last has battery information and buttons to disable power-consuming functions. And the main thing is that in order to start the test, the user only has to follow the instructions that he can see on the screen.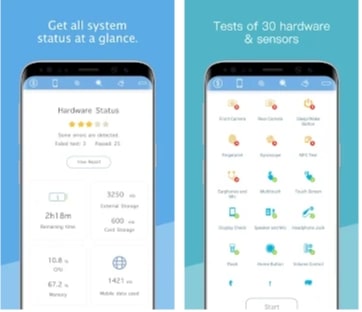 You may also like: 7 Best ANT Radio Service Apps for Android
2. Phone Check and Test
Phone Check and Test combines the features of similar applications. First of all, it displays detailed information about the device. And secondly, it checks its functionality. There are 11 diagnostic tests, such as basic device information, battery performance, network, and Bluetooth management, sound scanner, display functionality, and much more.
There are also two main test modes. For example, the simple mode is intended for quick express testing, and the detailed one will help you check your phone completely. Tests are run sequentially in sequence – one after another. Because of this, the user has the ability to skip individual tests or their stages.
Besides evaluating the functionality, Phone Check and Test displays information about the current use of the device. So you will know everything about your processor, memory, network, battery, and general system information.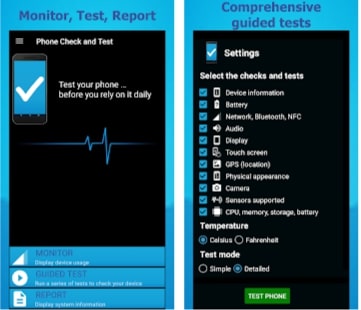 3. PhDoctor
The PhDoctor utility has almost the same set of features as its competitors. Besides the standard tests, however, it has a couple of unique ones. One of them is a function that allows you to determine whether the phone was repaired in the factory or the manufacturer's service center before it went on sale.
The second interesting feature is the identification of the brand and model of the device by the IMEI number through the site. Interestingly, PhDoctor displays summary information about the device in the Device Detail section like about the hardware, software, and battery.
At the same time, the Phone Report will show you a basic set of tests of the microphone, speakers, front and back camera, vibration motor, accelerometer, horoscope, proximity and light sensors, compass, touch screen, navigation buttons, and flashlight. This way you will know for sure about any errors that occur.
In addition, you can test the network connections such as wi-fi and mobile connections. In addition, you can see how the color and brightness of the screen, the microphone, and everything else works.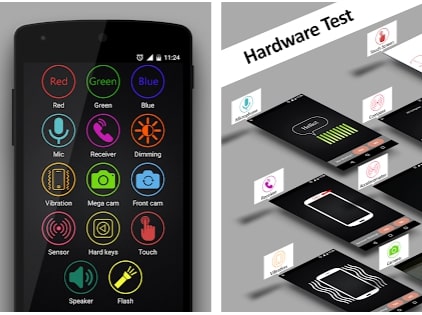 4. Device Checker *SAM*
Device Checker SAM (Phone and tablet testing) app is designed specifically for diagnosing errors in Samsung smartphones and tablets. However, the app performs its tasks correctly on other brands of devices as well. It is interesting that specifically for Samsung there is a function to determine the authenticity of the device.
The remaining 20 or more tests can be used by the owners of other mobile devices. Device Checker SAM gives quite reliable results for checking the phone. The use of the application can hardly cause difficulties for users because the application is built for comfortable and easy operation. So, this app is testing components and functions.
Some of them are Bluetooth, microphone, screen, screen brightness and dimming, sound output, touchscreen, Wi-Fi, battery, and more. You can realize that the app is designed to test the entire phone. After all, it has many tests from which you can choose what you want to inspect at that particular time.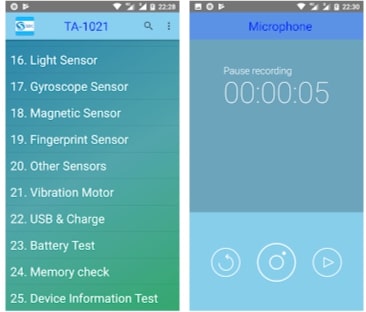 5. Test Your Android
The name of this application makes it clear exactly what it does. Indeed, Test Your Android checks the operation of your device and detects various kinds of bugs. In addition, it contains 30 different tests.
So, the app contains tools for collecting information about the system and some useful functions, such as QR code scanner, sound volume meter, horizontal level, and the button for flashlight fast activation. In addition, you will be surprised by the pleasant interface. After all, it is incredibly simple.
There are no unnecessary details. And all the buttons to perform tests, are grouped according to purpose. They are a whole lot. Let's talk about some of them. In the Tools section, you will find all the functions. And, the Information section contains data about Wi-Fi, Bluetooth, processor, memory, battery, camera, network, and most importantly, installed applications.
There is also a tool to check the touchscreen, which runs by drawing on the screen. You will also be able to detect bugs with various sensors, such as the Pedometer, Compass, Accelerometer, and others.
Android system testing supports testing on smartphones, tablets, and even smartwatches. The developer claims that it is optimized for Android 9.0 and some devices of other brands, such as Huawei, Sony Xperia, or Nokia.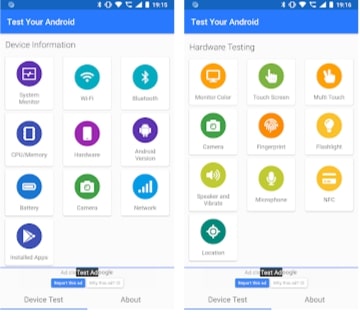 You may also like: 9 Free Apps To Limit Social Media on Android & iOS
6. Repair System & Phone Master
You may notice that as time goes by, your phone starts to lag and you cannot figure out why. Then there are probably more cache, viruses, full memory, or some apps on your phone that are not working correctly.
To evaluate the quality of your device, you definitely need an app. So, Repair System & Phone Master will help you analyze and fix bugs in your device incredibly quickly.
Otherwise, you might just be using your phone incorrectly, for example, you might have overheated your phone. This way, you can use the system checker to identify bugs. In general, the app aims to improve the speed of your device.
So, this app is good because you do not have to think about what is wrong. After all, the app does the cleanup on its own. Repair System & Phone Master has good functionality that will definitely surprise you.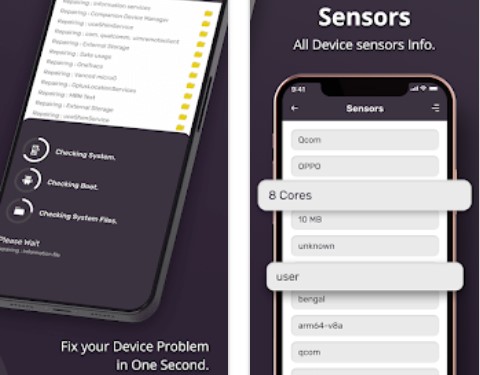 7. Phone Clean: Powerful Cleaner
This application will become a real doctor for your gadget. Phone Clean: Powerful Cleaner analyzes all system parameters. You can check the condition of the hardware, such as the battery or the central processing unit. It also gives you some good tips on how to work with your device in order to increase the battery life.
In addition, this application not only cleans your device, for example, from unnecessary junk and viruses. It also increases the speed of your smartphone, for example by removing unnecessary stuff in your storage and RAM.
The main tools here are Junk Cleaner, Fast Boost, Device Testing, App Manager, and more. You will be able to optimize your device as you wish.
The whole process is incredibly fast. Moreover, it is worth mentioning that the interface of this application is the most colorful and simple. You just need to click on the right button.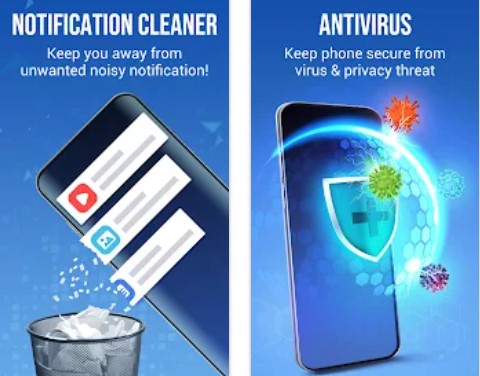 8. AIDA64
AIDA64 used to exist only for PC, but now you can use the mobile version as well. Unlike other apps and the PC version, the AIDA64 app is free. In addition, it is also compatible with almost any Android gadgets such as smartphones, tablets, smartwatches, TV, and so on.
The main condition for this is that the Android version on the device is no later than 4.0. This way, AIDA64 displays full detailed information about the hardware and software of the device. Also, it displays data on sensors, network connectivity data, and much more.
There are 13 main sections in the app, such as System, which gathers the main information about the device, like the name of the model, serial number, memory capacity, and so on. You can also see the screen characteristics. In addition, there is data about the network interfaces and connections, the power supply, and the operating system.
Aida64 mobile application displays the data obtained in the form of lists and numbers, which should be understood by the user. We can state that this application is for advanced users, who will be able to identify errors on the basis of the data themselves.

You may also like: 11 Best Philips Hue Apps for Android & iOS
9. Device Info – Hardware & Software
To get basic information about a device, sometimes a simple app is enough. Maybe you do not want to go into details, that is why you need a simple application. So, Device Info – Hardware & Software lets you find out all the basic information about your CPU in real-time.
This way, you will know a lot more about your device, for example, to see if a cool game will be supported on your device, or to find out if the battery is functional. In addition, the app helps you estimate your Internet speed. This way you will definitely have peace of mind about the bugs that occur.
Also, you can accurately test all the services of your device such as display, multi-touch, Bluetooth, vibration, loud and ear speakers, and so on.
This way you will get a complete analysis of your device in seconds. More importantly, all the information will be as accurate as possible. In addition, the Device Info – Hardware & Software app supports Dark Mode. That is certainly another advantage of the interface, which by the way is made in nice graphics.