The world of technology has some implications. Let's say, for example, that everyone now has a smartphone. That, in general, is only beneficial, as the way to communicate, search for information and many other things have been greatly simplified. However, consider how often you hold the phone in your hands without a particular need for it.
Young people spend about five hours each day using smartphones. That is a pretty high number. Therefore several people currently are trying to limit the time they spend and get rid of their addiction. To do this, it is great to use a variety of applications, such as anti-procrastination apps, or those that limit your time online, over the phone. So we will talk about those in today's article.
1. Freedom – Block Distractions
Ready to get rid of your phone addiction? Then download the app and check the results. According to the developers, we can conclude that the time on the phone was reduced by 2.5 hours. Improve your performance by concentrating on your work, your studies, or your favorite activity. Thus, here are the main functions of the application.
To begin with, in the application you configure which applications and websites should be restricted. This way, you will spend less time playing games and following your social networking feed. You can also set a certain time limit for yourself on a particular site, after which you can no longer use it. At the same time, you can silence the constant notifications and be in a quiet place for a while.
And the best part is that you can link all your devices. Including those that run on different platforms, such as ios and Android. This makes it much more convenient to use the app in collaboration with your family, accustoming everyone to limited screen time. The number of devices is not limited. Stay Free with Freedom.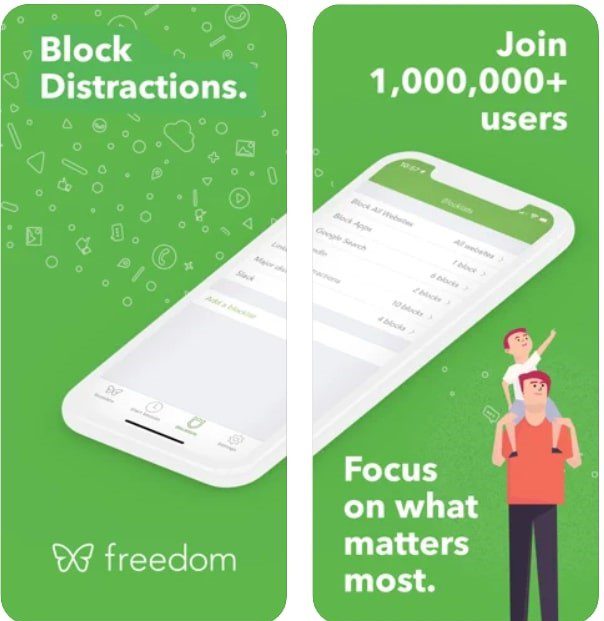 Perhaps you spend enough time in front of a smartphone. Eye Exercise Apps can help you prevent frequent eye strain.
2. Stay Focused – App & Website Block
This application strongly resembles the previous one, but on the Android platform. It is also designed for self-monitoring and improving your performance.
However, the main differences are in the functionality. To begin with, the application has tighter control over your time. You can set up the app so that you definitely will not be able to enter any app after a specific time has passed. Further, it is worth noting, that you can also build selective limits here. In addition, it is possible to set a timer. The silencing of certain text messages is still available here.
Set the blocking of sound notifications, so that the phone gets under your hand less often. Coming to the most interesting feature, it would be worth noting the analysis of received data on the use of the application. Doing so will allow you to track your progress, and the app will suggest how you can manage your time. Stay multitasking and efficient.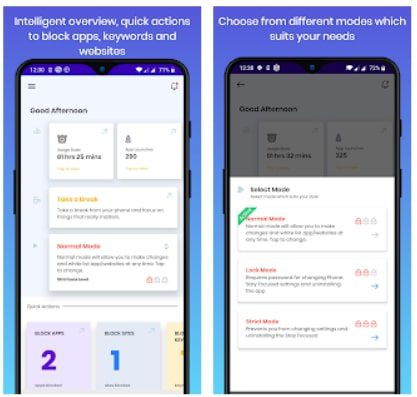 3. Belion: Time tracker
There is another application that we will talk about. This is a nice timer. People who use this app often say that the app has no ads and is very straightforward. So there is absolutely no unnecessary stuff. Instead, you will see a small stopwatch and a timer. It can be used to time your work or your social networking activity.
The principle is simple: you set the timer active time and during this period you perform tasks not being distracted by social networks and the Internet. Many have noticed that with such a simple application you can focus more quickly and have less desire to check your newsfeed. Since users have a certain goal and can understand when it is over.
Experts note that this way your screen time is significantly reduced.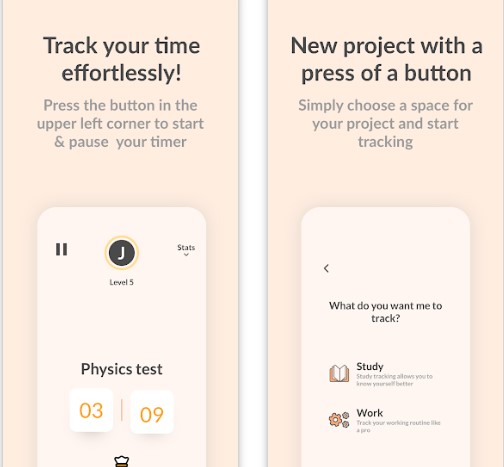 4. Google Family Link
Modern children are completely mired in their phones. They have little interaction and go out in the fresh air with other children outside the home. Basically, parents are very worried about this. Thus, this app is just that, is designed to limit the child's activities on the Internet. So what can a parent do?
First of all, set a general time limit on spending time on the phone. After 4 hours, for example, the child's phone will ask for a password to continue the activity, which only an adult would know. The app allows you to synchronize your phone and your child. This way you will be aware of which specific application the kid has been spending the most time in.
Moreover, it is useful to count the blocking of specific sites and applications, for example, you will be able to block some unwanted applications that can harm the child's psyche. People who use this app, for instance, often block those spaces that may ask for a payment. As a result, you are certainly would be calm about your child's safety.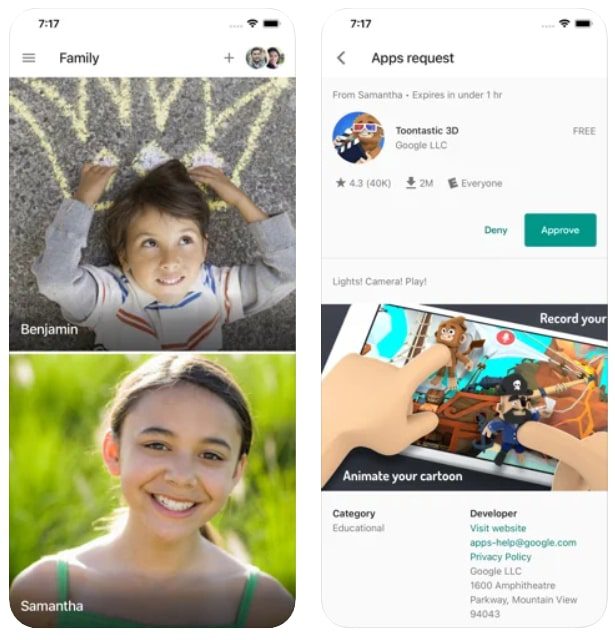 5. OffScreen – Less Screen Time
How to make it easier when you need to limit your time in the social networks if you still need to use your phone? Then try this app designed specifically for owners of Apple devices. What is impressive is that here you can set the focus time, but also establish a list of allowed applications to enter.
For instance, if you are doing your Spanish homework, then you surely cannot do without the dictionary. Try it with this feature. In fact, the app is a real challenge. By which you set daily goals and accomplish them. So you can track your time stats, see how many times per day you pick up the phone, how many hours you spend on social networks, and even how much time you spend walking.
The app has great functionality. In that case, we will mark the most important and interesting. So, here you will be able to set a timer, take care of limiting some specific applications, and so on. In addition, the application has a cozy interface, which you will also be able to watch on the Apple Watch.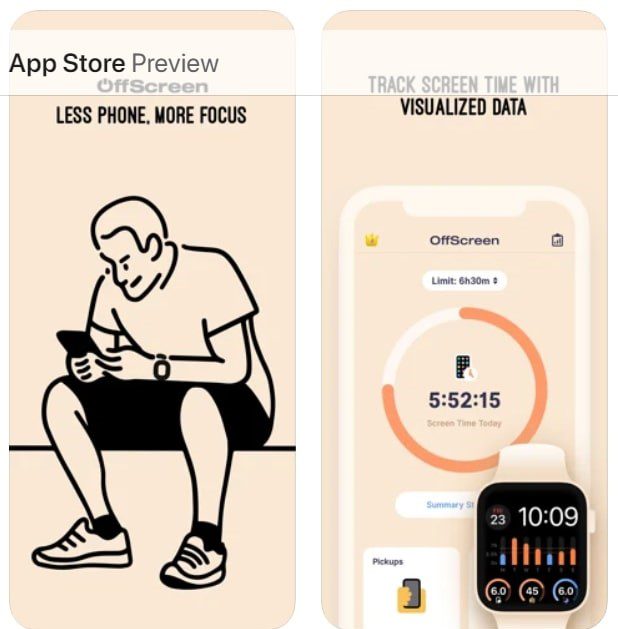 Are you still procrastinating? Then maybe you can replace the time on the phone for a new daily routine with these 9 Best deep breathing apps.
6. Screen Time – Restrain yourself & parent control
Like the rest of the app, it takes control of your time. It keeps tracking of the hours you spend on YouTube, Facebook, the web browser, and other places. It also blocks unnecessary apps. Moreover, you can use this app not only for self-monitoring but also for parental control.
This way you can improve not only your activity but also keep an eye on your child. This app sort of combines the two. With it you will know how much time your child spends on the phone, you can set certain limits. Thus, you will stay calm for your child's activity on the Internet.
The app keeps a daily analysis of the data, visits, revealing statistics by time. With its help, you will be able to understand where it is worth introducing restrictions.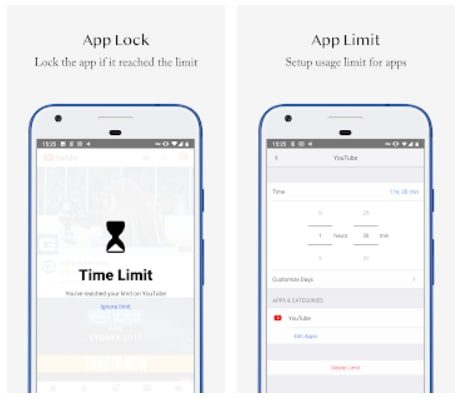 7. Screen Time Challenge
Are you tired of all the free time you spend scrolling through your newsfeed or social networks? Then you urgently need to arrange a phone diet. Put yourself on a little restriction, which is possible with this app. Take charge of your time. Set the amount of time you are willing to spend on social networking fun.
Then set a ban on visiting specific apps. After that, analyze your progress. Share them with your friends. The app will interact with you and tell you what to do next. Appreciate what a nice interface it has. You will definitely enjoy spending time here and concentrate on your tasks.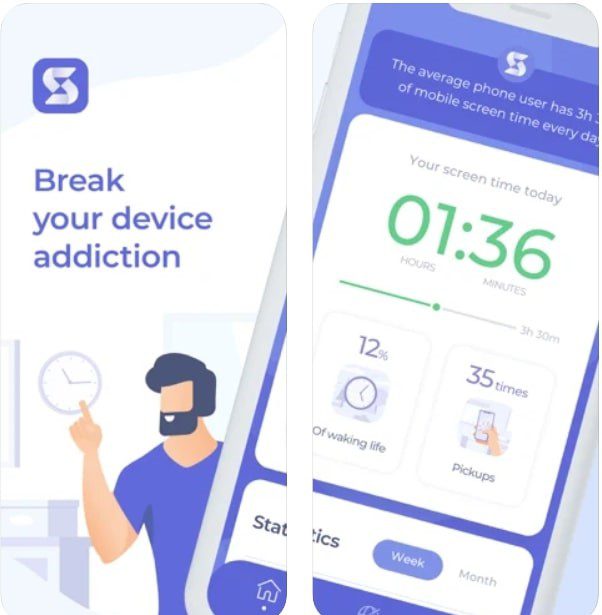 8. YourHour – Phone Addiction Tracker & Controller
Check out this app with its pleasant, easy-to-use interface. This will tell you which applications you open more often than others, how much time you spend on the Internet. Moreover, set a limit and monitor whether you exceed it. Track and get a monthly or weekly report. Keep track of convenient analysis.
What is attractive about this app is the possibility to use it in dark mode, because these kinds of apps are usually opened by users before going to bed. Keep track of your progress and try to detach yourself from social media for a large amount of time with this handy app.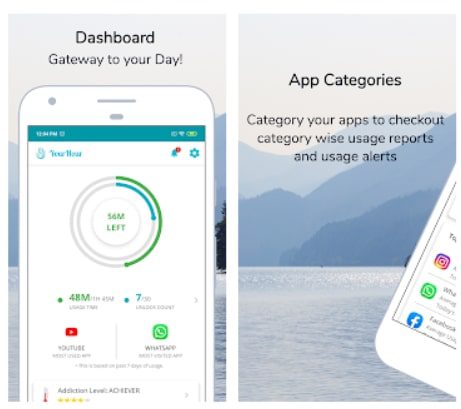 Do you often have trouble concentrating? Try using white noise apps.
9. one sec — take a deep breath
This app will allow you to feel the moment and stay in the present and the meantime. During extended use of Twitter, YouTube, Facebook, or any other time-consuming activity, the app will remind you to take a deep breath. After that, a tab pops up on the phone screen that prompts you to log out of social media for a certain amount of time.
Or, of course, you can continue to use the social network. This app is great for keeping your wits about you and your awareness of your surroundings. Therefore, sometimes we forget about reality. The app will also ask you a reason before each time you log in to the social network. That way you can monitor and limit your addiction.
After a certain amount of time of use, you will check the statistics and realize how just one minute per day has improved your performance.