Is there still anybody out there who's never heard of all the benefits that meditation can bring to us? Nowadays it is rather common knowledge that meditating is not some kind of a magical process, but rather a breathing exercise, helping us to fight our emotional and physical struggles.
The core of meditation is breathing. Well, obviously, breathing is one of the most important things for humans in general. But despite the fact that we all know that breathing is the life we rarely realize how wrong our breathing techniques and neglect to give our breathing processes more attention.
But we should. Deep, stable breath in a quiet space can help you to calm your emotions down. The right breathing during exercising helps you to lose weight more effectively. The right breathing can improve your voice tone during the presentation and public speeches. Actually, there is so much more the breathing techniques can do. Would you like to know about the best of them and learn how to improve your health with the right breath? Then explore the apps listed below – they contain tons of useful information.
1. Breathe+
This app will be useful both for those who only start their journey with the breathing and for experienced people as well. If you are tired, fell a lot of stress, don't see a way out from your daily routine – Breathe+ will show you the way out of it.
It can measure your breathe and give you different breathing exercises. When you start using an app, it gives you a breathing session of a couple of minutes to determine your breathing state. The app makes measurements using the microphone and other sensors of your smartphone.
After the first session, it will tell you what you should work on. You will be suggested a number of breathing exercises aiming to improve your overall state. And even if you are a big city dweller with the constant lack of time – one exercise takes just a couple of minutes a day and doing it once a day is enough to help your mind to restore.
The app will tell you how long you should breathe in and breathe out. There is a tracker that is recording all your statistics – thus you can see your progress over the days. To start the exercise you just need to push the red button on the screen. Still not sure if you're doing everything right? Check out the tutorial that you can find in Breathe+ – it contains lots of information that you need.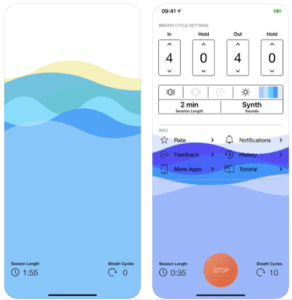 You may also like: 8 Free drink water reminder apps for Androd & iOS
2. Sleep Cycle
Breathing and sleeping are closely correlated. The quality of your breath determines the quality of your sleep. And sleep is the time when you are restoring all your energy.
Sleep Cycle is one of the most popular apps on the market in general. It has helped millions of people to improve the quality of their sleep and detect the problems that they didn't even suspect about. Moreover, the app has a special non-stressful alarm that helps you to wake up calmly and in a good mood.
The app recommends you always go to sleep and wake up at the same time, though it may be difficult for a modern person. But even if you don't follow the schedule, the app will record your sleep at night and will detect the phases of your deeper sleep. Using that info, you will find out which time is the most effective for you to sleep.
You might ask, so what then this app has to do with breathing? Well, actually, the whole statistics of your night's sleep are based on how you breathe. How intense and fast your breath is telling how deep and qualitative your relaxation is. The interesting thing about it that if you are snoring the app will record it and you can listen to you're snoring later.
The only disadvantage of this app may be that at the beginning it is free. Well, being more precise, you have a 14-day trial period. Then the subscription costs $20 per year. Sometimes, if you have already started using the app you don't want to ruin all the stats just because you don't want to pay. But, on the other hand, for such a useful app this is quite affordable.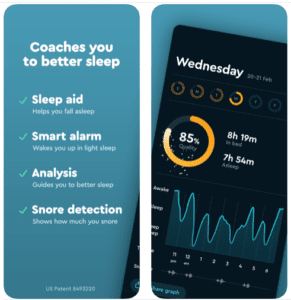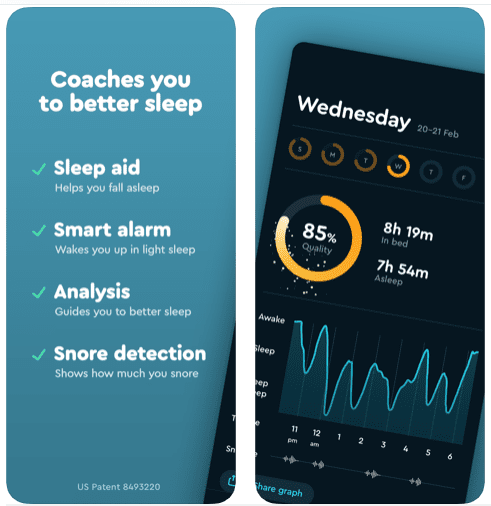 3. Meditopia: Sleep, Meditation
One of the best apps on the market is this meditation software. Basically, its name speaks for itself. Our lives are filled with so much stress and anxiety so we should simply stop it. We should learn how to get us back to the normal state. The idea of this app is exactly like this.
It contains more than 1000 pieces of content for meditation. It also has some meditation techniques which are all based on the right breath.  You just have to regulate the settings. With this app, it is easy to make daily breathing exercises a habit.
The breathing timer is also customizable, so you could take your time and find your calm. There is a lot of meditation – which you can use to start or end your day. Meditopia also contains a tracker that will record your emotional and breathing state and on the basis of these stats will tell you about the methods to improve your meditating process.
It is extremely useful that the app detects not only the state of your breathing but it also tracks your emotions in general. There are lots of great exercises and tips on how to improve your emotional well-being.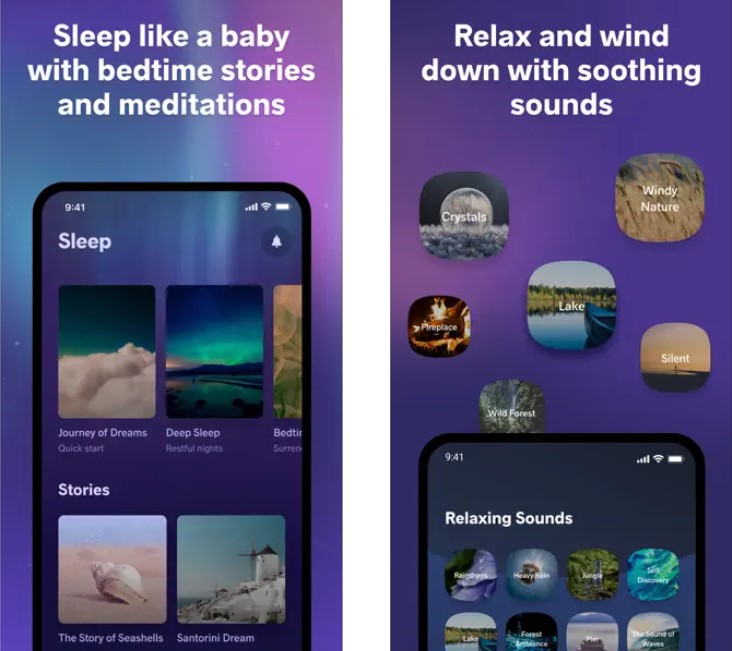 4. The Mindfulness App
The Mindfulness app had the beginning as the startup, but it rocketed very quickly. There are actually a lot of meditating apps on the market right now, but what makes this one so special?
Let's start from the beginning. When you launch the app for the first time, you get a short introduction to everything – how to use the app and how to meditate correctly. It will also show you that you don't have to spend hours here just breathing like Himalayan monks – at a beginning couple of minutes are enough.
Millions of users in more than 130 countries in the world have found this app extremely helpful and use it every day. You can choose the timing of meditation that suits you personally – from 3 to 30 minutes long. Another interesting feature that this app includes, is that you can customize your meditation with guided introduction and bells. Well, this is probably for those who are picky for melodies.
The app, of course, keeps the record of your statistics and the Health App integration allows you to sync your meditation practice time. There is a possibility where you can upgrade your profile and get access to more than 250 guided meditations and courses by some of the world's most influential teachers. So if you are a spiritual junkie this is definitely your choice.
It is really worth to mention this premium subscription a little bit more since it provides a true diversity of breathing techniques and meditations. There are meditations, categorized by time, by activities (traveling meditation, school meditations) and so on. What is significant, despite the fact the app has lots of functions, it doesn't feel complicated. On the other hand, the interface looks simple to understand – and that's usually the feature of a high-class app.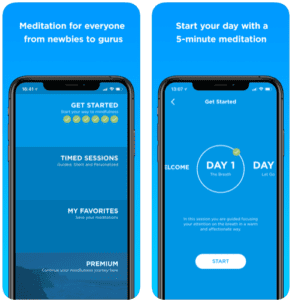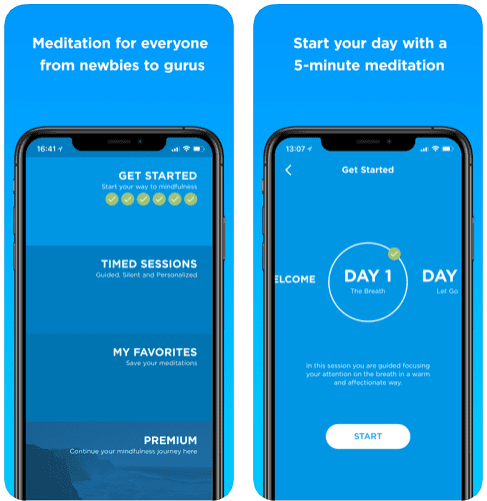 5. Breath Ball: The Stress Relief
When you are extremely stressed or anxious you feel like your head is about to explode, your chest is burning, your nerves are tensed as never before. It seems like this feeling will never leave you, but there is a way to smooth your stress away. First, it is hard to believe that all you have to do is breathing, but this method is super powerful and this app proves it once more.
The whole breathing exercise system of the app is built on scientific research in this field. All these staff are scientifically based and proven to have a positive effect. Such breathing techniques are even used in the rehab centers and mental clinics to get people back to the mindfulness.
Cardiac coherence breathing exercise is used to relieve stress and anxiety. It is thought to patients at rehab and bio-feedback training to help them get calm and relax. What is more, there are breathing techniques that will help to lower your blood pressure.
If you have asthma, this app can help too. Well, not that you should substitute all your medicine with it, but the breathing exercising aiming to combat asthma here – they do work. Before an exercise, you will get a tutorial explaining everything. What is more, you can create here your own breathing exercise – this sounds quite interesting and basically, one of the virtues of the app.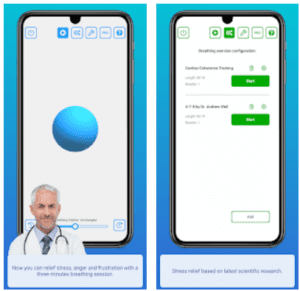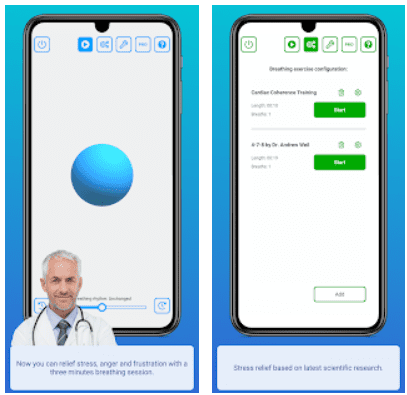 6. Headspace
Well, about this app you have probably heard of or maybe even used it before. It's been on the market for several years now and gained huge popularity – mainly because it was one of the first apps which allowed people to "professionally" meditate everywhere without any yoga teachers and long preparations, but simple with a smartphone.
Headspace has really changed the public opinion to the course that meditating is easy and accessible to everyone. And unlike most of them expected that meditation requires you to stop thinking or to stay hungry for several hours in advance – it just teaches you to focus on your breath.
What is remarkable about this app is its instructions. There are short videos explaining the core of meditation – animated videos that are fun to watch. If you are a beginner, before each meditation session you watch one of those videos explaining why some aspects are important in meditation and how the breath plays the key role.
At first, the sessions are extremely short in order not to overwhelm you. They are getting longer as long as you are progressing.  There are exercises on everything from managing anxiety to stress relief to breathing, happiness, calm, and focus.
Headspace includes a bunch of useful meditation where everyone can find something suitable for them: it has special health meditation with breathing exercises, stress relief meditation, sports meditation, meditation for students and even pregnancy meditation.
Maybe, the only disadvantage of this app and the reason why it is not the first app on this list is that after a while of using it and having gone through several meditations you are getting motivated and excited for more… and then you have to pay for upgrading the profile so you could continue. The monthly payment is not so considerable, but the app requires to pay fully fir the yearly subscription which you are not sure you're going to use at its fullest.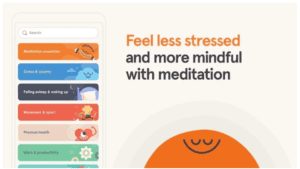 7. Breethe
In our world, full of gadgets, radiowaves, constant noise pollution and the never-ending flow of information it is not surprising anymore that most of the people have some trouble to fall asleep. The quality of it has decreased dramatically throughout the last decades.
The app contains a full bunch of breathing exercises, meditations, soothing melodies and even hypnotherapy sessions which are aimed to help you to fall asleep. Just do one or two short breathing exercises with nice background music before going to sleep – and you will feel how your head will get lighter and anxiety will be reduced.
Meditation sessions in this app are made by mindfulness coach Lynne Goldberg, who is also the New York Times' personal growth expert. The app will actually work perfectly if you combine breathing exercises with melodies or bedtime stories and visualizations.
The distinctive feature here is that Breethe contains masterclasses from the best world coaches and yoga teachers which will help you improve your breath and overall state. Another plus is that the app contains lots of meditations even in its free version and, going to an upgraded on you can get access to even bigger diversity – here the choice is flexible.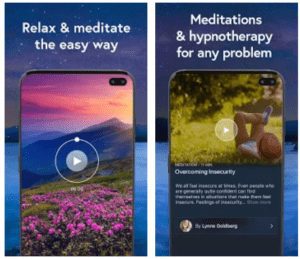 8. Calm
Calm is also a popular app in the market of meditating apps. Maybe you have seen or used it before. If you have, you probably know that it is similar to Headspace, but it has a different structure of teaching how to meditate and its meditation classes are different in general. And Calm also includes bedtime stories for good night sleep.
But that's why we love our great apps market – everyone can find something that is tailored specifically for his or her needs. Actually, it is fair to say that this app gives more attention to breathing than most of the meditation apps. It is the main goal is to help you to reduce your anxiety and stress and simply enjoy your life, stay powerful.
Calm has guided meditation with detailed breathing techniques, breathing programs, masterclasses, and relaxing music. The top psychologists, therapists, and mental health experts recommend this app as one of the best to help to improve your mental health.
Best of all this app is suitable for beginners. But even those who already have experience with meditating and even pros will discover something interesting in here. Just browse through the program. Guided meditation sessions are available in lengths of 3, 5, 10, 15, 20 or 25 minutes – so even the pickiest user will find a variant.
There are also 7 and 21 days of meditating and deep breathing programs that are supposed to help you gain a positive habit of meditation. Generally, it takes 10 minutes every day. You will be surprised, how do the breathing exercise help you to unwind and relax after a long and stressful day.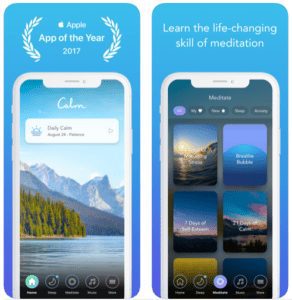 9. Kardia
The benefits of deep qualitative breath are numerous. Of course, the best if you are doing it somewhere in the mountains in the crispy clear air. But, unfortunately, most of the world's population lives in the bigger polluted cities today. That makes it even more important to find a quiet place and take your time to breathe.
It will also help you to get more focused. This app contains exercises that will bring back your awareness, making you more productive. You don't even have to go to the mountains to hear all the relaxing sounds you can hear in there – the app has great recordings of nature. Turn it on and breathe.
Let Kardia guide your breath with sounds and the smooth movement of the sphere. Feel your body and mind relax, and your heart rate vary in harmony with your breath. The breathing rate here has between 1 and 15 cycles. You can set the ration of inhaling and exhaling. You can also automatically slow down or speed up the breathing rate during the session.
Another cool feature that anyone can choose any breathing exercise they like here and the timing. For beginners – there are exercises of 1-minute length, and for those extreme dudes which are real pros in breathing and meditating there are sessions of 1-hour length. The only aspect is that the interface of the app is a little bit boring compared to the previous apps. But if the customization and exercises that you will find here work for you – go for it.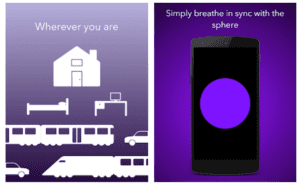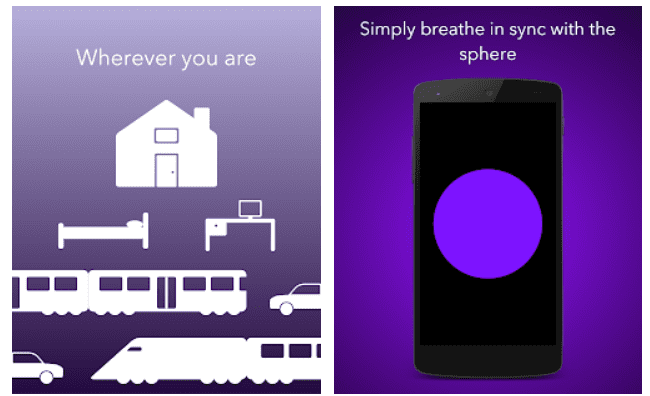 You may also like: 3 Best golf ball finder apps (Android & iOS)