Would you like your social networks to be full of trendy, spectacular content? Then you need cool stuff. Nowadays, there is a wide range of photo editing software available. Some of them have the option of overlaying one file on top of another as a feature.
This article contains an overview of the best apps. You might like to take a look at the article Best Animated Stories Apps to make your photos glow on various social networking sites.
1. Image & Video Overlay
Image & Video Overlay is a full-featured photo and video editor. It offers many options, including the ability to overlay one photo on top of another. For this, you need to download the application from the store, and then follow the instructions. You need to open the app and select an overlay style. For example, you can overlay not only a photo on a photo but also a photo on a video or vice versa.
Also, you can select GIF, Text, or Audio. Then you can decide on the size and positions of the overlaying photo or video. You may also rotate them. If you are editing a video, you can choose the time of appearance, the way the photo moves, transparency, and other photo settings. In addition, all overlay objects are customizable, for instance, you can change the text color, style, font, size, and more.
Moreover, the app is rich with a variety of stickers that you can also apply to your photo or video. All in all, it is a simple application that does a great job of overlaying.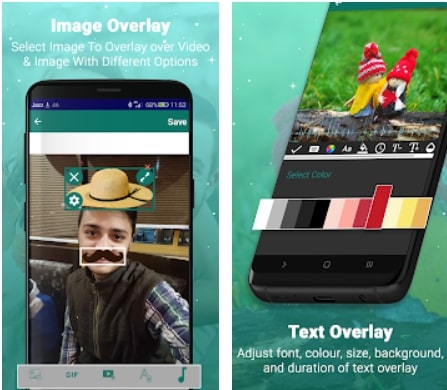 You may also like: 11 Best Photo Booth Apps For Android & iOS
2. Pixlr – Photo Editor
The main goal of this app is not only to superimpose images. However, the app handles this with ease. It is possible to combine several images and adjust their display. Also, photos can be combined with text and various stickers. After that, you can move on to image editing.
The user can change the sharpness, transparency, and size of the application. To do this, you can use brushes and sliders at the bottom of the screen. It is possible to save the finished photo on a smartphone or publish it on various social networks. Moreover, this app can draw and remove effects in certain places.
In addition, there are tools to create collages of different shapes. This way you will put several images into one. Moreover, there are tools to create double exposures. You can use the eraser tool to correct the double exposure. In addition, you can add any text and edit it by selecting the font, style, and position. Also, this app has a large community where you can share photos.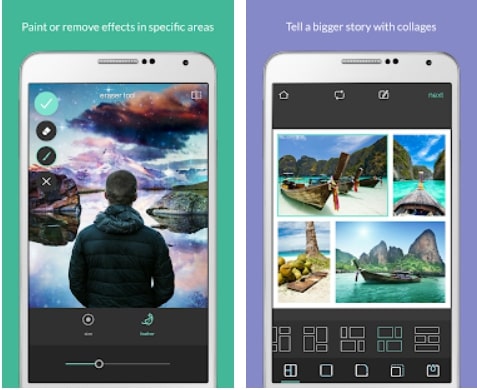 3. Expose: Photo Editing
This is another application for the iPhone, which will help you quickly overlay a photo or other objects. In addition, it is worth noting that the app has in its arsenal many filters and ready-made templates. There are collage and shape tools that you can apply to images for various creative ideas.
In addition, there are a couple of standard filters that will turn photos into either monotone or incredibly vibrant colors. Like the app above, this one has a variety of ready-made motivational speeches that will frame your selfies beautifully. There are also standard photo editing tools here. So you will be able to change the brightness, temperature, and sharpness of the photo.
Also here you can pick a background for the photo by choosing from suggested ones or your gallery. There are also fun stickers divided into several collections. At the end of the editing, you can try to use frames and change the boundaries of the photo. In addition, all the basic features can be used completely free of charge. All you have to do is to download the app.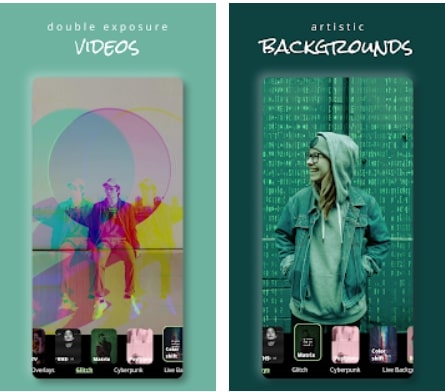 4. Cut Paste Photo & Blend in Pic
This app will replace cool complicated programs. So, this app will allow you to edit any image in just a few seconds. Moreover, it will look as real as possible. First of all, you will be able to edit the pic before overlaying it, for example by cropping it or applying an effect. In addition, you may add filters to all layers of the photo at once.
Also, it is possible to change any affect saturation. Besides, there is a tool that allows you to edit an image with a mixing effect so that it looks like the objects were always part of one image. There are also text tools that allow you to insert an inscription in a certain style. Also, the creators of the app offer all users to try ready-made quotes that can also be added to the photo.
For different design solutions, the app suggests using stickers. There are not many of them, but all stickers are very colorful. In addition, you can use ready-made templates for backgrounds to edit photos faster. There are more than two hundred of them.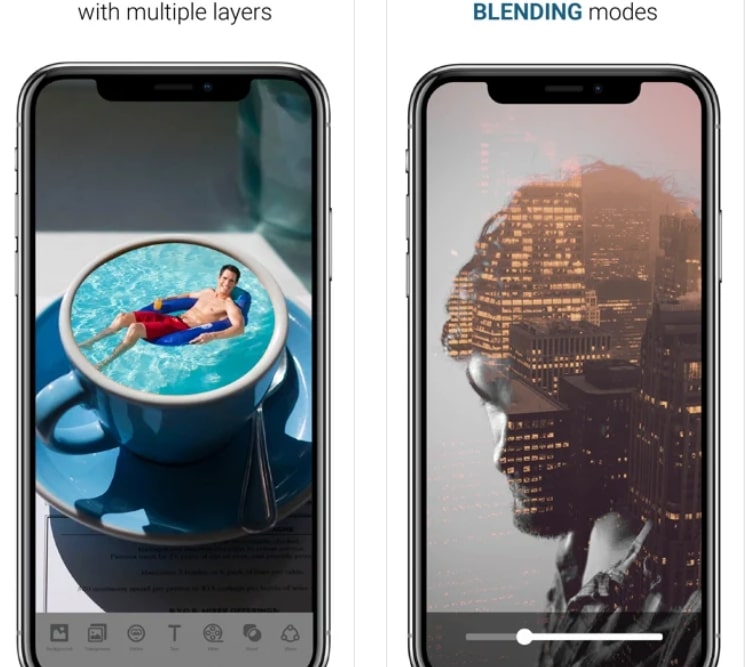 5. Overlay Photo Editor – Photolap
Expose is a professional photo and video enhancement machine. It has all the trendy features that a modern user needs. To start with, there are not only simple overlaying and layering tools, but also lots of other cool features. You can add coolness to your photos using backgrounds in a futuristic or technological style.
In fact, there are incredibly many ready-made backgrounds and all of them are editable. There are also lots of presets that you can apply to your photo. Here you will find various highlights and flashes. Moreover, the app will help you to create animated pics. Various live effects will make the illusion of movement in static images.
Not only the objects in the photo can become moving, but also the background. To do this, just go to the filters section. You will also be able to enhance your selfies with portrait editing. In addition, this app stands out for its possibility to apply several effects at once. That is how you will see how they blend and match.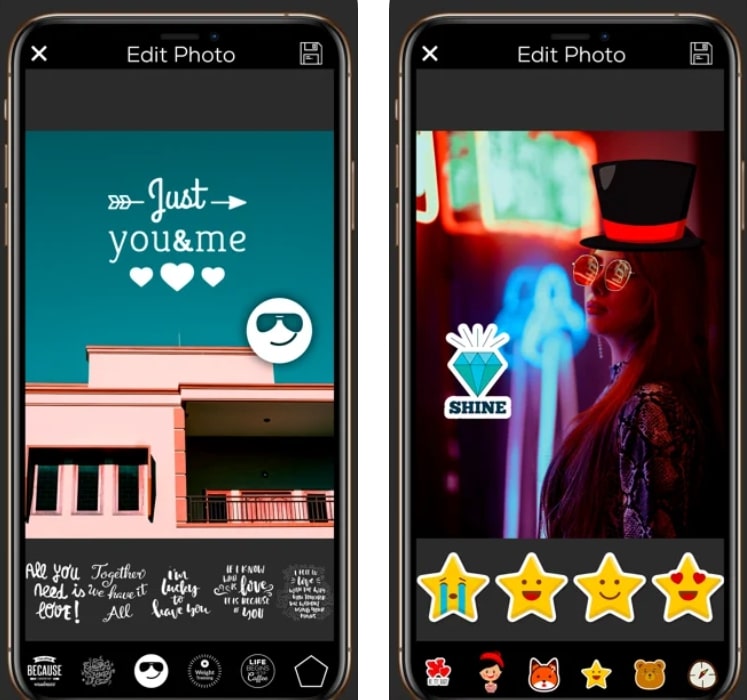 You may also like: 9 Best Baby Photo Editor Apps for Android & iOS
6. VVD – Photo Editor
If you have been looking for an app to help edit your photos via your smartphone. The VVD app will help you with that. The app has many filters and effects that you can apply to your photos. In addition to that, VVD is very easy to use if you want to overlay your photo on another one. All you have to do is to select your photo on choose a one from VVD's library and merge it.
There are more than 300 overlays in different themes in the app, which will allow you to easily find an image to overlay. You can also easily edit the added photo, for example, change the size and corners or work on details with the help of VVD tools. It is worth noting that there are a lot of photo editing tools.
You can remove unnecessary objects, change the weather on the image, adjust the light, add filters to improve the image, and much more. In addition, you can remove any layer you do not need when you overlay multiple layers onto one photo. All in all, VVD is well optimized for photo editing and can easily compete with computer editors.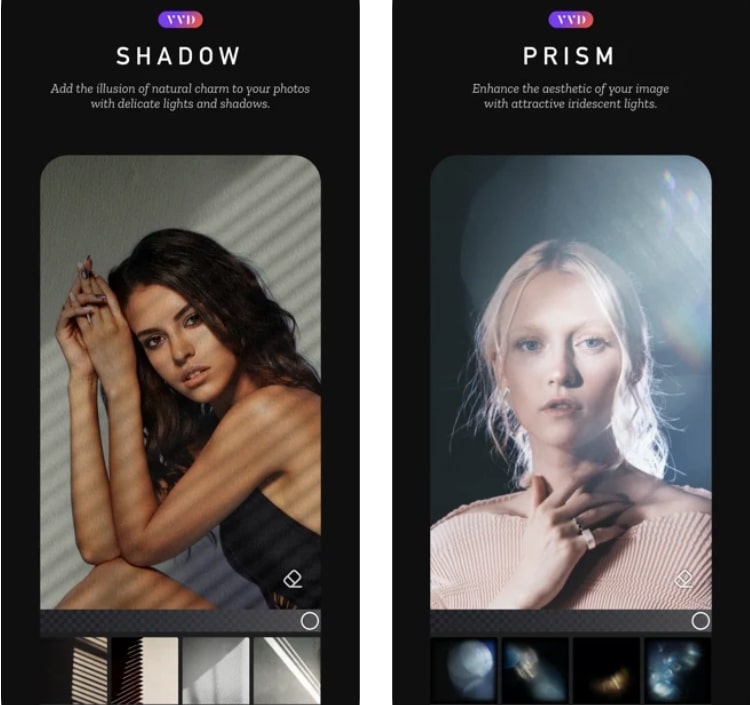 7. LD – Cinematic Photo Editor
LD is a photo editor for creating cinematic images. This app allows you to edit what your photo looks like from a real movie. The app takes visual examples from ads and movies so that you can edit your photo the way you want. LD allows you to have complete control over editing your images. The application uses more than 400 effects.
In addition, this app tries to make the quality of your photos better. Therefore, the application is adding more and more editing tools every day. It is worth mentioning that the app uses a lot of tools to edit your images that usually are not available in the mobile editors. Moreover, you may try to use organic effects such as rain, and fog, which could improve the photo quality.
Using this app, you can remove an unnecessary object from the photo. You will just need to select the erase tool and paint over the unwanted object. Also, you can use adjustment layers to improve the look of the photo and get great results. So, this app will improve your creativity and teach you how to edit photos at a professional level.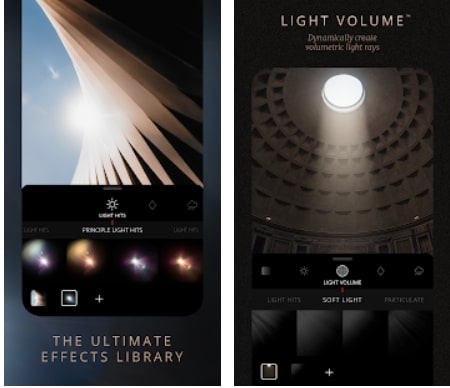 8. Overlay Cut Out Photo Editor
This application will allow you to edit your photos and overlay one photo on top of another one. Most of all, the application is really easy to use if you want to add multiple photos. All you have to do is upload a background image as well as all foreground images. If any part of the photo seems to you useless, you can click on the eraser brush tool.
It will allow you to select the object you want and remove it. Besides, if you have small details, you can zoom in to look closely at the problem zone. There are also more than 18 layering modes in the app that can help you achieve the effect you want. In addition, the application does not worsen the quality of your photo and allows you to upload it to the gallery in HD quality.
In addition, the app offers you some tools to make the editing process easier. You can do lots of things with photos, for example, crop, correct, add filters, remove unwanted objects, and much more. The app is good for those who want to quickly edit their images for later use.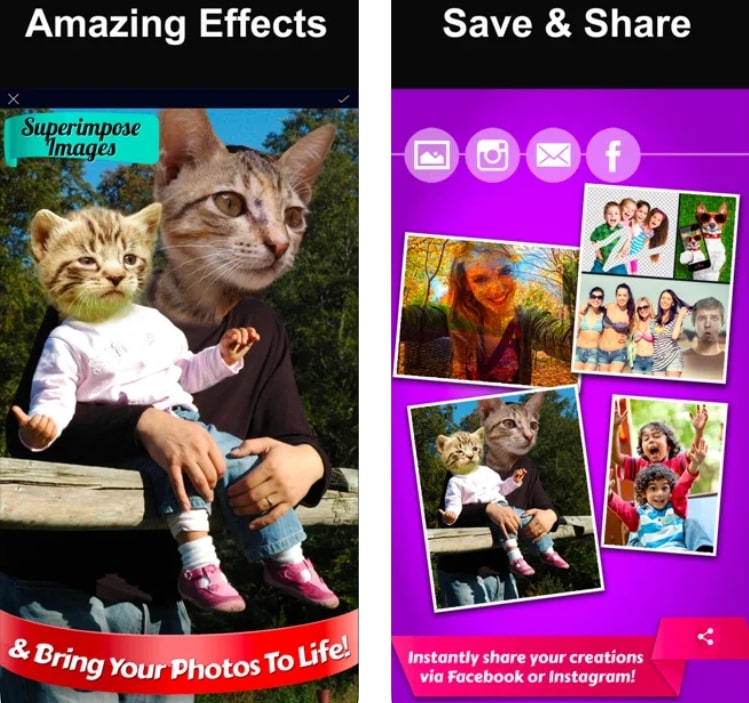 You may also like: 9 Best Label Maker Apps for Android & iOS
9. Shapical X
Shapical X offers you the opportunity to edit your photos like a computer photo editor. There are so many tools in the app for editing your photos. You can work with layers and keep track of them. The app also allows you to type multiline text into your image. If you want to change the font of the text, there are more than 50 fonts for you to choose from.
In addition, you can add effects to your text to make your text shine. You can also easily create collages, overlay images on the background, and more. In addition, in case you need to move some object or delete it when you are editing a photo, just select it with the eraser tool. You can also work with the lighting on a photo, lighten or darken objects, add highlights, mirror effects, and more.
If you need to draw something on an image, you can easily do that. Besides, you can improve the quality of your pictures with color distortion, pixelation, and many other effects. It is worth mentioning that the application does not change the quality of your images and you can save it in HD quality. Shapical X allows you to master the photo editor base with ease to further implement your concepts.