A photo booth is a mega positive photo attraction that will increase the joy and excitement of your party. If you want to get unforgettable photos then our article is just right for you. We have collected the best applications that are available now. We also suggest you check the article the Best Polaroid Frame Apps, which contains different applications that will create an effect of mini vintage photos.
If you want to find a decent app and take cool photos, our article will satisfy you. So let's move on to the review.
1. Mini Photobooth
This is probably one of the most effective and greatest applications for creating a photo booth effect. It features not only its ability to take such photos, but also its range of unique tools. First of all, it is worth mentioning that you can take photos here instantly using the app's camera and timer.
In addition, they will immediately fit elegantly into a future collage, which you choose in advance. Moreover, the app has a huge number of interesting templates for future photos from the photobooth. Secondly, there are a lot of photo editing options. So, you will be able to use different filters, filled with different atmospheres and moods.
Also, you can add stickers dedicated to important events, like Christmas, Halloween, Birthdays, and others. In addition, there are many other stickers. Likewise, you can choose the design of the collage itself, where the photos of you and your friends will be located.
Besides, you can even change the shape of the collage by making the photo shaped into circles, stars, or standard rectangles. All in all, this is the coolest app, which in addition offers to print or share a photo from the photo booth straight from the app.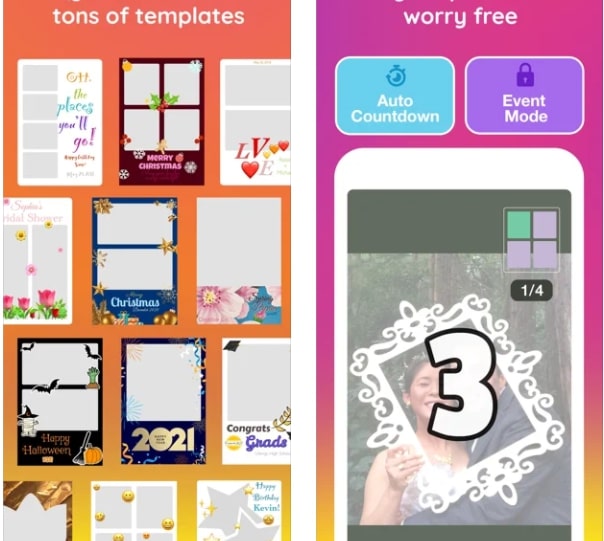 You may also like: 9 Best cut & paste photo apps for Android & iOS
2. Simple Booth
A great way to entertain yourself is to take some cool photos. Simple Booth is an app that will automatically create a photo booth effect. All you need to do is just click one button. In addition, this app will apply the effect you want. Moreover, this app will allow you to create vivid gifs from a collection of your photos.
So, you will be able to combine photos into albums and store photos in the cloud storage of the app. You can assign a name to each album. Also, there are not only effects but also templates for photos. Besides, you can send ready-made photos from the photo booth right away.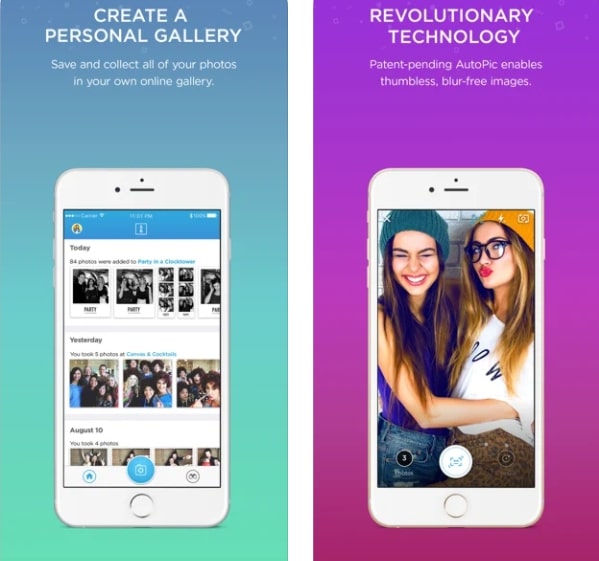 3. Party Photo Booth
Party Photo Booth is a mobile photo studio, a whole service consisting of a set of cool equipment. Such an interactive little app Party Photo Booth requires very little space, taking snapshots, and offering to print them right away. In addition, users are offered a variety of accessories, decorations, and backgrounds.
By choosing a funny mustache, a funny hat, or a bow, you can see the image in the application, making a funny face in advance. The resulting images can be printed, or saved in your gallery, and posted to your profile page of the desired social networking. The quality of photos will only depend on the quality of your camera. You can also choose the arrangement of photos on a short.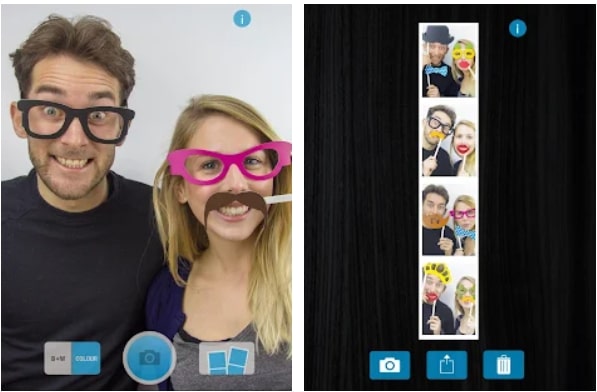 4. Camera Effects & Photo Editor
Camera Effects & Photo Editor is an app for taking photos automatically and printing them instantly. You can also send photos digitally to e-mail and social networks. In addition, you will be able to design the layout of the photo, for example, according to the style of the event or celebration. First of all, this app is a lot of fun and your guests will not be bored.
After all, here you can choose a funny photo effect for a ridiculous face. There are all the classic effects such as Fisheye, Light Tunnel, and Color Rotate. You can change the color of your photos, and turn them acidic or black and white. Also, you can change the background and choose a color for the text, which can be coolly placed on the photo.
All you have to do is come up with fun poses, and amusing filters that will enhance the sense of celebration and leave no one indifferent. In addition, you can either take photos right away or select photos from the gallery to change them.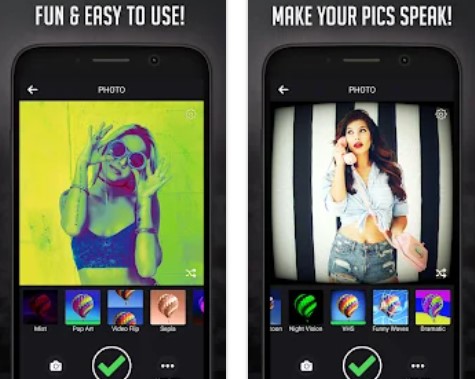 5. Snappic Booth
Snappic Booth is a free offline application that will give you unforgettable moments. Many amateur photographers love this app for its ease of use and quick task performance. First of all, the app is made simple, however, it performs its functions effectively. You will be able to make Still, GIF, and Burst images as well as videos.
Secondly, there is such a useful tool as the Green Screen, which will allow you to apply any background. Also, the application offers you to try out various photo effects on your images. Finally, you have to set the parameters of the image or video before you start shooting, which makes the process so much easier. After all, you can instantly feel the results.
Moreover, you can share the resulting images with your friends via email, Facebook, Twitter, or messages. Besides, it has an interesting feature that helps to connect your smartphone and other devices in your house to start sharing cool photos from the photo booth. More importantly, you can connect your printer so for quick access to printing out photos you had made.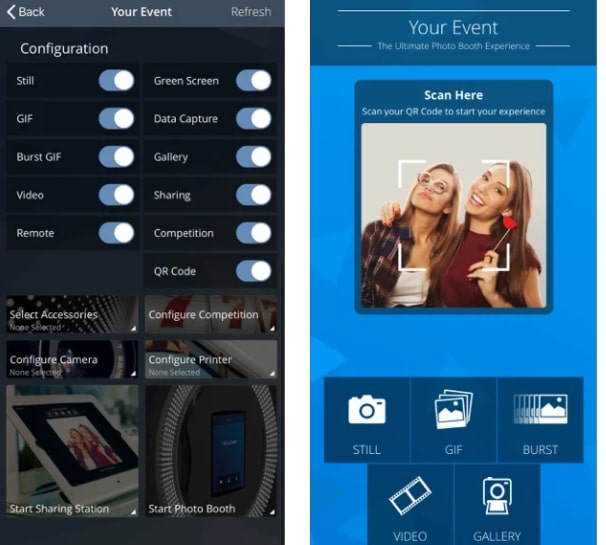 6. Booth.Events – pro photo booth
This app is most suitable for those who like to take pictures with a large company. In addition, this app is a great alternative to a professional photoshoot. After all, you can use this app not only with iOS but also with cool professional cameras from the brands like Canon and Nikon. These cameras can be connected via USB or Bluetooth.
Also, you will be able to apply different backgrounds and templates. Secondly, you can use this app without connecting to the Internet, which saves a lot of charge on your smartphone battery. Thirdly, the resulting photos can be easily edited by applying an attractive effect and filter. Also, there are various stickers dedicated to different holidays and events.
Moreover, it is possible to create not only photos but also slo-mo videos and boomerangs, which will be conveniently located in the memory of the application. In addition, all the resulting materials will be stored in folders by day or event. Another plus of the app is the ability to take photos from a timer to capture all your buddies and you.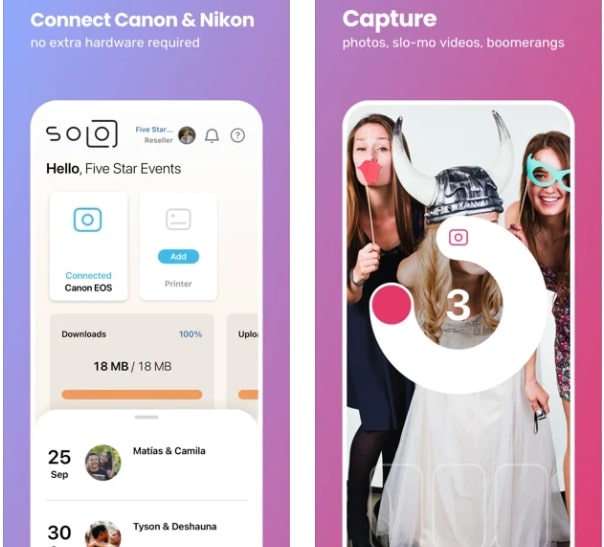 You may also like: 11 Best Timestamp Camera Apps for Android & iOS
7. Faces: funny face changer
Faces is an application that has a huge number of functions that allow you to edit your photos. In addition, it is incredibly fun. It not only allows you to create a photo like from a photo booth, but it also lets you try out your creative skills. This app will help you create not only unforgettable photos but also videos and gifs.
So, this app is well-known for the fact that it has helped thousands of users to create funny videos with their heads. In addition, the video templates are suitable for different events from your birthday, to Valentine's Day.
Such masterpieces can be immediately shared with friends as a meme. You can also, quickly cut out your face and attach it to any image. In addition, there are many filters and colorful templates.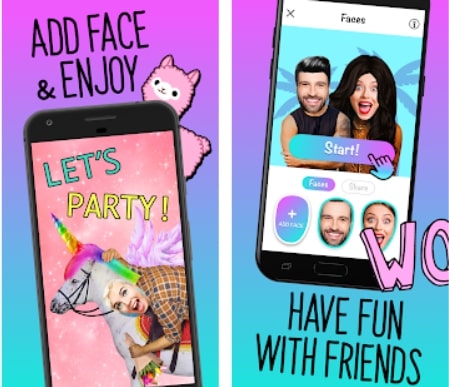 8. Cheese! Photo Booth
The name of the Cheese! Photo Booth probably can make you smile. It is a really cute app that will enhance your photos in the most creative way possible. So, you will be able to share via social media or print out Polaroids like they were made in a real photo booth. In addition, not only will you be able to take photos in the app, but you can add your pics from the gallery.
You can also add text or emoji to your photos to make them more memorable. In addition, you may add a logo or stickers to the photo. By the way, the stickers are divided into different categories to make it easier for you to find the right one.
At the same time, the live photo shot allows you to use both selfies and front cameras, as well as a flash and a timer. You can also attach a photo date to each photo.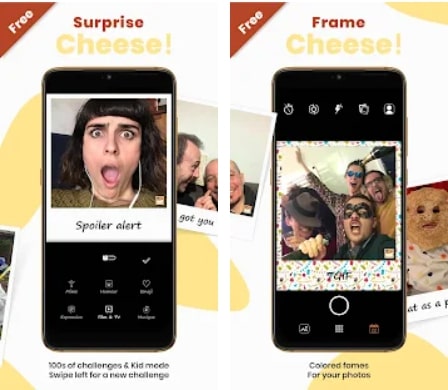 9. Simple Photo Booth
A photo booth is perfect for entertaining at any event. Furthermore, this app will not take up much space on your device. It has only one function to take photos like in a photo booth. However, the app will quickly take classic photos. So, you just need to open the app and wait for the timer to start counting down to take pictures.
That way, you will get 4 photos with a friend or family member. As well, in the app, you will find two options for collage templates that will contain your photos. Even though there is no editing option here it is still a great app.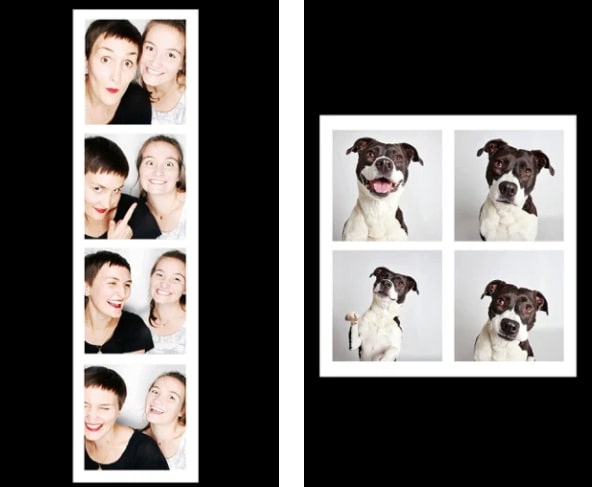 10. Indie-Aesthetic
You were probably looking for apps to edit your photos and videos for an aesthetic look, to post the resulting result on social media later. After all, you can get into the TikTok trends with cool photos and videos. The Indie app will help you do it easily! The Indie app has a lot of different effects to convert your photos and videos.
Most importantly it has the photo booth and polaroid effect that we all like so much. In addition, the app tries to follow trends, so it has the most popular effects and filters. Well, you can use the app's camera and you can see in advance what it is going to look like. After all, a certain effect will be applied to your face.
Also, the app offers you cool presets to suit any mood. You can even make a video as if you were in a photo booth and taking a photo. That way, you are sure to earn a lot of likes.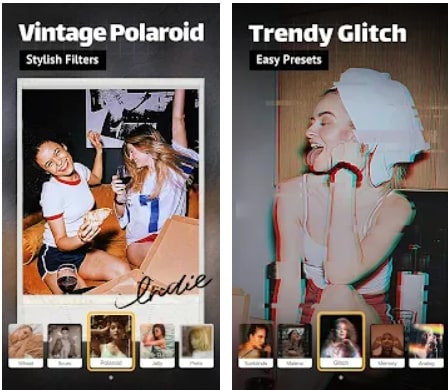 You may also like: 9 Best Baby Photo Editor Apps for Android & iOS
11. Vaporgram
Nowadays, there are many apps designed to help you process photos using your smartphone. One of the best apps in this area is Vaporgram. It differs from other apps by having an old computer interface. This app is suitable for lovers of the aesthetics of vintage. The app is very easy to use, and it has almost all the tools to help you edit a photo the way you want.
You can use many tools such as glitch or VHS, VHS, 3D, and RGB effects. The app also features plenty of stickers that allow you to decorate your photo. In addition, the app lets you edit the colors of your photos, and create frames that you can completely change and customize. Moreover, the application allows you to edit not only photos but also GIFs and videos.
Also, you will be able to apply various effects and processing to them. A vintage photo effect is also available in the app, which you can use to bring your photos back to the old days. The app uses over 100 colors, so you can easily transform your photo the way you like.
As well, the app has a Glitch Video Editor feature. This feature allows you to make a video out of your photos. You can also apply the Glitch feature to videos to add an aesthetic look to your video.