Are you a person who likes to take photos? Or you like more to edit them? Or maybe both? Well, it doesn't matter if you are a professional photographer or it is just your hobby, you have probably faced this problem at least once in your life – you are taking a group picture and then you need to choose the picture where everyone looks great.
In other words, mission impossible: one has his eyes closed on one photo, another is speaking while others look cool, and for sure, everyone has that friends who always thinks she looks good only at one picture and you're not allowed to use another one. Breaking this rule can be really dangerous.
Smartphones usually have that function of replacing faces in the picture, but who actually remembers about it before a group pic? And then you got a situation described above. Luckily, today we have different apps on the market which allows you to cut and paste faces of people on photos so no one will even recognize it. Just transfer the good face of your friend from one pic to another.
Or even more, be creative and make the fun collage or meme, pasting your faces for example, to a movie scene, replacing faces of characters with yours. Explore this list and have fun.
1. Cut Paste Photos
Just like how this app is called – that's how it works. If you are looking for a way to express your creative thoughts and have great fun with photo editing you should try this app. If you got a picture and want to swipe faces – you can easily do that in Cut Paste Photos.
Cut or copy people, animals, cars, and backgrounds into other photos and create new photo collages. Yes, you can also change the background here. Or do you have an excellent picture of yourself but there's also your ex that broke your heart? No problem, with this software you can just cut his/her face out from the pic and enjoy yourself.
Or maybe you are on vacation with your family but you're missing someone. Would you like to pretend like they also were there with you? No problem, just add their faces to the group picture. Here the function of copying and pasting photos comes with more than 100 photo editing features.
A useful feature that you can erase unwanted people from your background – perfect for touristic photos. Apart from that, you can line out the face manually and cut it precisely according to the shape you've made. Then, just paste a new face or pic. Ideal for Face Swap and Face Changer. Swap faces by cutting photos and placing cut faces over another face.
What is more, you can choose the background pictures from your gallery. Just place yourself at a famous location and send it to your friends – get them surprised! Or create a photo where you are hugging a celebrity. In total, the app includes many more other photo editing functions and you will find all of them in the app.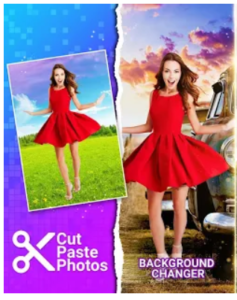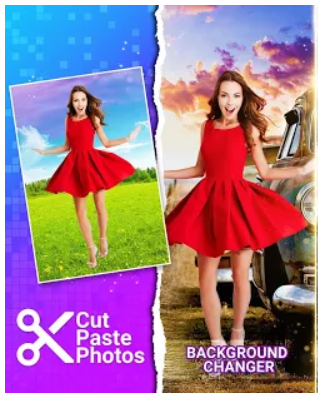 You may also like: 9 Best apps to change eye color (Android & iOS)
2. Cut Paste Photos Pro Edit Chop
Now let's move on to the photo cutting and pasting app which works with iOS. Well, this one actually is more a photo editor than a cut-paste photo app, but it includes powerful functions in this sphere as well. It brings you a lot of possibilities to manipulate the image – rotate it, duplicate, seize and filter.
Here it is easy just to cut the photo and make a collage so you can paste images or even a background from another file. Or you can use from those backgrounds which are already in the app – there are more than 40 of them. Cut from multiple photos and put them in one merged photo. Use funny stickers provided by the app so you could add more personality to your work.
Among additional functions, you will also find an ability to scan documents, adding animated effects or even video editing. The app really allows you to cut and merge the photos so they look completely realistic and impressive. The only disadvantage is that the trial version lasts just for 3 days and then you need to buy and upgrade so you could have access to all the tools provided by the app.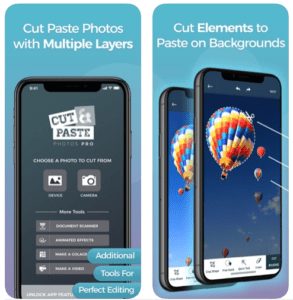 3. Cupace
So, remember that problem with friends' faces in the group picture? This app is basically the remedy for a case like that. It was developed exactly to swipe the faces of people on mutual pictures with minimum pace so you can never really tell it is not an original.
You can create meme, funny photos and swap faces in a photo by Cut a face or a part of photos and paste it to another photo. And you can add text and stickers to photos. What you need to do is to draw the line across the face that you want to cut. With the magnifying glass support, it is easy to draw the precise lines and cut the photo on the right edges.
You can also zoom the face before cutting it, what is actually, wise. All the faces you are cropping are saved to the face gallery. You can not just use it on one photo then, but add it to multiple images, including those which you will be utilized later. It is convenient since thus you don't have to cut the same face over and over again for multiple photos.
You can also merge photos together. Among other additional functions, you will find those which allow you to add stickers to the photo, texts and add basic color editing. Create something funny and share it with your friends so you share a memory together. No need to speak about how many funny memes you can create with this app
4. Cut & Paste Photos
Are you that kind of person who likes creating unusually-looking or funny pictures with you and your friends? Well, if you are, then this Cut & Paste Photos app was made for you. The functions that it provides will become a great addition to your regular photo editing tools.
It makes sense first to highlight the main features of this app which differ from the other – it has more than 100 background templates to help you start or give some new ideas on photo creation. Or you can simply pick up a photo from your library and layer the effects on it, with cutting and pasting different images to it.
The main picture that you are currently editing in the app is called the foreground. You can always save it to your foreground gallery. You can add multiple foregrounds to your photo. If your foreground needs to be adjusted, then the app has the re-editing function that you can use for that.
With more than 25 blending options you got a chance to really make something outstanding. Add blurry faces to beautiful sceneries, make funny memes, replace the faces of celebrities from the red carpet with your friends' faces. Add text to the photo and funny stickers to enhance the idea of the image. Blend your foreground with the background to get an artistic feeling in your photo. You can also manually adjust the blending opacity – thus your works can look really professional.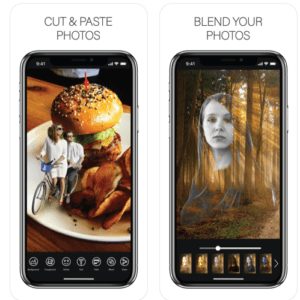 5. MagiCut
In case you are blogger pictures are really important to you. What is more, you need to edit them on the high level, until you polish an image so it looks flawless. Or in general, all your feed, including stories and videos require some editing skills and, what is more important, possession of powerful editing tools.
This app will help you to cut out anything you want and replace it with a more likable object. Here you can choose objects by a simple tap. Or you can choose them in a traditional way by drawing the line. Anyway, the app has an intuitive system of cutting and helps you to extract the objects from the pic seamlessly.
What if you want to make a coherently looking photo that would reflect all the places of your recent journey? Would you like to cut and paste the images so the whole pic looks like a movie poster? Then MagiCut is there to assist you. With this fun app, you can combine the contents of multiple photos into one background.
Or maybe you don't like the background on your last picture though you were looking really cool. This might be a familiar situation for fashion bloggers. Then what to do? The answer is simple – just replace the background of your photo using MagiCut. The final result promises to look realistic and natural.
And just like in the case with the previous apps, this one also has a function of color correction, blurring, putting text on the picture, stickers, and possibility to make the traditional collages. The interface of this exact app looks more oriented to a female audience – so, girls should check this one out.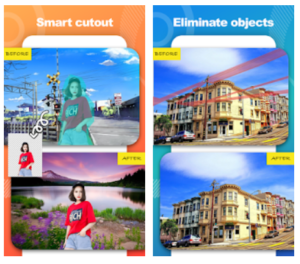 6. Cut Cut: Photo Editor & CutOut
Today we also want to mention this app. Several useful features are collected here. Now, let's go through them in order. First of all, here is a simple but quite effective tool to cut a face out of a photo. So, you can either make fun of your friends or just take an amusing photo.
This app is multi-functional – it is both good for meme creation and for cutting and pasting photos.
Want to create an authentic photo of your child? No problem – just cut his/her image from the existing background and place it to another one, for instance, the one that depicts a scene from his/her favorite cartoon. Your kid will surely love it.
Secondly, you can use the smart auto-cut function, which will help you in one click to select and cut the desired object. In the third, there are a lot of stickers and motivational phrases that you can attach anywhere in the photo.
Besides this, you should also pay attention to the simple interface, which is a pleasure to work with. In general, this app is more simple than the previous ones, but it is still good for making creative fantasy pictures and funny collages.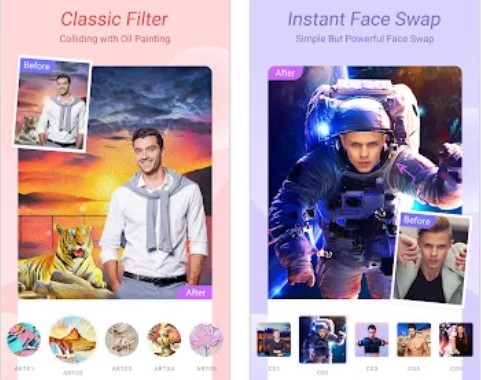 7. Cut Paste Photo Seamless Edit
One of the most popular apps on the market. And it's not surprising, because it provides really high-quality cutting and pasting, just like it is stated in its name. All kinds of pictures, including funny and ridiculous ones – those you can create using the seamless editing of this software.
You can take a funny picture of your friend and make it even funnier by replacing the background, putting some new objects to the picture, or sticking his/her face to a celebrity's body. One special feature of this app – here you can import pictures straight from the web search which is really convenient, for example, when creating memes.
Not that you can simply swipe the faces of two persons; here you can actually make a kind of a "blend" when transferring the face of one person to another. In other words, you can give a man or a woman on the picture the new face, but still keep some features of its original face, for example, the mustache. But if you want a picture look really seamlessly and naturally it is recommended to use the studio-quality photos, so the images don't scale in pixels.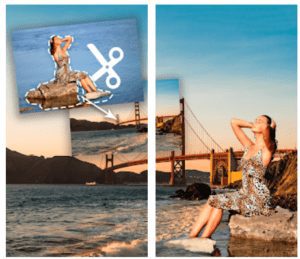 8. Cut and Paste photos
Another app in this category which allows you to cut and paste objects on the pictures so it looks more or less realistic. Actually, the level of how natural eventually the cut picture look depends more on a person's skills, rather than software. However, it depends. Want to practice more? Here's a great app!
It includes basically all the functions that you may think of when imagining the cut and paste app. Here you can draw the line abound objects and then the software will correct some imperfect lines, outlining the figure precisely. In terms of functionality, this may not be the best app ever, since it has very few functions, mainly for copying and pasting.
But you know, they say that it is better to have something really good than lots of useless things. This is the case of this app. The objects that you cut out you can seamlessly and precisely place at other images. The photo will keep the original resolution. If you want to achieve a better precision while cutting the photo, you can go to the zoom mode where you will see the object in a larger scale and be able to polish the edges.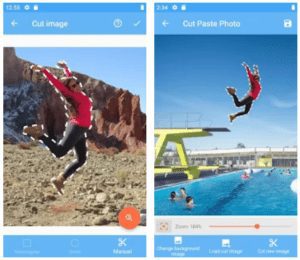 9. Auto Cut Out : Photo Cut Paste Background Removal
Perhaps, you have already noticed that in this category – cutting and pasting images, the Google Play market offers a much larger choice of apps than the App Store. That probably has something to do with functions that are initially built into the iPhone. But now, let's pay our attention to the last app on this list and see who would find it interesting.
For those people, who hate doing cutting manually, it is going to be a great app, since it cuts everything out automatically. Though the automatically cut lines may not always be perfect, for such case you got editing mode, where you can zoom an image and add some corrections manually.
We already had apps that are useful for cutting people out from the background and this is another one. Moreover, a classic function of cutting out a face and sticking it to another picture is still here. Auto Cut Out Photo Cut Paste Background Removal allows you to create unique collages by letting you copy and paste photos from the gallery onto different backgrounds. You can add text and stickers to make beautiful collages.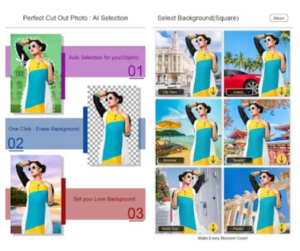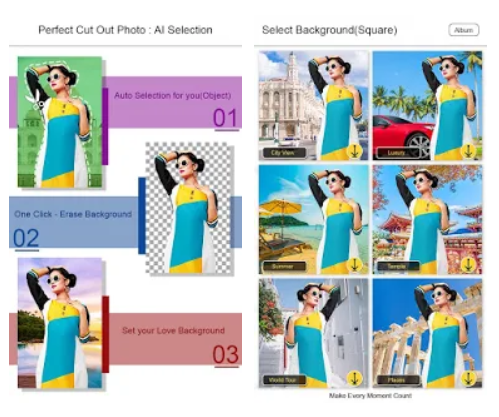 You may also like: 11 Free apps to cartoon yourself on Android & iOS