If you are fond of driving or at least spend much time at the wheel, this very post will be so useful for you. The thing is that the content represents priceless information on apps capable of calculating fuel consumption, the money you spend on fueling, and other related parameters. As a result, an app will become your digital accountant in this matter.
The Apppearl team has reviewed the best fuel calculator apps available on the App Store and Google Play. It remains just to choose the most suitable app and stop keeping notes manually.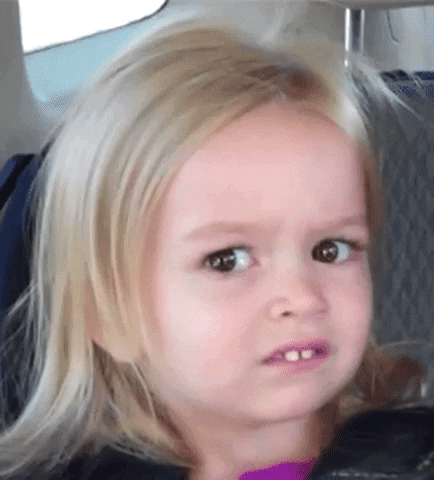 1. Drivvo – Car management, Fuel log, Find Cheap Gas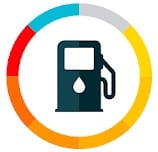 Let's start with an app available on both platforms at once. Its name is Drivvo. What is more, it is considered one of the most top-rated tools with a fuel-calculating feature.
First of all, the app will allow you to monitor refueling and stay aware of other important information on gasoline consumption, the monthly expense on your vehicle, and so on. Thus, the app will show you fuel calculation (whether gasoline, ethanol, or CNG, by gas station), the average km per liter, costs per kilometer traveled, kilometers traveled totally. By the way, for those who prefer to view the data graphically, it will be possible to transform records in graphs and charts.
As for other features, you will also be surprised by the app. The reason for it is its intuitiveness. That's why it can identify which fuel suits best for your car. With it, your car will be as efficient as possible.
Moreover, in case you are a professional driver, you will be able to register your expenses in the app directly. What is more, the outlays can be connected not only with refueling but also with other services like oil change, brake check, tire rotation, filters, etc. As a result, you can give the app-built report to your higher-up to get the business travel receivables back.
Considering this feature, we find it extremely necessary not only for professional drivers but also just for motorists. It will be a great opportunity to calculate the sum of money required for your car a month/year. Monitoring expenses on your car have never been so easy.
One more advantage of this app is its capability of notifying you about regular services. As we've already said, the app's system is so intuitive. That's why it will become your assistant in each matter related to vehicles.
By the way, the app's developers also offer the Pro-version. With it, a wider range of features will be available for you (synchronizing data between devices, receiving technical support within 24 hours, and so on). Nevertheless, the main distinguishing feature is that this version will be compatible with more types of fuel such as Diesel, LPG, Electric.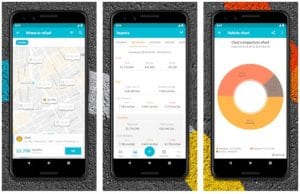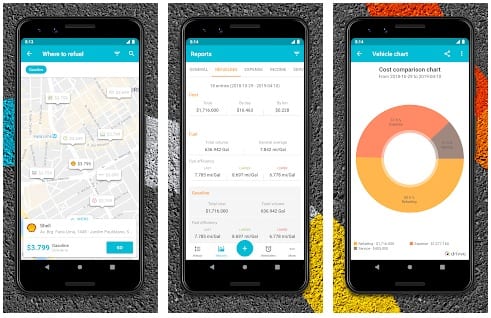 2. Simply Auto: Car Maintenance & Mileage tracker app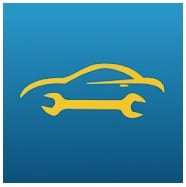 One more similar app comes with a bunch of features, too. Though the developers didn't pay much attention to features connected with fuel, there is still a very powerful fuel-calculating system. So we are going to review it first.
To begin with, the Simply Auto app will allow you to control your expenses on fuel. The way you can monitor it is to attach receipts by capturing them and uploading them to the app. Alternatively, just entering information on price, quantity, filling station, and other blanks will be possible as well. After each refiling, the app will reload the general report on fuel as well as average fuel stats with numerous parameters. That's why you will always have detailed information at your fingertips.
Apart from this, if you prefer to view the data graphically, in charts, the app will surprise you a lot. The reason is awesome visual illustrations based on statistics.
Now it's high time to learn about other features the app contains. Apart from refueling, you will be able to record your general expenses on a vehicle as well as costs on services. As usual, the app will calculate the total result as well as the average one. Again, transforming the data into graphs will be available for you.
You might be wondering about mileage. Sure, the app can cope with calculating the distance too.
There is more to come. The app's users will be able to separate business expenses or miles from personal ones. Besides, tracking information on several vehicles in one device is also possible. This feature will let you provide your boss with accurate trip logs. Are you an owner of a car fleet? If you are, the app will be especially suitable for you as well.
As for data -synchronizing, the app can be praised as well. Thus, it supports use on several devices, instant sharing of statistics or reports, loading on the cloud or Google Drive, exporting and importing as CSV files to phone memory. Finally, the app is compatible with other helpers while driving: Drivvo, Fuelio, MileIQ, aCar, etc.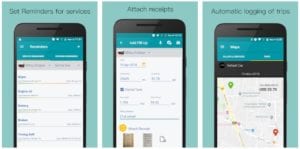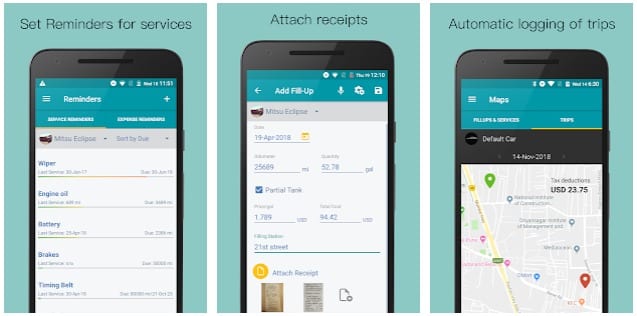 3. MyFuelLog2 – Car maintenance & Gas log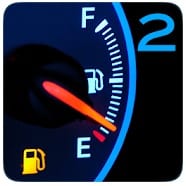 If you are searching for an app that specializes in fuel only, this very tool will be the best choice for you. It's called MyFuelLog2.
As it is clear from its name, the app will allow you to keep track of fuel consumption, location of fill-ups, cost, and other fuel-related points. What is more, in case you pay in various currencies, the app will transform expenses in a preferable currency in accordance with data from the internet.
The thing that makes the app more wonderful is its capability of monitoring other expenses and car services. What is more, it will be able to calculate your expenses during a particular trip. By the way, attaching the photos of receipts will be possible, too.
Like the previous apps, this one will notify you about car maintenance services in the nearest time. This feature is so appreciated by users of the app.
When it comes to talking about statistics, the app will be great for visuals. Colorful and at the same time, accurate charts and graphs are the things that you will like for sure.
As for other opportunities, you will have a chance to backup/restore data to cloud Google/Dropbox/OneDrive/Box, export or import from other driving apps, export in different formats, and so on.
Finally, one more nice feature is that the app will let you keep a unique diary of events with places, photos, and other notes.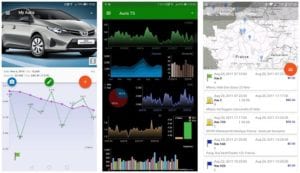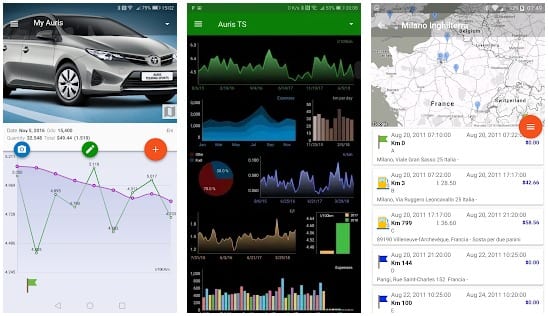 4. Fuelio: gas log, costs, car management, GPS routes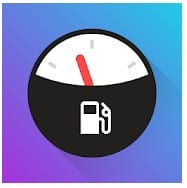 Still not satisfied? Here is one more excellent alternative for you. What is more, the app users' comments are so positive.
TheFuelio represents a great tool that can show you how much fuel has been consumed, how many liters/gallons of fuel you have used between fill-ups. Besides, you will be able to register your expenses on fill-ups. All these parameters can be viewed both in total and on average. Again, the statistics will be surprisingly visual.
One more amazing thing is that the app works perfectly even with bi-fuel vehicles. So if your car is of such a category, Fuelio is a must-have for you.
As a bonus, you will have access to the app's widget available on your Home Screen. With it, you can add information on refill much quicker.
Next, by using the statistics, the app can identify the most efficient fuel for your car personally. This will allow you to save the fuel greatly, which is so important.
Apart from this, you can also track your trips, mileage, review the map with GPS, and even save your routes to GPX format. It seems that there is nothing impossible for this app.
As usual, the app supports synchronization, Google Drive/Dropbox backup, imports and exports, etc.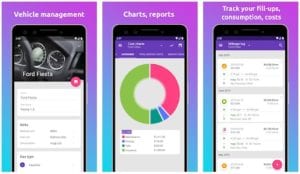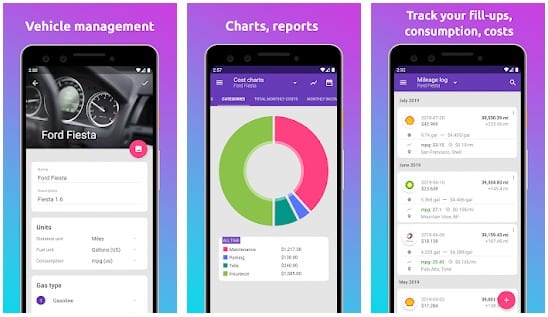 5. Fuel Tracker Gas & Mileage log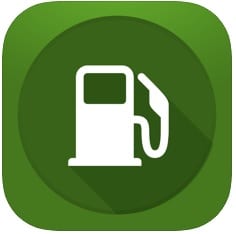 Fuel Tracker Gas & Mileage log is one more app that worth being installed on your device. In this case, it is available for iOS users only.
By entering information on fuel quantity, price, and odometer, you will be able to view detailed reports and statistics shown in charts as well. Plus, the app supports several units of fuels and even can display fuel consumption in MPG, MPL, Km/L, L/100Km.
Are you interested in mileage? If you are, the app fully meets your requirements in this matter. Working in collaboration with GPS, it will show you the most accurate results.
Lastly, synchronization, multiple ways of data storage, import, and export are the things that make the app even more outstanding.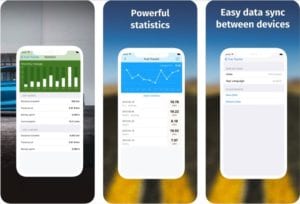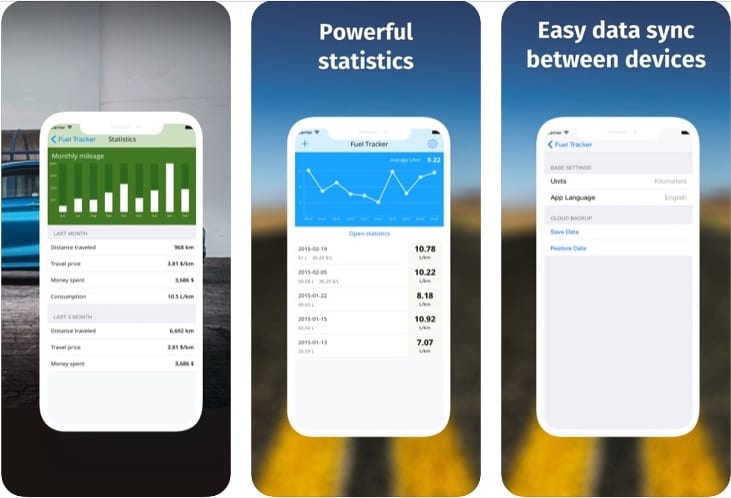 There is no doubt that it will be a nice idea to connect your phone with a car infotainment system. To do that, we suggest you study the list with the best mirror link apps for Android & iOS.
6. Fuel Calculator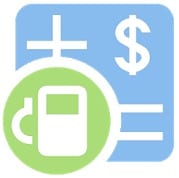 Now let's talk about one of the simplest fuel calculator apps. Perfect for those who like minimalism, it also functions great.
Fuel Calculator's functioning principle is so easy. All you will need to do is to fill several blanks to calculate the fuel-related parameters. After that, you will see the accurate results.
For your convenience, the app has a built-in keyboard with figures to be used. It is much more suitable while driving.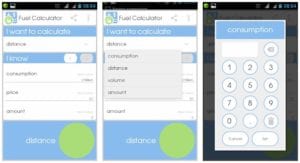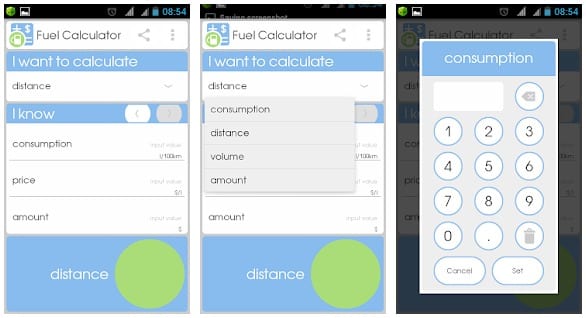 7. Fuel Calculator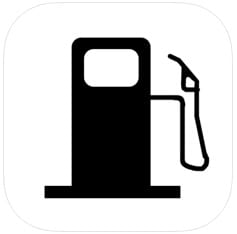 One more app with no-frills is also called Fuel Calculator. Nevertheless, in this case, it is an analog from the App Store.
In a word, the app suggests entering some information on points to calculate fuel-related parameters. Alternatively, you can view the reports on last trips by learning the logs of distance, cost of fuel, its consumption, and total expenses.
This inelaborate app also supports various measuring units of distance, fuel consumption, and cost. That sounds really great!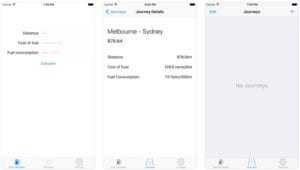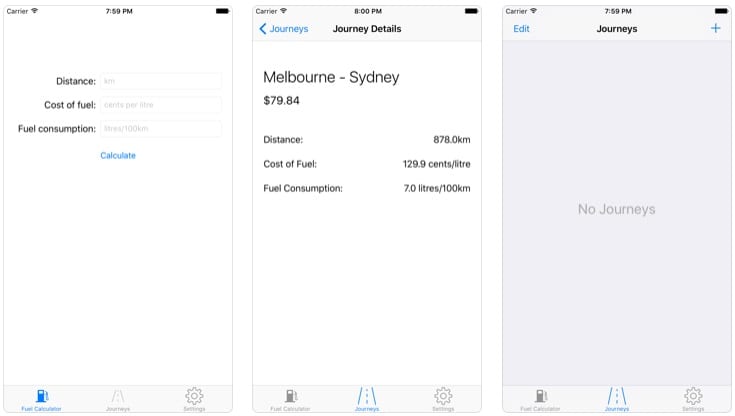 8. Simple fuel calculator

One more app that we can't help adding to this list is Simple fuel calculator. It is also a very handy tool to use while driving.
By entering this or that information required, you will be able to learn fuel consumption and cost/range simulation on various parameters. This marvelous app can even calculate the price of fuel shared between several people. That's really unique.
Finally, the app will provide you with reports and charts regarding fuel and distance. As you can see from the photo below, the log is so detailed.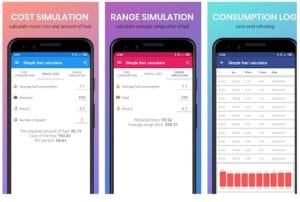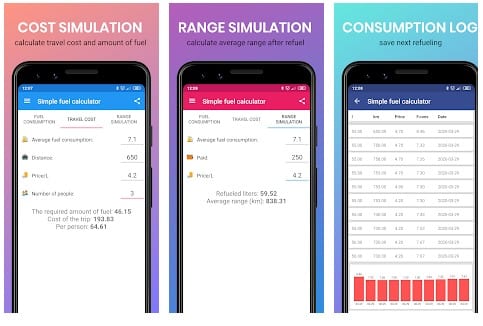 9. My Cars (Fuel logger++)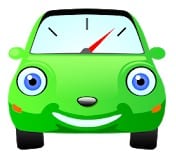 If you are searching for an app with highly detailed reports, the My Cars app is what you need.
The app will let you know the expenses on fuel per certain period or distance. Then, it will show you how efficient this or that fuel for your car, showing the minimal, maximum, and average ones. Of course, to do that, you will need to keep the log of refillings.
Like many apps of this category, this one will notify you about further car services, which is convenient for any driver.
We find it great that the app is compatible with even unusual types of vehicles. Thus, besides cars and trucks, it operates perfectly with bikes, boats, tractors, ad so on. The choice is really great.
Conclusively, the operations with backup, import, and export are also admired by the app's users.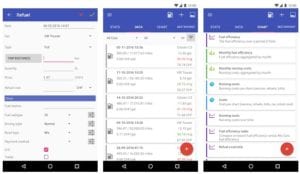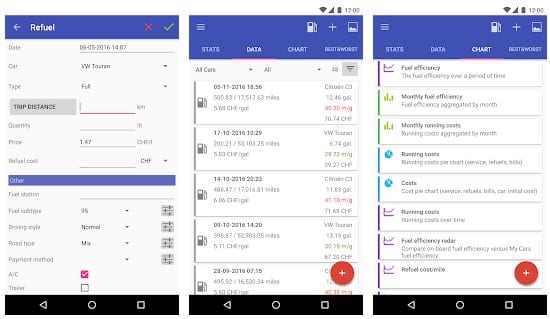 10. Fuel Manager (Consumption)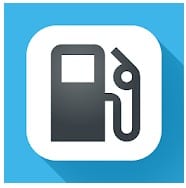 The last but not least app is called Fuel Manager (Consumption). It is going to become your digital fuel logger to record everything you need.
It will be possible to calculate fuel consumption for vehicles with one or two tanks and even with a bi-fuel system. Despite the app's multifunctionality, the statistics generated will also be accurate.
The app also supports the forecasting of remaining fuel. With it, you will surely avoid being out of gas while driving. Apart from this, you will be able to find out the rundown as well as path costs.
As always, the data can be transformed into charts and graphs that are remarkably convenient to view.
What also makes the app amazing is a Home Screen widget to have quicker access to keeping a log. Furthermore, the whole interface is something worthy to try. The app provides dozens of parameters for customization as well as up to 16 themes.
Again, you will have a chance to sync data with the cloud, and between various devices.
Nevertheless, there is one obvious disadvantage for owners of a car fleet. Thus, keeping a log for several vehicles at once will be available only in the Pro version.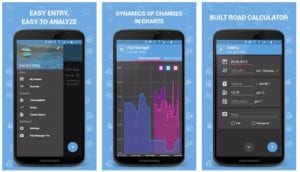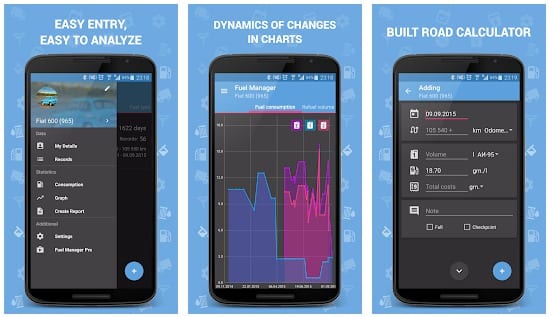 You may also like: 10 Best car maintenance apps for Android & iOS