Nowadays, keeping a personal diary is quite rare. The development of digital technology and the opportunity to share your thoughts on social networks and blogs cause it. But modern innovations can bring back the fashion for diaries.
Paper diary lovers know how difficult it is to organize notes to find them in a reasonable amount of time. Here, bullet journal apps come to help you keep electronic diaries and set tasks.
1. Elisi – Digital Bullet Journal App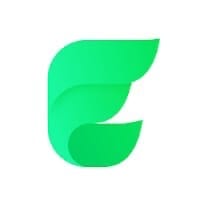 The Elisi – Digital Bullet Journal App can become your personal diary, travel log or just a collection of notes.
Keep your thoughts linked not only to calendar days. But also to different categories, tags, and marks. This makes it much easier for you to find them later.
The app allows you to attach an unlimited number of photos to each entry. They, if necessary, are framed directly in the application.
You can also mark your mood, weather and set a reminder to take a new note.
To protect all data from prying eyes, you can set a special password, which is set in the settings. In the same place, you can change the font size and choose a dark theme of the interface.
The Elisi – Digital Bullet Journal App also includes a folding diary system. This is a method of keeping a diary, in which entries are made regularly at the end of a period.
For example, days, weeks, months or quarters. Recording a larger period is based on an analysis of records of previous, smaller periods.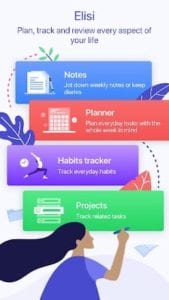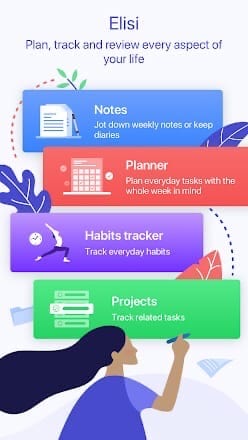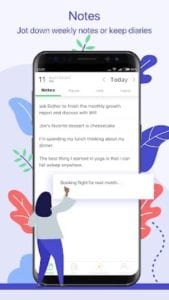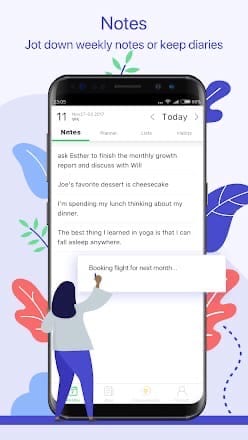 Unlike a regular diary, a folding diary system forces you to go back at least once to each entry that you have made.
You may also like: 13 Best address book apps for Android & iOS
2. Bullet Journal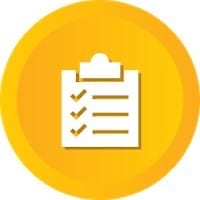 The Bullet Journal is a simple and intuitive tool for keeping personal records. The app recognizes and indicates your location.
It also checks the temperature outside the window and what you were doing when you created your note. For example, you were sitting still, jogging or just walking.
You can manually specify your mood, add tags and attach various files. Photo, video or audio recordings. All the photos you have added will be available on the Atlas tab.
Here they are displayed on top of the world map according to their marks. This is very convenient for saving notes from your travels.
Features of the app Bullet Journal:
Adding notes
Keyword search
Filtering by Category and Tag
Multilingual interface
Password protection for data
Display format – list / calendar
Any number of photo attachments
Configuring the interface color
Data Backup and Restore
"Spreading" records and photos
Setting up the first day of the week
Quickly create new notes
Autodetect Location
Adjust font size
Setting the time format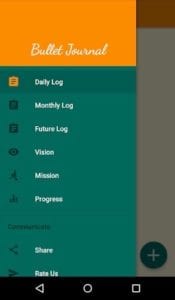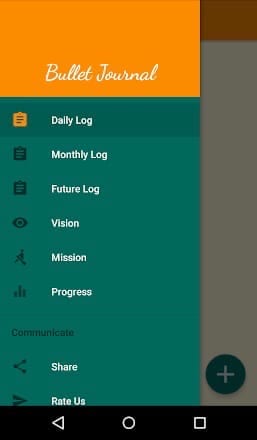 You can use this application to capture actions, thoughts, and notes during the day. It is able to synchronize data between devices, sort them in a simple list format or using a calendar.
3. May: Beautiful Bullet Journal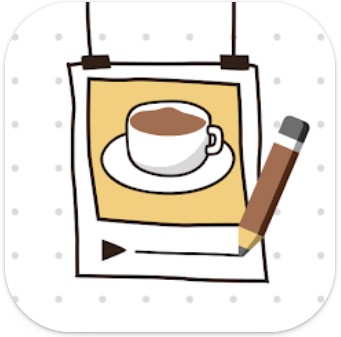 May is a completely free diary app that includes only the most essential functions.
It is not overloaded with settings and features simple navigation. The main screen has four tabs: task, event, note, and important.
Each note can be complemented by a photo, a pencil note, and emoji to characterize your mood.
The settings change the font size. You can choose a color accent for the interface, set a reminder, and export notes to PDF.
You can easily move photos, place emojis and add text. In addition, you can create your own style here.
Text notes allow you to quickly enter data, even format text with titles. You can also add photos and descriptions here. All information is immediately recorded with the date and time of publication. So you don't have to check it yourself.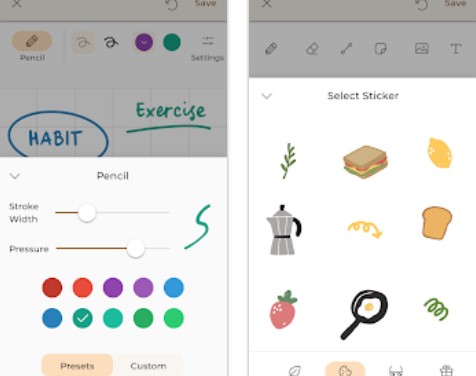 The application is very handy and has an attractive design.
4. Bullet: Bullet Journal & Diary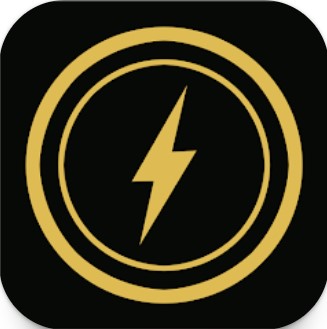 The Bullet is a simple and convenient application. In it, each record is supplemented with geometry and weather information.
You can also add daytime statistics and data about the device on which the note was created.
Add an unlimited number of photos. Create many logs with different color schemes and titles. There is also a local backup function that can be exported to PDF.
The app Bullet allows you to keep several separate logs at once and attach several photos to one note at once.
Here you can also edit the background, and choose colors and photos. In addition, there is a Dark Mode, in which it is comfortable to work at night.
Besides the timeline, there are other ways to sort your notes. You can view the photos and tags on the map separately, which will be very important for those who travel a lot.
There is also a Calendar mode, where you can see all the days with notes and easily select an entry for any date.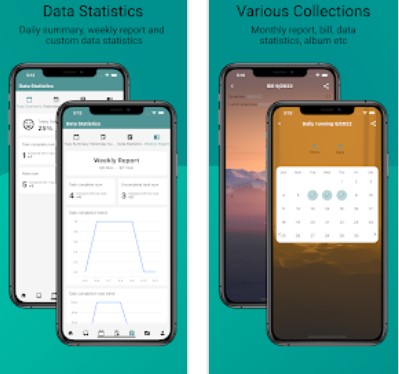 There are extensive search and sorting options for tags, favorites, activities, and more.
5. Edo Agenda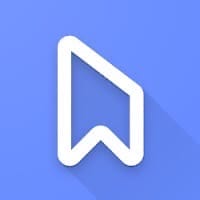 In the Edo Agenda app, you can tell about events and your emotions without a single word, using only special icons.
On the basis of such marks at the end of a week, month or year will be built visual statistics. This will allow you to identify interesting patterns.
If you wish, each entry can be complemented by a text note that allows you to describe the reasons or some details.
They can explain a bad feeling or, for example, a lack of mood. For the most active users, an achievement system is provided.
This app includes a feature to determine your location. It can link this data to each individual note, displaying it directly on the map. This is really handy.
The application Edo Agenda prompts you with ideas for notes. They appear at the top of the screen, and if you don't like the idea, you can always change it by tapping the circle arrow.
The program tells you the number of words and letters in a particular entry.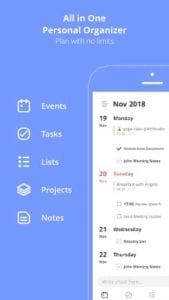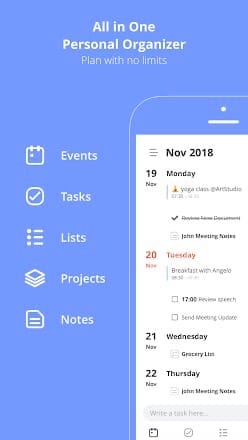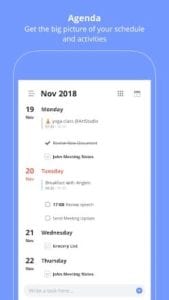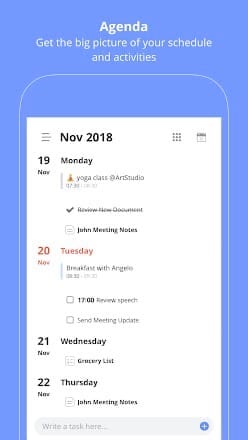 It also allows you to add the current audio track, photo, weather. You even can calculate the distance covered in a day. This is useful for those who keep a travel diary.
6. Organize Me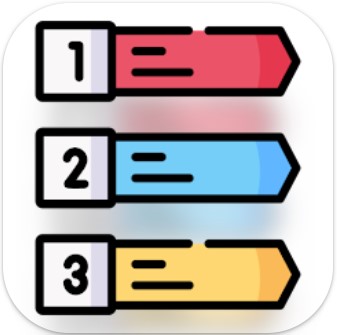 Organize Me is a handy personal diary where you can set personal targets.
You can leave a geo marker, weather report, sticker-card, photo or video in your entries.
Remarkably, the application automatically detects movement and offers to add activity. For example, a jog or an airplane flight.
A very unusual opportunity that competitors do not have.
In this app, you will get text formatting tools and a night theme. What's more, you'll be able to use the dashboard.
Here you can see from which devices you've been viewing your notes every day.
The app features a calendar entry display and color coding.
In addition, the program allows you to organize your day, and set alarms and reminders. In addition, there are many settings that allow you to be more productive.
With this application, you can easily organize and store your memories. At first glance at the interface, it may seem that the application is too primitive.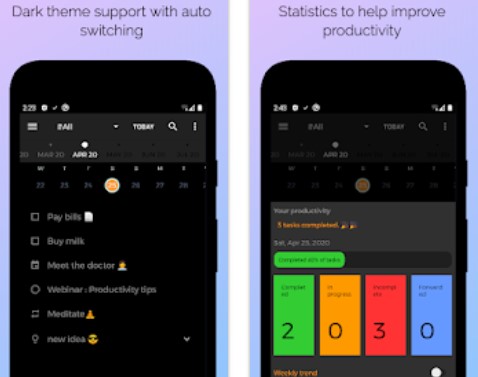 You can also use the functions of geographic location, adding tags, and much more.
7. Taskade – Team Tasks, Notes, and Video Chat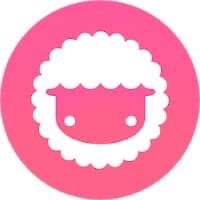 The Taskade – Team Tasks, Notes, and Video Chat app has a powerful system of sorting records by categories, dates, and places of creation.
Besides, there is a search string that filters events by keywords. It works both by headings and by the content of notes, but, case sensitive.
Here you will not find elements that do not fit into the style – everything is very harmonious. When you pile to the right you will see the main menu, which consists of the following sections:
"Diary." Here you can create various notes with weather data, your location, you can attach a photo or video. You can also specify your status, which is automatically detected by motion sensors.
The Calendar has two windows. The left window shows the calendar. The right window shows all the notes saved on the selected calendar day.
The "Photos and Videos" section shows the notes with attached photos and videos.
The "Atlas" section shows all your notes on the map, taking into account your location.
The Inspiration section includes about 300 inspiring entries.
"Help."
"Feedback."
"Settings." Here you can adjust the font size, line spacing, temperature unit, enable night mode. You can also save photos from the camera, enable reminders, and set a password for your diary.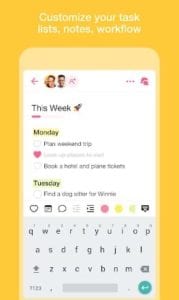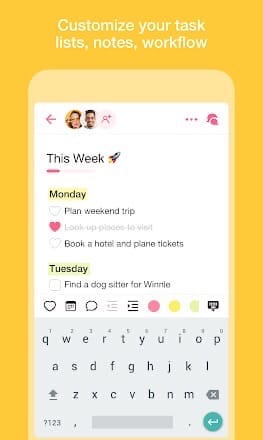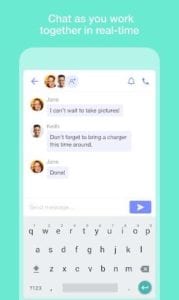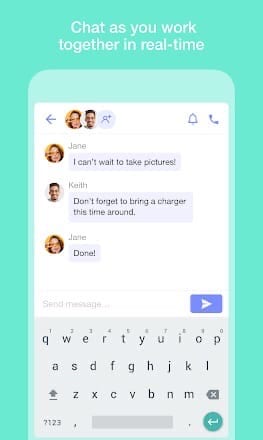 This is a completely free and handy application that works without restrictions.
8. Journal it! – Bullet Journal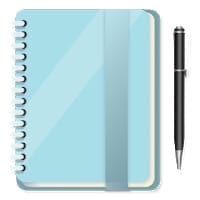 With the Journal it! – Bullet Journal app, you can record the results of each day. Reveal your habits and associate your current mood with them.
Getting to know the app starts with its benefits. You can keep a diary here without any words. It will save time and bring a lot of benefits.
Here you will find export settings and a panel with security options. The application is able to send regular reminders. The journal can sort events by any criteria: from selected photos to current activity.
It is easy to use the application. When you type in, you will see a window with five emoticons. Select the one that best suits your mood.
Then specify the activities you remember the day with. There's work, leisure, dating, sports, movies, reading, and so on. You can edit the list to make it more accurate.
The last step is a note. You can add it as needed.
The more you fix your daily mood, the better. The statistics will reveal the habits that you have. Besides, you can link them to your mood and draw the right conclusions. It may be that dating is the key to a great mood.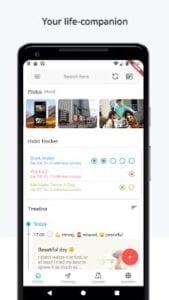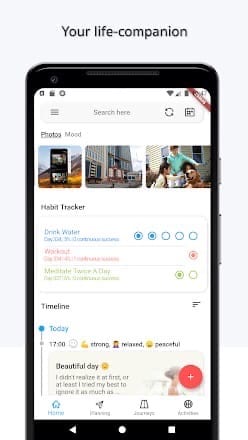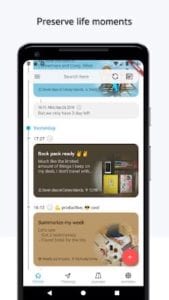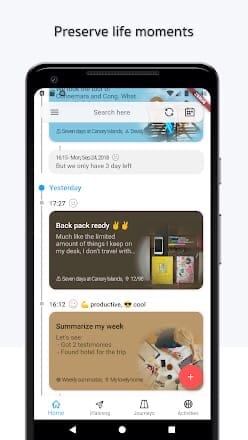 It's a good way to look at yourself. The app will tell you how you are feeling and reveal the secrets of this or that state.
9. Daybook – Diary, Journal, Note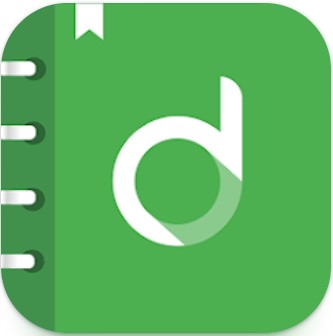 The Daybook – Diary, Journal, Note application has all the functionality needed to keep a diary and set goals.
Projects or thematic lists can be grouped together. This way you can have smaller projects within a large project.
Inside lists, the important affairs can be marked by an asterisk. For each item, you can make subitems.
Executed cases are hidden, but if you need to, you can see them by clicking on "show done". You can set reminders in the app.
Besides, you can attach a file or text to the task. You are also assigned an e-mail, to which any information will be included in the to-do list.
There are also tags in the app that help you filter the cases within different projects. When you open the application Daybook – Diary, Journal, Note, the home screen shows you a list of projects.
There is also a button in the app that allows you to view all the cases for the next week, by day.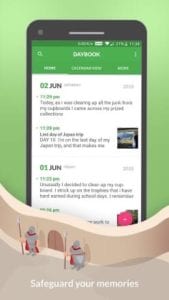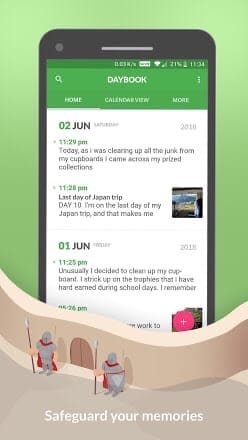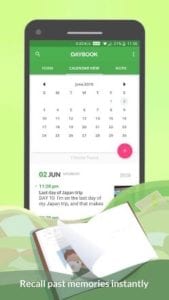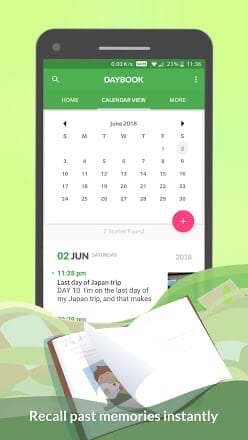 The application Daybook – Diary, Journal, Note offers you a lot of statistics. The tab that links the mood and activities is especially important. There is also the longest best mood bar, mood counter, and monthly mood graph.
10. My Secret Diary with Lock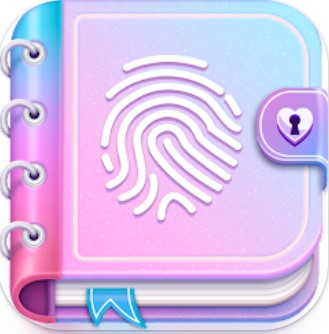 My Secret Diary with Lock is a handy electronic diary with a variety of functions.
For example, you can put a password on an application, and then no one can open it except you. Here you can add photos to your notes. There are many settings that allow you to keep your data safe. After all, there are all kinds of passwords you can use.
Another feature allows you to add audio recordings.
Also, you will receive daily motivational phrases that will inspire you to accomplish things. In addition, there is a handy calendar where you can use emojis to mark your mood. This way you can control your emotional state and remember your days better.
When creating notes, you can change the fonts and the size and functions of symbols. For example, the boldness, italics, underlining and different colors of the text itself.
Automatically detect the weather and location. You can add as many photos as you like.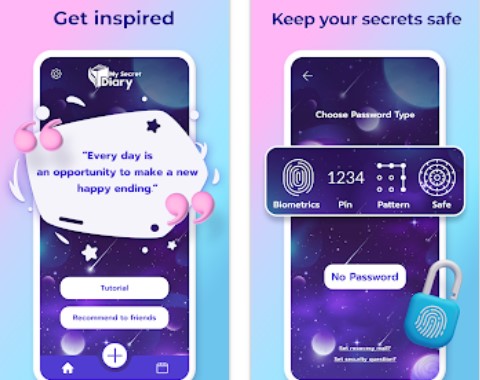 In the settings, you can select a design, as well as set up the camera, edit, sync, and connect a backup function.
11. Bullet Journal & Planner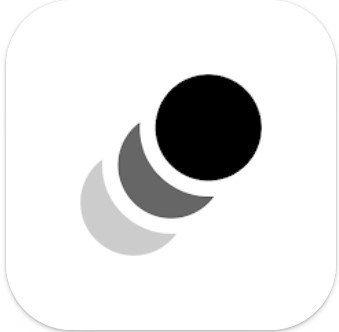 Bullet Journal & Planner is not just a diary, but a mixture of a glider and a personal diary.
It is convenient to record all sorts of things. From casual thoughts that come to your mind to urgent work tasks and plans for the next decade.
Instead of being torn between your phone notes, notebooks, and apps, all you need to do is look at your notebook.
It's also a clear system. It makes it easy to carry over tasks that you haven't had time for and not to miss anything important. In addition, the app has a seasoned interface that makes it easy to plan and maintain your productivity. In addition, you can add photos of the day to your notes to better preserve your memories.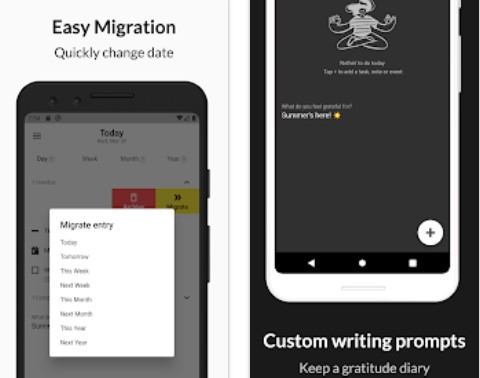 The app also makes it easy to create checklists to track your habits.
You may also like: 9 Free Handwriting To Text Apps for Android and iOS