If you constantly have to make electrical calculations, we have to bring your attention to the magnificent app – Electrical Calculations. Now we will find out why this app is so special!
In addition to this app, we can suggest you check the article about the best body fat calculator apps. 
First of all, we have to admit that Electrical Calculations is quite popular in the market. The app supports multiple languages. Plus, you will install it in several seconds!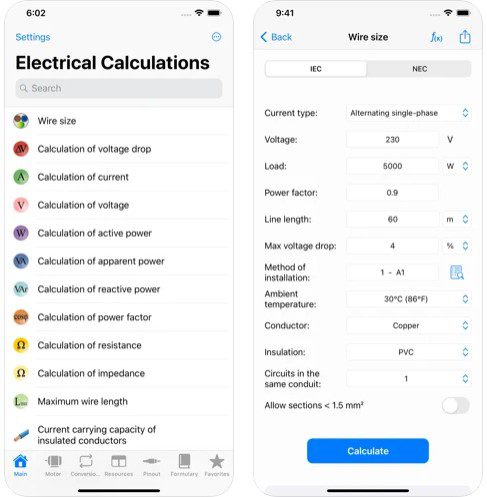 After downloading the app, you will get to the homepage with several buttons:
Main
Motor
Conversions
Resources
Pinout
Formulas
Favorites
The best part of this app – it allows you to make a great variety of calculations – voltage, current, resistance, apparent power, active and reactive calculations, and so many others!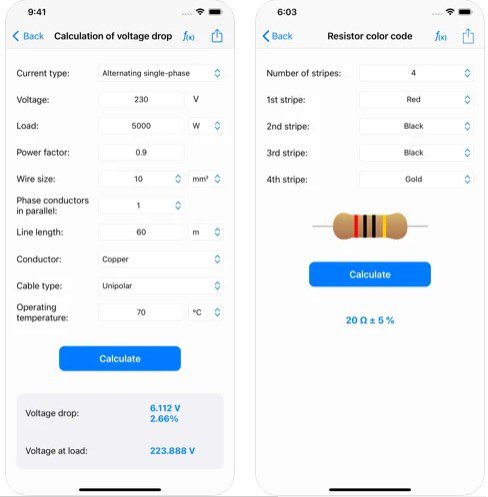 Moving on, if you open the Resources section, you will find the following tools: Fuse Application Categories, UL/CSA Fuse Class, Standard Resistor Values, Current-Time Characteristics, Cable Reactance Table, Resistivity and Conductivity Table, Standard Voltage Drop table, etc.
What is more, Electrical Calculations offers a wide range of converters. For instance, when you open the Conversion section, you will find such options as power conversion, AWG conversion table, SWG conversion table, section conversion, length conversion, and others.
Despite a great number of options, the app comes with a straightforward interface. Besides, the navigation process is pretty simple. Thus, we can surely say that there is no need to be very smart to understand how everything works there.
The app comes in two versions – Free and Pro. If you want to receive additional features, you can purchase a Pro version at a quite accessible price.
While using this tool, we have not faced any difficulties, but the developer offers excellent customer support. Plus, the majority of users have positive impressions of this app.
And except for electrical calculation, you can also calculate the cholesterol in your blood by using special apps. 
All in all, we can surely say that Electrical Calculations is a must-have app for all electricians and engineers. So, hurry up to download it – we believe you will fully like it!