Today we suggest you have a little fun and take a romantic test. They are a great way to revile your real feelings and discover how compatible you are with your partner. We have collected the best apps available. Our tests are waiting to measure the depth of your relationships.
Is this a momentary infatuation or have you fallen completely in love? In addition, we recommend checking your friendship as well. You can find pleasant apps in the Fun BFF Friendship Test Apps article.
1. Love test – love calculator
This app offers a real psychological test to determine how compatible you are with your soulmate. In addition, you can take the tests with your boyfriend or girlfriend as well as separately. The program is also good because it has horoscope compatibility. In addition, you will get daily predictions for your zodiac sign.
On top of that, there is a page with all sorts of info regarding your compatibility with specific zodiac signs. And for all those fascinated by love and relationships, there is a special section with articles on the most compelling topics.
Also, there are intriguing tools for creating romantic cards that you can share through social networks or send to someone special. For that, there are over 100 different phrases and statements about both love and romance.

You may also like: 10 Best Lie Detector Test Apps
2. Love Calculator – Love Test
This is an app that offers as many as three types of tests. Each involves filling in some essential pieces of information, such as your name, age, date of birth, or zodiac sign.
You can also specify height and hair color in some of them. In addition, it has a history of the tests you have taken. After each of them, you will get your compatibility with your partner by the end of the test. There are also physical and mental compatibility tests.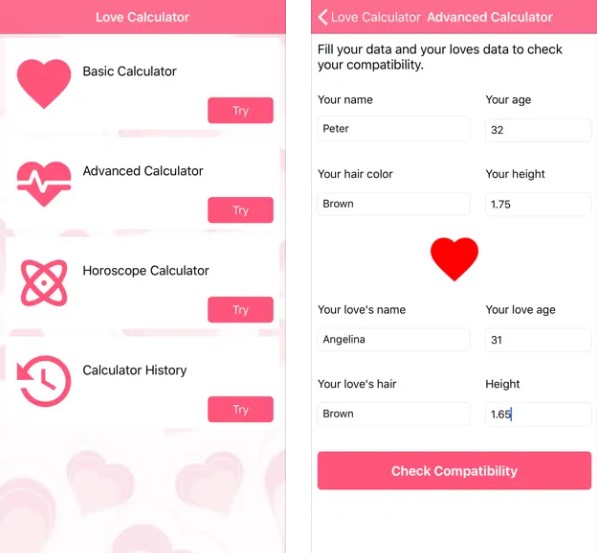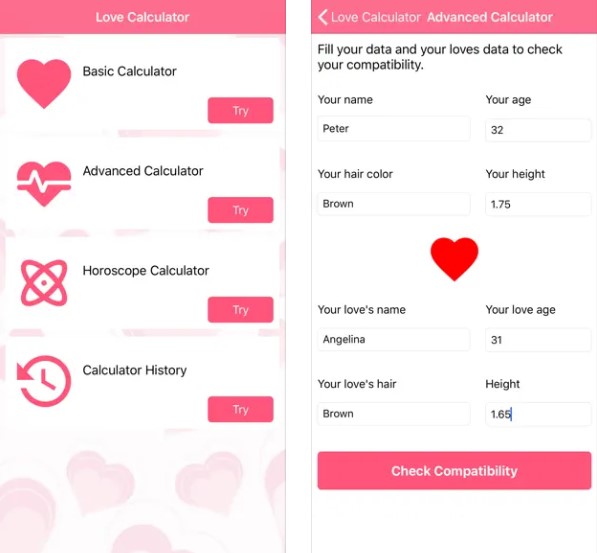 3. Love Tester – Find Real Love
This is a super simple program offering merely enter two names and find out how close you are. It is also worth noting that this is just a game that does not determine exact compatibility. However, you will get a random result that you can post on Facebook or WhatsApp.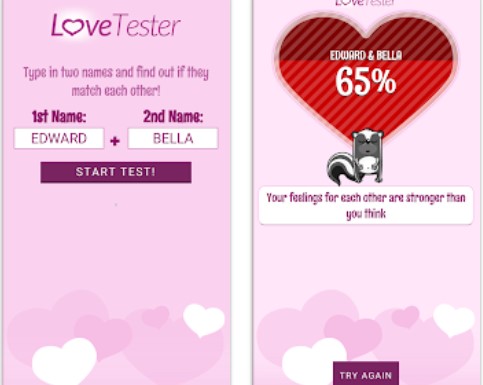 4. A Love Calc: Compatibility Test Calculator
This is another fun game that will show your compatibility percentage. It is bright and easy to use. All you have to do is enter your names and get the result. In addition, you can take the test several times and send it to your email or social networks.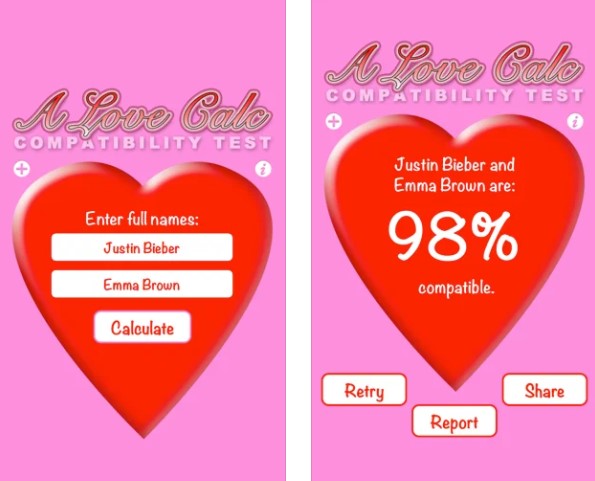 You may also like: 11 Best Holographic Apps
5. LOXDER: Couple Quiz& Love Test
If you have been looking for a new boyfriend or girlfriend for a long time, you can take a fun match test and find out if you should start a relationship with the person you like or not. Here you can take a bunch of different love tests. Also, you get a love horoscope that reveals the love situation that is waiting for you.
In contrast to other apps, you will get detailed results. Here you will see not only the percentages but also the number of right or wrong answers and attempts. Moreover, there are tests based on your date of birth or the name of you and your crush.
In addition, you can create your test where only you will see the answers of other people. Not only that, but the app stores several quizzes at once.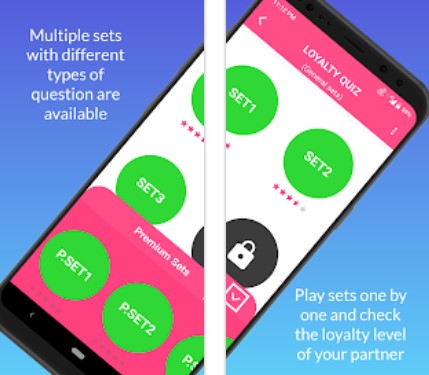 6. Love Test Compatibility Rating
This is an extraordinary app with nice animations and funny sound effects. All you have to do for the test is enter your and your partner's names. Besides, there are some interesting additional features here. For example, you can change the icon of the app right in the settings.
Also, the program allows you to set reminders for certain dates and times. Moreover, if you always want to have access to the program, you can use its unique widgets which can be well set on the main screen.
There are two types of widgets in total that will count down the days until Valentine's Day. Also, the developers have added a couple of cute stickers for your iMessage.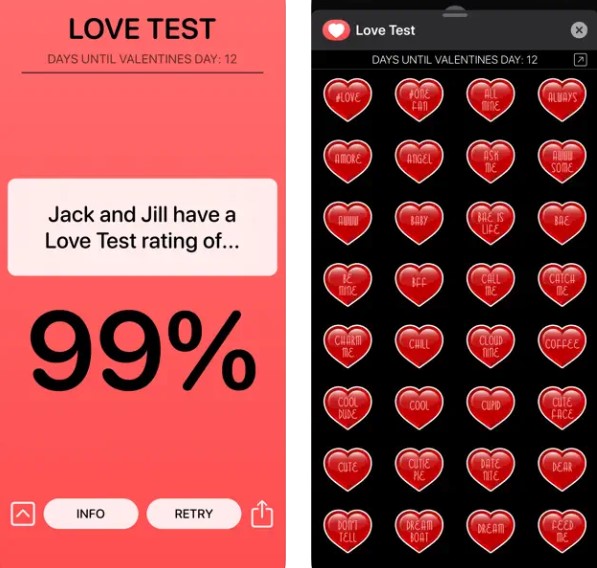 You may also like: 9 Best Fingerprint Scanner Apps
7. True Love Tester & Calculator
The last app we have listed combines the features of several apps at once. First, a test will determine your love based on your zodiac signs and date of birth. Second, there is a quick quiz with questions that will bring you and your partner closer together.
Also, the app can inspire you with beautiful sayings about love that the developers have collected for you. The results of the test can be easily shared via messenger by sending a link with a cute picture showing the quiz result.