We all like to play pranks and have fun. For example, if you have a certain application, you can make a great prank on your friends or family members. Besides, we have collected various tricks on absolutely any topic in this article. So, you can check your love match, luck, intelligence, and much more with just one fingerprint.
After all, fingerprints are a unique code that allows you to accurately identify a person and by fingerprints, you can determine a person's temperament and psychological tendencies. Just check out what these apps are capable of. You may also be excited to check out another article with some more pranks apps, called the Best Lie Detector Test Apps in 2022.
1. MyFingerprint
The fingerprint scanner can be used not only to unlock the smartphone but also for many other useful actions. For example, this app is capable of conducting a unique test that will help you learn a lot about yourself. In addition, the app offers to create an incredibly attractive fingerprint image, which you can use in absolutely different ways.
For example, the creators of the application suggest using your fingerprint as a print for a T-shirt, a drawing, or a unique engraving on rings. All in all, a creative person will come up with something good for you. After all, you will get your prints in super cool quality. You will also have the ability to edit them, making them brighter and more detailed. All this will be provided by your phone camera.
To make such a picture, you will have to follow the step-by-step instructions of the app. Moreover, you will get a qualified test that will show all sides of your personality, as well as your abilities and weaknesses. More importantly, you will be able to make several fingerprints, for example for all members of your family.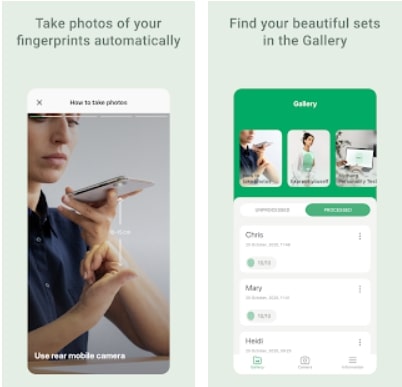 You may also like: 17 Best Dancing Apps With Your Picture (Android & iOS)
2. Fingerprint Scan – Daily Tarot
Fingerprints can tell us a lot about ourselves. Drawings on the fingers correspond to karmic destiny. It is a kind of foretelling, a glimpse into the future that has a logical explanation. We receive a huge percentage of information about the world around us and ourselves through our fingers. Therefore, this app will help you predict upcoming events. It can be considered your horoscope for the day.
All you have to do for it is put your finger on your smartphone screen. In addition, this simple app can be a great mood booster or help you solve some life problems about which you have doubts. Moreover, you will get the prediction absolutely for free and incredibly fast.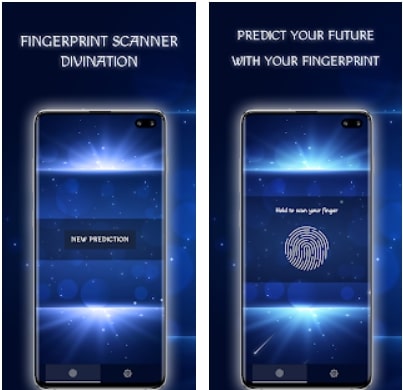 3. Personality test
You will not find anyone in the world whose fingerprints are identical images of each other. After all, our fingerprints contain important information, which you will be able to find out using this application. The designs on your fingers may be the key to your identity. That may be true, but this app can help you make fun of your friends.
For instance, you can customize the app to give out certain results, such as matching them to your friends' personalities. On the other hand, the app can work in automatic mode and give out results by itself at random.
A fingerprint technique allows you to learn the psychological and organic characteristics of a person, makes it possible to estimate a person's potential, and determines his characteristic traits of self-expression. Put your finger on the screen and get the results. Thus, the app offers as many as eight different characteristics that you can try out with your friends.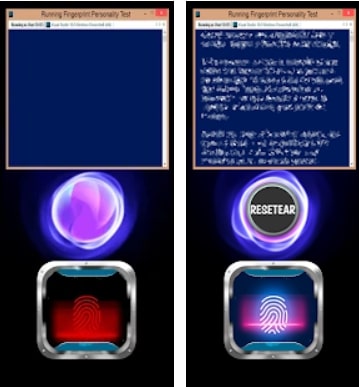 4. Lie Detector Test
This program can distinguish the truth by fingerprint. All you have to do is put your finger and answer the questions. So you will get the result on the screen, which will show your honesty. After all, this is a real lie detector.
With your friends, you can arrange a real interrogation, someone will be the detective, and the other a suspected. This way you can have a lot of fun by getting random Truth or False!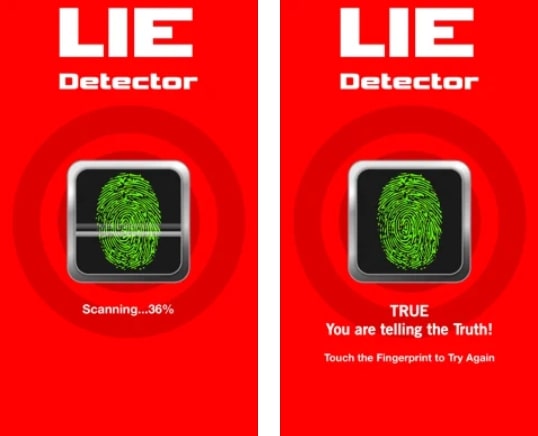 5. Age Fingerprint Scanner
This app will help you have fun with your friends and find out your age using your fingerprint. This is a joke app, it does not read your fingerprint, it only imitates it.
When you log into the app you will be greeted by a fingerprint scanner, and you will need to hold your finger on the screen. The app will then calculate your age. This app is great for the company of people who want to have a good time and have a good time laughing.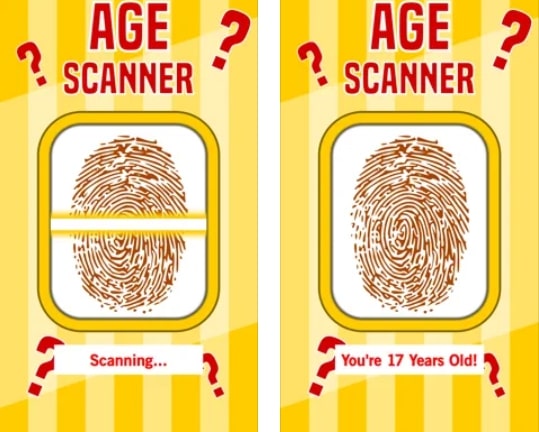 You may also like: 8 Best Male to Female Voice Changer Apps (Android & iOS)
6. Real Fingerprint Fortune Test
This app will help you learn more about yourself by using your hands and fingers. The app uses the Chiromancy method of fortune-telling. Chiromancy is a method of divination using your fingers and the lines of your palm.
This method of divination will allow you to learn a lot about yourself, it will tell about your strengths and weaknesses, your life preferences and who you are destined to work and much more. The app is arranged according to the same system. You will need to scan your hand and your fingerprints when you sign in to the app.
The app will give you a result about your identity and information about you. It is worth noting that the app is humorous and gives approximate information about you. But you can use the information and think about whether or not you are that person. This app is great for people who want to learn more about themselves and work with that information.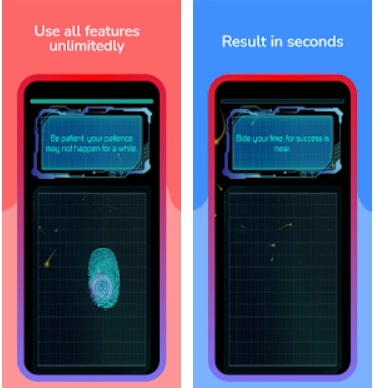 7. IQ Scanner Simulator
A person's fingerprints are incredibly striking because their patterns across the skin are completely different for all people. It is a feature that can tell a lot about a person and even reveal his or her true level of intelligence. That is why we have decided to include in our article another scanner that will show your intellectual abilities.
The app works in the following way: you touch the phone screen and get the result. It may be an app for just one time, but that is probably the point of all pranks. Prove to your friends that you are the smartest one!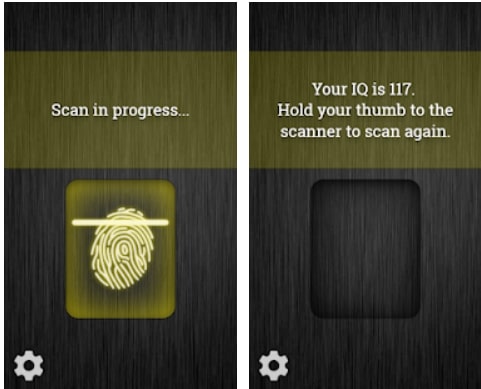 8. Fingerprint Love Scanner
This app is great for those who want to have fun with friends or check their feelings with their significant other. It is worth mentioning that the application is humorous, so you will not be disappointed if you get a low percentage of matching with your partner. The percentages are randomly generated from 0 to 100%.
When you log into the app you will be greeted with 2 fingerprints, you just have to put your finger and the finger of your partner with whom you want to know your compatibility. After 3 seconds the app will generate a random number and give you a percentage of your compatibility with your partner.
The maximum result is 100%, which means you are perfect for each other. After you scanned your fingerprints and got the result you can share it directly from the app with your friends to send them your results. The app is very easy to use and from the first second, it is clear how to use it.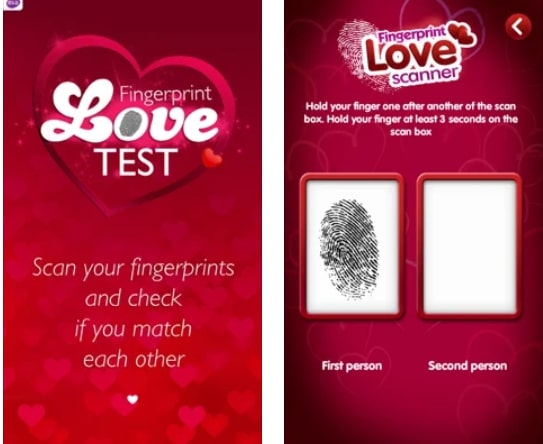 You may also like: 9 Best Catfishing Apps for Kids and Cats (Android & iOS)
9. Lie Detector Simulator
And this is another lie detector, but with one difference it is for Android. It has a little more functionality than usual. After all, you and your cheerful company can not only put your finger on the screen to find out the whole truth but also play a real game of interrogation.
The app is steeply optimized for that. It has a lot of different sounds and vibrations to create the effect of a real polygraph. There are more than 150 of them. The creators of the app claim that sound is the clearest and most entertaining. Also, there is a line that will show your heartbeat with just one tap.