You can't imagine how cutting-edge the apps are. For example, the App Store and Google Play have many tools capable of changing the voice. As a result, you may sound like an alien, robot, minion, and dozens of other characters.
Apart from unusual sound effects, one can try to change his voice into a woman's one. Whether it will be for fun or some personal business, such tools will meet your requirements for sure. As a result, your low male voice will be transformed beyond recognition into a high female one.
We have chosen only the best apps in this category. After installing an app from our list on your iOS or Android device, you will become the owner of an efficient voice changing tool.
1. MagicCall – Voice Changer App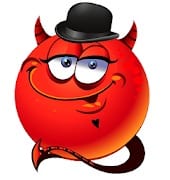 The only voice changer app available on both platforms at once is MagicCall. In this case, it is focused on making fake calls.
Well, to turn your voice into a woman's one, you will need to choose the proper icon. After that, everything will be ready for pranking. By the way, besides the standard woman's voice, there is also an option called Dream girl's voice. So it will be a great bonus if you want to play a trick on your friends.
Apart from transforming a voice into a female one, the app's user also has access to the impressive collection of sound effects. It can be a background sound like Raining, Concert, Birthday, traffic, and many others. Besides, you can make your voice sound as it is produced by a kid or cartoon character. One way or another, the sound will be extremely natural.
In addition, the app is famous for its emojis sound imitation. Thus, you can play sounds of particular emojis (like a kiss, clap, surprise, etc.) during the call. There is no doubt that it will give zest to your conversation.
The way the app makes calls is credits. It means that you will need to earn or purchase them. However, it is worth it.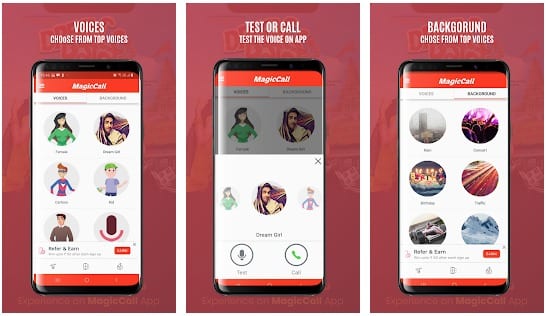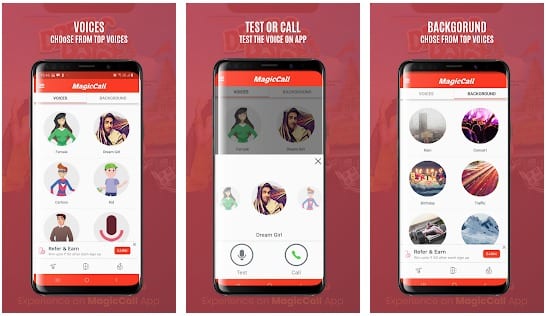 2. Live Voice Changer – Prankcall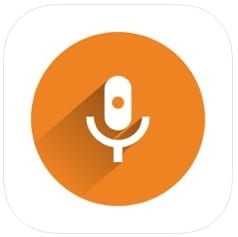 Live Voice Changer – Prankcall is the next tool to be reviewed. Though it has some flaws (we are going to talk about them below), it is still very powerful in voice changing.
Let's start with the app's strong points. There will be two options for changing the voice. First of all, the app will offer you a list of 11 voices to be used. It can be a character (Tom Cat, Darth Vader, etc.) as well a voice of a man or woman. It means that the app can easily solve your problem.
The second option means using a modernized equalizer. After tuning the voice by numerous parameters, you will make your voice sound as realistic as possible.
It must be said that all these features can be applied to voice recording only. At the same time, if your aim is to change a voice in a live mode, you will be asked to pay for it $2. Hearing your modified voice in real-time will be a very exciting experience.
Finally, you will be able to save any recording for further sharing via social media and messengers. What is more, the app is compatible with Bluetooth and airplay output devices.
Talking about promised disadvantages, according to the app's name, the developers guarantee that with this tool you will be able to make calls with a changed voice. Unfortunately, there is no feature working outside the app. Built-in dials are also not available.
Totally, the app is great for changing voice for recording or listening to it in real-time. However, if you are searching for an app for prank calls, it won't be a good idea to install this tool.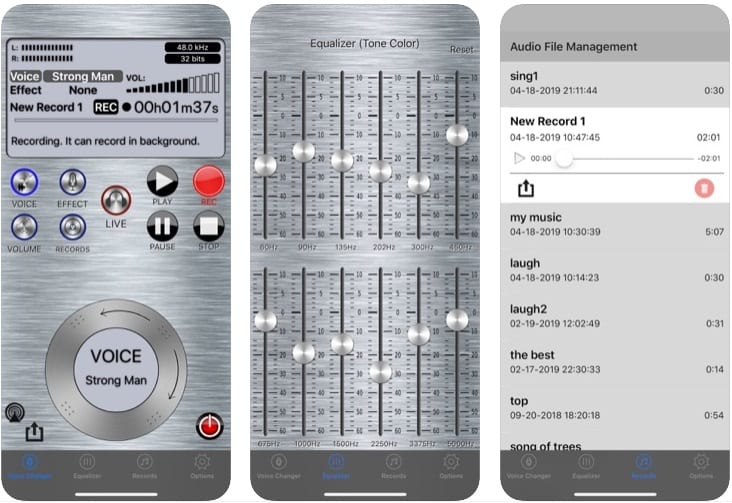 If you plan to have fun with friends while jawing, here are some fresh ideas on how to do it via Skype or Facetime.
3. VoiceFX – Voice Changer with voice effects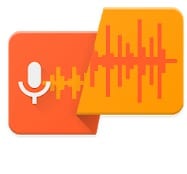 VoiceFX will be a good option for Android device users. So what are its features?
The app seems to be with no-frills. At the same time, it functions quite well. Thus, you will be able to apply any of the pre-loaded sound effects to a recording. The audio file can be both imported or recorded directly in the app.
As for sound effects themselves, you will have an opportunity to make your voice sound as it was produced by Chipmunk, Autotune, Robot, and so on. As you are interested in a female voice, it is included in the app, too.
When it comes to exporting a recording, there will be many options available. Thus, you can save it as mp3, share via social media or messengers, and even set as a phone or notification ringtone. It is a great advantage that you can do it right in the app.
Besides, the app supports changing a voice in real-time. You will need just to say something to hear your modified voice simultaneously.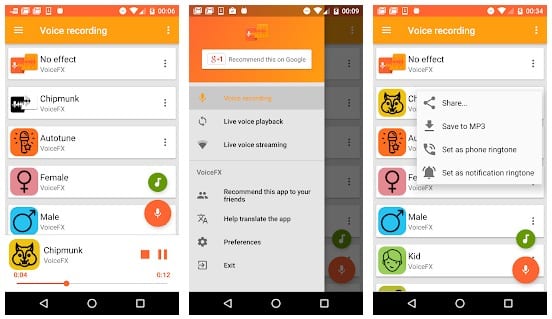 4. Voice Changer Plus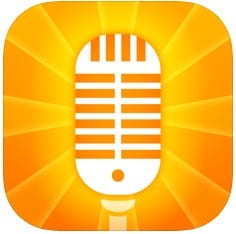 Going back to the applications from the App Store, Voice Changer Plus is the thing that we also recommend to install. Be sure that it will make your day.
The app will provide you with access to 55 unique sound effects. You can hardly find a voice changer app which includes such a great collection.
To turn your voice into a female one, you will need to record yourself in the app, and then choose the 'Higher' sound effect. That's in! It will remain to save a recording or share it with your friends.
By the way, in case you are not satisfied with a result, uploading a saved recording to apply a sound over and over again will be possible.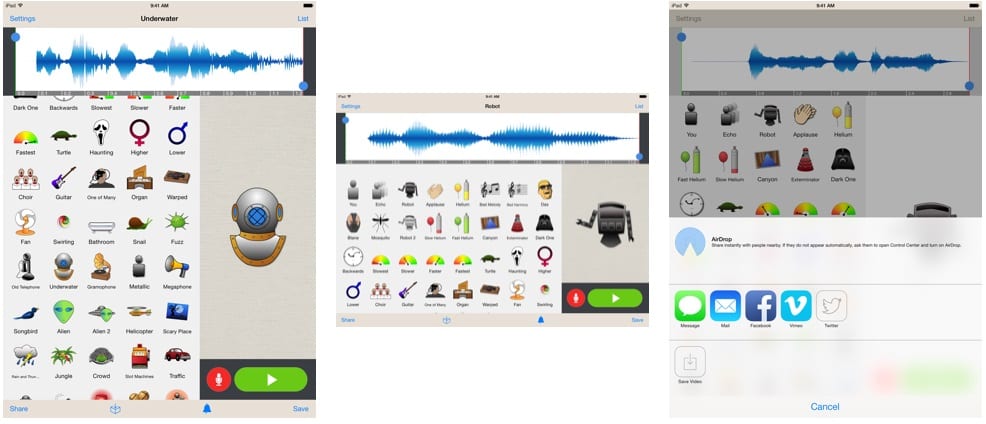 5. Voice Changer & Voice Editor – 20+ Effects
One more amazing tool that we would like to introduce is Voice Changer & Voice Editor. It combines both simplicity and convenience, which is a good reason for installing.
In this case, you will be able to change a voice on a recording created in the app as well as on any audio file imported. The app offers several ways to do it.
The most convenient option is changing a voice within one tap only. As a result, your voice on a recording will be transformed into a female one. In case you need an opposite effect, tap again to make a voice sound lower.
As for an alternative, you will be able to change a voice manually. The app will allow you to adjust quite many parameters from pitch to speed. Also, a user can change the volume, tempo, echo, reverberation, etc.
In case you are interested in some sound effects too, the app will be suitable, too. It supports changing the voice (child, animal, old man, and so on) and even adding a background sound like the noise of rain and wind.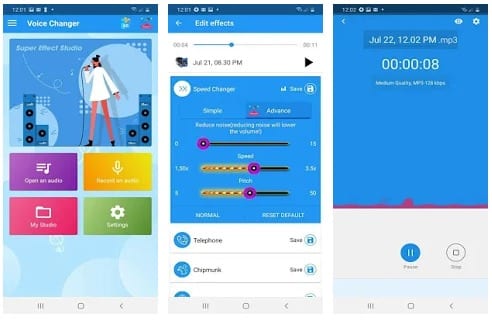 6. Voice Changer App – Record and Change Sounds
Going back to the apps for iOS, the Record and Change Sounds tool is something you should try as well. Being an extremely user-friendly app, it will definitely amaze you.
With this app, you will have quite many sound effects at your fingertips. It will take several seconds to transform your voice into a female one. Besides, you will be able to change the speed, add some awesome background sounds, and so on. Just tap a necessary icon to apply this or that effect on your recording.
Talking about tech details, in-app saving is possible for the users. You can benefit from it by changing a particular recording anytime. When you finish adjusting the sound, there will be several options for sharing: via WhatsApp, Facebook, Twitter, YouTube, and even Instagram. Furthermore, saving a recording as an audio file will be possible as well.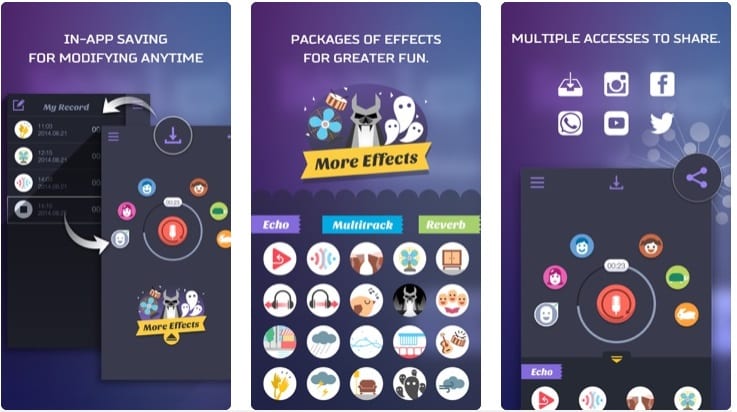 7. Voice Changer Voice Recorder – super voice editor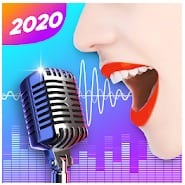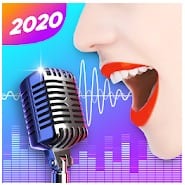 Have you ever heard about the Super voice editor app? Millions of people across the globe already admire it. So if you have never installed this tool, now it's high time to do it.
After recording a voice in the app, the next step will be to apply sound effects. As you are interested in transforming your voice into a female one, the app is capable of doing this. Apart from this, you can also learn how would your voice sound if you were a Chipmunk, Devil, Transformer, or another character. In a word, the choice of voice effects will satisfy you for sure.
In case you are fond of singing, the app offers some additional features that we find wonderful. It supports various options for reverb such as Theater, Studio, Chorus, Karaoke, etc. By applying one of these effects, your recording will be transformed into a real masterpiece.
One more distinguishing feature is the app's compatibility with phone calls and messengers. Believe it or not, but the friends or family members will have a chance to hear your modified voice while chatting with you. By following the link below, you will find comprehensive instructions on how to do it.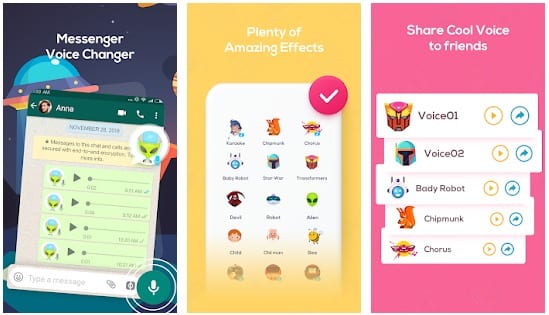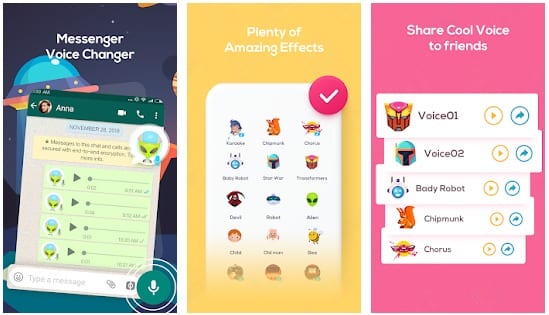 8. Call Voice Changer – IntCall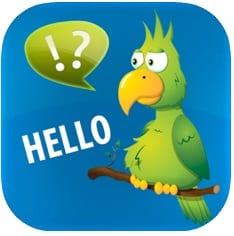 How do you feel about trying one more app for prank calls? The thing is that IntCall will change your voice out of recognition, which suits your aim.
To make your voice sound like a woman's one, you will have an opportunity to choose the High or the Highest option. Besides, there will be two buttons to make your voice lower. Plus, the app includes various nice background effects, which will be quite useful.
In this case, the main distinguishing feature is that you will be able to switch between these sound effects during the call. That sounds engaging. Plus, the app makes calls by using your internet connection only. That's why money on your balance will be protected from wasting.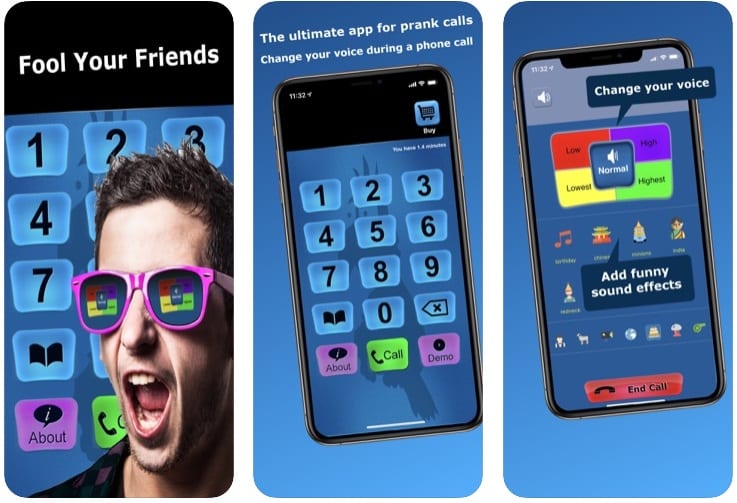 You may also like: 11 Best celebrity prank call apps for Android & iOS