Sometimes editing videos is not that fast, but there are special applications that make this task much easier. So today we have gathered the top apps for you to remove sound from any video in no time. For example, it will help to get rid of unnecessary noise, sirens, car noise, and unwanted music.
In addition, we offer you Best Video Splitter Apps that are designed to make editing even simpler to handle. Well, now let's review, we hope our article will be useful.
1. Video Mute: Remove Audio Sound
These programs allow you to edit video clips of any format. Unlike other editors, this application works with a single click. It is convenient because here you will cope the fastest with the task at hand. In addition, you will be able to work both with short clips for social networks and with movies, video tutorials, etc.
Also, you can remove only certain parts of the track in the software, rather than muting all of the audio. In addition, this application allows you to edit the intensity of the sound. So you can not mute the video completely, but only on half or a certain percentage. On top of that, you can also increase the music, voice, or other sounds.
Also, this program is great because your videos will not lose any quality – they will be exported exactly as they were at the beginning. Another distinguishing feature is that there are no watermarks that spoil the picture and distract from it. In addition, the application supports cloud storage, which makes the program even more advanced to use.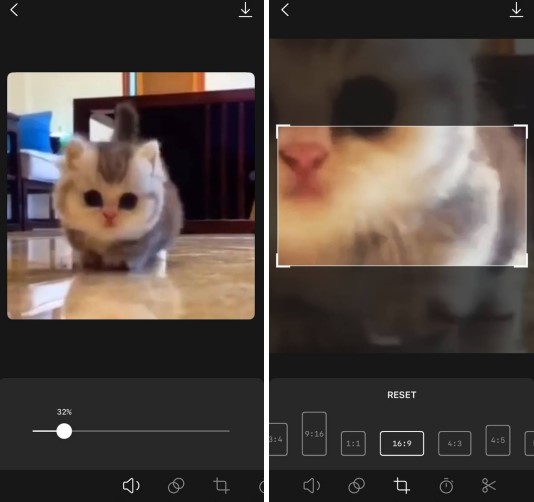 You may also like: 11 Best Reverse Video Apps
2. Video Editor & Maker – InShot
This program for beginners and average users will allow you to get rid of the audio track in your video. You will also be able to lower the volume at certain segments and by a certain percentage. In addition, here you can replace the original sound with music or voice-over annotations.
In addition, the software allows you to use audio files of any popular format, and also offers a built-in collection of tunes to work with. If you cannot find a suitable audio track, the application will be glad to offer you a whole thematic collection. All you have to do is to choose. Besides, the app is notable for its simplicity.
To work, you need to launch the video editor and click on the New Project button. Then you need to select a video or a live photo, which you can add from different sources. The easiest is to choose from a photo app on your device. The convenience of this program is that all the editing processes can be done in one place.
In addition to sound editing, there are many other useful features. There are ready-made filter presets, lots of stickers, editing pictures, intensity, and much more. In addition, the application supports various video formats, including the most popular and a couple of non-standard ones.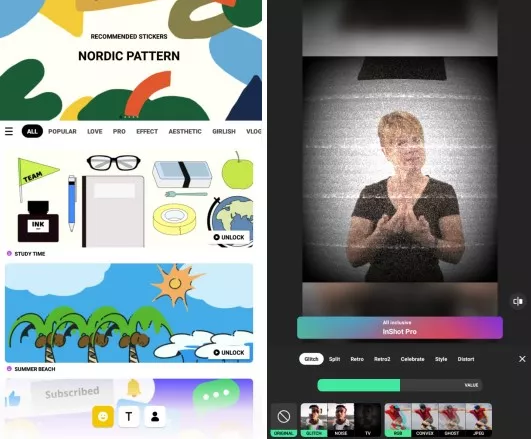 3. Splice – Video Editor & Maker
This is another editor with many outstanding features. To begin with, it is worth noting that it has all the basic features of a modern video application. Therefore, this program has a lot of editing possibilities: choosing the break time between videos, adding endings, trimming, and overlaying audio.
In addition, you can add music from your player, and other applications, overlay your audio track, and any other sounds. Also, the app will help you with a whole library of sounds for every taste and occasion. In addition, the app is different in that it is specifically designed to handle the editing of different video formats.
Here you can edit videos for TikTok, Instagram, YouTube, and other services. You can also choose the format that suits your videos. In addition, you can work on the speed of the video, speed it up, and slow it down.
There are also many filters and other interesting features, you can add text and time of appearance, and adjust titles and fonts. All in all, it has all the possibilities to create unforgettable projects.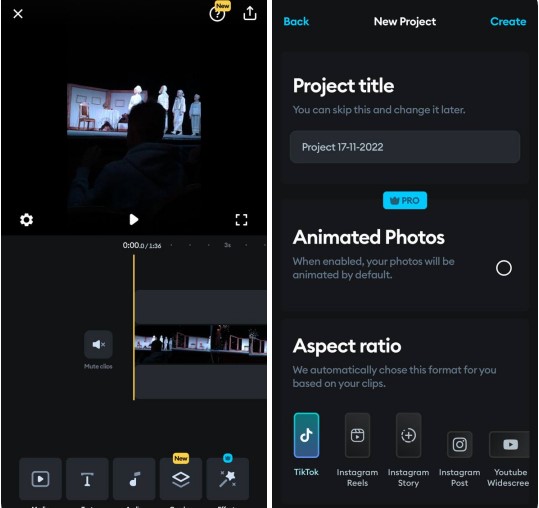 4. Picsart Photo & Video Editor
It is not just an application where you can edit various projects, but also a social network where you can post your work or get inspiration from other users. There are so many features that it is hard to know how to use them all at once. However, in terms of sound editing, everything is simple here.
All you have to do is upload a video and select sound processing. That way you can turn off the sound or music completely. Also, the app allows you to try the fade-in and out effect. In addition, you can adjust the intensity of the sound and add your music on top of the video. In this aspect, the app is unique.
After all, you can choose something from your collection or you can try out the sounds suggested by the app. As we mentioned, the app is feature-rich, so once you launch it, it shows a feed where the developers show the different ways their app can interact with your photo or video.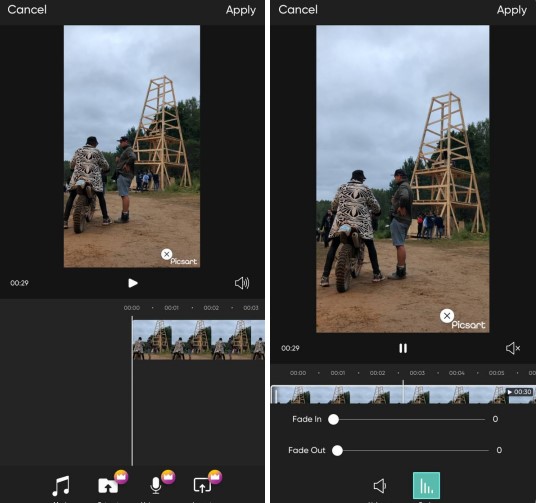 You may also like: 11 Best Apps to Create Video Memes
5. CapCut – Video Editor
Free video editing program that is advised by many users, famous bloggers, and many Internet articles. We could not pass it up. If you want to process sound, go to the Audio tab, which is located on the bottom panel with other sections.
The application includes impressive special effects, as well as working with sound in the video, you can add songs from your phone, and apps. And you can also record your voiceover, for example for social media services. There are many other additional features.
For example, there is a section that has a large number of filters that will help improve your files and give the atmosphere and mood. You can also choose the right format, among them there are such popular ones as 16:9, 9:16, and many others. As well, the application has several types of backgrounds, with different prints.
You can also upload one of your own. In addition, you can edit the picture, and blur it partially, precisely, or completely. There are several modes, you can try out from a rich collection of filters.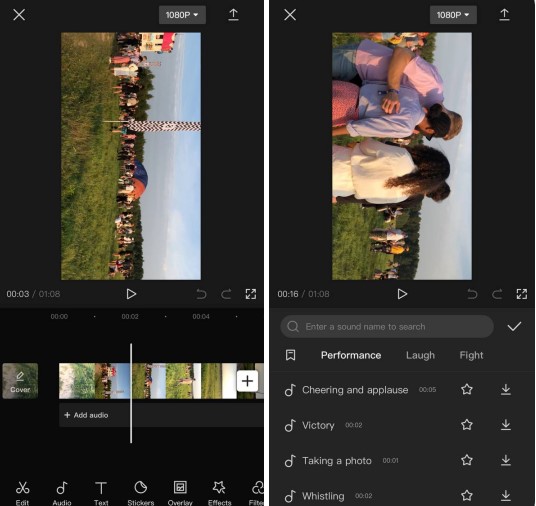 6. Videoleap Editor by Lightricks
We are pleased to introduce you to this handy video editing application. With its help, users can decorate their videos and give them a unique look. This service allows you to create transitions between different clips and use animations, filters, and special effects. Also, it features a social feed where you can view clips and try out new images.
In addition, you can choose the same effects and filters in the feed. Also, this app may surprise you with the ability to edit sound. There are special features to change a particular fragment of the video. To do this, you just need to click on a specific video part.
According to many parameters of the editing capabilities, the application is not inferior to the specialized programs used by professionals. However, all the processes here are much faster.
Here you can add captions, images, filters, and other modifications. The program allows you to change each frame. This program is also suitable for animation, with which you can create moments from the keyframes of a photo or video.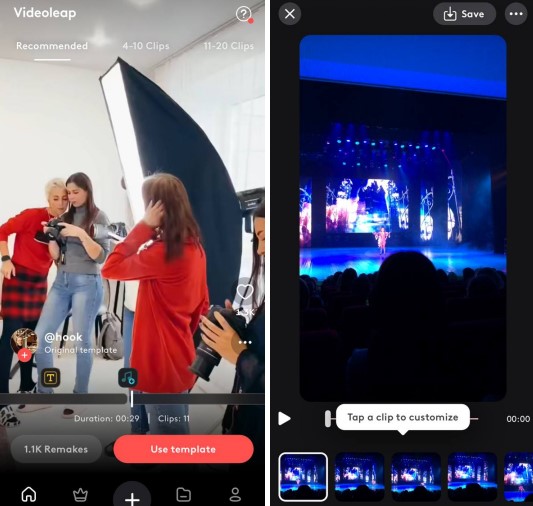 You may also like: 7 Best Clone Yourself Video Apps
7. PREQUEL: Aesthetic AI Editor
This is another super downloadable app. It features the ability to create 3D photos with very aesthetic filters that you can modify yourself. Also, the program has a cool AI assistant that helps you turn video clips into an animated cartoon, or anime and make a toy style.
In terms of sound, the application does not differ much from its analogs, however, there are so unspecial sounds, and the ability to reduce and increase the sound. In addition, the app will delight you with the ability to use layers.
Therefore, all filters are attached to the edited video as separate layers. Thus, you can adjust the intensity of their overlaying. In addition, new effects and filters appear here quite regularly.