The first time we launch the Firework Arcade ® app, the game starts almost immediately. In this simulation, the night sky appears in front of us at sunset. Several balloons flying in the background and stars falling from the sky. Registration in the application is not required.
If you like this game you will probably like puzzle game apps – you'll find them in this article.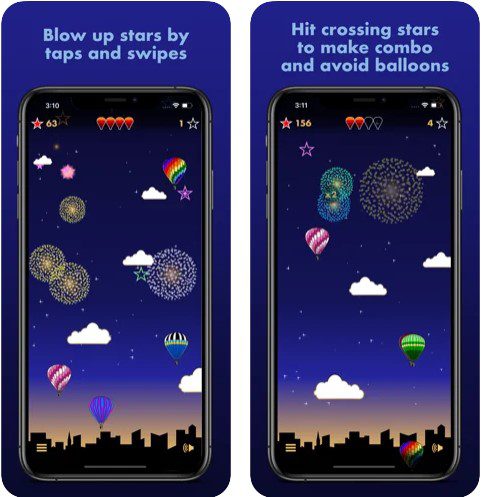 The essence of the application is as follows when we see shooting stars from the sky, we should click on them, and then we will see a beautiful sunset. But if we accidentally click on the balloon, it will deflate and fall, which is not very good. We can click on the balloon four times, after which the score will stop.
The design in the application is great. We are greeted by a beautiful sky that will always be in our background, everything is very well detailed and made simple, but at the same time incredibly beautiful! After you click on the shooting star, you will see a beautiful colorful salute.
On the top left, there is a menu button that will open a pull-out page for us, we can start a new game, look at the high score table and see how to use the app.
Also hurry to see the list of the best rhythm game apps – they carry a similar vibe to this game.
The Firework Arcade ® is very pleasant and very easy to use. It is something like a time killer who successfully copes with his task!