Do you like puzzles? The mobile application market offers different kinds of puzzles for Android and iPhone.
Their variety is quite large and it's very difficult to choose which one is better. But we chose the most interesting, exciting and colorful games of this genre:
Jigsaw Puzzles Epic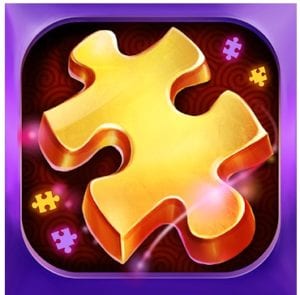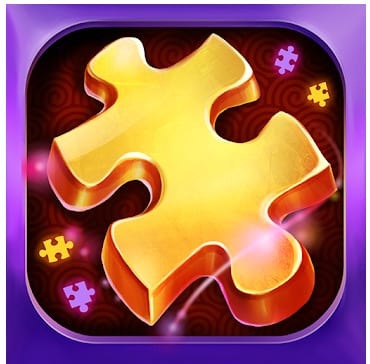 Jigsaw Puzzle Epic – you will plunge into the world of puzzles and collect a variety of beautiful pictures, which are more than ten thousand. Among several successfully selected categories, it is necessary to select appropriate pictures and start a puzzle.
Animals, architecture, nature, painting, fragments of autumn, charming pets – this is only part of the available categories.
After doing a puzzle from categories such as painting or architecture, the gamer waits for an excursion into the history of a canvas or historical structure, which greatly expands the horizon.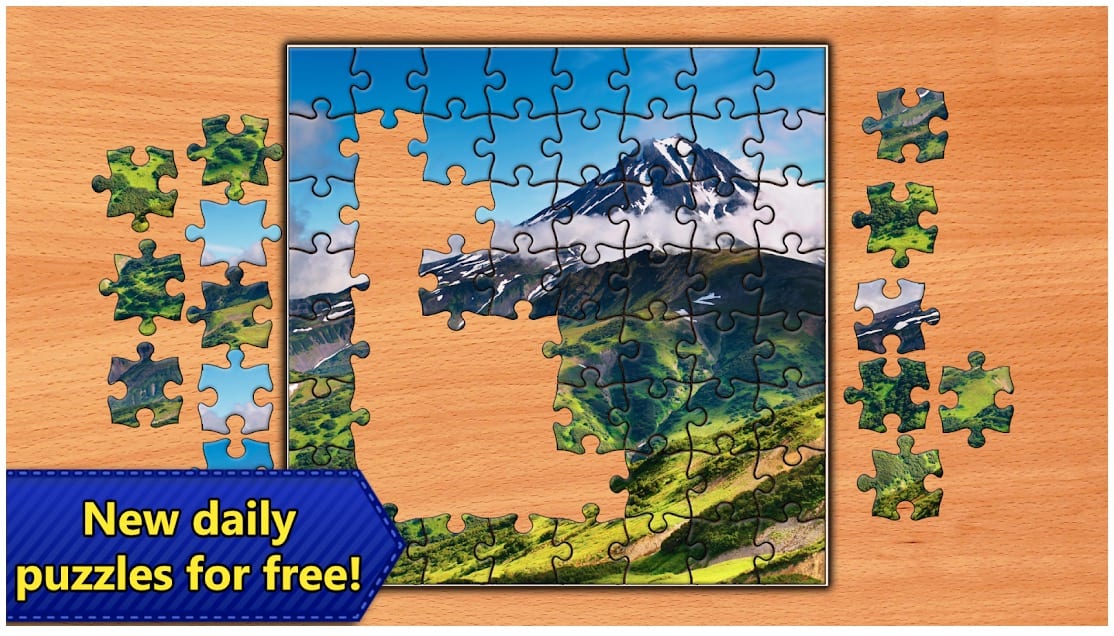 Before you start the gameplay, you need to edit the future puzzle. In a special window of options, it is possible to regulate the number of elements in one drawing, and also adjustment of their form.
The game also has a feature to select your photos. Enjoy marvelous landscapes, pictures of animals and various objects, and change the time of day and season.
The game is perfect for players of any age. You will find 11 difficulty levels and the ability to choose a number of pieces.
The graphics in the game are of good quality and pleasant. The gameplay will occupy you for a long time and leave a lot of positive emotions.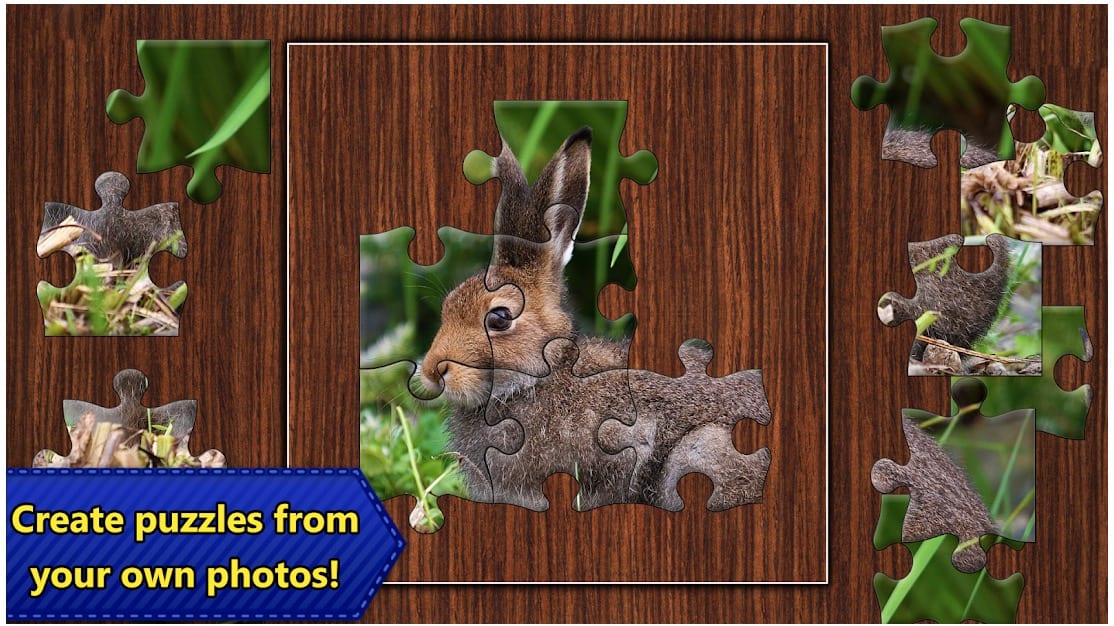 You may also like: 21 Best Sudoku apps for Android & iOS 2020
Empires & Puzzles: Epic Match 3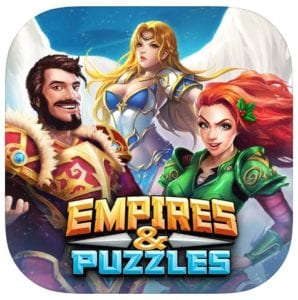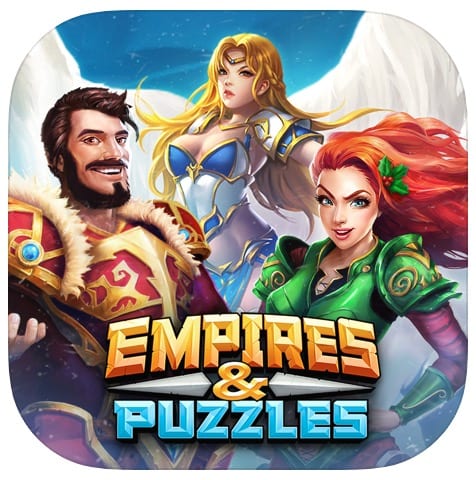 This game is an intriguing mixture of two most popular genres: role-playing and puzzle game. The game has an interesting story, which is presented in the form of small scenes between missions.
In this game, you will build your own city from the resources you get while traveling through the kingdom. In this way, you will build factories that extract natural resources between your borders.
Your mission is to conquer nearby territories and win all enemies in the game 'three in a row'. You will have to join units of the same color to conduct attacks. For this adventure, you will have to assemble a team of five fighters.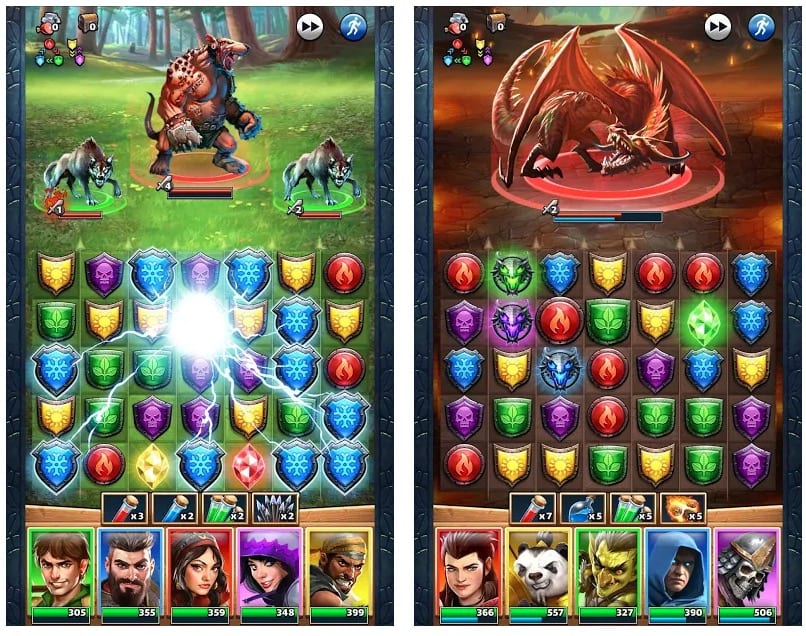 The bigger your combo attacks in Empires and Puzzles, the more damage you do to your enemy. Think carefully about your moves to continue fighting new enemies that will become stronger and stronger. Build an empire with your best fighters and fight with your best moves to go as far as possible.
There are a lot of different tasks in the game that will not let you get bored. There is also a multiplayer mode, where you can take part and fight with many of the strongest players. The game is really fascinating, moreover, it is breathtaking and won't let you get bored until you completely passed and studied it.
Also, we would like to mention the graphical part of the game – it's made at a very high level like the game process.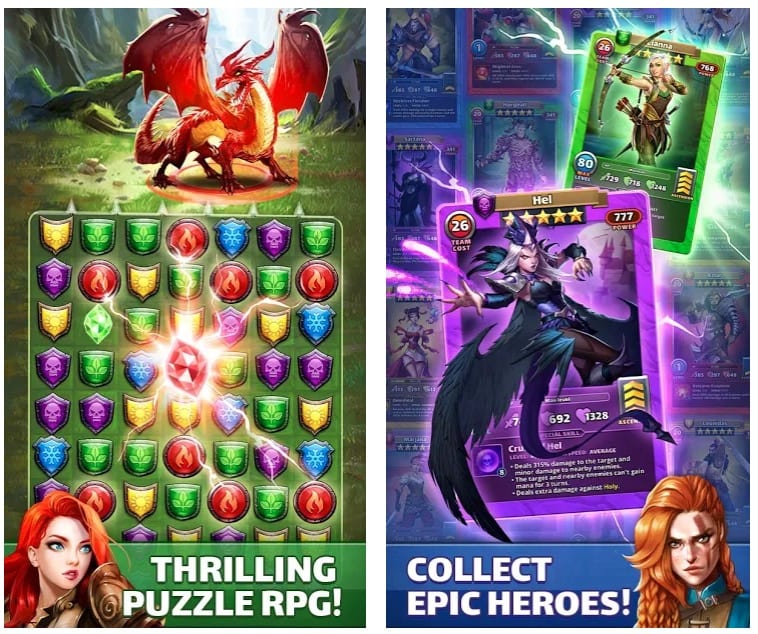 Puzzledom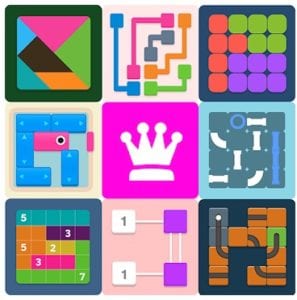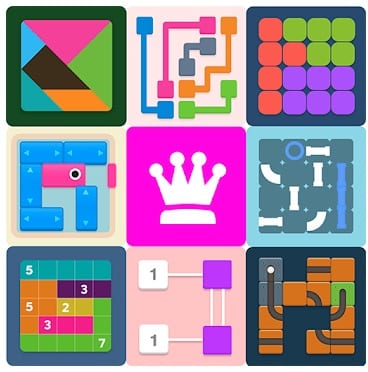 Puzzledom is a puzzle game that contains all the most popular and addictive games, each of which is made in the style of minimalism.
That's what makes the game so special and at the same time interesting. Puzzledom is a real collection that includes only the best puzzles. They are not just fun to play, but also fast and easy to learn how to pass, you only need to download Puzzledom.
Now if you are a fan of puzzles, you won't need to spend a lot of time searching for games, compare them… now you only need to have this application at hand.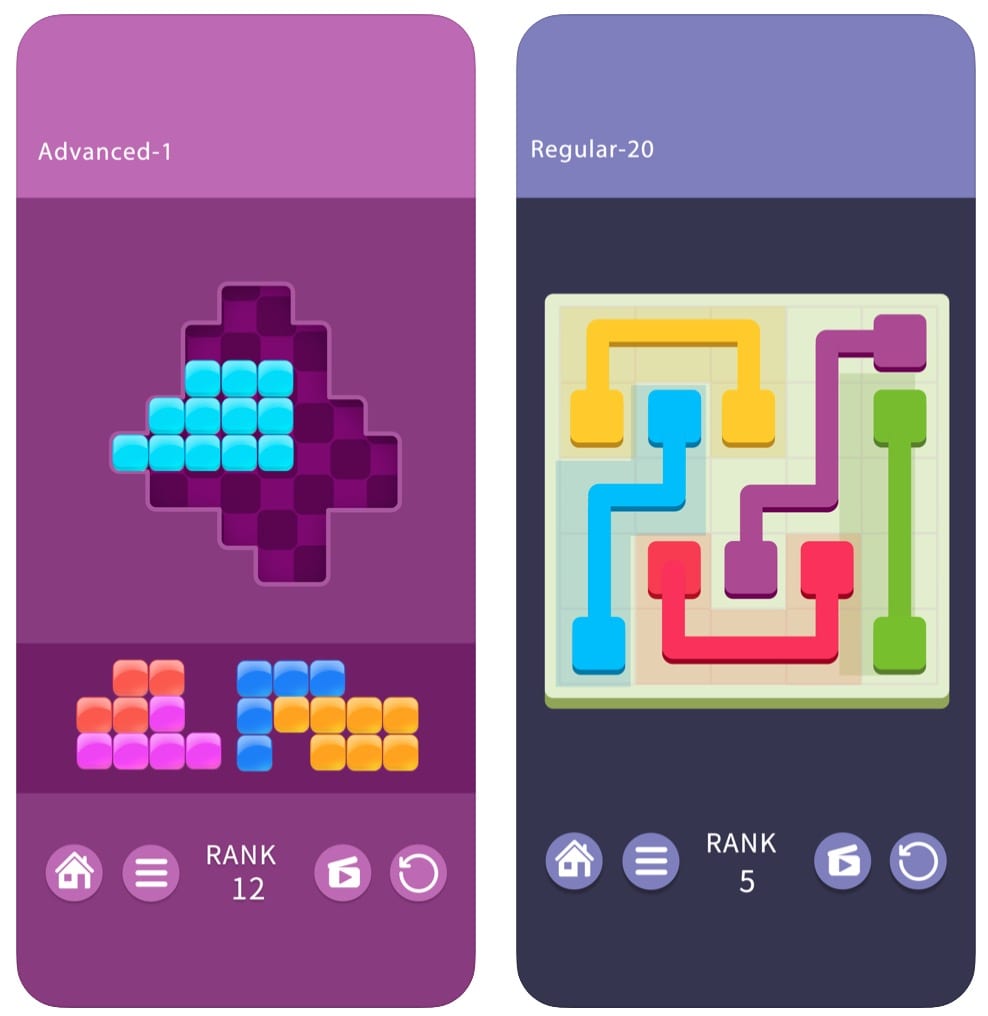 The game contains such puzzles as
Connect is a simple yet interesting game where you are to connect points of the same color. Also don't forget that while drawing lines, they should not cross over each other.
The game Blocks, in which you have to fill the playing field with certain blocks.
Rolling Ball also means that you will have to drag and drop blocks to create a channel and then roll the white ball moving from the start point to the endpoint.
Escape where you'll move the red block through the maze. This game will test your observation skills.
And much more that can make your free time really fun and exciting.
Absence of any time limits. So you will have a lot of time to think over every movement and enjoy the gameplay. This application will be not only interesting but also useful. Here you can practice your logic, observation, and other mental abilities. Each stage will bring valuable experience and interesting emotions.
The application also has such distinguishing features as a large number of different levels and difficulties of passing. The ability to play with friends and many other benefits.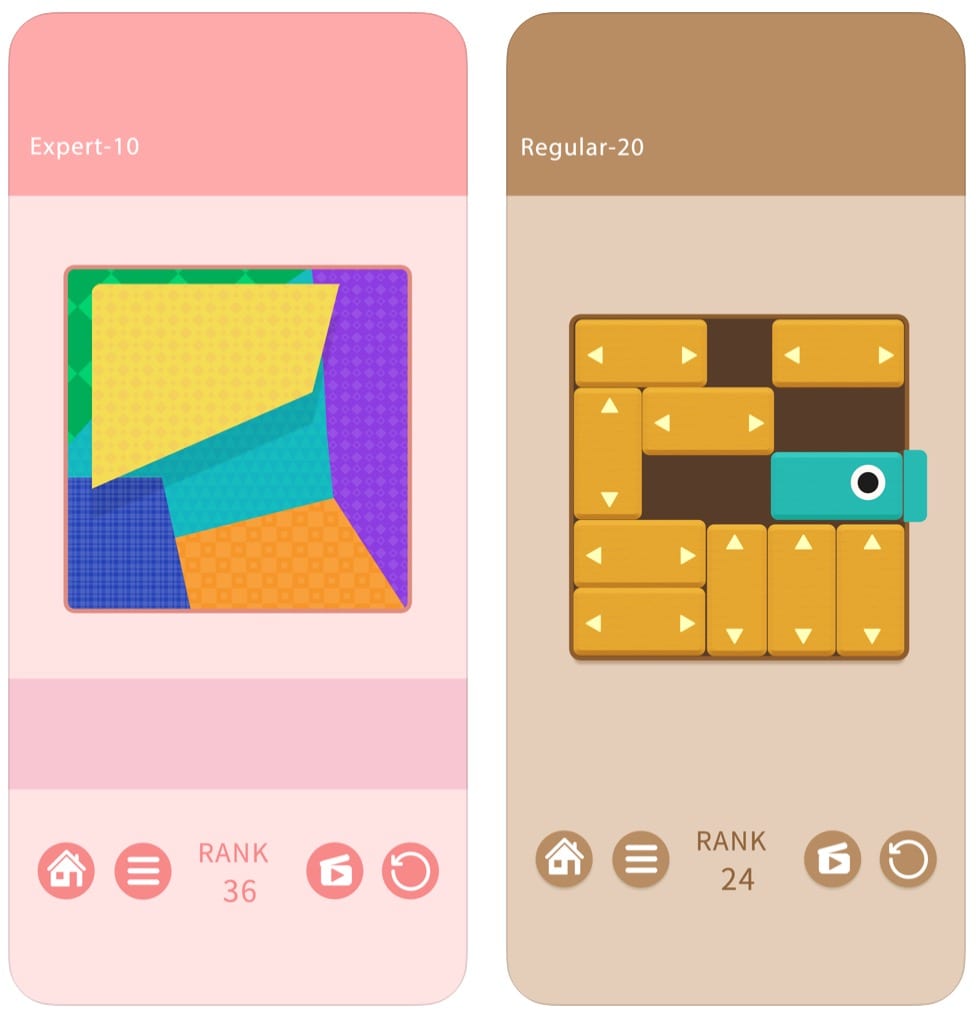 Block! Hexa Puzzle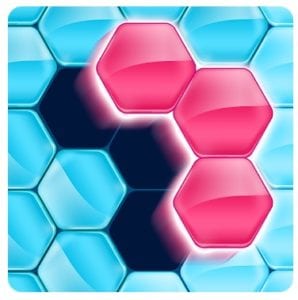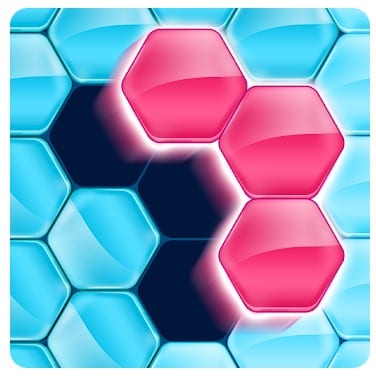 Block! Hexa Puzzle – a puzzle filled with different levels of complexity.
The task of each puzzle is to get a hexagonal field filled with hexagonal figures of different colors. The goal of the game is to pass as many levels as possible, arranging the blocks to fit them all in the grid frame, and then you can move to a new stage.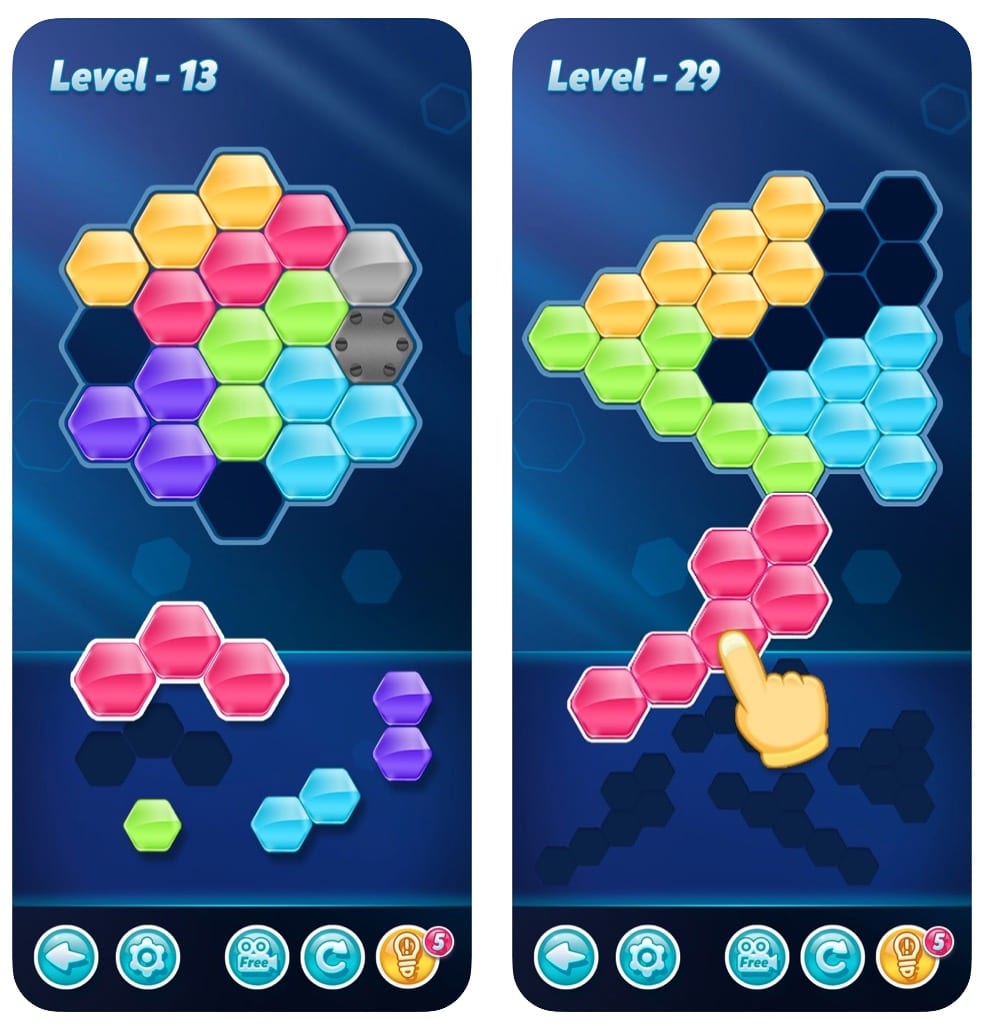 If the user has made a mistake during the game then it is possible to cancel the made move. If you have made a wrong move, you can always cancel it using the special button located at the bottom of the screen.
There is also one more useful option there, it is a hint that will help you in the most difficult situation. You can use each of these useful functions only a certain number of times, so it is worth doing it wisely.
But it is possible to replenish the reserve – you need to get certain achievements. For example, a hint can be earned after passing twenty levels of daily tasks.
Despite the fact that the game is kept in a minimalist style, the developers decided to surprise users with a comfortable game interface and stylish visualization. While you are busy passing, the process is accompanied by an absolutely non-distracting, very calm melody that helps to focus all your attention on passing the difficult levels.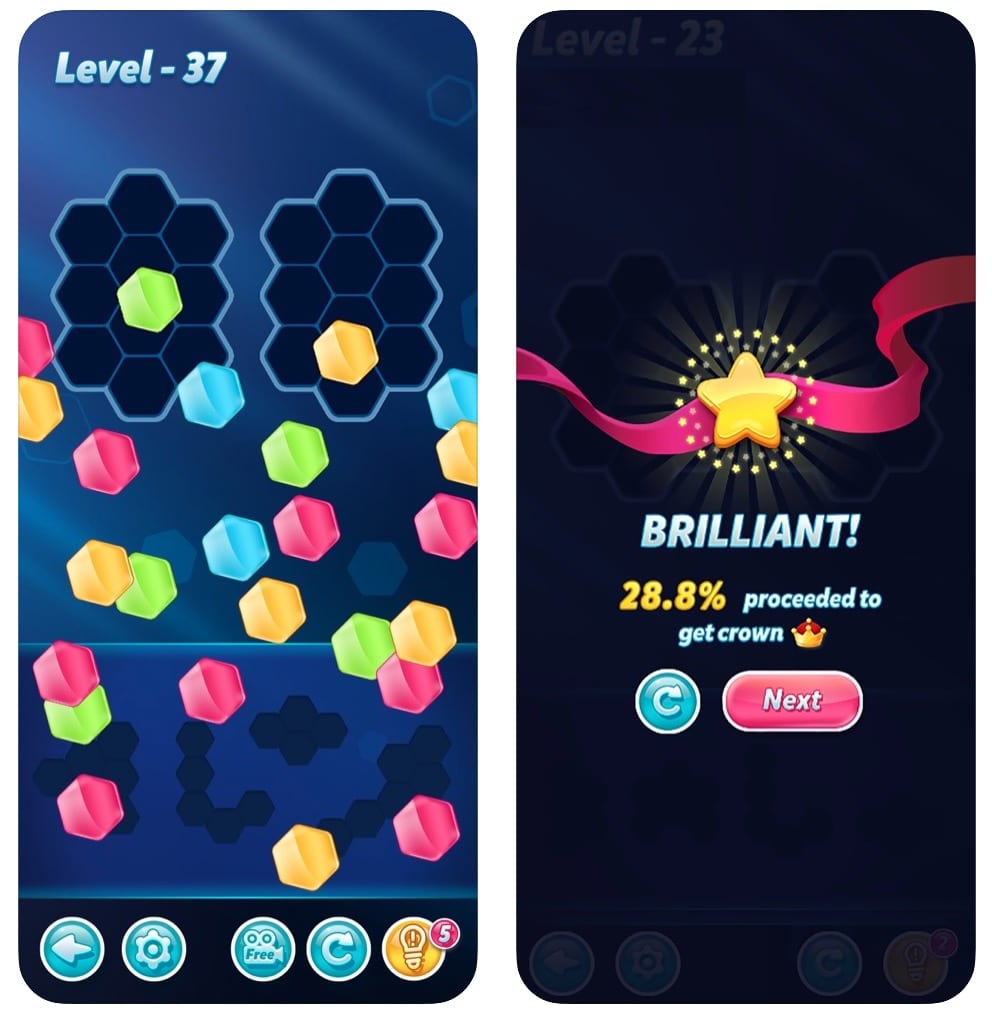 Skillz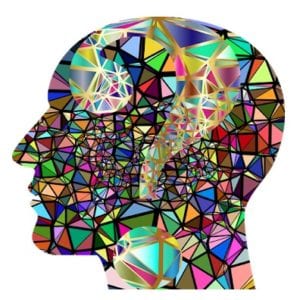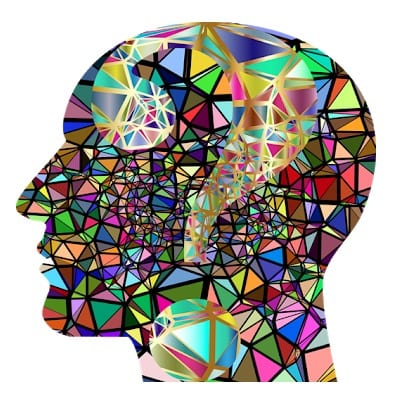 Develop the speed of thinking, learn to make easy decisions and improve the speed of reading… Now you can do it with an interesting application for your smartphone. The Skillz puzzle simulator helps you hone your skills, improve your learning experience and make it easier to read any information.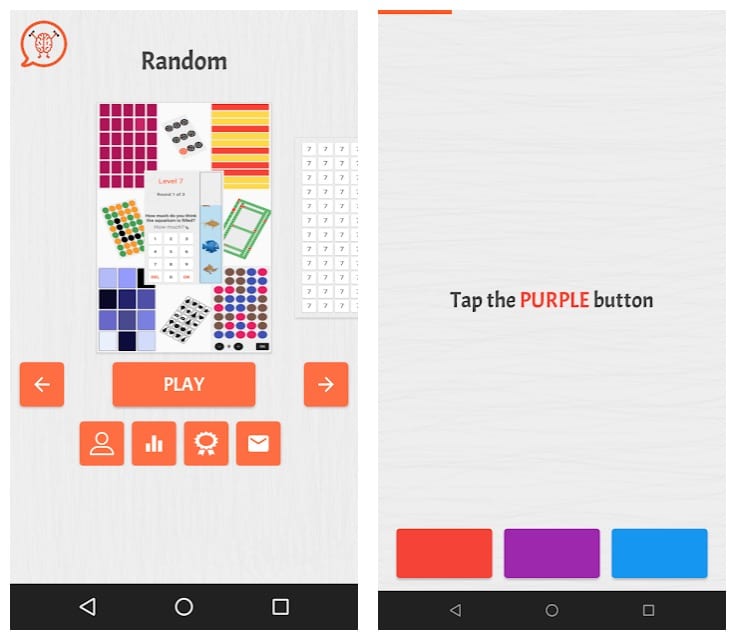 The application has a system of points "Brains", which characterize the degree of improvement of a particular skill. Built-in multiplayer allows you to play with friends, compare personal achievements with others and compete with other users.
The interface is clear to any user.
Choose the format you are interested in and check out the training instructions.
Perform puzzle tasks based on the rules.
Earn points and share new achievements with friends.
The application allows you to play with multiple users at the same time and make the necessary purchases within the game.
The rating system, rank table and the ability to share the results encourage you to do more tasks and improve your quality.
Skillz will please everyone who doesn't like to waste time and loves different logic puzzles.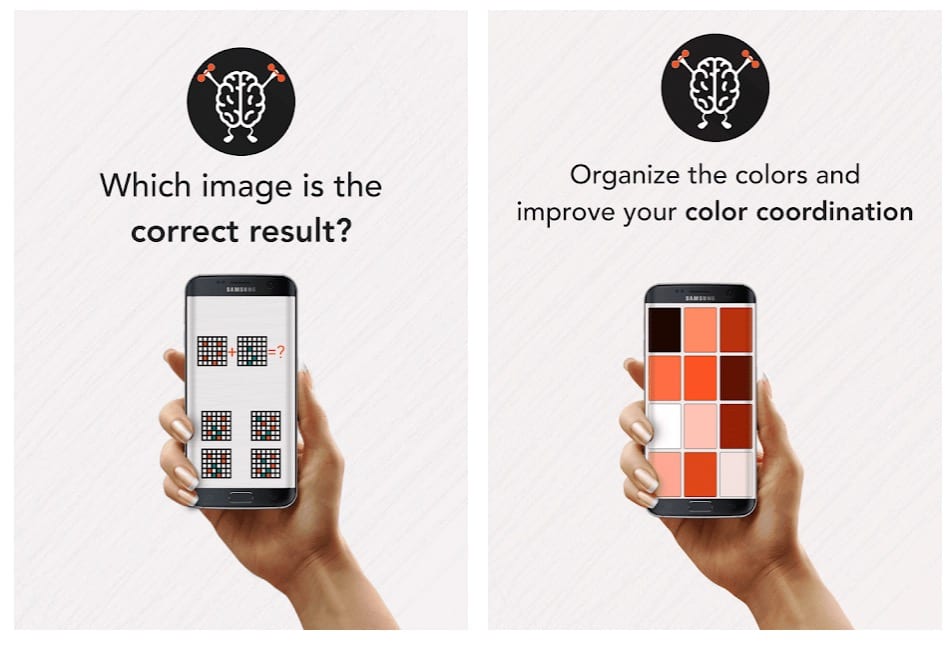 Roll the Ball®
Roll the Ball – a game for the development of thinking, offering its users a bunch of great tasks with gradually increasing levels of complexity.
There is nothing better than to spend your free time, solving various quests, which in reality are likely not to meet. But for example, this game will help you quickly navigate if you need to do the arrangement of furniture in your own apartment.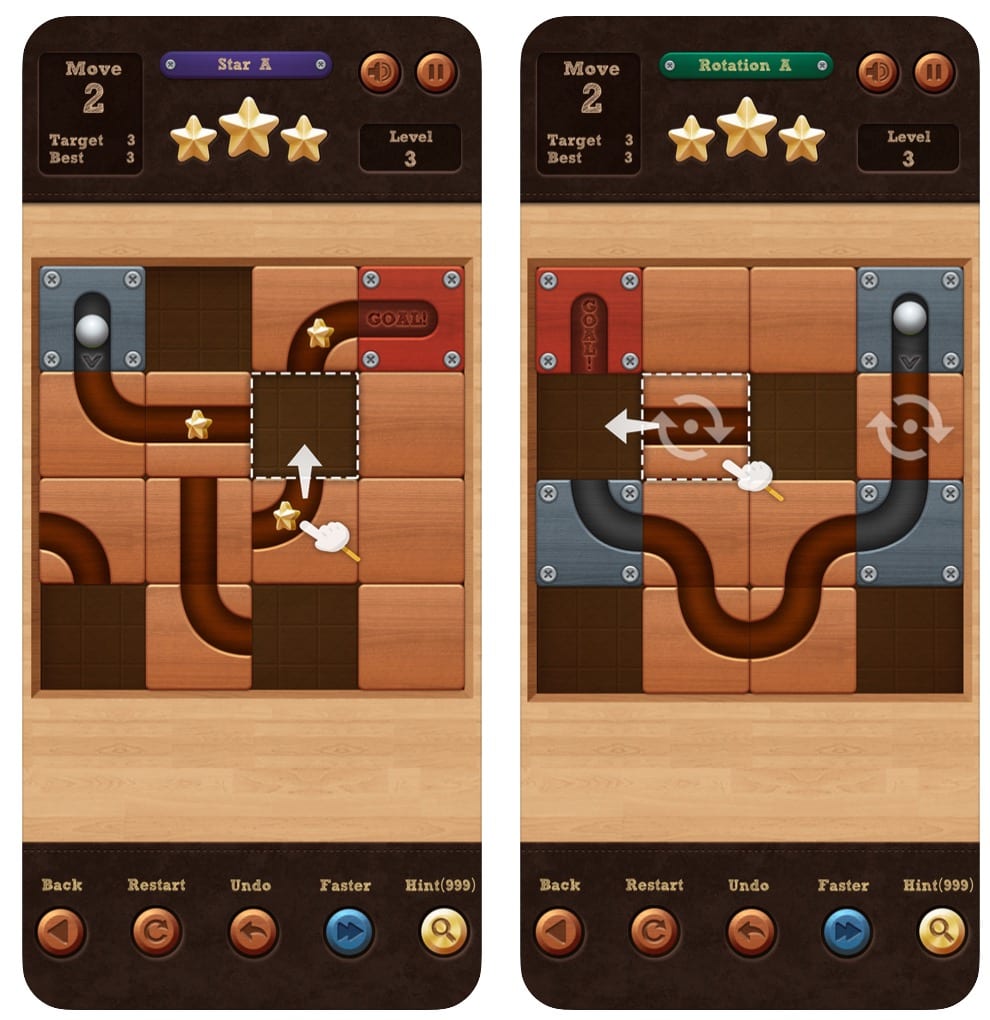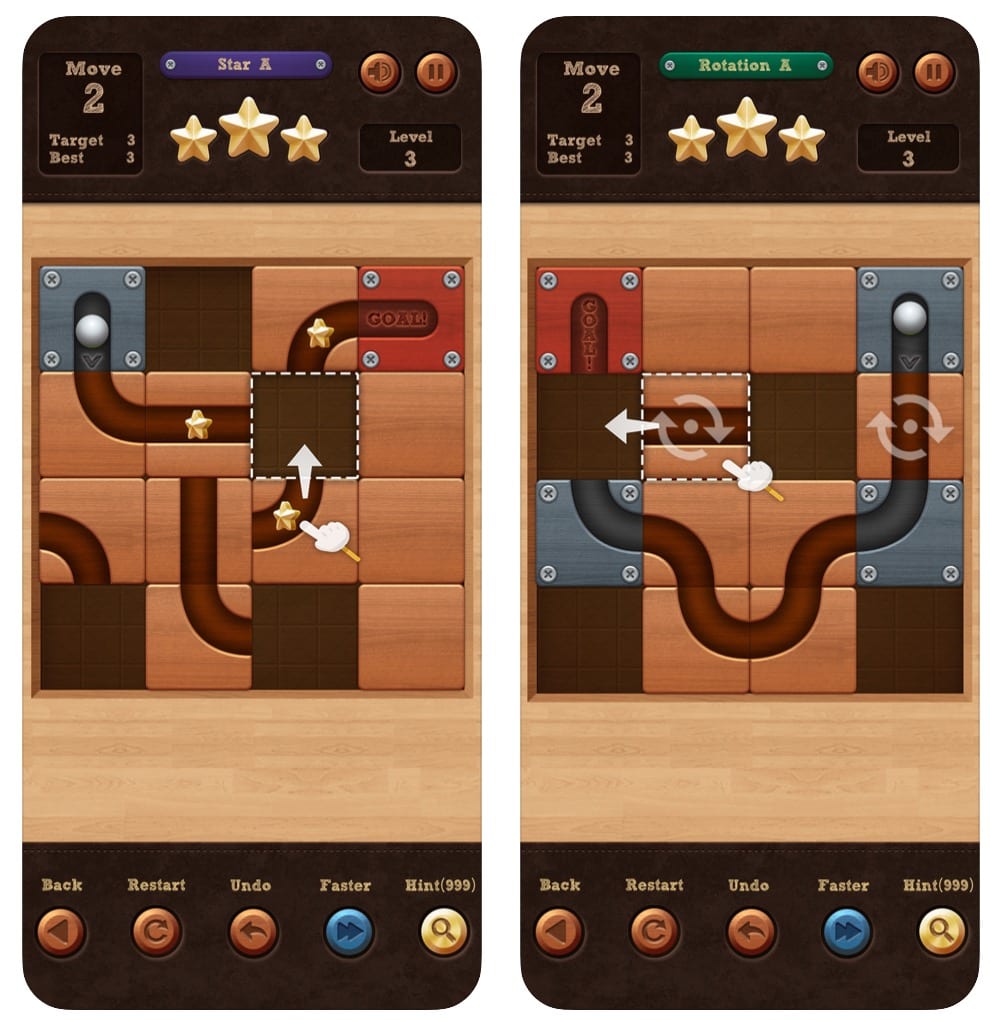 Each new map is a medium-sized area on which there are sliding tiles with the ability to move, but some tiles will be attached to the field, and it will not be possible to move them to another position.
Move the sliding tiles to unblock a path for the steel ball to roll to the exit. Time here is a very important point. As soon as the timer finishes its countdown, the ball begins to move to the finish, regardless of whether the route is ready.
For a completed map you will be given a certain number of stars, and what number will depend proportionally on the time spent to solve the quest and the number of moves requested. Management in Roll the Ball will be understandable without any additional lessons – just move the necessary block to the desired location.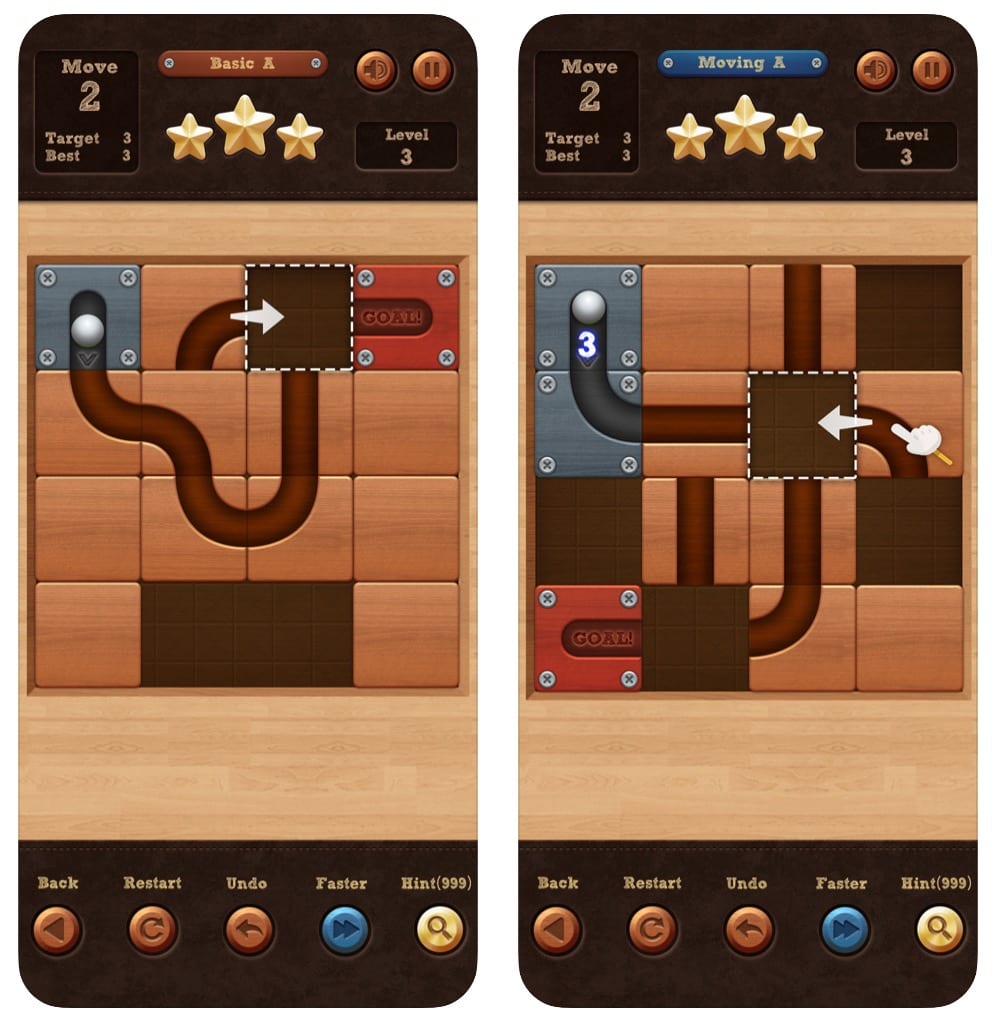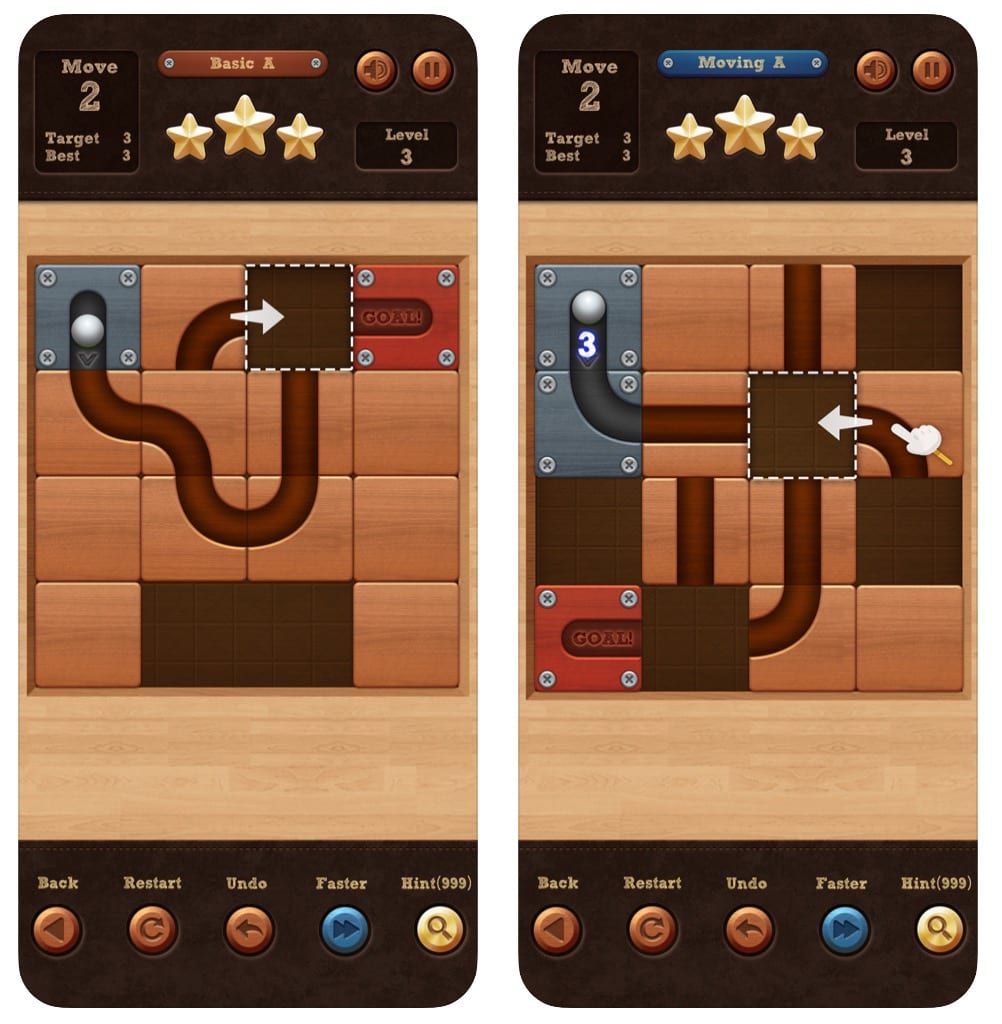 Word Connect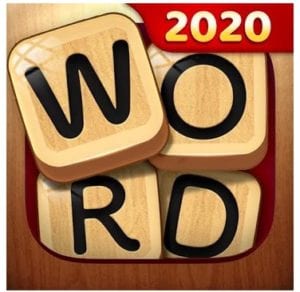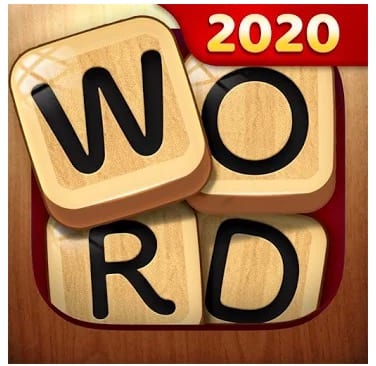 An interesting puzzle game for mobile devices, in which you will build words from existing letters. If you like word games, then you should download Word Connect.
The gameplay in Word Connect is as simple as it can be: each level has a series of unknown words and pieces of letters scattered across the board. Your mission is to find the words hidden on the board. To do this, simply touch the first letter of the word and swipe your finger in order over the others. Once you have built the right word, while it is one of the hidden ones, it will be displayed at the top so that you can keep moving and find the missing words.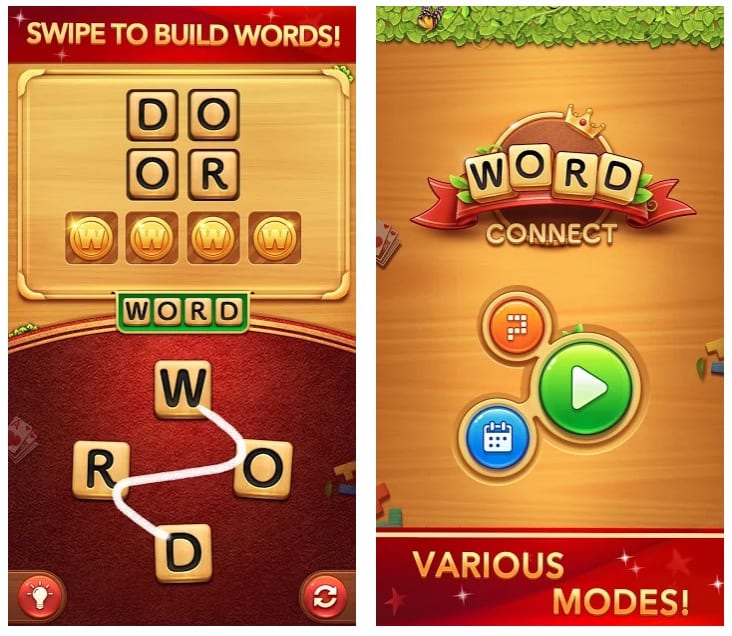 Each level in this game is different, and you may need to find very long or very short words, although all the solutions are right in front of you. Also, as you move forward, you must find more options in one game.
If you are stuck on a level and need help, you can ask for a hint to show you a few letters so that you know, for example, which letter a certain word starts with, or you can solve all the others with a little guidance. Show off your vocabulary in this interesting game and discover new words with a little practice.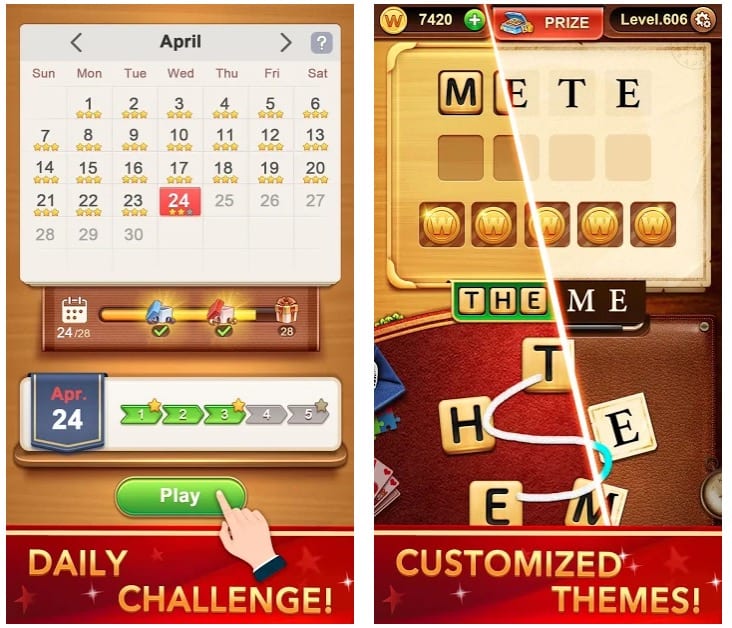 100 PICS Quiz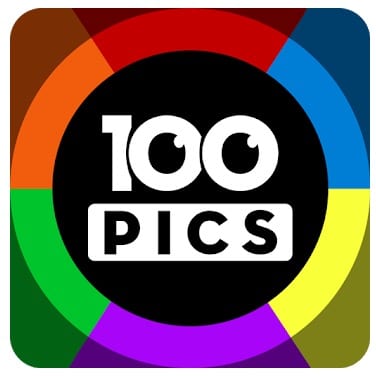 Not so long ago, all these games about guessing characters, logos or sketches hidden behind the image have become very popular. Currently, they are somewhat outdated, but some companies are still developing and producing decent games, such as 100 PICS Quiz.
It offers over 10,000 pics to guess.
The gameplay is very simple: you can select a theme, and you will be shown images covered with colorful squares. At the bottom, you will see as many spaces as there are letters in the name of the hidden object and a number of letters to fill those spaces. Your goal is to find the hidden word by opening as few squares as possible to achieve the highest score.
At first, it is easy to play, but soon the game becomes more complicated.
You can open all the squares to immediately view the image, but then the game will not be so much fun. And what if you get stuck? You can skip a level to get back to it later or watch a video ad for a hint. It's up to you.
All kinds of topics are available: Animals, Games, Sweets, Fairy Tales, Pets, Emojis, pop and logo quizzes and more. Each topic starts at a very easy level, but they become more and more complex.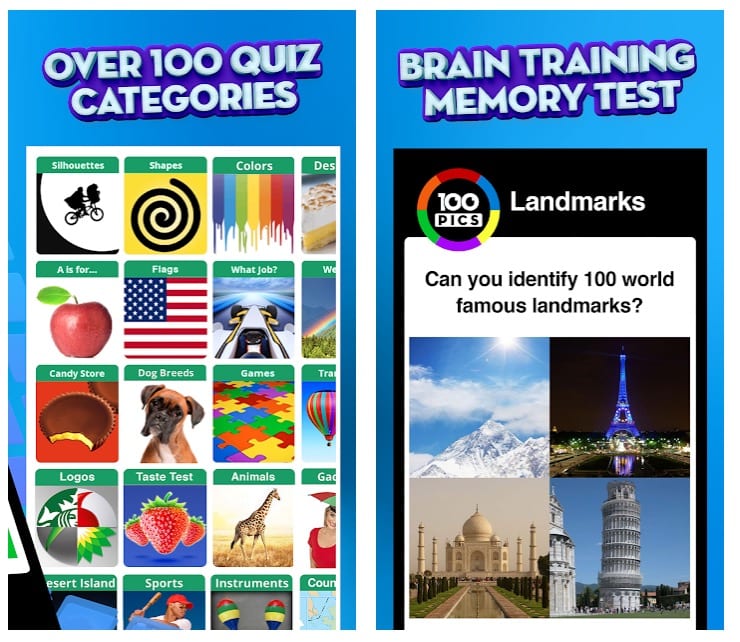 Jigty Jigsaw Puzzles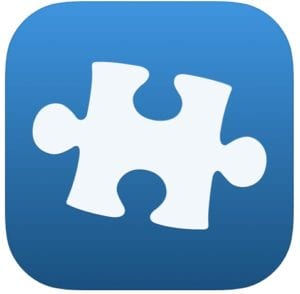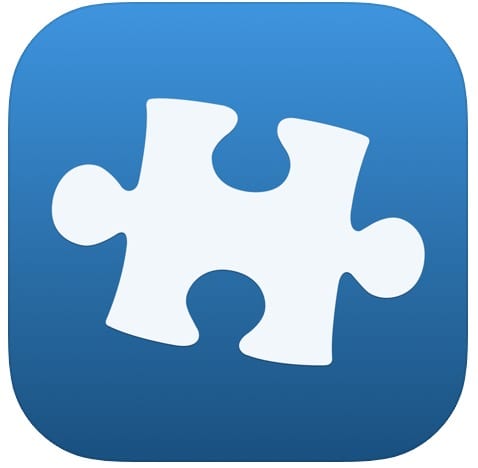 Jigty Jigsaw Puzzles is an exciting puzzle game with more than a dozen traditional puzzles of four to 600 elements. The game has pictures for all tastes, the list is structured by themes. A game for people of all ages!
The free version of Jigty Jigsaw Puzzles includes about a dozen different puzzles created from different photos. You will find photos of animals, landscapes, games of colors and people. In the application settings, you will be able to choose the number of items on which you want to divide the image.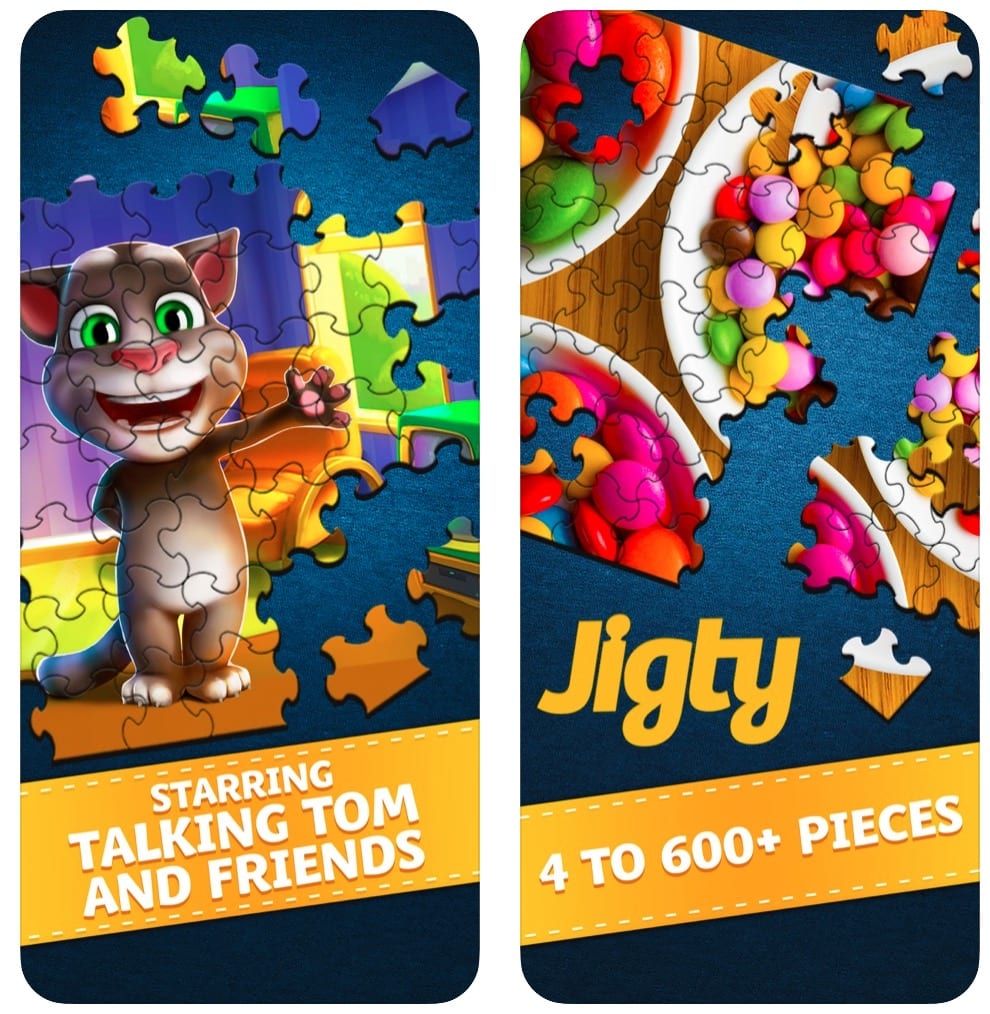 For owners of the paid version, there are several additional settings available in the settings. These options are, for example, the ability to use a higher number of items or rotation of items, so the game can be a little more complicated. With normal settings, all the elements are in the right position.
Jigty Jigsaw Puzzles is a traditional puzzle game that allows you to enjoy it anywhere, anytime. Plus, you can always pause the game for a while and return to it when you have time.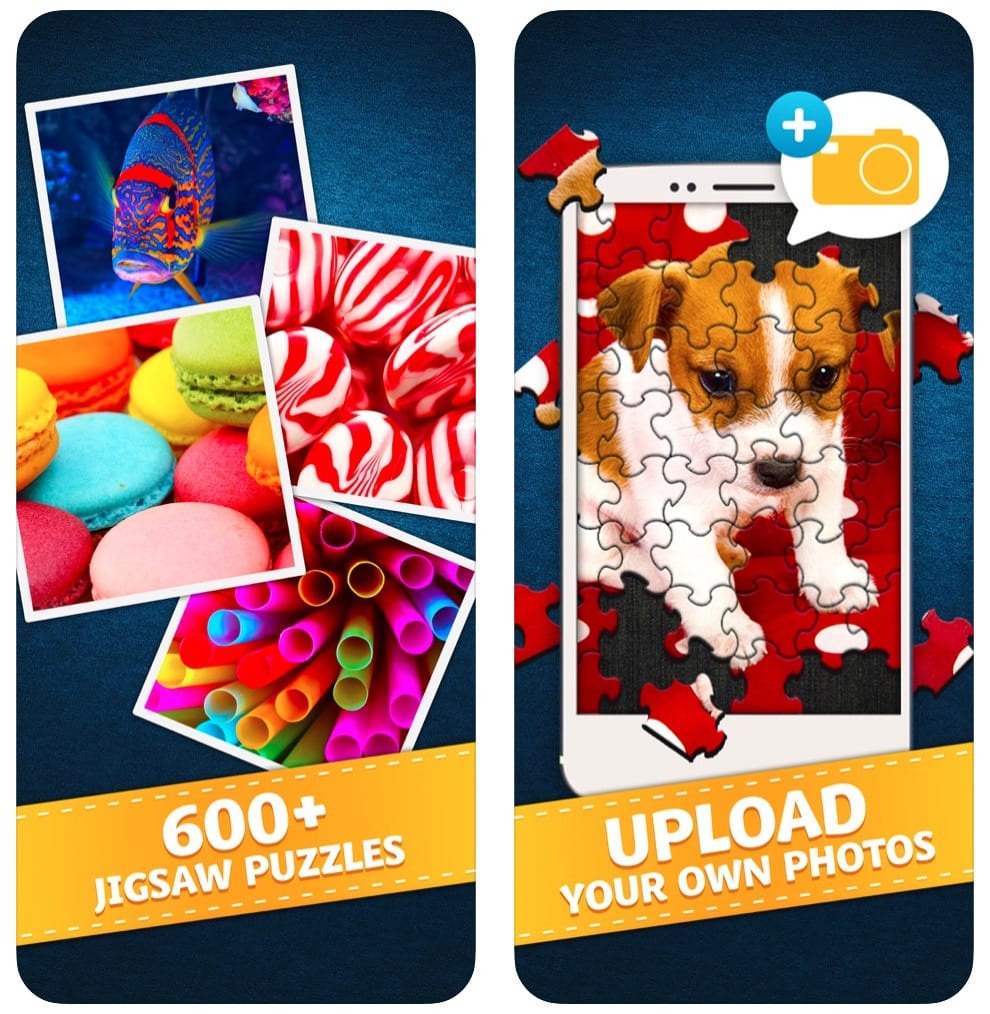 Shatterbrain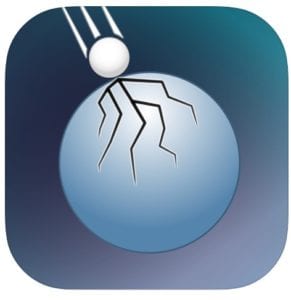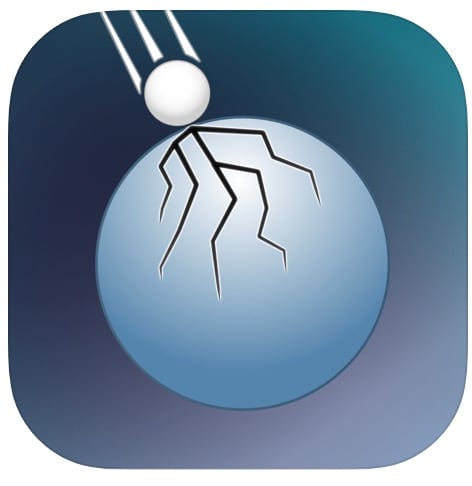 Shatterbrain is a fascinating puzzle game where you need to draw, but the gameplay is not limited to simple drawing, because this way you can solve puzzles of different complexity. The developers tried to make the project playable, and therefore each level can be passed in different ways.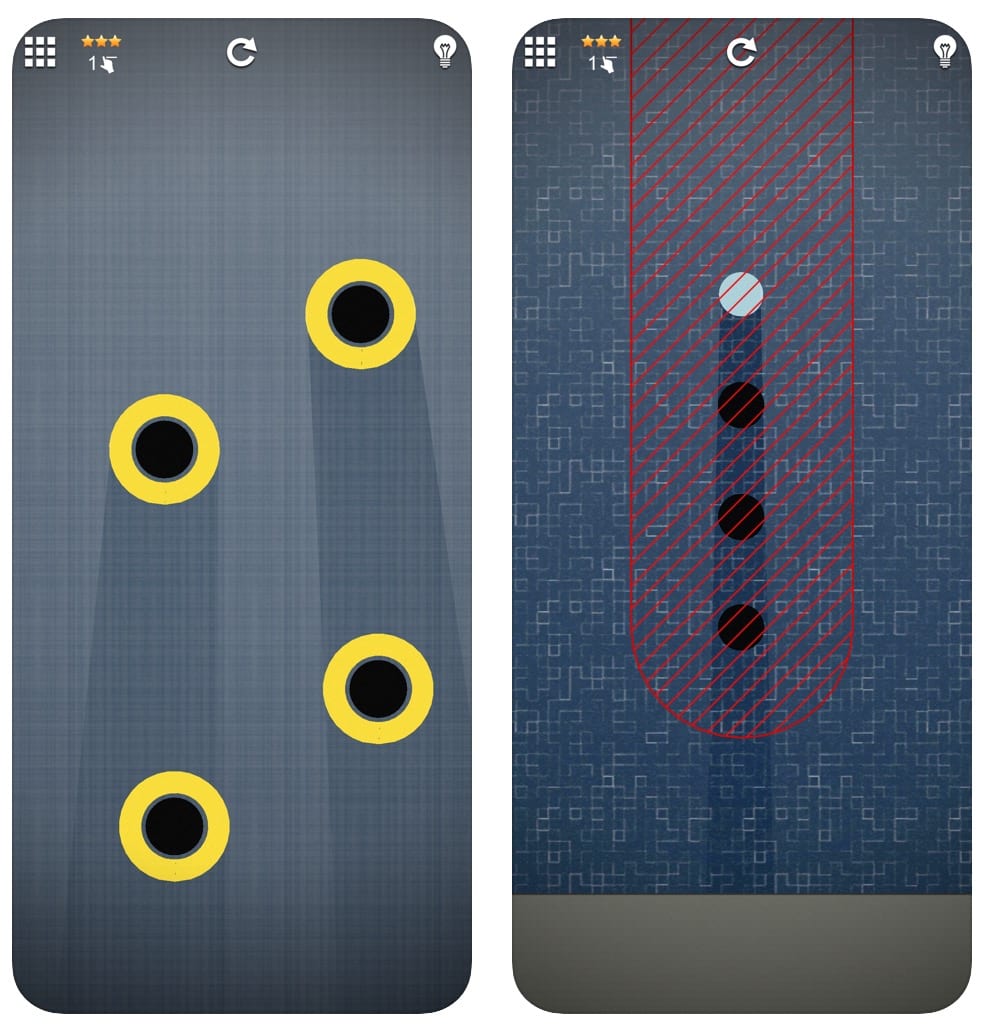 In the game, you need to draw this or that object, and then it will start to fall, thus destroying other glass pieces. What form and color they will have depends on the location. As an example, there will be several blue triangles in one level, one of which will be located closer to the top of the screen, and the remaining two closer to its edges. On the other level, rows of squares and rhombuses, which have red and blue colors.
If there is a figure of black color, then it must necessarily remain intact. During the gameplay, you will not be given clear clues about what to draw. Here you need to choose the shape and size of objects on your own.
With this application, you can have a good time, solving puzzles of varying complexity. Also, you will have a great opportunity to set your own records, reach the top of the rating and show both your friends and other players, who are the best here.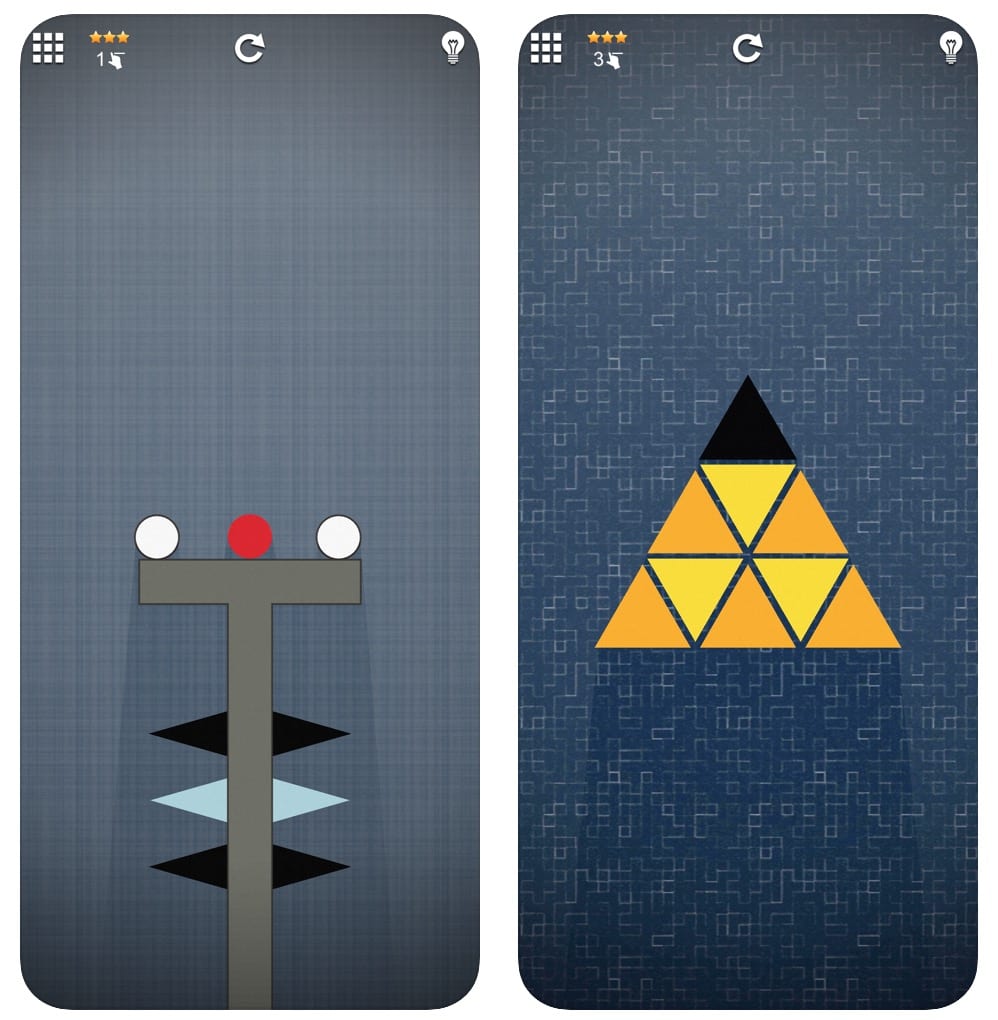 CodyCross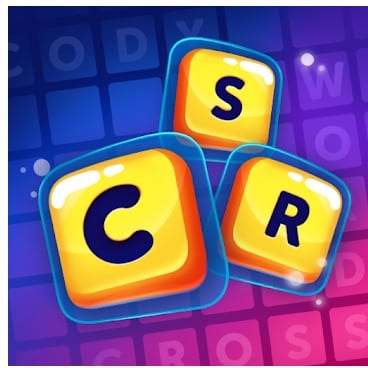 Download CodyCross: Crossword Puzzles and get a bright and colorful interactive crossword puzzle on your smartphone.
The game has an interesting story. The player will become a kind and fun alien, who accidentally landed on our planet.
He is full of desire to learn more about everything around him. By solving puzzles, he will get to know different worlds and a huge number of new words for him, as well as historical aspects of our planet.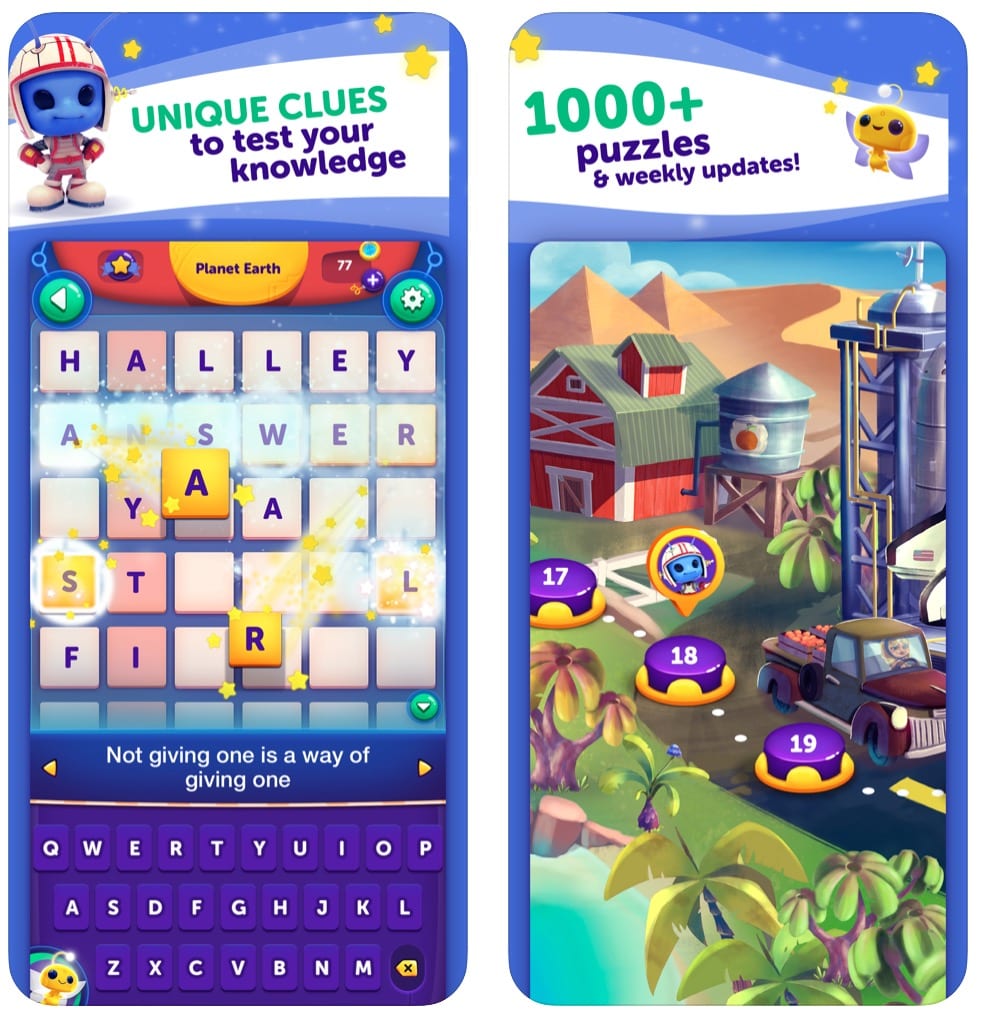 Features of the game:
Very nice graphic design. Kind and vivid graphics will create a sunny mood when playing CodyCross: Crossword Puzzles.
More than 1000 levels, each of which is unique in its kind and colorfully decorated by artists.
This is not just a crossword puzzle – this is a thematic crossword puzzle. It will allow you to learn a lot of new things and update existing knowledge.
Simple and interesting gameplay, which will surprise you with its novelty and dissimilarity to other games.
You can play both online and offline. If you can't connect to the Internet, there's no need to worry. You can pass the game at any time and in any place.
Try CodyCross: Crossword Puzzles game and experience all the innovations that developers have made to develop the genre of word games. Develop your thinking and help a sweet alien get to know our planet.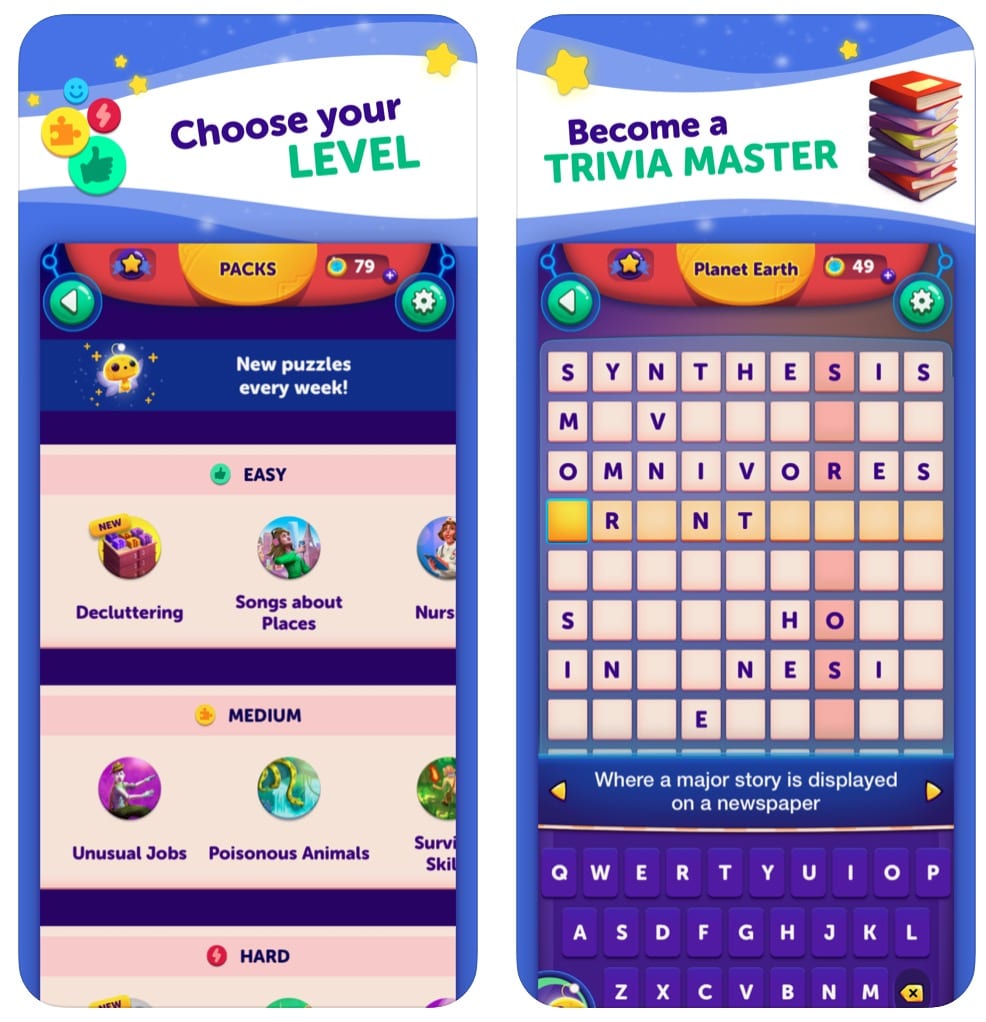 Puzzlerama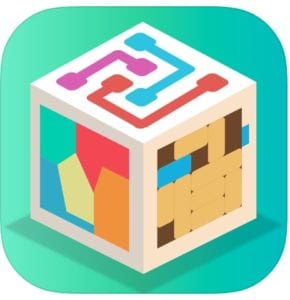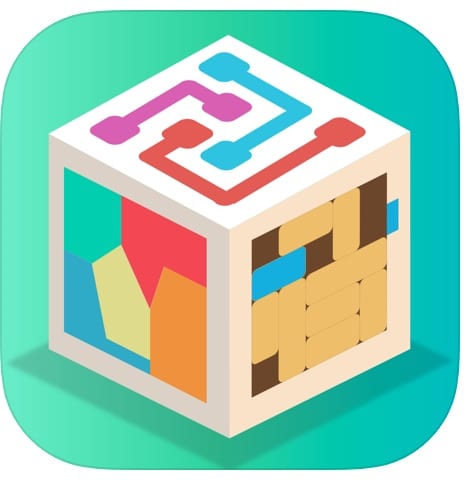 Puzzlerama is a great collection of exciting and logic puzzles, with a lot of interesting and addictive levels waiting for you.
As soon as you launch the game, you will be offered 8 mini-games to choose from. Each minigame has its own number of levels. However, the total number of levels is about 3500. It will take a lot of effort, energy and time to complete all the levels.
This number of levels is unlikely to be offered by any other similar game. Here you can find versions of games such as Flow, Tangram, Pipes, Blocks, Shikaku, Unroll, Unblock and Bridges.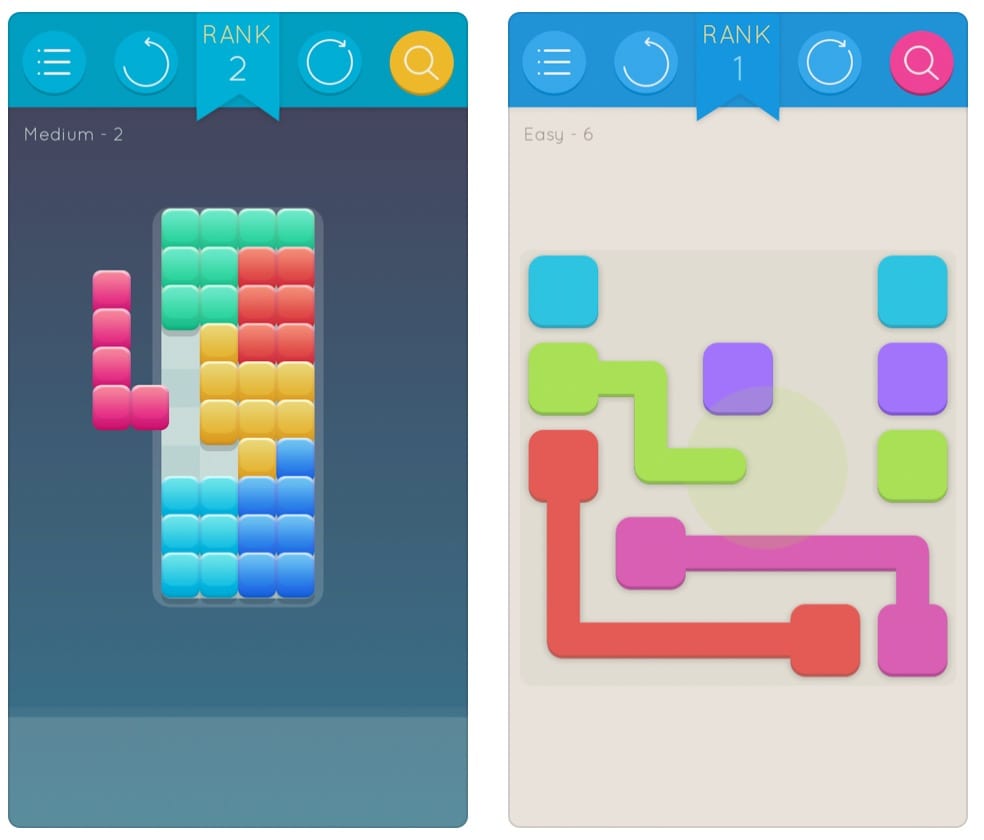 In the puzzle game called Blocks, you will be moving colored blocks around the playing field. You'll need to make sure that the whole field is filled with blocks.
In the process, you'll understand what to do and how. In another game, you'll have to use your wit. You will have to paint the empty cells in different colors. And the number of cells must be exactly the same as the original block.
It's hard enough to describe, but it'll make sense. In the game called Pipes or Plumber, you will add all sorts of elements into one so that in the end you will get one solid pipeline that will deliver water to the endpoint.
In another interesting minigame Unblock you will have to unlock one block, and then deliver it to the exit by moving the yellow elements along the way. In the game Tangrams you will do the same thing as in Blocks, only you will manipulate the cut pieces. In Bridges, you'll create bridges, and in Unroll you'll need to create a special path, on which the ball should ride.
In each presented game mode, it is proposed to reach records, while showing the mental ability and speed of action analysis.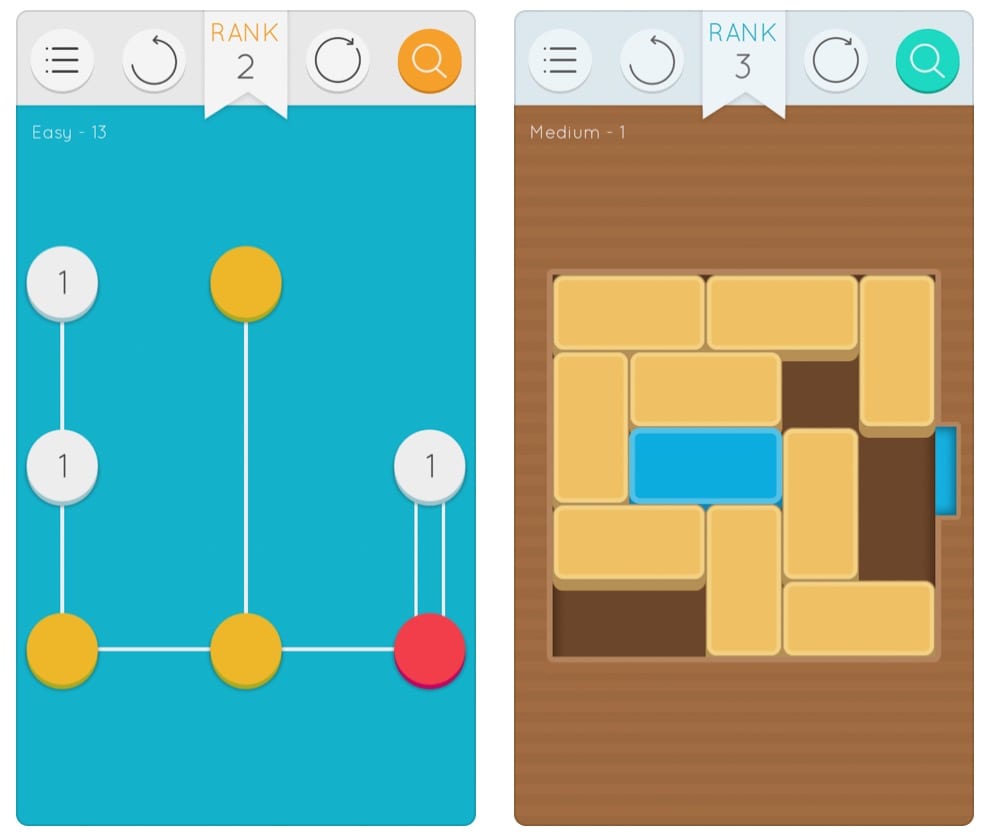 Magic Jigsaw Puzzles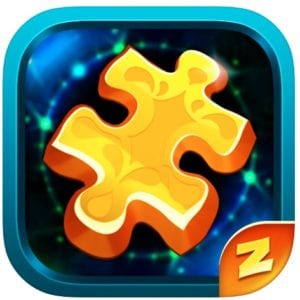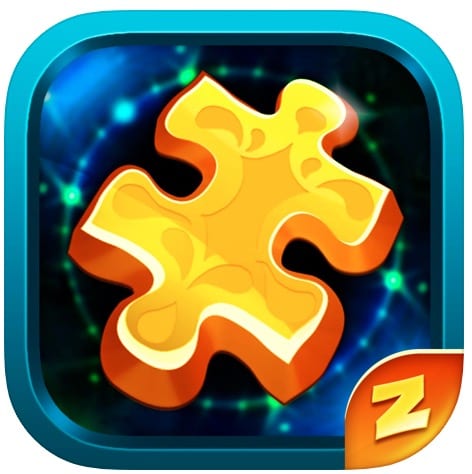 Magic Jigsaw Puzzles is a game for all fans of puzzles. It contains a huge collection of pictures on various topics.
Relax and get away from the tedious routine in this beautiful puzzle game with a simple interface and excellent soothing music.
The miracle of the puzzle will definitely appeal to you! There are more than 25000 high-resolution pictures for you to collect. The Image Gallery is constantly updated with new and interesting options.
Choose your level of complexity, up to 630 pieces. If you're a true pro at puzzles, there's a mode with rotating parts especially for you. You can also use your photos and pictures to create puzzles.
The Magic Jigsaw Puzzles has a huge amount of pictures of nature, animals, and even rare photos of famous sights.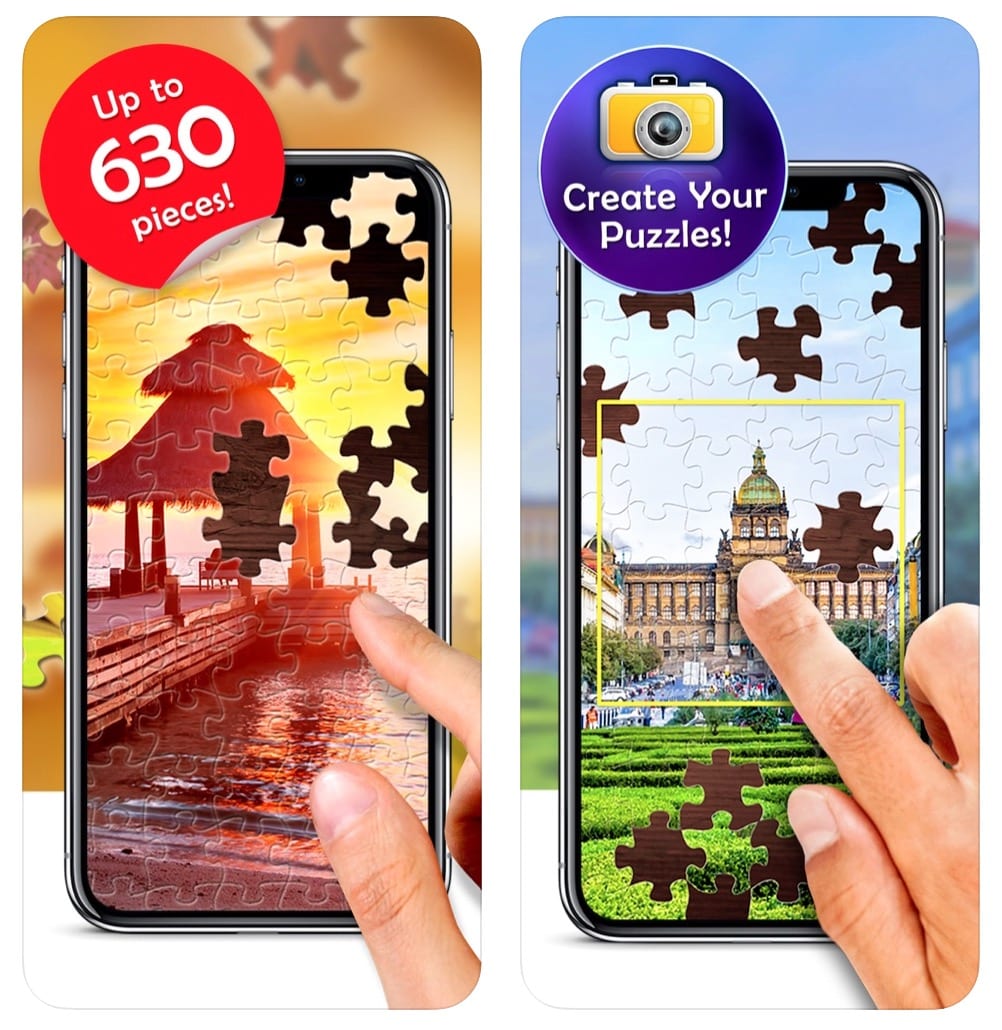 Smart Puzzles Collection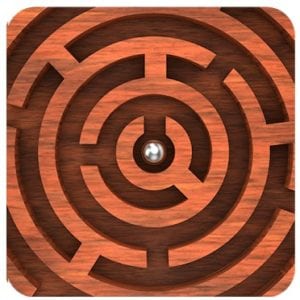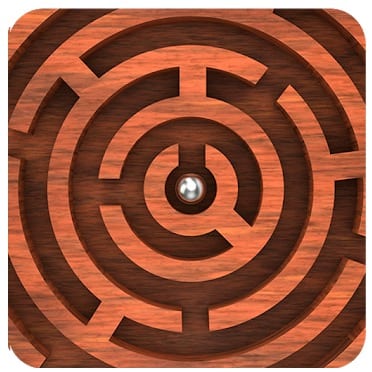 Smart Puzzles is the game that will attract and force users to think logically during all the actions that occur as the game levels pass. What to do, for such purposes? You just need to pass a few fascinating puzzles. Player, loads not one game, but several quests at a time. That way, you don't have to create a bunch of applications on the same device.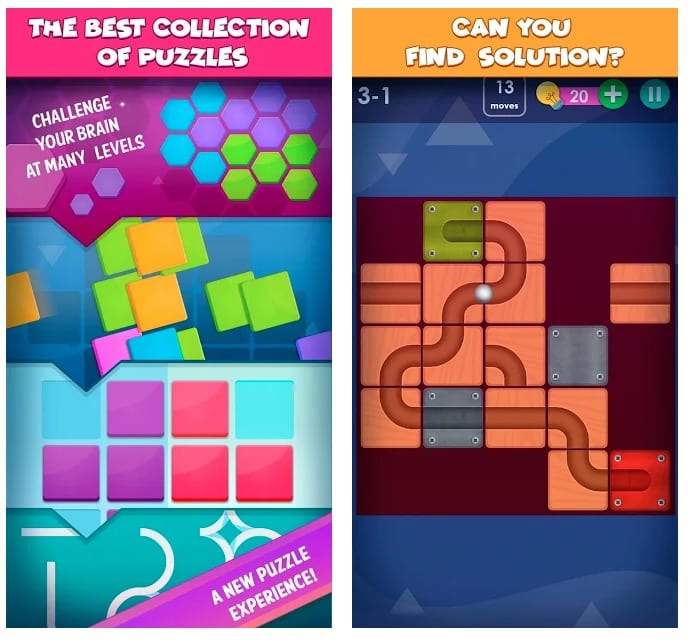 The game includes several logical quests:
Crystals. Here it is necessary to move the crystals in one line, using non-standard logical moves.
Matches. On the playing field, there is a set of matches. The player must remove or add a match in order to get a logical result.
One line. Here you have to think strategically. The player will have one goal, to draw only one line, which will connect all points from the start to the end position.
Symmetry. Use an eye. With it, you must make sure that all pieces are in the correct symmetry. The game is based on knowledge of trajectory and physics.
Pipe. The user will need to lay a pipeline from point A to point B. But it's not that simple – it uses pipes of different shapes. So you must first think about what to choose.
Puzzle blocks. The goal of the game is simple: you should make sure that all the pieces go into a special shape.
When solving the tasks presented above, the game levels are gradually becoming more complex. At first, these are simple tasks. But after passing levels, more and more complex games open. In total, each game represents 6 levels of complexity.
Each passed level is evaluated in independent points – IQ. But to get a high IQ, will not be so easy, because different levels of complexity, will not let you do it quickly. So that the brain doesn't relax, the game has 5000 levels. In other words, it's a game for a long time.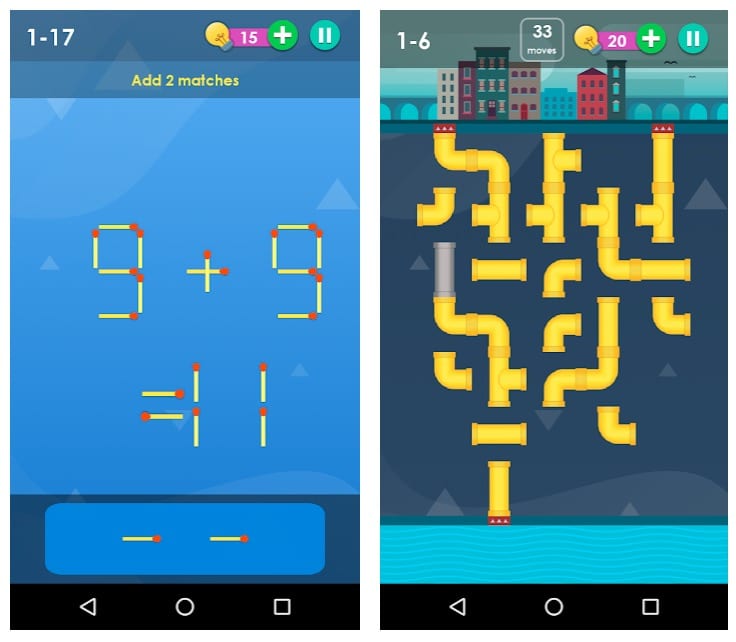 You may also like: 10 Best guessing game apps for Android & iOS
Block Puzzle & Conquer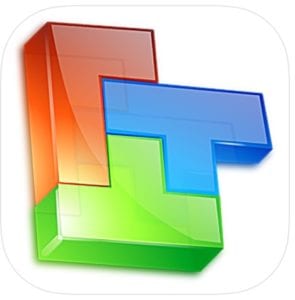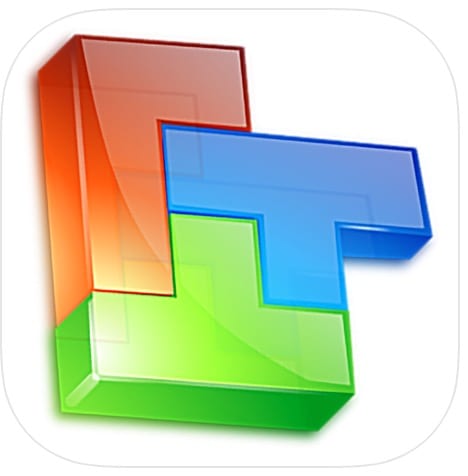 Block Puzzle & Conquer is an unusual puzzle game based on Chinese Tangram. The exoticism of the game was to the taste of users from all over the world.
You need to make one big figure out of different shapes. A simple thing? It's not that easy at all. Each level can be passed using only one correct way, and the pieces can not be rotated. And the levels become more and more difficult.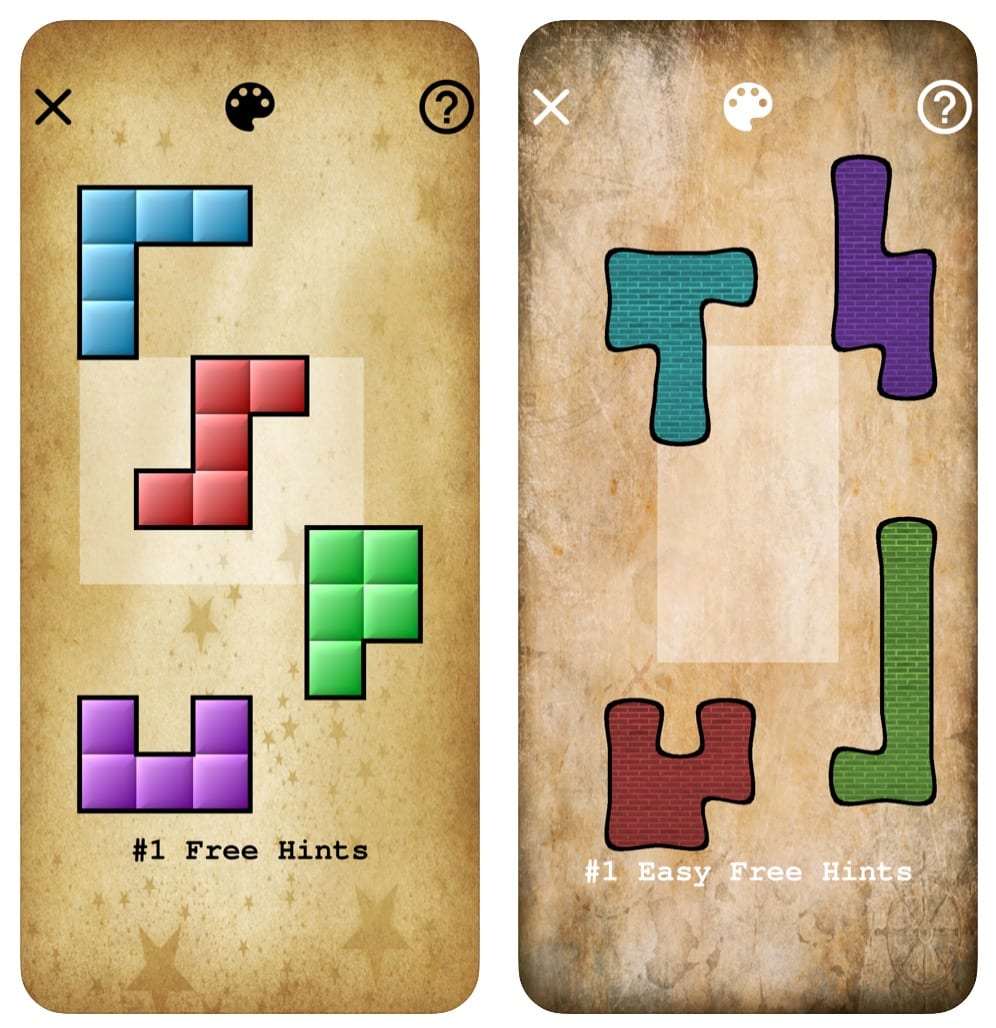 The game will give you many hours of entertaining passages – there are more than ten thousand interesting levels for free.
If you master the tricks of game mechanics properly, you can hone your skills by playing at speed. You will encounter millions of combinations that are generated automatically. Challenge your friends to find out who's smartest. Block Puzzle & Conquer offers several game modes and three difficulty levels.
It's time to learn a popular puzzle with Asian origins! All levels are different, the tasks are very exciting. The application develops logical thinking, memory, fine motor skills. Once you start playing it is very difficult to stop, so the process of passing levels of the game is very exciting.