The second hand is an environmentally friendly solution to get rid of unnecessary things. This industry helps solve the issue of minimizing waste. More importantly, it can give everyone the opportunity to make a little extra money. To make this process a little easier, we suggest you have a look more closely at this article.
When we use second-hand goods, we are helping to reduce the production of new items and, therefore, reducing its toxic effects on nature. We will discuss here the different types of apps for selling used items. Also for those who want to promote their products, it is worth reading article about Best Classified Apps for Android & iOS.
1. Shpock | Second hand marketplace to buy and sell
Sell your unnecessary possessions at Shpock for a huge profit. If you are reading this article most likely you have items you do not need that you want to sell. Try this app. It will make it much more convenient for you to deal with all of your belongings. This is where your sales will not only be safe but also effortless.
Indeed, when you look at its interface you will be surprised by its simplicity. All you see is a collection of pictures of items for sale. By clicking on an item you will see a detailed description of the product. In other words, you will see more pictures, prices, and descriptions.
It is convenient that you can always find the thing you need. The application has a convenient search by category and additional parameters. This gives you the opportunity to buy clothing, appliances, household goods, furniture, pet products, toys, musical instruments, and all the possible second-hand items.
You will be able to buy something close to your home. Just open the map in the application and you will be shown the location of the nearest sellers from you. It is also important to note that there is also a convenient way for sellers to post items here.
First of all, you can either deliver the items you are selling yourself or you can use the app's delivery service. This promotes a secure transaction for both the seller and the buyer. So Shpock helps you find items at discounted prices with great ease and part with your unwanted items.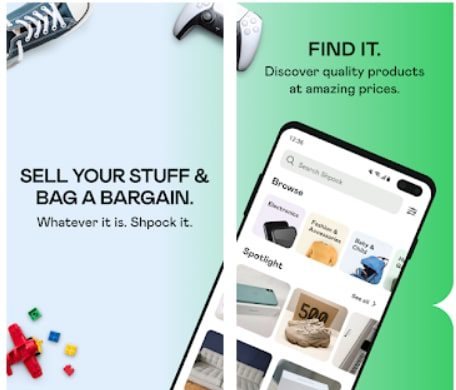 You may also like: 8 Most reliable auction apps (Android & iOS)
2. Free Shopping guide OfferUp for Buy & Sell
You have probably come across a situation where you need to buy a new phone and you want to sell your old one. In such cases, the easiest way is to use a special service. That is why we suggest you turn to Free Shopping guide OfferUp for Buy & Sell. This is one of the major platforms where you can easily sell your used items.
After all, more users of the application mean more potential buyers. Also, it is worth noting that the purchase of things can be done in the area around your home. This means that when you open the map you will always see who is selling, for example, a nice sofa. Moreover, in order for you to contact the buyer you only need to go to a convenient chat.
There you will find out all the details about the product and arrange a discount. The service also takes care of secure transactions. So you will always see the rating of the sellers. In addition, to find the thing you need you can use the sorting application by distance, delivery, location, and price.
That way you can find the right thing for you. Click on an item to get more information about its characteristics, such as description, price, seller's willingness to give you a discount, and exact location.
It is great that you can always see the prices with and without delivery. This is convenient if you are ready to pick up the goods yourself and do not want to spend a lot of money. We are saving our savings by buying things in secondhand shops.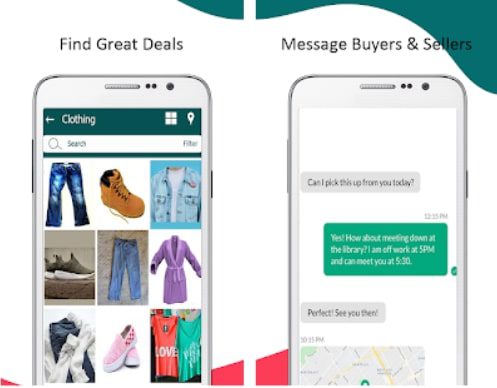 3. Vinted – Second-hand clothing
This application allows you to buy and sell everything from home products to toys for children. There is a wide range of categories such as home, garden, cars, technical equipment, clothes and much more. Vinted – Second-hand clothing is a new version of the app that offers an improved interface and bug fixes.
Here is a new convenient seller and buyer chat. Once you start a chat with a seller you will see the speed of response, the rating, and the seller's location. In addition, you can offer your own price for each product. After all, there are two buttons: one Buy and another Make An Offer. So the seller will see your suggested price and then be able to contact you.
To make an ad yourself, just upload a photo, set a price, and make up a creative description. Like many similar applications Vinted – Second-hand clothing has a security program. All ads are checked and the seller is given a rating of trust here. You can also read buyers' comments. That way you can decide whether to trust the seller or not.
When it comes to finding products, there is a convenient filter by category, price, brand, type of clothing or item, and of course size. In addition, you can not only pick up the goods yourself from the seller's home but also choose from different types of delivery to your location.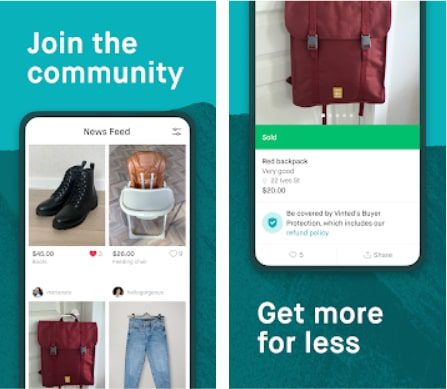 4. Ricardo: Second Hand Shopping
Ricardo: Second Hand Shopping is a place where you can sell all your worn and used items. There are already more than 3.7 million users who trust this app. All you have to do is type in the search bar and you will immediately get a huge list of products. You can find advertisements near you.
All you have to do is to set a favorable distance to you. To edit the price, you just have to set a limit of a certain price. That way, you will get the products at the lowest prices. Moreover, if you allow the app to send you notifications, you will be able to see changes in prices and new interesting products. Add your favorite second-hand items to your favorites.
That way you can compare several items at once. It is also worth noting that the developers of the application have taken care of its safety. There is a special program that protects the rights of both buyers and sellers. So you can in the most secure way both earn and buy second-hand clothing.
Try this modern app that takes care of nature. Ricardo: Second Hand Shopping has a nice interface in bright colors. All products are presented in the form of photos that have an add to favorites button in the right corner. This gives you the ability to quickly operate your actions.
Moreover, all information about the product is written briefly and in an accessible form. Each ad is checked by a moderator.

5. Melltoo | Buy Sell, Second Hand Online Shopping
If you need to sell something in a short period of time it is better to use the application. For example in Melltoo | Buy Sell, Second Hand Online Shopping you can sell your furniture or clothes, household goods, appliances, and anything else you want.
This app is convenient because it gives you a guarantee of a secure transaction. All contact information, such as phone number and email address, sellers are hidden. Each seller has its own rating. Delivery is made by employees of the service. First, this ensures safety. And secondly, it saves you a lot of time.
For buyers, there is a huge list of all possible secondhand items. They are all organized into categories. This gives you the opportunity to use a convenient search. Choose a category and features and get a list of items for sale. When you buy a product, you get a three-day money-back guarantee on your purchase.
In addition, the app collaborates with well-known brands that give bonuses for selling their products. For example, IKEA provides a 20 percent voucher to buy their furniture for your home and garden.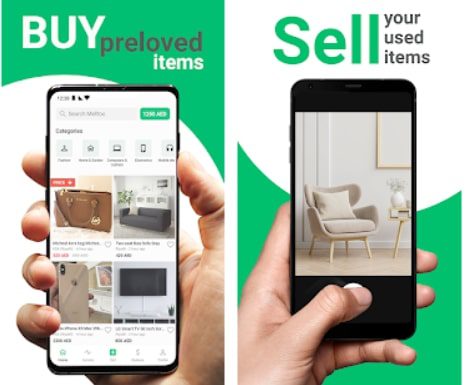 You may also like: 8 Best Apps to Customize Your Own Clothes (Android & iOS)
6. Cashify – Sell Old & Used Mobile Phones Online
Perhaps you need an app that is narrowly focused on selling a specific secondhand item. So for example with Cashify – Sell Old & Used Mobile Phones Online you can sell your phone. This platform will help you estimate the price of your smartphone in just one minute.
Moreover, you will be able to sell not only smartphones but also tablets and computers, game consoles, headphones, televisions, and in general all possible devices. Post your ad with full details of the item you want to get rid of and establish a price. Then a secure delivery company will pick up your property and hand it over to the new owner.
You do not have to worry about the honesty of the transaction. You will get your money for your device instantly. Moreover, employees of the application will make sure that no personal information will be left on it. All transactions are made in just a couple of steps. The first step is to have your phone analyzed, and then you will be able to sell it.
The phone is checked on two levels, so you get the highest possible price in the market. In addition, the Cashify – Sell Old & Used Mobile Phones Online app gives you a completely free way to pick up your phone by staff. This way you will not have to pay any additional taxes. You can schedule a delivery at any time you like.
The team of this app will come and pick up the product you want to sell. What could be better than making money on the equipment you wanted to be part of? Also, this application cooperates with major markets of the devices. That means you will officially be able to sell your device to some company.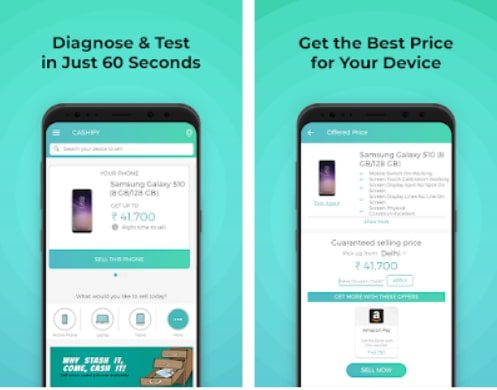 7. Trade Out Your Tech: Decluttr
Trade Out Your Tech: Decluttr can help us take a step toward saving our planet. After all, you can use it to recycle your tech and make money from it. This way less is produced on the planet. This means that resources that could have been spent on production are saved.
This application works with a variety of equipment, phones, laptops, game consoles, books, games, DVDs, CDs, headphones, and various accessories for technology. You can simply scan the barcode and all the data will be written into the app by itself. Put up your ads. It is enough to attach a photo and write a short description telling about the main pros and cons of the product.
The app will help you determine the approximate value of your equipment. That way you will help to recycle, rather than buy new. Here you can also buy products at super discounted prices. This app offers free shipping. You will receive payment for the equipment you sell the next day. Make safe deals, help nature, and save your money.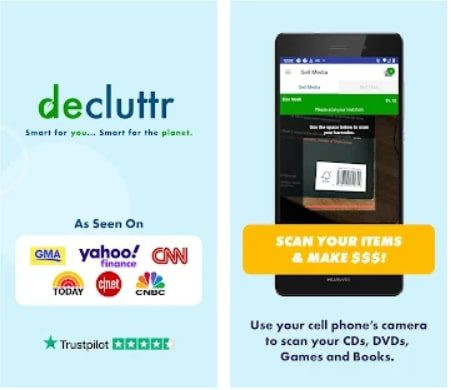 8. thredUP | Buy & Sell Clothes
Usually, we go to secondhand stores either to save money or to find something unique. With the thredUP | Buy & Sell Clothes app, users have already been buying brand-name clothing from all over the world. This app contains more than 35,000 different clothing brands.
Most of them are factory and mass brands such as ZARA, MANGO, TOPSHOP, GUESS, LEVIS, DKNY, MEXX, CK, TOM FORD, and more. In addition, you will also find such top brands as GUCCI, Versace, Burberry, Louis Vuitton, Prada, Dolce & Gabbana, Chanel, Giorgio Armani, and others.
The great thing is that these clothes are sold secondhand at super discounted prices with up to 90% off. In addition, you yourself can also get the proceeds from the sale of their used clothing. If you have some pieces of brand clothes in your cupboard, this is the time to send them to thredUP and give them a new start in life.
That way you can get rid of a bunch of old stuff at home and make a little extra money. The important thing to note is that you just need to make a request in the application. That way a courier will come to and get your clothes, make an appraisal and you will get your money.
The staff of the application will take a photo, write a description and put your dresses, shirts, jackets, and other items of clothing on the app itself. It is also important to mention that the app works with the section of women's clothing and children's clothing.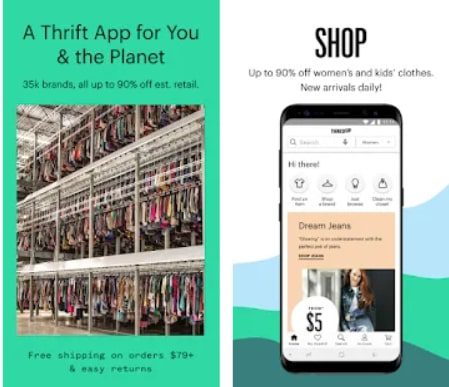 9. Poshmark – Buy & Sell Fashion
Sometimes we stop wearing old clothes and they just lie around in the closet. Poshmark – Buy & Sell Fashion offers over 200 million pieces of secondhand clothing, home decoration, beauty products, and more at discounted prices.
All of these clothes are from totally top brands like Balmain, NIKE, Bottega Veneta, Michael Kors, MAC Cosmetics, Brunello Cucinelli, Anthropologie, Burberry, Chloé, Dolce & Gabbana, and many more others. There are already about 70 million users in the United States who liked the application.
Indeed, you can not only buy things at incredibly low prices but also sell your own. So you can make a lot of money on things you were going to throw away. It is important to mention that you can put your ads for free. So you can share your closet with thousands of users from all over the country.
You will also receive daily style ideas. The app offers thousands of outfit ideas. You can also save your favorite outfits to your favorites so you can copy them later. You can find clothes in any size and at any price with Poshmark – Buy & Sell Fashion.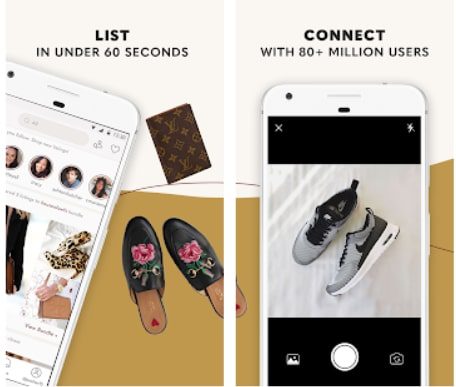 10. LESS_ – Sell and buy second-hand items
LESS_ – Sell and buy second-hand items is your real electronic closet. You can put together an outfit of secondhand items at super discounted prices. There you can buy products in different categories such as health, home, stuff, books, electronics, tech, and clothes. You need to take a couple of steps to post your ad.
The first is to choose a thing and take a picture of it. Then you need to write a short description and expect your buyers. The app will not require any additional fees for your listing and delivery. You will also be able to browse the pages of other users. That is where all of them create closets filled with clothes.
You will be able to be inspired by their ideas and create something of your own. This way you can put all your stuff in your closet and decide what you need and what you do not need. This gives you the opportunity to organize your space and know exactly what you need to buy. In addition, the app provides little tips on how to create a minimalist space around you.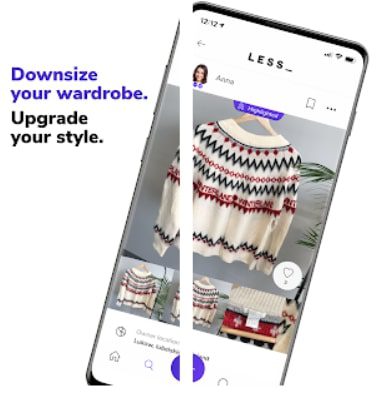 You may also like: 8 Best Used Car Buying Apps in 2021 (Android & iOS)
11. Popsy – Buy & Sell Used Stuff
With this app, you will be able to see more and more new ads every day in this app. Here you will be able to buy a variety of second-hand goods. You will also be able to dispose of your possessions. Share your belongings and save nature. That way you can lead a more minimalist lifestyle and earn some money.
Moreover, the app guarantees security. All transactions are made directly with the buyers. You will be able to chat and agree on a discount. There is also a money-back guarantee.
You will be able to order delivery and choose the exact time when you can pick up your package. That way you get a safe and fast transaction. In addition, you can buy clothes and tech here at discounts of up to 70%.