Have you ever dreamed of customizing clothes to make it fully fit your taste? If you still find this opportunity appealing, here is a post for you!
We recommend you installing some tools that make your dream come true. Such apps let users customize clothes. In addition, you will be provided with additional opportunities for further actions (we are going to consider them below).
So if you are interested in applications of this category, get familiar with the tools below, choose the most suitable one, and install it from the App Store or Google Play. There is no doubt that an app to customize clothes will allow you to feel like you are a designer.
1. T-shirt design – Snaptee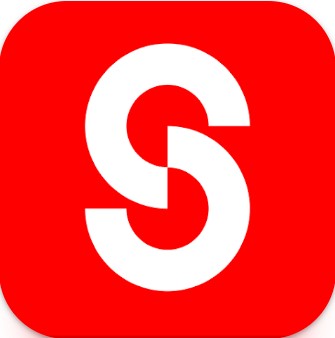 Even if you are a beginner in customizing clothes, such a cool tool as Snaptee will be suitable for you. It combines both simplicity and advancement, just right what you need.
Within several taps only, you will be able to customize a T-shirt. The app includes all the necessary tools to design clothes as you wish. Thus, you will be able to add a photo and a text to a T-shirt and adjust them as you wish (size, place, font, color, etc.). This feature will be so useful if you need to create a T-shirt with a unique quote or even a logo of your company.
Also, there are so many features that make the app so convenient! For example, you will have access to its collection of templates, that will significantly simplify your work. Besides, the app supports scanning your hand-drawn sketches to be used while creating a T-shirt. Then, the app can be integrated with Instagram. Talking about social media, we can not help mentioning that it will be so easy to share designs with friends.
One more brilliant thing is the app's community. First of all, in this section, you will be able to view other users' designs. It will be especially helpful when your muse is mute. You can't imagine how inspiring it is to view the masterpieces created by other users.
Apart from this, sharing your own creations will also be possible in the Community. Moreover, you will have a chance to benefit from it. To be more precise, if someone buys a T-shirt with your design, you will earn a 10% commission on its sale! That sounds amazing!
After customizing a T-shirt, you will be able to send a request for printing. As a result, the app's team will put your unique design on a T-shirt. It will cost you about $20 plus the price for worldwide shipping. By the way, reselling these T-shirts with personal design can become your business. So that's worth being tried.
Finally, apart from T-shirts, you will have a chance to customize V-neck T-shirts, Hoodies, Sweatshirts, and Zipup Parka. Both black and white colors will be available. Lastly, the range of sizes is so wide! Clothes will suit even children.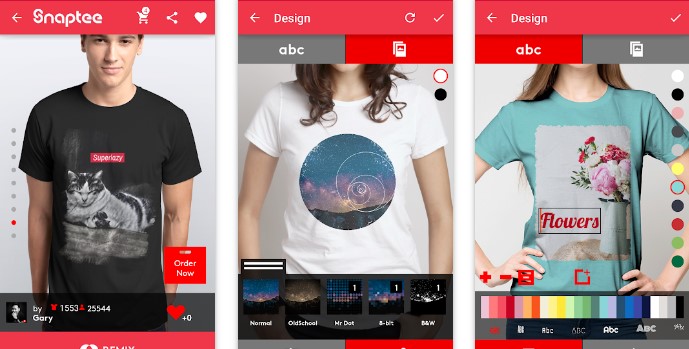 2. T-Shirt Design Studio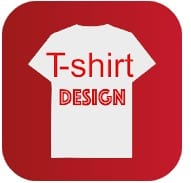 The next app to customize your own clothes is T-Shirt Design Studio. Which features does it include?
It will take you just a few minutes to have your design done. All you will need to do is to add a text to a T-shirt, adjust them by resizing, cropping, erasing, changing color and font. Uploading a sticker or even a photo will also be available. What is more, it can be an instant photo taken by your camera directly.
One more section that will help you is called "Ideas". You got it right. There you can get inspired by viewing the designs of other users.
In this case, you will also be provided with pre-loaded templates, that simplify the process of designing. This feature makes the app so fantastic.
After completing your work, you will be able to purchase this T-shirt with your own design. To do that, just pay for the service of printing and shipping. In 6 days maximum, you will have your awesome T-shirt delivered.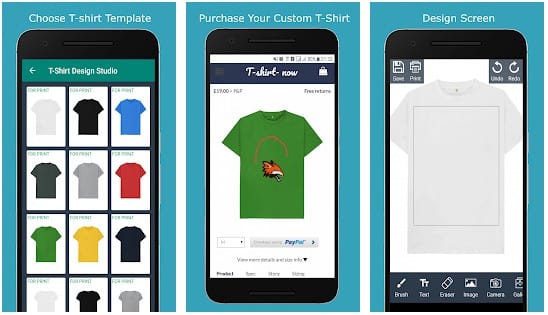 How do you feel about promoting your customized clothes on online platforms? If your attitude is positive, our advice is to install one of the best classified apps for Android & iOS.
3. T Shirt Design – Custom T Shirts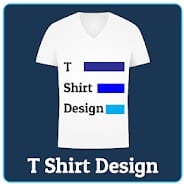 Now let's review apps available only on one of the platforms. This section starts with the tool for Android called T Shirt Design.
Well, the app comes with a bunch of amazing features to customize clothes. First of all, it includes a gallery with more than 15 thousand items, including logos, stickers, clipboards, etc. Do you want to add your own image or text? It is possible to do with this app. What is more, there will be numerous capabilities for adjusting.
Are there any distinguishing features? Yes, of course. The fact is that the app supports applying a 3D effect to the text as well as items of graphics. That's what will make your clothes exceptional.
Then, according to the app's name, it focuses on T-shirts. However, actually, you will be able to design not only T-shirts but also shirts, sports shirts, vests, hoodies, sleeve shirts, etc.
Finally, the app will offer you to save your design as a jpg or share it instantly vias social media. Unfortunately, it doesn't suggest a printing service. However, it will be a good idea to customize clothes with this nice tool and show your design to local printing services.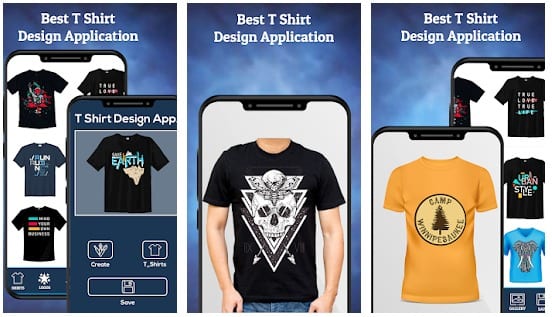 4. Shirt App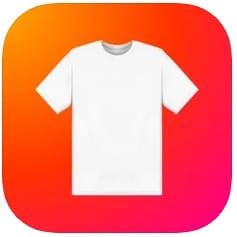 As for an alternative for iOS, we highly recommend you installing Shirt App. By the way, it is considered to be an App Store leader among the apps of this category.
With this tool, you will have a chance to customize a T-shirt, long sleeve shirt, or hoodie. The number of colors will be quite large (12). What is more, both front and back customization will be available in this app.
As for designing, you will be able to add your own photo or text as well as use the app's pre-loaded items. It can be a sticker or graphic element. Moreover, the content is regularly updated.
Finally, it will be high time for placing an order. According to the app users' reviews, the quality of printing is extremely high. The service itself is also brilliant.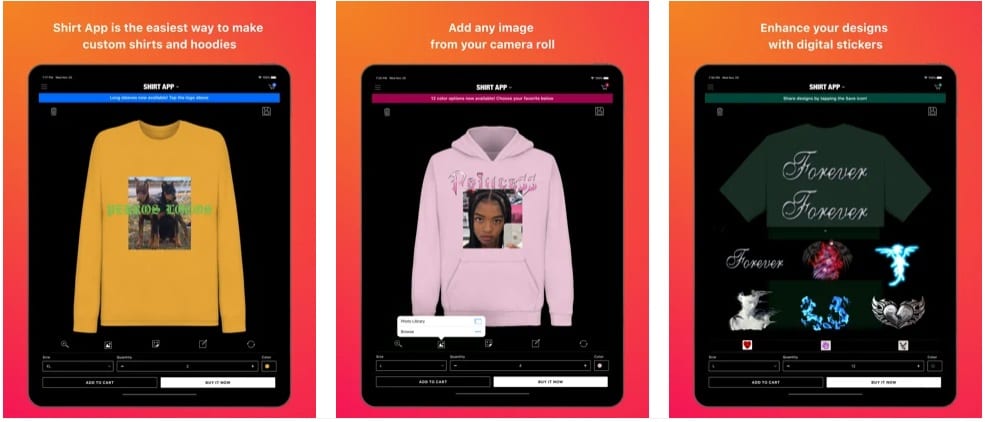 5. T Shirt Design – Custom T Shirts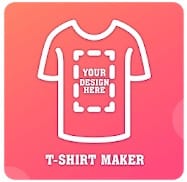 T-Shirt Design is one more app that will become your assistant in customizing clothes. Here are the reasons for putting it on our list.
After opening the app, you will be provided with a large collection of art stickers, graphic elements, shapes, and textures to create a design for your T-shirt. Due to the great choice, even the craziest idea can be put into life.
As usual, every user can apply a text to a T-shirt. Font (there are more than 500 options!), as well as text color, can be adjusted with one touch only. Do you need to upload a photo from a phone gallery? This action is possible with this app as well.
Are there any other additional features? Yes, there are. The thing is that this tool supports changing the color of a T-shirt. You will be able to choose any of about 15 bright colors or lay it white or black.
Now let's talk about the service of printing and shipping the designed clothes. This very app does NOT support this feature. All you can do after customizing is to share your designed clothes via social media or messengers directly from the application. Alternatively, download it on your device.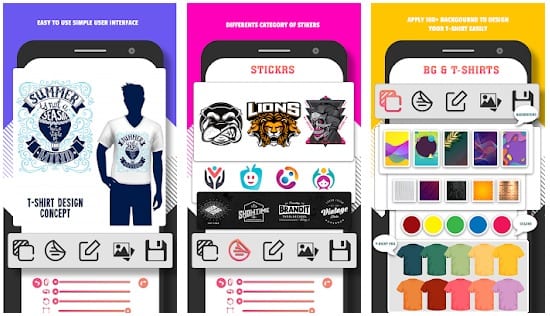 6. T-shirt design – Yayprint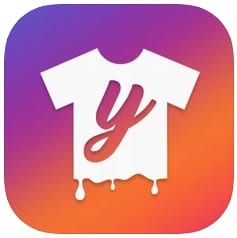 One more simple tool is called T-shirt design – Yayprint. Being available on the App Store, it has so many installations. What is the secret of its success?
First of all, in this case, you will be able to customize numerous items. It can be a T-shirt, shirt, hat, hoodie, V-neck T-shirt, top, and many other items. By the way, if you like customized phone cases, the app will help you to design the one that meets your taste.
As usual, you will have an opportunity to upload a photo and add the text you need. Apart from this, there will be in-app stickers, graphic elements, and quotes to be used. You will like them for sure. Moreover, a user can adjust any element and even apply one of the numerous filters to it.
Besides, every your design can be saved as a draft. It means that there is no need to start from scratch every time you open the app. After finishing customization, you will be able to share your project via social media as well as order the masterpiece you created.
Like some apps above, this one includes a section with already designed items of clothes. There are two options available. First, you can view them to draw inspiration to create your own fashionable thing. Second, you can choose and order clothes with ready design.
As you can see, ordering both pre-designed and customized clothes is possible. Just place the order, pay for items in it, and wait for clothes delivered.
P.S. If you face any difficulties, a friendly app's team will help you in every matter.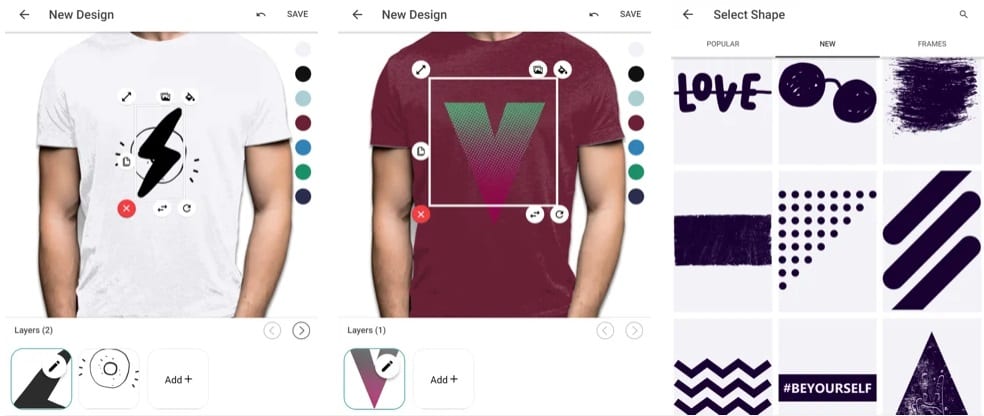 7. T-shirt design and print – by oShirt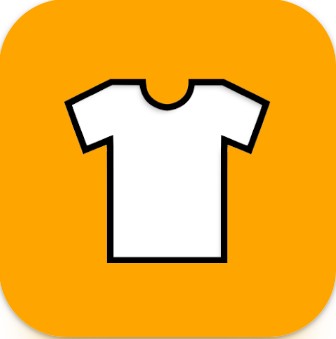 The next excellent tool that we can't help including to our list is called T-shirt design and print. Why is it so appreciated by users from all over the world?
The app will provide you with a cool kit of numerous tools to customize T-shirts, 3/4 length tees, hoodies, and sweatshirts. The sizes will suit children as well as adults.
As for designing, you will be able to add text, photo, and even stickers to clothes. What is more, making clothes look vintage will also be possible. Besides, there will be numerous capabilities of editing the items added.
After customizing, you will be able to order high-quality printing of your design. By the way, you will have a chance to choose the color of clothes to print on. Trust us that the choice of colors will be great. After paying for the service, you will be given free shipping as a present. It is one more reason to install this very app.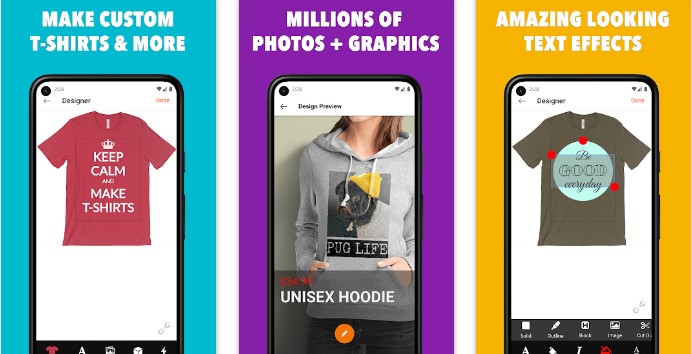 8. Super T-Shirt Designer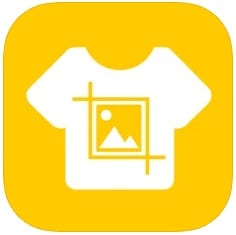 The last but not least app is called Super T-Shirt Designer. Why should you pay attention to it? 
As usual, you will be able to add a photo or a text on clothes. Customizing every little detail (from font to photo effect) will be possible. To make the process of designing more convenient, the app offers to use its pre-loaded templates. By the way, they will be over 300 of them! The choice of clothes colors is also great.
As for tech details, the app supports keeping your designs on cloud storage. Also, saving the design as a draft for further work will be possible for you.
Are there any disadvantages? Sadly, yes. The app's users say that the service of ordering designed clothes and paying for it has quite many flaws. That's why if you want to order clothes you design, you'd better use another tool.
Apart from this, the app has a Premium version. However, it does not include any essential features. That's why we suppose it doesn't worth purchasing.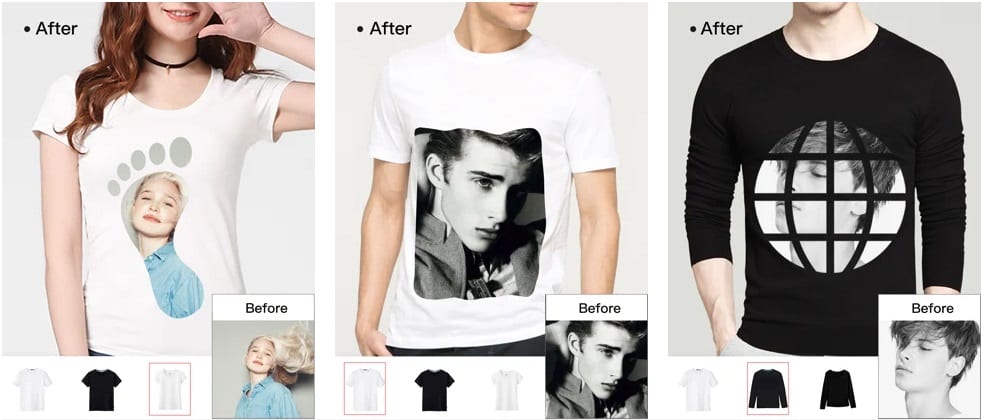 You may also like: 8 Best 3D design apps for Android & iOS