Everyone is probably familiar with football, many of us have played this wonderful game or watched matches on TV. This sport is the most exciting and challenging to predict. Watching sports broadcasts is not just a fun way to spend your time. It is also an opportunity for people to get to know how to make money from betting.
Today, there are many betting companies offering their services. So, this article will introduce you to apps that will help you bet on winning teams. In addition, all sports fans will appreciate the article Best Apps To Watch NFL Games so that you will not miss the games.
1. NBC Sports Predictor
One of the biggest sports prediction apps. It publishes daily forecasts with detailed analyses from experts. So, you will find forecasts, people who specialize in analytics of sports events of all kinds of sports. Also, with a paid subscription, you do not even have to have a good grasp of sports. This app will help you make a choice easier.
At the same time, it also offers free daily predictions. Moreover, you will find detailed statistics on the results. Moreover, all the information is updated daily. Also, you can use this app to view games as a whole or simply check out the results at once. You can also check the latest news and make your predictions based on them.
In addition, this app allows you to bet not only on football but also on basketball, baseball, and others. All you have to do to get started is bet on your favorite team and wait for the results.


You may also like: 6 Best Pull-Ups Fitness Apps for Android & iOS
2. Betcha – Predict Sports
At the moment this project is an excellent sports prediction app. The portal offers detailed stats and information about events of more than 10 sports, among which apart from the NFL, there are NBA, Counter Strike, MLB, and others. Moreover, the app has a friendly interface with handy live changing of live match statistics.
There you will be able to find out team lineups, the latest news, a list of injured players, and the anticipated formation. Each team has a match history and standings. Moreover, it is a kind of a social network where you can subscribe to your friends and the leading sports analysts.
Also, you can choose the sport and the team and bet on the different game outcomes. There is also a leaderboard which you can join if your predictions are correct. So, this is a great app to find out the outcome of the match as well as read the latest sports news and make friends by interest.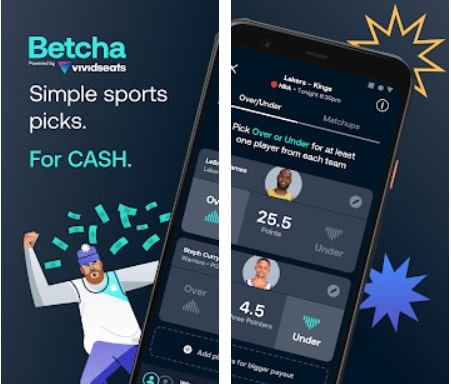 3. BetMines Betting Predictions
This app will provide you with free daily football predictions. The app has surprisingly good reviews, which point to an excellent analytical system for evaluating matches. It is probably the app of choice for beginners who do not want to spend money on predictions.
However, if you want an even more detailed and accurate prediction, the app will offer you a premium version. Also, this app not only helps you predict matches but also helps you bet on winners. This way, you can win directly in this app.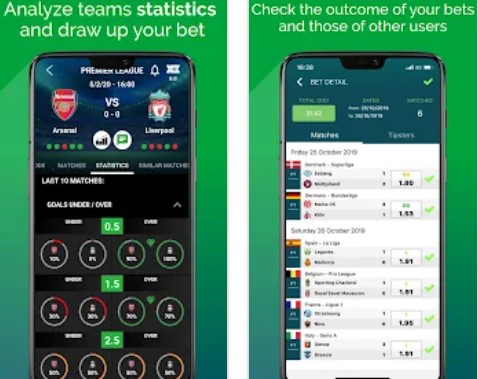 4. NFL Playoff Predictor
This is a simple app that will tell you which teams will make the playoffs. It is all thanks to a little artificial intelligence, which analyses the past games and the chances of winning. It also analyses the different outcomes of the games and concludes who is likely to win.
In addition, the app has a handy sorting by week. Moreover, you can view all the important information about the team just by clicking on its icon. There you will see the winning percentage, the points earned, the number of games lost, and much more.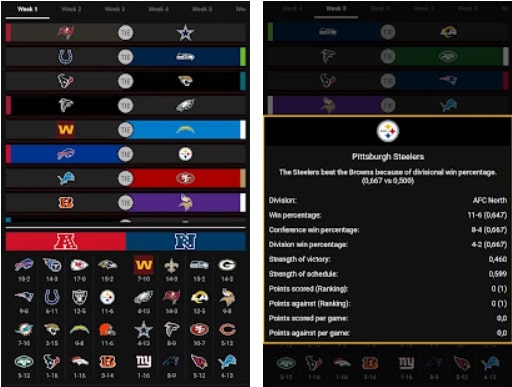 You may also like: 11 Best Mountain Biking Apps for Android & iOS
5. College Football Playoff
Football is also played in college. So if you keep an eye on college games, this app is perfect for you. Not only can you keep track of upcoming games, but you can also buy tickets to matches. There are also plenty of video reports of the best match moments. You can also check out the latest news.
In fact, you can get alerts by email or phone. You can also filter your news to be exclusively about football or just about everything at once.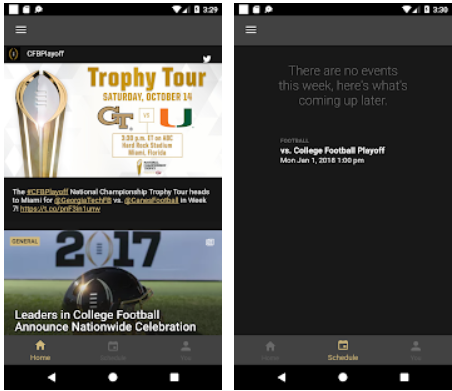 6. NFL OnePass
It is almost no different from other similar resources. However, this app has a wide range of features, giving you the chance to select specific events in a large number of championships. This simple app is a real irritant to bookmakers. After all, the app only shows successful bets.
Although it may not have a flashy interface, there is enough information to predict the games. Also, there are free betting tips. If you prefer, you can also subscribe to an example version to get better tips and predictions.

You may also like: 11 Top Football Prediction Apps for Betting (Android & iOS)
7. TeaserBuster – NFL Predictions
TeaserBuster is a real find for the NFL fan, combining a nice interface with a handy game prediction tool. You can find potential match results here. In addition, it also has a schedule of upcoming matches. You can also track the composition of the teams, the potential of each player and the team as a whole, the quality of teamwork, and so on.
In other words, it is safe to say that this app cancels out different factors that may affect the course of the game. So, you can decide what you want to bet on. In addition, the app is rich in different games you can bet on. This way you can enjoy football every day.