It is always necessary to pay special attention to the choice of a cryptocurrency wallet, as it will be in charge of the storage and safekeeping of electronic currency. Many companies offer different wallet options for cryptocurrencies. Some are suitable for beginners, while others are convenient for daily work, and others will suit those who care deeply about security.
In general, online wallets are ideal for people who are just new to the crypto industry. We will talk about them in this article. Also, you may be interested in currency exchangers, which you can find in detail in the Free Currency Converter Apps article.
1. Trust: Crypto & Bitcoin Wallet
This is the official Binance app, where users can earn interest. The app will allow you to send, receive and store various cryptocurrencies and digital assets safely. In addition, the program provides you with a secure access key that protects your assets from unauthorized access.
Moreover, the app helps your coins work on your behalf by placing assets with a flexible interest rate. The program provides a verified Proof-of-Stake certificate that allows you to start collecting interest from digital resources. That means it will continue to make some money for you on its own.
Furthermore, Trust Wallet solves the problem of buying cryptocurrency by making it easy to use a credit card so you can quickly start trading. Also, this app is completely free, even with no transaction fees. It is worth saying that there are many cryptocurrencies available today, and Trust Wallet supports a large number of them.
It allows you to buy, sell and exchange different coins, blockchains, and other digital assets, providing full cryptocurrency management functionality thanks to Multicoin support. In summary, Trust supports Bitcoin, Ethereum, Tron, Dogecoin, Polkadot, Ripple, Litecoin, as well as Binance Smart Chain, Solana, Polygon, Cosmos, and others.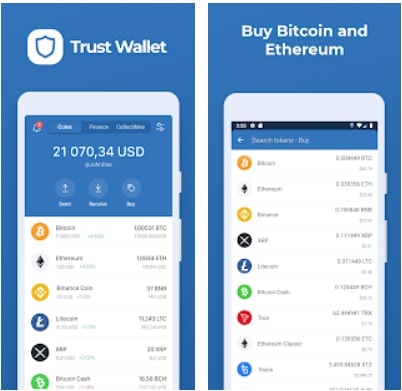 You may also like: 11 Best Credit Building Apps (Android & iOS)
2. Ledger Nano X
If you are serious about trading or investing in cryptocurrency, it is worth having a wallet. Ledger is a multi-currency device that allows you to store keys offline. In addition, there is strong protection. Indeed, the recovery phase of the account, which is generated by the service, consists of 24 words.
Ledger Nano X performs transactions with the Ledger Live account via Bluetooth connection. Only public key data is transmitted this way. You can also choose to send information only through the USB port. The app supports the exchange and management of over 27 coins and more than 1,500 tokens.
This includes Bitcoin, Ethereum, Ripple, Monero, and others. You can also use Ledger to manage transactions with Zilliqa coin, which is often not supported on other storage sites. In addition, this application can be used to pay for your purchases. This way, you can always use cryptocurrency.
Also, it is a cool service to take advantage of buying NFTs. Besides, it is worth noticing that the app is quite technological and easy to manage.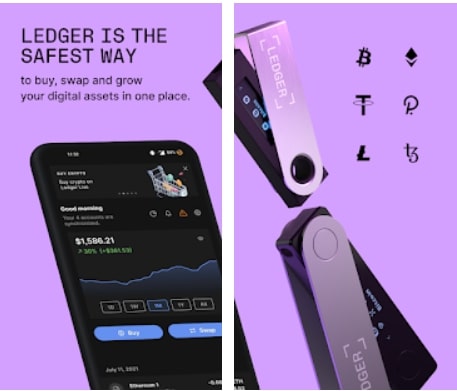 3. Blockchain
The Blockchain wallet is probably one of the most well-known solutions for bitcoin storage. It is also cool for keeping some other cryptocurrencies, including Bitcoin Cash, Ethereum, Stellar, Tether, and USD-D. As well, that is a great platform due to the number of active users over 2 million worldwide.
If you are planning to work exclusively with bitcoins, the Blockchain wallet is perfect for your needs. You can protect your account with two-step authentication, SEED codes, and complex passwords. In addition, if you have a desktop version, you can sync it with your mobile device via QR code.
In addition, after verification, you will be able to buy from the card or withdraw to the card, participate in the airdrop, and other additional options. Another advantage is a convenient and stylish interface with elements of analytics. The Blockchain wallet has several levels of confirmation in the cryptocurrency wallet.
It also affects access to various services. Moreover, unlike other wallets, there is a fairly fast verification of your identity. The developers claim that it does not take longer than 2 hours.


4. SafePal
This app supports both the wallet and the cool SafePal S1 device, which supports over 10,000 assets from all blockchains: Ethereum, Bitcoin, Doge, Polkadot, Kusama, ZCash, BSC, EOS, Neo, Tron, and others. So, you can manage your money on the big screen of your smartphone through this handy wallet app.
However, the SafePal app can also be used without this device. Also, it is easy to share, sell and buy tokens. Thanks to this wallet, you can even manage several of your accounts at once. In addition, with just one QR code, you can quickly receive crypto. Also, you will be able to quickly share it via any social network.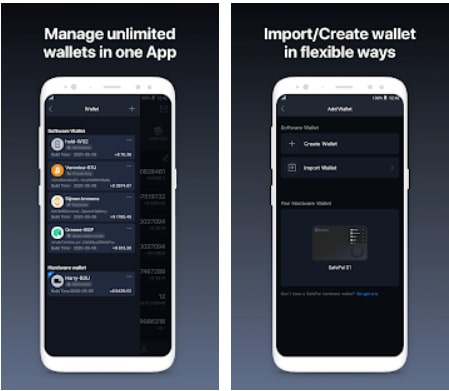 5. Exodus: Crypto Bitcoin Wallet
Exodus has become widespread because of the extensive functionality combined with a user-friendly and original interface, which used to be available only on the desktop version. However, there is now also a mobile application, which stores more than 40 types of cryptocurrencies.
The functionality of the wallet allows you to convert some currencies without the use of third-party platforms. Indeed, the app allows you to exchange cryptocurrencies within the program through ShapeShift. This wallet has several main sections.
For example, the Wallet is designed to make a transaction between cryptocurrency wallets, and confirmation of acceptance of cryptocurrency from another user. Also, the Backup, allows you to create a backup copy. The Help section will sort out all your questions and direct you to a real person.
Additionally, there is a SEED key, which consists of 12 words. You will need this phrase to recover lost data and gain access to private keys. Also, there is a super clean interface that gives you up-to-date information about all currency changes.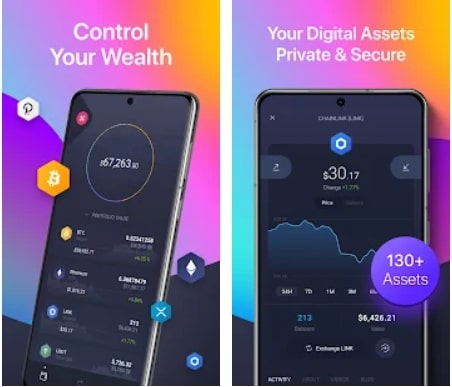 6. Bittrex
Bittrex is a reliable and comfortable platform. Its reliability and a higher level of security are achieved through the verification of users and the principle of cold storage, which is carried out on disconnected servers. In addition, funds can be withdrawn only after two-factor authentication.
Also, all transactions are conducted at high speed even in the most active periods, that is why a user's balance is always available. It is worth mentioning the fact that there is a favorable commission for trading. Moreover, you will be able to get promptly working support service.
You can deposit your account in both USD and EUR, using a credit or debit card. Also, for new users, the app offers a referral program that allows them to earn 10 percent on each of their trades.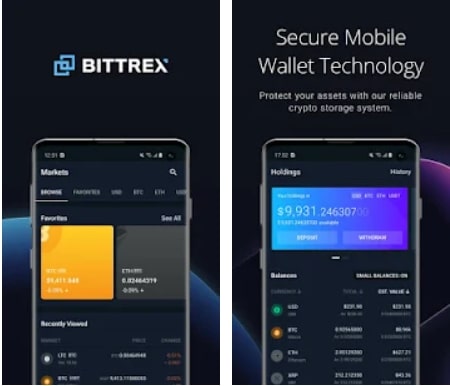 You may also like: 11 Best payday loan apps for Android & iOS
7. Electrum Bitcoin Wallet
This wallet has been on the market for a long time. It is a program that uses open-source code. Also, this wallet is valued for its anonymity. Electrum falls into the category of lightweight wallets. The wallet is very easy to use thanks to a modern and well-designed interface.
Electrum allows you to import and export keys from other cryptocurrency wallets. Another important detail is that Electrum provides users with multiple bitcoin addresses. Traditional passwords, two-factor authentication, and SEED phrase are provided to protect your assets.
Also, you will be able to view your keys even when you have no internet connection. If you have been using the desktop version of this app for a long time, you will definitely find this app convenient to have on hand whenever you need it.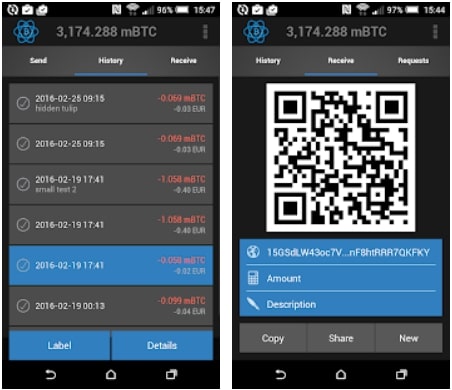 8. Coinbase
Coinbase is a cryptocurrency exchange. The platform allows buying and selling cryptocurrency, as well as storing it. In addition, its legal status and submission to US laws make Coinbase an attractive project for long-term investments. Also, there is a two-factor authentication available which will provide even more protection for your funds.
Moreover, there is a referral program that allows you to make a profit by attracting new customers. As a result, bonus dollars are credited to the account of the user and the invited friend, if the transaction amount exceeds $100. In addition, you can ensure deposits if you are a US citizen.
There is also a convenient news feed, which will be adjusted for you over time. There are several sections related to cryptocurrencies. Besides, there is a handy service to control your trading portfolio, which will show you all changes in diagrams.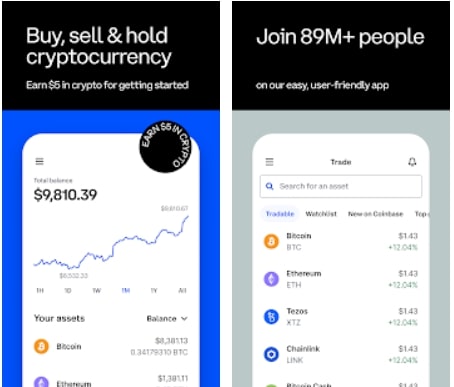 9. eToro
eToro is a unique trading wallet, which also has the most advanced features currently available on the market. The platform allows trading in Forex, stocks, commodities, and EFT contracts. The system now supports more than 16 cryptocurrencies. A great feature of the wallet is the ability to copy trades.
Unlike regular copy trading, eToro's social investing allows you to copy a trader's actions, customizing your risk and entry-level. With eToro, you can copy trades either automatically or manually. Also, security is worth mentioning as well. The funds are protected by advanced protocols here. In addition, personal data will not be revealed without your permission.
Among the advantages, we can also point out the possibility of blogging and communicating with its users. After all, eToro is a pioneer of social trading. In fact, this wallet also allows you to stay in touch with the world around you. You will receive daily personalized news alerts that will help you in your trading.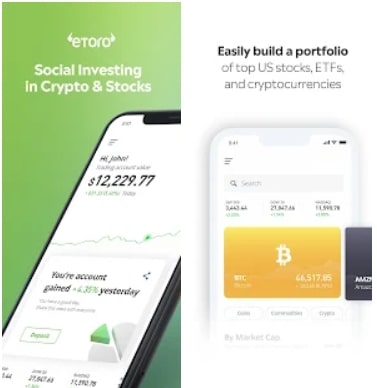 10. Binance
Binance is a cryptocurrency exchange with the ability to buy cryptocurrencies for any type of currency. You can add money to your account via bank transfer or debit or credit card payments. It takes about 24 hours after your deposit to purchase a cryptocurrency and start trading on Binance.
Most deposit options are free, easy, and very convenient. Users who actively trade or invest in cryptocurrencies use Binance to store assets. Within the platform, each cryptocurrency has its wallet. So, after registering, you will have access to them all. In addition, the wallet will not charge you for storing the currency.
Meanwhile, it requires you to know a standard password for storing keys. In addition, Binance is the largest cryptocurrency exchange, which offers users a simple and easy interface with lots of features. All in all, the app is a portable way to operate with cryptocurrency. In fact, you can even use it to receive notifications that will inform you of changes in your assets.
Also, there are two ways to use it, one for advanced and another for beginners. You can use both extended features and simplified ones in one app. In addition, you can get any of your questions answered instantly through support in the app.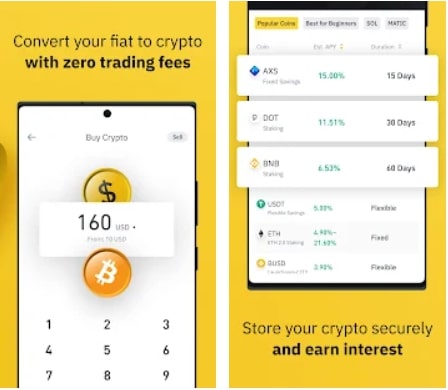 You may also like: 8 Top Digital Signature Apps for Android & iOS
11. ZenGo
Zengo is the world's first cryptocurrency wallet without a key, uses biometric data, that is, an image of your face. In addition, this wallet is famous for its incredible simplicity, so it is a great choice for beginners. In addition, with this app, you will be able to buy and sell various cryptocurrencies instead of just storing them.
Also, you will be able to track changes in your wallet with a handy graph that will show you the changes over the day, week, month, or year. In addition, you can even earn money without even trading cryptocurrency. After all, the app offers various bonuses for inviting new users to the system.
Also, you can get a daily percentage here for storing some cryptocurrencies. Moreover, if you are interested in support, then this app is exactly for you. Here you can contact the operators who will answer your questions.