According to the statistics, every second person in developed countries has or had a loan in their life. There are countries which are more tolerant about taking loans, some of them are less tolerant towards the debts.
For example, in the US loans are a common issue. Moreover, the loan there has a more positive nature, since each person should have a credit history, and for that, guess what, a person needs to use credit cards and take as many loans as possible (and, of course, pay them back on time).
Moreover, there are different kinds of loans that you can take. Those loans which are for the mortgage or for the education are considered to be the big-event loans that you would take having thought about all the consequences in advance.
There can be a case that you just need a not considerable sum of money which you know you will pay back in no time. Such loans are extremely popular on the market in terms that the risk on them is low and there are actually tons of situations when we urgently need money right now, even if we got none. In this article, we are going to observe some articles on the market which allow you to make payday loans easily and fast.
1. Brigit
Brigit has been the leader on the market of the payday loan apps for several years now. And it seems only getting better and more multi-functional over time. Another advantage of it is that it was tested by the countless number of consumers who have successfully received payday loans with it.
Here you can get a loan up to $250 dollars. It is quite useful for different life situations: your kid has a birthday but the salary is coming only next week? Or maybe you just received a fine for parking but you are broke? Or maybe you need to pay for your phone? Get a small load fast and easy in Brigit – as it's already been done by many users.
In order to take a loan in this app, you need to connect your bank account to it. Brigit works with numerous banks across the United States, including Bank of America, Wells Fargo, TD Bank, Chase, Navy Federal Credit Union, and 15000 other banks – so there is always a chance that you are going to get your quick money.
For the people, who are not involved in the financial industry and have a weak knowledge about the financial system this app will be even more valuable since it doesn't include any hidden interest or additional fees. All the aspects of your loan will be stated in the terms of the agreement contract.
The app has plenty of useful options, but here one of the most remarkable of them: you can set the app in the way that it will automatically refill your bank account with a payday loan when your cash is reaching zero. What is more, the app will warn you about all the upcoming bills you have to pay soon.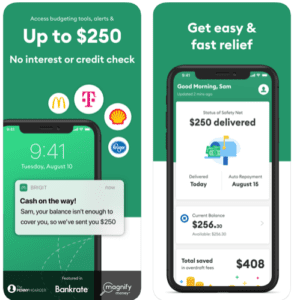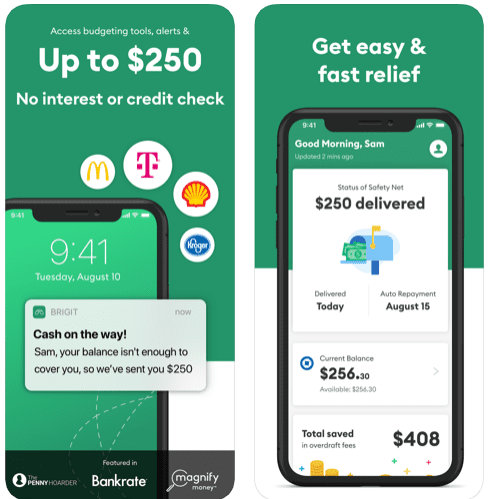 You may also like: 10 Best car maintenance apps for Android & iOS
2. Fast Payday Loans
In fact, you never know when you are going to need additional money. This issue may be extra sharp for students or for starting businessmen when it simply can happen you can't earn fast enough even for basic living. Payday loans are a great savior in this case. Here is another app providing such services.
With this software, you can borrow more money than in the previous case – up to $1000. You just need to adjust the button on the indicator on your desirable sum of money that you would like to receive. Then you immediately see the interest and how much your first repayment is going to be.
In order to get a loan, you will need to fill the form with the main information about yourself – your phone number, address, bank account, and other essential aspects. Generally speaking, the interface of the app looks quite simple and the app includes fewer functions than the previous one, but still, it has a high ranking by users and it is probably for those who don't like the extra fuss, preferring simply to get a payday loan fast.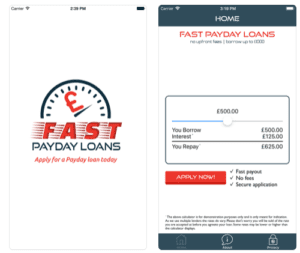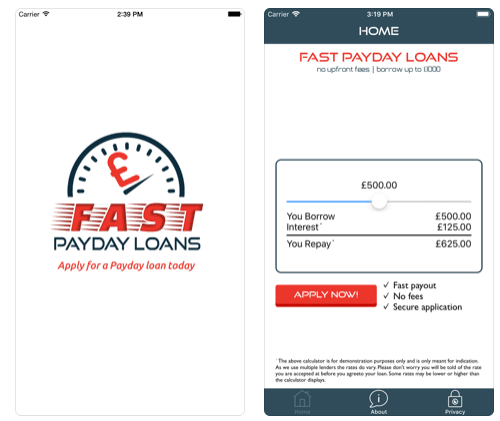 3. Earnin
Another popular app in the payday loans world. You can get a quick loan up to $500 with this app. Earnin is a community-supported app with a mission to build a financial system that works for people. Access up to $500 between paychecks, explore savings options on medical bills, help avoid unnecessary overdraft fees, and earn cashback on your purchases.
So as we can see Earnin is also a multi-functional app. Those people who are keen on everything innovative and productive it would probably be a catch. The app doesn't include any hidden fees. Again, all you need to do is to connect your bank account to the app and then fill the form with the info about yourself.
And then you are eligible to receive a loan. You can cash out up to $100 per day and tip what you think is fair, between $0-14. There are a lot of cases when people need to pay for the gas on their way to work but they, let's say forgot their wallet at home or they got no money at all. But we all know you can't get pretty much anywhere without a car (especially in Los Angeles). In situations like this, you can just open the app and get your money immediately.
If it adds more credits to Earnin in your eyes: the app is used by more than 15 million users. If members made the same purchases without accessing their pay using Earnin, they would have incurred over $100M in additional overdraft fees in June 2019.
Summarizing all the points on this app, it is obvious that it has lots of functions and it's up to you to decide whether you want to use it or not. In case you are the person who prefers digging into money deals in order to get a cashback and manipulate the money in order to earn actually more than this app is totally your choice.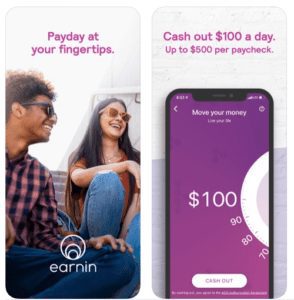 4. Payday loan Calculator &Guide
Now let's take a look at something that Google Play has to offer to us in this category. It is an app that is basically a guide for smart payday loans. You can simply log into the app, then scroll through tips and get to know all the details that are essential to know.
A very useful tool here is that you can calculate how much you will have to repay when you borrow money. It is quite simple: you just click on the sum that you're interested in, then you choose a function to calculate the repayment. Then you will see the actual calculation on how much you will have to pay back if you are getting a loan with a certain app.
This might seem a little confusing, but in fact, it is extremely beneficial software for you to make the best payday loan option. This app will help you to find the best decision and save as much money as possible. Probably, if you are taking payday loans, this option will not be extra for you.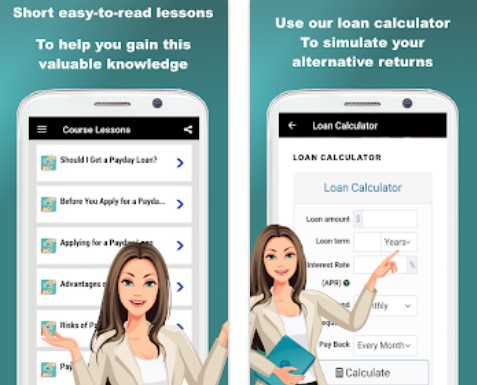 5. Possible Loans
Remember at the beginning of this article it was mentioned that your credit history is extremely important in the US? If you want to earn some points, you should go for this app, when it comes to payday loans. It officially perpetuates the statistic of your credits for the National Bank so later you would earn a better credit reputation.
Applying doesn't require good credit and you can apply, get approved, and receive funds all within a few minutes. Compared to other short-term borrowing options, you have much more time to repay and each payment is designed to be manageable.
Possible Loans also includes a function of multiple repayments rather than paying all in once, so if that is more convenient for you – join this app. The repayments are spread across your next few paychecks so you have time to catch your breath. Besides, if large-scale banks always look hard into your credit history and credit points, this software doesn't and you can receive cash easily without any problems.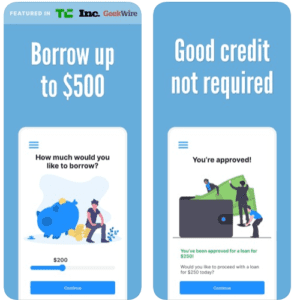 6. Cash Advance & Payday Loans
Just like in all the previous apps, with this one you can get quick cash by only filling out the form online. Here it is noticeable to say that this is an Android app and it is a really high-quality app. Cash Advance & Payday Loans is your app for personal loans.
The form of application is universal for everyone. You just need to fill in the basic info about yourself and then the app will send the request to several banks. For example, you can request up to $5000.
More than 100000 loans have already been issued by this app. Here you got 24/7 service which can borrow you money at any moment. After completing the form, in under 5 minutes, you will receive your loan option.
The lender will contact you to finalize your loan. Important note: the money will be transferred to your account the next business day, so please stay aware of dates when you want to take a loan.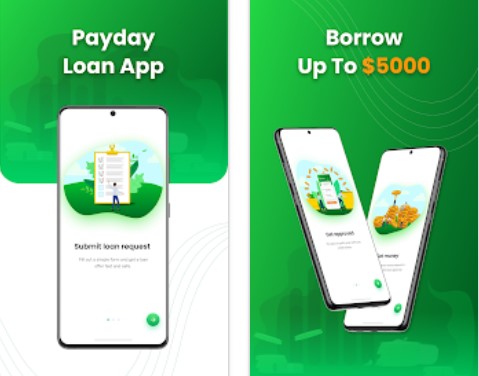 7. Payday Loans Cred24
In this article, we are observing not only the apps providing the payday loans but also the additional tools which help to compare these apps. Seriously, the lender apps are countless right now and obviously we cannot list all of them here. But it is kind of not necessarily because such comparison apps exist and help users to find the best option on the market.
Cred24 is a popular app that contains info about dozens of loan lending apps and can help you with choosing the right one. When you launch the app for the first time, you need to pick up a country where you live. Then you will see which options or apps you can use. But these are by far not all the useful features of Cred24.
For instance, the app can demonstrate to you which questions asked by the banks are the most frequent when getting a loan – thus, you will be prepared. In order to find the loan which is right for you, you can set up filters: mark which interest you are ready to pay, how long are you willing to pay the loan back and which is the actual sum of the loan. The aspects can vary from user to user.
Among other benefits, you will discover that Cred24 doesn't require a sign-up and has no adds. No need to be afraid of complicated finance terms – the app doesn't have any, they are all paraphrased into easier analogs. Since 2011 this software has been helping users to get the best deals. It's not a payday loan app itself but it is definitely helpful.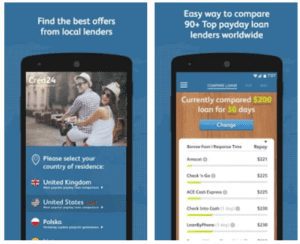 8. CashNetUSA
If you are an American citizen, you can use this app to get your payday loan. As it's been mentioned before, the US is the country highly tolerant of loans thus having thousands of options of borrowing the money. It is logical to suggest that the system of getting a loan is extremely advanced here, so in order to stay competitive, the developers need always to make better offers to consumers. This app is one of these offers.
However, if being completely honest, the system of verifying is more complicated here. First, you need to sign up and then choose the type of loan you would like to receive. Then you fill in the amount of money that you need. After that, down below, the app shows you the info about such a loan – fees, interest and payment frequency. By the way, users of this app note that here you will get excellent customer service.
After all the fields are filled in and all the terms are clear to you you just request a loan. The app cooperates with the banks in AL, ID, KS, LA, MD, UT and VA. What is convenient here is that the app has a calendar reminder about all your upcoming payments. Another pleasant feature is you can always get loans and make payments on the go – thanks to the smart calendar built in the app.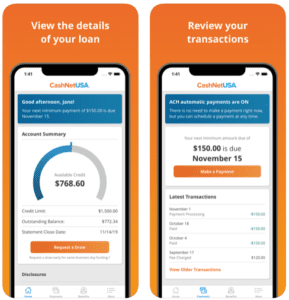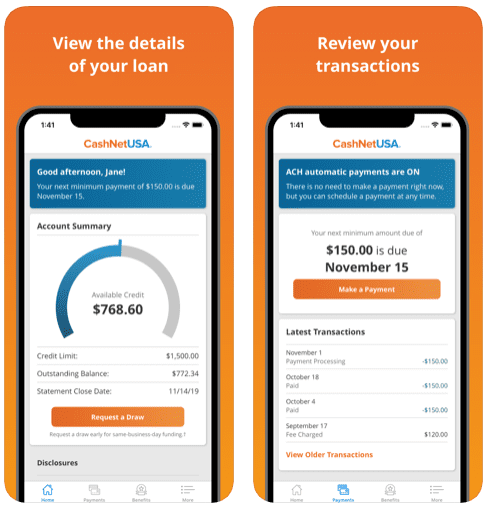 9. Payday advance – Payday loans guide early paycheck
Another educative app about payday loans.
If you are a subscriber of the Wall Street Journal or Financial Times you probably heard that the payday loans app has made a lot of mess on the market and in the money borrowing industry. The app store even unlegislated most of them and Google Play had to follow its example. It happened not so long ago – in October of 2019. Well, better for us – it means now we got only the best and trusted apps to use.
Since the app carries more of an educative-entertaining character, it makes sense to pay attention to its interface. Here you will find an animated banker that plays the role of your informer. All the information about how the money borrowing system work is sorted into separate sections. Honestly, when we are talking about financial terms it is important to provide the information as easy and non-stressful as possible.
Here you can study how the whole payday loan process looks like, which are the reasons for taking the payday loan, what are the rules for getting it in different countries and what obscure moment can occur during the process. What is more, here it is possible to make a comparison of payday loans provided by banks. So, generally speaking, if you are interested in finance, want to know about payday loan more before getting one or just want to compare options on the market – great app for you.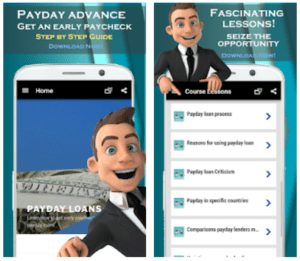 10. Payday Loans for Bad Credit
Unexpected costs and expenses are never a pleasant surprise. That's why payday loan apps exist – to make your life a little bit easier. Do not stay in long lines at the bank for cash. There is no need to collect a lot of documents and explain the reason for the personal loan application.
This app doesn't require filling out lots of forms, the whole procedure is relatively short. The size of the loan is calculated individually. If you are getting approved for a loan then the money will be transferred to your credit card.
In addition, this application is suitable for those who do not know their credit rating or whose rating is too low. Here you can calculate it and take the amount you need.
The app connects quickly to the lending banks and finds a way to get the money for you. Another advantage here is the aesthetically beautiful interface. It looks very simple and colorful.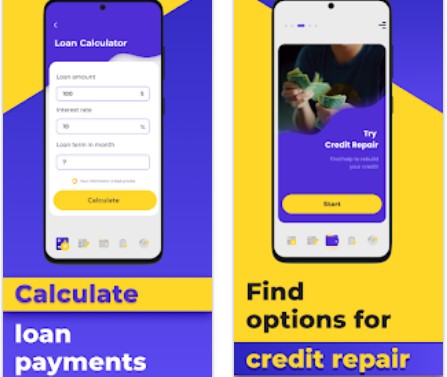 11. 2DAY
Once again, financial education is never extra. We have collected the best payday loan apps for you in this list, but if you more or less possess the knowledge about how the whole system works and how the interest rates are built.
Here you will discover what types of loans actually good for you and will learn how to categorize them. What is more, information about credit scores and what they mean is provided here as well.
By the way, the app is really good for a loan when there are only a couple of days left until payday. Here, you do not disturb your friends and family, but simply fill out a form that will help you calculate the necessary sum. Here you can get from 100$ to 1000$.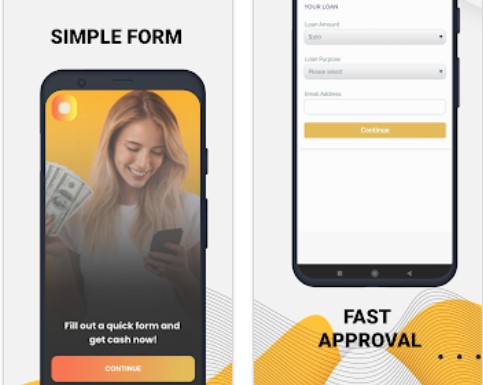 You may also like: 7 Best apps for soundboards (Android & iOS)