These days, progress has reached the point where almost everyone has a smartphone with a great camera. This causes a huge amount of photo and video material, which of course takes up a lot of memory. When your phone runs out of memory, the best solution is to turn to apps with extra storage.
We are going to talk today about these kinds of applications. Therefore, we suggest you read the article Best Apps to Combine Photos. It will help you create a bunch of unique photos that will flood your smartphone memory.
1. Google Photos
This app is a cloud storage application where you can upload your photos, videos, and documents. This is where they will be stored forever and will be completely safe. You will have access to them anytime, anywhere. In short, these are all the main principles of Google Photos, but it does have some other features.
First of all, you can save a lot of energy by using this application. After all, all photos and videos are automatically synchronized. Secondly, you can create albums and put the photos you want in them. Thirdly, there is a shared albums tool in the form of chat rooms. This way, you can share moments from a party or remind a friend about yourself.
Also, there is an incredibly handy search tool that will find any photo by category. Also, the program tags new people and pets. So, you will be able to click on the icon of a certain person and get a whole set of photos dated at different times. In addition, there are many categories here, such as screenshots, selfies, videos, panorama, live photos, and more.
Moreover, you will be pleased with the user-friendliness of the interface and navigation. And most importantly, Google offers 15 GB of free space, which is much more compared to similar services.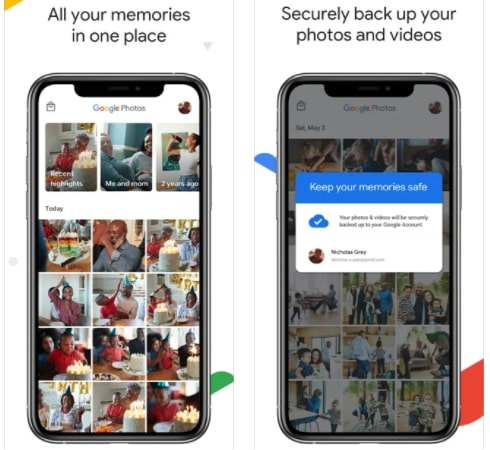 You may also like: 9 Best Photo Grid Apps For Android & iOS
2. Flickr
Flickr is one of the very first photo services. Today it has developed significantly and it is quite attractive for users all over the world. It has all the features for storing and distributing photos. You can move photos and videos into albums. Also, it has a fast editing function that will help improve any photo in your gallery.
However, this app is most suitable for photographers looking for inspiration. You can browse through other users' selections and get inspired by something new. The app used to offer up to 1 terabyte of storage, so it was suitable for everyone, but now the limit is up to 1,000 photos.
However, many folders are grouped according to different characteristics. Also, there is a recent activity tab, which will help track your fans and analyze what users like. It is safe to say that this app is more of a social network than an ordinary storage host.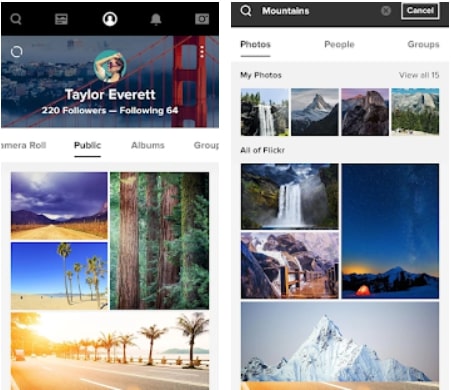 3. Dropbox: Cloud Photo Storage
Dropbox is the most popular and quite pleasant service. After you create an account, you are offered 2 GB of memory and the opportunity to buy more for a charge. However, this service is interesting because it is integrated into a bunch of applications and by all parameters, it is one of the best of its kind.
Dropbox is perfect not only for storing important documents, movies, and music but for all of your photos as well. You can enable the automatic uploading of photos or videos directly in the app. The sync works both exclusively over Wi-Fi and via the mobile network. You can also view photos even in the web version, where they are all conveniently sorted by date.
So, Dropbox is a free utility for uploading files to the cloud service with the ability to set up access to all users or selected users. Therefore, this application is incredibly convenient to use to work on a shared project.
Thanks to this software, you can share files or videos with all your friends or colleagues, modify the contents of folders, edit, synchronize with all known operating systems and configure the download or upload speed.


4. Microsoft OneDrive
OneDrive is a cloud storage service developed by Microsoft. The service allows users to store personal files. This way, it helps to secure the necessary folders and files from accidental deletion. In addition, you keep your files safe using this application. Also, you will always have access to all the files that you have stored on your computer with this application.
So, you can not be afraid that you forgot to transfer your presentation to a flash drive, because all the files are available in one app. After all, the app is connected to your Microsoft account. The basic, which is free OneDrive offers 5 GB of storage. Moreover, right in the app you can use the camera and take a scan of any documents or photos
To make it easy to navigate, the app has different tags. On top of that, there are various albums in which all the photos will be stored. In addition, the application offers the use of shared albums, for viewing and editing files together with friends and colleagues.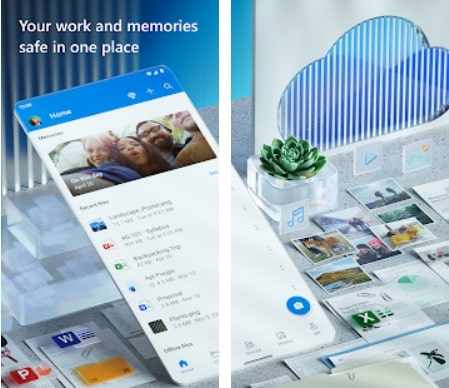 5. UnLim: Unlimited cloud storage
UnLim is an interesting application that has attracted some users with its promises. However, it is not yet available for download. Nevertheless, the developers declare that you will be able to use this application free of charge. Therefore, this cloud storage will save not only your photos but also all possible files.
In addition, all files can be grouped into folders. Also, the app is pleased with the ability to change the theme today and night. Huge storage will be available thanks to the Telegram API with which this app works. Thus, you will get convenient access to all the files at once.
Besides, you can no longer fear that your files will be lost because all of them are quickly transferred from your device. So if you want to try it out now, you should check out the Beta version.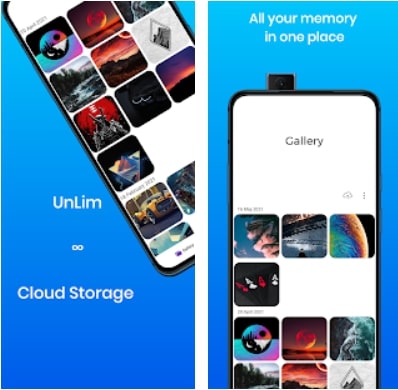 6. Degoo: 100 GB Cloud Storage
This storage will appeal to you if you have been looking for an app that will help you backup your data from your device completely free of charge. The app will help you back up your documents, music, videos, photos, and much more so that your data will always stay with you. The Degoo app will put your data in the cloud so you can always go and access your data whenever you want.
And there are lots of nice features in the app. Every time you open the app, you will see the photos that matter most to you and you will find old photos that you have not seen for a long time. It is worth mentioning that Degoo uploads all your files using encryption, so you can be sure that your data will be safe and no one will see it.
In addition, when you add new files, photos, and videos to your device, the app will automatically create a backup. So you do not need open the app every time and make a copy, the app will do it for you. Well, the app is very easy to use and most of all it uses minimal RAM and your battery.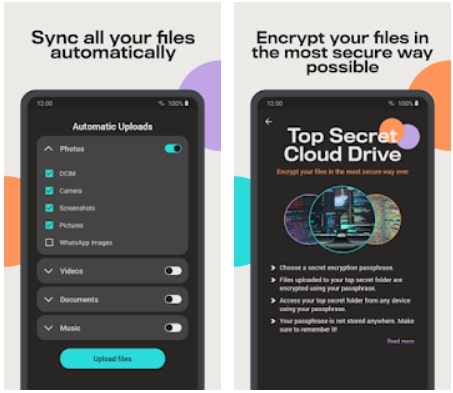 You may also like: 9 Best Photo Overlay Apps In For Android & iOS
7. Secret Photo Vault – Keepsafe
Keepsafe is a good app that helps you back up your photos and videos for free. The app protects your data, photos, and videos with a PIN code that you can put on the app by encrypting the data you upload. The app is great for anyone who needs to secure their photos or documents, protect family photos, and much more.
It is only up to you to log in to the app and use photos when you need them. You can easily import your pictures from the gallery into the app. All you have to do is to go into the gallery and click on a photo to import it into the app. After that, you can quickly delete your pictures from the gallery, and your data will be stored securely in the Keepsafe app.
You can also synchronize your photos and videos with all your devices. In addition, you can control the time you share your photos with other people. After 20 seconds, the photos will disappear after being received. Likewise, the app does not appear on your phone as recently used. This will secure your future actions.
This app is great for people who want to secure their photos and videos and back up their documents. You can store up to 10,000 documents in the app. Additionally, you can recover photos that you have accidentally deleted.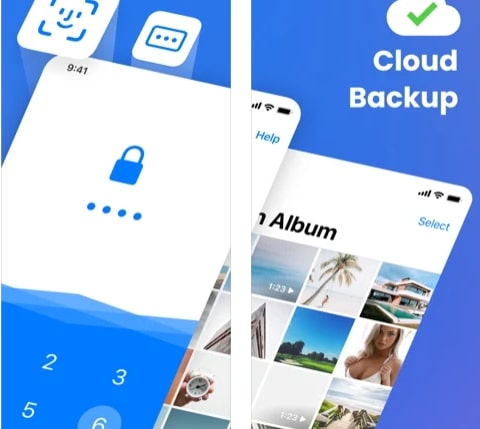 8. pCloud: Cloud Storage
pCloud is great for people who want to increase their memory on their smartphones and back up their data. Thanks to this application you can easily backup your documents, photos, and videos to view and share them at any time. You can also secure your data with a password that you can set and encrypt your data.
Thanks to the pCloud app, you can expand your memory up to 2TB. Also, you can log in from your devices to this application and merge your photos and videos. The app includes a feature called pCloud Encryption. This feature will help you save your passwords, financial statements, documents, and more.
The files that you will download thanks to this function will be protected with encryption. It is worth noting that the app works offline, whenever you do not have a network, your files will always be at your fingertips. In addition, you can set up automatic download of your data, instead of having to make backups every time, the app will do it for you.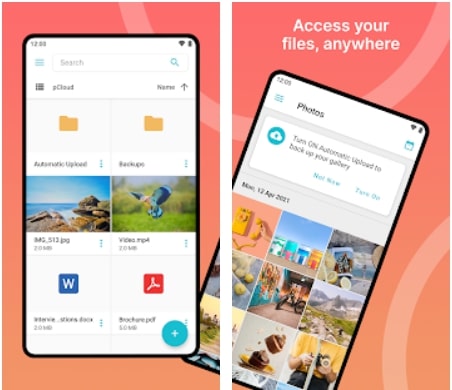 9. Icedrive – Cloud Storage
All apps that offer free storage have limitations. In contrast to many others, Icedrive gives new users as much as 10 GB of storage space. Moreover, this application is equipped with all the necessary features. In addition, it is worth noting that this storage has protection that will save all your files.
Also, it is convenient for work and study. After all, you will be able to create a link in your browser to access all your photos or documents. In addition, this repository supports super different files. It has everything for working with documents and vector graphics. In addition, the developers have provided a preview of the files for easy browsing.
So you can send your colleague the file you want. Also, this storage is useful if you want to secure photos and videos on your device. In addition to automatically copying files to the cloud, the app will also protect them. In addition, the app supports Dark Mode for ease of use.
Besides, there are several sections to help you easily navigate in the cloud. And most importantly, all these icons are always located at the bottom in a noticeable place.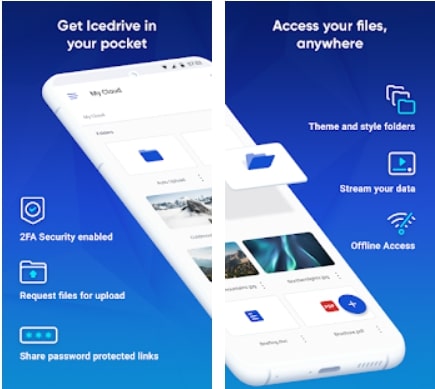 10. Terabox: Cloud Storage Space
And this is one of the largest of all free cloud storage options. TeraBox will allow your photos to become more mobile. This way, you can easily keep track of your phone memory so that you can download all the photos from your gallery on time. Also, you can quickly delete all unnecessary photos with this app.
Moreover, you will not have to worry that you have too many photos and videos because the storage offers 1024 GB for free. However, that is not even all! The app regularly offers you the possibility to win free GB in lotteries. Also, you will surely find convenient the function of smart photo distribution by categories, such as screenshots, animals, streets, houses, and others.
Also, photos and videos have separate tabs for easy navigation, while all files have a download date. In addition, all photos can be searched by keywords. On top of that, you can take advantage of various hidden folders to store super personal material.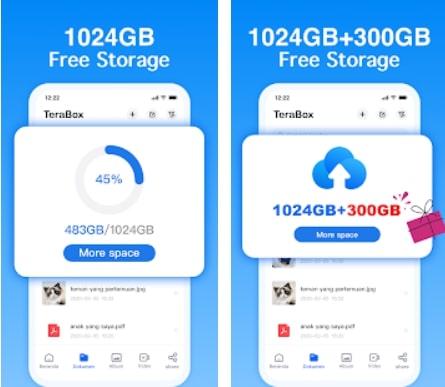 You may also like: 11 Best Photo Booth Apps In For Android & iOS
11. Box
This app is not only a secure but also a comfortable way to store files. You will get 10 GB for free in the beginning. First of all, this application is suitable for all kinds of files. That means you can not only store photos, but also music and documents. Secondly, it has a very handy mechanism that allows you to share files even if the recipient does not have the storage.
So, you can quickly communicate with your friends. Moreover, it has an excellent function for photo uploading from your devices. It is also worth noting that all the devices will be synchronized and files will be stored in the storage. This way, access to your photos will be the most mobile. In addition, the application supports joint editing of files, which is so useful nowadays.
In addition, you will be able to edit the access, for example, to share a link just for viewing or editing. You will surely enjoy the possibility to browse your files even if you have no internet access. There is also a built-in camera for scanning your documents. All in all, it has everything for the modern user.