There are different photo software available to us if we want to create a cool photo. Besides, there are often simple apps equivalent to complicated programs. We have selected the easiest and most affordable ways to create pretty photo grids for free. And we have also detailed each of the app tools. So pick the app that fits you best and be creative!
Most of the apps we've selected have impressive editing capabilities, while others are just for creating collages. You might also like apps that apply grids to images. You can find them in the article Best Apps to Add Grid On Image.
1. Photo Collage Maker, Foto Grid
When you have a couple of photos and you do not know what to share online, then a great option is to use this app. After all, it will combine all your best shots into one. In addition, it has a simple approach and a lot of features. You will be able to arrange the layout according to the grid or randomly place the photos on the background of your image.
Moreover, you can change the uploaded files by various means, and apply objects and texts. First of all, you will come across a rich collection of templates designed for various purposes. Besides, you can choose from all sorts of variations of ready-made collage layouts, some of them placing two or three photos, while others are a whole bunch.
Furthermore, they are all made in compelling shapes. Secondly, once you have selected the templates and photos, you can think about editing the text. The app offers the users the editing tools to change the color, size, arrangement, and type of text. Thirdly, you will have the opportunity to apply an effect and filter to make the photo even more colorful.
You will also be able to draw your illustrations on the photo with the magic brush. There is a function that allows you to cut the background like in all advanced apps. You can do it yourself or let the program automatically remove the background. The finished project can be converted to the format you need for a particular social network.

You may also like: 9 Best Apps to Remove Watermark From Photos (Android & iOS)
2. Grid Photo Quick Collage Maker
You have probably never made a collage of up to 20 photos at once before. However, this app is capable of even that. Indeed, by downloading this app you will be able to place your photos on all possible grids. And it has all the features of a cool editor. First of all, there are a lot of popular filters and effects designed for all kinds of weather and lighting conditions.
Secondly, there are collections of stickers that help to express the mood and just to decorate the image. Thirdly, the app is rich in text fonts and ways to overlay them. In addition, you will be able to apply your preferred settings to it. You will also have the chance to attach all sorts of backgrounds, for example, select the offered one by the app, to apply a solid color or blur the image.
Despite a large number of listed features, the app might surprise you even more with over two hundred different grid templates for your photos. Some of them simply divide the space, while others look like figures and shapes. In addition, you will be able to choose a frame and edit it.
There is also a free collage editing feature that allows you to experiment and escape from templates. This application will be useful even if you want to create a poster for promotion on any social media. Choose from a huge number of templates and use them to create something unique.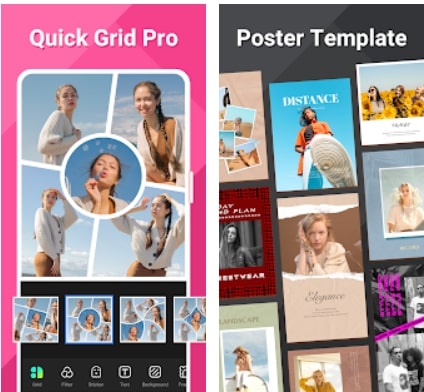 3. Foto Grid: Photo Collage &Grid
Foto Grid is a compact software for creating bright collages from your photos. It is also easy to work in the editor – you just have to choose the pictures you want to create a collage, the background, and the way you want to arrange the pictures. Within the settings, you can easily resize, add frames and shadows, move photos around, adjust the background, and edit the pattern grid.
Like the apps presented above, this app also stands out for its large number of grid templates. However, it has more stickers – there are more than five hundred of them. Some of them are animated. Also, there are more filters and effects that you can apply to your photos. Another difference is the bright and colorful backgrounds that are divided into groups for easy search.
It is worth mentioning that this application has an interesting feature that helps create mirror images. So you can take a selfie and get to see your twins in the picture. In addition, you can use this function both in 2D and in 3D. Also, you can change the position of your clones. Like in other applications, there are tools for text overlay and editing.
In addition, the application pleases with its thematic templates of posters for different holidays. Also, users have noticed that the app is quite easy to use even without a manual.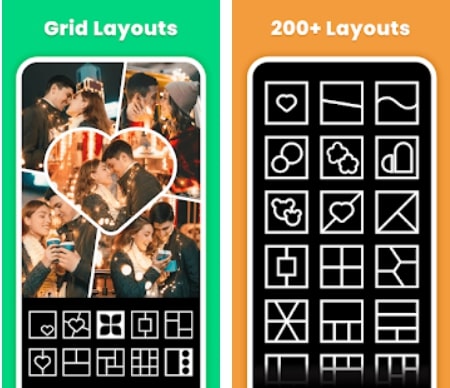 4. PhotoGrid – Picture Collage
With the help of the photo grid, you can briefly and nicely capture your vacation at the sea or in another beautiful place. Indeed, this app offers you up to 20 thousand templates of different grids. In addition, you can find templates of different shapes and sizes here. Moreover, each one has a unique design and style.
All of them are divided into sections, such as Birthday, Love, New, Popular, and more. Also, there are more than a thousand different fonts. You will be able to edit the text, its size, background, and color. On top of that, if you want to decorate your image, everything is possible. You can do it with the help of cool stickers, which there are more than 1,500.
It is worth mentioning that this application is capable of creating animated slideshows, to which it is possible to add music, set the interval, and select transitions. After all these steps, you can crop your edited photos for any social network.
Also, you can customize any size on your own. Another thing you will like is the function that adds watermarks or social networking icons. In addition to all of this, there are tools for creating and editing videos.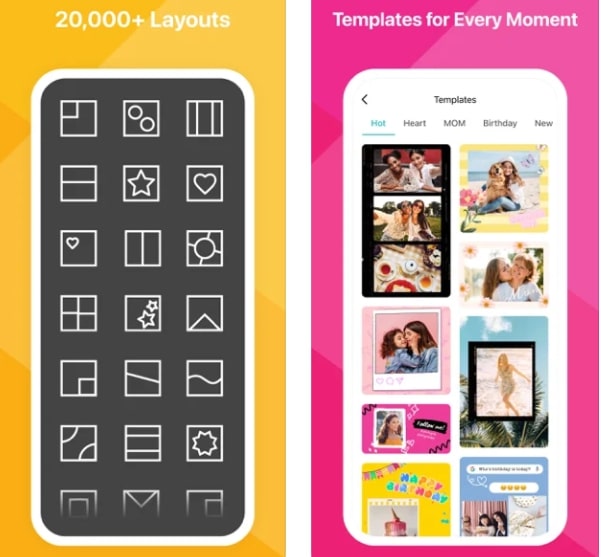 5. Collage Maker
If you were looking for an application that will help you create a collage from your photos, as well as edit them, then Collage maker is going to help you with that! Once you go into the application you will be greeted with a very pleasant and simple interface. With this app, you can easily create a collage of your photos. You can use up to 64 photos in a collage.
Also, you could completely modify the structure of the collage: arrange photos, add background, text, stickers, filters, and so on. In the same way, you can create animated collages. In addition, there is a photo editor in the app, which surely will please you. You can easily edit your photos for later use. Also, the app has a Freestyle feature.
This feature will allow you to place your photos as if they were on a wall. Resize, select whichever background you want, and try all the above-mentioned. It is worth mentioning that the app has added a lot of tools for editing your photos and videos.
In addition, a very nice feature in the app is to create a slideshow of your photos for viewing those photos later in live mode. You just need to select the photos and add music, backgrounds, captions, and more if you wish.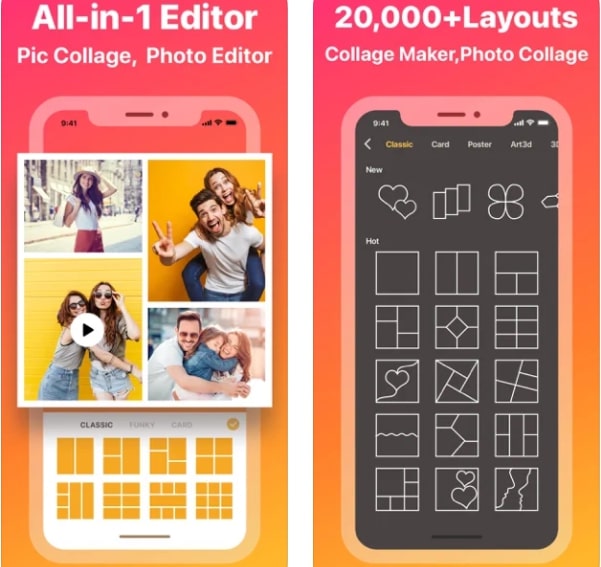 You may also like: 10 Best Apps to Combine Photos (Android & iOS)
6. Clay–Story Templates & Reels
The Clay app allows you to create personalized content for your followers. This app is perfect for people who have an Instagram profile and want to promote it. There are over 200 templates in the app to help you engage your audience. The app also has a photo editor that you can use to create photo grids from your photos.
You just have to upload your photos and choose your content by template, the app will make it engaging for you. Otherwise, you can also create everything manually. Besides that, all the photo grids can be edited. You can add text, change the background, add stickers, or move them around to make your photo grids look exciting and attract customers.
It is worth noting that the Clay app is loaded with almost all formats for all social networks. You can also create interesting photo grids for other social networks. In addition, the app contains a very large number of books, tips, articles, and blogs.
You can find the area in which you are developing and they can help you in your initiatives. This application is great for people who want to make money on the Internet and promote their products.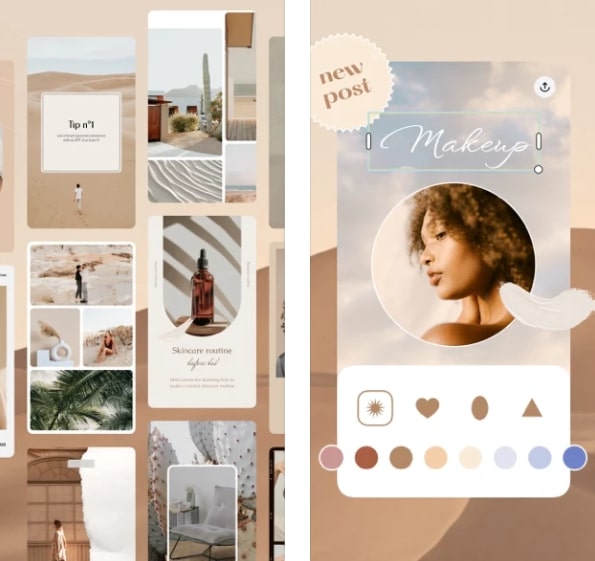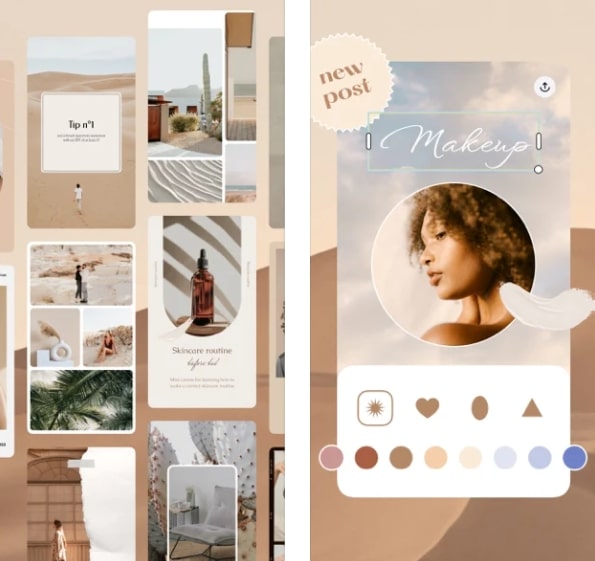 7. Photo Editor – Collage Maker
Photo Editor – Collage Maker is a pretty good application that users often use to create memes. Indeed, it has everything you need to do this, from a photo grid to texts and stickers. So, after downloading the application you will see a lot of ready-made collage templates and photo grids. There are so many of them that you will find something for yourself.
In addition, you can place not only colorful stickers on the ready-made collages, but also draw! You can choose watercolor brushes, markers, or pens. It is also possible to draw with ready-made images. The app is also famous for its ability to hold up to 20 photos in one image. You can improve them instantly and process them in the same style.
Also do not forget to take advantage of the stickers. Some will create a 3D effect. In addition, for fans of creativity here is a function of free editing photos and collages. So you can create your templates with custom text, backgrounds, and stickers.
As in some other applications, there is a feature that allows you to pick up the size of certain social networks. For example, this app will create the right squares or blur anything unnecessary in the photo.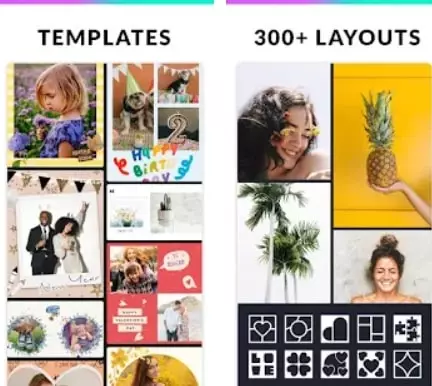 8. STORIO – collage for Instagram
In case you are actively developing some social network and you want to brighten up your photo pictures. The Storio app will help you with that. With this app, you can easily create beautiful stories and decorate your posts to attract customers. You will only need to add your photos and text in ready-made templates, the rest of the app will do for you.
Likewise, you can edit your photo grid if you wish, add a different background, change the text design, and photo layout, add stickers, and much more. It is worth noting that the application does not alter the quality of your photos. You can also easily export them to your social networks in high quality.
In addition, the app has an optimization for many social networks, with which you can easily pick up the format of your pictures. The application has over 300 templates for creating photo grids that will help you find something that will attract your audience.
Furthermore, you can share your photo grid on social networking sites with one click. This app is great for enhancing your account and creating photo grids for later use.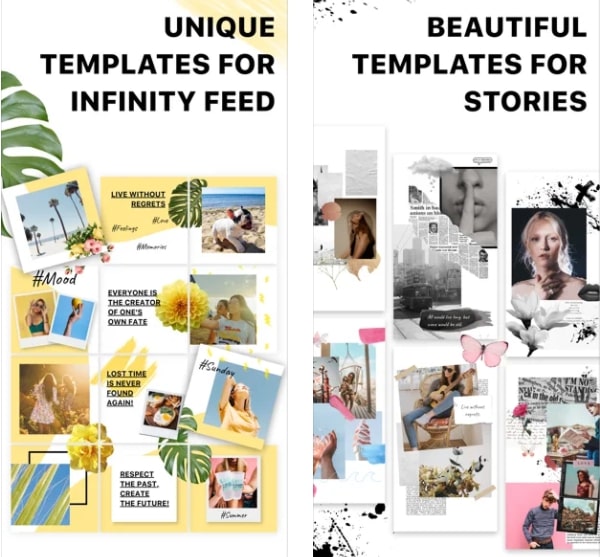 You may also like: 7 Best Clone Yourself Video Apps for Android & iOS
9. Photo Grid – Plus Photo Editor, Collage Maker
The last app on our list is distinguished by its editing capabilities and impressive set of photo grids. First of all, you can not only add photos from folders on your phone but also take snapshots in the app using a layered effect. You can quickly enhance single photos with auto-correction of skin, light, and color of the image.
If you want a more detailed approach to your photos, use the brushes to fix skin texture and other imperfections. In addition, there is a tool that will create the illusion of a phone flash or remove people in the background. Secondly, this app will offer you to try to arrange your photos in different 1:1 or 3:4 photo grids. You will also have the option to apply a filter to the entire photo grid at once.
There are plenty of filters here. And all of them are divided into groups that are designed for specific objects, for example, you will see Portrait, Art, Sun, Vacation, and others. The app is also rich with stickers. Some of them will even replace people's faces in the images. Stickers are also divided into groups for easy navigation. At the end of the editing, you will be able to crop photos for Instagram.