A grid is a tool that helps you to accurately position images or elements. The grid is a non-printable line that covers the entire image. The separating grid can be moved and removed. In addition, it can be fixed to prevent accidental movement. Quick reference guides help you to align shapes, slices, and selections. When you use them, drawing shapes, selecting or creating a selection becomes easier.
You can also use the grid as a layout helper for your photo. That way you can see how to frame your photo for a better layout. To make the grid less time-consuming, you can always use a special app, which we will discuss in today's article. And for better image editing, we also recommend checking out this article. You can find the best apps for combining photos here.
1. Grid # – Add grid on image
This app was developed by someone who is passionate about photography and needed a grid tool that was quickly accessible. This is why, based on his needs, he developed an app that is easy to use, yet performs its tasks. This way you can obviously add different grids of any type and size.
You can put for example rectangular and square grids with rows and cols. In addition, you can set the width and height. The main thing when working with images is convenience. Therefore, users can customize the grid according to their tastes and tasks. So for example you can choose any color of the grid located in the image.
And of course, to make it more convenient for you to work the app offers two modes. The first is a fixed grid, which is not exposed to movement and is fixed to the image. And the second one is a movable grid that can be interacted with the image in a movable way, such as dragging and rotating.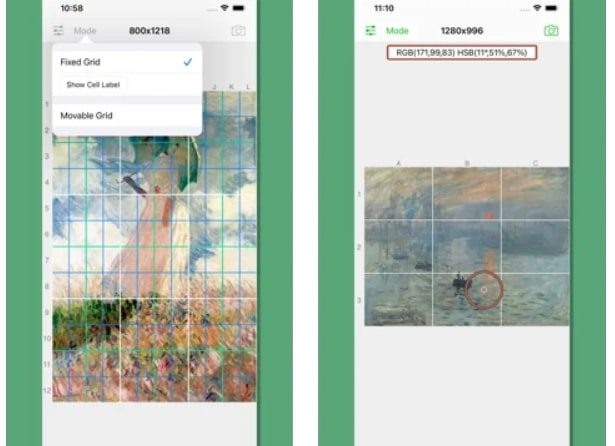 You may also like: 7 Best Photo Frame Apps for Android & iOS
2. Grid Post – Grids Photo Crop
In order to work with Instagram, you need an editing app. You will find Grid Post to be a fortune. After all, it has all of the tools to create a unique picture. First of all, you will be able to crop your large photos into smaller square photos compatible with Instagram size.
Each user will be able to divide the photo into five types of the grid such as 3X5, 3X4, 3X3, 3X2, and 3X1 using the net. Grids can be applied according to different colors and styles. Since it is Instagram to understand that the developers have added more interesting features besides the grid. So, as an example, you have the opportunity to use the suggested stickers and impose them on the photo.
You can also add personal watermarks and photos. In addition, there is a function of imposing a variety of colorful fonts. Choose any of the proposed. All of the above together will contribute to the creation of unique content. With this Grid Post – Grids Photo Crop, you will be able to make colorful photo collages and divide photos with the help of a grid.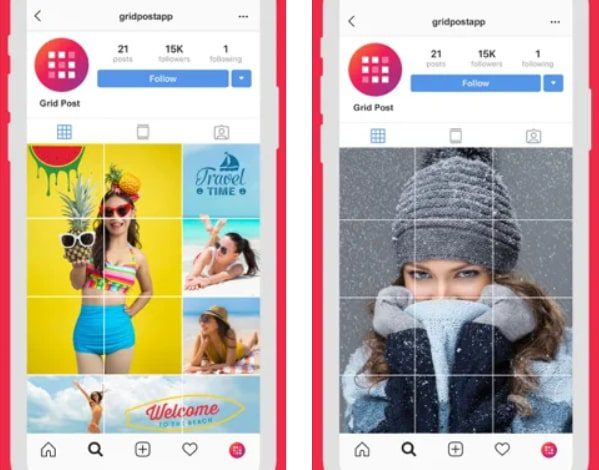 3. Grid Maker for Instagram
Grid Maker for Instagram is another grid overlay app. This is a specialized app designed especially for your Instagram stories and posts. You will be able to make use of grids in various formats. Such as 3×1, 3×2, 3×3, 3×4, 3×5, 3×6, 3×7, 3×8, 3×9, 3×10, 2×1, 2×2, 2×3. In addition, you will be able to modify your photos unusually.
This way you will be able to turn an ordinary photo from your smartphone into a square format designed for Instagram. Otherwise, it would be a good idea to make your big photos into smaller ones and then put them on your profile page. That way your account can attract the attention of many users.
And if you want to make a panorama out of any image, you need to add a photo from your gallery and the Grid Maker for Instagram will make something new and interesting out of it by itself. It is also important to note that here you can not only crop photos but also make them square by adding a different background such as blur effect or importing your own image.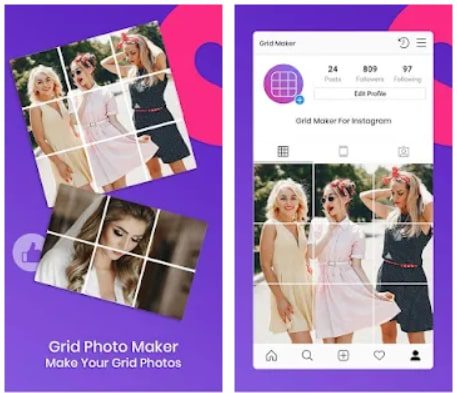 4. Drawing Grid For The Artist
Grid creation apps are necessary not only for those who are interested in photography. They can also appeal to artists. After all, with this app, you will improve your creative skills. All you need to do is add a photo, then the Drawing Grid For The Artist according to your settings will set up a grid.
The main functions of this app include not only the installation of the grid but also the configuration of the grid itself. You can set the color, the orientation, for example, vertical or horizontal, and the highlighting of pixels. The second aspect of the Drawing Grid For The Artist is the editing of the photo.
That means you can apply different filters such as negative, neon, black and white, sepia pixel, and most importantly the sketch effect that artists expect. You will be able to adjust brightness and contrast.
There is a function of setting the real size of the image particularly for those who draw using the Drawing Grid For The Artist. So you can, for instance, take an A4 sheet of paper and set the same size in the app. Then it will be easier for you to understand how the image is constructed.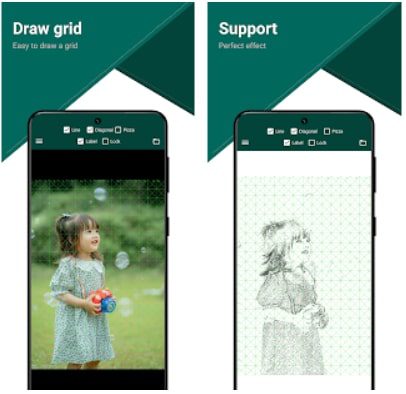 You may also like: 9 Best Apps to Combine Videos and Pictures Together on Android & iOS
5. Drawing Grid Maker
Drawing Grid Maker is also an application to help artists draw. You will be able to set up a grid. Then in the settings choose its size, width, number of columns and rows, color. After applying a grid, you can print an image with it. Then you will have an idea of how to draw objects looking at the phone screen.
After all, there is a special button that allows you to save the resulting images. Otherwise, you will be able to print the resulting image. Because this way it is much more convenient to make a drawing. Moreover, you will be able to correct the image according to the RGB system.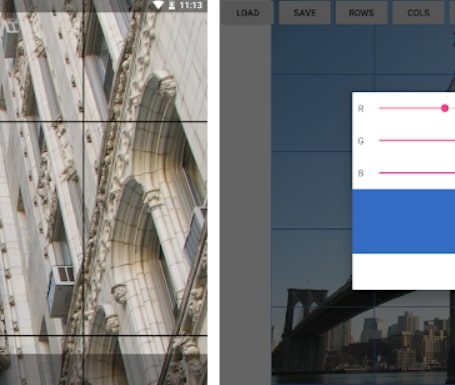 6. Grids: Giant Square, Templates
In order to be a popular blogger on Instagram, it is necessary to have a well-developed profile. If you are concerned about this sphere, you may also be interested in a tool that will assist you in this. So this Grids: Giant Square, Templates will help you to develop collages. In other words, you can distribute the photos according to the composition.
In addition, you will be able to work with your photos. It is possible to turn any large-sized photo into a split mini photo, which can be placed on Instagram. So that way they form the original photo. To make it look harmonious Grid has many templates, which are a special way of organizing photos with stickers on them.
You can easily come up with your own unique design here. Which means you can completely create a page from the ground up. What is great is that you do not need to download each photo separately. Only after that, open Instagram and post a lot of photos. This is because the application already has a built-in function to share via Instagram.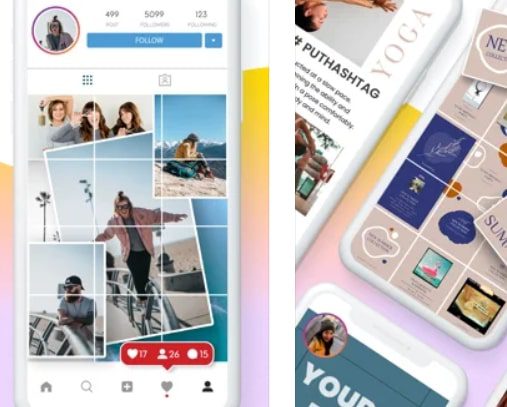 7. Instant Grid Maker
Instant Grid Maker will help make your Instagram profile more interesting to other users. You will be able to cut a photo into 9 separate parts and place it on your page. In addition, you will be able to merge several photos into one. So you will get a fascinating collage. The app has many interesting layouts that you can use according to your creative thoughts.
When working with collages, you will be able to increase or decrease specific images. Instant Grid Maker has different kinds of grids so you will always be able to crop the photo exactly the way you need. So there are 3×1, 3×2, 3×3. In addition, Instant Grid Maker is easy to use. That is why you can easily create a grid or make a collage.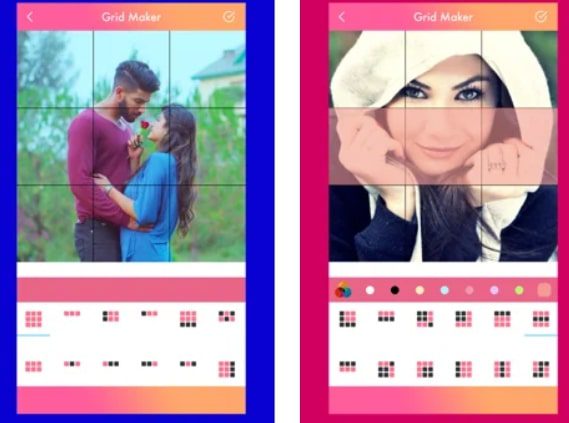 8. Collage Maker: Photo Layout
To make quality content, you can use this app. It is an assistant for creating various collages. Here you can use ready-made samples and make something unique. So you can use the grid and make images in different shapes and formats. In addition, you can decorate the final image with different frames, which will be a great addition to your photos and complete them.
To customize your collage you will be able to add different stickers and texts in different styles. We must also say that here you can customize the background. It means you can add a gradient or insert your own, or use ready-made backgrounds. Collage Maker – Photo Layout has a built-in share function.
This way you will be able to speed up your performance. Collage Maker – Photo Layout has an advanced pro version in which you will see many ways of forming colleges that interest you. In just one touch, the app's algorithm will create something exciting for you.


You may also like: 12 Best Animation Apps for Android & iOS
9. Grid Drawing
This app will help you draw a grid on any image in your gallery. You can modify it according to different parameters. For starters, it is important to note that the Grid Drawing has a built-in camera that makes images in JPEG, PNG, and WEBP format. Therefore, the application itself supports the same formats.
You can make grids of two formats such as square and rectangular, diagonal, and many others. You can also change the color of the grid. It is also possible to align the grid and put markings at the top and bottom, right and left. You can also increase the thickness of the grid line. There are also options for changing images.
In other words, change their size. You can make it bigger. The zoom is 50 times. You can also rotate it 360 degrees. And if you want your image to look better, you can use the image editor here. There you can change the picture by making it a little brighter or darker, a little clearer or you can modify the palette.