Making money can be quite easy online. Check out our selection of the best apps for freelancers that can boost productivity and help you organize your workspace. We have collected completely different apps, some of them will identify a promising place to work, and others will help you manage money or increase your multitasking.
In addition, we consider it is also important to keep an eye on your finances. And the article Best My Track Cost Calculator Apps will be useful in this case.
1. Upwork for Freelancers
Upwork is one of the best platforms for freelancers. This is a space that helps you compose your resume and establish a reputation among employers. It offers convenient tools for searching. Besides, you can check the whole employer's history on the platform, clients' reviews, works, reputation, and many other things.
To work on the platform, you only need to create your profile and fill it out using the tips of the platform. In addition, you can add photos, profile names, overview, and education. There is also a test to determine the quality of your profile for the employer. After that, the app will prompt you to create a catchy portfolio.
Once the profile is filled out, the system will handle it all for you. In other words, it will show you all available requests that suit you. An interesting thing is that when you find a job, you can propose a profitable offer to the employer, and then negotiate with him the project's cost and volume.
You will receive money when the agreement with the employer is stated. Upwork uses a simple and structured process that will help you get paid on time. As your work is completed, your profile will be filled with completed work and feedback. The system will reward you with a rating for well-done tasks.
That way, potential employers will be more likely to be attracted to you than to others. Moreover, this platform will suit both newcomers and skilled professionals in freelance thanks to a wide client base.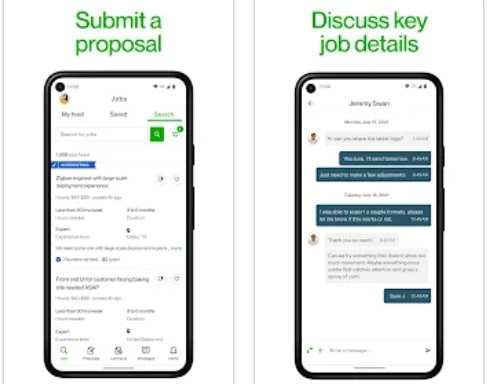 You may also like: 9 Best Apps to Buy Land in Metaverse
2. GitHub
Software developers are typically close to this tool since this is a space especially popular among employers in this field. In addition, it allows to track of change history, which is especially often used for controlling code versions. However, this service is also applicable to other projects.
This service is convenient to use in team projects when there are a lot of changes, suggestions, and comments from different participants in the process. Also, you can stay in touch with your team and solve problems. This service helps you merge your work directly from the application into the app.
You can also create a portfolio for uploading your work thanks to this service. Moreover, you can manage your project and group discussions right in the program and control access for multiple users. You can take a look at your files and codes whenever you want.
Besides, you can read, respond and answer questions from users. It is a rather convenient and affordable service for its area. The platform operates on both Android and IOS, and you can also log in through a browser.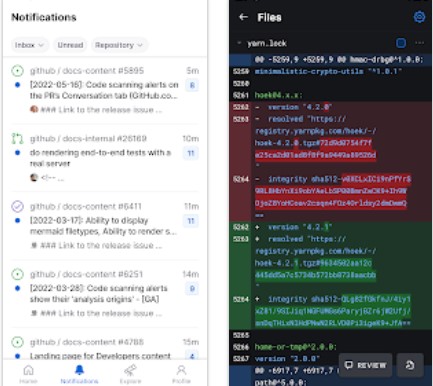 3. Fiverr – Freelance Service
The app is great for those who have been looking for freelance work. With the help of it, you can make money in various fields, including graphics and design, digital marketing, copywriting and translation, video, and animation work, programming, and technology.
The app has over 400 categories. Besides, registration on the site is completely free. There are no fees or subscriptions. Also, you will save up a maximum of the income of any transaction. There is a minimum cost per task starting from 5 dollars, and the maximum is about 1000. You will receive the money in your account as soon as you complete your order.
However, the site's commission is 20% which is automatically withheld after the order is finished. It is possible to get money in two weeks through the comfort of your platforms.
In addition, you can create your portfolio and upload it to the app. Besides, it is possible to check seller ratings and customer reviews to choose the best project for you.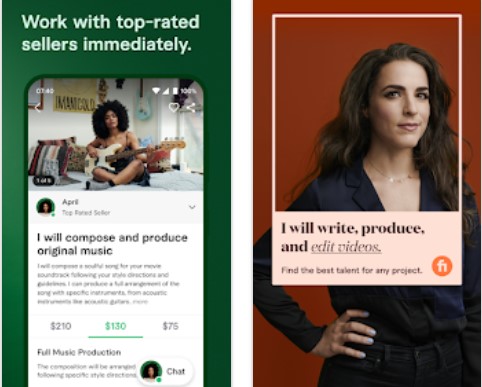 4. Kwork
This platform is perfect for freelance beginners and experts alike. This labor exchange can allow you to find a job and expand your business. The application is completely free and is designed with a custom interface. In addition, you do not need to pay for access to orders, only a percentage from the sale of the work of their services.
You can fill out your profile before you start looking or offering services. For example, add a name, a photo, and some information about you. Also, you can add your portfolio right on your profile page if you have it. Also, you can choose from a huge variety of projects that employers are offering.
Moreover, you can discuss projects with other freelancers and approve prices here. As you complete your work, your profile will be filled with reviews. This will build trust among the freelancers.
Apart from looking for work, the app will help you display your services and offer a price for them. You should specify the price and deadline for the project, then the platform will arrange everything for you.


5. Todo.vu
This is certainly one of the best apps for freelancers to help you organize all your projects and tasks. Thanks to this app, you will be able to keep track of all the tasks that you need to complete. It also has an option to set a time limit within which you need to complete the task.
This program will remind you when the time is up. You can create to-do lists, set deadlines, grocery lists, billing dates, or schedule meetings here. The app arranges all of this for you. Besides, the app syncs effortlessly between your phone, laptop, and tablet, which makes it easy for you to access your to-do list from any device.
Moreover, the app has features that will allow you to do collaborative tasks by sharing them with co-workers, clients, and other people. It is also possible to create multiple workspaces, through a single login.
It is also possible to quickly perform tasks by switching between the web version and the app. All files and tasks are synchronized immediately, no matter where they are changed.


6. Behance – Creative Portfolios
This is an extensive online portfolio for designers and illustrators, targeting your prospective clients. It is the place where many companies are looking for employees. Therefore, if you are interested in large local and international projects, it makes sense to have an account here.
In addition, you can use different login accounts. Moreover, this platform is suitable for specialists dealing with different areas of design, so there are illustrators, 3D designers, graphic artists, and interface designers. In addition, it has a wide range of functionality.
Firstly, you can subscribe to other users' portfolios and gain experience. A distinctive feature of the service is the ability to view live streams and stories from other users. Second, you can upload additional videos and customize preview images. Also, you can track the statistics of your profile and manage it from all available devices.
If you have an Adobe Lightroom account, you can save time and import images directly from there. Also, once you have created a new project, you can improve your popularity by adding tags or sharing the tools being used.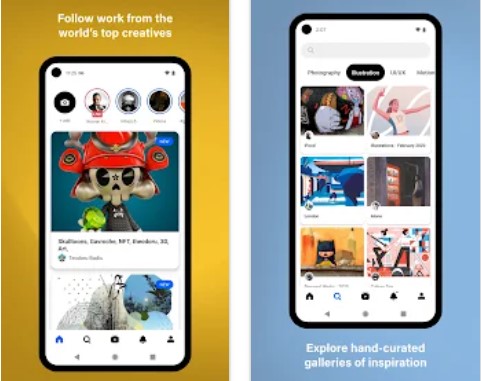 7. Dribbble
This platform is similar to the one we described above. However, there are some significant features for artists. First, it is also a platform for finding potential clients. However, artists here more often create concepts and do sketches or templates, rather than create full-fledged projects.
Also, unlike other platforms, there are more qualified pro projects here, as you can only add works by special invitations from other users. In addition, you can view, add to your favorites, and subscribe to illustrators, designers, and artists.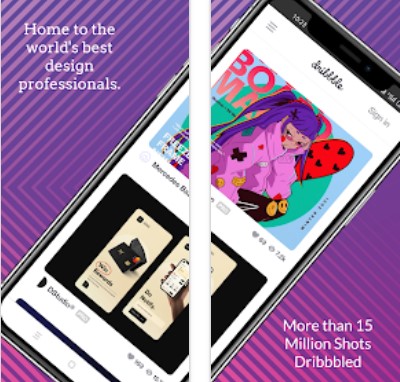 You may also like: 11 Best Multi Crypto Wallet Apps
8. Italki
This international language learning platform helps linguistic tutors and native speakers find remote jobs. If you want to earn money as a teacher, you have to fill out a form. The program will determine your status, which will influence the cost of the lessons.
Also, it is a convenient platform that will motivate your students to teach foreign languages. Moreover, it is worth noting that it is quite versatile. You will be able to send videos, and photos and chat with your student via messenger.
In addition, there are special goals for students, the achievement of which gives some bonuses. In addition, there are more than a hundred languages to choose from.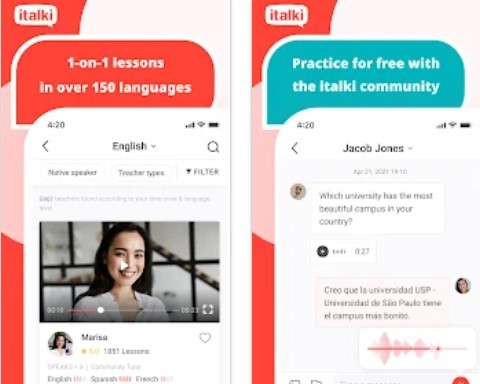 9. Asana
Almost every freelancer needs this time planner, which can be used in teamwork. In general, the app represents a virtual workspace, where a team of freelancers can assign tasks to each other, keep track of progress, or exchange ideas. In addition, it has all features to communicate on work issues and give feedback on ideas.
Also, you can control the process and the level of impact team members have on the project. For example, you can delegate the responsibility in charge of the project. You can add a team of up to 15 people, although you can get a subscription and expand the capabilities. In addition, you can make an unlimited number of tasks.
The main advantage is that all necessary information on projects, tasks, and deadlines is in front of you. It has all the possible boards, lists, schedules, and calendars that are editable for your tasks. On top of that, the program allows real-time synchronization across all devices.
Besides, you do not need any special skills to understand to use the platform. It has fairly extensive functionality. In addition to planning and creating tasks, it is possible to track the time of their execution and generate reports.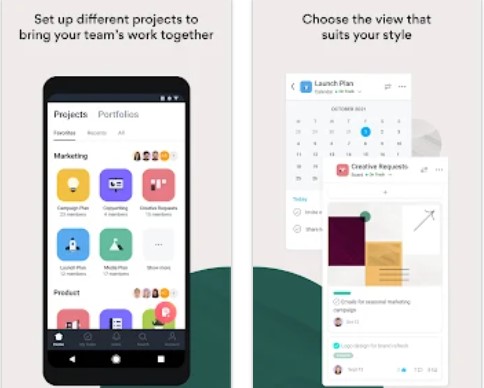 10. Tasks: to do list & tasks
This is an app focused on scheduling the day, tasks, and reminders, which helps freelancers of all fields to organize their work and everyday life. The functionality of this app with an interface is quite rich and easy to execute. All tasks are rather simple to customize.
For example, you can add your new tasks as they occur. You can also add widgets on the home screen of your device to add tasks quickly and view your ongoing activities. There is a special bar in the app for quickly adding a new task that is always available on your smartphone screen.
Besides, the program not only creates lists but also distributes their importance by marking them with a certain color. In addition, you can set reminders for especially important tasks. In addition, you will be able to pair the built-in calendar with this app, to keep you up to date with all your tasks.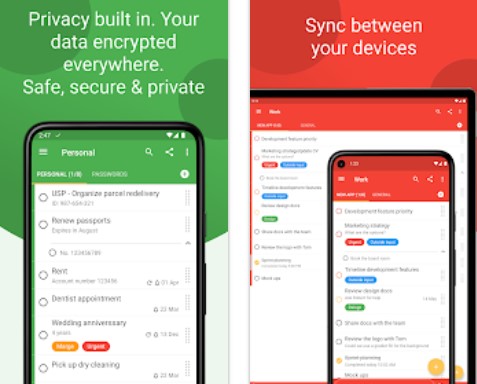 11. Trello: Manage Team Projects
This is an app that is convenient for both beginners and experienced freelancers. It is an interactive digital board. So you can set your tasks in a card format, and then add all relevant details on the issues you want to solve. Moreover, its visual simplicity makes it a great tool for team works and individual projects.
The essence of this application is to assign tasks to three or more columns on the board. Each of them is responsible for the stage of task readiness. According to the concept, your colleagues should move their tasks across the columns. The method is simple and very effective.
Thanks to this you will distribute your tasks and understand what work is worth doing today, and what is to be done later. In addition, you can upload images or documents. Moreover, you can divide large tasks into parts using checklists in the app.
By crossing off tasks that have been done from the list, you will be able to monitor the progress scale as it becomes fully completed. All of these features work on any device.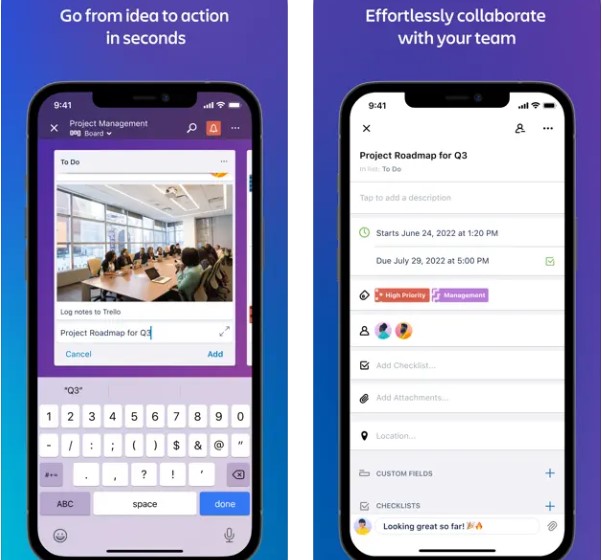 12. Buffer: Social Media Tools
This freelancer app is useful for those who work with multiple social media pages or messengers at the same time. In general, all of its functionality comes down to giving you control over the content you publish. Not only does it help you save time, but it also keeps you organized.
It has delayed publication of posts from all sorts of social networks. For example, this is how the app allows you to publish material at the most beneficial time in order to gather the largest audience. In addition, there are some tools for working with Instagram posts and stories.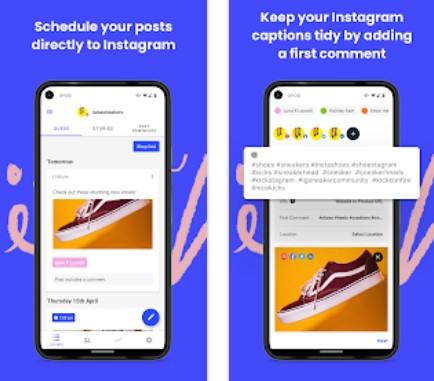 13. SHAREit: Transfer, Share Files
This is an essential free app that allows you to share files and folders between smartphones and personal computers. One of the perks of this app is that it is available on all platforms. You can use it on all devices, regardless of your operating system. All you need to do to use this app is connected to your Wi-Fi network.
Besides, there is no restriction on file transfers to the app. It is also a very fast program to transfer files up to 200 times faster than Bluetooth. You will be able to transfer any documents, photos, music, videos, and files that you need. In addition, the application has many useful features. One of them helps you to clean your device from unnecessary files.
It removes some data, boosts your phone's speed, and quickly detects files that you need to remove. It is worth mentioning the fact that the app does not alter the quality of videos and photos you send. You can view documents, photos, and videos in their original resolution.
In addition, the program has a built-in music player, where you can listen to your favorite songs that you have downloaded to your device. All in all, it is a perfect tool to support you in sharing and transferring files.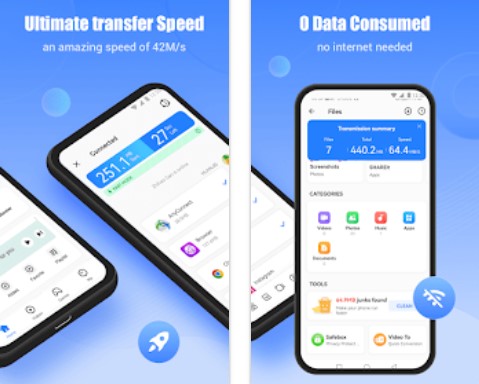 14. ZOOM Cloud Meetings
This well-known video conferencing tool is well known to everyone in the world right now. If you are a freelancer, you probably can not do without frequent video meetings. This program embodies usability, communication quality, and a steep design solution.
First of all, it is worth mentioning that registration is easy and it is possible to sign in through different platforms' accounts. Secondly, it is possible to control the picture and its appearance. For example, ten ready-made backgrounds will work as a chromakey.
Also, there is an advanced face retouch with the option to add eyebrows, beard, and lipstick. In addition, there is a set of video conference effects and stickers. Third, you can send a link with an invitation to other business partners to arrange a conference. It is also possible to schedule a conference to start the meeting on a set day and hour.
Another advantage of this program is its streaming feature. Moreover, its premium version allows you to stream YouTube or Facebook content. In addition, the developers also offer the possibility to divide the video conference participants into groups, creating separate rooms.
Unlike other platforms, ZOOM is constantly working to improve the program by releasing updates that need to be installed for stable operation.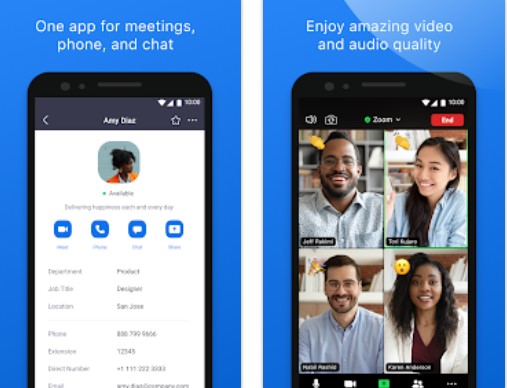 You may also like: 11 Best Credit Building Apps
15. Remitly: Send Money & Transfer
Financial management is an important aspect of freelancing. That is why we present a free bank account, to transfer money effortlessly. It will help you manage your accounting for you by giving you a quicker way to get to your funds. The main features of this app are money transfers.
It lets you order a debit card or use your bank account as a virtual account to transfer money. The app is great for freelancers as you may send a payment check directly to the client and save time. Remitly has all the basic features that other financial software has.
In addition, the app supports up to 75 currencies. It is great for working with different countries.