Perhaps choosing cosmetic products or matching clothing is not always easy. That is why we have gathered the top of the best apps that help you determine your face type and tone. In addition, these apps feature eye-catching palettes and solutions that are right for you.
In addition, we recommend you to read the article Best Color Grab Apps. There you will find apps that will help you spot color in a specific area of your photo.
Best skin tone scanner apps:
1. Color Harmony
This program is a tremendous help in choosing colors and defining them. In addition, you can select different palettes here. There are a total of three palette options, such as harmony, image, and custom. So, it can define all kinds of colors that are in the image as well.
Therefore, you can insert a photo from your gallery and quickly determine the skin tone. Moreover, there is a harmony palette that helps you identify colors that match each other. Also, you can not only match colors, but you can create your palette variations.
Also, you can find out the color codes here, which will be good for working with graphic images. Also, you can quickly copy the color names and send them to your device.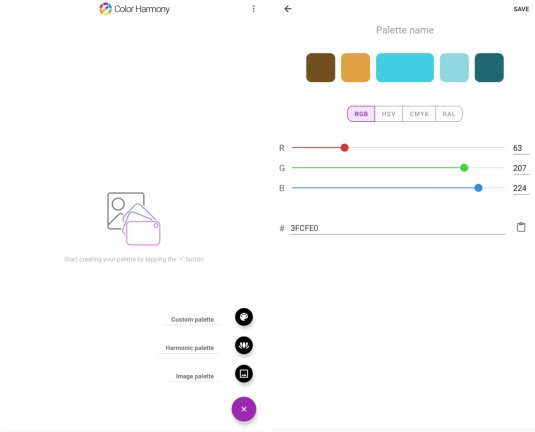 You may also like: 7 Best Paint Color Matching Apps
2. Show My Colors
This unique app will determine your color tones with one little test. In addition, it is also useful for identifying cosmetic products. Also, you can pick up a new hair color. Later, the program will show you the results of the test, which will determine your type, and which colors are better for you.
Also, there are little tips to help you highlight your face and give you more charm. In addition, there are many palettes to choose from. For example, there are trending new colors, season palettes, cool combinations, and more.
And you can also create new colors yourself and add them to your favorites. Moreover, here you can pick up colors of lipsticks, eyeliners, and other cosmetic products.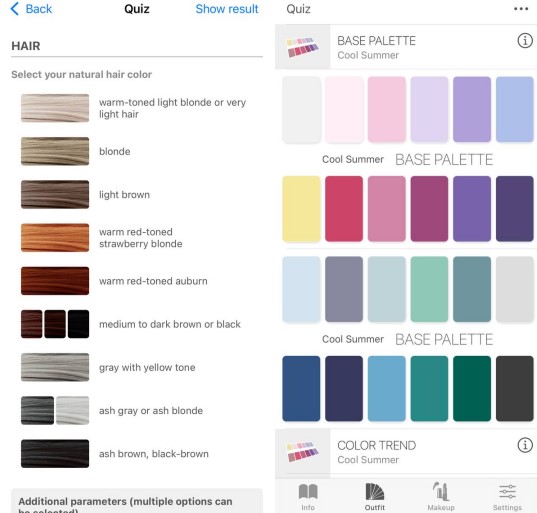 3. Mary Kay® Skin Analyzer
This app is excellent for those who do not want to spend a lot of time. After all, it works with just one click. For example, the program offers a quick analysis of your face from one of your photos. Also, it helps you to take the right photo for analysis. Here you frame your face and the app gives you the result.
Then you find out your skin type, tone type, texture, and more. Based on these factors, the app even suggests skincare products and cosmetics for you. In addition, you can save the result to your device or send it to your friends.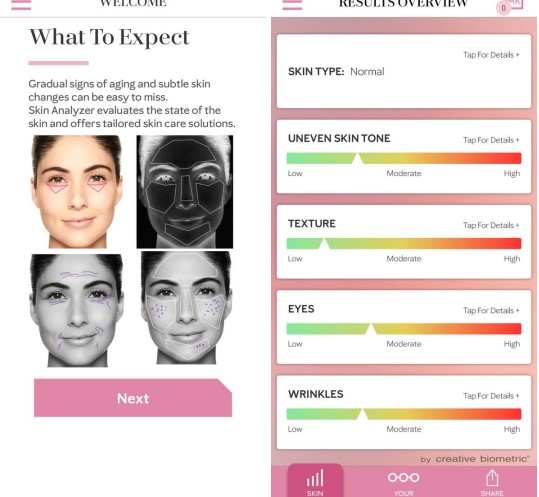 4. Dressika
This is another helpful app for choosing clothes. Here you take a little test and get the most accurate colors that determine the palette that best suits you. In addition, by creating your image, you can overlay the colors.
This way you can visualize what looks good on you. You can also create your palettes and mix colors. You can also pick makeup and apply it to your image.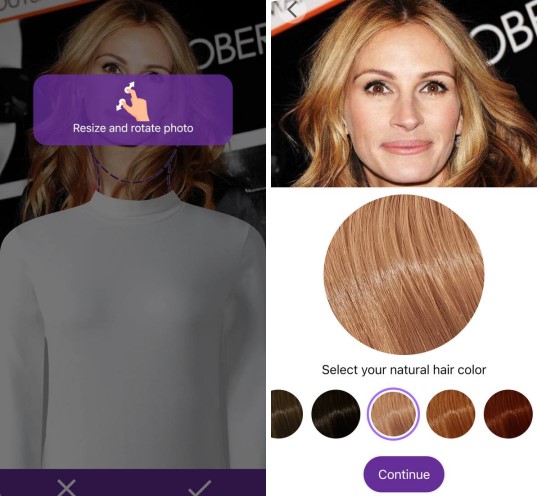 5. My Best Colors
This is a great app that will help you identify your skin tone. Not only does the app have this feature, but it also helps you immediately recognize the colors that suit you. The service has multiple sets of 6 palettes for each color type. Also, the app allows you to import different palettes inside the source, which is a joy to behold.
To determine your skin tone you only need to point your phone camera at the area you want to identify. Then the service will give you information about the color as well as pick up the colors that are more suitable for you. In addition, you can combine the shades of the palette with the actual colors.
It is worth mentioning that the app works in all lighting conditions and also automatically balances color with the flash. In addition, the app has a fabric color preview for all colors in the palette. Thanks to this feature, you can find out which colors suit you best.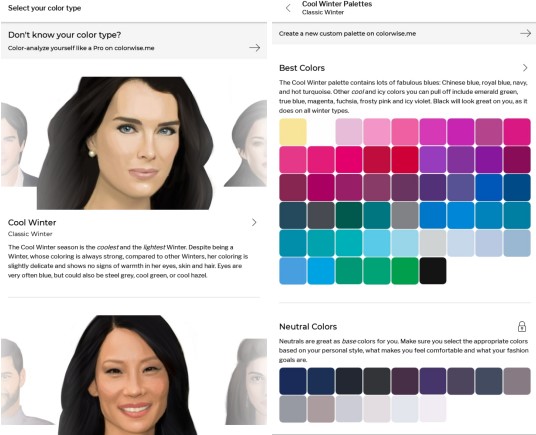 6. Color Grab
This is a unique app that helps you tremendously in terms of colors. Here you can see the shades of the entire color palette. Plus, there are different ways to work with the app. So, for example, you can paste a photo and the program will make a palette of all the available colors.
In addition, you can also use the eyedropper too and select the area whose color you are interested in. Moreover, there are different palettes that you can save to your device or modify. You may also need the function which defines the official name of the colors, their RGB, and HSV codes.
Also, you can merely point the camera of the device and the program will automatically detect all the shades of any object. In addition, you can save your colors here and turn them into a palette. Moreover, you can compare shades and choose what you need.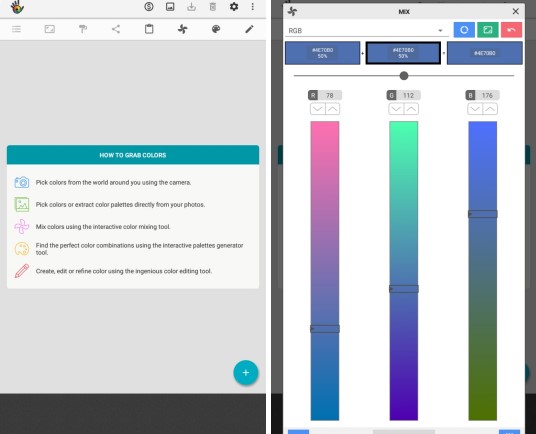 You may also like: 9 Best Apps To Change Eye Color
7. Color Name AR
This app is perfect for those who have trouble interpreting colors. The service provides you with handy functionality so that you can determine the skin tone or color palette of the area you are scanning. The application has many built-in colors that you can search through.
Also, each color comes with detailed information where you can find out impressive details about the color palette. All you need to do is to point your camera at an area where you want to detect the color palette. After that, the app will give you information about the color and how many shades are actually on the highlighted area.
In addition, the program has a built-in Pantone Color Chart that allows you to match the color in any lighting condition.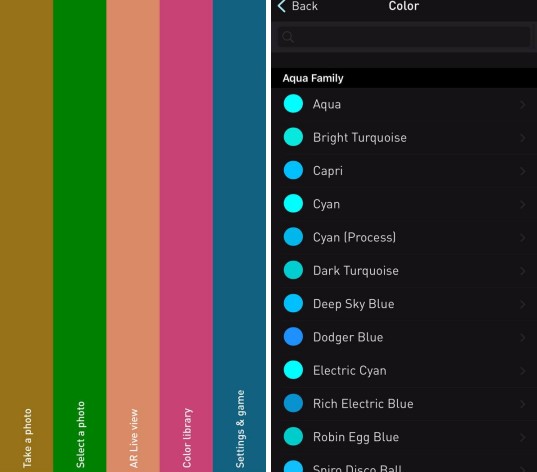 8. ColourMatch – Microskin
This tool is super intuitive to use and it can show you in seconds what your skin tone is. There are more than 35 of the most popular skin colors available to help you determine your skin tone.
To use the app, you need to point the camera at your skin area and the app will give you the result. In addition, the app will find the most suitable foundation for you, as well as explain its advantages.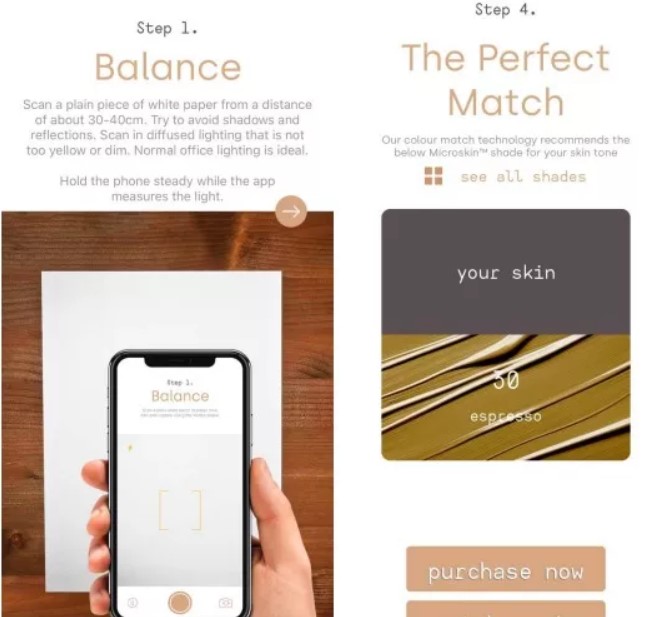 9. Skin Tone Booth
We are pleased to present another app that will be useful in determining your skin tone. First of all, there is a tool that identifies areas of your skin. This not only allows the app to choose your skin tone. For example, the program can smooth your face and get rid of any wrinkles.
There is also a unique tool that creates a tan effect or simply changes color. You can also improve the quality of the photo and remove unnecessary shadows. Overall, this is a useful program that does a fine job of removing imperfections and getting your skin tone right.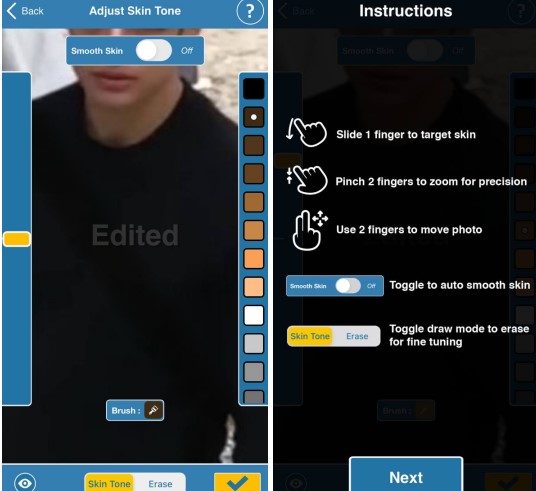 10. Style DNA: Your Pocket Stylist
As you can see from the name of this app, it is your dressing assistant. The app is based on your skin type. So not only you may find out your skin tone, but you can also choose the best matching colors and styles for you. There are also detailed instructions for taking a quality photo.
In addition to the photo, there is a short quiz to help the app get to know you better. There is also a test to determine your style. The app also allows you to build your online wardrobe. This is where you can store all your clothes.
Based on this, the app will suggest stylish outfits from local stores. You can also pick the stores you like and continue shopping there.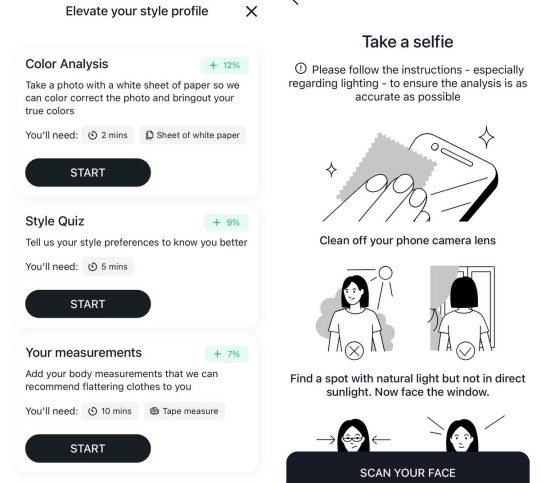 You may also like: 7 Best Selfie Beauty Camera Apps
11. ColorApp
This is a great app with a friendly interface and excellent features. First of all, it differs from its counterparts in the number of features. You can use the program as a personal assistant in color selection. Moreover, the program is great for selecting clothes.
Secondly, there is a smart camera that automatically detects all colors and shades and arranges them in order of intensity. Moreover, it determines the dominant color, the brightest, and what color in the picture is the most. Also, you can choose harmonious colors based on the image.
Thirdly, there are bright collections of colors dedicated to the seasons. By selecting a palette, you will see all sorts of different colors, combinations, and cosmetic products. In addition, you can create clothing combinations and pick a unique style based on the colors that suit you best.