The app opens with a nice background on which you can choose between two versions. One of them is paid, the other is free, but includes ads. No registration is required.
You may also want to check the backgammon apps before starting playing this game.
It is a pleasant surprise that in the free version, advertising does not jump out from all the holes. You just play calmly, and it's only when you need to activate optional features that you have to watch some short commercials. These functions are the connection of chess puzzles, the ability to undo moves and see the hints for the moves.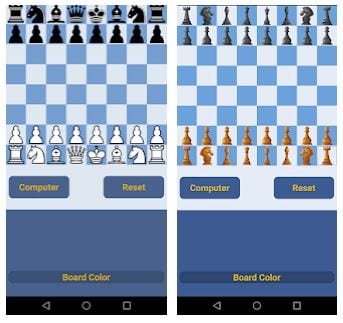 Adjust the difficulty level from one to twenty. In the main menu, you can customize the board design (brown, blue, or green). Choose one of two different chessmen looks.
One option is regular icons like in most similar applications. The second one – figures, as if carved out of wood, like in a real chess box. Another option of the main menu is the choice of the type of game. You play either with the computer or for both players.
All chess rules are included. When you tap on a piece, hints of possible moves for it appear (if you have connected this function by viewing ads). You can save the game and unload it. Upgrade your level by solving over four hundred chess puzzles. Chose and download the training books provided.
The developer offers an internal reward system. The program gives you stars for several game winnings in a row at each level. But you are not to use Undo.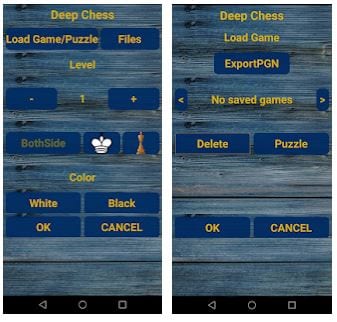 The application support is excellent. If something in the phone settings prevents the program from operating, the developer tells you what to adjust. The application itself is pretty clear and pleasant to use; it runs quickly.
We can also recommend you a list of strategy board game apps. 
The app stands out from its competitors for its ease of operation, cute, and highly customizable design. Enjoy the journey from beginner to GM with Deep Chess.