The well known by everyone Torrent software first occurred in 2001. Initially, it wasn't developed as a program for illegal downloading, but as a tool that was helping to exchange files swiftly. There were two parties: the sender and the receiver. But as we all know today, this system worked so well for media files downloading and sharing that Torrent became the most famous software ever for free illegal downloads.
In the early 2000s, everyone was using Torrent since in some countries it was the only way to get digital files. Then, after online media stores, such as iTunes occurred, governments released the copyright protection laws, and the web sources, giving away free torrent files started being blocked.
However, Torrent hasn't dissolved in the past as some programs have. It still works even today, though the range of files that can be downloaded has shrunk about 30%. But still, in the world where the copyrights are so fiercely protected, Torrent keeps a really decent position. And it is still the favorite way of getting media files fro many people. It is also fair to say, it is one of the fastest ways to get files.
Torrent works in the following way: you download a torrent file of a media object that you would like to get (the Torrent itself should be previously installed on your device), then you open this file in Torrent and the downloading starts because someone somewhere is sharing away this file. Later, you can also share your files with the rest of the Internet – it will increase the speed of downloading.
Nowadays, you don't even need a computer to get Torrent files. You can easily use your phone. Here are the best apps for getting torrent files for you.
1. Apps For Android Helper
Let's start with the apps that are also suitable for the iOS system since we all know that it is much harder to get pirate stuff on iPhone than to Android phones. Even though the name of this app might be a little confusing, it is a great multi-functional tool to get various media files for free.
What is more, Documents by Readlle is a quite popular app on the market. It will not just help you to get files to your gadget but also to organize them correctly. Apart from downloading itself, the app allows you to keep and organize all the files from your phone here, so you don't need tons of different special apps for that anymore.
Via this app, you can copy and save any files from the web of any format. Here you can also unfold archives. Moreover, using the Drag and Drop function you can transmit files from one app to another. Share your files with friends and secure them with a password if you want.
Documents by Readdle is possible to be synchronized with cloud storage services, such as iCloud, Dropbox, Google Drive, and others. You can also set the bilateral synchronization with other folders for the constant interaction. And, of course, the best feature of this app is that it allows you to enjoy your favorite music and movies effortlessly. Read articles and books.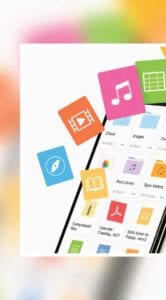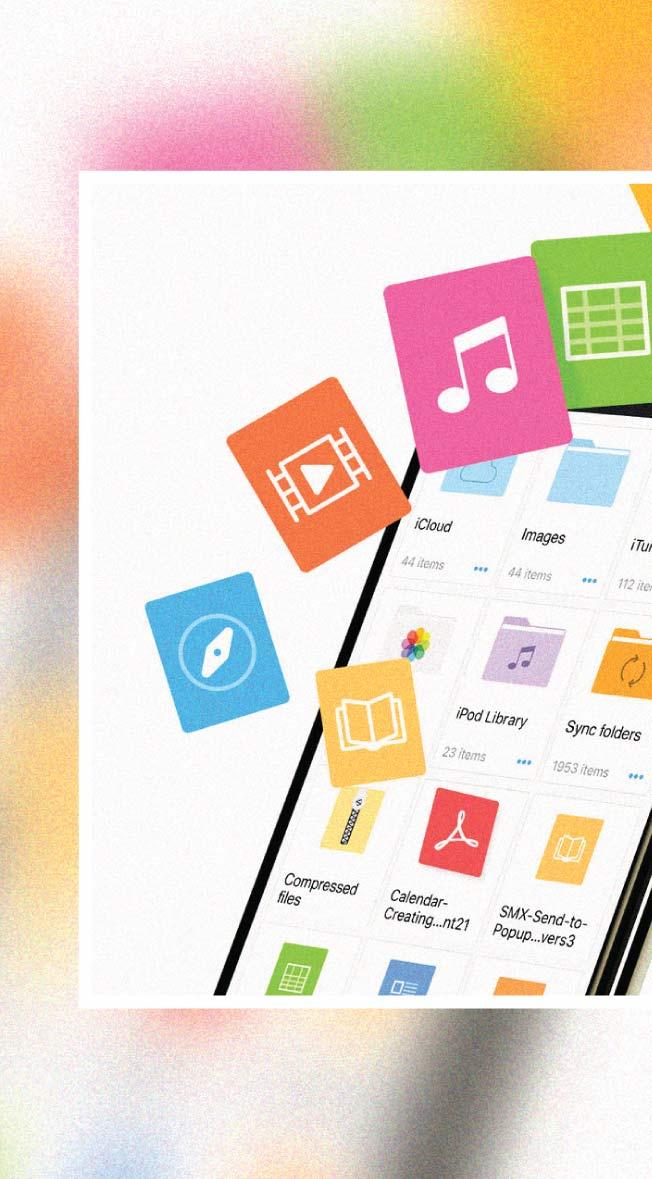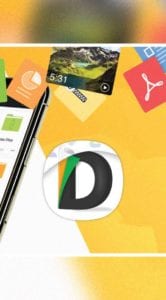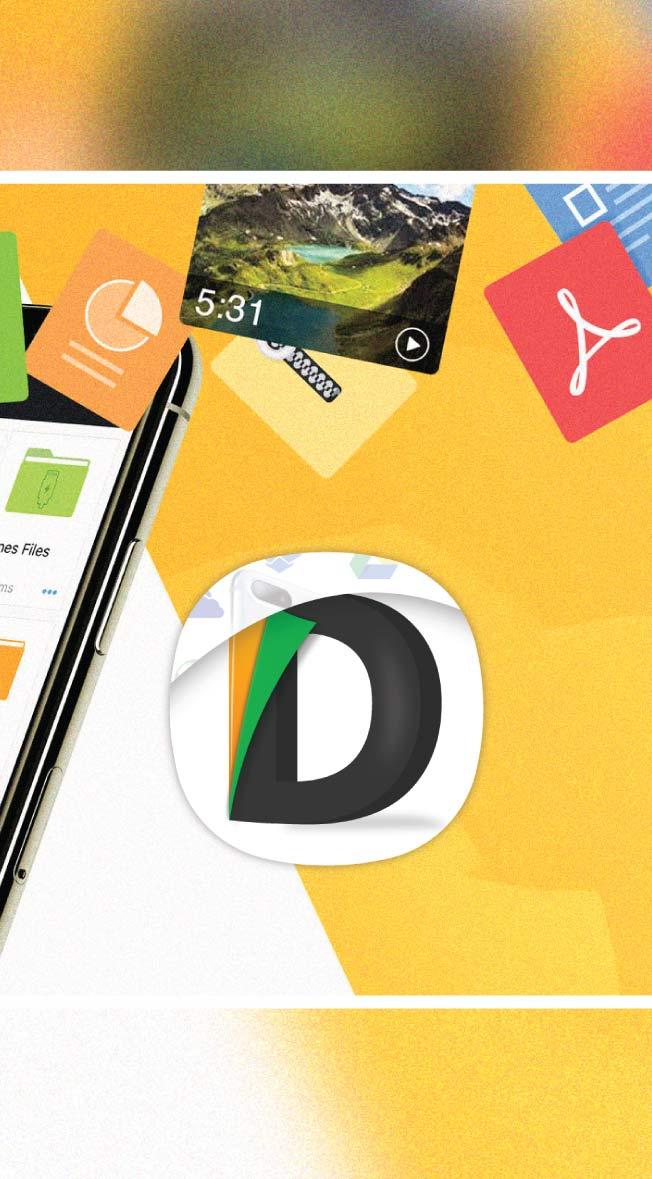 You may also like: Free offline Android games
2. Flud
This is one of the best apps for Android to get torrent files fast. With Flud, you are basically going to have the same torrent version like you do on your PC but on your smartphone. There are no limitations for downloading or sharing. And just like on your computer, you will be able to choose separate files from the list to download.
You can prioritize downloads for files and folders. The app supports RSS feed for automatic downloading. There is also a magnet link support. Even those torrents which have a large number of files are supported by the app and can be executed on your smartphone. Flud includes encryption support and IP filtering support.
Another cool feature of Flud is that here you can choose whether you want to download files with any Internet type or you can choose to continue the downloading when you are only connected to WiFI. The only aspect that you should note is that the free version of Flud includes tons of app. There is an add-free version that costs a couple of dollars and it is quite worth it.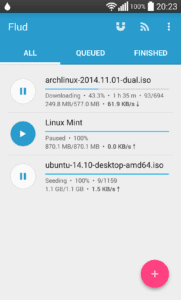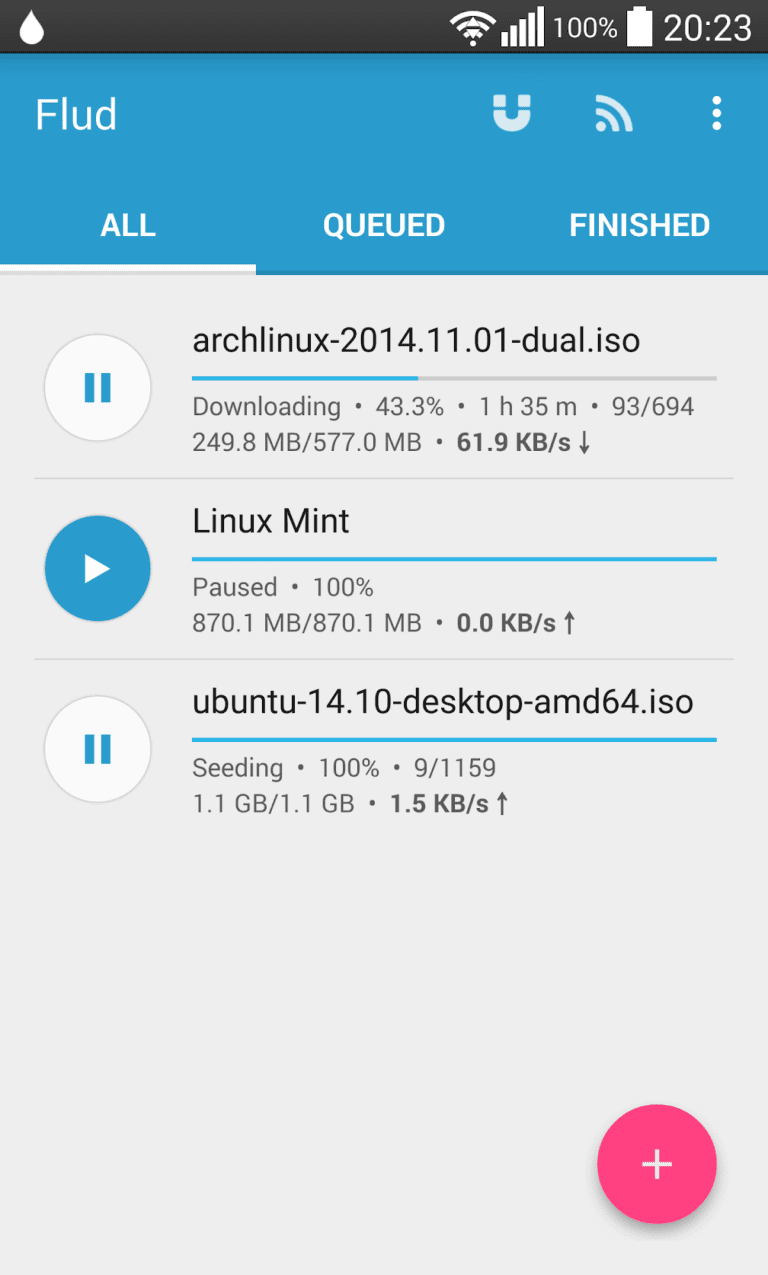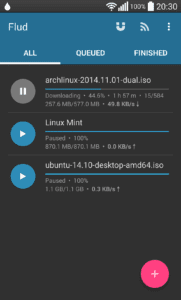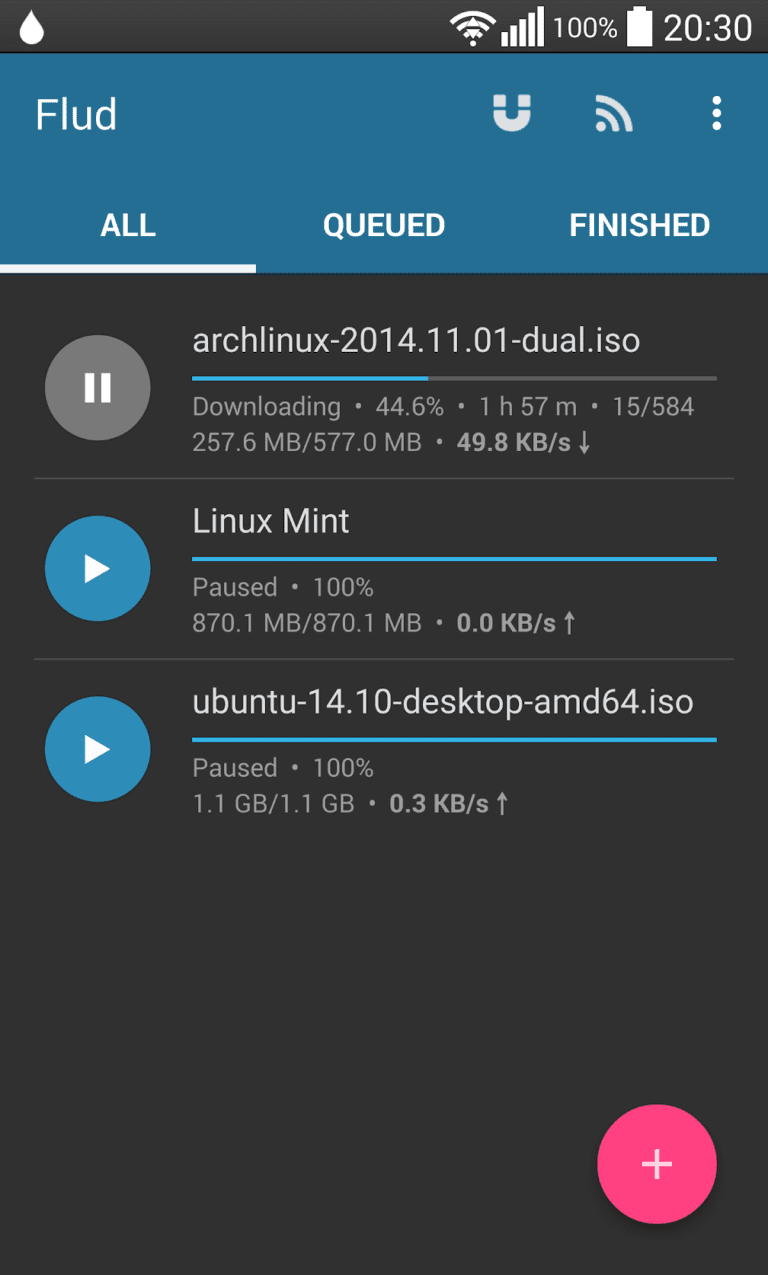 3. VPN in Touch
This app is not exactly the torrent app, but we all know how hard it is to get the illegal content on the iPhone. Moreover, many countries may give you a considerable administrative fee in case the authorities of it find out you are downloading something from an unofficial distributor. But here goes the ultimate solution – VPN in Touch that will help you to get access to the Torrent in other countries.
Here you can conceal your digital identity when you're connected to a VPN, keeping your activity anonymous and difficult to follow. When you connect to the WiFi network, the app will be turned on automatically. Thus, you are not only always able to get access to the free media files, but your browsing history and the whole Internet usage are always secured.
Another cool feature of VPN in Touch is that because of its data compression algorithms the usage of your data when you have 3G/4G mode will decrease significantly. It is even more beneficial when you are traveling abroad. The only disadvantage is that the user interface is not completely easy to understand. You will surely have to spend some time on it before you can enjoy all the benefits of the app.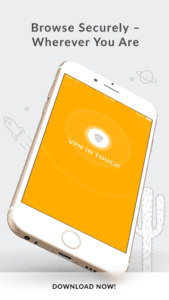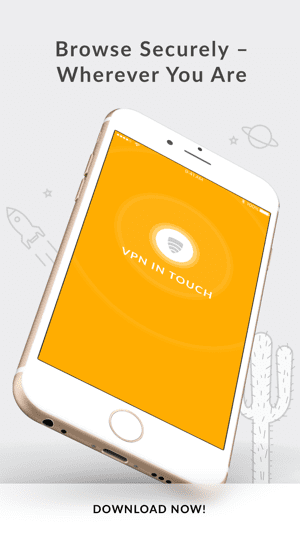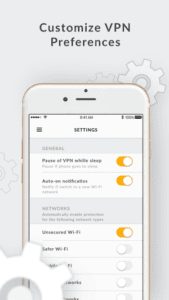 4. µTorrent®
This is the original representative of a famous Torrent program which also remains one of the most popular apps on Google Play with more than 100 million downloads. Just like in the classic version, here you can download files at the high speed by simply getting torrent files from the Internet and running them in your Torrent app.
Because the file is cut into multiple pieces in the process of downloading, it allows users to actually download it faster, with the optimized speed. The user interface is easy to understand and to handle. Obviously, with this app, you will be able to download files right to your phone with no efforts. There are no limitations on file size so you can download anything you want.
One more interesting feature of this app is that it has built-in music and video players, so you can choose to use them for your downloaded media files. If you have downloaded several music files you can then play them as a separate playlist in your player. Moreover, before the actual downloading starts, you are able to choose which files in the torrent you want to get and which you want to have left out.
It is recommended to use Torrent only when your phone is connected to the WiFi network. Just make sure your wireless network has appropriate speed if you are downloading a large file. Another convenient aspect is that you can choose where to save a file you are going to download – this function is often unavailable in other apps.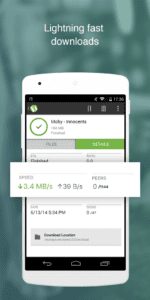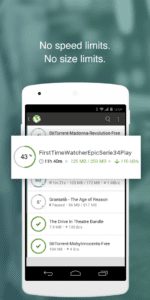 5. tTorrent Lite
An analog of the previous app with a slightly different interface design and methods of work. This app will also give you a chance to get torrent files quickly and safely. A good choice if you want, for example, to download the whole album of artists – nowadays these files are possible to get for free only via Torrent.
For downloading files, usage of WiFi or 4G is recommended. And just like in the previous case, here you can choose which pieces of a file you want to get before the downloading starts, you can choose the folder where you want to put this file and so on. tTurrent Lite includes such modes as work only with WiFi connection, or WiMAX.
The magnet links and IP-filters are supported. All your data will be encrypted. The interface looks really similar to the original Torrent app. An interesting feature is that in most cases this app is more compatible with various Android devices than the previous one. tTorrent Lite is an Android app only.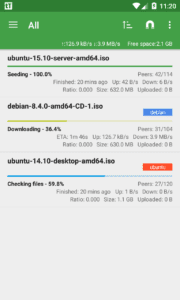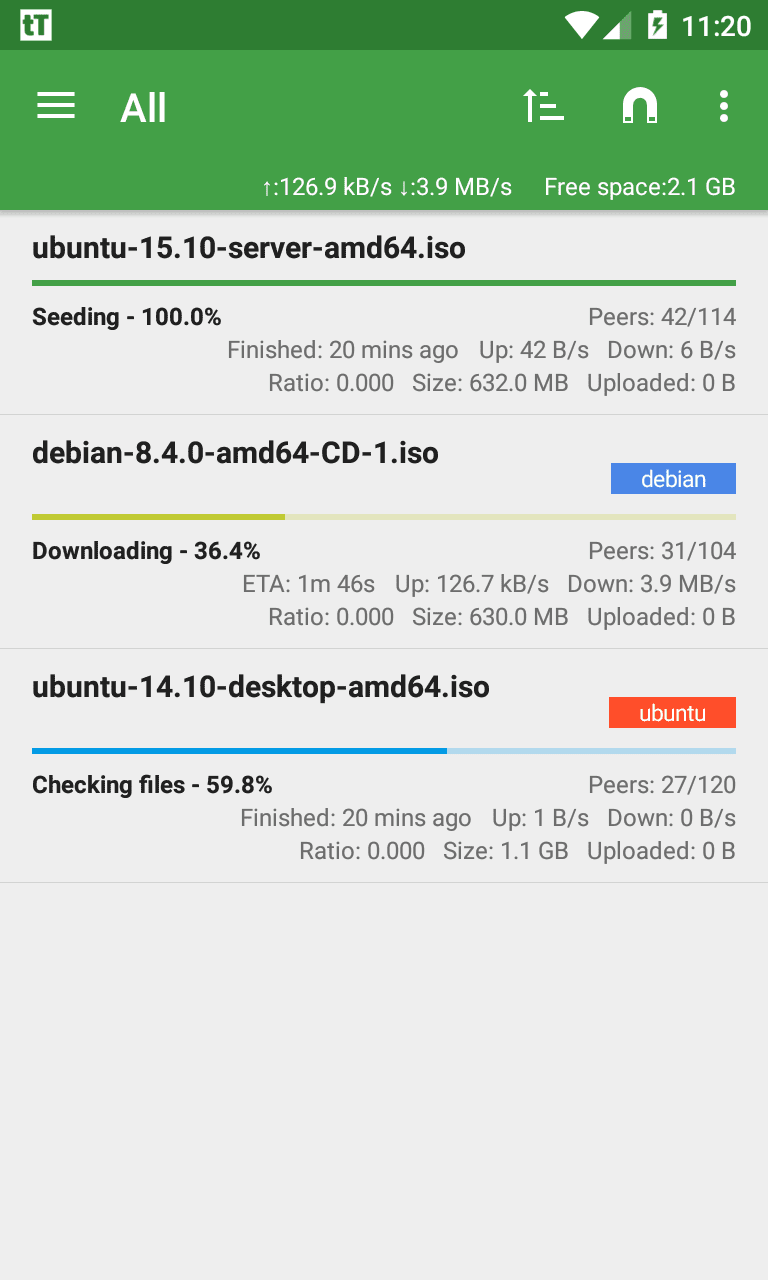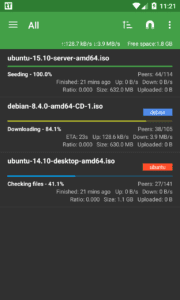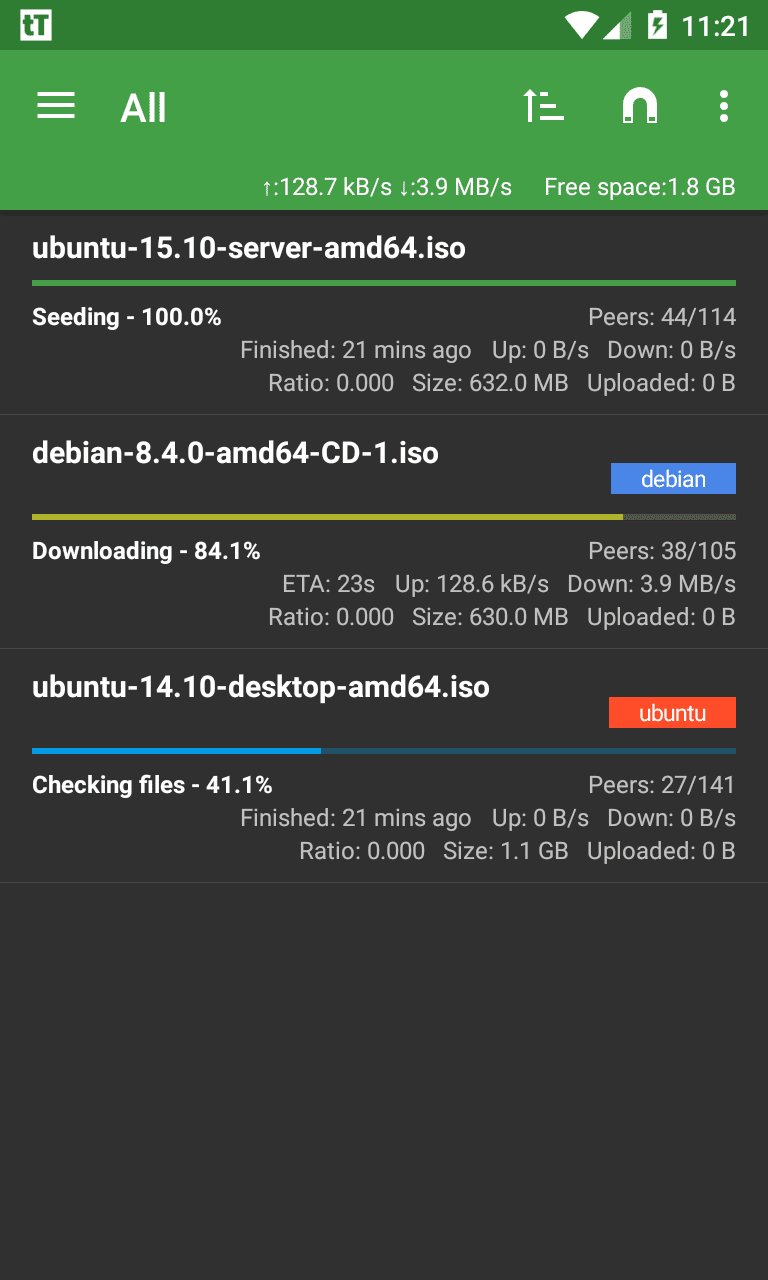 6. Browser & Offline File Storage
It's true that iOS doesn't have any torrent-related apps, but there are some cool similar ones that could be easily used in the same way as Torrent is. Basically, you can read here from the title that this is a special iOS browser that gives you an opportunity to download media files directly to your phone or save then right in the browser.
The browser also includes a media player, so you can always play that music and videos that you have downloaded (this is an issue on iOS as well). You can basically download any type of files you want – including PDF, text files and so on. And don't worry – all your browsing actions are encrypted and the whole history is protected and safe.
What is more, you can secure your browser with a passcode. And maybe this app works not so efficiently as Torrent does, it still has a decent speed of downloading and gives you a chance to get free files on iOS in general. Before the actual downloading starts, you can choose the folder where you want to save the file.
And just in the previous case, this browser works better with WiFi connection. A disadvantage of this app is that it contains quite a lot of ads. The trial period lasts for 1 month and then you have to get a paid subscription. And be prepared that it is not always possible to extract files from the browser.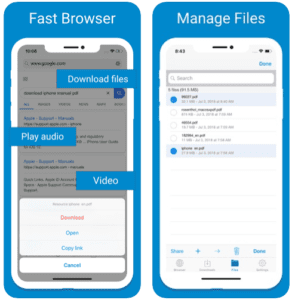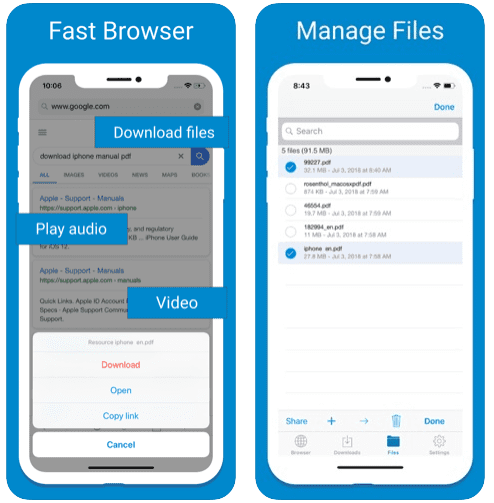 7. BitTorrent®
When it comes to Android there is no shortage of the Torrent apps and here we have another version of it. This one, actually, differs from those we observed before in terms that it includes much more possibilities for media content browsing. And as in all the classic Torrent apps, here you got no speed limitations, no limitations of how many files you can download at the same time and where.
What is more, the app itself contains a quite decent database of media files, of music, videos and pictures, that you can play right in the app without (or before) downloading it. Moreover, the overall interface looks more beautiful and easy to handle than in previous apps and will definitely bring pleasant user experience to you.
For downloading the files you will need to connect your gadget to the WiFi network. When you will be downloading music and video files, the app will automatically create an integrated library on your phone with all the file organizing, so the access to those files would be fast and easy. It is always a problem when you don't know where the file was downloaded so you have to dog your phone looking for it.
To minimize your storage footprint, you can save files right in the Torrent. When you are disconnected from the WiFi or don't use your gadget, the app will shut down automatically. BitTorrent is available in several languages and has a function of Canonical Peer Priority.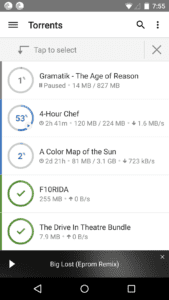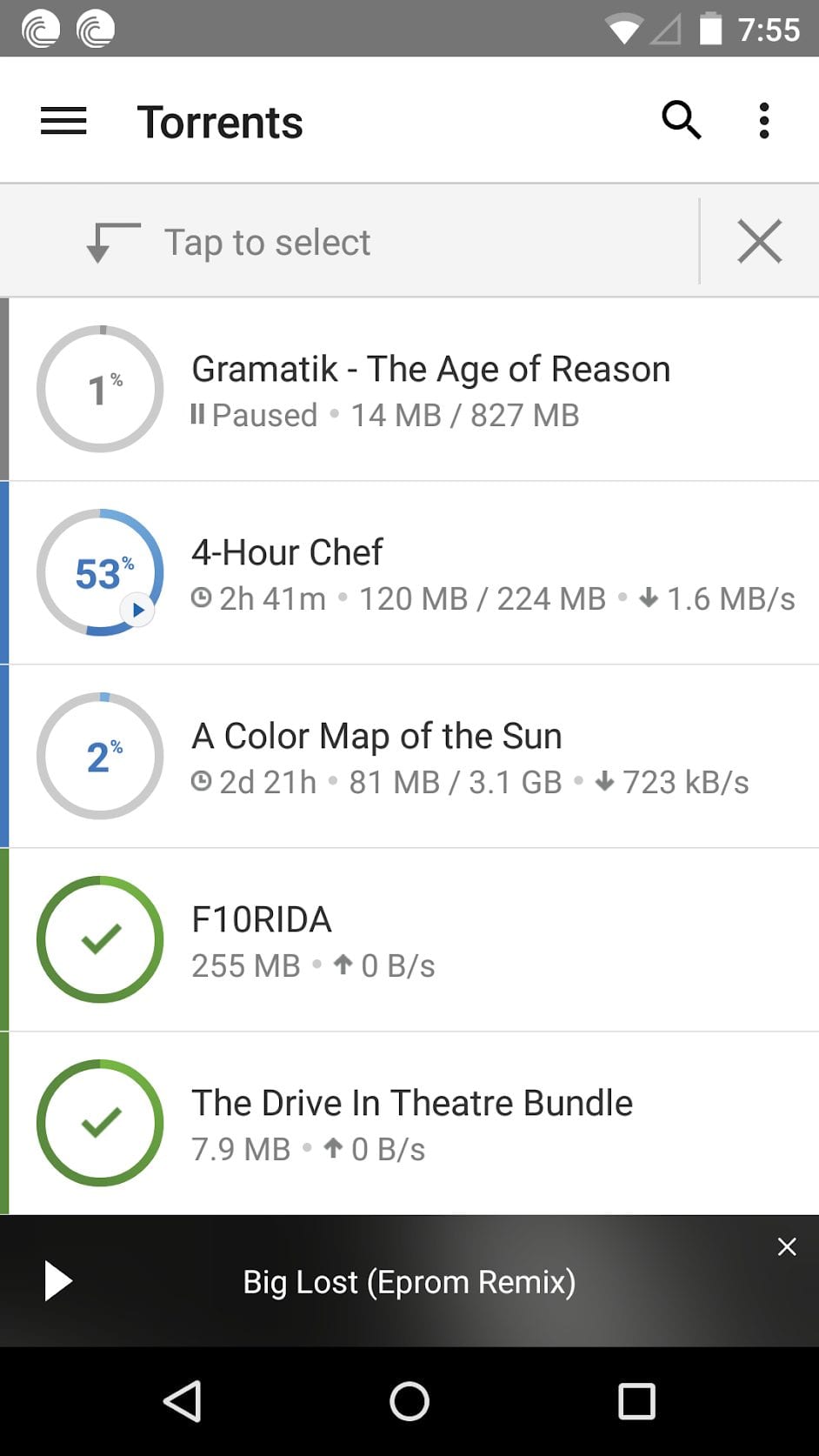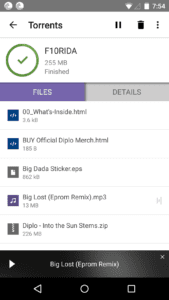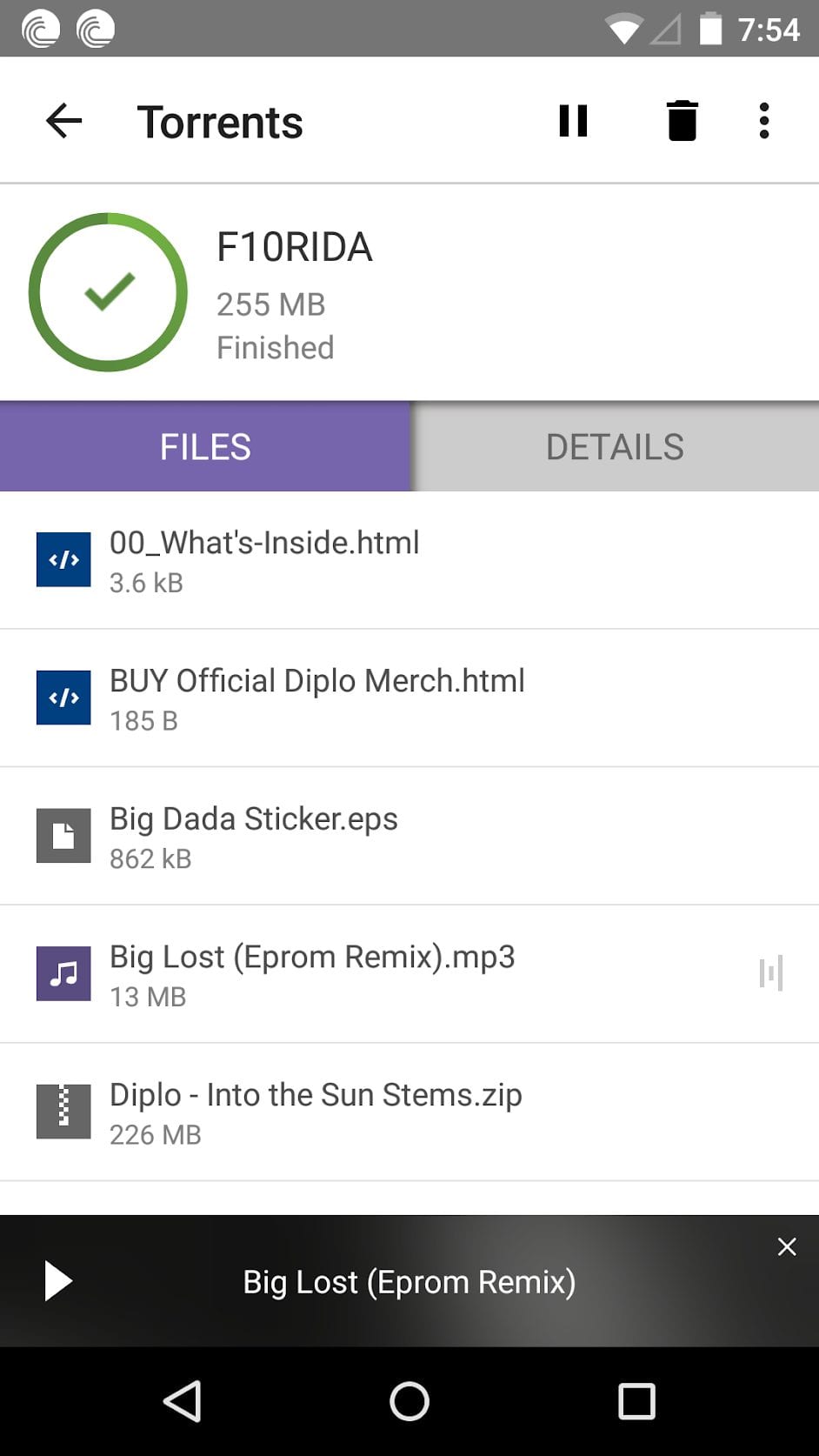 8. MediaFire
This is not exactly the Torrent kind of app and not even the exact app for files downloading, but in order not to leave the iOS users out on this topic, we can suggest to them to get this app that provides lots of possibilities for sharing the media files. MediaFire is actually a cool app that allows you to upload your files to this cloud storage.
After you have uploaded files you can share the link to them with anyone you want, so the other people can get access to these files too. Here you got the 12 GB of space for free and the full 50 you can get by acquiring a paid version. Moreover, MediaFire has its own music player so you can always play tracks right in the app.
And you can upload and share not only music and video files – the app supports any formats. View docs, spreadsheets, presentations, video, and listen to the audio. Moreover, you can share your files even via SMS (does anybody do that nowadays?).
In conclusion, this app is not a Torrent, but it is definitely something similar. All you need is to get a link to storage with files you are looking for and to download it from there.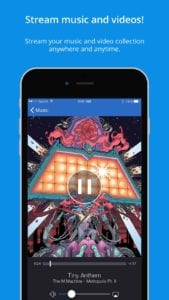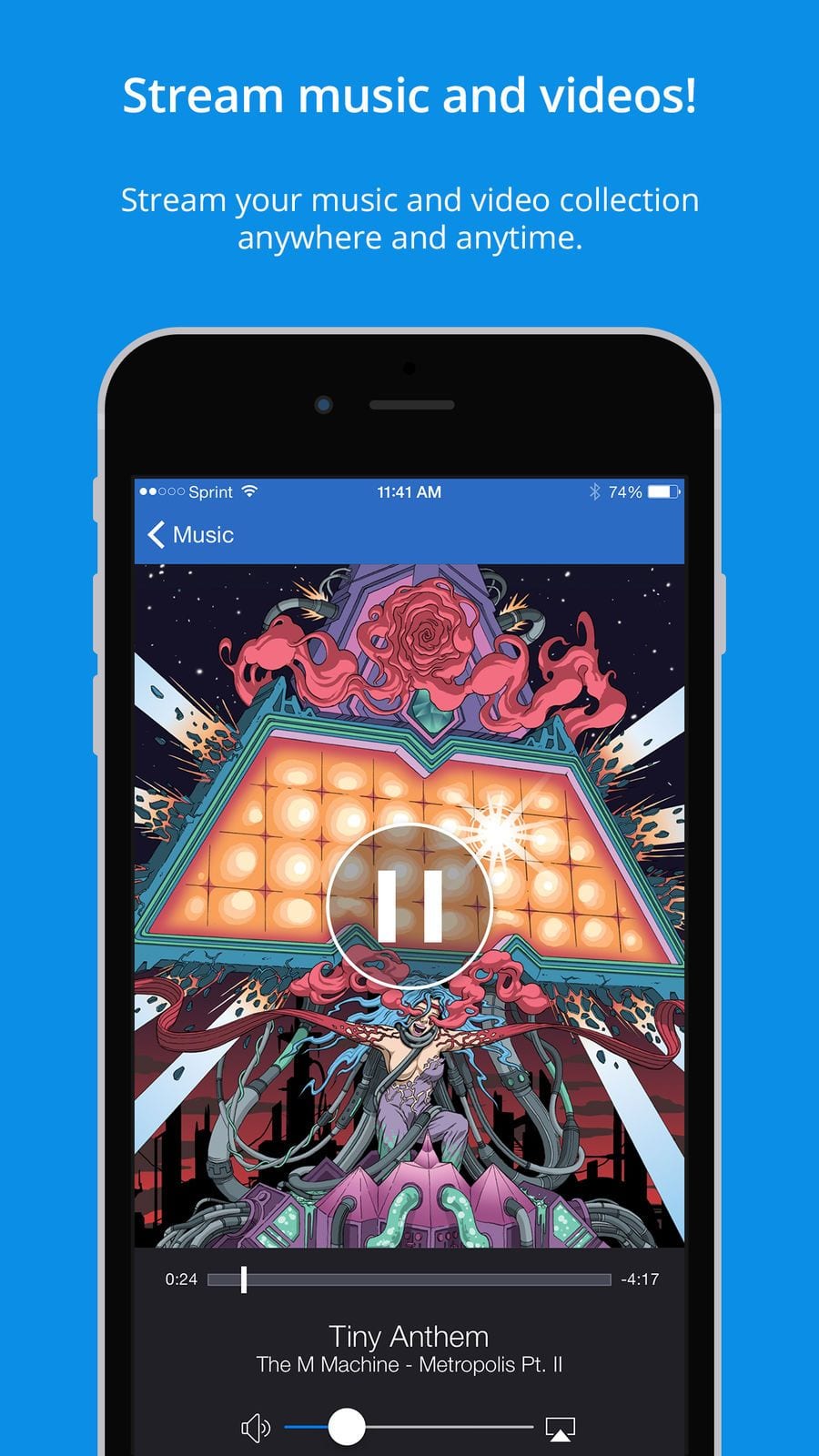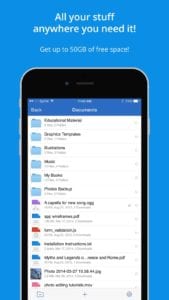 9. MediaGet
MediaGet is another popular software for getting torrent files that have been on the market for a long time now. This is actually a stepping stone for torrent and search of torrent files. In fact, this app is more convenient in usage than the classic Torrent app because here you can find and download torrent files – all in one app, without the necessity to switch to the browser.
Once again, you better connect your device to WiFi while downloading files from this app. An interesting feature of this app is that it can give you small notes and hints while you are searching for different files.
When you find a torrent file you need, the app will automatically save it in its internal storage and then will start the downloading right in the app, giving you the opportunity to pick up in advance which files you are willing to download. The app is highly customizable so you can change its settings in the way you need it.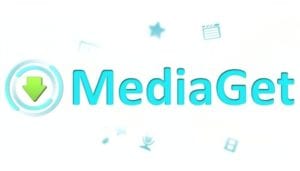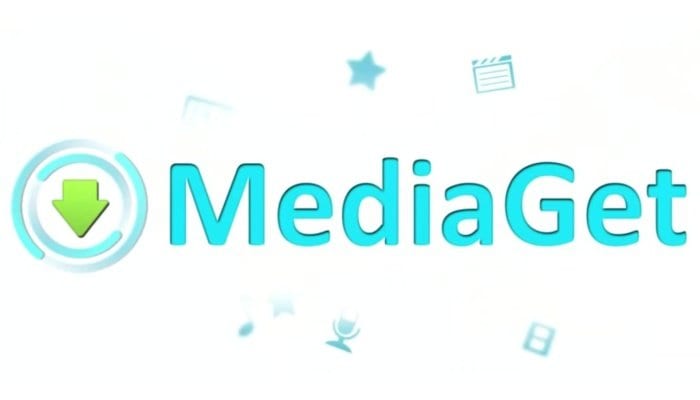 You may also like: Free offline iOS games
10. WeTorrent
The app for those who like simplicity without an extra hassle. First of all, WeTorrent stands out for its interface with beautiful design. But because it is beautifully decorated, it doesn't mean that it is less powerful than the previous ones. In fact, it includes exactly the same features.
Here you can download multiple files simultaneously, the app supports magnet links, and saves the data of your traffic – you can set the mode when downloading only happens when your phone has WiFi. You can also search torrent files right via the app. Keep track of all your downloads and manipulate them in the way you want.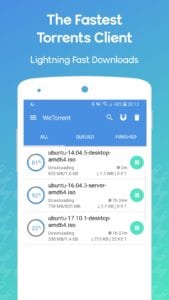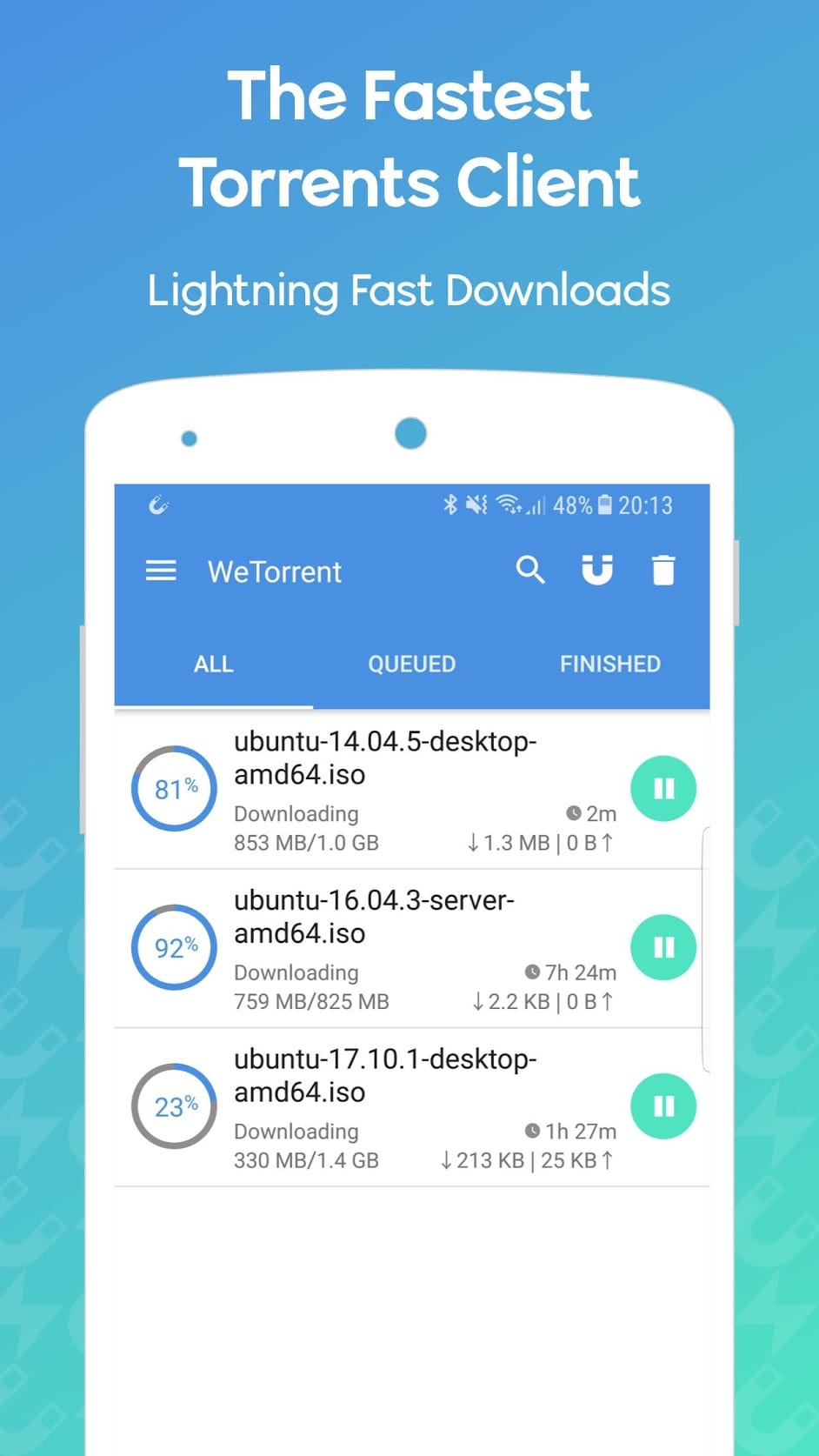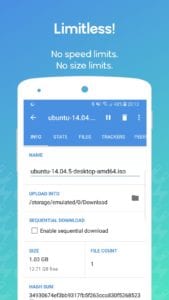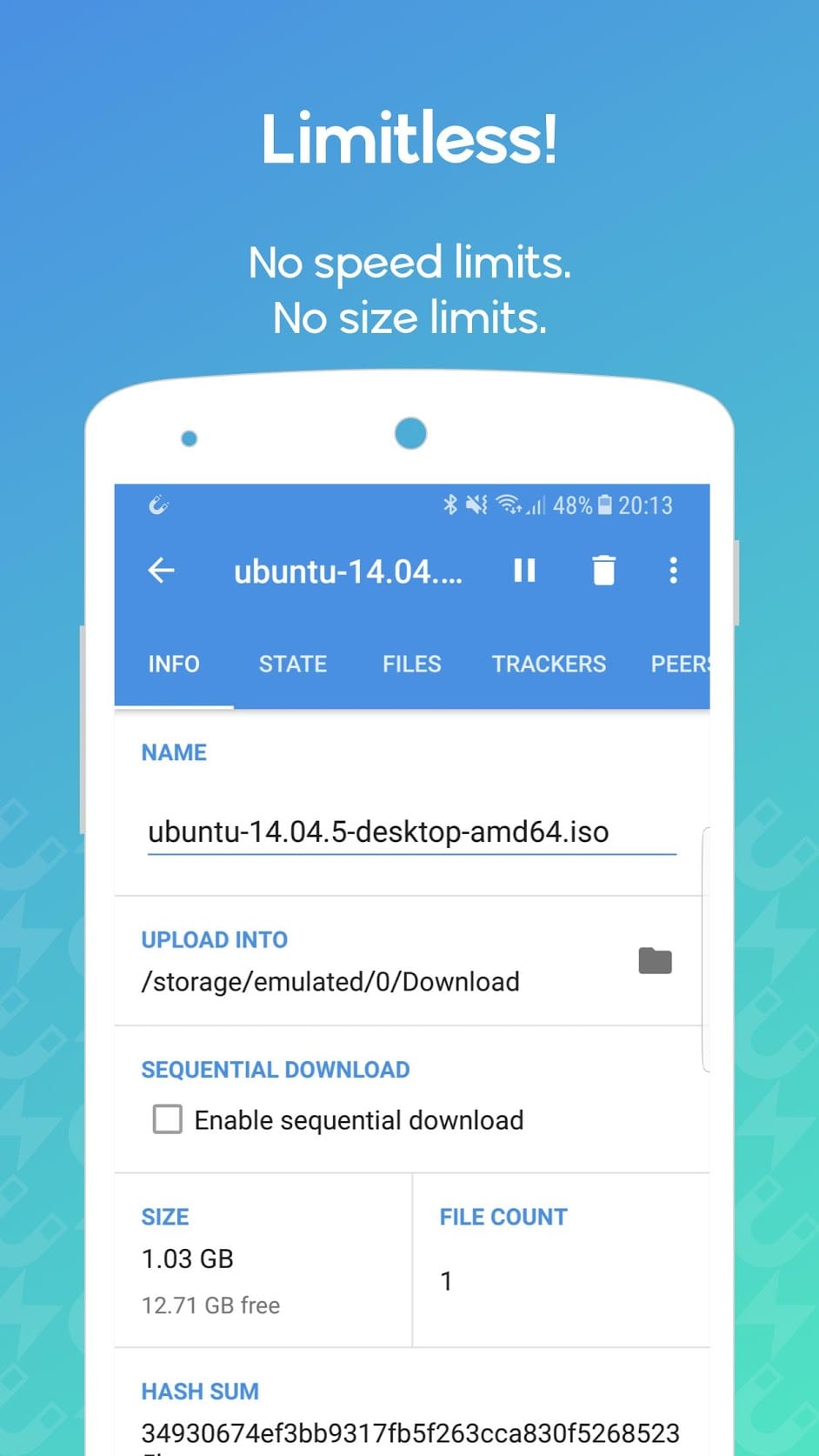 11. aTorrent
A popular Torrent app on Google Play that has been there for a while now and has proven its functionality. It allows you to get media files fast, securely and without any risk for your device.
And just like in the previous case aTorrent is remarkable for its intricate interface – beautiful 3D design will be a background while you are receiving your file. What is more, the whole interface is easy to understand and to work with – you can see the size of the file on the front line in the extended fonts, you can see the speed of downloading and sending.
Another cool feature is that here you can track clearly where your file is downloaded. Basically, all that information is displayed in capital letters on the main page of the app. Apart from that, you are always able to see the list of your active and inactive downloading and view your peers.
All the data is encrypted, magnet links are supported. In order to save data, turn the "only WiFi" mode on.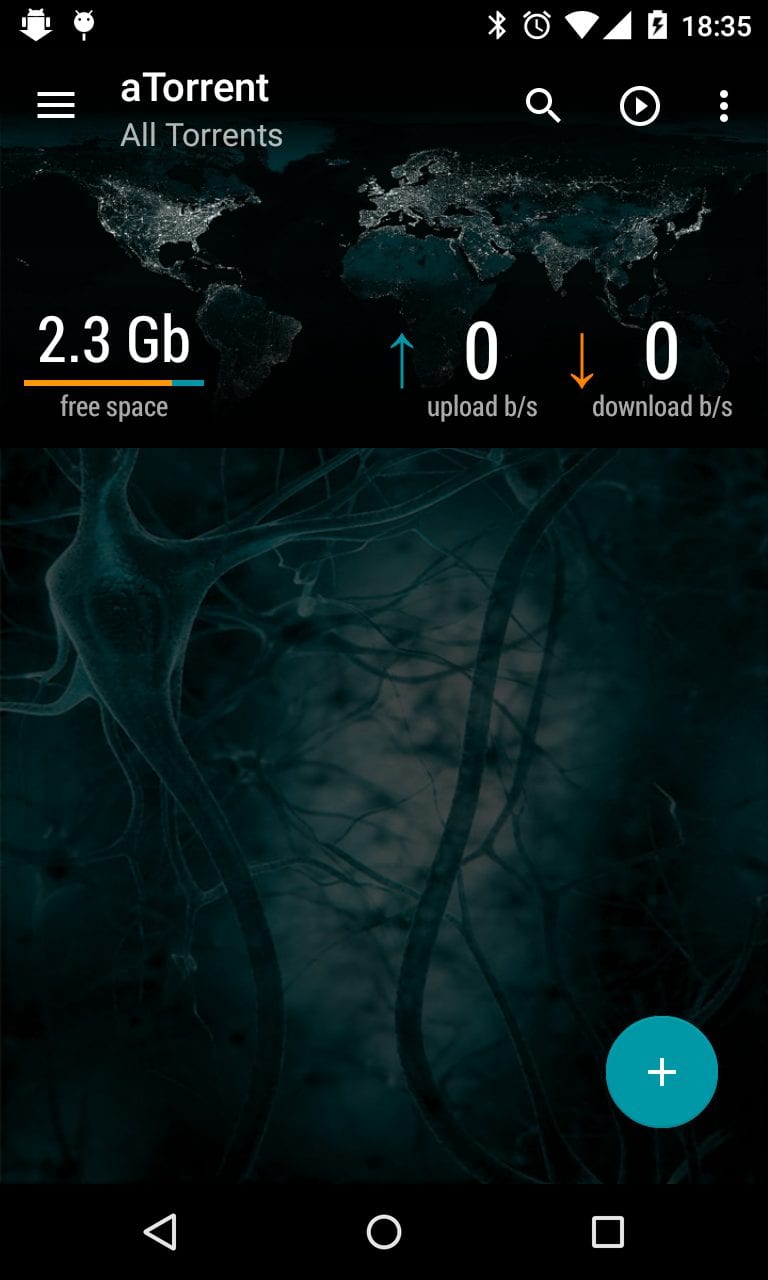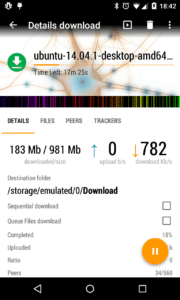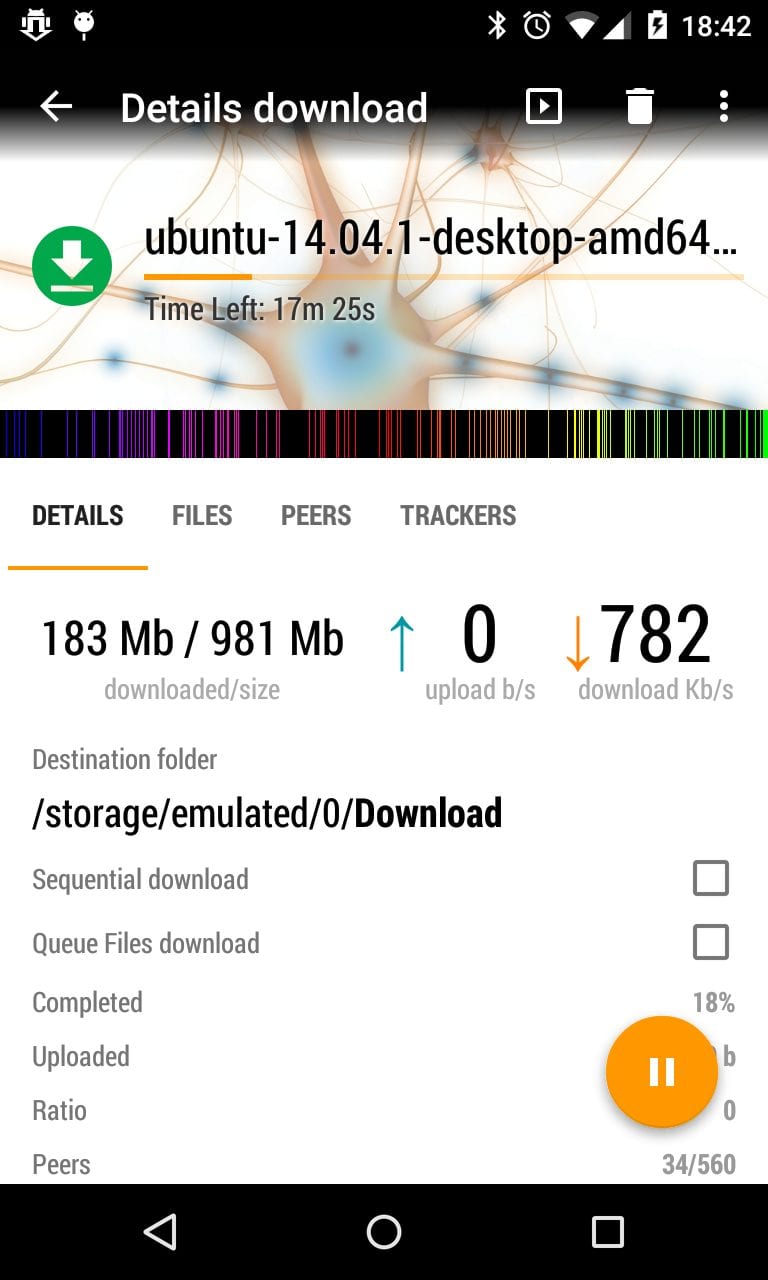 12. LibreTorrent
If you belong to the kind of people who don't care about the design of the interface much, but about productivity, then you definitely chose this app for usage. It actually has a significant difference from the previous torrent apps that we had previously on our list.
Moreover, you have the ability to download torrent files and you get multi-functional software that can replace numerous apps on your phone. Moreover, LibreTorrent even has a VPN proxy function, which allows you to freely browse the web.
What is more, when you are downloading torrent files the app gives you extended possibilities for controlling the process. Each time your file is started downloaded or the downloading is over you will get a notification.
You can also set the function, which starts downloading a file to a certain folder each time the link for a new torrent is copied. the app also includes an IP filter. Moreover, you can adjust the RSS feed according to your preferences – just add the keywords or regular expressions and thus they will be reflected in the feed.
And if you still want some variation in design, there is a possibility to change the theme of the app from white to dark all the way around.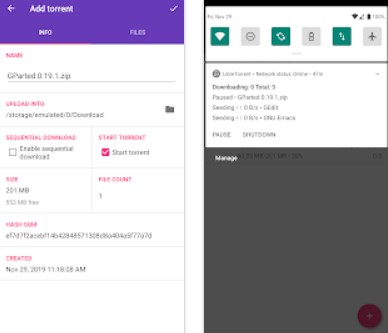 13. Torrent Search Revolution
Having trouble finding torrent files? Then you should get this app and never think about this problem before. Actually, sometimes finding the torrent file itself can be more tricky than downloading it. That's why Torrent Search Revolution gives you a wide range of possibilities to accomplish the detailed search.
The interface of the app looks a little confusing, but once you get the whole system it will be a blast for you. Here you can choose the type of search which is suitable specifically for your device. Moreover, the app affects the search via a separate torrent site where the choice is broader.
What is even better is that the app includes no ads. Considering another aspect,  the app is a standard torrent app, with all the basic functions.