The quality of modern mobile games is outstanding. And the only drawback is that many of them consume too much space on your device. However, there are many games with great graphics that take up less than a GB of your device's internal memory. Meanwhile, they are also a great way to save mobile Internet traffic.
This article takes a look at some great apps that do not weigh a lot. You may also be interested in the article Best Stickman Games. After all, it contains games that are suitable for older generations' devices.
1. Mekorama
Mekorama is an interesting puzzle game. Your main task is to help the character to pass the levels, and get out of the three-dimensional space as quickly as possible. Your character is a robot that you have to help guide his way through 50 different locations. The game has pretty enough graphics, while the appearance of the robot makes him really unusual and funny.
You have to control different mechanisms in the Mekorama game. That means to switch, move, rotate blocks, avoid dangerous robots. Moreover, for those who are not satisfied with the 50 levels of the game, it is possible to create your own puzzles and share them with friends. Mekorama will make you use your brain completely.
After all, you will have to pass fascinating maps. Sometimes the tasks here amaze with their creativity. The application contains no ads and is completely free for passing. The game is very popular and has a large percentage of downloads. Most importantly, the application is quite compact. It is lightweight.
Also, Mekorama is updated quite often. Therefore, you will always have access to new and exciting levels. Moreover, in the latest update, the developers have added new and improved hints for passing levels.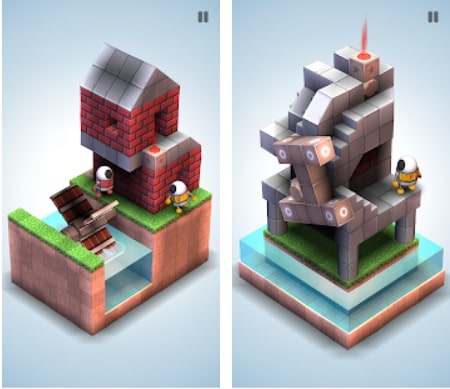 You may also like: 7 Best Double Trouble Games for Android & iOS
2. 2048
The mega-popular logic game 2048 has captured the minds of many users. This game is incredibly simple, both in design and in the rules. However, it is so fascinating that you can play it for hours on end.
The aim of the game is to get the denomination of 2048. The game ends after you get the winning tile. And the main game ends with the defeat if after the next game round it is impossible to make a move.
There are only 4 options in the game: moving tiles left, right, up, or down. By moving absolutely all bars on the field are shifted in the direction of movement as much as possible. At the same time, the bars are combined if the same numbers are in the direction of movement.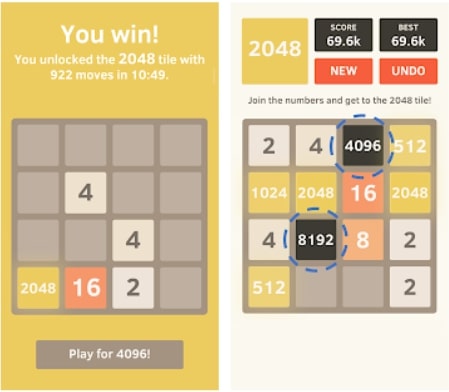 3. Pou
Pou game is a funny adventure of a small and completely helpless alien, who accidentally got to our Earth and decided to stay here forever. This app is perfect for the young gamers, because Pou is known for its simple missions, bright colorful graphics, and cheerful soundtracks.
The character in this game is a funny analog of the Japanese Tamagotchi. So, you will have to take care of the creature, which needs constant attention, feeding, washing and protection. Moreover, this alien changes depending on its mood and condition. With the creature you will be able to perform various actions, such as dressing, cooking, treating, cleaning and laundry.
Also, you can earn coins in the game's rooms, that later can be spent on your little pet. To make the little character happy you need constantly fulfill his requests. Sometimes it is not so easy, because your pet needs a lot of attention. However, if you focus and do everything step by step, success is waiting for you.
The app allows you to play mini games and collect coins. You can also change the appearance of the alien by trying on all possible closet items. In addition, you can change the appearance of each room.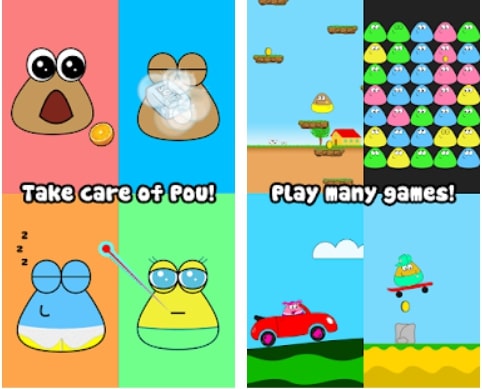 4. Pocket City
25.8 MB is exactly how much this game weighs. Pocket City is a city-building simulator in which you have to turn a small tropical island into a huge, prosperous metropolis. You will even be offered three different development paths, such as industrial, technological, or cultural. Moreover, you will be able to build the type of city yourself.
This will all depend on how much funding you give to one sector of the city or another. Therefore, you will be able to use your creativity and turn a tropical island into a beautiful prosperous metropolis. Also, you will be able to work on building a paradise together with the mayor and his team.
When it comes to possible buildings – you will have access to more than 20 different types of constructions. Then you will become the mayor of Pocket City. All users will be able to build roads, shopping malls, factories, and apartment buildings. The player gets experience for the construction.
So you can get a higher level and the ability to open up new abilities of the game. For example, there will be more and more buildings and improvements. As time passes the city becomes a huge and prosperous metropolis. To expand the city, you have to buy up the available land around it. This game is like a kind of clicker, in which improvements happen as by themselves.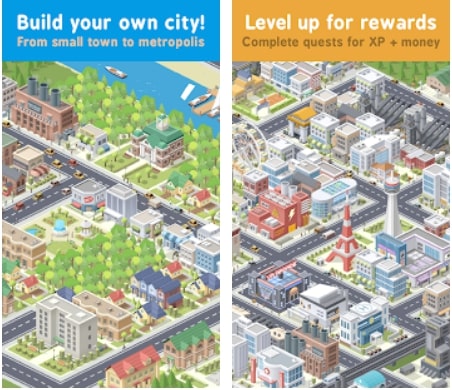 5. Mazes & More
Mazes & More is a classic labyrinth puzzle game that both kids and adults will enjoy. This game is quite simple and straightforward. You need to move the point with your finger, look for and find the way out of the confusing maze. This is the goal of the game. Getting out of the maze means victory.
In addition, there are unpretentious 2D graphics, which return us to the retro games. In other words, a classic and beloved maze. A fun game with different difficulty levels and many unexpected surprises is waiting for you. Here you can try your skills in all 450 variants of the game. This app is good not only because it is a low-storage game.
It also has different game modes, such as classic, with enemies or traps, and others. It is interesting that each category is interesting and challenging. Also, you can choose which character to play as. There are 11 different avatars. Moreover, you will be able to customize a little bit the color scheme of the game.
And also here is an interesting feature, that allows you to skip too difficult levels from time to time if you find it hard to pass. This is truly an application that will drag you out. Moreover, Mazes & More is well at developing logic and attention.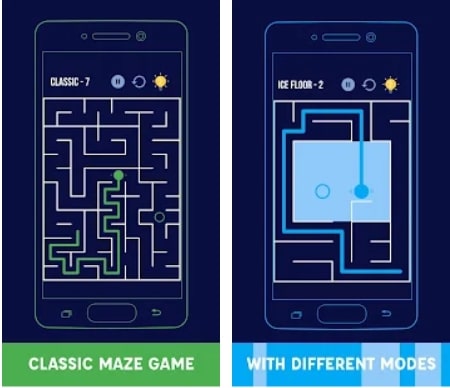 6. Really Bad Chess
This is a super unusual game that breaks all conservative stereotypes about chess. So, in ordinary chess, there is an initial arrangement and a certain number of chess pieces. However, Really Bad Chess has very different rules.
For example, the white player can initially have three queens, not two as usual. While the player playing for black can have more than the usual number of pawns. All things are possible in Really Bad Chess. You, as a player, will have to fight against artificial intelligence according to chess rules in unusual starting conditions.
It means that each game in Really Bad Chess is unique. In addition to the random placement of pieces, you will be able to try to keep track of your opponent's knights, if they are more than necessary. So it turns out that you have to think here almost more than in standard chess. It turns out that in this game, the main thing is attention and logical thinking.
There are several game modes in Really Bad Chess. Also, you can perform daily or weekly tasks and get bonuses. Moreover, the game can be adjusted according to your abilities. This means that you can play with AI which will complicate the game.
Also, you can increase the rating with victories. Really Bad Chess is great for beginners who think chess is boring, as well as for advanced players. After all, it is not enough to know the simple rules and methods of play.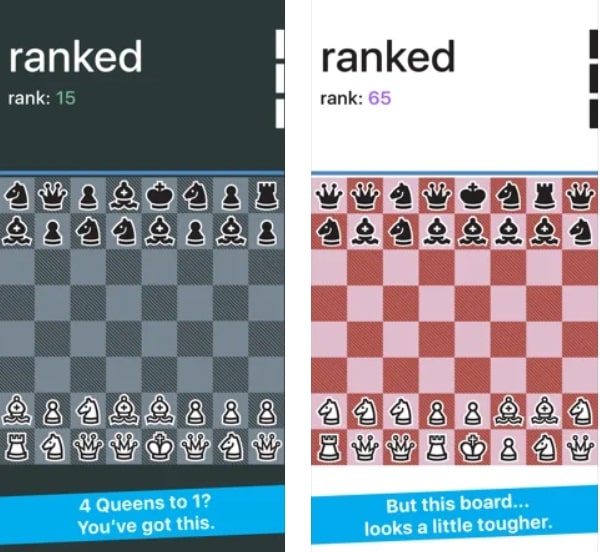 You may also like: 11 Best Idle Tapping Games in 2022 for iOS
7. Paint by Number – Pixel Art
Paint by Number – Pixel Art is a fun toy that at first glance seems a bit childish. However, the users of this application get hooked on it for a long time. Initially, you are faced with a black and white screen, which is decorated with different numbers. You have to click on the color and fill in the small squares to get a new colored picture.
Paint by Number – Pixel Art is an original and laconic application that does not require any special skills in painting. Moreover, it works without a Wi-Fi connection. That means you will have access to it at any time. Also, the interface of the program is bright and attractive, while the way of coloring is simple and clear.
You will be offered a huge selection of coloring on completely different themes. In addition, there is an interesting feature that allows you to paint your own works of art. Just upload your picture from the gallery. Also, there are different types of drawings, such as 2D and 3D. Many users have noticed that this game fights against stress and helps to concentrate.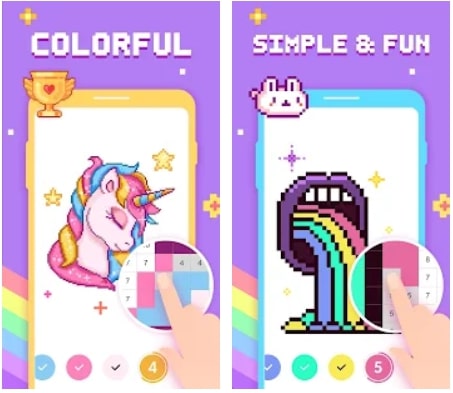 8. Dungeon Winners RPG Pixel Game
This is another game that weighs less than 30 MB. So, Dungeon Winners RPG is an online RPG with real-time fighting. You will be able to play as a single-player and play with friends. You will have to make raids on various enemies. All victories will give you bonuses and game currency. For example, you can join the clan, which will give you a lot of experience.
There are different types of fantasy quests, trips to dungeons, battles in the arena, and many other things. Moreover, there is even a chat room where you can talk during the game. Also, you can collect unique trophies while playing the game. Dungeon Winners RPG allows you to change not only your character but also all his or her equipment.
This game is perfect for those who love to pump up their heroes. Also, you will also need analytical thinking, which will lead you and your team to victory. It is also worth mentioning the attractive graphics of the game. This game is all made up of pixels.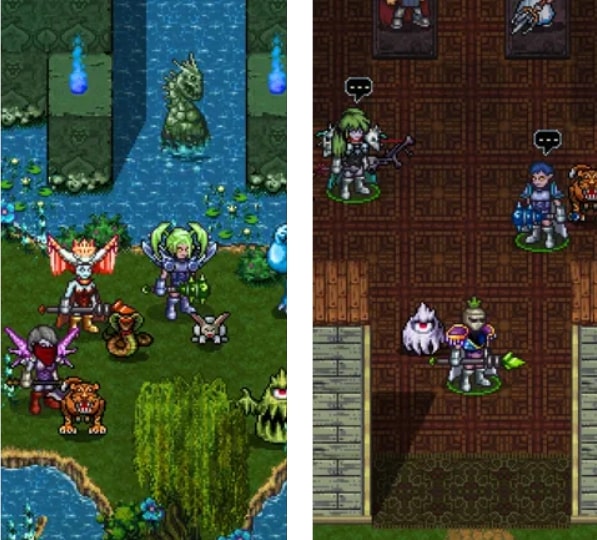 You may also like: 11 Best Idle Tapping Games in 2022 for Android
9. Racing Moto 3D
There is a place in our article for fans of racing games. So, this application is simple but very exciting. Racing Moto 3D Pro lets you pretend to be a racer on a motorcycle that passes various types of obstacles. It is interesting that the control is done by leaning your phone in different directions while the speed increases withholding your finger on the screen.
This control will help you to imagine as if you are driving. However, you can adjust the controls to suit you. There are 15 different models to choose from fancy cars to unique sporty ones. Moreover, the main feature of the game is its four modes, in addition, to completely free driving.
So, the goal is to drive as far as possible in Racing Moto 3D Pro, getting the maximal number of points. This means that you can drive calmly and slowly, or even go at maximum speed. All you have to do is touch the display with your finger and keep it there.